This simple and delicious Zucchini Spaghetti uses zoodles and an easy homemade pasta sauce. It is a wonderfully light, low-carb alternative to a traditional bowl of spaghetti. The perfect way to use all of those late-summer zucchini coming out of the garden!
Quick & Easy Zucchini Spaghetti (Zoodles With Marinara)
We love nothing more than a traditional, flavorful homemade marinara sauce over spaghetti noodles, but sometimes you need something a little lighter and faster for dinner. This is a perfect option for an easy weeknight dinner. Plus, using a spiralizer is just fun! The whole family will love these delicious green zoodles with pasta sauce + the option to serve with Italian meatballs, if you want.
If you have a garden that is bursting with zucchini, like ours is every year, then you should also checkout our simple tutorial on how to freeze zucchini when you feel like you just can't eat all of it right away.
What You Will Need
olive oil – a splash in the pot to help sauté the onion and garlic.
small yellow onion & garlic – a perfect flavor combination to get the party started in the pot.
red wine – feel free to sub with pomegranate juice if you prefer to not use alcohol.
canned crushed tomatoes – we feel that quality matters here and we highly recommend finding high quality crushed tomatoes, like DeLallo or San Marzano.
kosher salt & pepper – every homemade sauce needs a dash of both!
dried oregano leaves & dried basil leaves – option to use dried, fresh, or a combination of both.
butter – just a bit of fat helps with rounding out the flavor profile, but you can omit if you prefer to not use it.
zoodles – we love using the spiralizer to make these at home but you can also buy some at your local grocery store.
How Do Keep Zucchini Noodles From Getting Soggy
When you cook the zoodles you will want to sauté them in a skillet with a bit of olive oil and a pinch of salt for only 1-2 minutes or until they are warmed through. Make sure you do NOT overcook them, that's how they start to get soggy.
How Do You Cut Zucchini For Spaghetti
We love using a spiralizer to easily cut zucchini into a noodle form. We love this simple one from OXO. They are easy to use, easy to clean, and you can usually find them for a good price.
Storage Tips
We recommend keeping the sauce and zoodles separate until you are ready to eat. Once they are mixed together you will want to eat it right away and any leftovers will have to be tossed. Warming up cooked zucchini noodles just gets too soggy. The sauce can be store by itself in the fridge for 3-4 days or in the freezer for up to 3 months. The zucchini noodles can be stored BEFORE cooking for a few days in the fridge.
How To Make Zucchini Spaghetti
First, you can begin by mixing the sauce ingredients in a saucepan and letting it simmer.
While that simmers you can start spiralizing your zucchini.
Then simply sauté the zoodles in a skillet with olive oil and a pinch of salt until warmed through.
Serve them together and enjoy!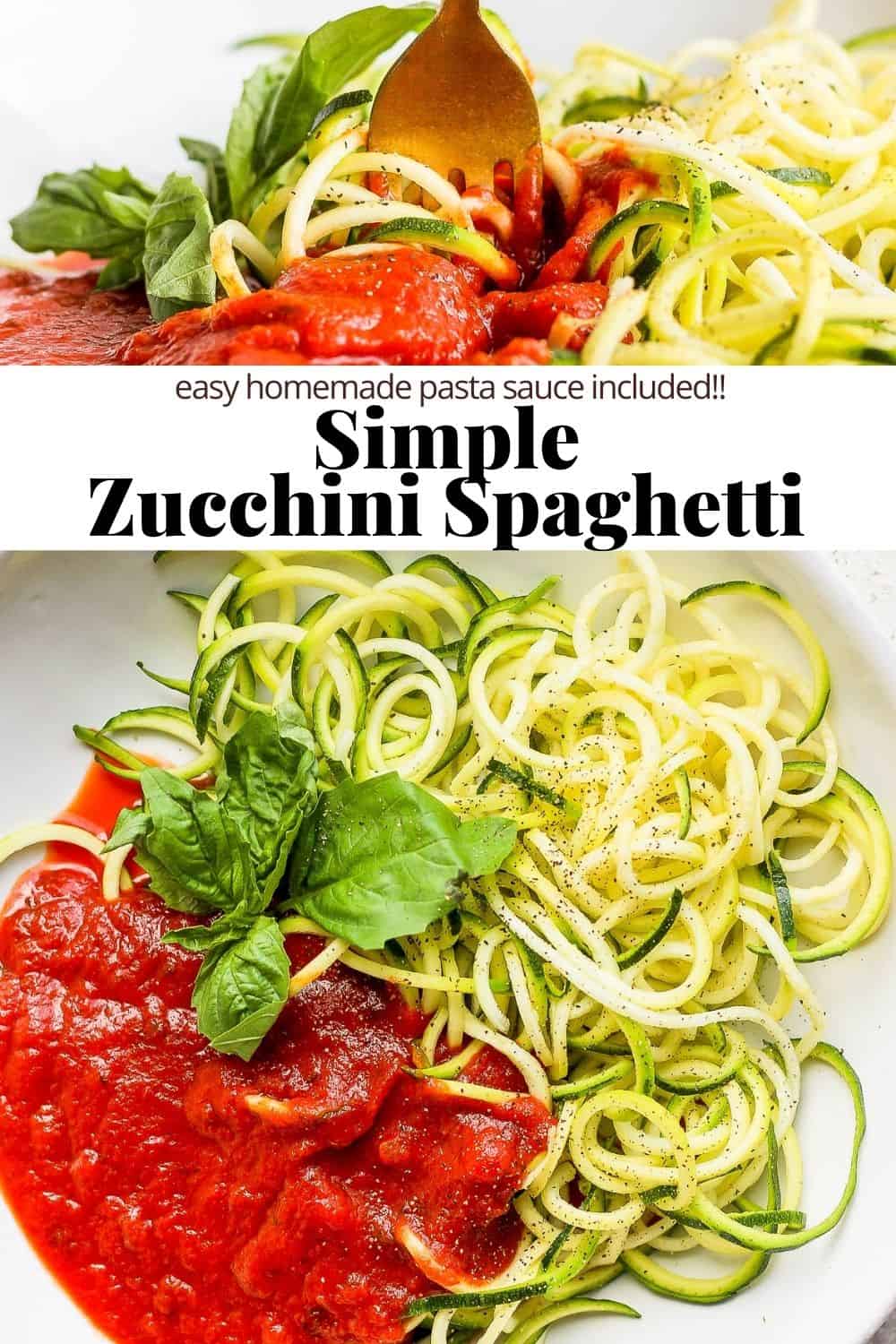 Made this recipe and loved it?! We would love it if you would take a minute and leave a star rating and review – it is also helpful if you made any substitutions or changes to the recipe to share that as well. THANK YOU!
Don't forget to check out my Instagram account for some behind-the-scenes action! Or give me a follow on Facebook or see what I am pinning on Pinterest!
Print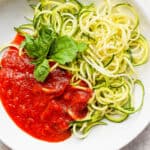 Zucchini Spaghetti
Author: Erin Jensen
Prep Time: 5 minutes
Cook Time: 30 minutes
Total Time: 35 minutes
Yield: 4 servings 1x
Category: Dinner/Entree
Method: Stove Top
Cuisine: Italian-Inspired
---
Description
Zucchini Spaghetti – a simple, quick zucchini spaghetti recipe (pasta sauce recipe included) that is packed with flavor!
---
The Sauce:
3 tablespoons olive oil
1 small yellow onion, minced
1–2 cloves garlic, minced
1/4 cup + 1 tablespoon red wine or pomegranate juice*
28oz high quality crushed tomatoes
1 teaspoon kosher salt
1/8 teaspoon ground black pepper
3 teaspoons dried oregano leaves
3 teaspoons dried basil leaves
1 tablespoon butter (regular or dairy-free)
The Zucchini:
1 tablespoon olive oil
6 cups (or more) zoodles
pinch of salt
---
Instructions
The Sauce:
Add olive oil to medium-sized saucepan and bring to medium-high heat.
Add onions and garlic; move around pan with wooden spoon until they become fragrant – about 30 seconds.
Add in remaining ingredients; stir to combine.
Cover and simmer for a minimum of 30 minutes; feel free to simmer anywhere between 30 minutes to 2 hours or longer.
Use in your favorite recipes – we love it in this recipe on zoodles, on fresh pasta, eggplant parmesan or stuffed zucchini!
The Zucchini:
Bring a large cast iron skillet to medium-high heat.
Add oil; swirl to coat the pan.
Add zoodles/zucchini noodles (in batches if you need to) to pan and saute until they are warmed through. Sprinkle with salt.
Remove from heat.
Divide zucchini noodles between bowls and cover with sauce. Serve with Oven Baked Meatballs (if you desire).
---
Notes
*Whole30/Paleo: use pomegranate juice instead of red wine if you are concerned with Paleo/Whole30.
Parmesan Cheese: if you aren't worried about Whole30/Paleo and don't have a dairy allergy, feel free to add some grated parmesan cheese on top!
Sauce Storage: once it has cooled you can store in an airtight container in the fridge for 3-4 days or freeze for up to 3 months (it will expand as it freezes so make sure to leave room).
Zoodle Storage: If you are going to store zoodles I would recommend doing so before you cook them – cooked zoodles don't tend to store very well.
Keywords: zucchini spaghetti