Baked Eggplant Parmesan is a great meatless meal that showcases your beautiful eggplant as the centerpiece of the meal. Healthy, filling and oh-so-yummy!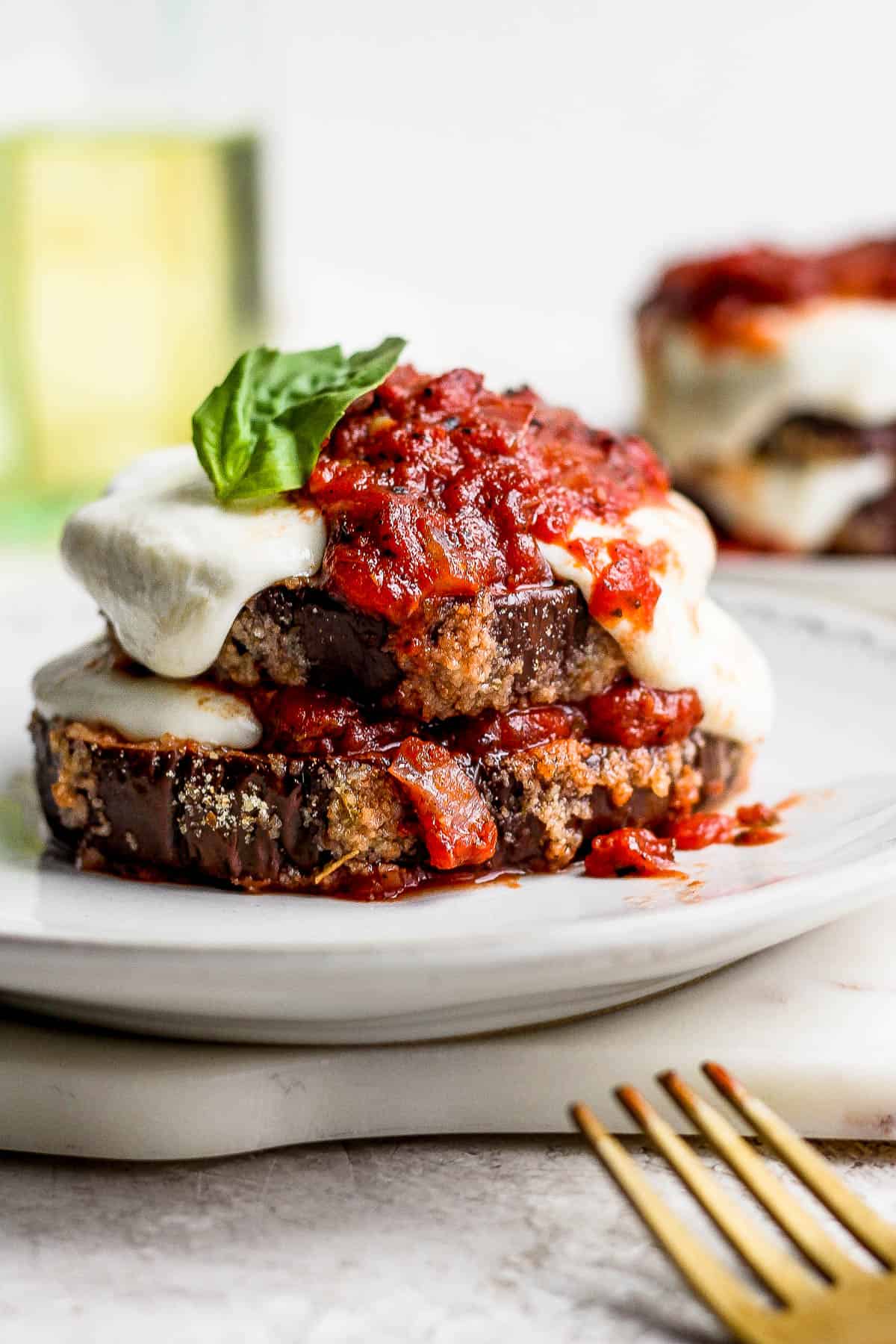 Easy Baked Eggplant Parmesan Recipe
Eggplants are perfectly in season right now, so if you were super excited to grow your first eggplant this year and now you are sitting there staring at it wondering what you are supposed to do with it – I have the solution for you. Eggplant parmesan. It is filling and light all at the same time and, while it is a little bit of a time commitment, it really isn't very difficult to make. And, in my opinion, is a great date night or dinner party entree. Serve with some Roasted Broccolini for a delicious summer meal.
Baked Eggplant Parmesan Ingredients
eggplants: I wouldn't recommend buying TOO large of eggplants here as they get really wide and then are hard to all fit into a baking dish. Instead, buy 2-3 medium-sized eggplant.
eggs + water: these two ingredients are combined to make a light egg wash. You can omit the water if you want to thicken it up more.
bread crumbs + finely shredded Parmesan cheese: these two are combined to create the parmesan coating. Feel free to use gluten-free breadcrumbs if you wish.
kosher salt + ground oregano + ground basil: this is the seasoning for the parmesan/breadcrumb mixture.
sliced mozzarella cheese: we really went for it with the mozzarella, but everyone is different to cut back if you want. Also, I am sure this would work with a dairy-free mozzarella to if you want to keep it dairy-free.
marinara sauce: this homemade marinara sauce is SO GOOD – highly recommend, but if you need to grab a jar from the store – do whatever works best for you. We also have an Easy Pasta Sauce recipe that comes together super quick for a faster option!
fresh basil: for garnish!
Baked Eggplant Parmesan Side Dishes
How to Make Baked Eggplant Parmesan
After cutting your eggplant sprinkle each side with salt – this draws out the moisture which prevents the eggplant from getting mushy during the baking process. Don't skip this step!
Prep your egg-wash station!
Place prepared eggplant slices on a large baking sheet.
Bake for approx. 30 minutes or so flipping halfway.
Start building your eggplant parmesan stacks by first laying down a layer of sauce then add in the first slices of eggplant.
Top with cheese – I used two slices per eggplant, but feel free to stick to just one if you want less cheese.
Top with marinara sauce.
Repeat.
Bake until cheese is bubbly and top with fresh basil.
So delicious!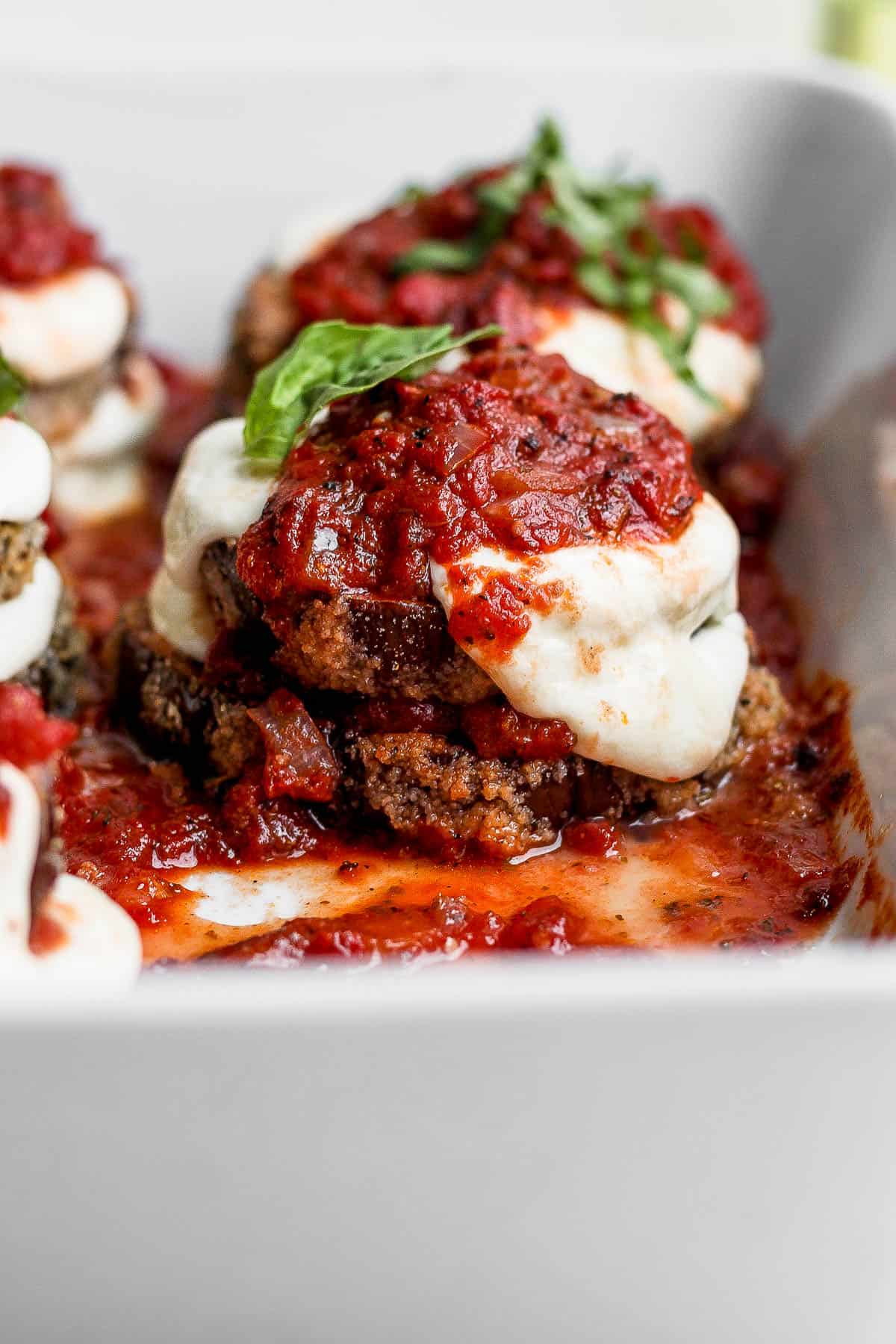 Made this recipe and loved it?! We would love it if you would take a minute and leave a star rating and review – it is also helpful if you made any substitutions or changes to the recipe to share that as well. THANK YOU!
Don't forget to check out my Instagram account for some behind-the-scenes action! Or give me a follow on Facebook or see what I am pinning on Pinterest!
Other Recipes You Might Like
Print
Baked Eggplant Parmesan
Author: Erin Jensen
Prep Time: 20 minutes
Cook Time: 1 hour 30 minutes
Total Time: 1 hour 50 minutes
Yield: 4 servings 1x
Category: Dinner/Entree
Method: Oven
Cuisine: Italian-Inspired
---
Description
Baked Eggplant Parmesan – an absolutely delicious recipe for baked eggplant parmesan and perfect for late summer tomatoes!
---
2–3 medium eggplants, washed
kosher salt
2 eggs
1/4 cup water
2/3 cup bread crumbs*
1 cup finely shredded Parmesan cheese
1 teaspoon kosher salt
1 1/2 teaspoon ground oregano
1 1/2 teaspoon ground basil
Approx. 32oz sliced mozzarella cheese*
3 cups Easy Pasta Sauce or other store-bought sauce
2 tablespoons roughly chopped fresh basil (for garnish)
---
Instructions
Preheat oven to 400 degrees F.
Cut eggplant into 12 1/2 inch slices (remove skin if you desire).
Place eggplant slices on a large baking pan and sprinkle both sides lightly with kosher salt. Let sit 10-15 minutes allowing water to seep out (this will result in a less mushy eggplant after baking). Rinse and pat both sides dry with a clean paper towel.
In small bowl (big enough to fit an eggplant slice) combine eggs and water; whisk.
In another bowl (also big enough to fit an eggplant slice), combine bread crumbs, 1/2 cup parmesan cheese, salt, ground oregano and ground basil; mix.
Spray a large baking sheet with olive oil or non-stick.
Take eggplant slices and, one at a time, dip in egg wash and then let excess run off, then set in bread crumb mixture and lightly cover both sides.
Repeat for all eggplant slices and place on cookie sheets.
Bake for approx. 15-20 minutes and then remove and flip over; bake for an additional 15-20 minutes or until they start to turn golden brown.
Remove from oven.
Take a baking pan or on a deep cookie sheet and then use the spaghetti sauce and make 6 circles of sauce a little bigger than the diameter of the eggplant slices, not a lot just enough to cover the bottom of the pan.
Place an eggplant slice on top of each sauce-circle.
Then add two small slices of mozzarella cheese on top of each slice and top with marinara sauce.
Then place the other four eggplant slices on top and repeat with mozzarella and sauce.
Add additional 1/2 cup parmesan cheese on top (optional) and sprinkle each stack with a pinch of kosher salt.
Place in oven at 425 degrees F. for approx. 15 minutes or until cheese is melted and bubbling.
Let cool slightly, but serve right away and garnish with fresh basil (or oregano).
---
Notes
Breadcrumbs: feel free to use gluten-free breadcrumbs.
Mozzarella Cheese: I used 2 of the pre-sliced 16oz mozzarella packages and use 4 slices per stack – you can reduce that in half if you don't want as much cheese in which case you should be good with one 16oz package.
Marinara Sauce: I love this homemade marinara sauce, but it does take some time to prepare – this Easy Pasta Sauce is better if you want a homemade sauce but don't have a lot of time.
Storage: I wouldn't recommend storing this for more than a day or so, otherwise it tends to get real soggy. Store overnight in the refrigerator in an airtight container.
Keywords: baked eggplant parmesan
Originally published on August 18, 2016 – photos have been updated and recipe tweaked slightly.