Acorn Squash Soup – an absolutely delicious + creamy acorn squash soup recipe that doesn't disappoint! Perfect as a main course or side dish!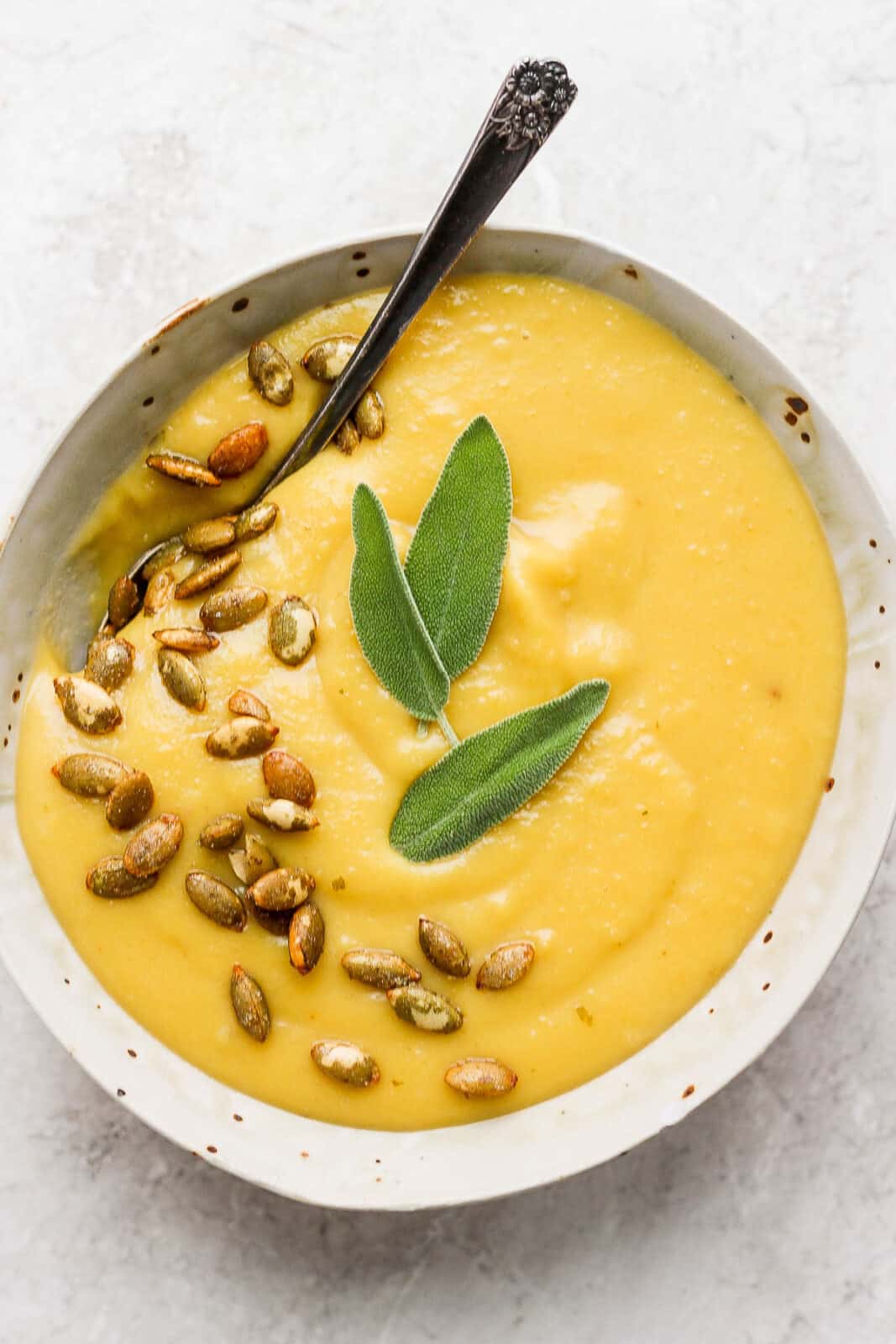 A Delicious Acorn Squash Soup Recipe
Every fall/winter we love making a batch of this deliciously creamy soup at home! You can enjoy it as the main course or serve it as a side dish. It is dairy-free but still so creamy. A few pepitas on top give it a little added crunch – you have to give them a try! This is a super simple recipe that only uses 8 real, simple ingredients.
What You Will Need
acorn squash – you will need about 3 of them, cut in half lengthwise and seeds removed.
avocado oil – just a little to help sauté the shallots, you could also use olive oil.
shallots – mince these and then sauté them in the dutch oven before adding the other ingredients for some great flavor.
full-fat coconut milk – this is dairy-free and provides all that great creamy texture – we love this one.
vegetable broth – just grab your favorite!
butter, ghee, or vegan butter – use the one that works best for you. If you want it to be dairy-free stick with vegan butter.
maple syrup – a little for the perfect amount of sweetness – feel free to adjust to your taste!
kosher salt – just a pinch for some added flavor!
Do You Have To Peel Acorn Squash For Soup?
Nope! You simply roast the acorn squash halves in the oven with the peel on. Once it is fully roasted you can easily scoop the flesh out of the skin and add it to the soup.
Can I Use a Substitute For The Coconut Milk?
We have not found a dairy-free substitute that will result in the same creamy texture. You could try unsweetened almond milk but the soup is likely going to be a thinner consistency. If your coconut milk has separated you will want to make sure it is mixed together before adding it to your soup.
How Do I Store Acorn Squash Soup?
Once the soup has cooled you can store it in an airtight container in the fridge for up to 5 days. If you want to keep it for longer you can put it in a freezer-safe container and place it in the freezer for up to 6 months.
How To Make Acorn Squash Soup
Step one – sauté the minced shallots in some avocado oil.
Step two – add squash flesh, coconut milk, and vegetable broth.
Step three – use an immersion blender to combine.
Step four – add maple syrup, pinch of salt, and ghee.
Step five – stir to combine and adjust to your desired taste.
Step six – Enjoy! (option to serve with pepitas for an added crunch)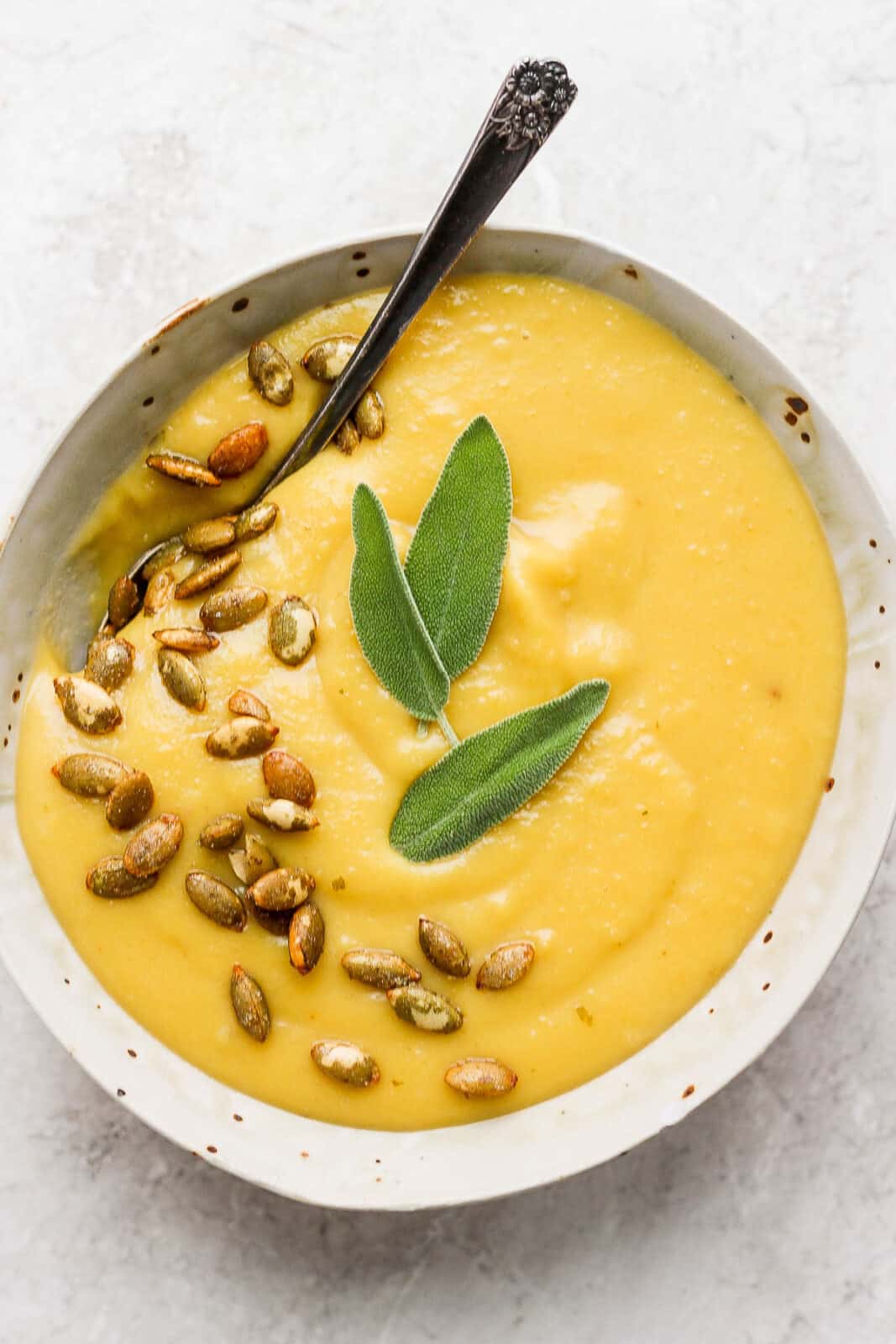 Made this recipe and loved it?! We would love it if you would take a minute and leave a star rating and review – it is also helpful if you made any substitutions or changes to the recipe to share that as well. THANK YOU!
Don't forget to check out my Instagram account for some behind-the-scenes action! Or give me a follow on Facebook or see what I am pinning on Pinterest!
Print
Acorn Squash Soup
Author: Erin Jensen
Prep Time: 15 minutes
Cook Time: 1 hour 15 minutes
Total Time: 1 hour 30 minutes
Yield: 12 servings 1x
Category: Soup
Method: Stove Top + Oven
Cuisine: American
---
Description
Acorn Squash Soup – an absolutely delicious + creamy acorn squash soup recipe that doesn't disappoint! Perfect as a main course or side dish!
---
3 acorn squash, halved lengthwise with seeds removed.
1 tablespoon avocado oil
1 tablespoon shallots, minced
1 15oz can full fat coconut milk
1/3 cup vegetable broth
3 tablespoons butter, ghee or vegan butter
pinch of salt
2–3 tablespoons maple syrup
---
Instructions
Preheat oven to 400 degrees F.
Place acorn squash cut-side up on a rimmed baking sheet.
Place in oven, middle rack, and let cook for 1 hour (or until you can easily pierce with a fork).
Remove and let cool. Scoop out squash and place in a bowl; set aside.
Bring a large Dutch Oven or saucepan to medium-high heat.
Add oil and swirl to coat the pan.
Add shallots and let cook down, about 1 minute.
Add squash, can of coconut milk and vegetable broth; stir to combine.
Add ghee, pinch of salt and maple syrup.
Stir and let the ghee melt.
Taste and add additional salt or maple syrup, as-needed. If you want a thinner consistency simply add another splash or two of vegetable broth at a time and stir.
We love serving with pepitas for a little crunch!
---
Notes
Dairy-Free: to make dairy-free use vegan butter.
Coconut Milk Substitute: I haven't found a dairy-free substitute for the coconut milk that results in the same creaminess as coconut milk. You could use an unsweetened almond milk, but it wouldn't result in the same consistency.
Vegan: to make this vegan use vegan butter.
Coconut Milk Substitute: if your coconut milk has separated in the can don't forget to mix it back together so it is nice and creamy before adding it into the pot.
Storage: store in an airtight container in the refrigerator for up to 5 days.
Freezing: to freeze let cool completely. Place in freezer-safe container (leaving extra room for expansion during the freezing process), label and keep in freezer for up to 6 months.
Keywords: acorn squash soup