Baked Vegan Egg Nog Cheesecake Bites – individual cheesecake bites that are so delicious and easy to make!
Baked Vegan Egg Nog Cheesecake Bites
The countdown to Christmas is on, you guys! I am so excited for the weekend and to just be with family and indulge a bit! These Baked Vegan Egg Nog Cheesecake are the perfect dessert for your Christmas dinner!
The first time I made vegan cheesecake, it was this summer, and I completely fell in love. Being dairy-free, you don't get to eat cheesecake very often … or really at all. I have to admit, I was skeptical at first, but it was seriously, seriously delicious. My husband loved it, my kids loved it – I am officially a vegan cheesecake person! While the Blackberry Ginger Vegan Cheesecake was raw, this one is baked for a short period of time and also uses some dairy-free cream cheese – so they are both very different. Of course, I love them both (for different reasons), but I would say this is closer to a traditional cheesecake texture.
Note: I am clearly obsessed with making meringue (which is not vegan – it is made from sugar and egg whites) – see the Ultimate Dairy Free Egg Nog as well ? Simply swap out for whipped coconut cream instead!
I am plugging away on my to do list, I have a ridiculous amount of things to do between now and this weekend – all I can do is take it one thing at a time! Hope you guys are having awesome weeks!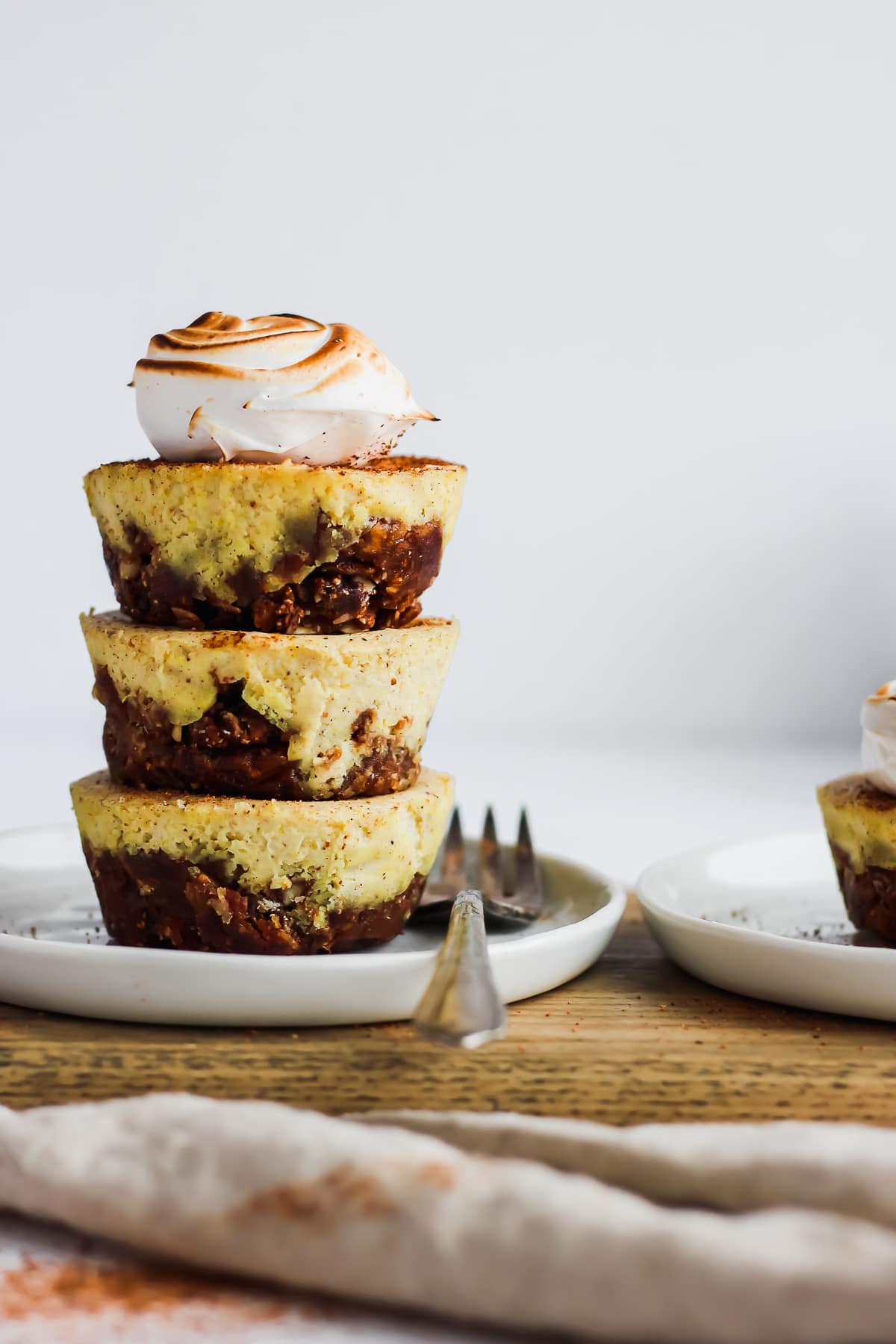 Other Recipes You Might Like
Don't forget to check out my Instagram account for some behind-the-scenes action! Or give me a follow on Facebook or see what I am pinning on Pinterest!
Print
Baked Vegan Egg Nog Cheesecake Bites
Author: Erin Jensen
Prep Time: 10 minutes
Cook Time: 15 minutes
Total Time: 25 minutes
Yield: 12 bites 1x
Category: Dessert
Method: Oven
Cuisine: American
---
Description
Individual cheesecake bites that are so delicious and easy to make!
---
Crust:
1 1/2 cup dates (pitted and roughly chopped)
1 1/2 cup chocolate grain-free granola (I used Purely Elizabeth)
Filling:
1 cup raw cashews (soaked overnight or quick soaked by pouring boiling water on top and letting sit for at least an hour)
1 cup coconut cream
8 oz vegan cream cheese (I used Tofutti)
1 Tablespoon arrowroot powder
1 Tablespoon coconut oil, melted but cooled
pinch sea salt
1 1/2 Teaspoons ground nutmeg
1/2 Teaspoon ground ginger
pinch of turmeric (for coloring)
1 Tablespoons granulated sugar (coconut sugar would work as well)
Splash of lemon juice
---
Instructions
Combine crust ingredients in food processor and pulse a few times to combine.
Pour into medium mixing bowl and finish combining with your hands.
Spray regular sized muffin tin with olive oil.
Place a scoop of the filling in each muffin cup and press firmly so it is nice and compact.
You want to it come up the side just a little bit so it forms a little cup.
Bake for 5 minutes at 325.
Place filling ingredients in blender or food processor and combine until smooth.
Taste and make any adjustments necessary with nutmeg or sugar.
Pour evenly into each muffin cup.
Bake for 10 minutes at 325 or until sides are firm but middle is somewhat jiggly.
Serve with whipped coconut cream or meringue.
---