Best Chicken Marinade – an easy chicken marinade that works with grilled chicken (or any kind of chicken). Flavorful and simple ingredients!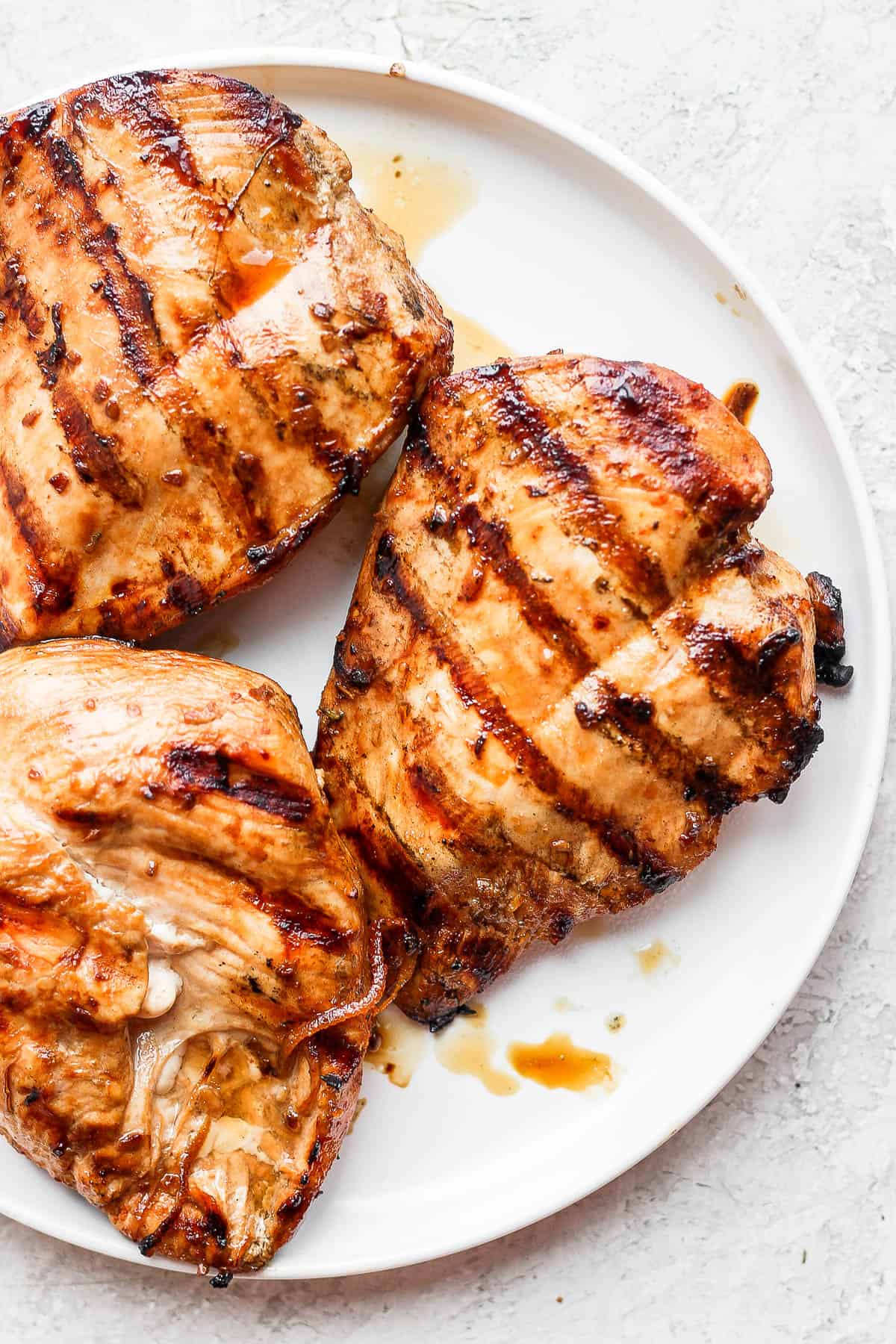 Why You Will Love This Recipe
Easy – this marinade only takes a few minutes to mix together and it will add so much flavor!
Simple ingredients – it only takes 8 real ingredients to make this marinade and it can easily be made Paleo/Whole30.
Family favorite – our whole family loves chicken making it a staple of our meal plans each week.
Chicken Marinade Ingredients
Olive oil (or avocado oil) – giving a bit of flavor plus helps to pull flavor out of some of the other ingredients.
Lemon juice & lemon zest – this provides a little acid that allows the oil and seasoning to flavor the meat.
Soy sauce (or coconut aminos), worcestershire sauce, & garlic – these are all about the flavor!
Kosher salt & pepper – a little extra seasoning!
other optional seasonings – garlic powder, basil, fresh herbs, dijon mustard, brown sugar or honey for some added sweetness or red pepper flakes for a bit of a kick.
How Long Should You Marinate Chicken?
We recommend marinating chicken in the fridge for at least 30 minutes but a few hours is ideal! Just don't let it go past a maximum of 24 hours in the marinade. We usually try to get the chicken in the marinade in the morning so by dinner time it is ready to go!
You could also freeze the marinating chicken by storing it in the freezer for about 6-8 weeks and then thaw when you are ready to cook it.
Should You Poke Holes In The Chicken Before Marinating?
It is recommended to prick the surface of the meat with a fork or score it so that the marinade penetrates the meat as deeply as possible resulting in a more moist meat, but you don't have to. You can still marinate your chicken even if you don't poke holes in it and it will still turn out delicious.
Can You Marinate Chicken Too Long?
Yes! You generally don't want to marinate any meat for longer than 24 hours.
How Do I Make My Chicken Juicy & Tender?
Don't Over-Cook: Overcooked chicken = dry chicken! And remember that the chicken will continue to cook as it rests. I recommend taking the chicken off when it is about 5 degrees lower than where you ultimately want it to be. By the time you cut into it – it will be perfect!
Let Rest: Letting your chicken rest for at least 5 minutes is crucial. It allows the juices to redistribute after cooking so when you do cut into it, the entire piece will be juicy and delicious.
Best Way to Cook Chicken Breasts
Personally, we fell the best way to cook chicken breasts is on the grill! We take you through all the important tips of cooking chicken breasts on the grill in How To Grill Chicken Breasts – check it out! There are also a variety of other ways to cook marinated chicken, like baking in the oven or a cast iron skillet on the stove top.
How To Make The Best Chicken Marinade
Gather your ingredients.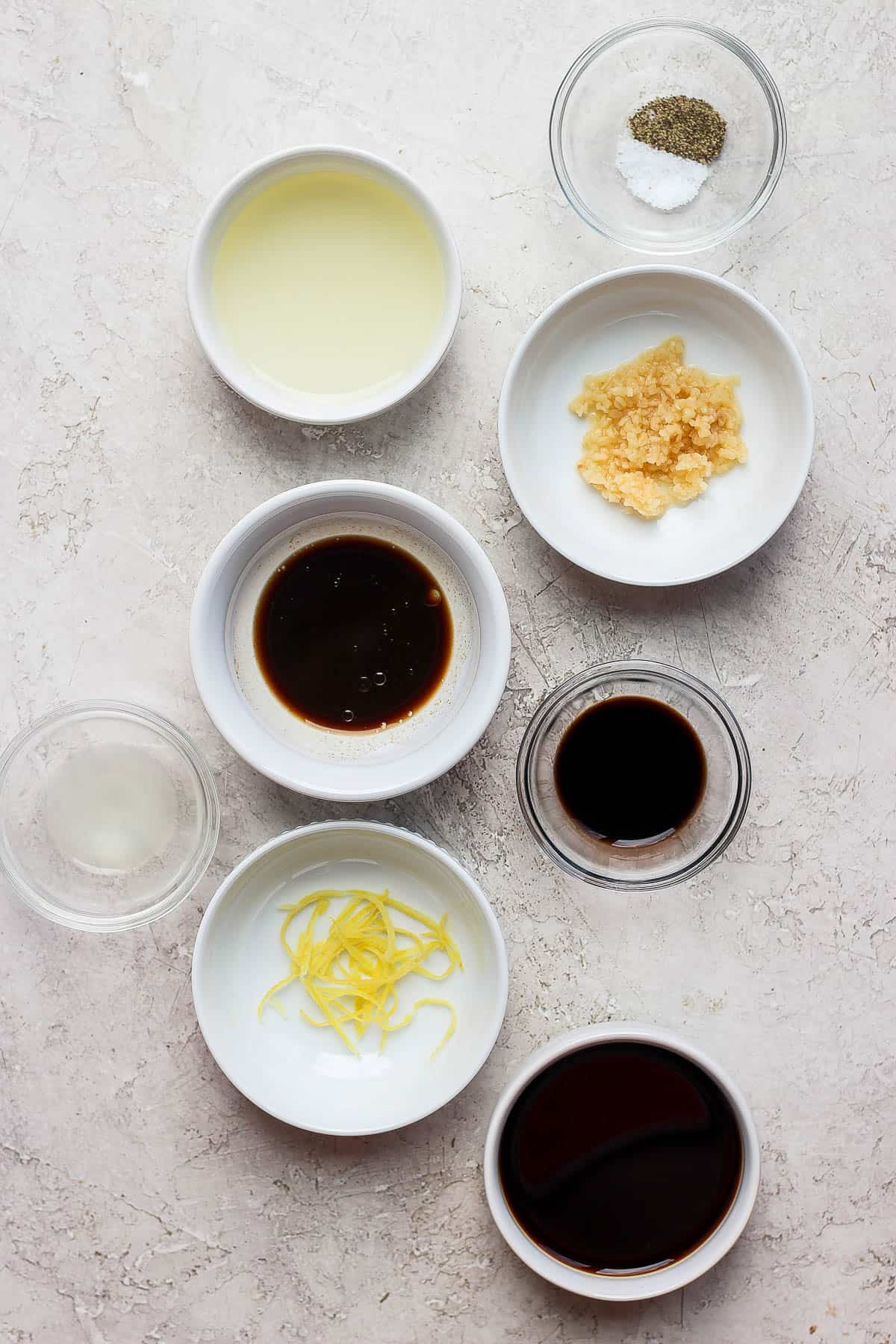 Whisk them to combine.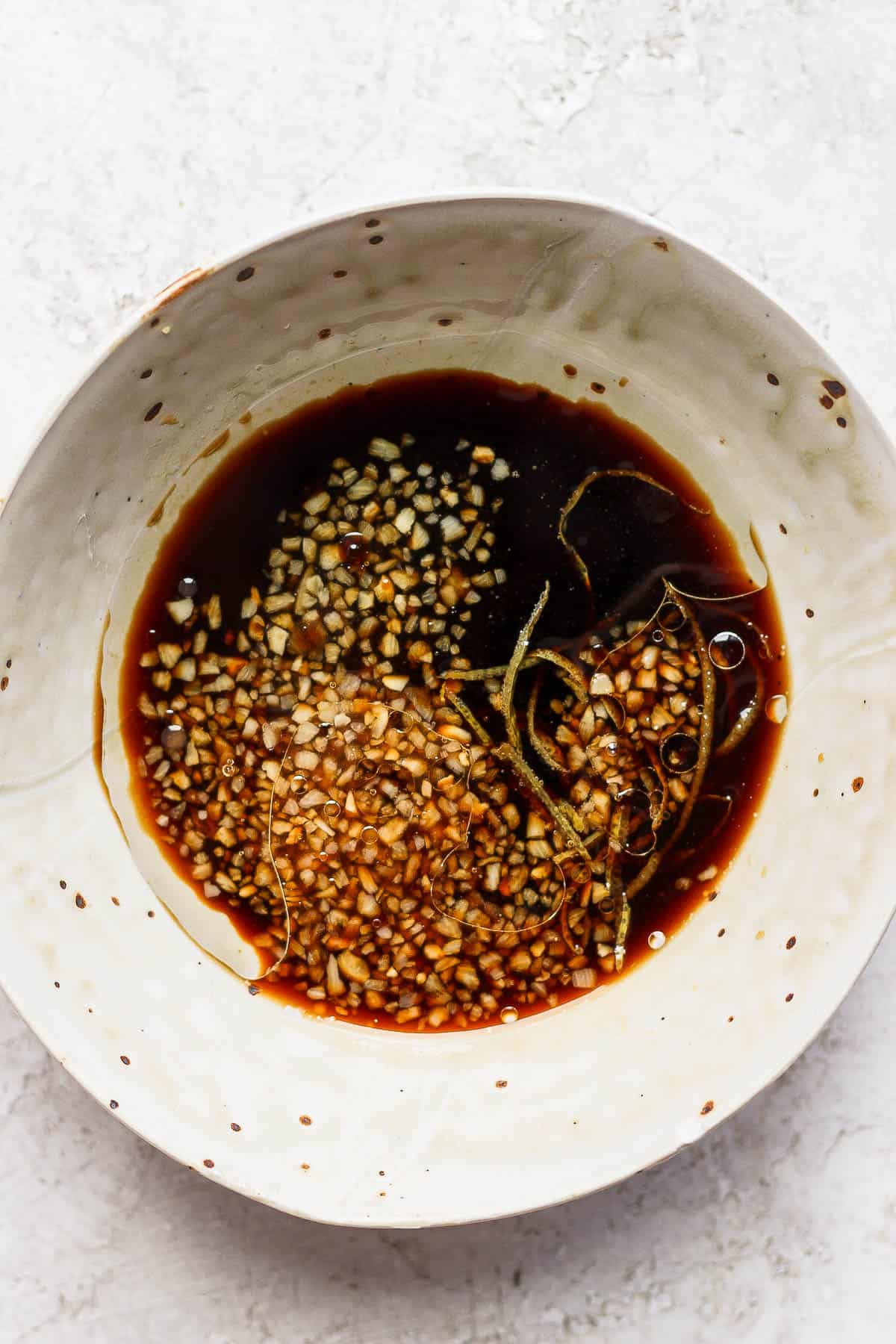 Pour marinade over the chicken in a shallow dish and let it sit for at least 30 minutes.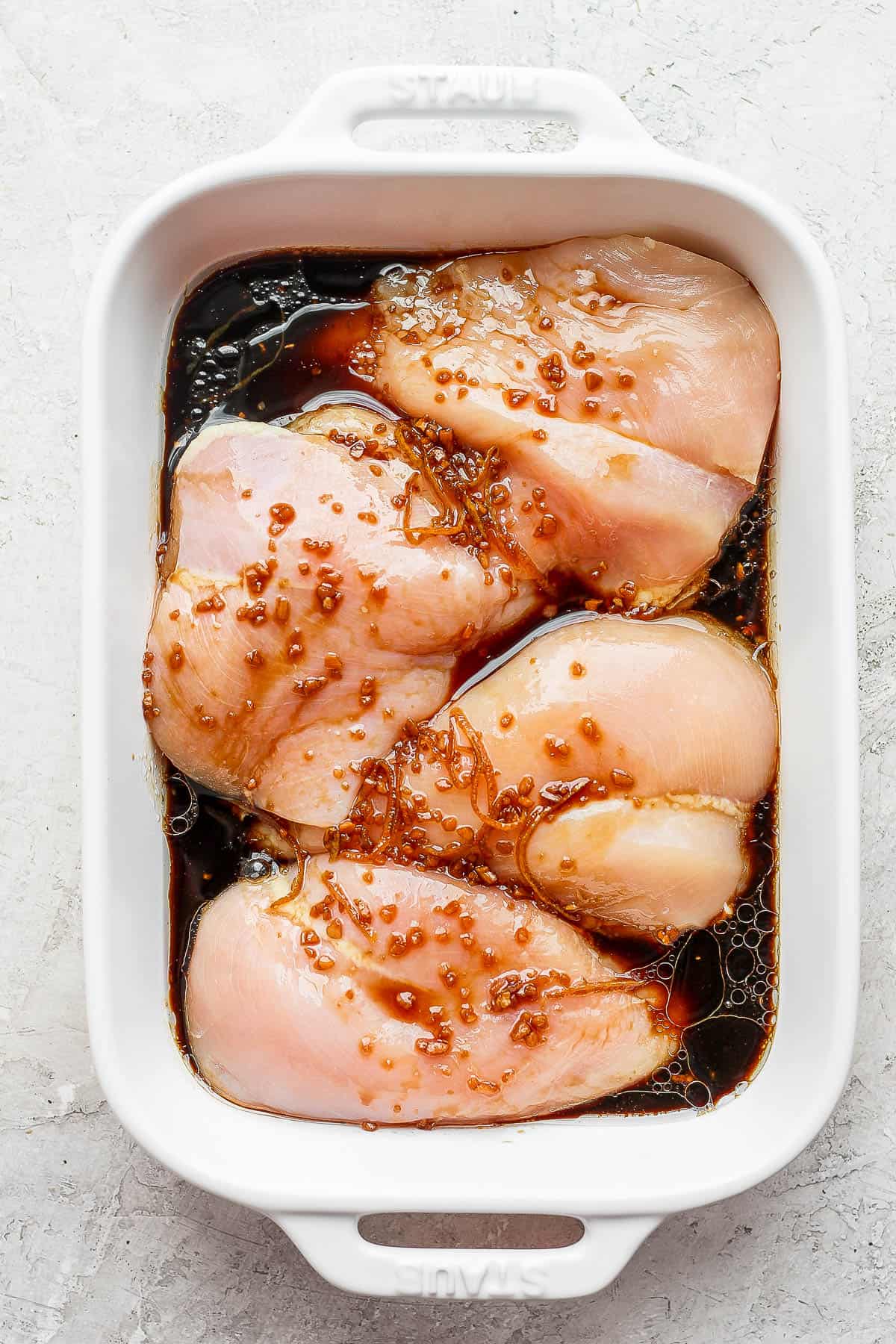 Cook chicken your preferred way and use a meat thermometer to ensure that your raw meat is fully cooked.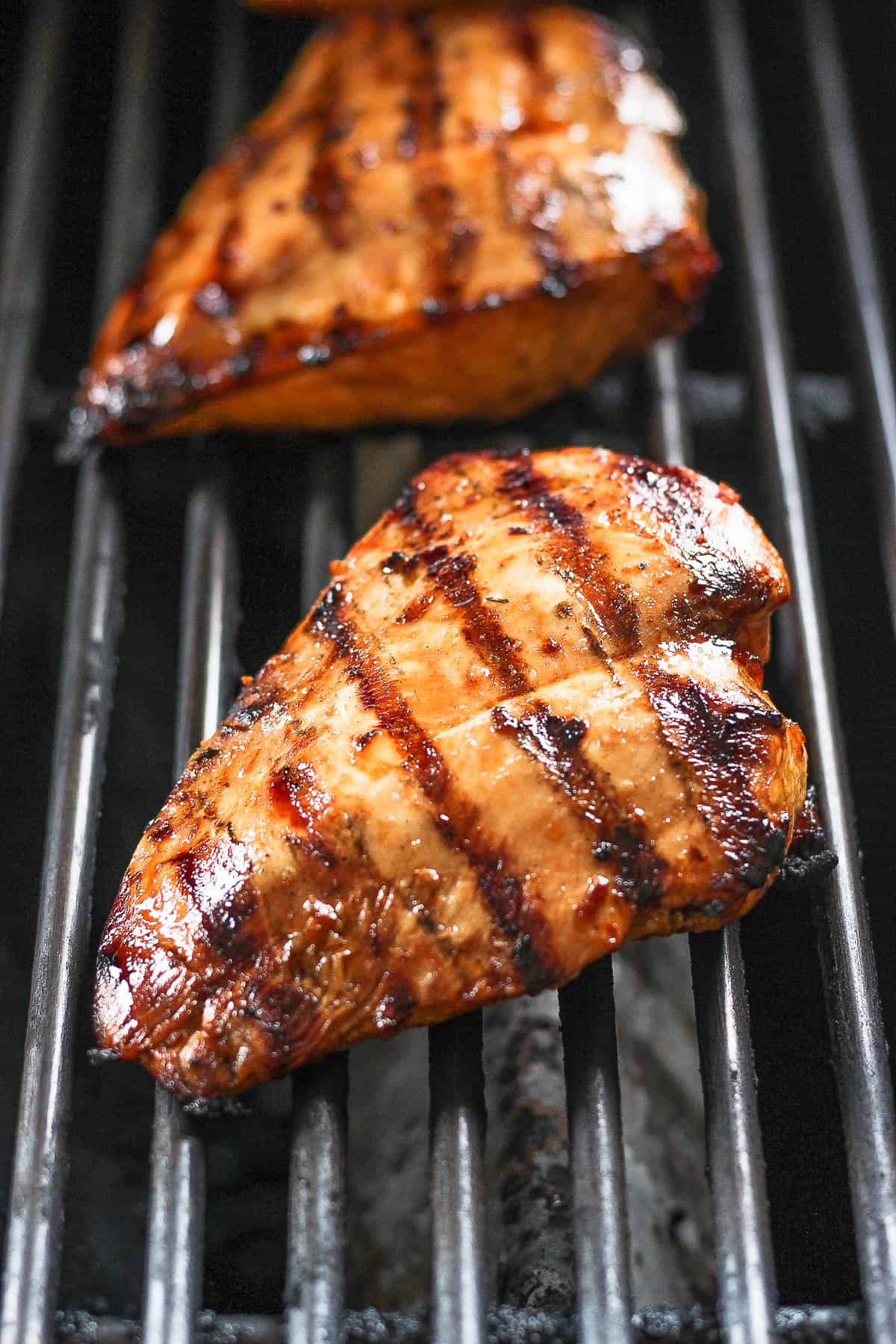 Enjoy!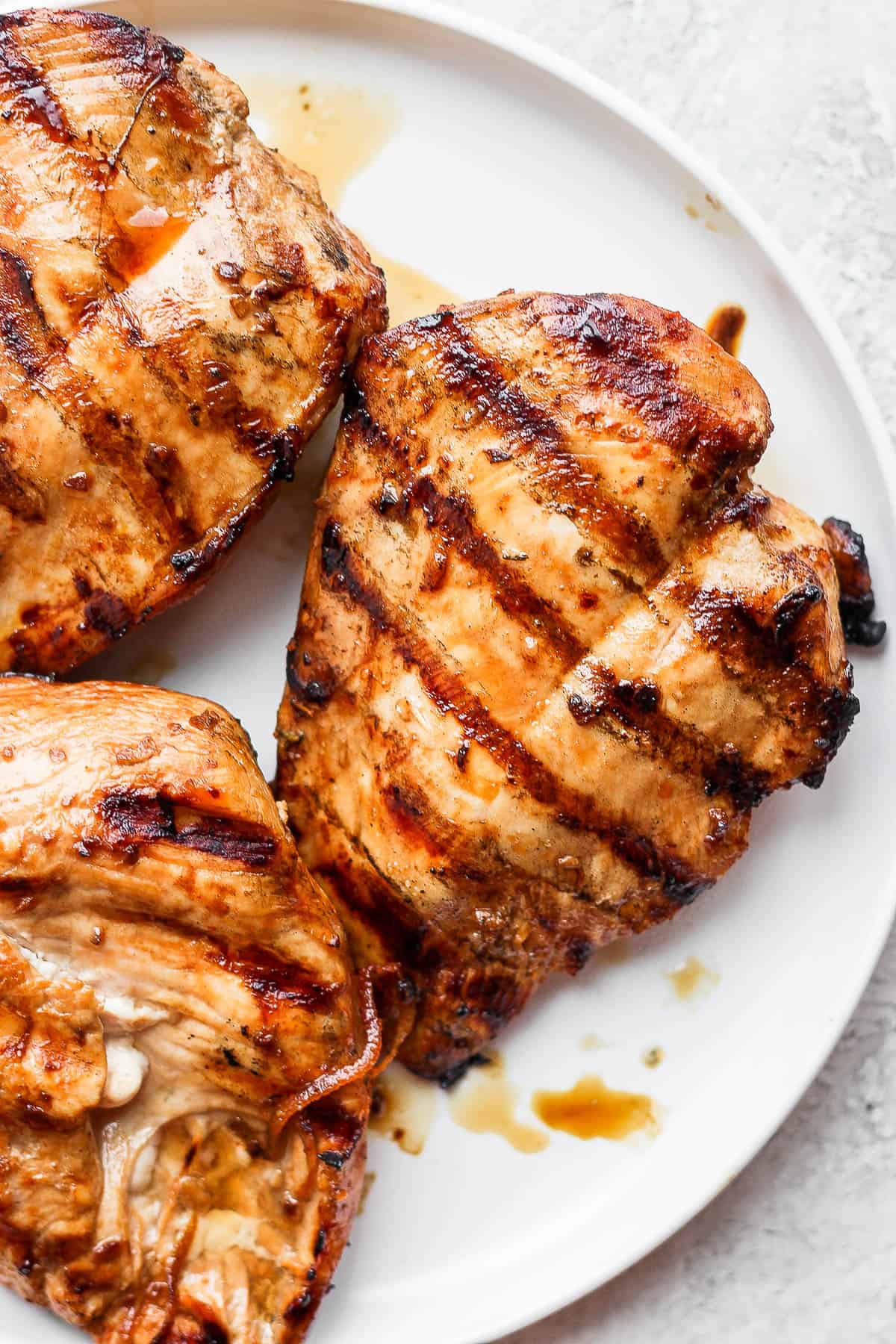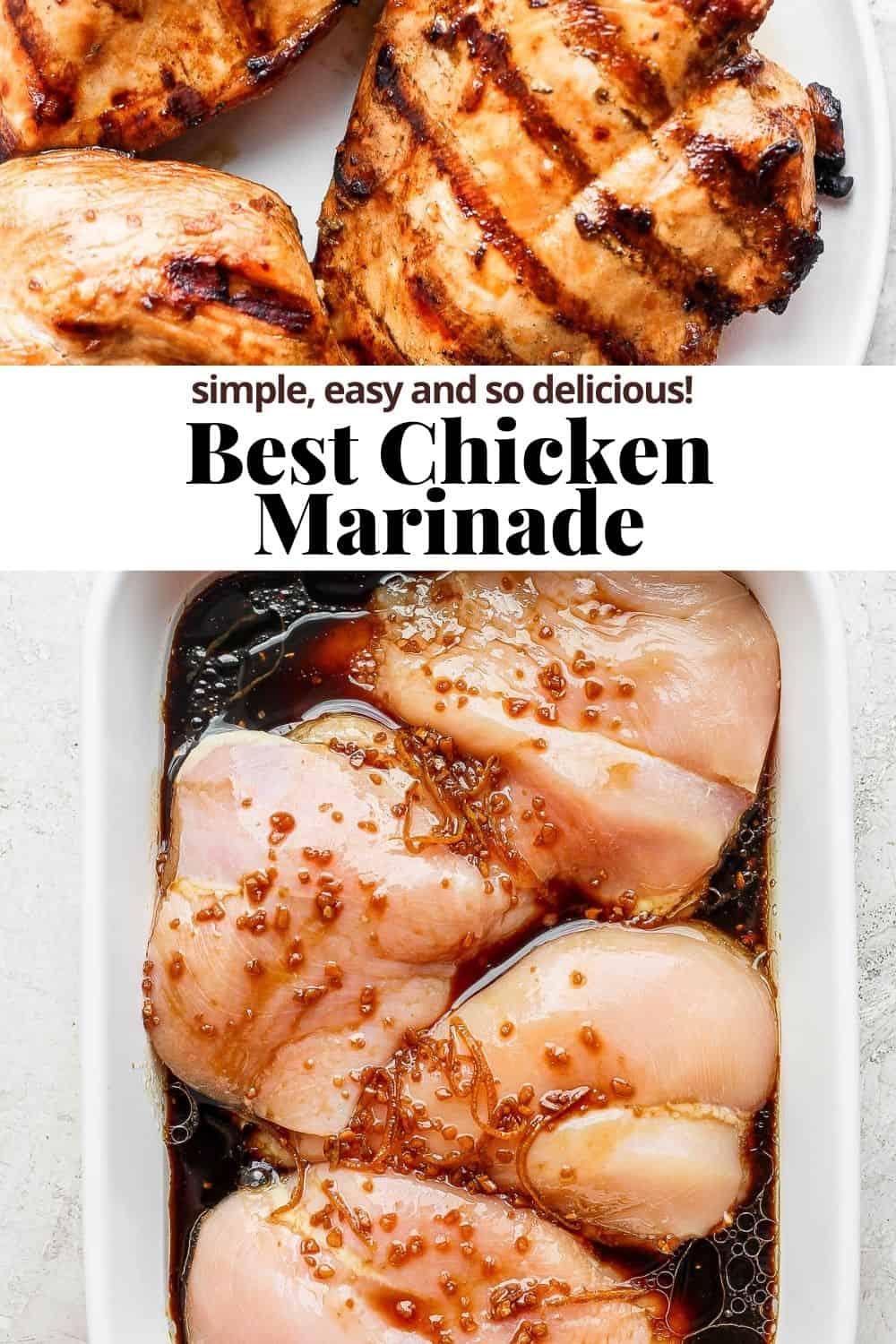 Made this recipe and loved it?! We would love it if you would take a minute and leave a star rating and review – it is also helpful if you made any substitutions or changes to the recipe to share that as well. THANK YOU!
Don't forget to check out my Instagram account for some behind-the-scenes action! Or give me a follow on Facebook or see what I am pinning on Pinterest!
Print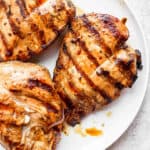 Best Chicken Marinade
Author: Erin Jensen
Prep Time: 5 minutes
Cook Time: 0 minutes
Total Time: 5 minutes
Yield: 1 marinade 1x
Category: Marinade
Method: Counter-top/Refrigerator
Cuisine: American
---
Description
Best Chicken Marinade – an easy chicken marinade that works with grilled chicken (or any kind of chicken). Flavorful and simple ingredients!
---
2 tablespoons olive oil (or avocado oil)
1 teaspoon lemon juice
1/4 cup soy sauce (or tamari or coconut aminos)
2 teaspoons worcestershire sauce
2 teaspoons garlic, minced
1/8 teaspoon kosher salt
1/8 teaspoon ground black pepper
1 teaspoon lemon zest, minced
---
Instructions
Combine ingredients in a small bowl.
Whisk to combine.
Pour over chicken and let marinate for at least 30 minutes.
Cook chicken however you want (we love grilling them).
---
Notes
Paleo/Whole30: to make paleo/Whole30 use coconut aminos instead of soy sauce and omit the worsteshire sauce.
Other ways to cook: smoked chicken breasts are also delicious!
Make Ahead: this is an easy recipe to make ahead of time to cut down on meal prep!
Keywords: best chicken marinade, grilled chicken marinade, easy chicken marinade