Smoked Chicken Breasts – this smoked chicken breast recipe is easy to follow with tons of tips and tricks as well as an optional brine and dry rub you can use!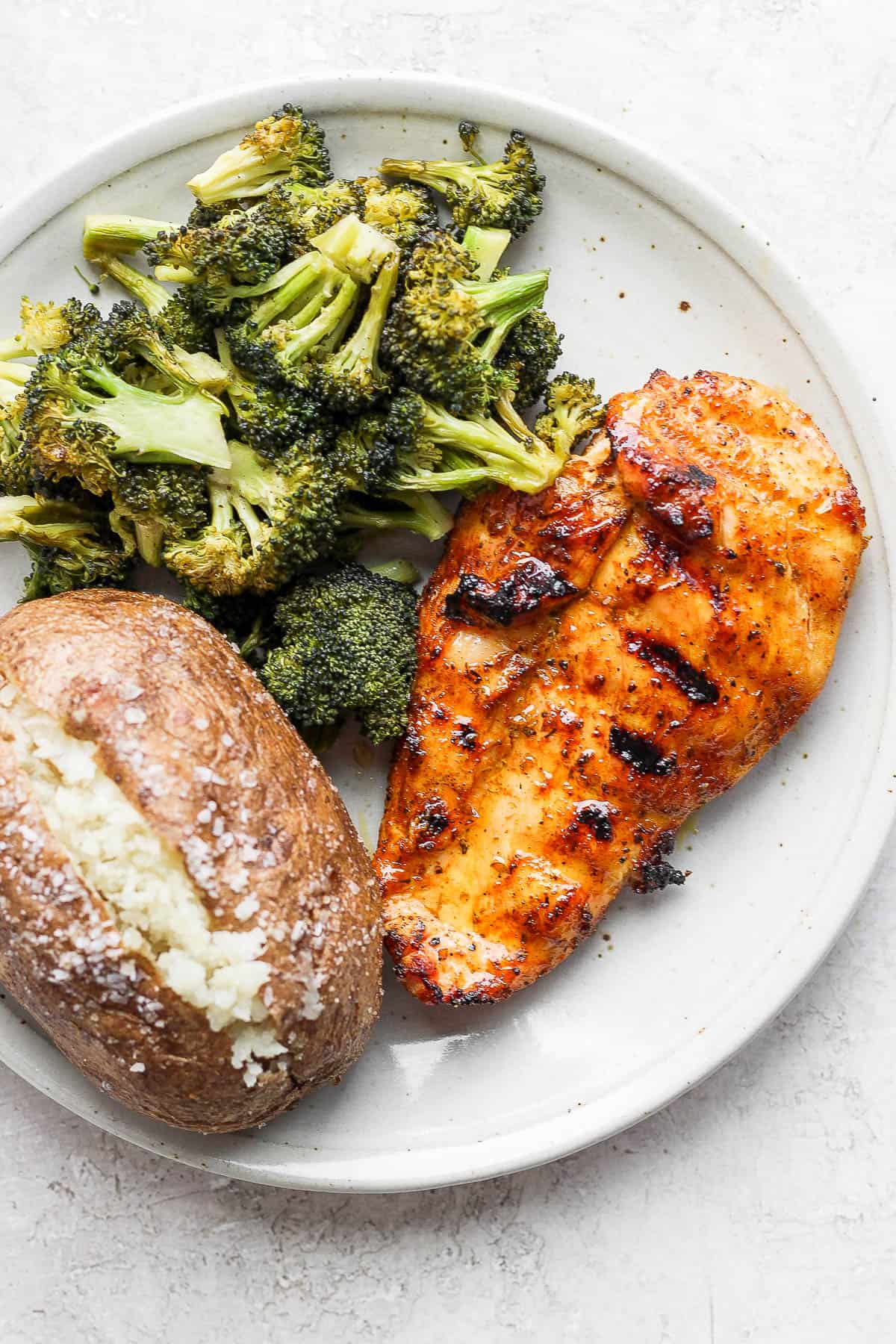 Easy Smoked Chicken Breast Recipe
This is an incredibly easy (and delicious) recipe that you will come back to again and again! Don't forget to try out the brine and dry rub options – neither are required, but they are a fun way to bring your smoked chicken recipes to the next level (these smoked chicken thighs are also so good)! Serve with some Smoked Corn on the Cob, Smoked Baked Beans and Smoked Asparagus (or other smoked vegetables) for a complete meal!
Got leftovers – you have to try our Smoked Chicken Salad!!
Traeger Smoked Chicken Breast
We tested this on a Traeger pellet grill, but this will work on any pellet smoker.
Why This Recipe Works
Dry Rub or Brine: we have included a link to a smoked chicken brine and smoked chicken dry rub to be used with this recipe (but not required).
Low Start Temp: we cook this chicken at 225 degrees F. to get a nice smokey flavor.
Sear at the end: then we end on a quick sear to make sure the outside is slightly charred and delicious!
What You Will Need
boneless, skinless chicken breasts: you are looking for a medium/large size here.
kosher salt and ground black pepper OR smoked chicken dry rub: you can definitely stick to a classic salt and pepper seasoning if you want (nothing wrong with that!). Our smoked chicken dry rub is a mixture of onion powder, paprika, garlic powder, oregano cumin and other herbs/spices!
How to Prep Chicken Breast for Smoking
To prep your chicken you can start out with a smoked chicken brine (optional). Otherwise, simply pat dry with a clean paper towel and then season with either salt and pepper OR a chicken rub OR other seasoning blend of your choice.
What Temperature Should I Smoke Chicken Breast
We recommend smoking chicken at 225 degrees F.
How Long Does it Take to Smoke Chicken Breasts at 225
It takes approximately 1 hour to smoke boneless, skinless chicken breast (medium/large). Of course, there are lots of variables when using a smoker (humidity, wind, hot spots, etc.) so the time will vary.
Do You Flip Chicken Breast When Smoking
No, the smoke and heat circle the chicken (unlike grilled chicken breast which have the heat element directly under them) so you do not need to flip them when smoking.
How do You Smoke Chicken Breast Without Drying it Out
Don't overcook: keep an eye on that internal temperature and don't let it go over 165 degrees F.
Low and slow with a sear at the end: We smoke these for about an hour at a low temp (225 degrees F) and then end with a hot sear on both sides.
Let rest: don't skip this step! So important for those juices to redistribute!
How do You Know When Smoked Chicken is Fully Cooked
Chicken is fully cooked when it the internal temperature reaches 165 degrees F. at the thickest point. Use a meat thermometer or probe to keep track!
How to Smoke Bone-In Chicken Breasts
The recipe will be the same if you use bone-in chicken breasts BUT the time to cook will be quite a bit longer. Just watch the internal temperature of the chicken and let that be your guide.
What to Serve With
How to Smoke Chicken Breasts
Pat chicken dry with a clean paper towel.
Season with either kosher salt + pepper OR you can use our smoked chicken dry rub.
Place on the smoker (at 225 degrees F.) for approximately 1 hour or until the internal temp reaches 160 degrees F.
You can sear your chicken breast on a gas grill if you want to really get a nice crispy outside.
Let rest 5-10 minutes. Enjoy!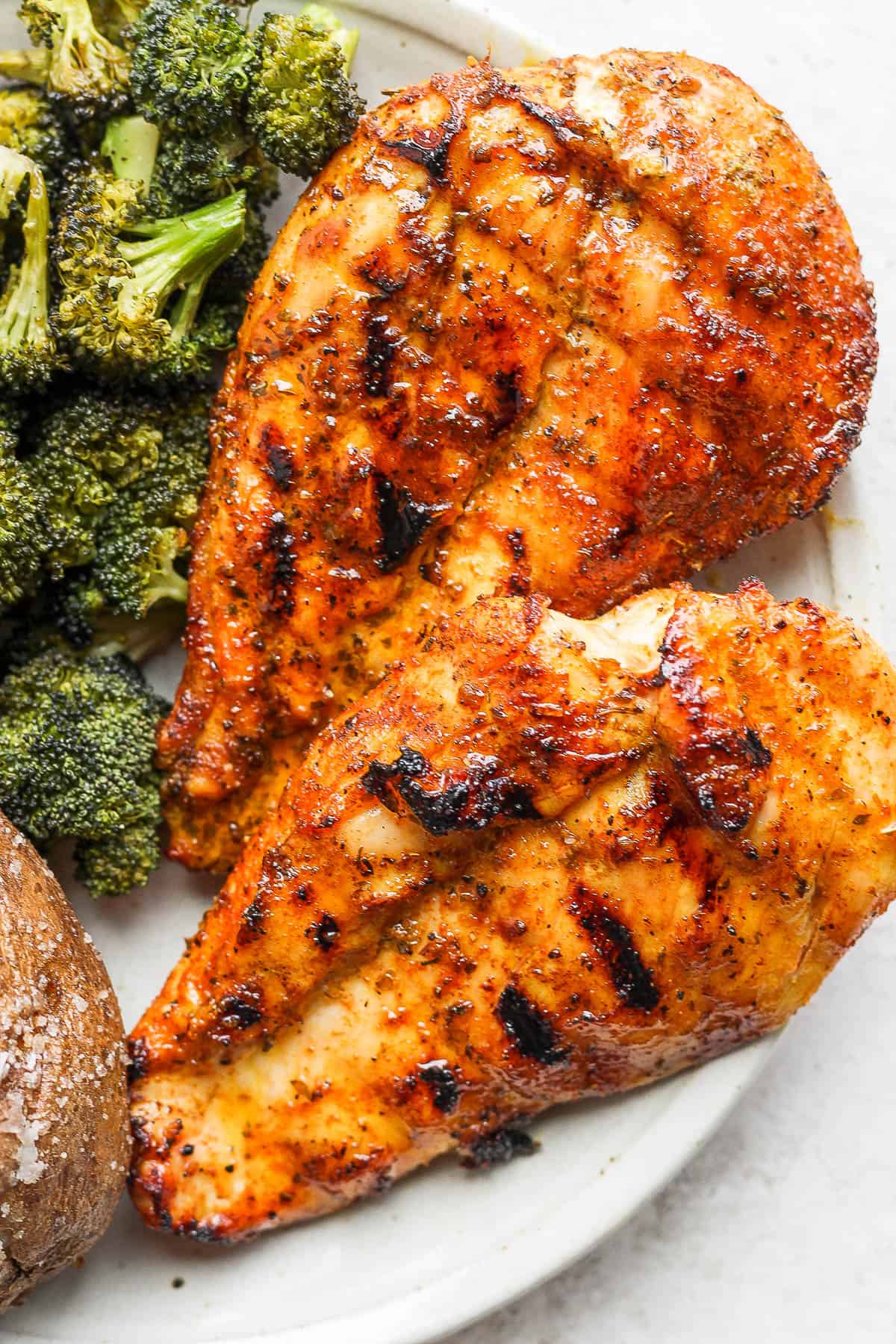 Made this recipe and loved it?! We would love it if you would take a minute and leave a star rating and review – it is also helpful if you made any substitutions or changes to the recipe to share that as well. THANK YOU!
Don't forget to check out my Instagram account for some behind-the-scenes action! Or give me a follow on Facebook or see what I am pinning on Pinterest!
Print
Smoked Chicken Breast Recipe
Author: Erin Jensen
Prep Time: 5 minutes
Cook Time: 1 hour
Total Time: 1 hour 5 minutes
Yield: 4 chicken breasts 1x
Category: Chicken
Method: Smoker
Cuisine: American
---
Description
Smoked Chicken Breasts – juicy and delicious smoked chicken breast recipe that is simple and easy! The best way to cook your chicken!
---
4 boneless skinless chicken breasts
1 tablespoon olive oil
kosher salt and ground black pepper OR smoked chicken dry rub
---
Instructions
optional brine: here is the smoked chicken brine which can be done beforehand if you want (not required).
Turn smoker to 225 degrees F.
Pat chicken dry with a clean paper towels.
Drizzle chicken with olive oil (rub all over until fully coated).
Season generously with kosher salt and ground black pepper OR smoked chicken dry rub.
Place chicken breasts on smoker (directly on the grill grates) and close the lid.
Let chicken cook for approximately 50-70 minutes or until chicken reaches 165 degrees F. at the thickest part (use an instant read thermometer). Remove chicken from smoker and let rest 5-10 minutes.
Optional Searing: turn your gas grill on high heat when your chicken almost reaches an internal temperature of 160 degrees F. Once your chicken reaches 160 degrees F. remove it from the smoker and sear it for 1-2 minutes per side on your gas grill.
Let the chicken rest 5-10 minutes before cutting. The internal temp of the chicken will continue to rise to 165 degrees F. as you sear and let it rest.
---
Notes
Searing: the searing is totally optional, but that is how you can ensure the outside of your chicken isn't rubbery and is, instead, crispy and delicious. If you don't have a gas grill you can sear on your smoker by removing the chicken and turning your smoker up ALL the way. Then sear quickly.
Cook Time: how long it ultimately takes to smoke meat has so many variables at play (like wind, air temp, humidity, hot spots, thickness of chicken, etc.). These took an hour for me, but I provided a range to account for these other variables impacting your cook time.
Chicken Breast: we recommend using boneless chicken breast, but see the notes in the blog post above if you want to use bone-in chicken breast.
Smoked Chicken Thighs: we also have a similar recipe for Smoked Chicken Thighs.
Whole Smoked Chicken: if you would rather cook a whole chicken try this Whole Smoked Chicken or this Beer Can Chicken.
Wood Chips: I recommend a mesquite, apple or or hickory for this recipe.
Leftovers: these make great leftovers and this Smoked Chicken Salad is AMAZING!
Keywords: smoked chicken breasts