Steak Marinade is a summer must-have recipe! So flavorful – it brings your classic grilled steak to the next level!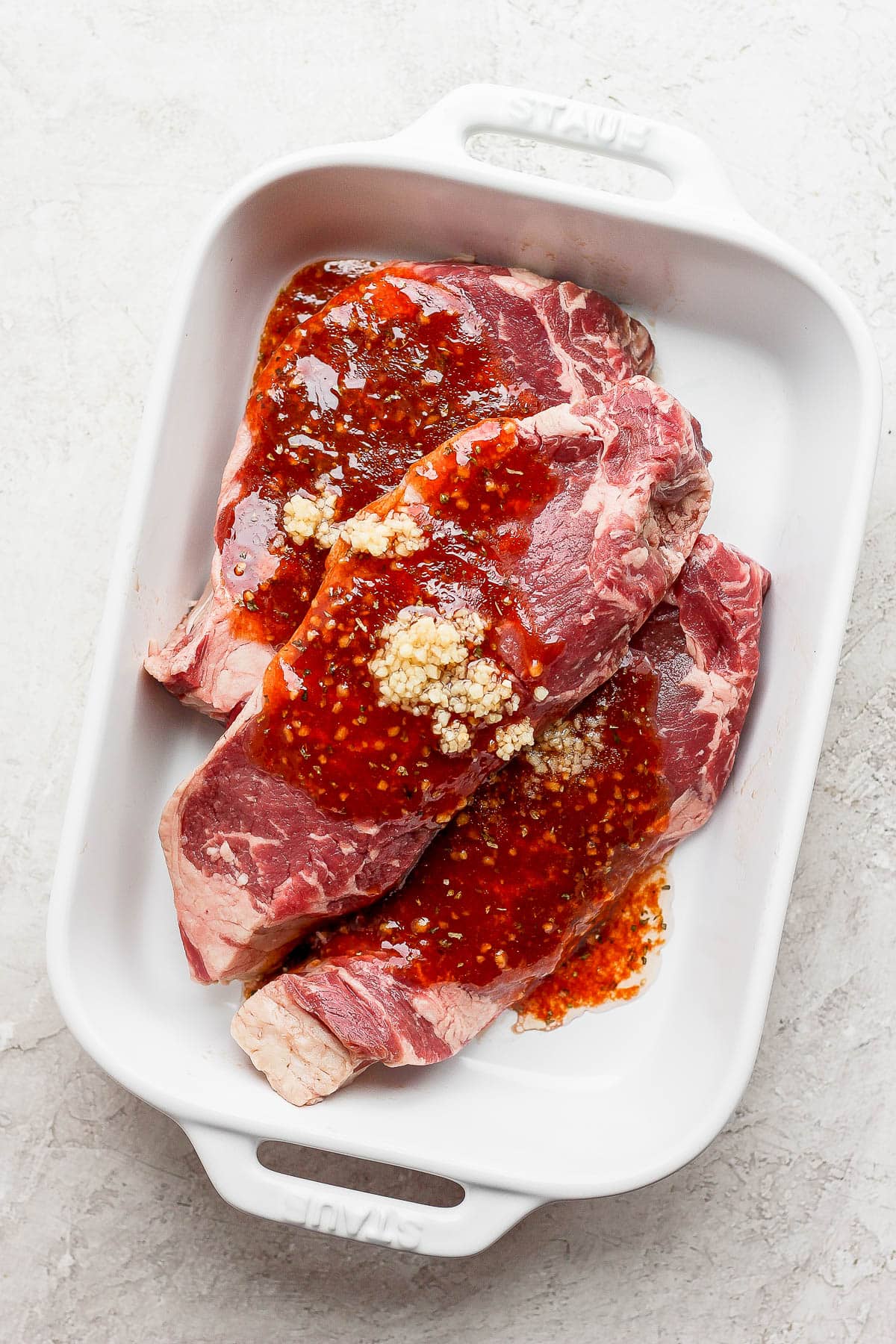 Easy Steak Marinade
I know some people are true believers that steak only needs to be seasoned with salt and pepper (which is totally fine!). I love my grilled steak that way too. But, if you are looking for something a little different tonight – then this steak marinade is for you (also try our Steak Dry Rub)! No matter what, starting with a high-quality product before you marinate is probably my best tip, which is why I am so excited to be partnering with County Natural Beef on this recipe!
Country Natural Beef is 100% owned by family ranchers and is G.A.P. Step 4 Animal Welfare Certified which means that their animals are pasture-raised, fed a vegetarian diet, provided a safe and enriched environment and never receive antibiotics or added hormones. They also happen to be a Whole30-Approved partner! And I have to say, this is honestly the best beef I have ever tasted. You truly can tell the difference and I am so proud to be partnering with them today!
What You Will Need
ketchup: I know it sounds weird, but just stick with me on this one! The combo here is amazing!
soy sauce: feel free to use tamari if you are gluten-free or use coconut aminos if you are paleo/Whole30!
balsamic vinegar: this adds a bit of acidity, without being over-bearing
garlic: because … we always gotta have garlic!
olive oil or avocado oil: this helps loosen the marinade up so it can coat the steak.
spices: we use a mix of oregano, basil leaves and thyme to give this marinade an earthy vibe!
Should You Marinate Steak?
Marinating your steak isn't required, but marinating steak results in a more flavorful and tender piece of meat. That being said, a lot of people stick closely to their only-salt-and-pepper and that is okay too!
Should I Dry Steaks Before Marinating
Yes. Dry your steak (pat dry with clean paper towel) so you end up with a better sear. This is applicable whether or not you are marinating your steak.
Should You Poke Holes in Steak Before Marinating
You can poke holes in your steak before marinating to allow the marinade to more deeply penetrate the steak. That being said, it isn't a requirement.
How Long Should Steaks Marinate
Steaks should marinate for 30 minutes or up to 6-8 hours. If there is not acidity in your marinade then you can marinate them overnight. If there is acidity in the marinade (like a lemon juice) then marinating the steaks too long will result in the acidity breaking down the steak and changing the texture (and not in a good way).
How do I Make My Steak Juicy and Tender
We go into this more in our post on How to Grill the Perfect Steak, but here are a few tips on making your steak juicy and tender:
Sear: cooking your steaks on high initially to sear the outside and lock in those juices is key! You can always move to lower or more indirect heat later as they finish cooking.
Don't Over-Cook: Overcooked steak =dry steak! And remember that the steak will continue to cook as it rests. I recommend taking the steak off when it is about 5 degrees lower than where you ultimately want it to be. By the time you cut into it – it will be perfect!
Let Rest: Letting your steak rest for at least 5 minutes is crucial. It allows the juices to redistribute after cooking so when you do cut into it, the entire piece will be juicy and delicious.
How to Make Steak Marinade
Pick out high-quality ingredient!
Pat steaks dry.
Gather your ingredients.
Add ingredients to small bowl and whisk to combine.
Pour marinade over steaks. Ensure they are fully coated and let them marinate for 30 minutes.
Remove excess marinade and then cook your steaks however you want – we love grilling them!
Let steaks rest 5 minutes before cutting.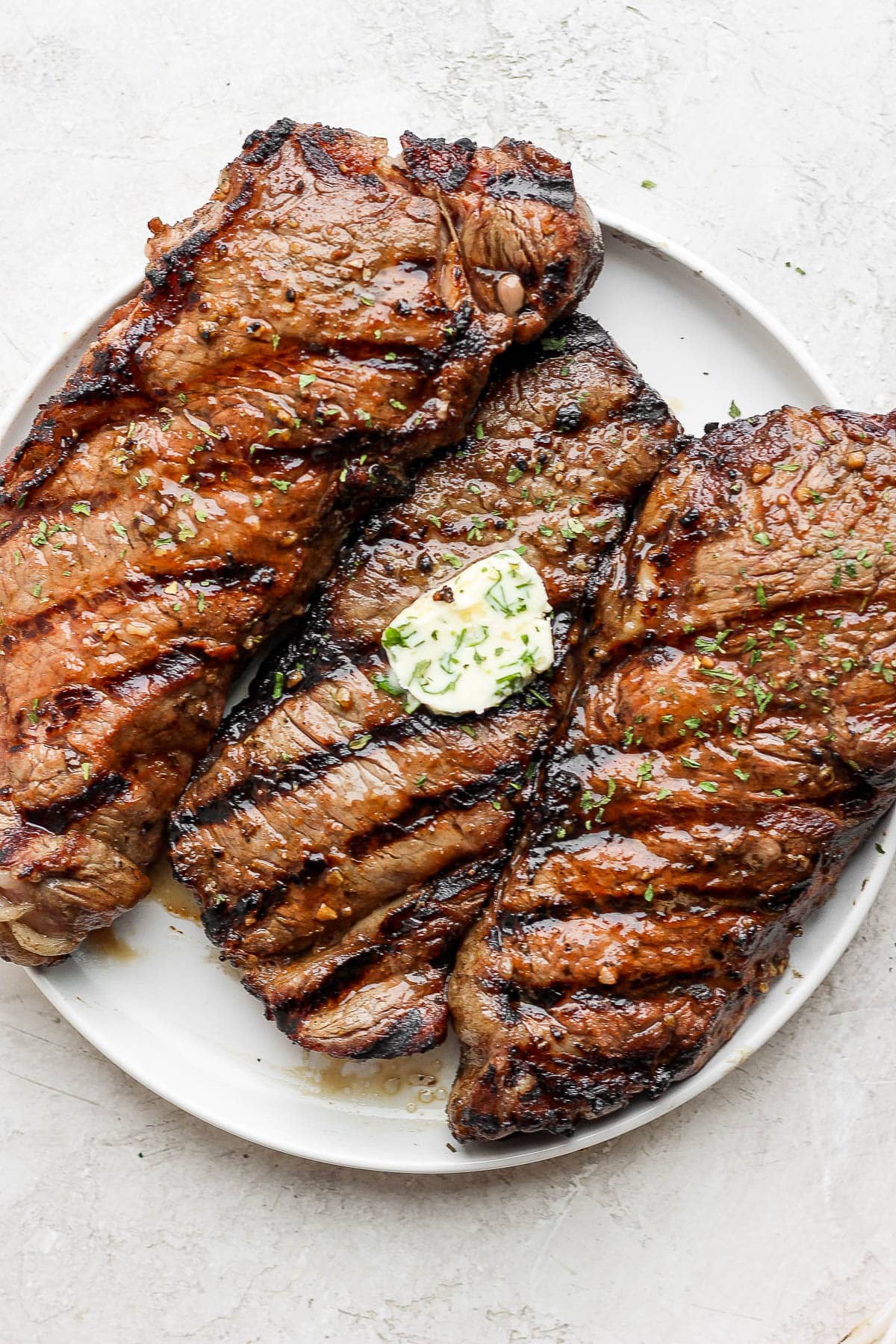 Recipe FAQs and Tips
Poking holes in steak: before you marinate your steak feel free to poke some holes it it on both sides using a fork. This helps the marinade penetrate the steak while marinating.
Before Grilling: Wipe off excess marinade before grilling (especially over direct heat) as it will most likely cause flare-ups. Some flare-ups are fine (and we all like a little char!), but we recommend having a spray bottle of water on hand to help calm the flames in case of flare-ups. You can also move your steak over to indirect heat after the initial sear if you have having lots of issues. See: How to Grill the Perfect Steak for more info!
Freezing: You can definitely freeze your steak in the marinade if you want to prep beforehand. Simply place steak + marinade in a freezer-safe silicone bag. Ensure steak is coated in the marinade and then push out as much air as possible while sealing the bag. Store in the freezer for up to 3 months. To thaw, simply place in the refrigerator overnight.
Paleo/Whole30: to make Paleo/Whole30 simply use a compliant ketchup and use coconut aminos instead of soy sauce.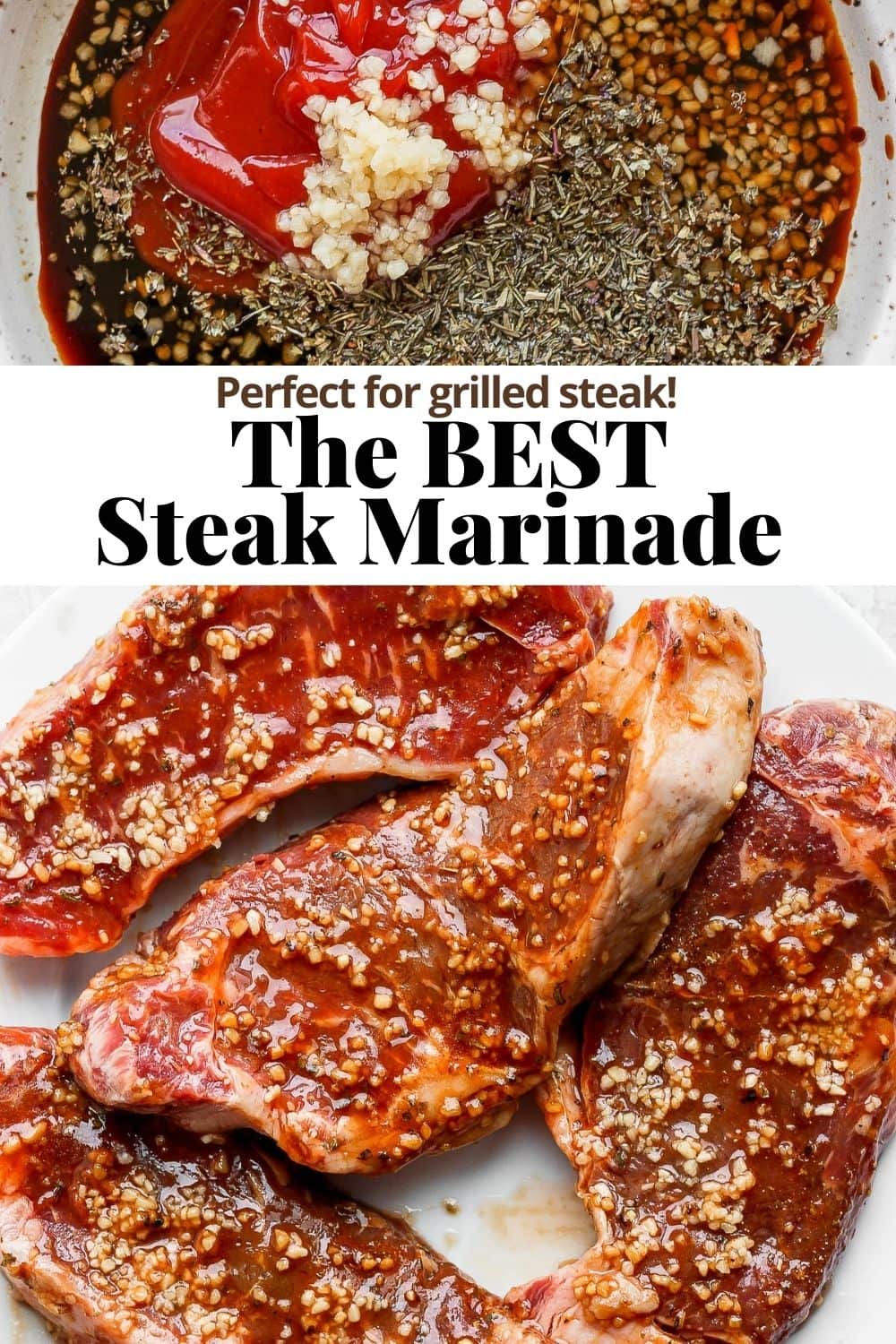 Print