Steak Dry Rub is such a fun way to switch up your steak! This steak dry rub recipe is packed with flavor and a great way to elevate your next steak recipe!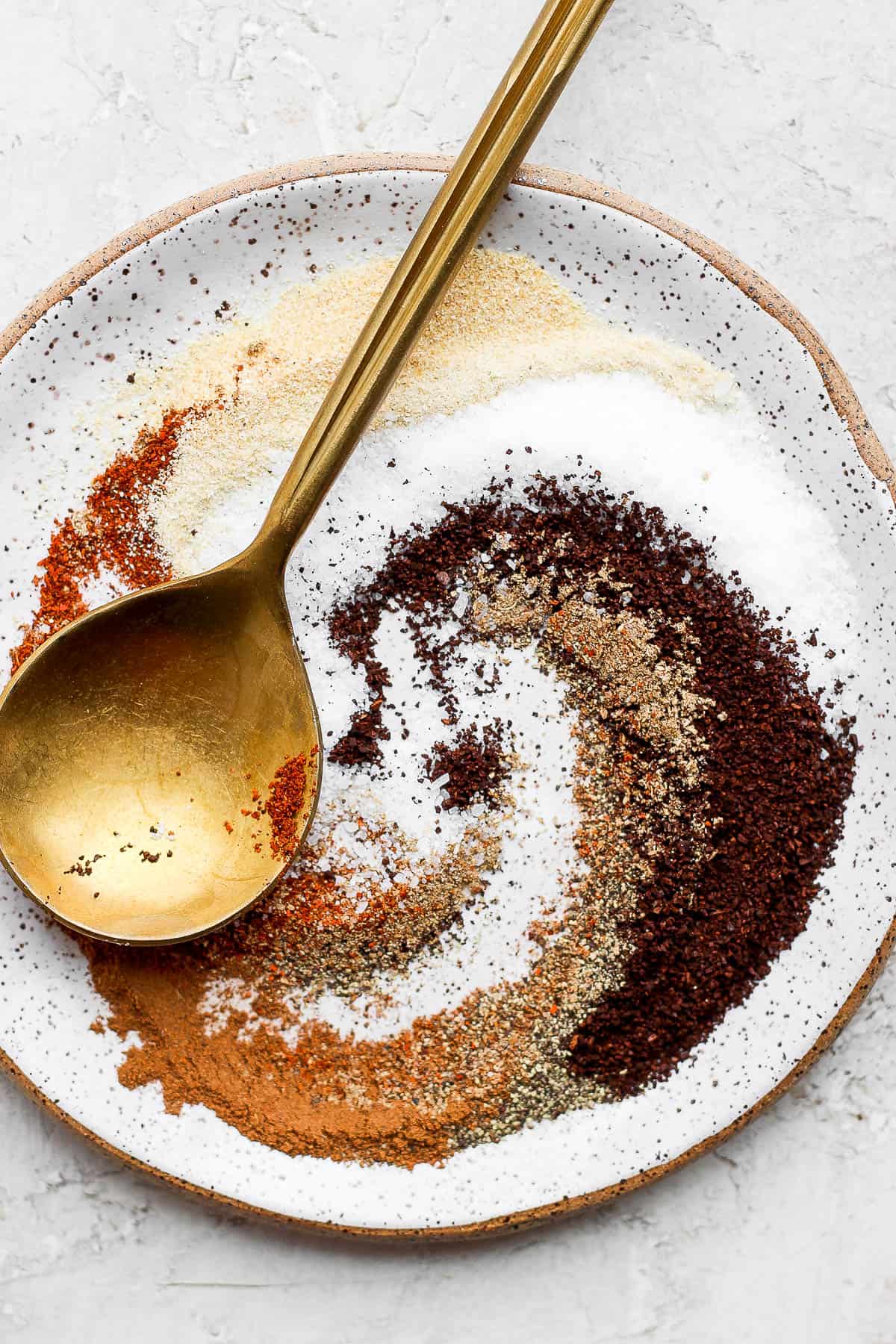 Best Steak Dry Rub
I know salt and pepper is the go-to, classic steak seasoning! But, I dare you to try something new and test out this rub recipe or even this easy steak marinade! Perfect for grilling ribeyes or any cut of beef (would be amazing on this Grilled Flank Steak).
Love trying new steak recipes – learn how to sous vide a steak here!
Why You Will Love This Recipe
Coffee: coffee + steak just go together! There is something about that bitter coffee flavor that pairs so well with a grilled steak!
Chili Powder: then add in the combo of chili powder + coffee … and it is just magic!
Lots or a little: I have tried this recipe using a little rub and a lot of rub … it's awesome both ways! So if you just want a little extra flavor, go light with the rub. If you want to really taste that coffee + chili flavor then add a little extra and really get it into every nook and cranny.
What cut of beef can I use this on
The possibilities are endless – we love: New York Strip, Filet Mignon, Top Sirloin (sirloin steaks), Ribeye, etc.
Should You Dry Rub Steak
Yes! As I said, salt and pepper are great as a standalone seasoning for steak, but if you want to take to the next level this is the way to go (or a great steak marinade). Using a dry rub with kosher salt is recommended as it really brings out and accentuates the natural flavor of the steak.
How Long do You Leave Dry Rub on Steak
You can leave rub on a steak for as little as 30-40 minutes or as long as overnight. Leaving it on overnight will really allow those flavors to soak into the steak. If you are leaving it on overnight simply place the steak in a airtight container and leave in the fridge overnight.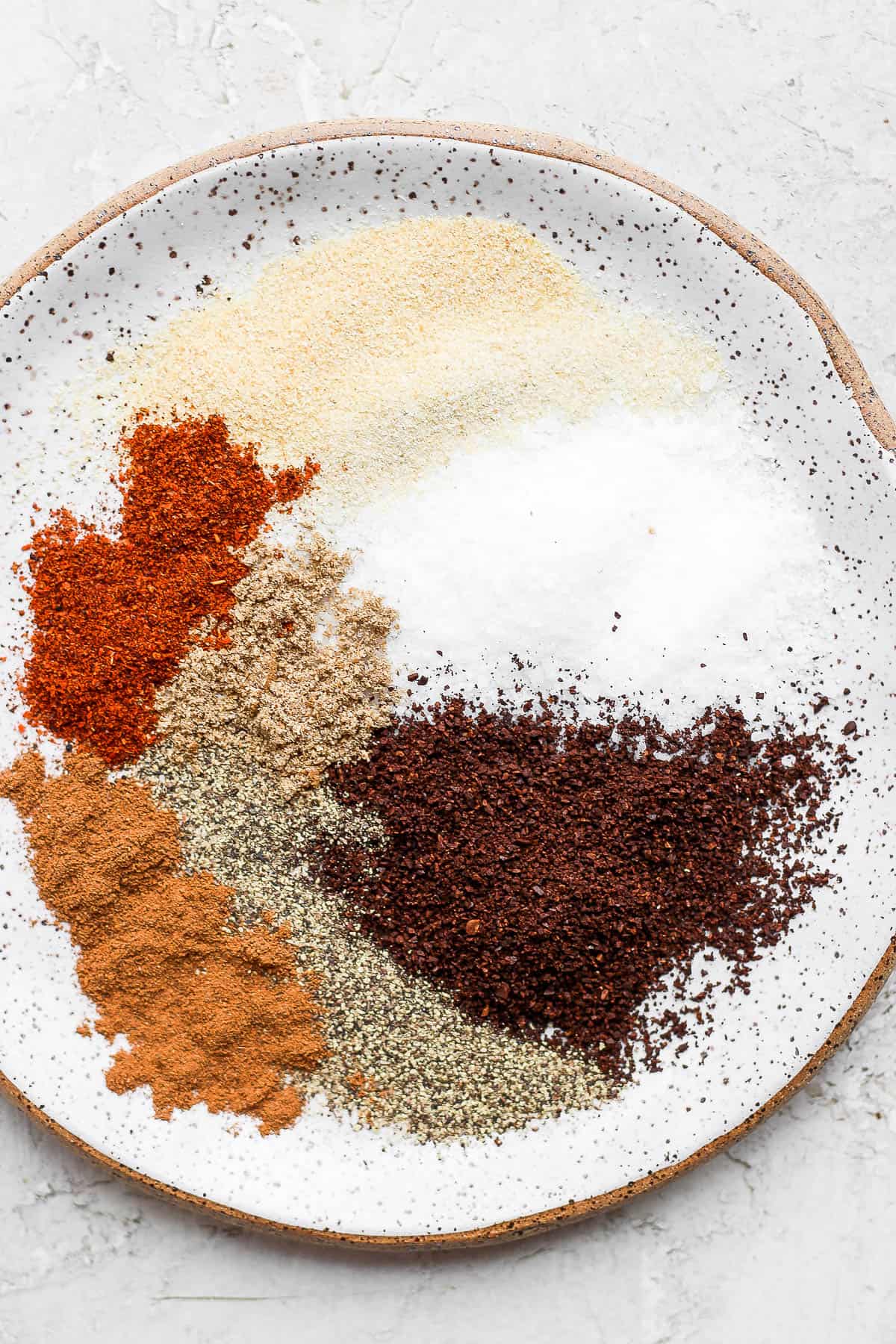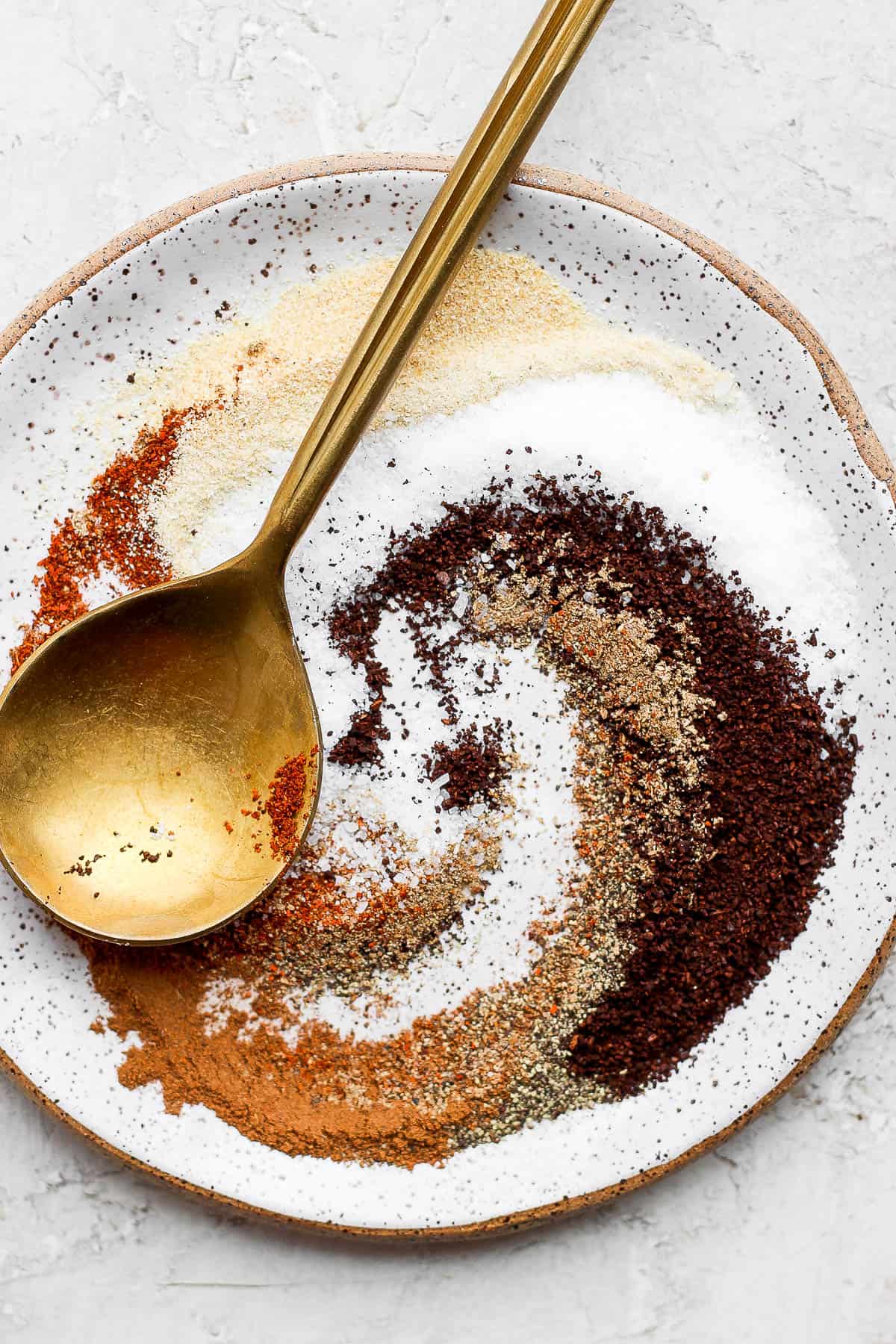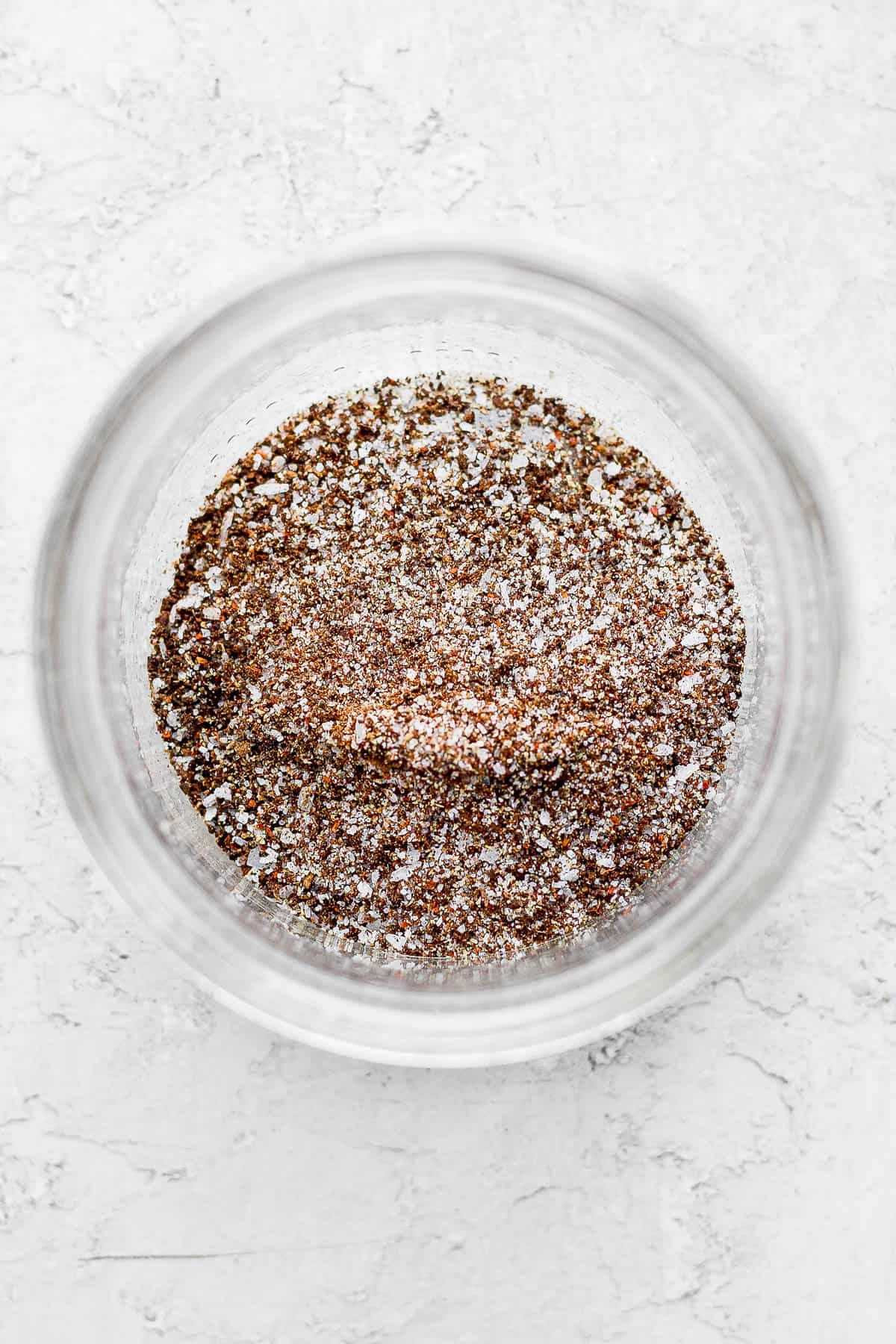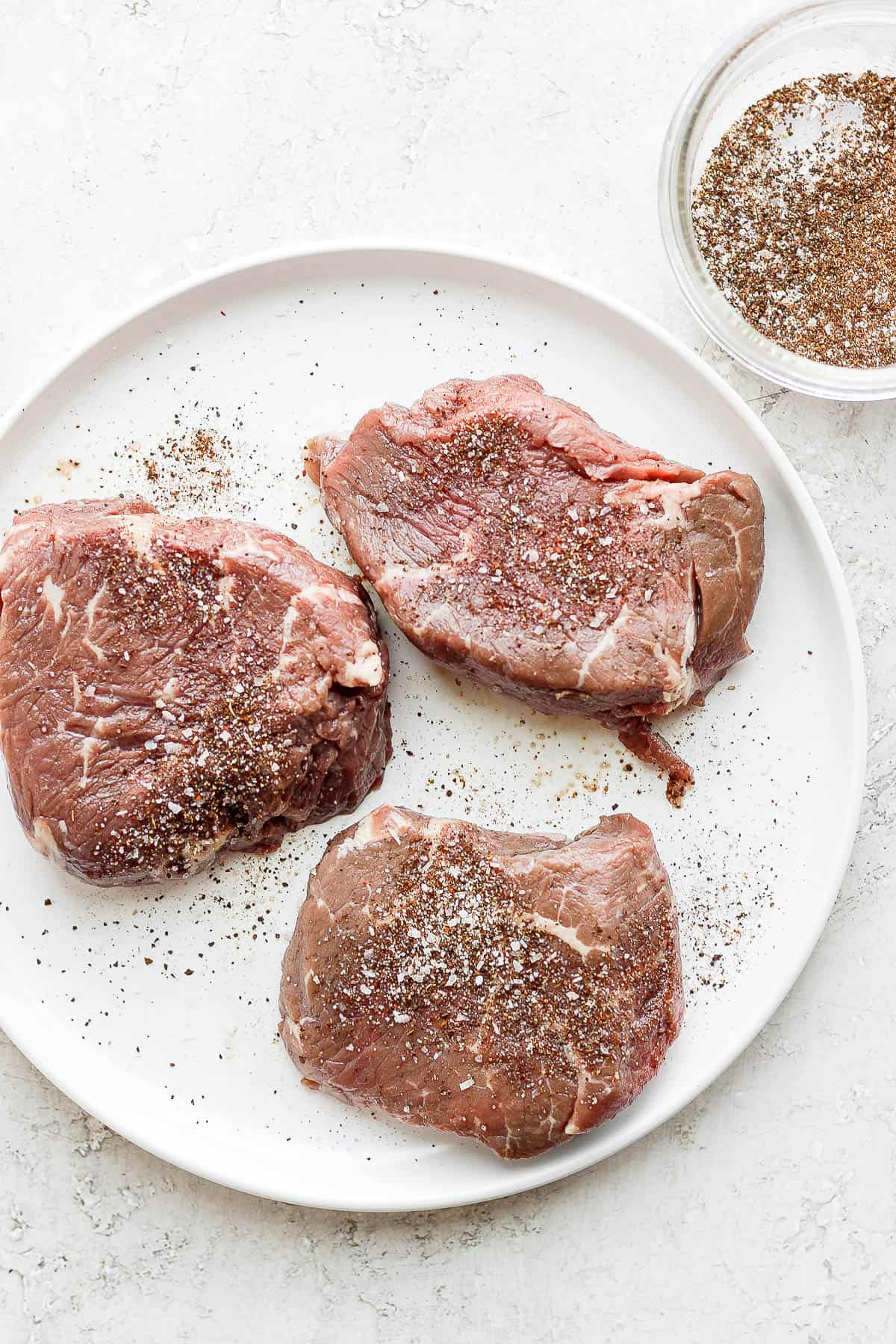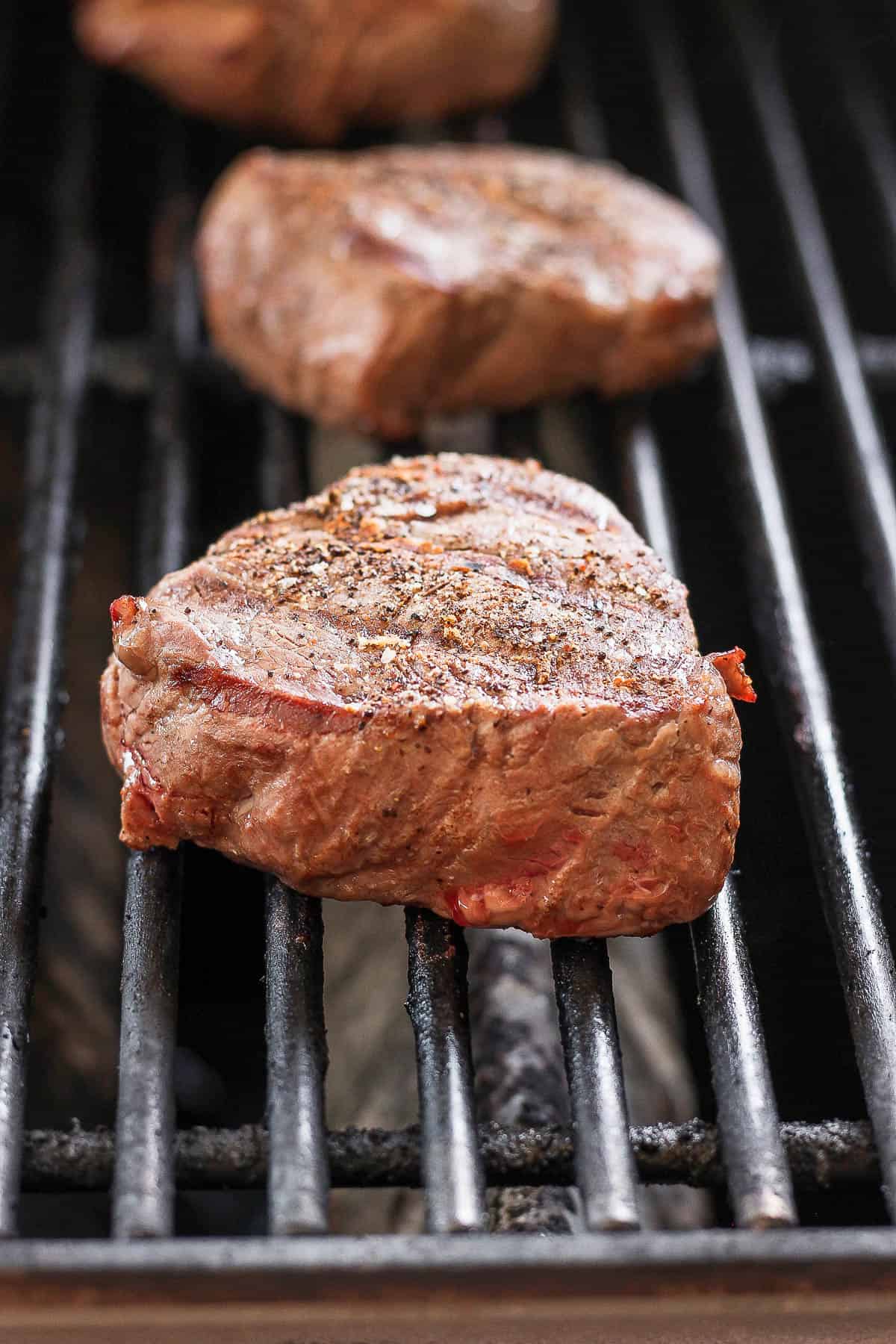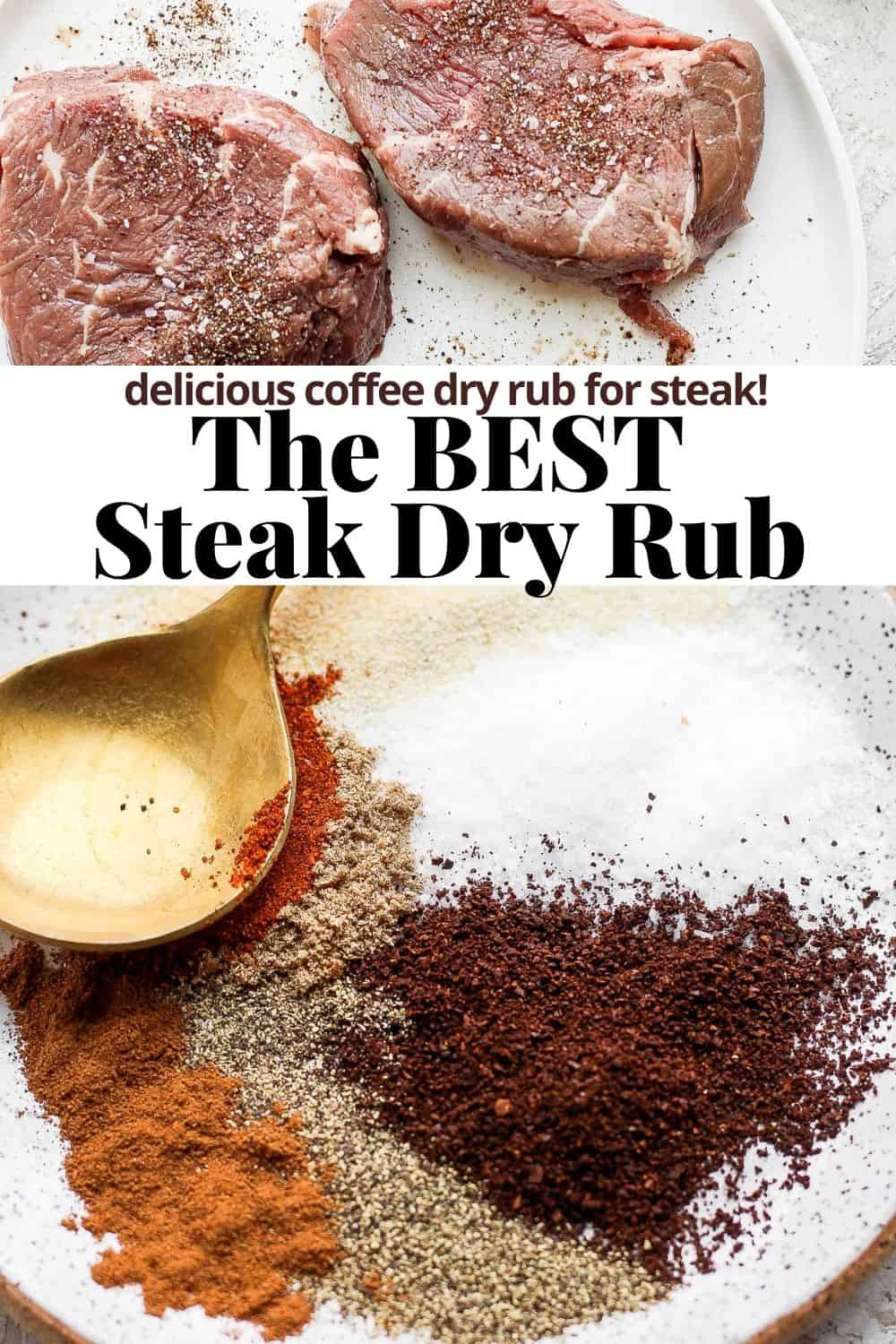 Made this recipe and loved it?! We would love it if you would take a minute and leave a star rating and review – it is also helpful if you made any substitutions or changes to the recipe to share that as well. THANK YOU!
Don't forget to check out my Instagram account for some behind-the-scenes action! Or give me a follow on Facebook or see what I am pinning on Pinterest!
Print
Steak Dry Rub
Author: Erin Jensen
Prep Time: 5 minutes
Cook Time: 0 minutes
Total Time: 5 minutes
Yield: 2–3 tablespoons 1x
Category: Dry Rub
Method: Counter Top
Cuisine: American
---
Description
Steak Dry Rub – this steak dry rub recipe is packed flavor from fresh ground coffee, chili powder and garlic! Great way to prep your steak!
---
½ tablespoon kosher salt
1 teaspoon ground coffee
¼ teaspoon garlic powder
¼ teaspoon ground black pepper
¼ teaspoon coriander
¼ teaspoon onion powder
¼ teaspoon chili powder
¼ teaspoon ground cinnamon
---
Instructions
Combine ingredients in a small bowl. Stir to combine.
Pat steak dry with clean paper towel. Season with dry rub.
Use in your favorite steak recipe like this Grilled Steak or these Steak Tacos!
Store in a cool, dry place for up to 3-6 months.
---
Notes
Spice: feel free to add in a little cumin or cayenne pepper (start with about 1/8-1/4 teaspoon) if you want a little more heat in your dry rub!
How Long to Leave Dry Rub on: you can leave dry rub on steak for as little as 30-40 minutes or as long as overnight. If using overnight keep steak in an airtight container in the refrigerator.
Storage: store in an airtight container/jar in the pantry for up to 3 months.