Caramelized Onion Burger – a mouth-watering burger that is packed with flavor! (Whole30 + Paleo + GF + DF)
This post is sponsored by Sunions®, but the opinions are my own.
Caramelized Onion Burger
The perfect Game Day food!
I am so excited to be partnering with my friends over at Sunions® to bring you this amazing Game Day recipe!!! It's one of the best burgers/sliders I have honestly every tasted and I cannot wait to share it with all of you!!!
This amazing caramelized onion burger recipe combines the amazing flavor of sweet Sunions® onions (caramelized), balsamic mayo, bacon, pickles and a juicy oven-baked slider (or burger). They are easy to prep for a crowed and won't last long!!!
How do I Cut an Onion without Crying – Sunions®
The timeless question has finally been answered!
Onions have historically made people cry because they relate volatile compounds which are considered a natural self-defense mechanism. The compounds break up and release lachrymatory-factor synthase (LF). When LF reaches our eyes, it signals the nervous system to create tears to reduce the irritant.
The Sunions® story began in the 1980's when the first two onions were cross-bred. As technology advanced, volatile onions were identified which allows breeders to identify the onions that would cause fewer tears than others. Many generations later, breeders have isolated the qualities that now give Sunions® their tearless qualities.
Balsamic Mayo
I love the flavors of caramelized onion and balsamic vinegar together so I thought, why not add a little balsamic vinegar to my mayo?! It is not over-powering (although you are free to make the flavor more intense, just add more balsamic vinegar) and add just a little something extra to this already delicious burger!
Cooking Burgers/Sliders in the Oven
I wanted this recipe to be a crowd-friendly as possible for you guys, so I experimented with baking my burgers in a big batch instead of grilling them. The result, it is SO easy to cook a big batch of sliders (or burgers) in the oven! This is the only way I will be making burgers for a big crowd from now on!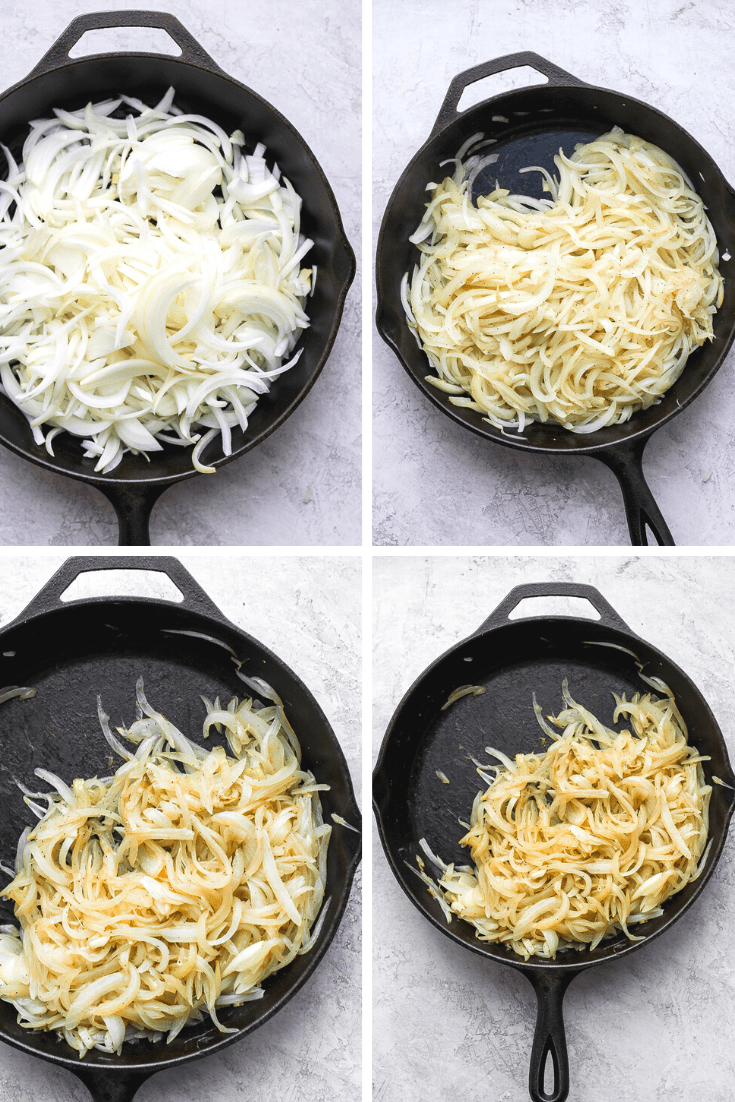 And of course, because we welcome all eaters here at The Wooden Skillet – here is a non-lettuce burger photo 🙂
Other recipes you might like:
Don't forget to check out my Instagram account – Or give me a follow on Facebook or see what I am pinning on Pinterest!
Print
Caramelized Onion Burger
Author: Erin Jensen
Prep Time: 20 minutes
Cook Time: 30 minutes
Total Time: 50 minutes
Yield: 12 sliders 1x
Category: Appetizer + Dinner
Method: Oven + Stove Top
Cuisine: American
---
Description
Caramelized Onion Burger (or sliders) – the perfect party food that everyone will love! (Paleo/Whole30)
---
Balsamic Mayo
2 tablespoons mayo
1 teaspoon balsamic vinegar
Onions
3–4 Sunions onions, sliced
1 Tablespoon olive oil
1/2 teaspoon salt
1/2 teaspoon ground black pepper
Burger
2 pounds ground beef
2 teaspoons kosher salt
2 teaspoons ground black pepper
ghee
Other Toppings: ice berg lettuce (for lettuce buns) bacon and pickles
---
Instructions
Balsamic Mayo
Combine ingredients in small bowl and mix to combine. Make additional sauce as-needed.
Onions
Bring large cast iron skillet to medium-high heat. Add olive oil and move it around so that the entire pan is coated.
Add onions and sprinkle with salt and pepper.
Move onions around the pan and bring heat down to medium once onions start to cook down.
Continue cooking onions 15-30 minutes, turning heat down as necessary, until they start to turn golden brown.
Once onions are golden brown, turn off heat and set aside until burgers are ready.
Burgers:
Turn broiler to HIGH and line a baking sheet with foil and place an oven-safe wire rack on top. Spray the rack with olive oil or other non-stick.
Place ground beef, salt and pepper in medium bowl and mix what hands to combine well.
Divide into 12 equal patties and place on top of wire rack. Ensure the are approximately 1/2 inch thick.
Make a small indent in the middle of each burger and place a small bit of ghee inside.
Sprinkle the tops of the burgers with a little more salt and pepper.
Place in oven on the middle rack and cook for 10 minutes (this will result in a medium-rare center).
Remove and let rest at least 5 minutes.
Toppings:
For a Paleo/Whole30 option serve with a caramelized onions, lettuce bun, bacon, pickle and balsamic mayo.
For a non-Paleo/Whole30 option serve on a slider bun of your choosing, add some cheese and then the caramelized onions, lettuce bun, bacon, pickle and balsamic mayo.
For Whole30/Paleo – double check your ingredients on your balsamic vinegar, mayo, bacon and pickles.
I like to make my own mayo – the recipe is here.
---
Notes
You can continue cooking the onions them beyond 30 minutes and they will only continue to caramelize. I prefer to have my caramelized onions still a little firm and not completely mushy, but that is completely personal preference.
You can easily make these into full-sized burger is you prefer. Simply make 8 burger patties instead of 12. Make sure you are flattening them enough before cooking. Cook for 10-12 minutes for medium rare.
You can also grill your burgers/sliders if you prefer!
Keywords: caramelized onion burger