Smoked Burgers – a simple, easy smoked burger recipe that the whole family will love! Perfect for your next cookout or get-together!
Easy Smoked Burger Recipe
Smoked burgers are officially my new favorite recipe! I love the reverse-sear method (explained more below) – they turn out juicy, tender and SO delicious. Serve with some Mexican Street Corn Salad, Broccoli Bacon Salad and maybe some Blueberry Crisp for dessert? Sounds like the perfect summer meal to me! Don't forget a Frozen Strawberry Margarita too!
Love Burgers – try our Pork Burger + Spicy Mayo Slaw!
What You Will Need
80/20 ground beef: use high-quality, fresh ground beef. I prefer 80/20 as it has the best flavor (because of the higher fat content).
kosher salt + ground black pepper: I prefer to keep my seasoning simple!
onion powder + garlic powder (optional): feel free to add these in or omit.
toppings: lettuce, tomato, onion, burger sauce, pickles, quick-pickled red onions, caramelized onions, etc.
cheese: I love using pepperjack, colby or havarti!
bun of choice: a classic sesame burger bun is always good, gluten-free, lettuce bun or brioche buns works too!
How Long to Smoked Burgers at 225
It takes approximately 45-60 minutes to smoke a 1/3 pound burger patty at 225 degrees F., depending upon thickness, if you are looking for medium-rare BUT you ultimately have to go by your internal temp using an internal meat thermometer.
There are so many variables that go into smoking (wind, humidity, hot spots, etc.) – while we are providing a range within which a smoked burger will most likely be done, it is just an estimate. Additionally, if you want your burger more well-done it will require additional cook time.
What is the Internal Temp of Medium-Rare Burgers
For a 3/4 inch burger you want to look for an internal temp between 130-140 degrees F. for a medium rare burger. Although it should be noted the USDA states that burgers are safe to eat when they reach an internal temperature of 160 degrees F.
Reverse Searing Smoked Burgers
Similar to a reverse seared steak, we are reverse searing our burgers here by first bringing the burgers up to the desired internal temperature while smoking at 225 degrees F. Once the burgers reach the desired temp, then we do a quick sear on high heat, which can be done either on the smoker or on a gas grill. This gives it that nice char on the outside while ensuring the inside is not over-cooked. It is called reverse-searing because typically on a gas grill you sear your meat first and then move it indirect heat to finish cooking – here we do the opposite.
Other Burger Recipes You Might Like
How to Smoke Burgers
Combine your burger ingredients in a medium-sized bowl – if you want something more than salt and pepper we have this burger seasoning as well!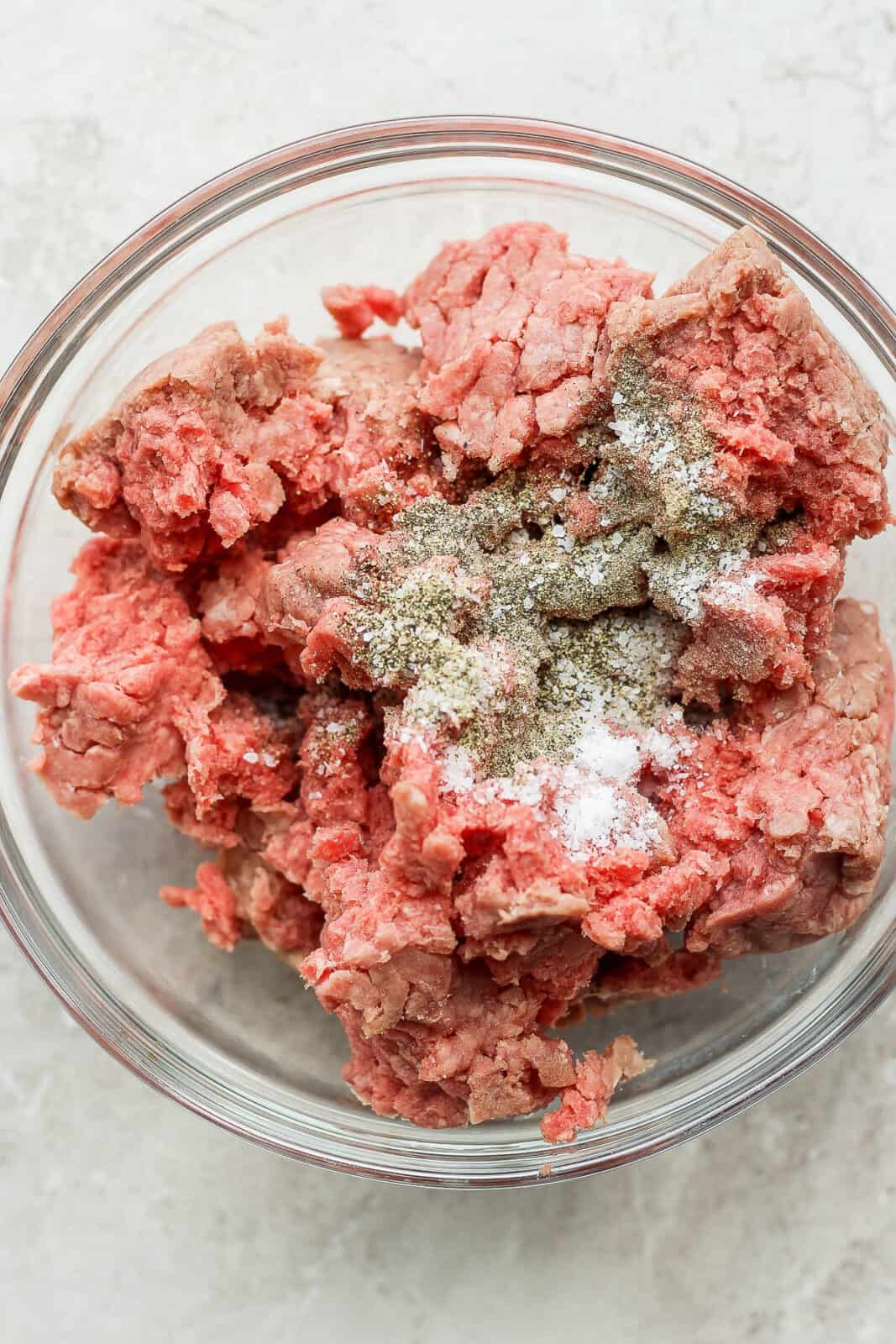 Form into patties.
Press down in the middle to create an indent with your thumb and season a little more on top of the patty if you desire.
Place directly on the grill grates and close the lid.
Let smoke at 225 degrees F. until you reach your desired doneness (135-140 degrees F. for medium-rare).
If you are making a cheese burger place some cheese on top of your patty for the last 10 minutes or so of smoking time.
Let those burgers rest a bit.
Serve with the toppings of your choosing.
What to Serve With Smoked Burgers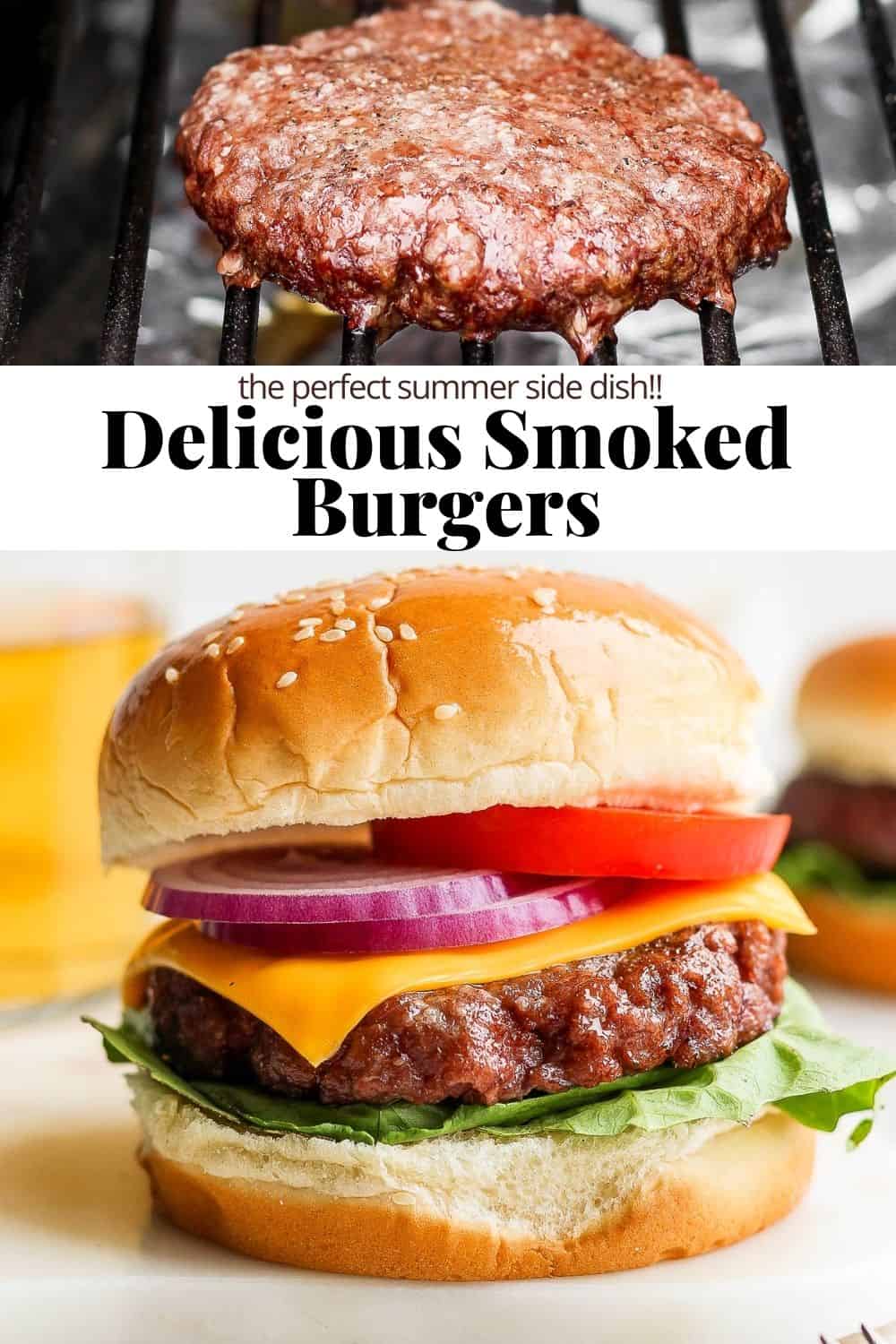 Other Smoked Recipe You Might Like
Other Recipes You Might Like
Made this recipe and loved it?! We would love it if you would take a minute and leave a star rating and review – it is also helpful if you made any substitutions or changes to the recipe to share that as well. THANK YOU!
Don't forget to check out my Instagram account for some behind-the-scenes action! Or give me a follow on Facebook or see what I am pinning on Pinterest!
Print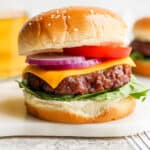 Smoked Burgers
Author: Erin Jensen
Prep Time: 10 minutes
Cook Time: 55 minutes
Total Time: 1 hour 5 minutes
Yield: 3 burgers 1x
Category: Dinner/Entree
Method: Smoker
Cuisine: American
---
Description
Smoked Burgers – a simple, easy recipe for smoked burgers your whole family will love! Perfect for your next cookout!
---
Burger
1lb 80/20 ground beef
1 teaspoon kosher salt
1/2 teaspoon ground black pepper
1/2 teaspoon onion powder (optional)
1/2 teaspoon garlic powder (optional)
Toppings:
bun (regular, gluten-free or lettuce)
cheese slices (dairy-free or regular)
sliced tomato
sliced red onion
lettuce
burger sauce (optional)
---
Instructions
Preheat your Smoker: Ensure your smoker is clean and preheat to 225 degrees F.
Mix Your Ground Beef: Place your ground beef in a bowl and add salt and pepper (and other seasoning, as desired). Mix to combine.
Divide the Ground Beef: Take your ground beef and create 3 equal sized balls (you should end up with 3 patties that are approximately 5-6oz each and approximately 3/4 inches thick).
Create Patties: Then use your hands to form patties (try not to overwork the meat). Try and make them a little bit bigger than your bun (if you are using one) as they will shrink a little as they cook.
Create Indent with Thumb: Use your thumb to create an indent in the very center of your patty (this will help ensure the burgers cook evenly without expanding too much in the middle).
Season Lightly: Sprinkle patties with a little more salt and pepper.
Place on Smoker: Place patties on smoker for approximately 40-55 minutes or until the internal temperature reaches 10-15 degrees below your desired internal temp (See temperature chart in Notes).
Reverse Sear: Turn smoker up all the way and sear burger 1-2 minutes per side or until you have reached your desired internal temperature – alternatively this can be done on a gas grill (which I actually prefer).
If Making Cheeseburgers: If you are making cheeseburgers place a piece of cheese on your burger for approximately the last 10 minutes of smoke time OR you can place the cheese on the burger after you sear the first side.
Let Rest: Remove from grill and let rest for at least 5 minutes. This will help ensure your burgers are nice and juicy!
Build your Burger: build your burger using a bun, burger sauce, tomato, lettuce and/or onion!
---
Notes
Medium-Rare is 130 -140 degrees F; Medium is 140-145 degrees; Medium- 145-155 degrees F.
Reverse Sear: you don't HAVE to reverse-sear your burger – you can simply continue smoking until your burger reaches your desired internal temperature and then remove from the smoker.
Don't Press Down: Do not press down on the burgers with your spatula. This will release juices that we want to keep in the burger.
Egg: I know a lot of people use eggs in their burger mixtures – I generally don't, but as always, feel free to add one in the mix if you want to!
Pellets/Wood Chips: I love hickory, mesquite or cherry here.
Internal Temp: use an internal meat thermometer or probe to keep close track of your internal temp; this is the best way to know when your burger is done.