Cast Iron Pork Chops (Pan Fried) – a simple, easy recipe for cast iron pork chops with a delicious seasoning + marinade options!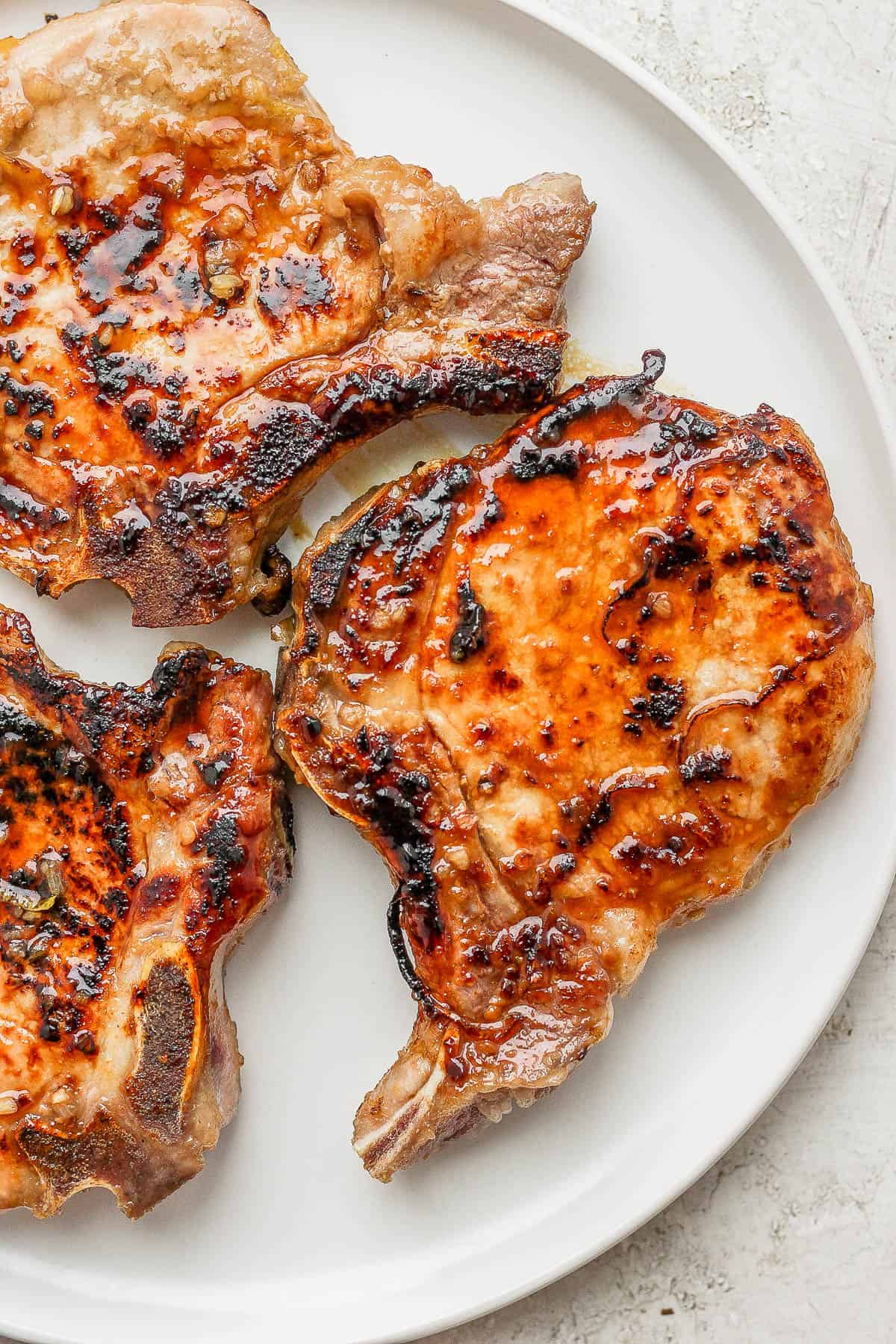 Cast Iron Skillet Pork Chops
There are so many great ways to cook pork chops, but one of our favorites (especially in the winter) is in a cast iron skillet on the stovetop. Also known as pan frying pork chops. Follow our simple step-by-step instructions below and you will have the most flavorful and moist pork chops that your whole family will love!
What You Will Need
Bone-in, 1-1/2 inch Pork Chops – we highly recommend bone-in, they just have SO much more flavor!
Kosher salt & black pepper – a perfect, simple seasoning that's a must when cooking any meat.
Olive oil, ghee, or grass-fed butter – use the one that works for you and if the pan gets a little dry, just add some more!
Fresh thyme – a little flavor that goes great with pork chops.
How Do You Keep Pork Chops Moist When Frying?
First, you will want to make sure you preheat your cast iron skillet so it is hot before adding the pork chops. Next, add some olive oil, ghee, or grass-fed butter to coat the pan. Once the butter has melted and the pan is hot you can add the pork chops. You will want to do a quick sear on all sides to get them golden brown on the outside and then turn down the heat to finish cooking the pork chops to ensure they are cooked all the way through. The quick sear and then lower heat will keep the inside moist. Also, make sure you keep an eye on the pan and add more olive oil or butter if the pan starts to dry out!
How Do You Know When Pork Chops are Done Frying?
The cast iron pork chops will be done frying once their internal temperature reaches 145 degrees F. You can easily monitor this with a simple meat thermometer.
What Kind of Oil Do I Use to Fry Pork Chops?
This is really up to your personal preference! You can use olive oil, butter, ghee, or grass-fed butter. Totally up to you!
Covered or Uncovered?
After you have seared the pork chops and you reduce the heat you could cover the pork chops if you want, but we have typically kept them uncovered so that we can more easily monitor if the pan needs more oil/butter and to make it easier to keep flipping the pork chops every 2 minutes.
What is Good to Eat with Fried Pork Chops?
There are so many delicious side dishes you could make with cast iron pork chops! We would love to hear what your favorites are! Here are some of ours:
How to Make Cast Iron Pork Chops (Pan Fried)
Step one – Pick out some bone-in pork chops that are about 1-1/2 inch thick.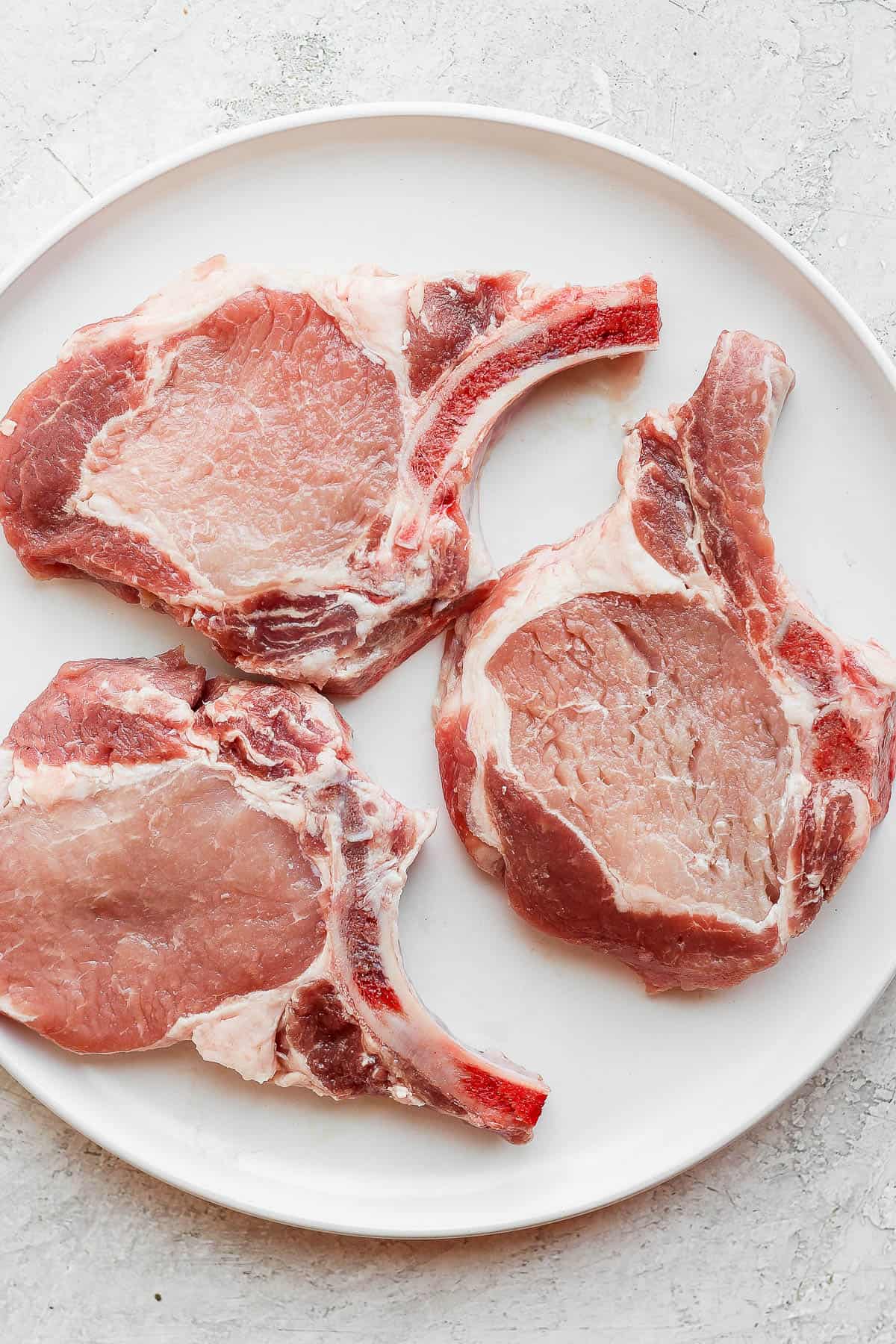 Step two – Pat them dry with a paper towel.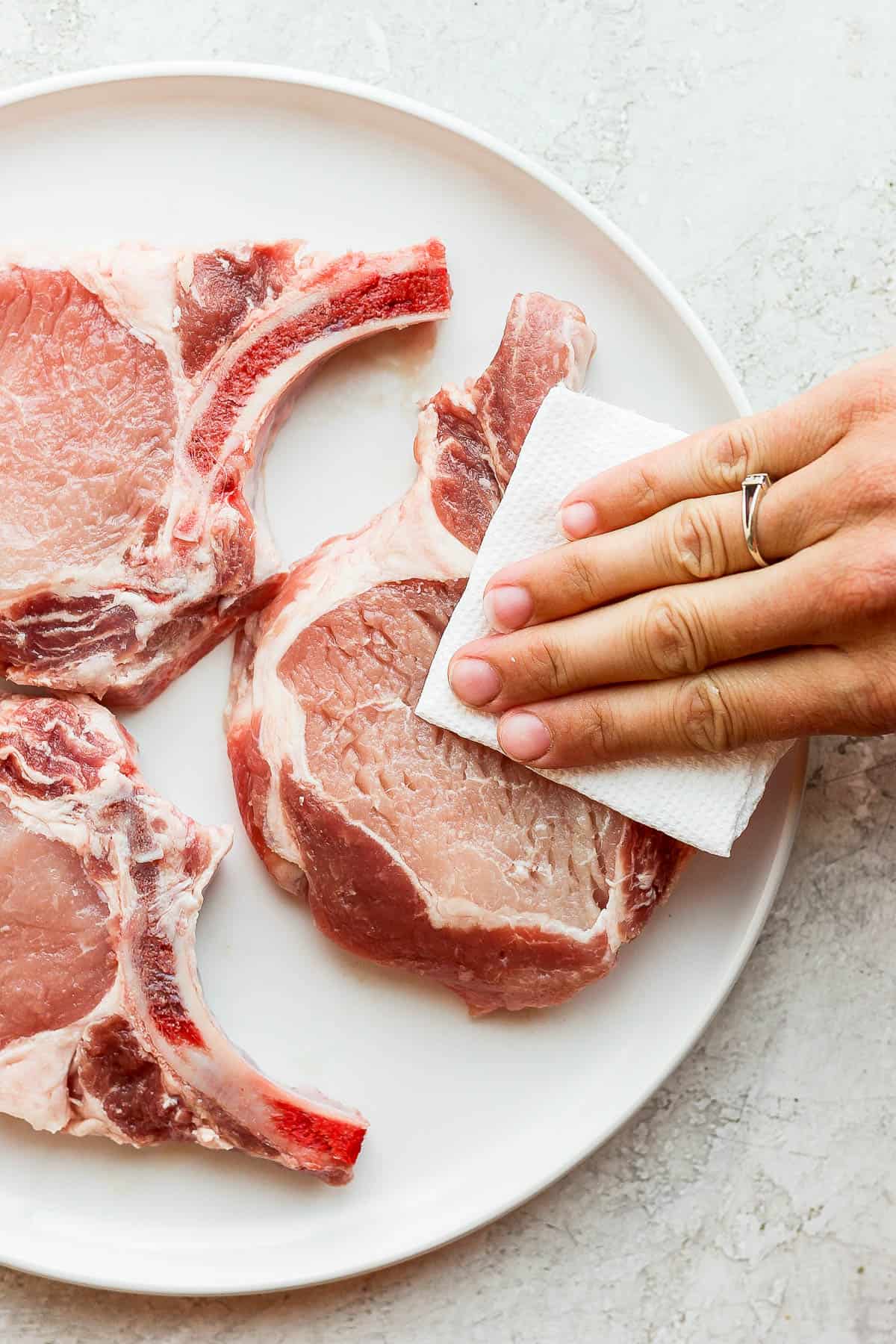 Step three – Sprinkle pork chops with salt and pepper.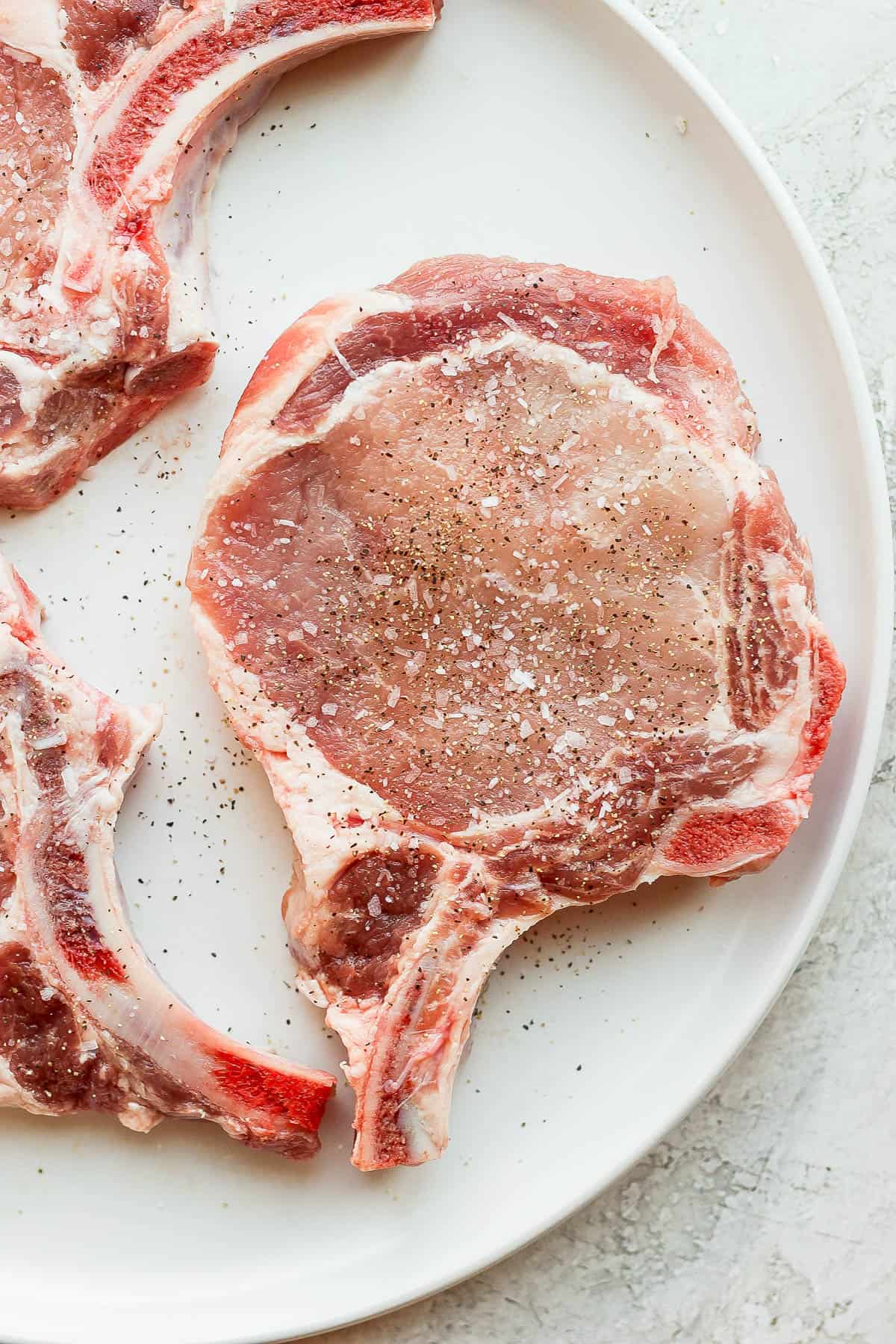 Step four – Option to use pork chop seasoning OR…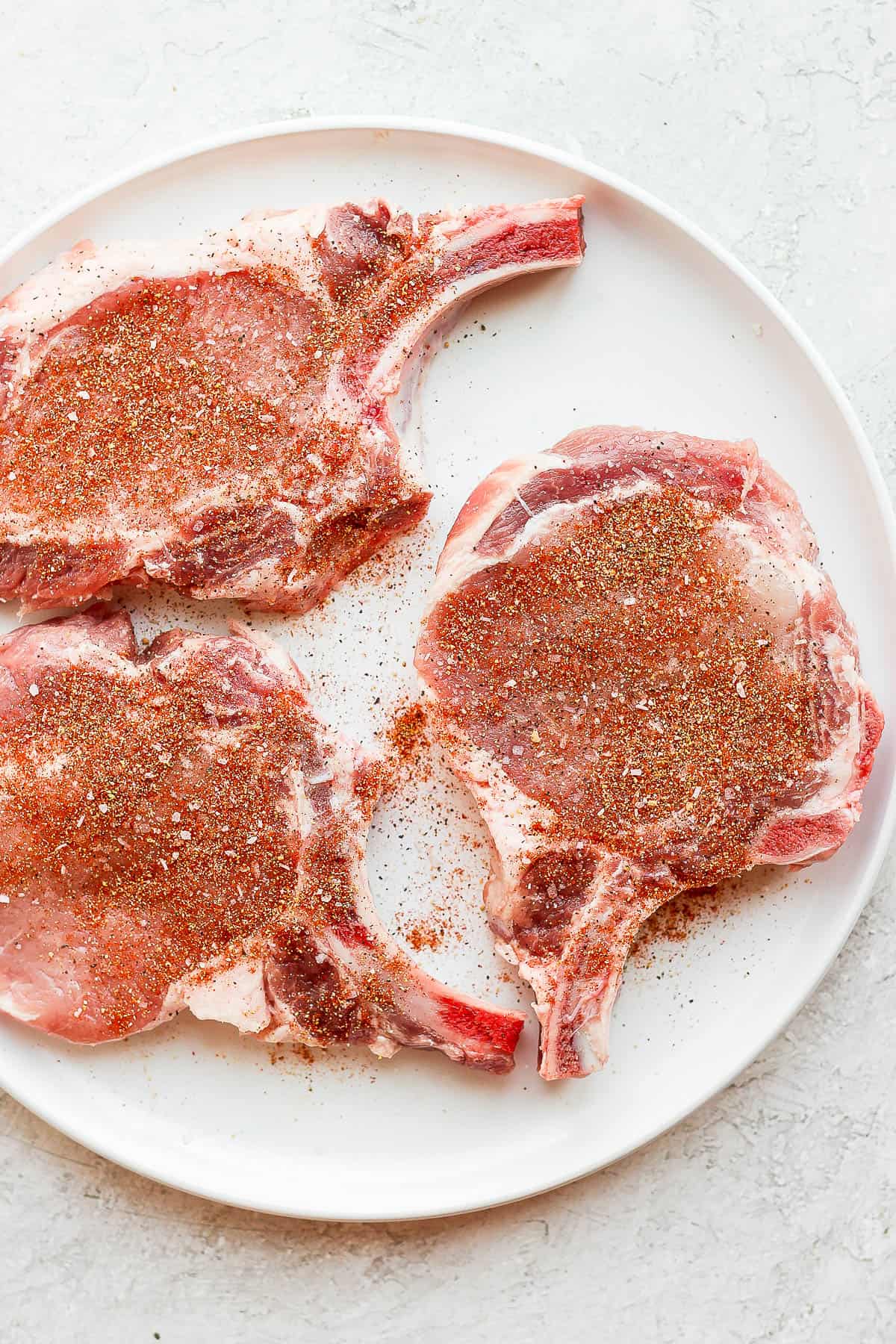 A pork chop marinade!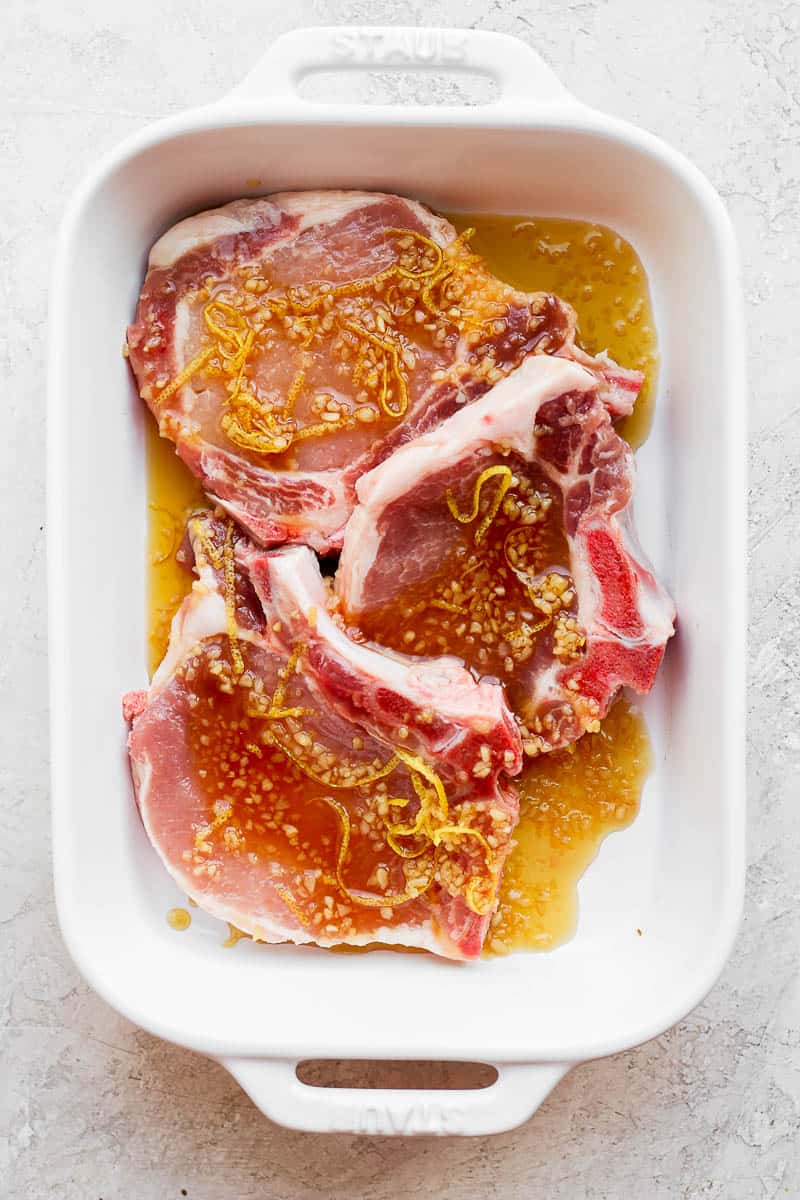 Step five – Sear the pork chops in a preheated cast iron skillet.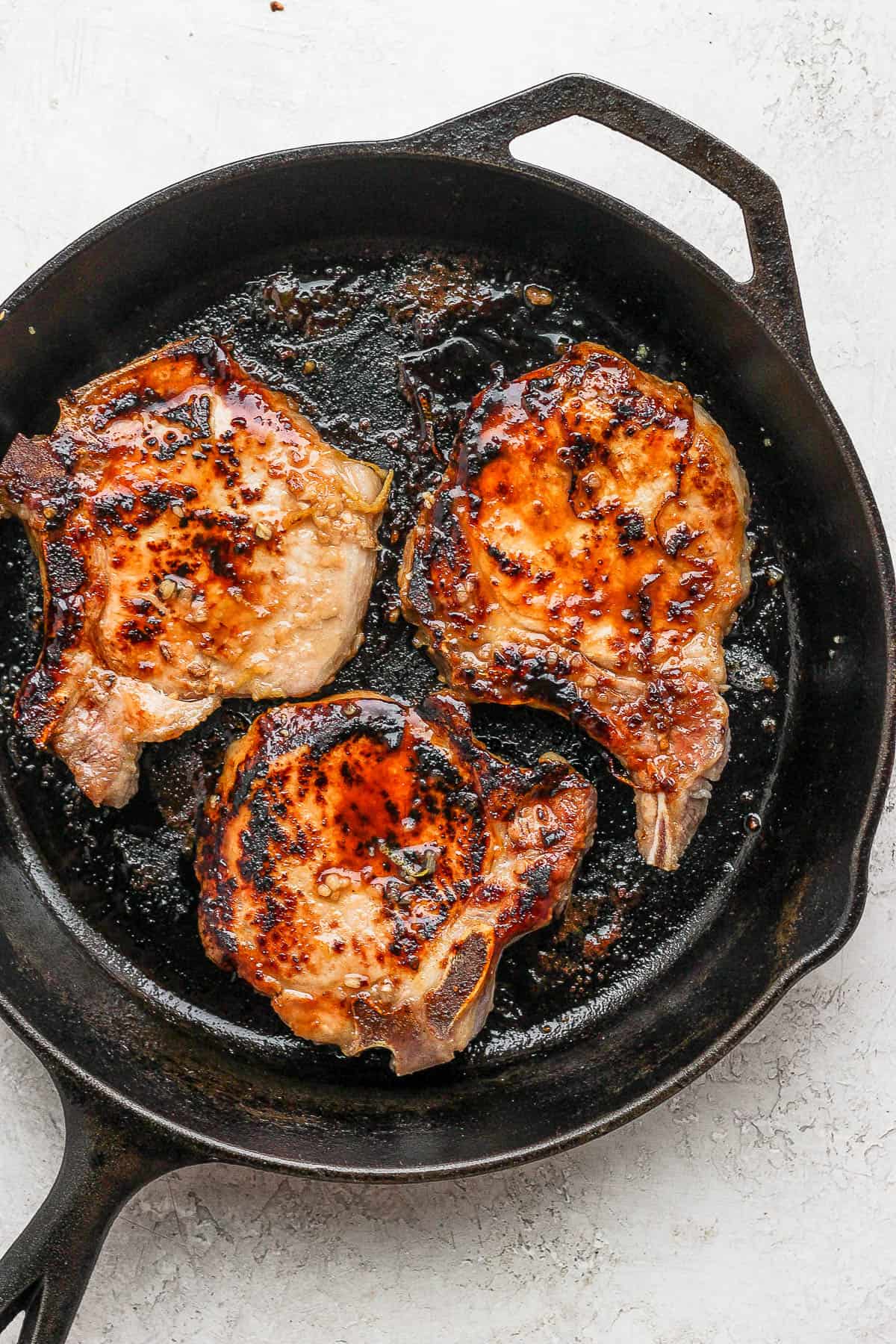 Step six – Reduce heat and continue cooking until the internal temp reaches 145 degrees F.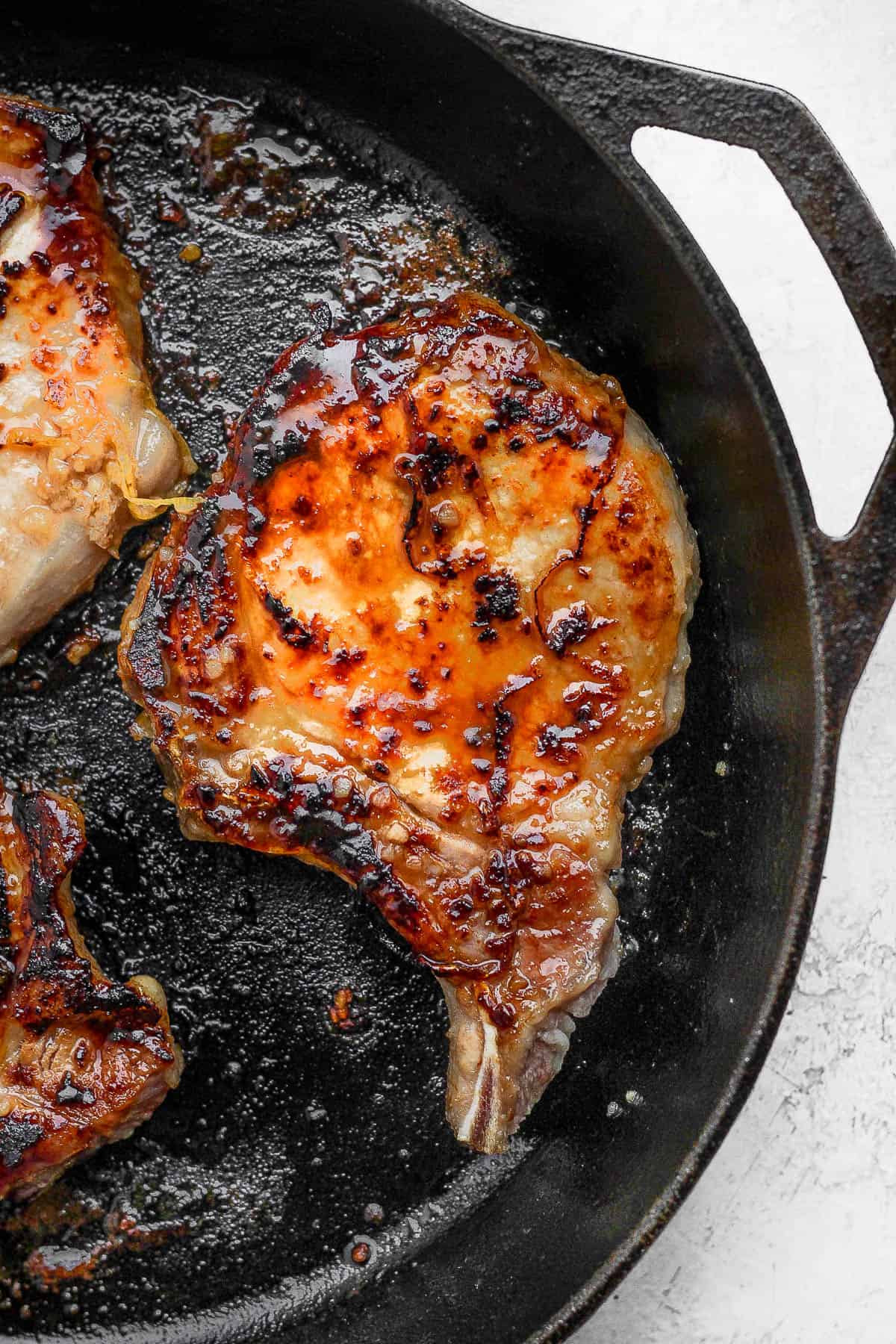 Step seven – Enjoy!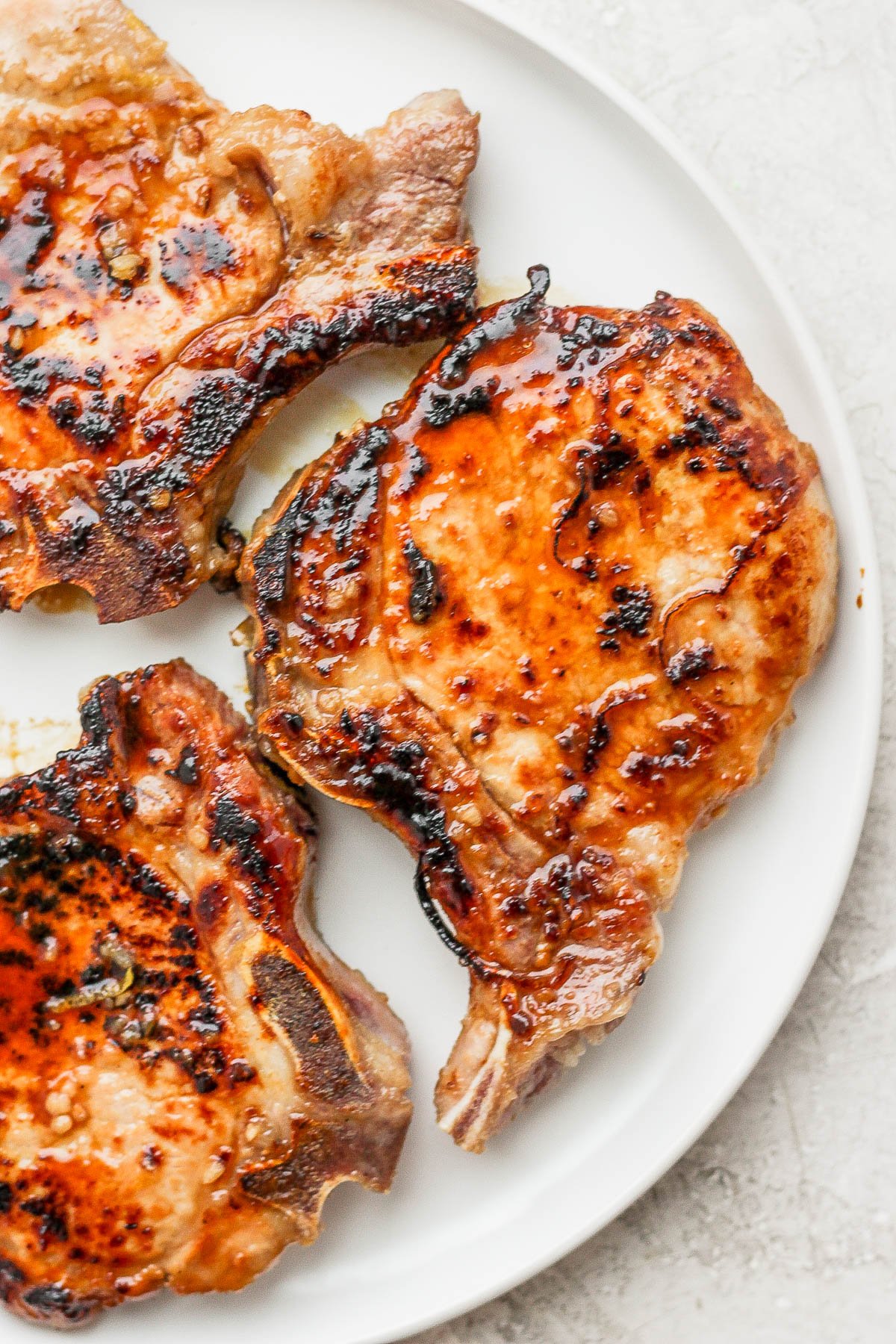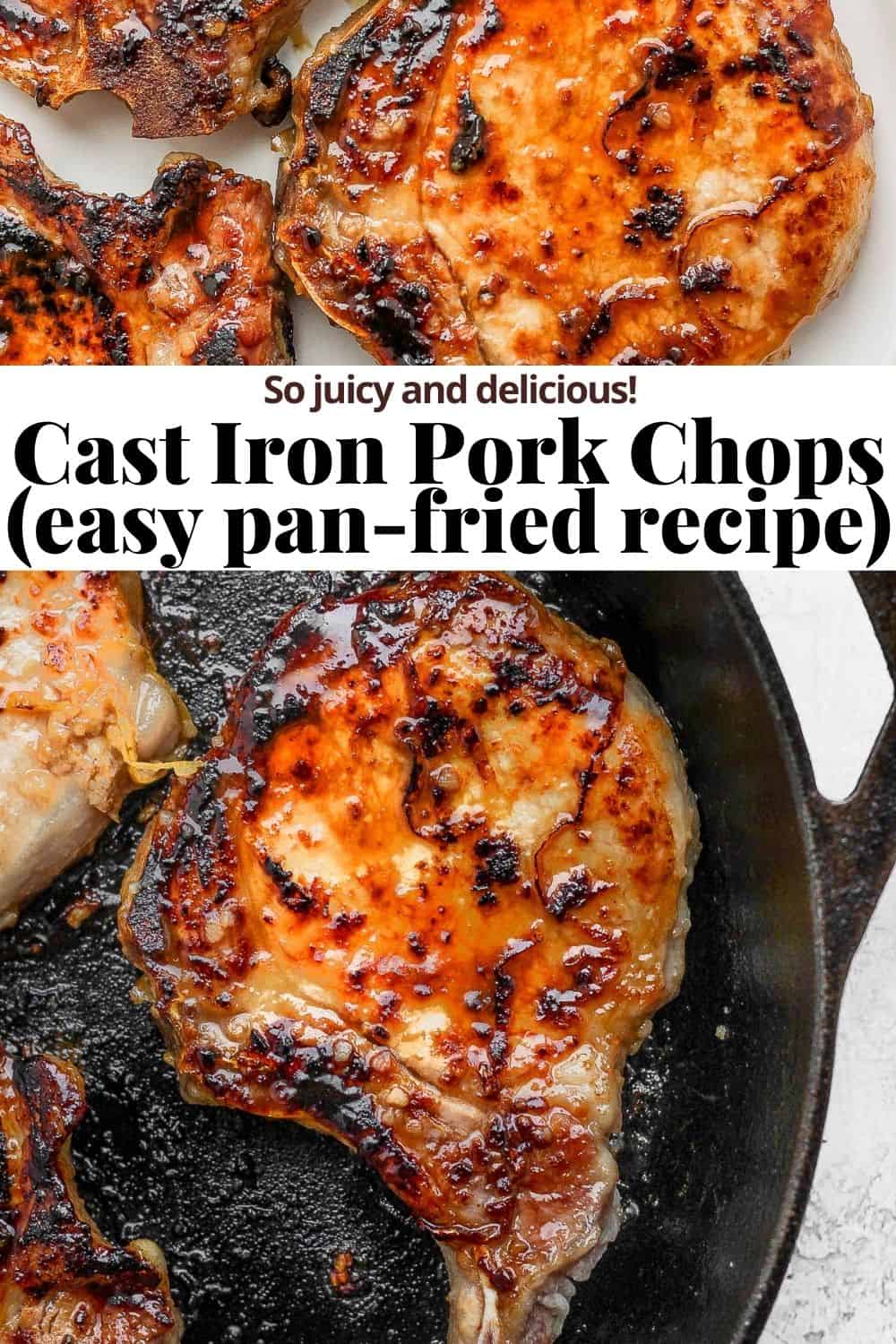 Made this recipe and loved it?! We would love it if you would take a minute and leave a star rating and review – it is also helpful if you made any substitutions or changes to the recipe to share that as well. THANK YOU!
Don't forget to check out my Instagram account for some behind-the-scenes action! Or give me a follow on Facebook or see what I am pinning on Pinterest!
Print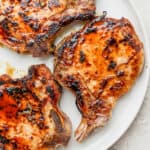 Cast Iron Pork Chops (pan fried)
Author: Erin Jensen
Prep Time: 5 minutes
Cook Time: 10 minutes
Total Time: 15 minutes
Yield: 4 servings 1x
Category: Dinner/Entree
Method: Stove-Top
Cuisine: American
---
Description
Cast Iron Pork Chops (Pan-Fried) – a simple, easy recipe for cast iron pork chops with a delicious seasoning + marinade options!
---
(4) bone-in, 1-1/2 inch pork chops
1 teaspoon kosher salt *(see recipe card notes for marinade options)
1 teaspoon ground black pepper
2 tablespoon olive oil (or ghee or grassfed butter)
3–5 sprigs fresh thyme
---
Instructions
Pat pork chops dry with clean paper towel.
Season both sides with kosher salt and ground black pepper. Set aside.
Bring a large cast iron skillet to medium-high heat. Add olive oil and swirl to coat the pan.
Sear pork chops for 1 minute per side, lightly pressing them down.
Sear the sides of the pork chops (using a par of tongs) to help render the fat there.
Turn down the heat to medium and continue cooking the pork chops (flipping every 2 minutes or so) until the internal temperature reaches 145 degrees F. Feel free to add a bit more oil if the pan gets dry.
Remove from pan and let rest 5-10 minutes.
---
Notes
Pork Chop Seasoning Option: instead of doing the classic kosher salt and pepper you can use this pork chop seasoning.
Pork Chop Marinade Options: you can also use one of our 4 pork chop marinades before cooking as directed in the instructions above.
Keywords: cast iron pork chops