Smoked Pork Shoulder – this is your go-to recipe for making the BEST smoked pork shoulder!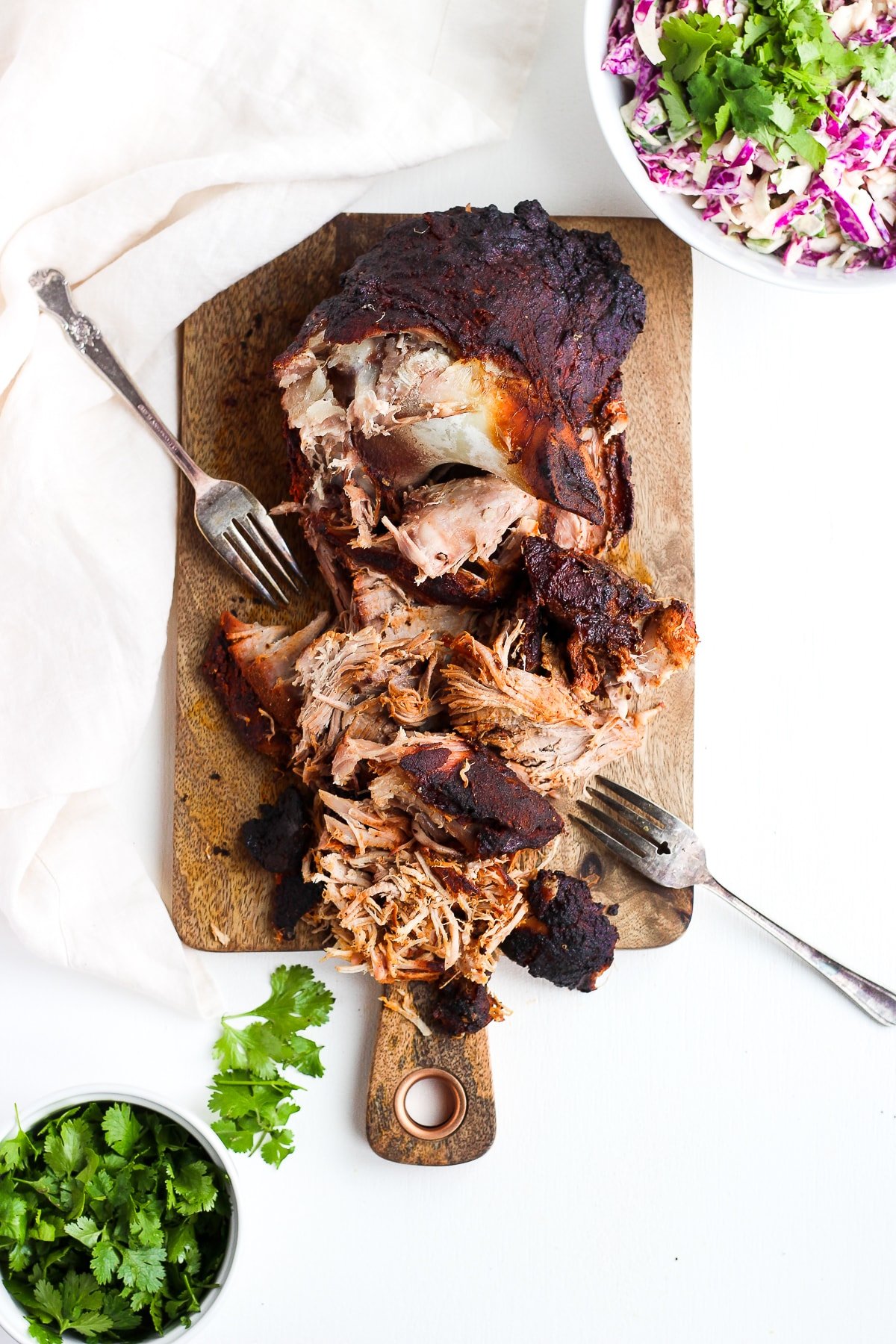 Smoked pork shoulder with the most amazing rub ever! This will be your new go-to smoked pork shoulder recipe (especially if you have an electric smoker)!
Best electric smoker for pork shoulder:
The first thing you are going to need is a smoker – here is the one we have and we love it!. If you are looking for a starter smoker that is high quality, but also not the most expensive smoker ever made, I would recommend this one. We have had it for 5 years with no issues and the quality of smoking is fantastic. Also, while I know everyone has their own opinion, electric smokers like the one we have are much easier to control than the charcoal version.
So again, if you are just starting out, this electric smoker is the way to go.
Now, for this recipe we used a 4 pound pork shoulder – as always – a better initial product = a better end result (aka go to the deli and get the good pork shoulder!). It will be worth it. Yes. It really does taste better.
How to Make Smoked Pork Shoulder in an Electric Smoker:
First prep your dry rub: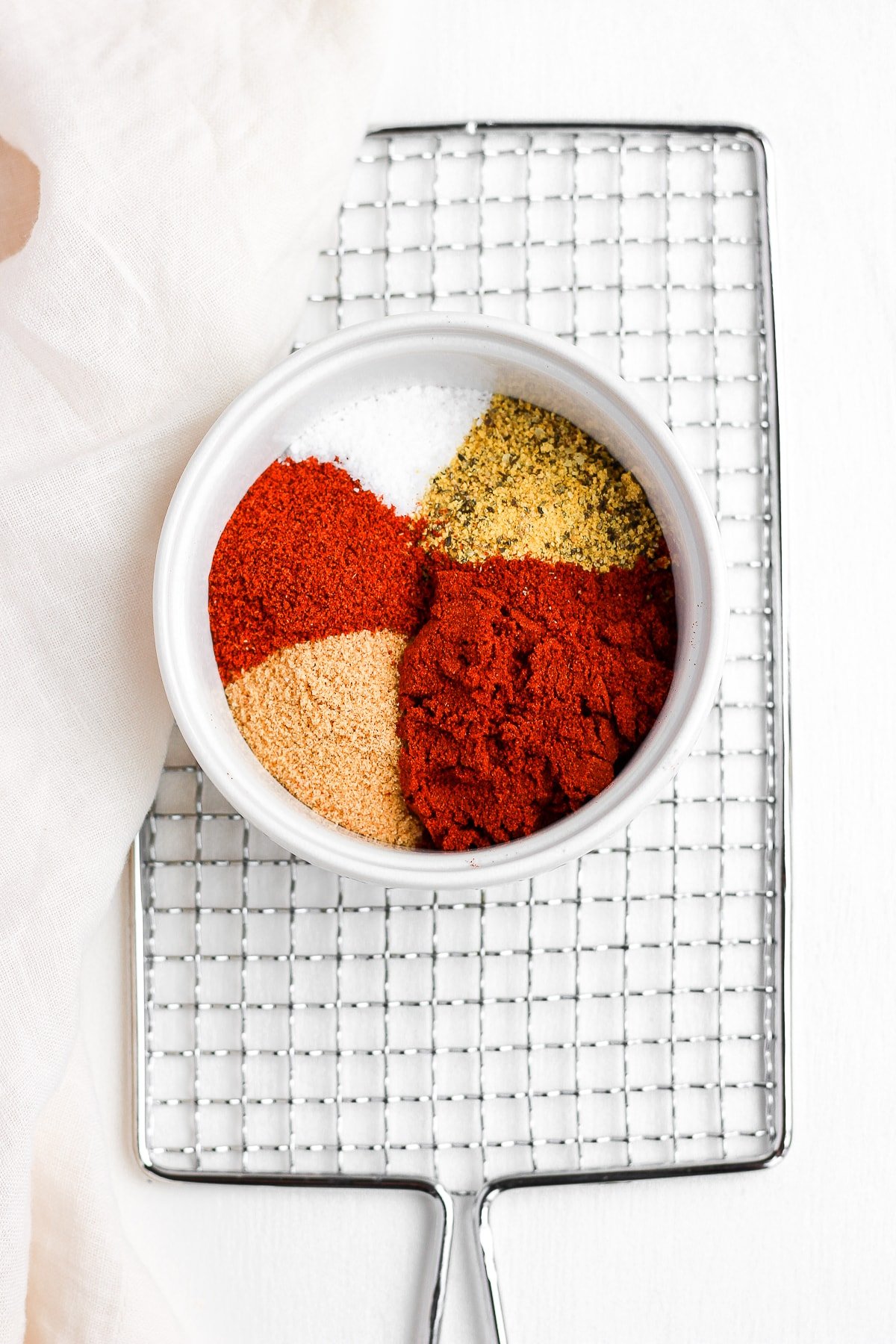 The rub includes kosher salt, smoked paprika, lemon pepper, cayenne, smoked garlic powder and black pepper.
Next, prep your pork shoulder: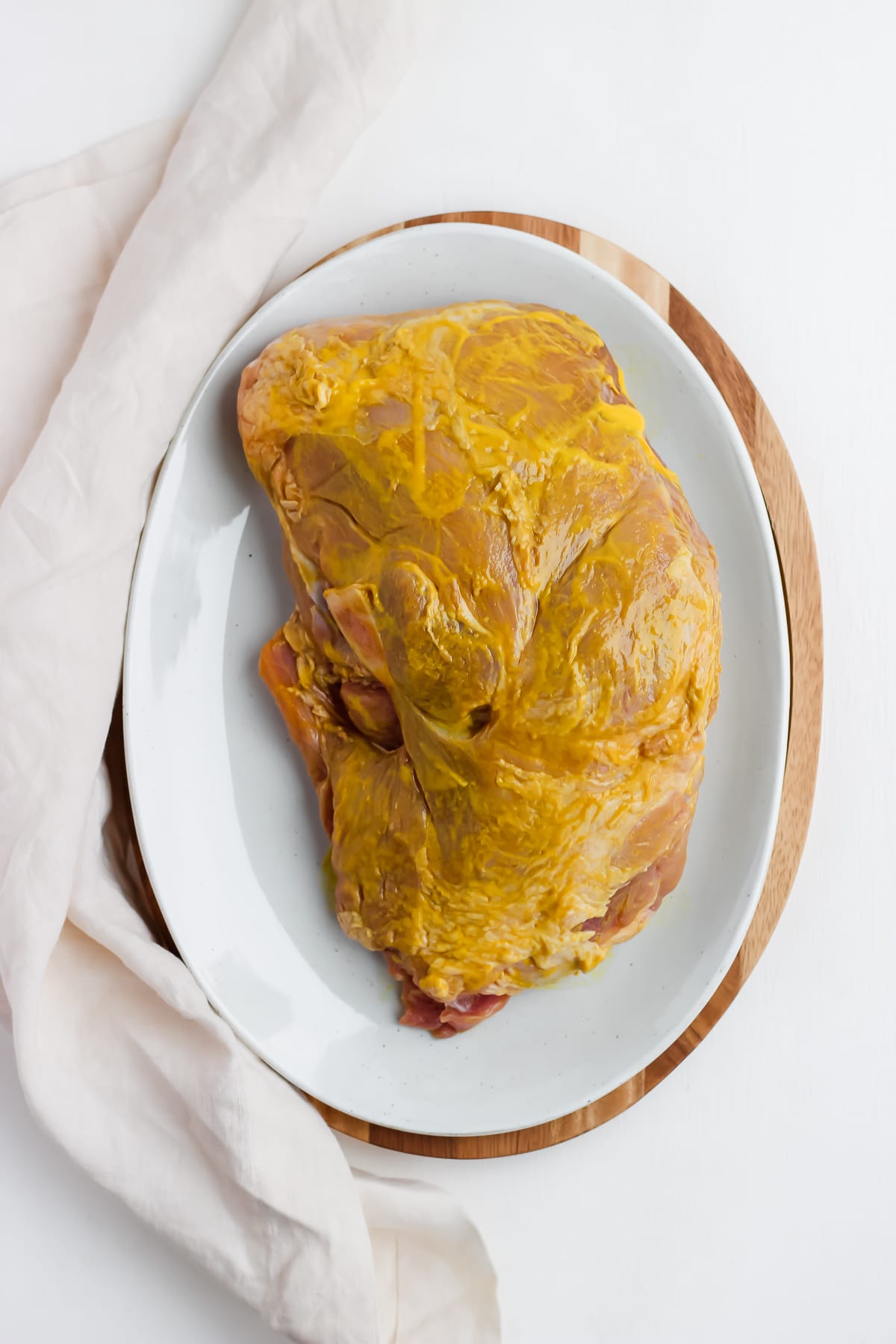 Net, rub the pork shoulder with worcestershire sauce (optional), liquid smoke and yellow mustard. For the yellow mustard – really any brand should do and you won't really tell the difference. For the worcestershire sauce – it matters. You gotta use the good stuff. Lea & Perrins Worcestershire Sauce is the way to go, in my humble opinion and my husband's expert opinion (note it isn't Whole30 compliant though!).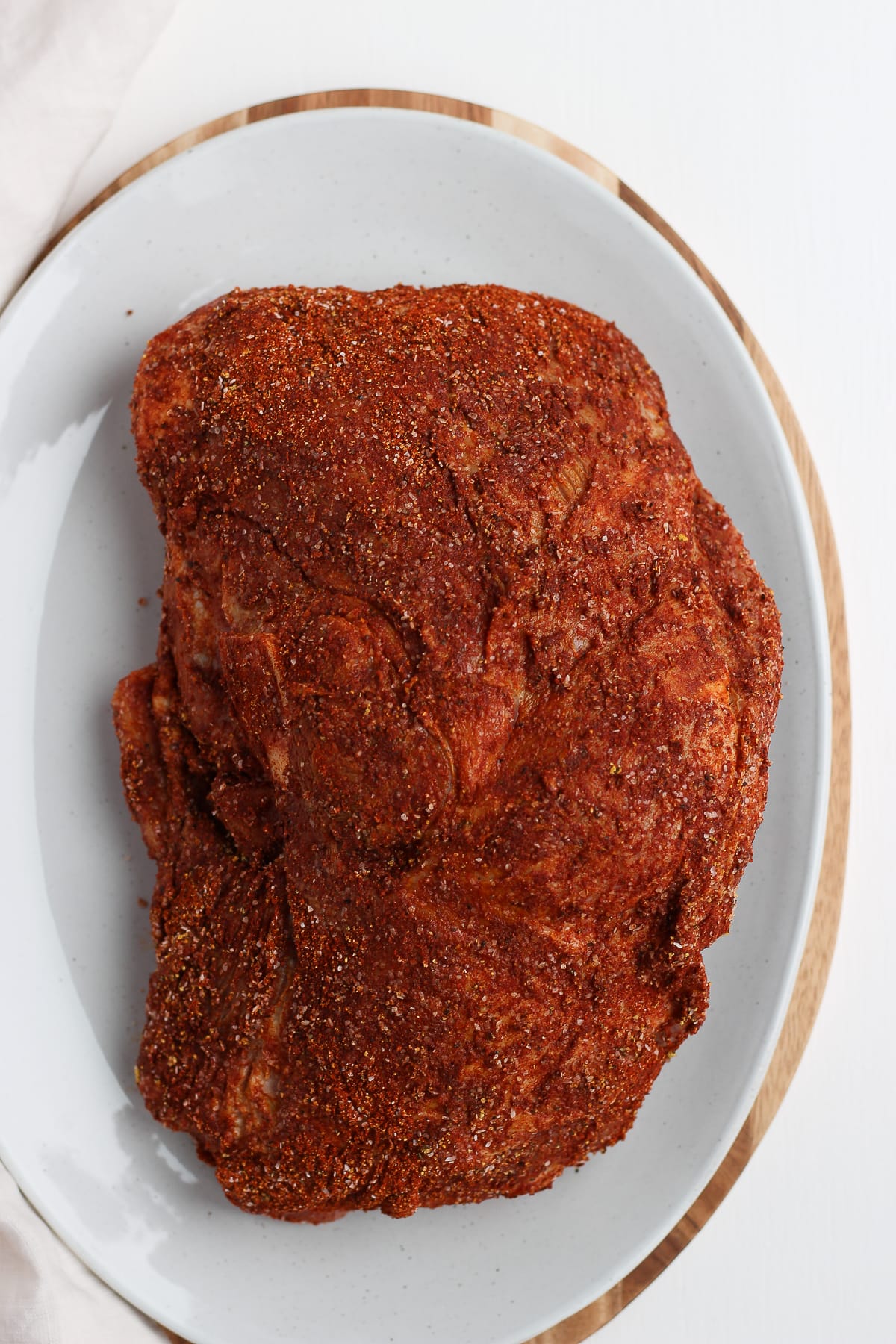 Net, rub spice mixture all over – I mean all over. In every nook and cranny. Lay it on thick.
Then, wrap in plastic wrap and put in the fridge for at least 12 hours.
Get your electric smoker going
When it is time to go, turn smoker on to 250. At the same time, take pork shoulder out of the fridge and let it come to room temp. Additionally, get some smoking chips – use half hickory (Weber Hickory Wood Chunks) and half mesquite (Weber Mesquite Wood Chips)- put 2 cups of the hickory and 2 cups of the mesquite chips together in a bucket of water to soak. In your electric smoker there should be smoker basket to put your chips in.
When your electric smoker reaches temp you are good to go
When the pork shoulder reaches room temp and the smoker has reached 250, place pork shoulder in the smoker (fatty side up!) and a handful of chips in the smoking box.
Middle rack is fine.
For a 4 pound pork shoulder you will want to smoke it for 4 hours or until it reaches at least 165 degrees (internal temp) or you can go as high as 190. You want to make sure you reach 165 to kill off any bacteria, but if you go up to 190 you will only be able to shred it that much easier.
Tips as you are smoking your pork shoulder
Throughout the smoking process, you are going to need to do a couple of things. First, you need to apply a mop to the pork shoulder every 45-60 minutes. The "mop" is made up of 1 part apple cider vinegar, 1 part apple juice and 1 part water. Mix that up – my husband puts that in a spray bottle and just sprays the pork shoulder all over. Additionally, if the smoke coming out of the smoker dies down, you know you need to put additional chips into the smoking basket. This should happen about 1 time per hour.
All that being said, don't open the smoker if you don't have to!
Once your desired internal temp has been reached (at least 165) remove from smoker and let rest an hour.
I would HIGHLY recommend getting some Original Bear Paws Shredder Claws – they make shredding this SO much easier!!
I know there are a ton of amazing BBQ sauces out there, but if you are trying to find one that is Whole30 compliant, I would start with Tessemae's All Natural BBQ Sauce – it is delicious!
Enjoy!!!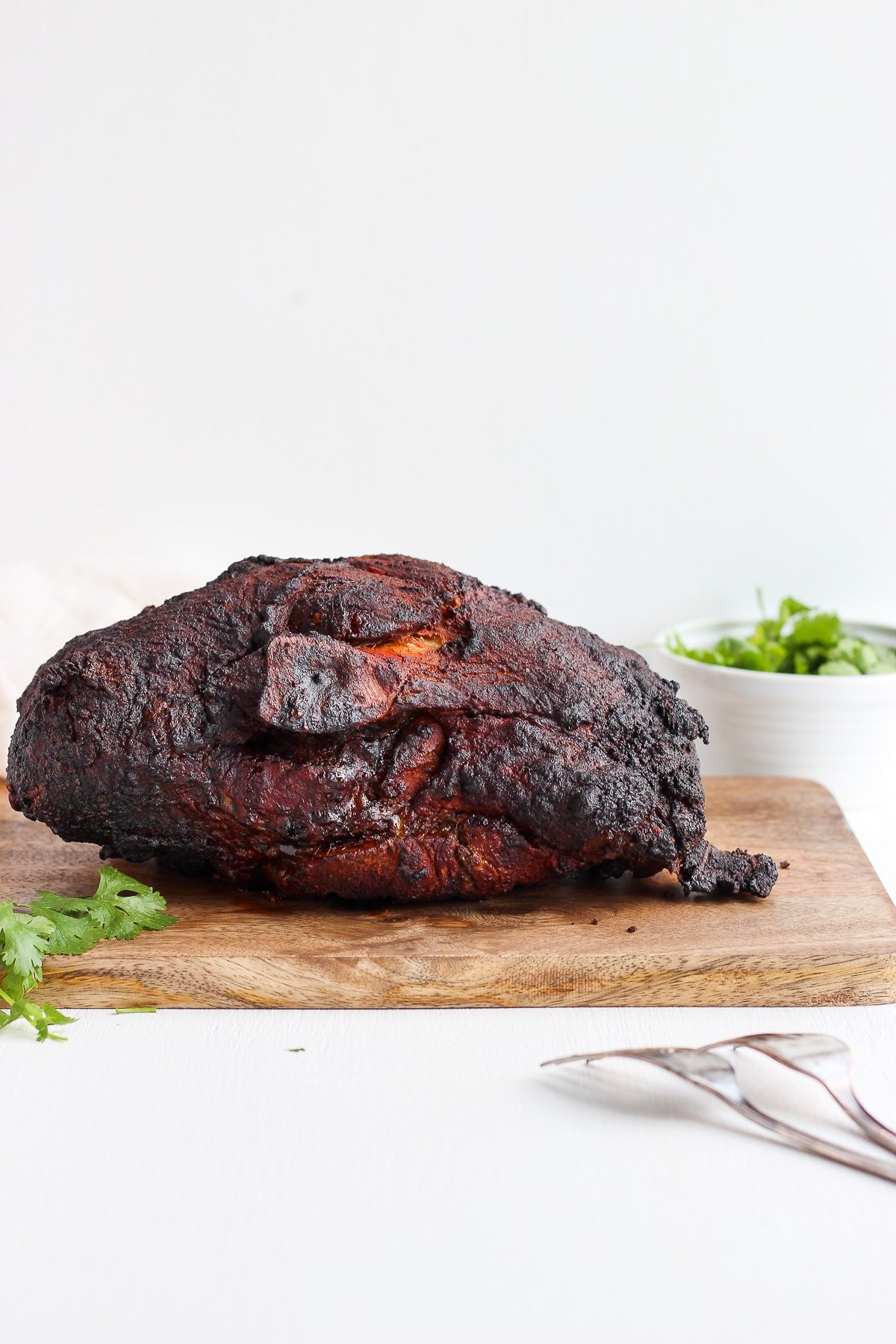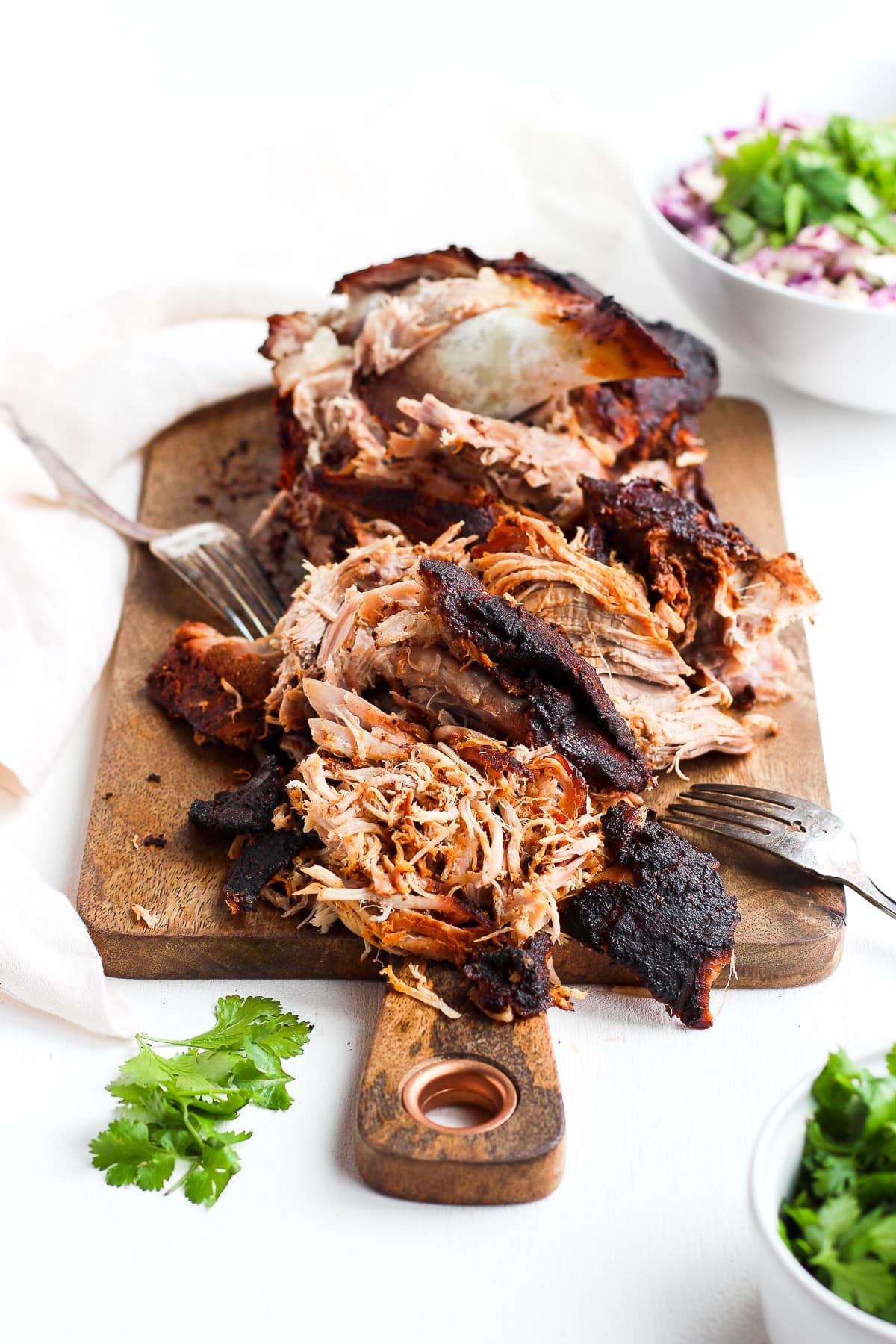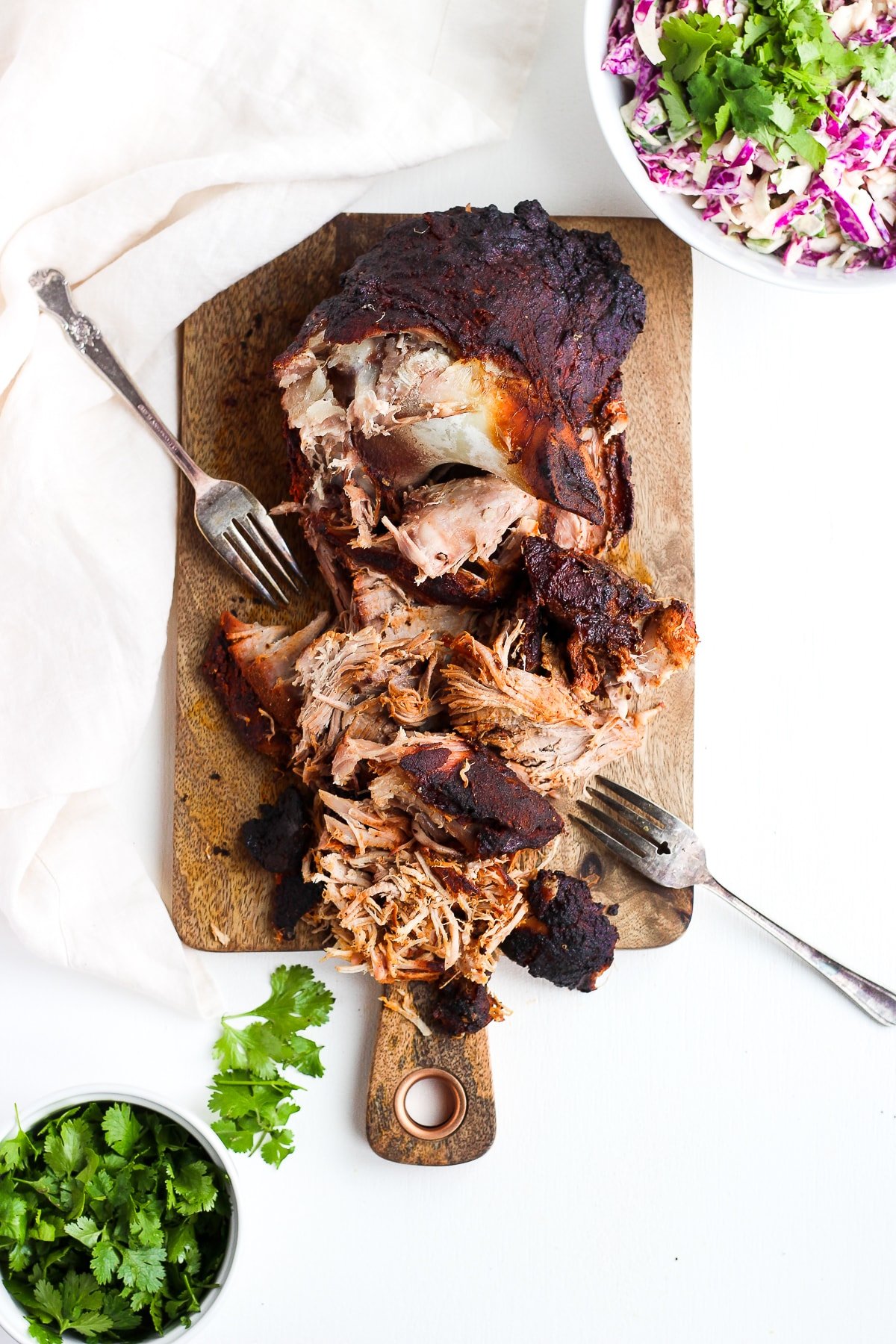 (I updated these photos in July of 2018, but I had to to keep just one of the old ones for old times sake! 🙂 )
Oh – and if you don't know what to serve with your pork shoulder – might I recommend:
Spicy North Carolina BBQ Sauce
Creamy Purple Cabbage Coleslaw
Please let me know if you have any other awesome smoked pork shoulder tips and tricks! I would love to hear them!
Don't forget to follow me on Facebook, check out my Instagram account or see what I am pinning on Pinterest!
Enjoy!
Print
Smoked Pork Shoulder
Author: Erin
Prep Time: 13 hours
Cook Time: 5 hours
Total Time: 18 hours
Yield: Serves 6-8 1x
Category: Dinner
Method: Electric Smoker
Cuisine: American
---
Description
The most amazing recipe for smoked pork shoulder!!
---
---
Instructions
Rinse pork shoulder under water;
Pat dry;
Combine salt, smoked paprika, lemon pepper, cayenne pepper, smoked garlic powder and black pepper in bowl.
Place pork shoulder on cookie sheet.
Take worcestershire sauce (if using)band pour all over pork shoulder ensuring it is thoroughly covered.
Repeat with the liquid smoke.
Take yellow mustard and pour all over pork shoulder ensuring it is thoroughly covered.
Take spice mixture and start sprinkling/rubbing in generous amounts all over pork shoulder ensuring that a thick layer is created – every nook and cranny.
Completely and tightly wrap pork shoulder in plastic wrap. Then double bag it in plastic bags and put in fridge for a minimum of 12 hours.
After a minimum of 12 hours has passed, remove pork shoulder from fridge, unwrap and let come to room temp.
Start smoker and bring up to 250 degrees.
Soak smoking chips in water in a bucket by the smoker.
Combine apple cider vinegar, apple juice and water and put in spray bottle.
Once smoker reaches 250 and pork shoulder is at room temp, put handful of smoking chips into the smoking basket and put pork shoulder in smoker.
Spray every 45-60 minutes with spray bottle all over.
Add additional smoking chips about every hour.
Smoke until pork shoulder reaches a minimum of 165 internal temp or go up to 190 for better ease of shredding.
A 4 lb pork shoulder should need about 4 hours of smoking time.
Let rest for an hour (wrap in foil) before shredding and serving.
---
Notes
This can a also be made in a slow cooker (it won't taste QUITE as amazing, but it is great for meal prep!). Follow directions 1-9 then place in slow cooker at cook on low for approx. 8 hours or until fully cooked. You don't need to add any liquid! Shred once it is done cooking.
If you want a separate recipe for just the spice rub to use on your other pork and chicken recipes – just click HERE!
Keywords: pork shoulder, pork shoulder rub, masterbuilt, electric smoker
Note: This post includes affiliate links. I only recommend products that I have actually used and personally would recommend.