Cilantro Fried Rice Bowl + Avocado and Poached Egg is classy vegetarian rice bowl that is a unique combination of both Mexican and Asian flavors that will excite your tastebuds!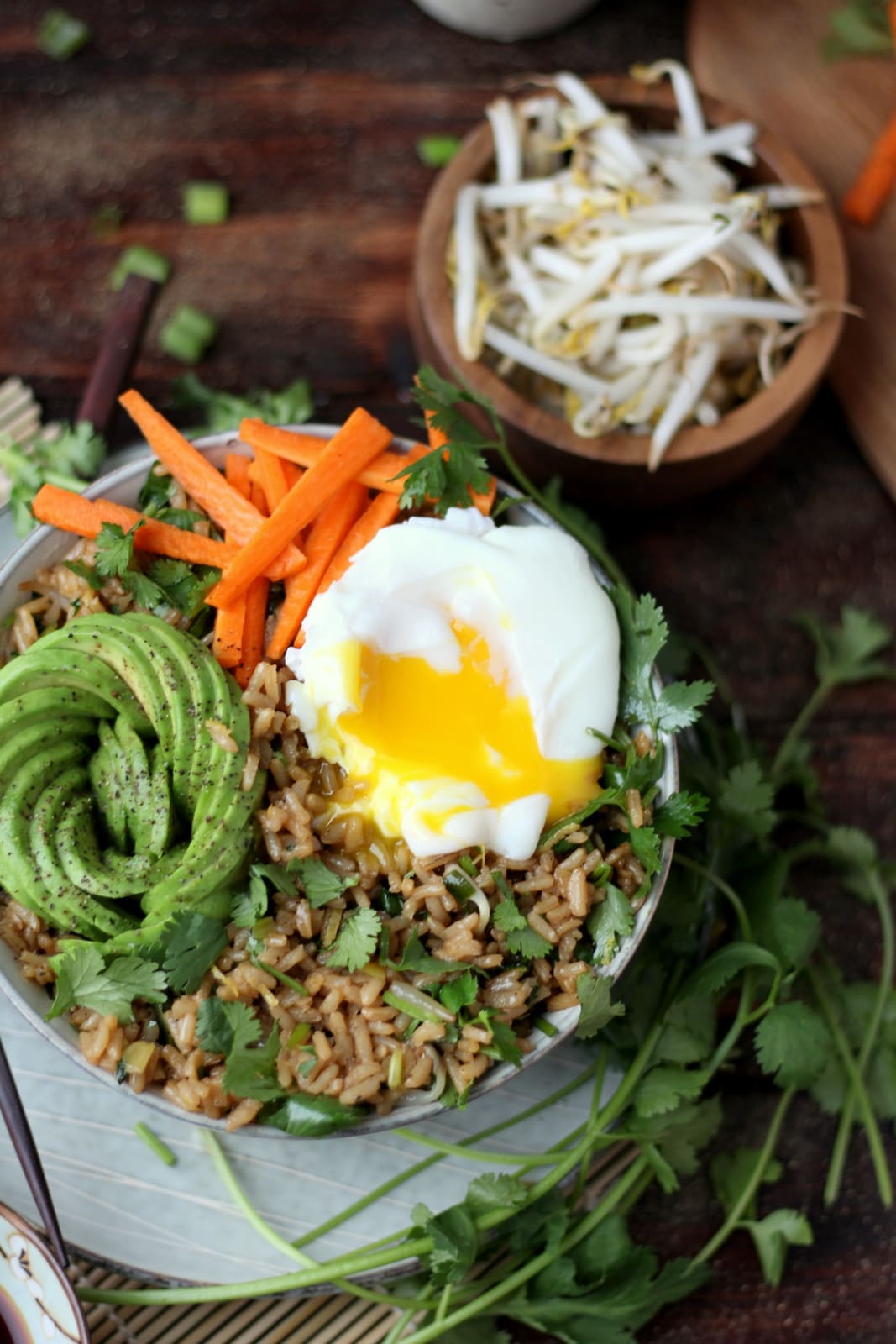 Raise your hand if you like fried rice! Oooh Oooh me! (that's me raising my hand in response to my own question….like the super cool person that I am) I love fried rice! Well, have you ever had Cilantro Fried Rice before? I hadn't either. But man, why haven't we tried this sooner? Such an interesting mix of flavors. The fried rice incorporates classic Asian flavors with sesame oil and mirin, while the mixture of avocado and cilantro make you feel like you are almost eating guacamole – and then you can never go wrong when you have a beautifully runny poached egg mixed in with your fried rice and/or avocado. You need to try this one – next time you are feelin a meatless Monday (or meatless any day for that matter) put this on the menu!
I get a lot of questions from people about how I come up with my recipes – well, the story of how this one popped into my head goes a little something like this (in a stream of consciousness): I saw a picture on Pinterest once that had a fried egg on a plate with fried rice and I liked it, it stuck with me (however I can't seem to find it again…) and I have been wanting to make some sort of fried rice with some sort of egg ever since; fun fact about me, I eat avocado, brown rice and soy sauce for lunch most days – 1 cup of rice, 1 avocado and an embarrassingly large amount of soy sauce – I have been wanting to make a version of it ever since; I set out to make some sort of fried rice this weekend with with some sort of egg and avocado; I had bought way too much cilantro for another one of my recipes and thought "what the hey, I might try and throw just a little cilantro in my fried rice….. ?? maybe…; so then I made a very classic fried rice without any protein in it – I decided against the typical carrots and peas, wanting it to look and taste different than every other fried rice out there; so then I added just tiny bit of cilantro (I added 1/4 cup…. the recipe ends up using an entire cup of chopped cilantro); the hubs and I tasted it and – well – it was awesome! Cilantro suddenly become my "protein" in a sense; I then teetered between a fried egg or a poached egg and landed on poached; I then started envisioning the avocado and thought that the typical chunks or slices were just not going to cut it today – then for whatever reason – I decided I would try and make my very first avocado rose…. and here it is! It was awesome and super easy! (I searched it on Instagram and found some super easy, quick videos); and done, recipe complete!
Did you catch all of that? The ultimate recipe usually comes from inspiration, planning and just plain'ole split second decisions while I am in the midst of cooking.
Okay – let's get to the good stuff:
Not sure how to poach an egg – Click here to learn how!
Like Rice Bowls? Check out the Braised Bok Choy, Leek and Spinach Rice Bowl + Poached Egg, especially if you want a little more spice!
Don't forget to check out my Instagram account for some behind-the-scenes action (I am usually embarrassing myself in the stories…) yay me….. Or give me a follow on Facebook or see what I am pinning on Pinterest!
Print
Cilantro Fried Rice Bowl + Avocado and Poached Egg
Author: Erin Jensen
Prep Time: 15 minutes
Cook Time: 15 minutes
Total Time: 30 minutes
Yield: 4 servings 1x
Category: Dinner/Entree
Method: Stove Top
Cuisine: Asian-Inspired
---
Description
Cilantro Fried Rice Bowl + Avocado and Poached Egg – a delicious, easy weeknight dinner idea that you are going to love!
---
6 cups cooked, dried rice (jasmine, white, brown) (simply cook your desired rice according to its package instructions and then spread out on cookie sheet and let dry for as long as possible or up to 6–8 hours, either in the fridge or on your counter).
1 cup scallions (just the white onion part), chopped
1/2 cup bean sprouts
6 Tablespoons canola or vegetable oil
4 Teaspoons sesame oil
4 Teaspoons mirin
7 Tablespoons soy sauce
1 Teaspoon ground black pepper
1 1/2 Tablespoons chopped garlic
1/2 Teaspoon kosher salt
1 heaping Tablespoon fresh lemon zest
1 cup chopped cilantro (additional for garnish)
2 avocados
4 poached eggs
---
Instructions
Heat wok to med-low.
Add oil and allow to heat.
Add garlic and let cook until it releases strong aroma.
Then add scallions and let reduce about 2 minutes, stirring constantly.
Then add bean sprouts, soy sauce, mirin, sesame oil, pepper and salt.
Stir to mix thoroughly and let it begin to simmer.
Add rice and mix immediately.
Once rice is mixed into liquid, add lemon zest and mix again.
Ensuring rice is fully warmed/hot, add cilantro at last minute.
Serve immediately with avocado and poached egg.
Garnish with additional cilantro and/or carrots.
---