Shrimp Fried Cauliflower Rice – for when you are craving take-out, but also want to eat clean! (Paleo + Whole30 + Gluten-Free)
Shrimp Fried Cauliflower Rice
Shrimp Fried Cauliflower rice is one of my favorite recipes and I am so excited to FINALLY make a paleo/Whole30 version for (me) and you guys!! Definitely quick enough to make during the week and perfect for meal-prepping!
Why This Recipe Works
Quick: shrimp and cauliflower rice both cook so quickly – this easy weeknight dinner comes together so quickly and easily!
Light: I absolutely love how light shrimp is, yet it is packed with protein.
Paleo/Whole30: if you are currently on a Whole30 or just like eating that way part of the time, this is for you!
Best Way to Store Shrimp Fried Cauliflower Rice
The shrimp fried cauliflower rice will keep really well 3-4 days in an airtight container in the refrigerator. Pro tip if you want to prep for some work lunches: don't add much, if any, of the sauce. When you pack your lunch, keep a little container of the sauce with you and add it right before you toss it in the microwave at work! You might have to skip the fried egg on top, but it will still be amazing!
Best kind of Cauliflower Rice
I am a huge fan of making my own cauliflower rice – it seems to look and act more like real rice. BUT if you are making this for an easy weeknight meal then I have to recommend either making the cauliflower rice ahead of time or just buying the pre-made stuff! Same with the julienned carrots!
How to Make Shrimp Fried Cauliflower Rice
Cook shrimp and eggs in cast iron skillet. Remove and set aside.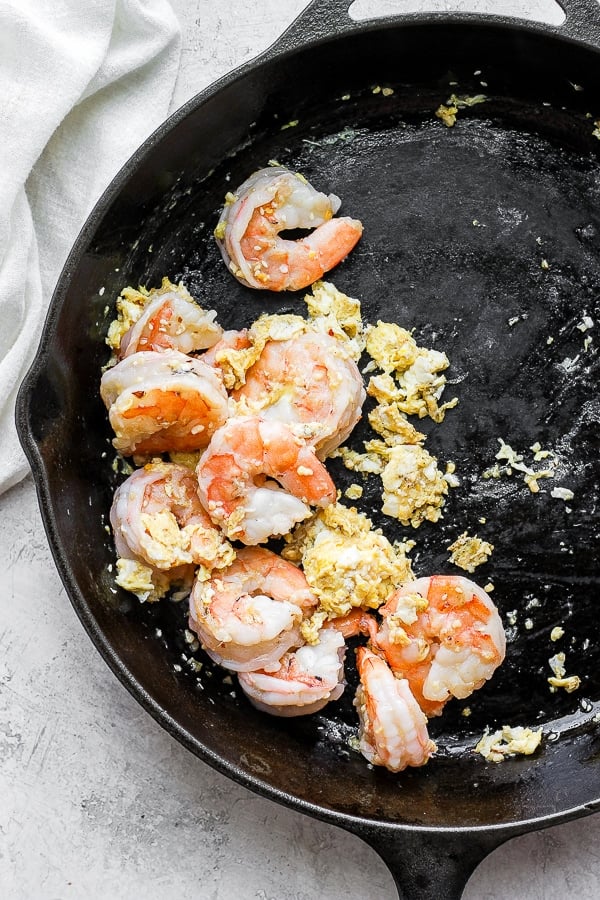 Cook cauliflower rice, onion and carrots.
Add shrimp and egg back in along with the sauce.
Serve with fried egg!
Other recipes you might like:
Don't forget to check out my Instagram account for some behind-the-scenes action! Or give me a follow on Facebook or see what I am pinning on Pinterest!
Made this recipe and loved it?! We would love it if you would take a minute and leave a star rating and review – it is also helpful if you made any substitutions or changes to the recipe to share that as well. THANK YOU!
Print
Shrimp Fried Cauliflower Rice Recipe
Author: Erin Jensen
Prep Time: 10 minutes
Cook Time: 15 minutes
Total Time: 25 minutes
Yield: 2–4 Servings 1x
Category: Dinner
Method: Stove Top
Cuisine: Asian
---
Description
Shrimp Fried Cauliflower Rice – for when you are craving take-out, but also want to eat clean! (Paleo + Whole30 + Gluten-Free)
---
Approximately 4 cups cauliflower rice (see Notes)
2 Teaspoons freshly grated ginger
2 Teaspoons minced garlic
1 Teaspoon red pepper flakes
2 Teaspoons sesame seeds
10 jumbo shrimp or prawns or 15-20 medium/small shrimp (tail off and deveined)
3 eggs, divided
avocado oil (or ghee or olive oil)
1 cup julienned or "matchstick" carrots (I recommend just purchasing store-bought)
1/2 cup bean sprouts (optional)
6 scallions/green onions, slice and keep whites and greens separate
salt, pepper and red pepper flakes
Sauce:
---
Instructions
Combine Sauce ingredients and stir to combine; set aside.
Bring 12 inch cast iron skillet to medium-high heat.
Add 1 Tablespoon avocado oil (or ghee) to pan and let melt.
Add ginger, red pepper flakes, garlic and sesame seeds to pan; move around for 30 seconds.
Add shrimp and cook for 3-4 minutes, flipping halfway.
While the shrimp are cooking, take one of the eggs and scramble it in a small bowl.
Once shrimp are cooked, add the egg to the pan and use a spatula to move the egg around until it is cooked.
Remove shrimp and egg from the pan, setting them on a plate and set aside.
In the same pan, add the cauliflower rice, carrots, bean sprouts and the white part of the green onion.
Sprinkle with salt and pepper.
Move cauliflower rice mixture around for approximately 3-4 minutes on medium, ensuring it is warm all the way through and cooked slightly.
Stir in the shrimp and egg.
Pour a tablespoon or two of the Sauce and mix to combine.
Taste and add additional salt, pepper and/or red pepper flakes, as desired.
Let your fried cauliflower rice keep warm in your pan (if you are using a cast iron you can probably turn it off and it will retain heat for a little while) and then fry two eggs in a separate pan.
Plate your fried cauliflower rice and place a fried egg on top.
Garnish with the greens from the green onions and additional sesame seeds.
---
Notes
I love the texture of "homemade" cauliflower rice, I feel like it looks and acts more like actual rice BUT if you are making this on the weeknight either grate your cauliflower rice ahead of time or just buy it pre-made! It's not worth it to be running around on a crazy weeknight trying to grate your own cauliflower rice!
Servings: I would say it makes two large, full-meal sized portions (like if you aren't eating anything else) or 3-4 smaller portions if this isn't the only thing you are making.
Make-Ahead Tip: if you are prepping this for work lunches (highly recommend), then I wouldn't add a lot of the Sauce, if any. Keep your sauce separate and then add when you are reheating in the microwave at work – no one wants soggy cauliflower rice!)
Keywords: shrimp fried cauliflower rice, healthy fried cauliflower rice