Iced Matcha Latte is a summer must-have! When it is hot out and you don't feel like drinking your normal, hot matcha latte – this recipe is your new best friend!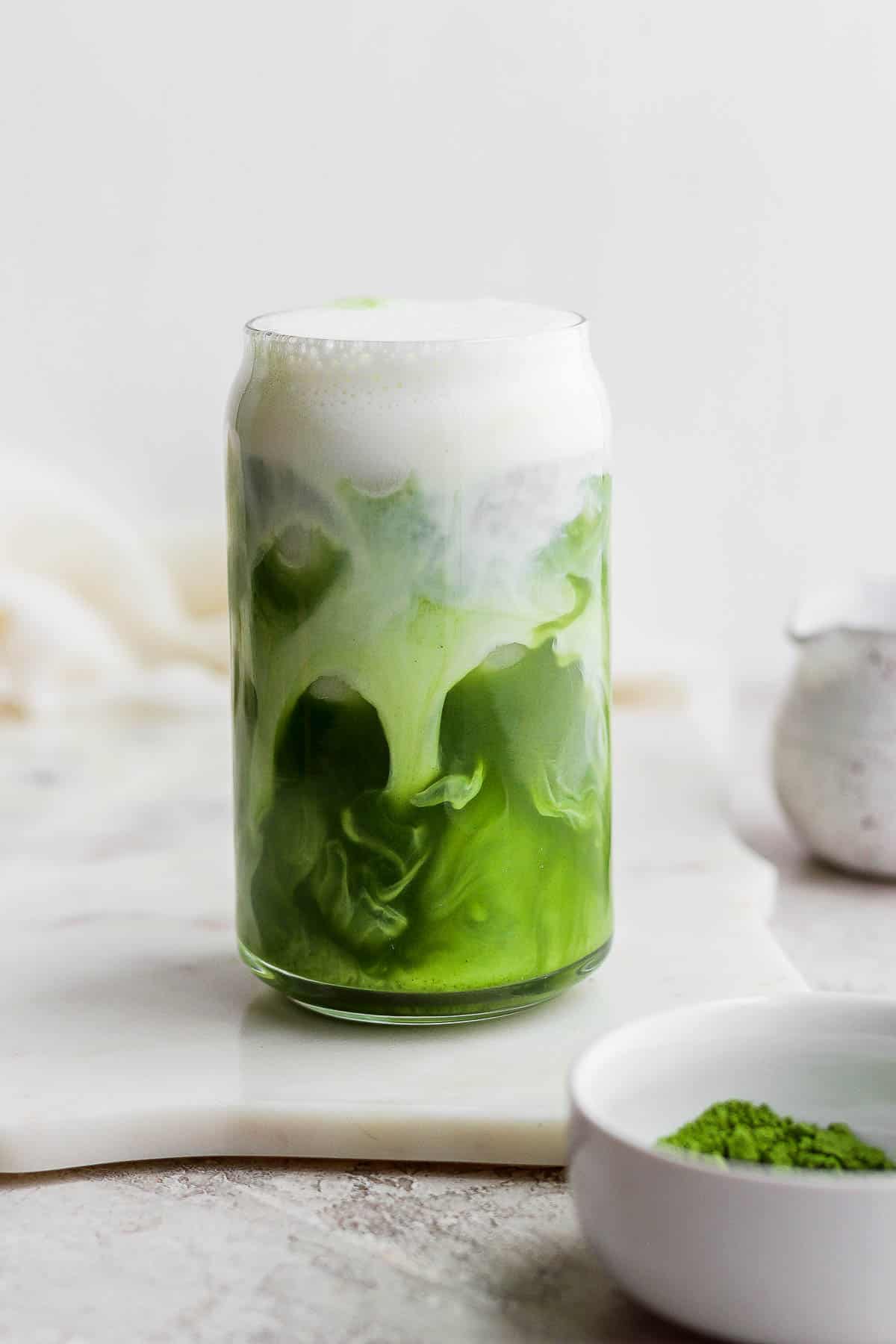 Easy Iced Matcha Latte Recipe
Making an iced matcha green tea latte is pretty darn easy and we are here to make it even easier for you! We are breaking down all of your questions and walking you through the process with step-by-step photos. You are going to love this hot-weather recipe! You are going to love this hot-weather recipe just as much as any Starbucks version you would by at a coffee shop!
If you like iced coffee and tea drinks then you definitely need to check out our Iced Chai Latte and Iced London Fog!
What You Will Need
water: we will warm this up just enough for the matcha powder to dissolve.
latte or ceremonial grade organic Matcha: we don't need a ton, just about a teaspoon or so. I like the ceremonial grade matcha powder the best – it has a smooth, nice flavor. I would highly recommend searching out aa high-quality matcha powder – the quality really does make a difference here.
vanilla extract: this is optional, but it adds another little bit of sweetness.
unsweetened almond milk: you can use other non-dairy milk alternatives (like oat milk or coconut milk) or you can even make cold foam!
handful of ice cubes: use as much as you would like.
What is Matcha
Matcha is the fine powder that is the result of ground up green tea leaves, but it is different from regular old green tea because:
You actually consume all of the nutrients from the leaf.
Matcha contains more theanine than regular green tea (because it is shade-grown for the last 3 weeks). When theanine is consumed with caffeine, it results in a calm but alert feeling.
Matcha is much softer than regular green tea because the stems are removed and only the fine leaf is ground up.
Iced Matcha Latte Tips
Not too water hot: when combing that water and matcha powder you want the water just warm enough that the powder will dissolve into the water. Too hot and when you pour it over your ice it will melt immediately.
Chunks of matcha: it is hard to avoid some chunks of matcha that will sink to the bottom, but to help alleviate that you can 1) use a little tea strainer to break up the powder and 2) use a matcha whisk to help break any chunks down.
Matcha ice cubes: don't want your matcha to get watered down? Make some matcha ice cubes the night before and use them instead of regular ice cubes. Simple mix about a cup of water and a teaspoon or so of matcha powder in a small saucepan. Let it get warm enough so you can whisk the matcha powder into the water and it dissolves. Then let cool and pour into some silicone ice cube trays. Let freeze overnight.
Cold Foam: feel free to take your iced latte to the next level with some cold foam! Learn how here!
other add-ins: sometimes I add in a protein powder or collagen.
How to Make an Iced Matcha Latte
Gather your ingredients.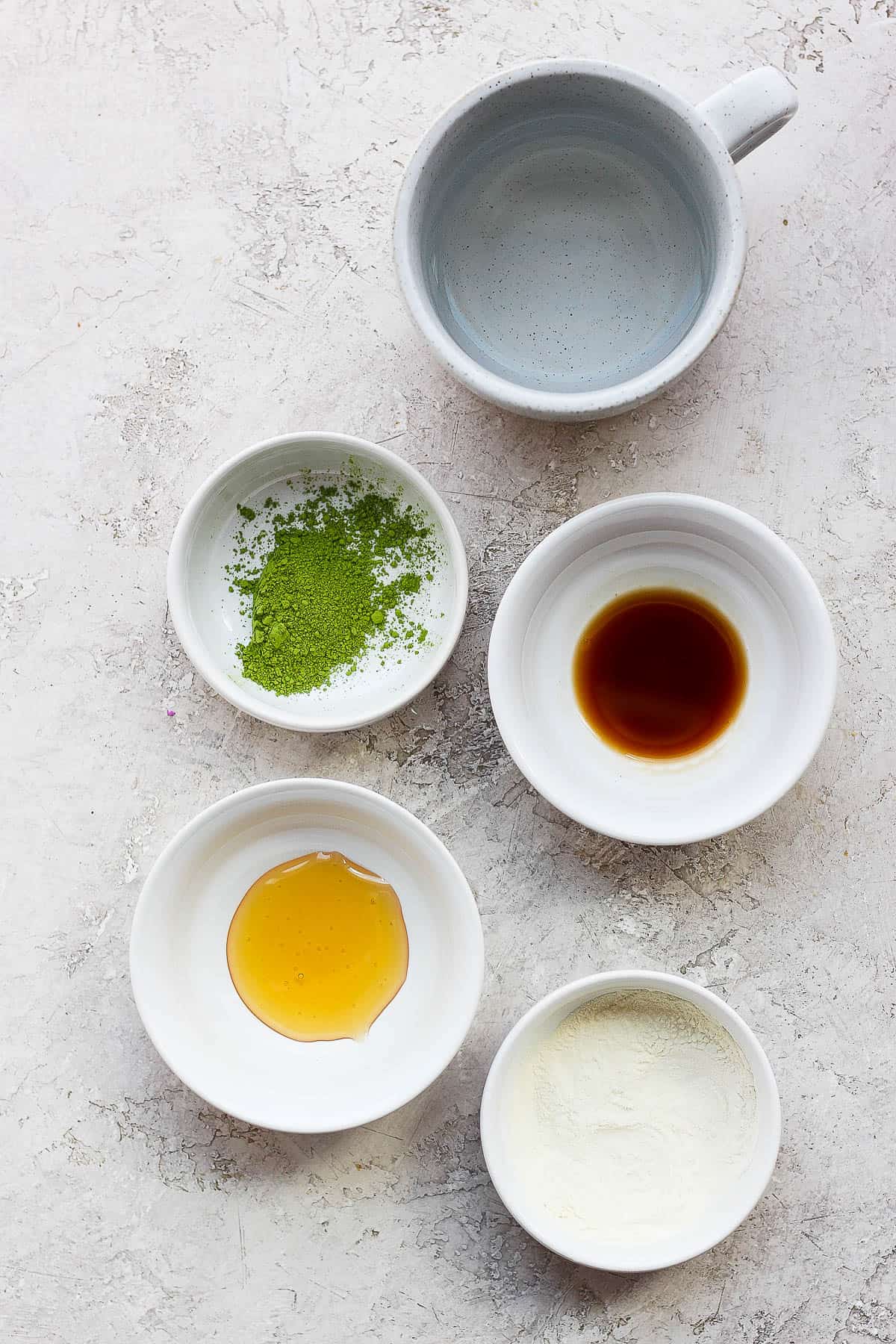 Make your matcha mixture in a small saucepan – whisk really well to combine.
Pour over ice.
Pour your milk of choice on top.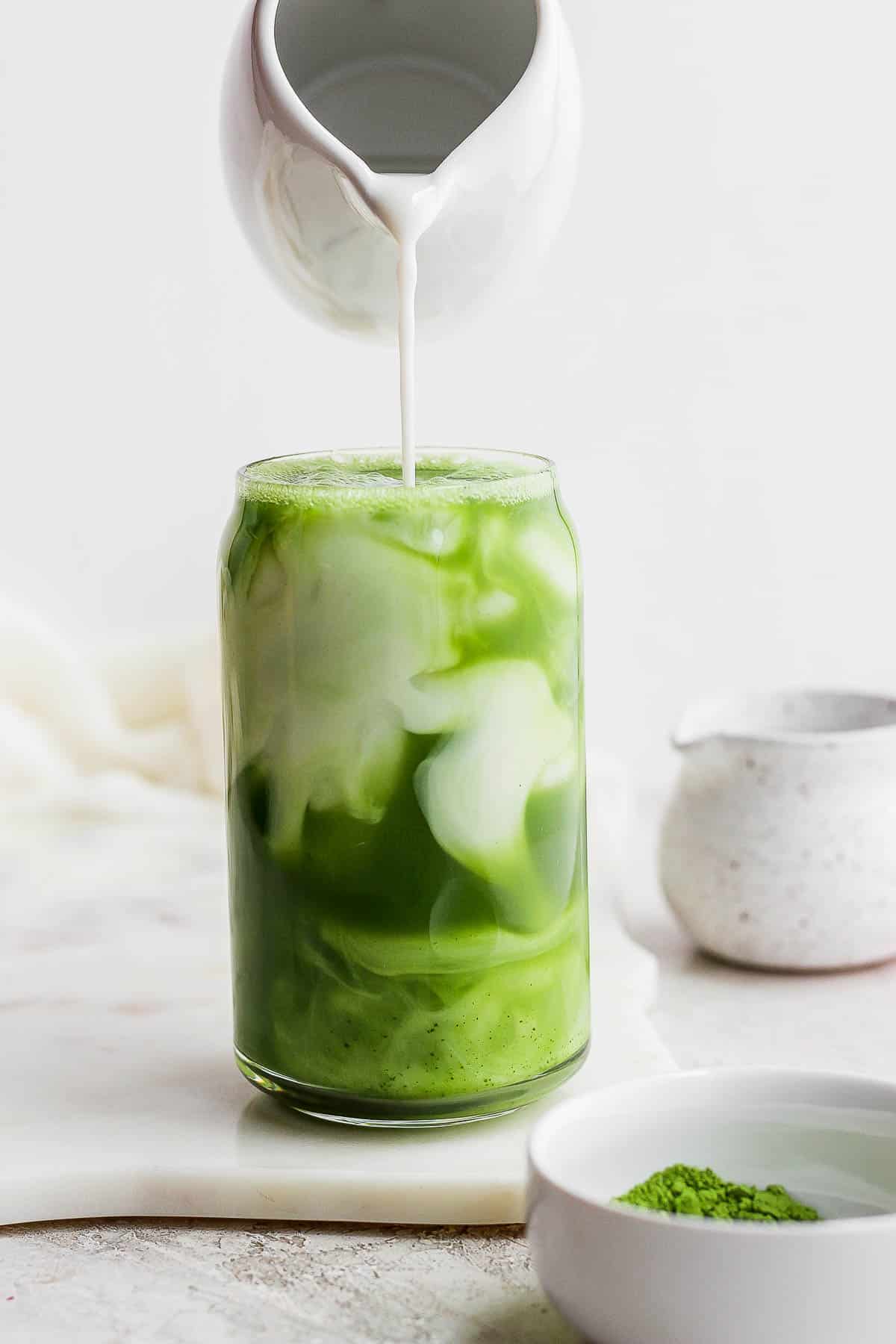 If you want to make cold foam instead of just plain almond milk then head over to this post to get the full directions (and learn 3 different ways to make it at home).
Cold foam is just frothed milk without heat and is really is to make on your own! It kind of brings your iced latte to the next level!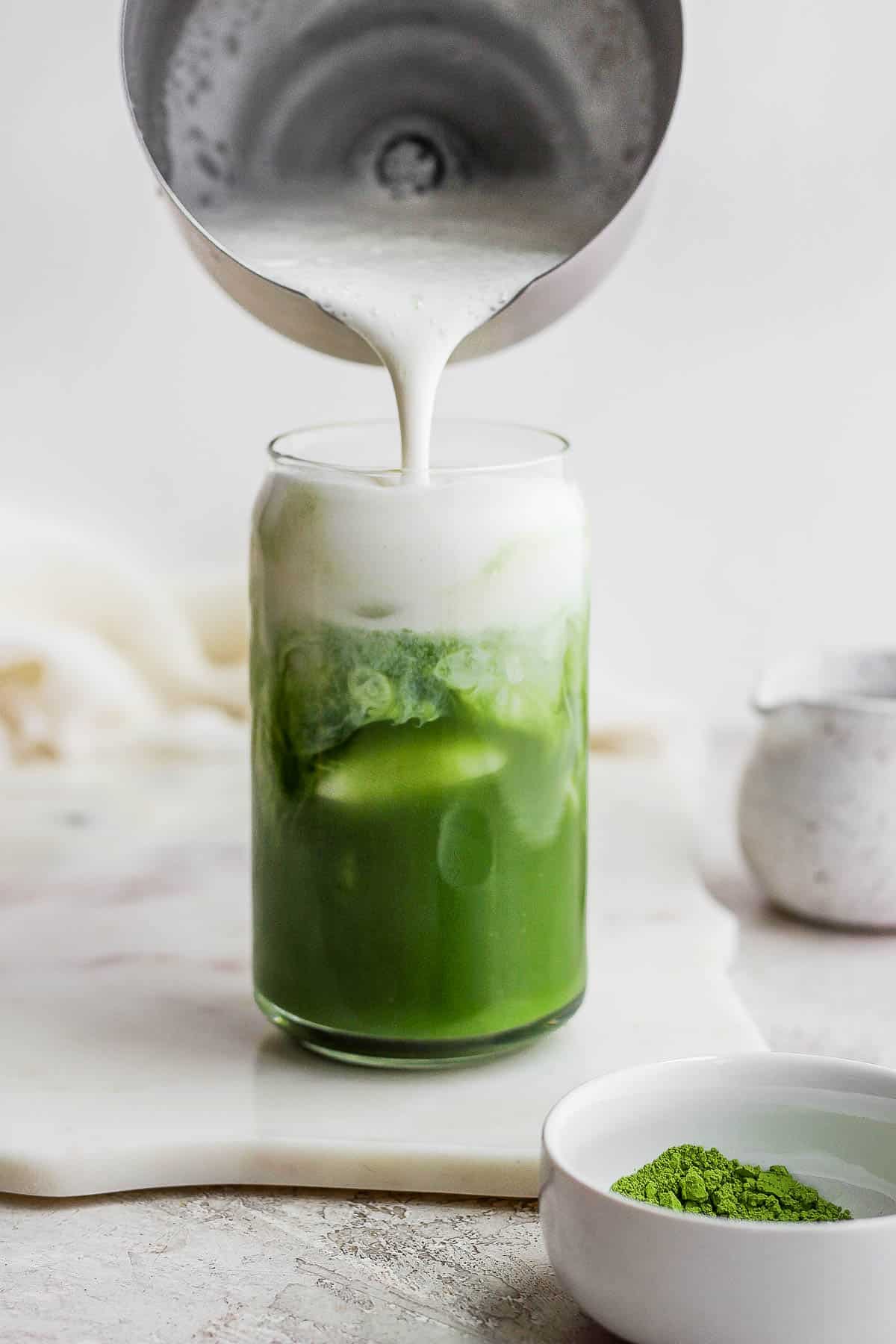 Easy to take on-the-go!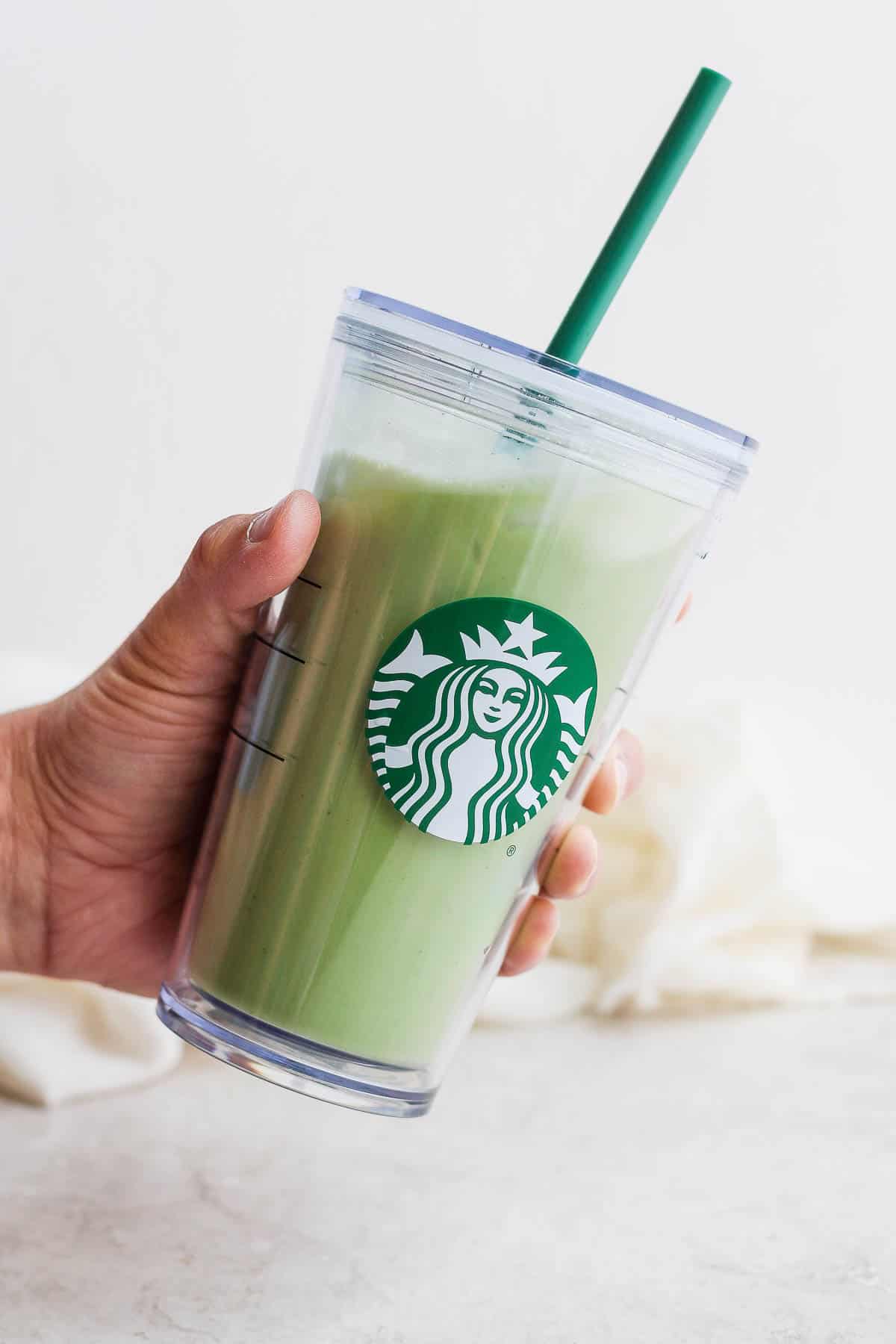 Love Matcha – try our Matcha Smoothie!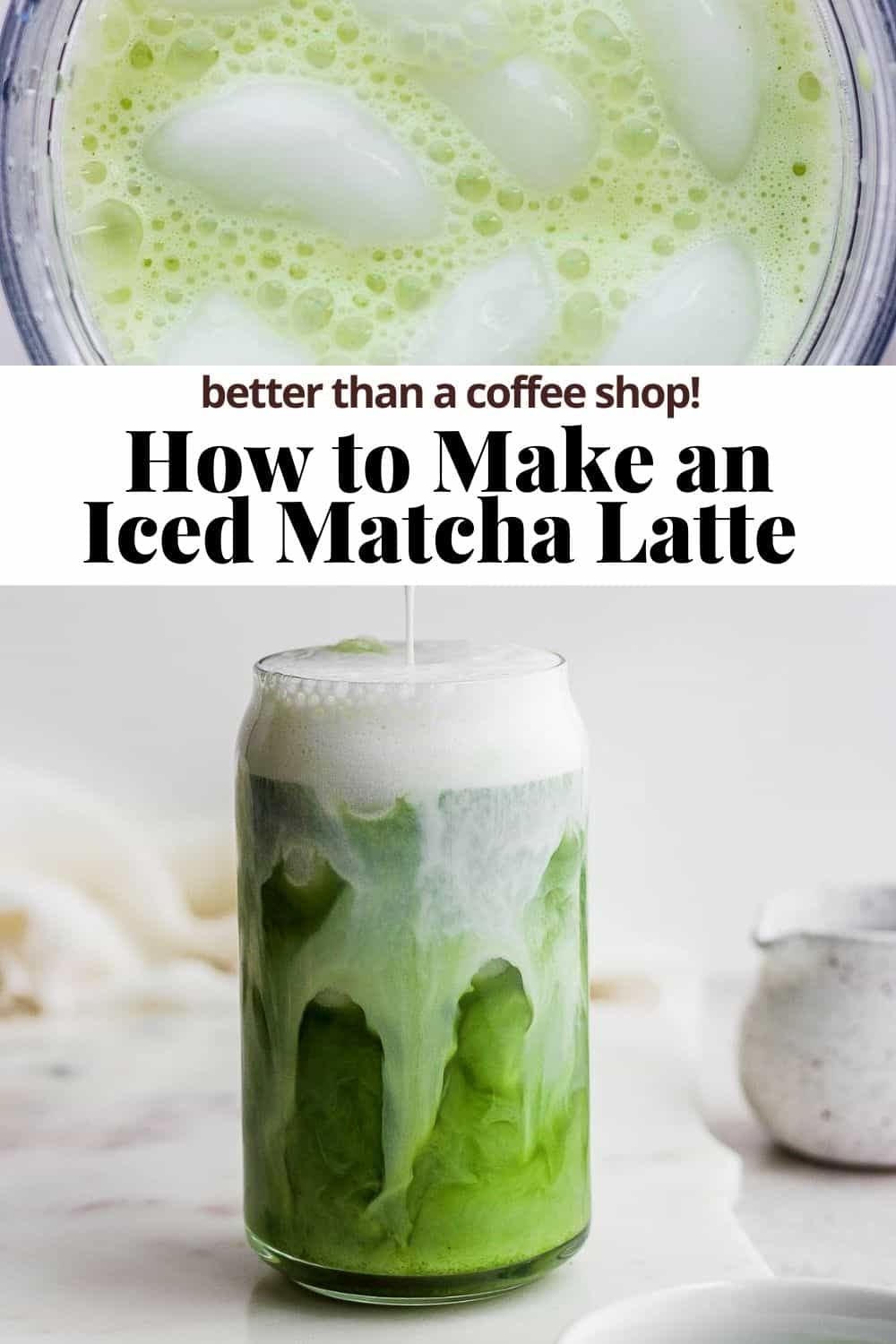 Print