Chai Tea Latte Recipe – a perfectly sweet afternoon treat!
Why You Will Love This Recipe
Chai: who doesn't love that little spice of chai tea – love that flavor!
Afternoon Treat: chai tea lattes are great afternoon pick-me-up!
Dairy-Free: we suggest using an almond milk or even a coconut milk, but if you like using regular milk, that work too – do what is best for you!
What is a Chai Tea Latte
A chai tea latte is a cup off chai tea (made with a tea bag or with a homemade spice mix) that is usually mixed with a sweetener of your choice and then a frothed milk on top.
What You Will Need
hot water: this is what your tea bag will steep in.
chai tea bag: use whatever brand want!
vanilla extract: this adds a tiny bit of sweetness and that lovely vanilla flavor.
maple syrup: this is our sweetener of choice. Feel free to omit or use something else if you prefer!
coconut milk: coconut milk has a higher fat content than most dairy-free milks and, as a result, froths a lot better.
unsweetened almond milk: we use this to thin out the coconut milk just a little bit!
Do I Need a Chai Spice Mix
Nope – not for this recipe! We just stick with a simple tea bag. If you are looking for a good Homemade Chai Spice Mix here is one I recommend!
Nut Milk Substitutions
We recommend a combination of coconut milk + unsweetened almond milk because that is what we have had the best results with when it comes to frothing. But, if you frequently use another kind of milk (non-dairy or otherwise) then please feel free to use that! Things people have found to work are: oat milk, cashew milk or soy milk!
Sweeteners + Toppings
Sweeteners: we recommend maple syrup, but honey or date syrup work well too!
Toppings: I love topping my chai tea latte with whipped almond milk every once in a while for at treat!
How to Make a Chai Tea Latte
To make a chai tea latte you simply make a cup of chai tea using your favorite brand, add in some vanilla extract and sweetener and then top it off with some frothed milk!
Other Tea Recipes You Might Like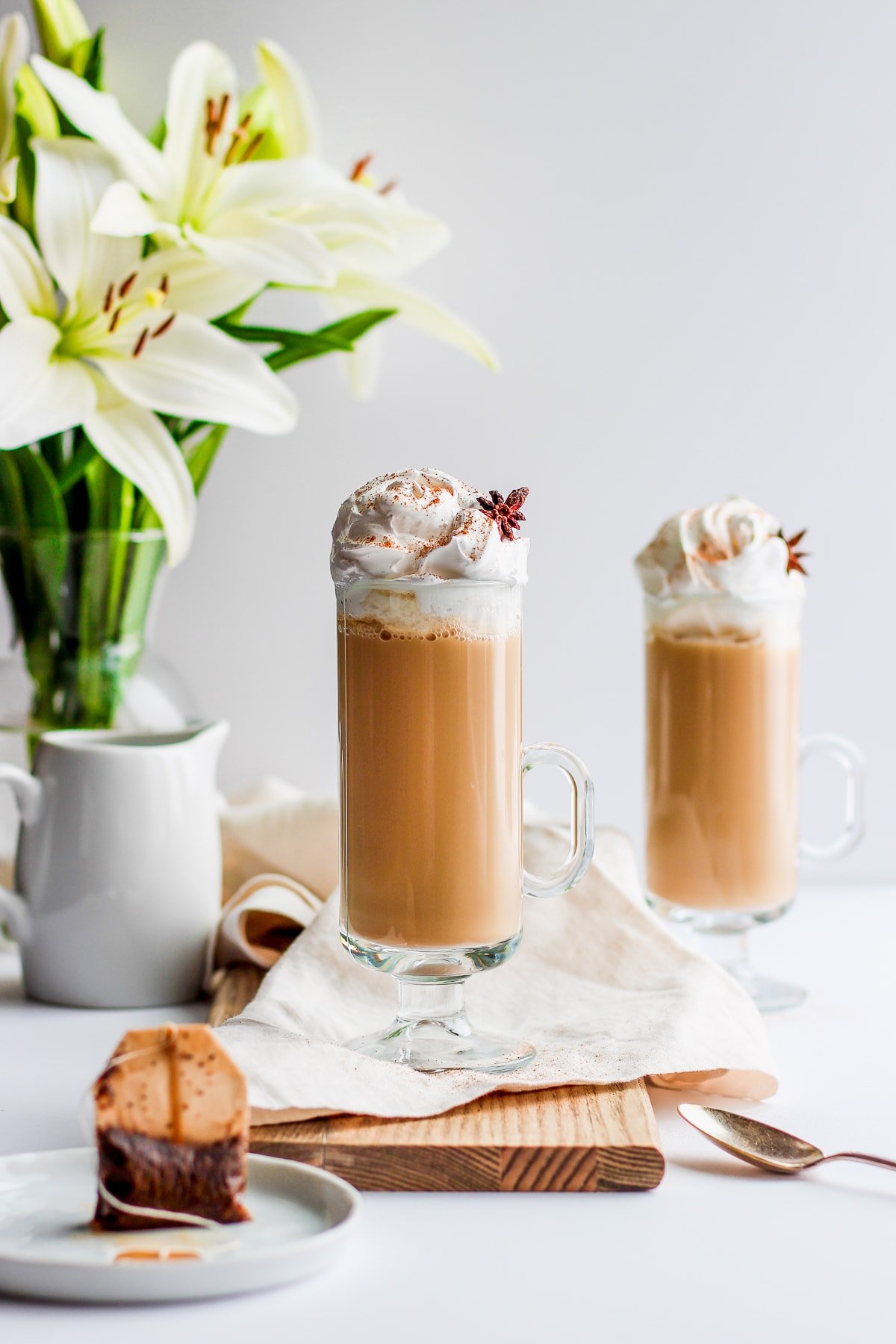 Other Recipes You Might Like
Made this recipe and loved it?! We would love it if you would take a minute and leave a star rating and review – it is also helpful if you made any substitutions or changes to the recipe to share that as well. THANK YOU!
Don't forget to check out my Instagram account for some behind-the-scenes action! Or give me a follow on Facebook or see what I am pinning on Pinterest!
Print
Chai Tea Latte
Author: Erin Jensen
Prep Time: 2 minutes
Cook Time: 5 minutes
Total Time: 7 minutes
Yield: 1 latte 1x
Category: Tea
Method: Stove Top
Cuisine: American
---
Description
Chai Tea Latte – A perfectly sweet afternoon treat!
---
---
Instructions
Add water to a small saucepan.
Bring to a simmer and then remove from heat and add tea bag. Let steep.
Once done steeping remove the tea bag and add in vanilla extract and maple syrup. Stir to combine.
Meanwhile, add coconut milk and unsweetened almond milk to your frother and froth.
Pour tea into your favorite mug and then pour the frothed milk on top.
Enjoy!
---
Notes
Skip the Saucepan: you can obviously make the cup of tea however you want – I personally prefer heating my water up in a saucepan – but if you want to warm up your water in the microwave or using a Keurig or similar device, that works too!
*Coconut milk: you can really use any nondairy milk that you have success frothing – this coconut milk works amazing – it is perfectly thick and froths up so nicely! And of course, if you aren't dairy-free then feel free to use regular milk (whole milk works best).
Unsweetened Almondmilk – I add this is to water down the coconut milk just a tiny bit – you can also use oat milk here or cashew milk too!
Maple Syrup: feel free to omit the sweetener if you want. You could also sub in honey or any other sweetener you prefer.
Frother: I have had this frother for well over a year and really like it. If you don't have a frother you can always use a handheld one instead – the results are quite as good, but it will get the job done in a pinch!
Keywords: chai tea latte recipe, chai tea latte, healthy chai tea latte