Chai Tea Latte Recipe – a perfectly sweet afternoon treat! (Paleo/Vegan/Dairy-Free)
Looking for a switch for your afternoon coffee? Might I suggest a chai tea latte?!
Chai Tea Latte Recipe
Back in the day, a soy chai tea latte from somewhere like Caribou or Starbucks was my go-to treat. Who knows what random ingredients made their way into that little cup – I haven't had one since I did my first Whole30 almost a year ago. I kind of think I would take a sip and turn my nose up because it was too sweet now!
But I have missed the taste of my favorite drink and every so often I could really go for one, but I know I just won't like the store-bought kind anymore. Soooo, I naturally got busy in the kitchen and experimented until I found the perfect combo!
Do you need to make your own chai tea mix?
Nope! I took the shortcut and just bought some of these chai tea bags …. super easy and cuts out a big step in this process!
Can I use other kinds of nut milk in this Chai Tea Latte?
Yes!! I have tried oat milk and cashew milk – both taste absolutely amazing in this recipe!
But…
You HAVE to use real maple syrup!!! Please don't use some store-bought/high-fructose "maple syrup" PLEASE! It really makes all the difference.
For a garish – you can throw on some whipped coconut cream and it is delicious!!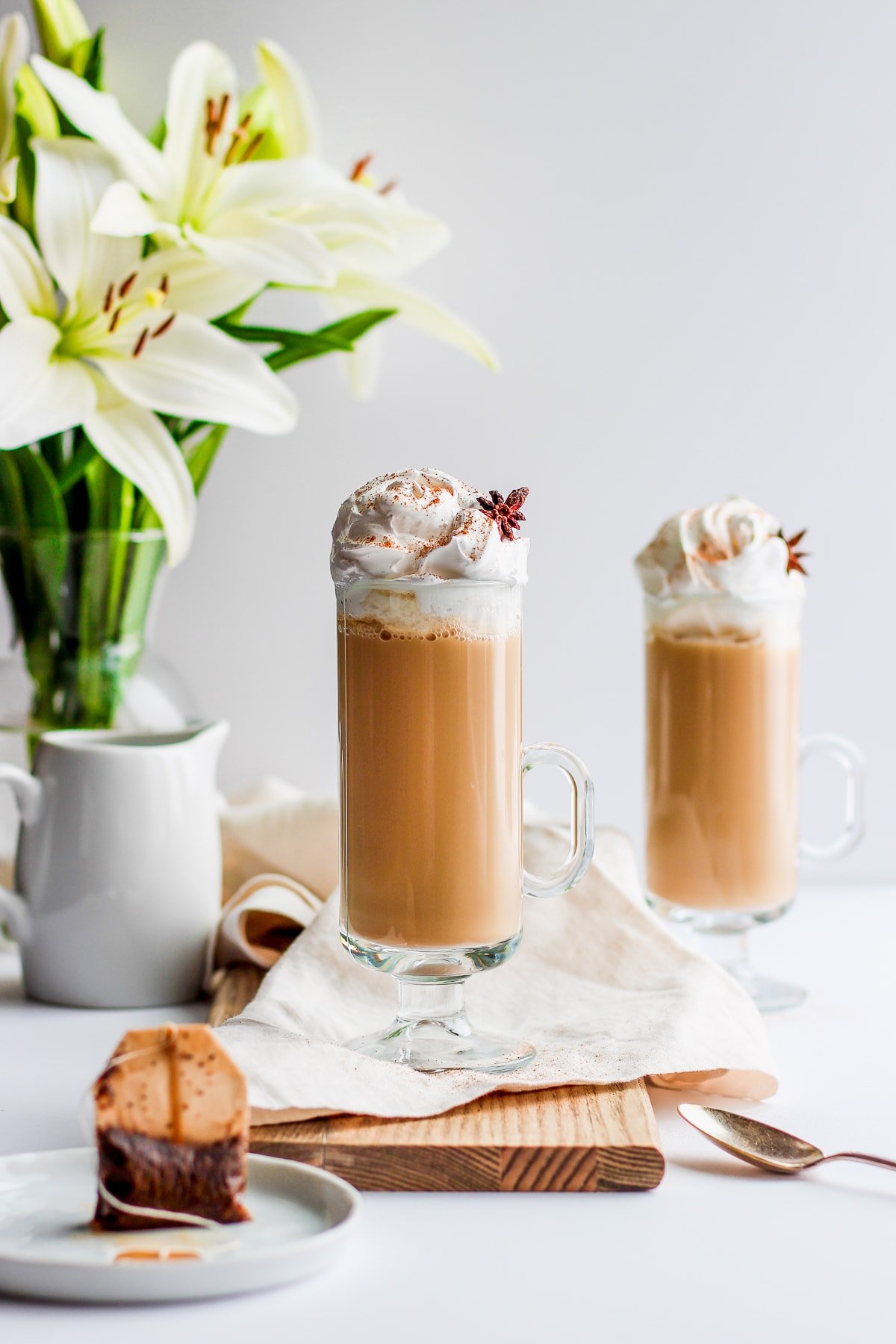 I really hope you guys have had a lovely week! We are finally going to have some spring weather this weekend so I cannot wait to get outside this weekend!! Have a good weekend!
Don't forget to follow me on Facebook, check out my Instagram account or see what I am pinning on Pinterest!
Love,
E
Print
Dairy-Free Chai Tea Latte (Paleo and Vegan-Friendly)
Author: Erin
Prep Time: 2 minutes
Cook Time: 5 minutes
Total Time: 7 minutes
Yield: 1 latte 1x
Category: Tea
Method: Stove Top
Cuisine: American
---
Description
A perfectly sweet afternoon treat! (Paleo/Vegan/Dairy-Free)
---
1 Chai Tea teabag or other brand of your choice
8 oz boiling hot water
3/4 cup unsweetened almond milk
2–3 Tablespoons real maple syrup
---
Instructions
Let teabag steep in hot water, per package directions.
In small saucepan, add almond milk and bring to a simmer, moving it around constantly so it doesn't burn.
Slowly pour in maple syrup, only 2 Tablespoons at first, whisking fairly constantly, until the maple syrup has fully combined.
Taste to ensure it is quite sweet (the sweetness will be diluted when the tea is added).
If it isn't very sweet, add another Tablespoon of maple syrup and test again (continue until it is sweet).
Add chai tea to almond milk mixture and ensure the temperature is hot.
Pour into travel mug or coffee mug and enjoy immediately.
Feel free to garnish with cinnamon or put a dollop of whipped coconut cream!
---
Notes
Feel free to sub other nut milks – I have used oat milk and cashew milk and both work perfectly.
Keywords: chai tea latte recipe, chai tea latte, healthy chai tea latte
Thank you so much for reading & supporting The Wooden Skillet! This post contains affiliate links for products I actually use in my own home and personally recommend. Should you make a purchase using one of these links, The Wooden Skillet will earn a small commission at no extra cost to you, which helps me continue to bring you great original content. Thank you!