This is the absolute best recipe for making a perfectly moist and Juicy Chicken Burger every time! They cook in minutes on the grill and then you can place them on a light, fluffy bun with all the toppings, like lettuce, tomato, red onion, and the always necessary burger sauce!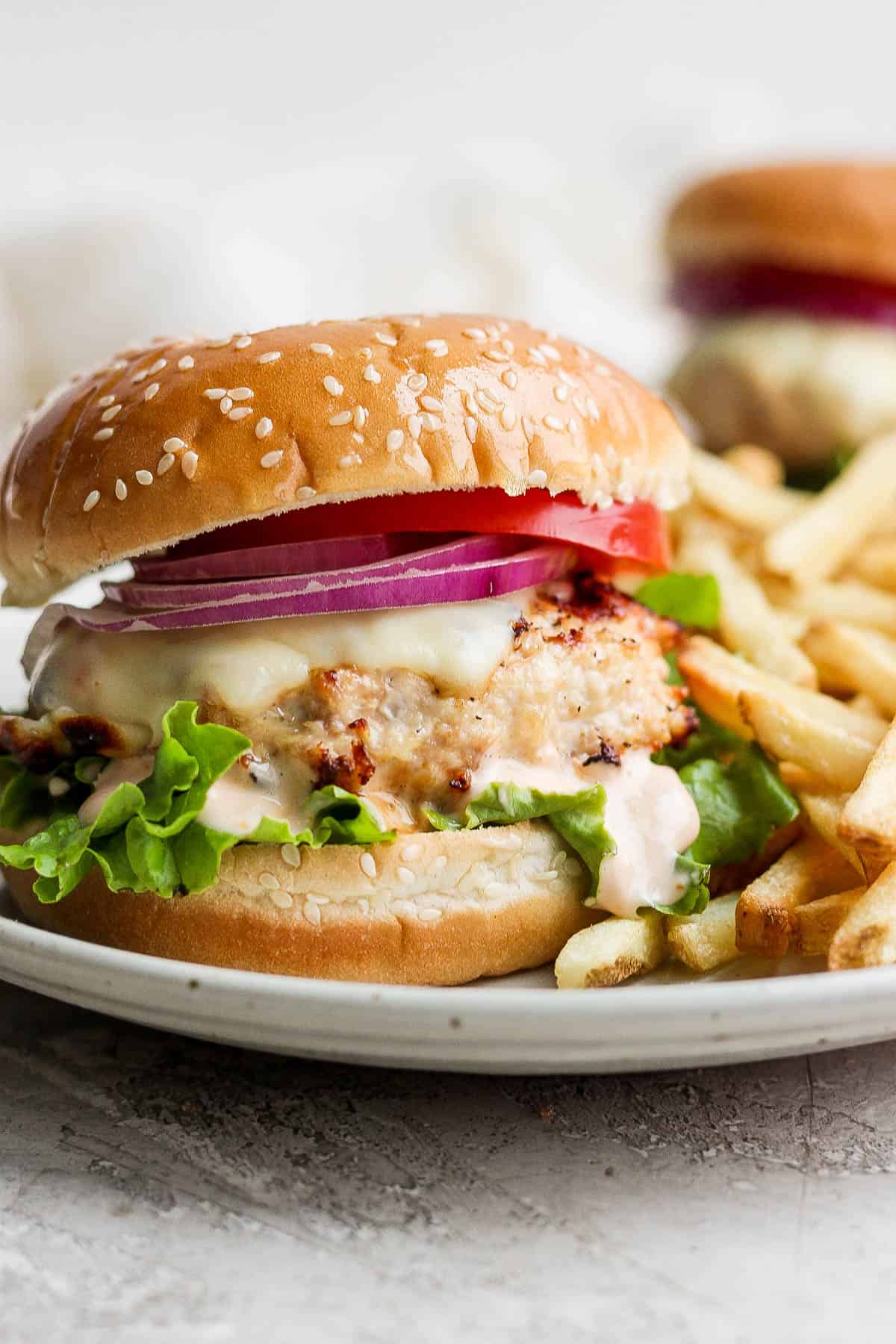 The Best Juicy Grilled Chicken Burger
If you have had trouble in the past with making chicken burgers that are dried out, with very little flavor, we get it. We have made some of those too, but just because chicken is a lean meat doesn't mean that it can't become an amazingly delicious juicy burger that is packed with flavor! We did a lot of testing work in the kitchen to put together the perfect recipe for you so that you too can make the most juicy chicken burger you have ever tasted! With a few simple tricks you are going to blow your family and friends away.
Are you also looking for a turkey burger recipe that is also super juicy and packed with flavor!? Then you also have to try our Juicy Turkey Burger!
What You Will Need
ground chicken – just grab a pound of your favorite ground chicken at the grocery store.
white onion – simply grate the onion on to a paper towel and squeeze out the moisture before adding to the rest of the ingredients.
frozen butter – this is our secret ingredient for keeping it so juicy! We just keep a stick of butter in the freezer so it is always ready for tossing in a burger mix.
garlic – everything is always better with a little garlic!
mayo – adds a bit of flavor and some more moisture to keep things juicy!
worcestershire sauce, dijon mustard, & liquid smoke – a delicious flavor combo that pairs really well with the ground turkey.
lemon zest – just a sprinkling to help bring out all the great flavors.
parmesan cheese – if you want to keep this dairy free you have the option to omit or find a dairy free option.
kosher salt & pepper – add a little to the burger patties once they are formed for some added seasoning.
sliced cheese – we love using a classic American cheese, but these would also be good with sliced swiss or provolone!
bun of choice – just grab your favorite! Option to get whole wheat, gluten-free, or a simple lettuce bun.
toppings – we topped this one with lettuce, tomato, red onion, and burger sauce, but feel free to top it any way you want.
How To Make A Chicken Burger Juicy
We have a few key tips to keeping your chicken burgers as juicy as possible. First, you have to add the frozen grated butter. Those little bits of butter mixed into the burger ingredients really help to keep them nice and moist! Second, keep an eye on them when they are on the grill and make sure you have a meat thermometer ready to check their internal temp. Once they reach 160 degrees F on the inside you want to take them off the grill. The longer they cook past that point will result in them becoming a bit drier.
How Long Should I Grill A Chicken Burger
You will want to begin by preheating the grill so that the grates are nice and hot before adding your chicken patties. Once it is heated and you have rubbed the grates with some olive oil, you will grill the patties for 5-6 minutes on each side or until they reach an internal temp of 160 degrees (use a meat thermometer).
Toppings For Building The Best Chicken Burger
We kept this chicken burger fairly simple with some lettuce, tomato, red onion, and burger sauce! If you are looking for some more topping options you could also add avocado, pickle slices, or use quick pickled onions (instead of raw slices).
Make Ahead
These burgers can easily be made ahead of time! Depending on how far ahead you want to do the prep you can either make the patties and store then in an airtight container in the fridge overnight or you can make the patties, place parchment paper in between them, and place them all in a freezer safe bag to store for up to 3 months.
How To Make A Juicy Grilled Chicken Burger
You can begin by grating the white onion on to some paper towel.
Give it a squeeze to remove most of the moisture.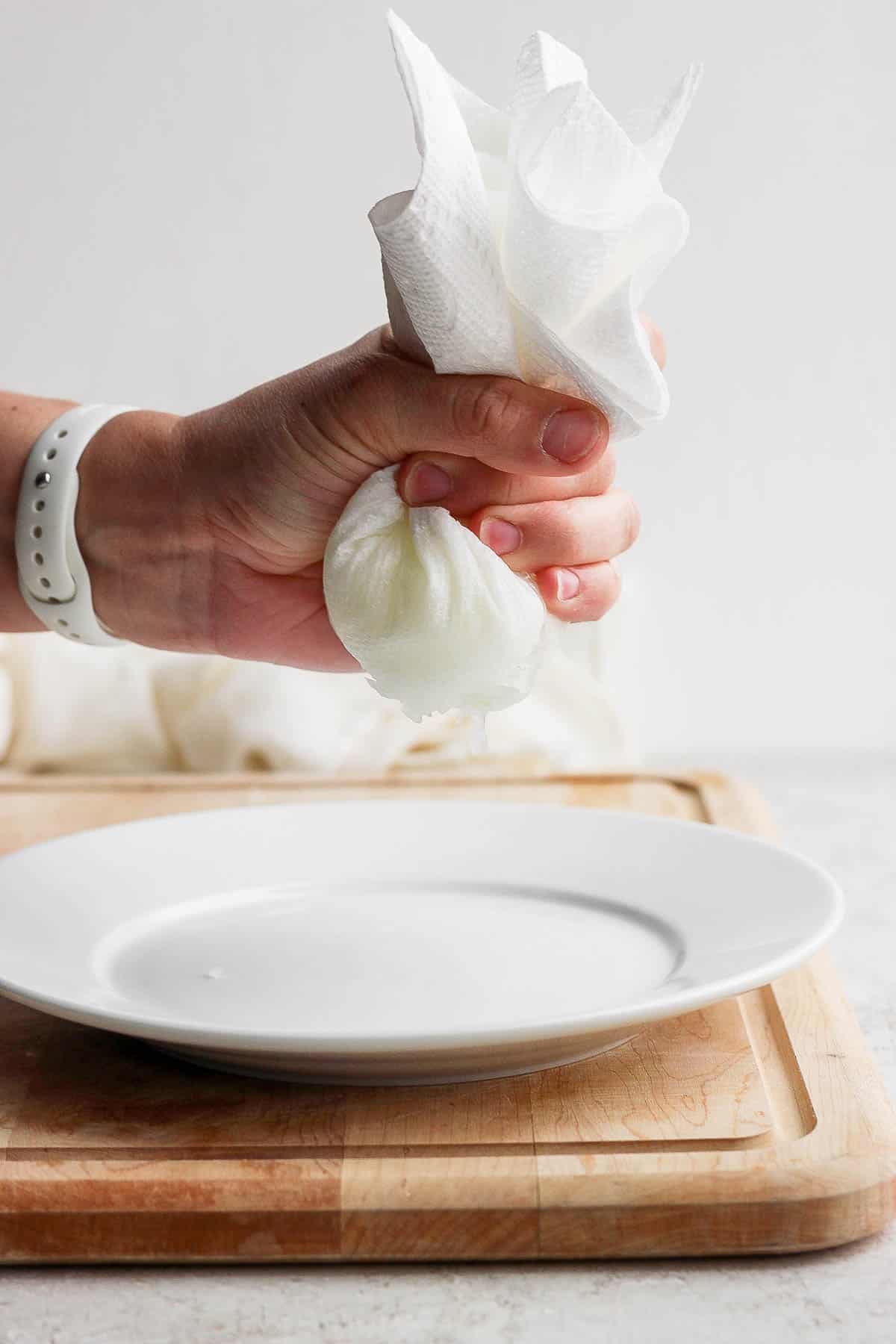 Next, use the same grater to grate a couple tablespoons of frozen butter.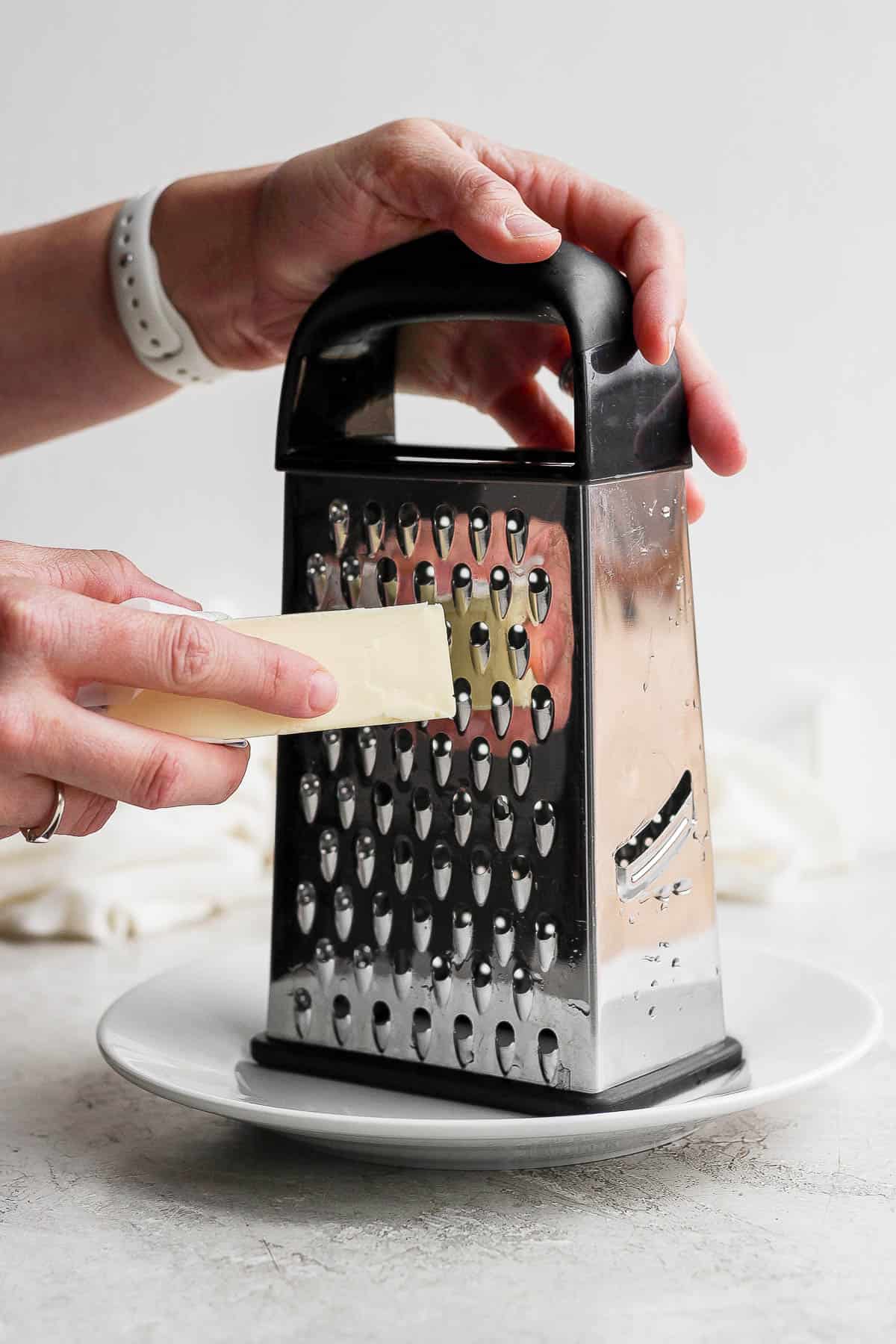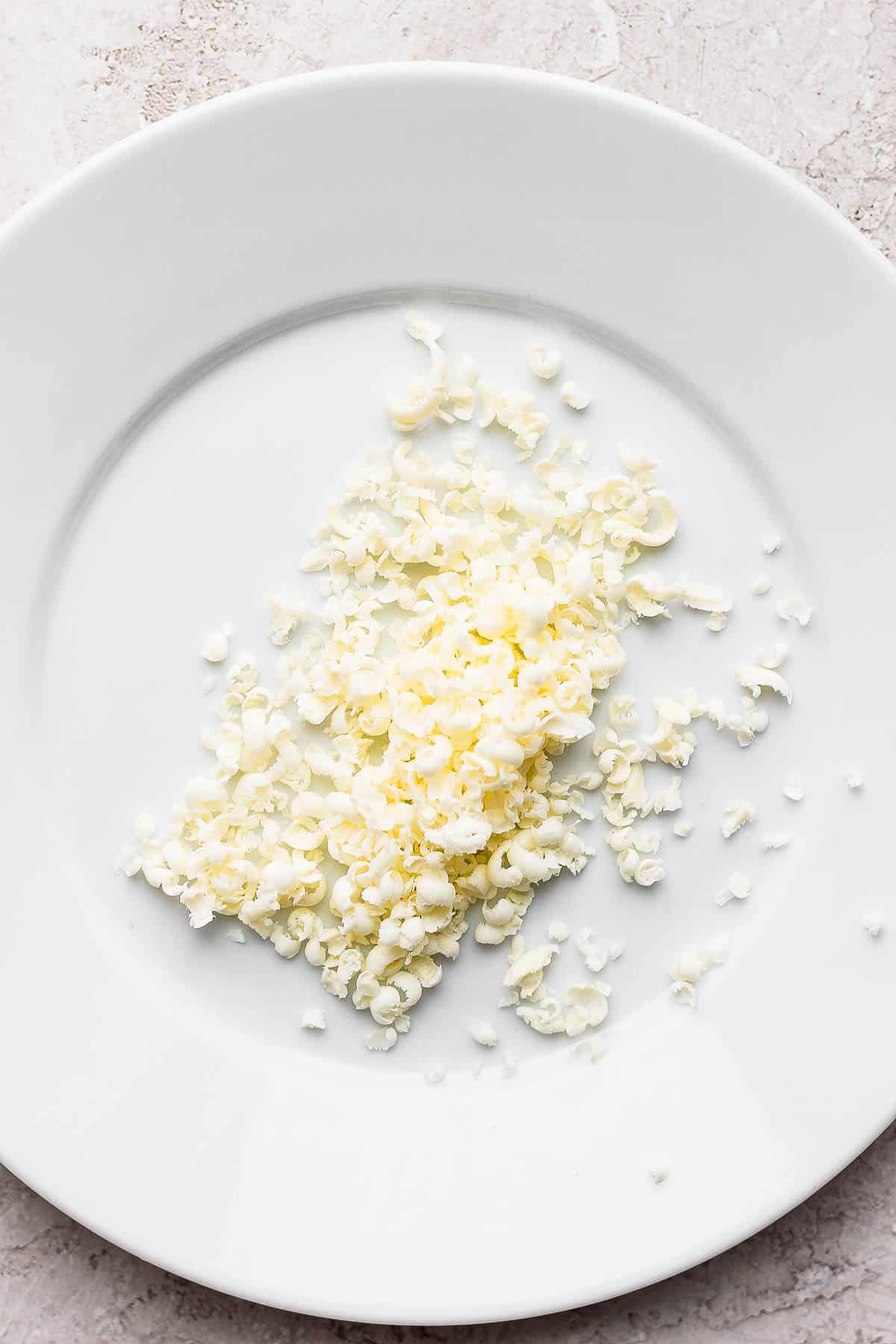 Place all of the burger ingredients in a mixing bowl.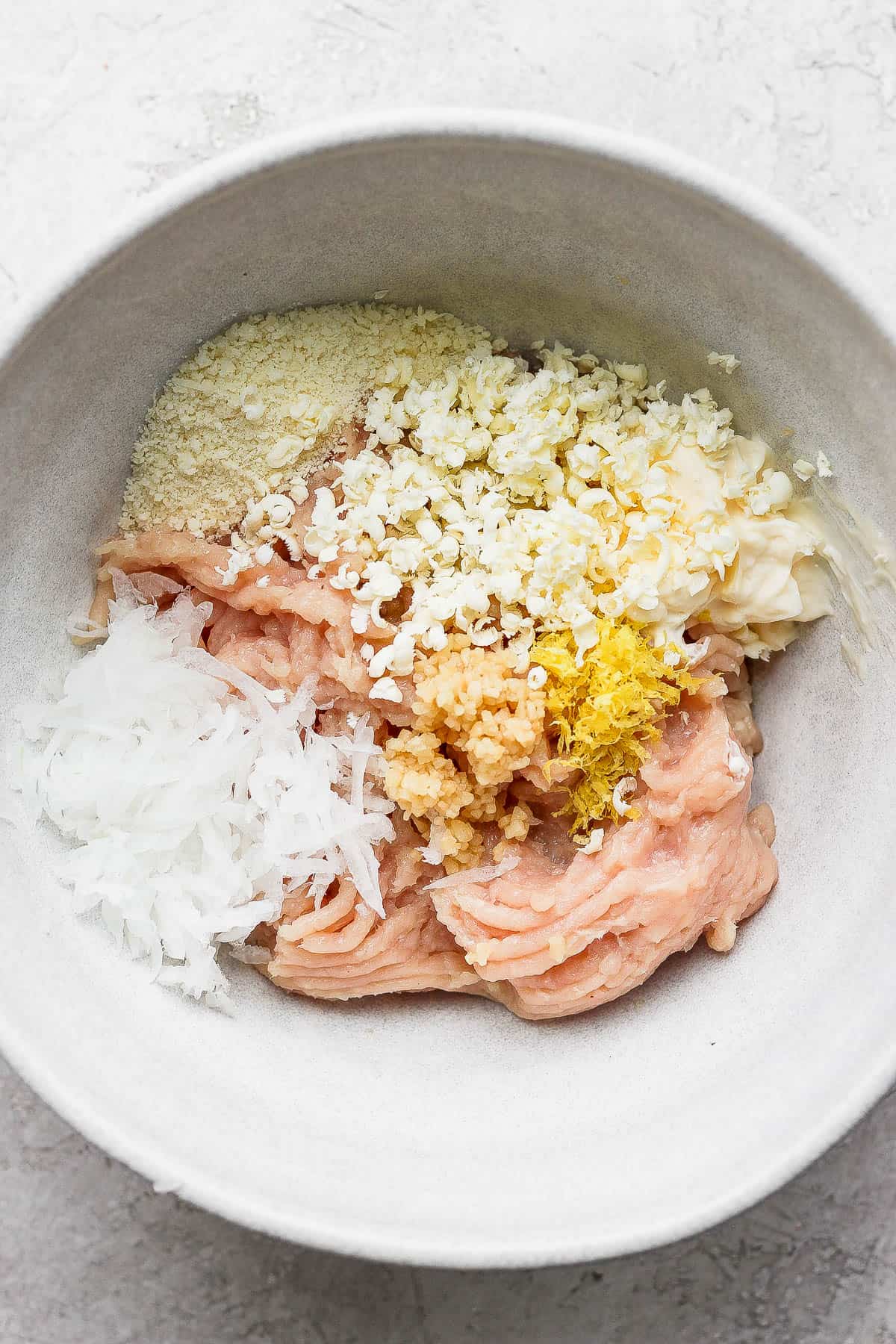 Mix to fully combine.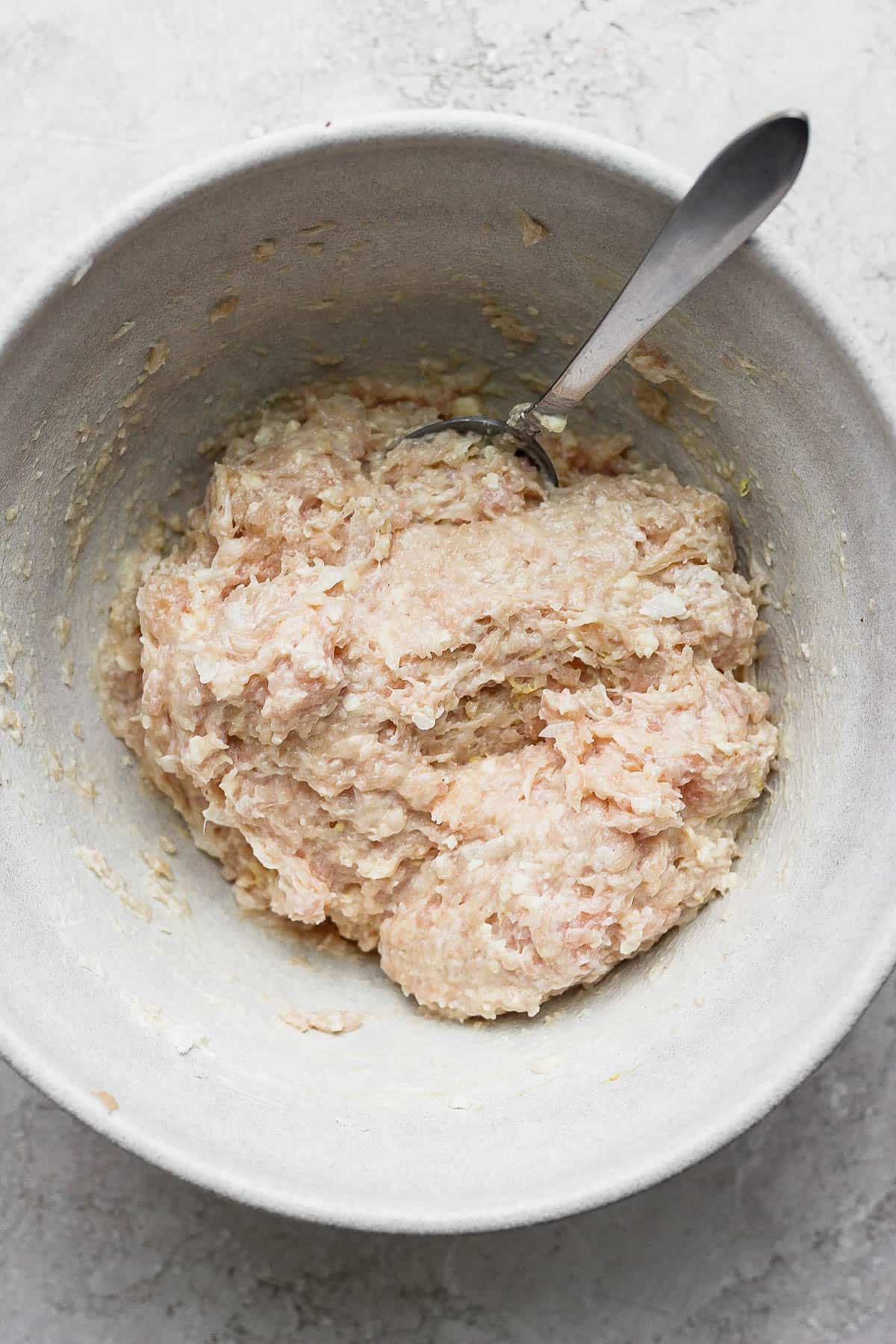 Form into four patties and place on a parchment-lined baking sheet.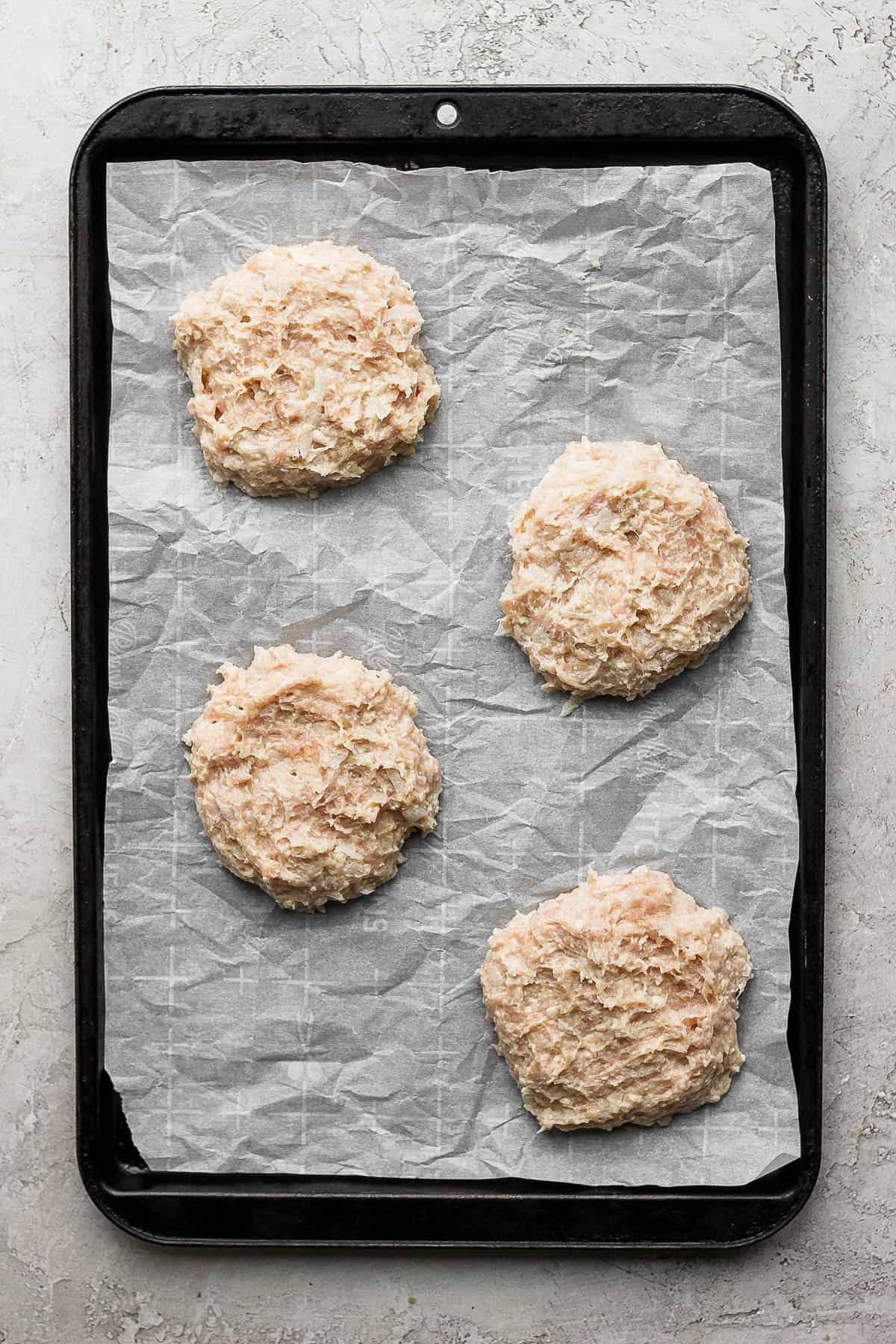 Form into four patties and place on a parchment-lined baking sheet.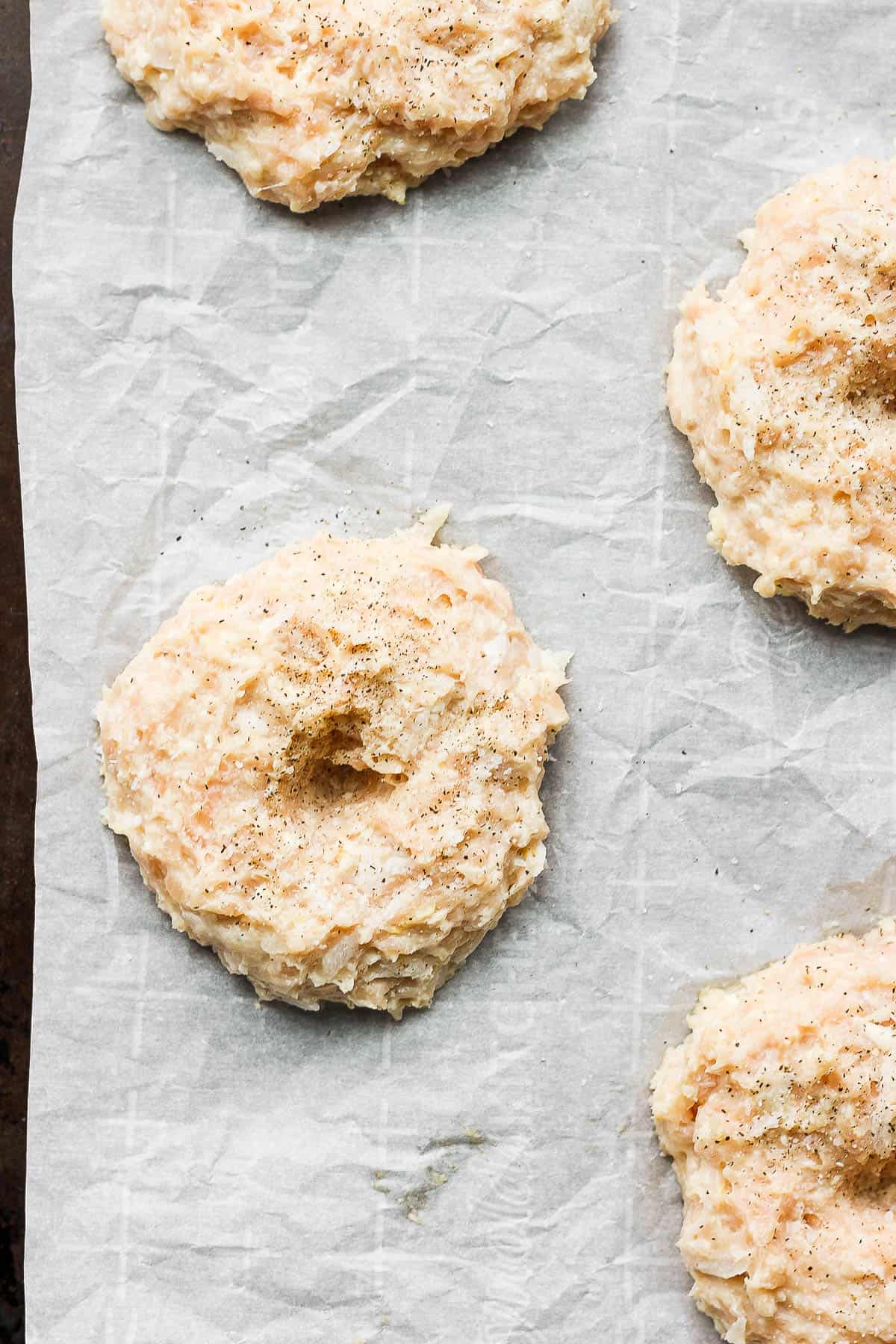 Preheat you grill and rub the grates with a paper towel that has olive oil on it.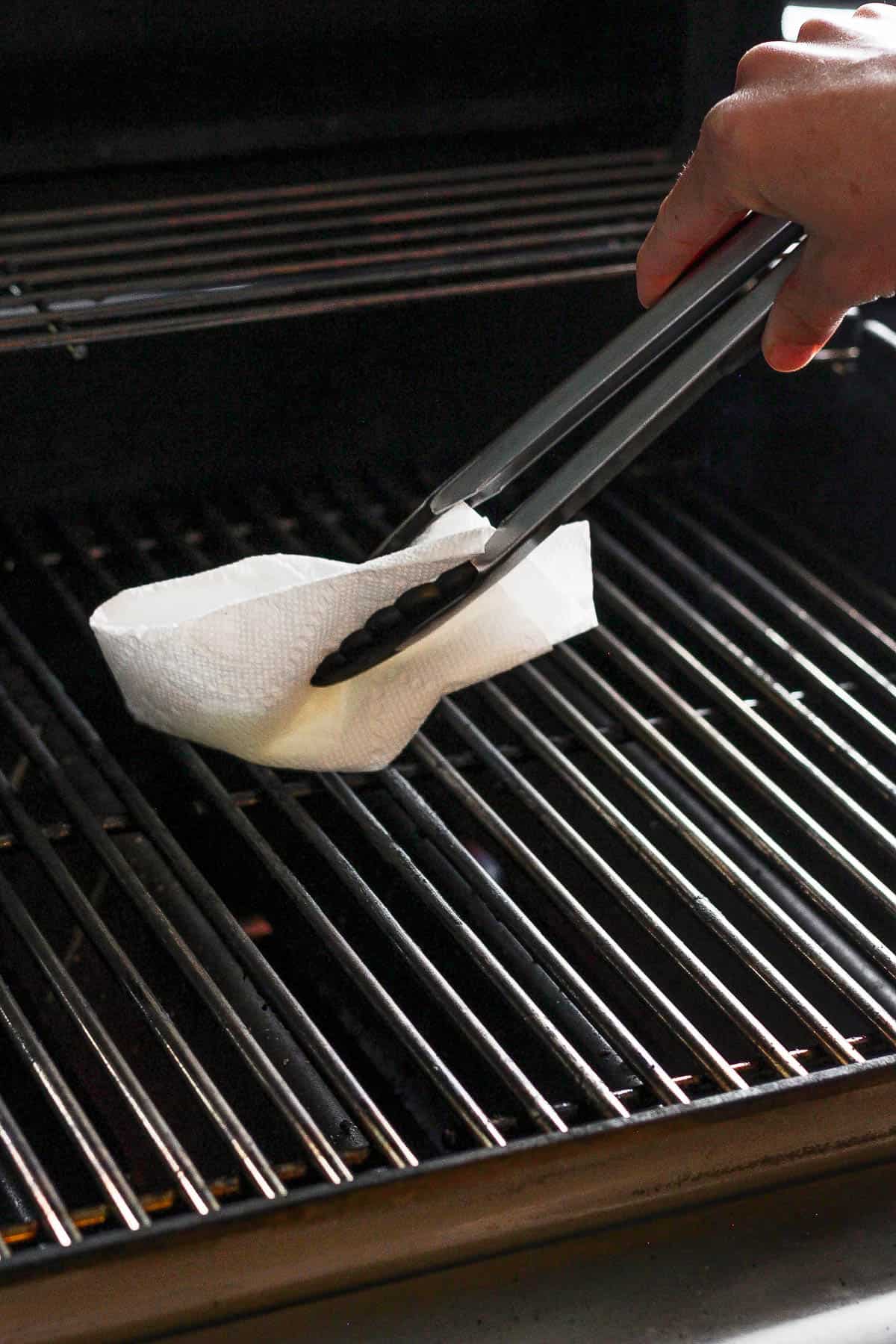 Place your chicken burgers on the grill for about 5-6 minutes on each side or until the internal temp reaches 160 degrees F.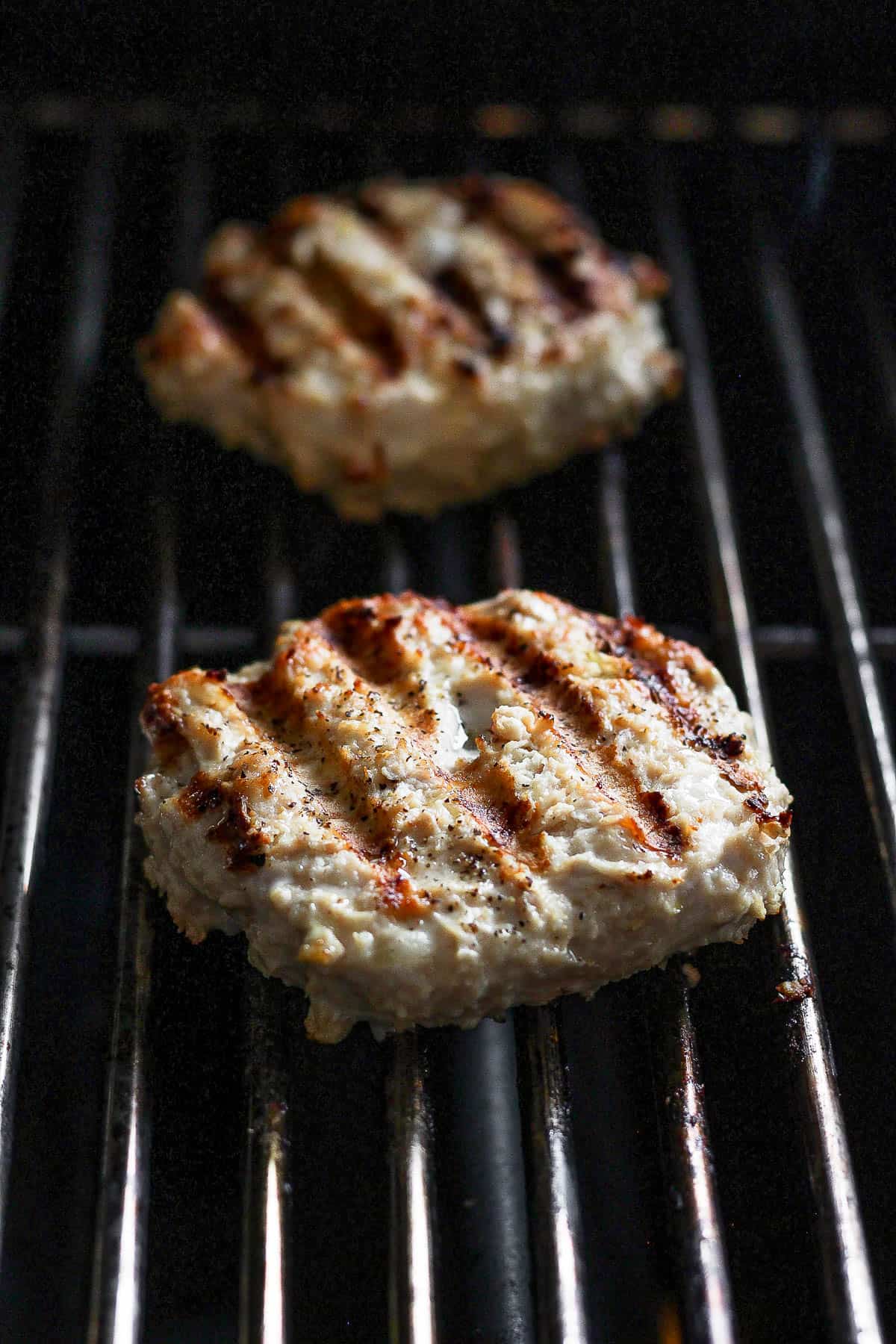 Option to add sliced cheese on top for the last 1-2 minutes of cooking.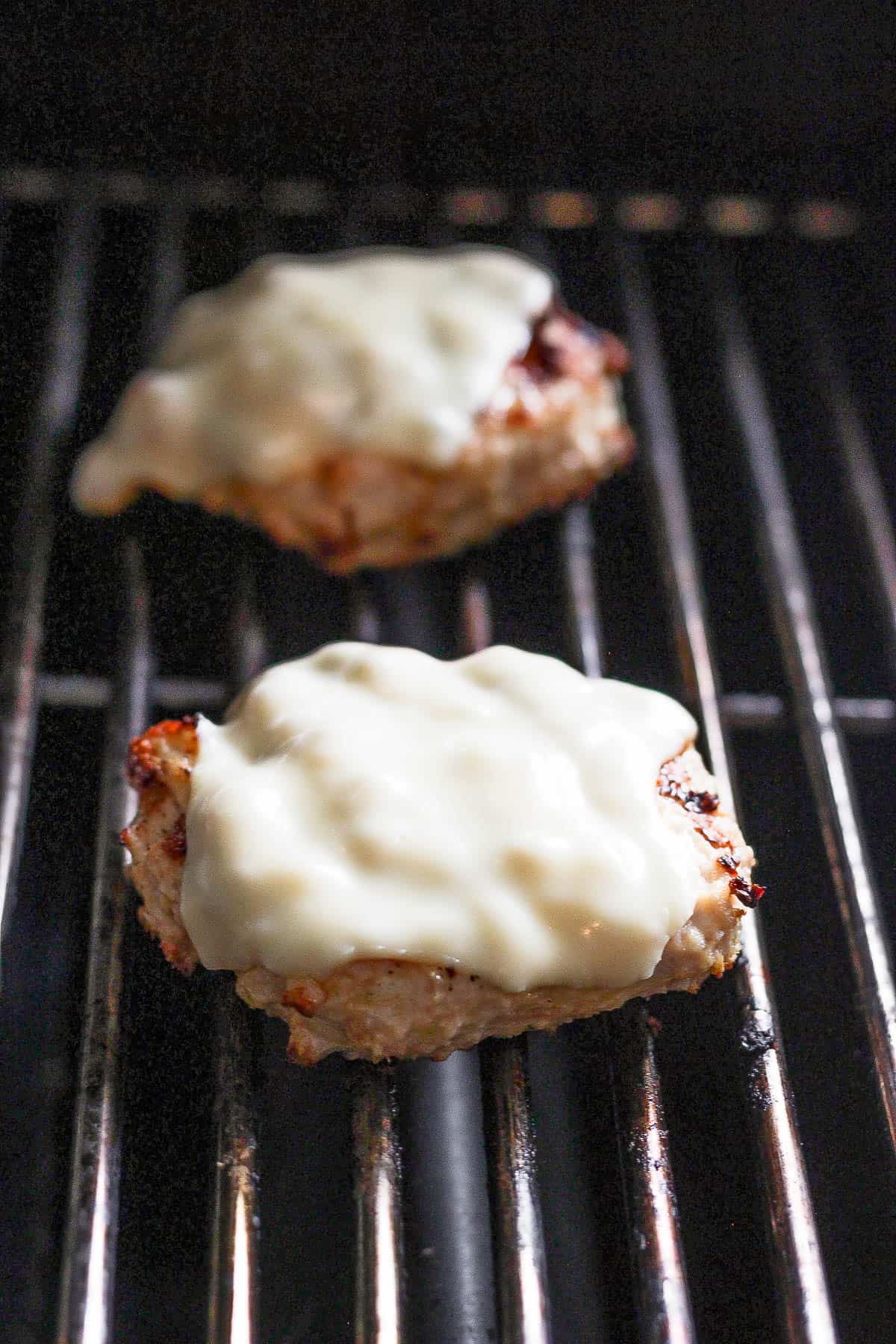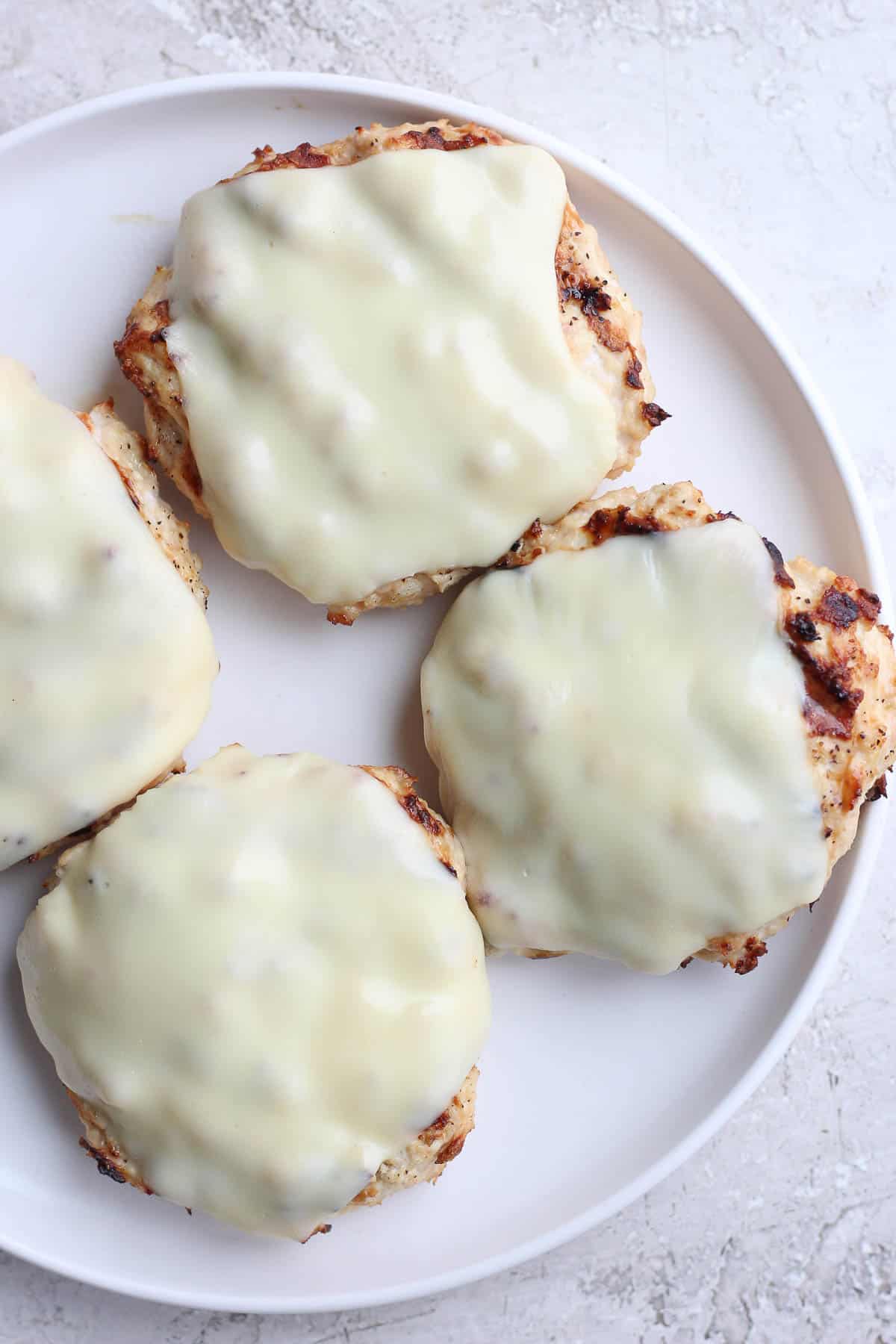 Prep your toppings of choice.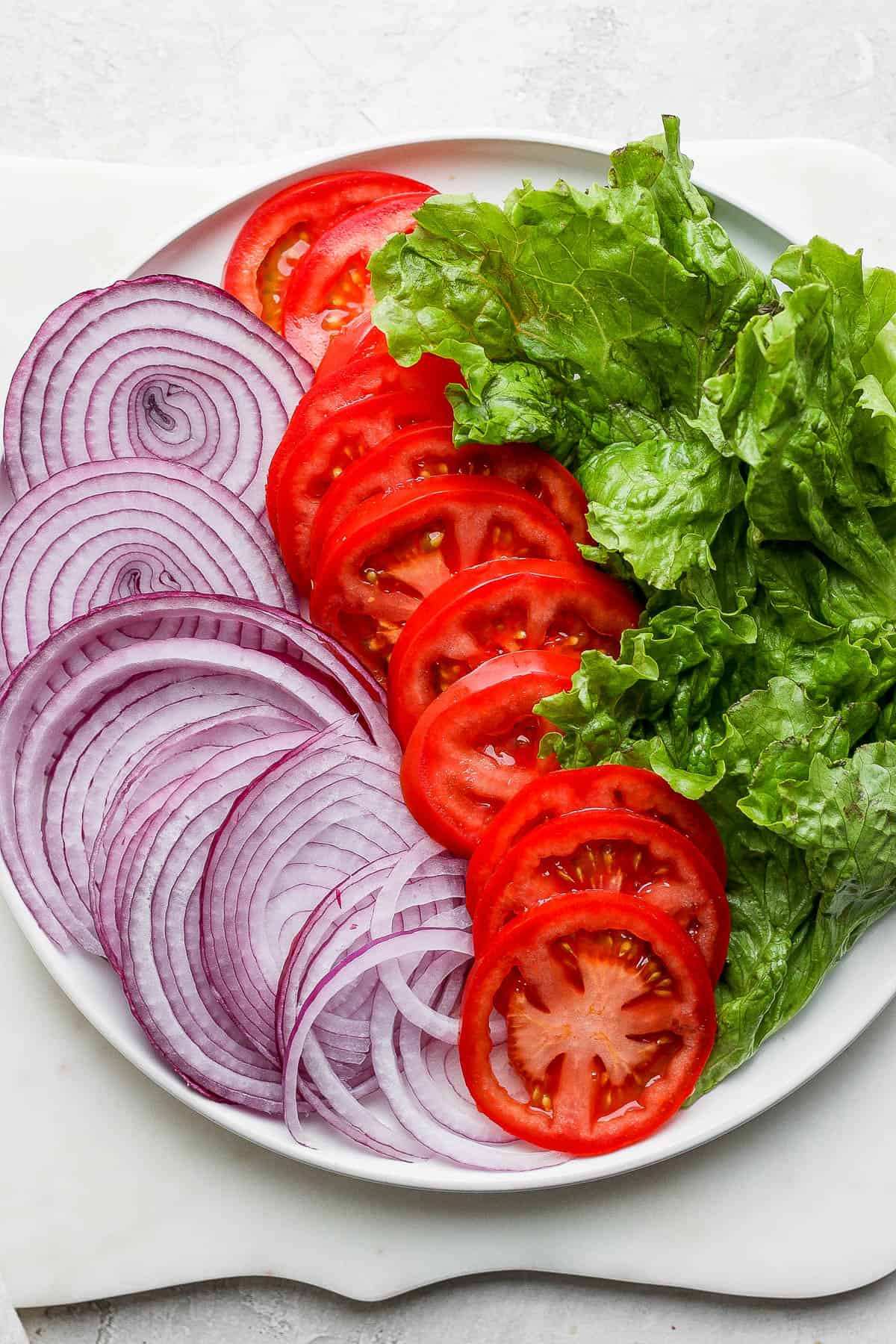 And enjoy your chicken burger any way you want!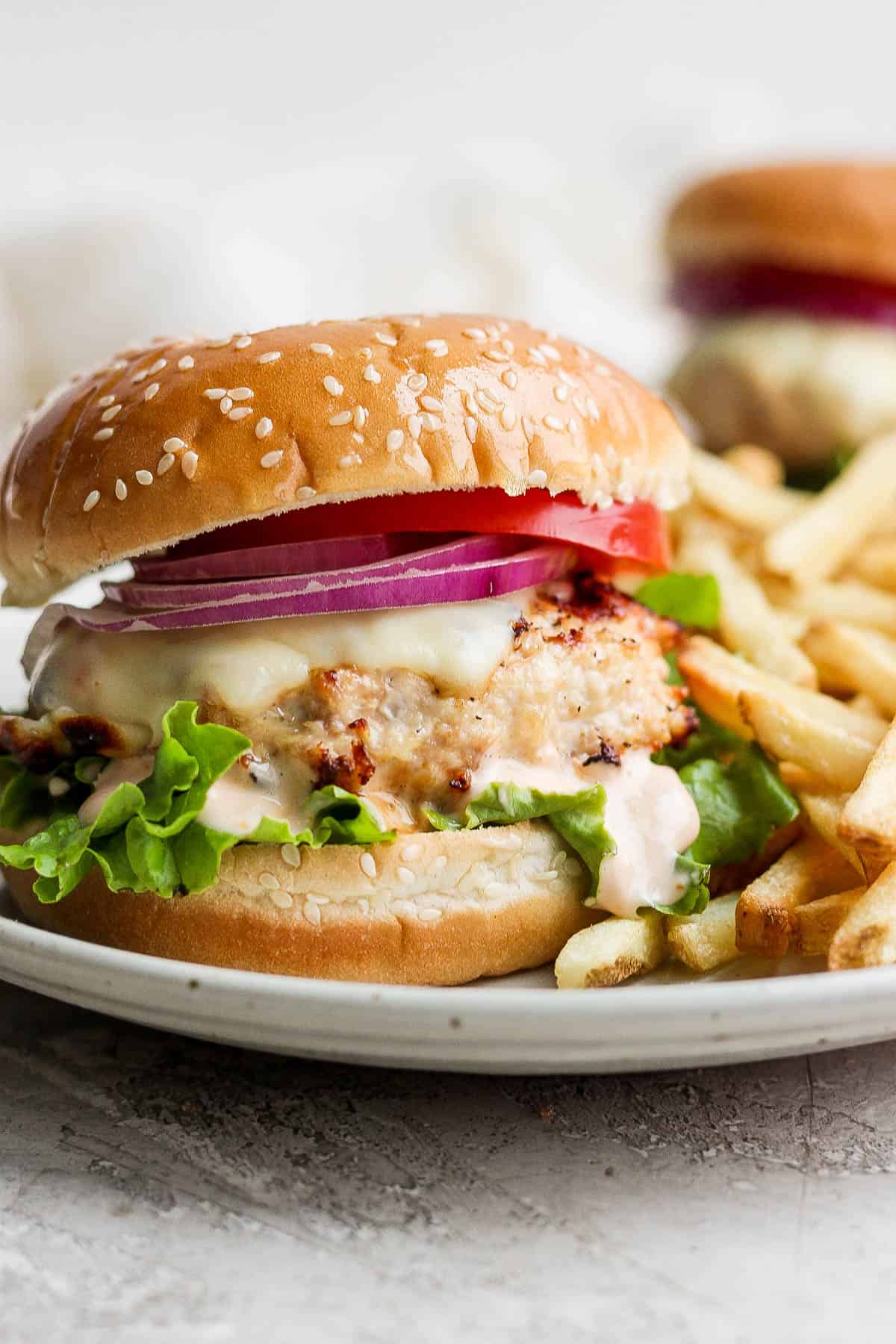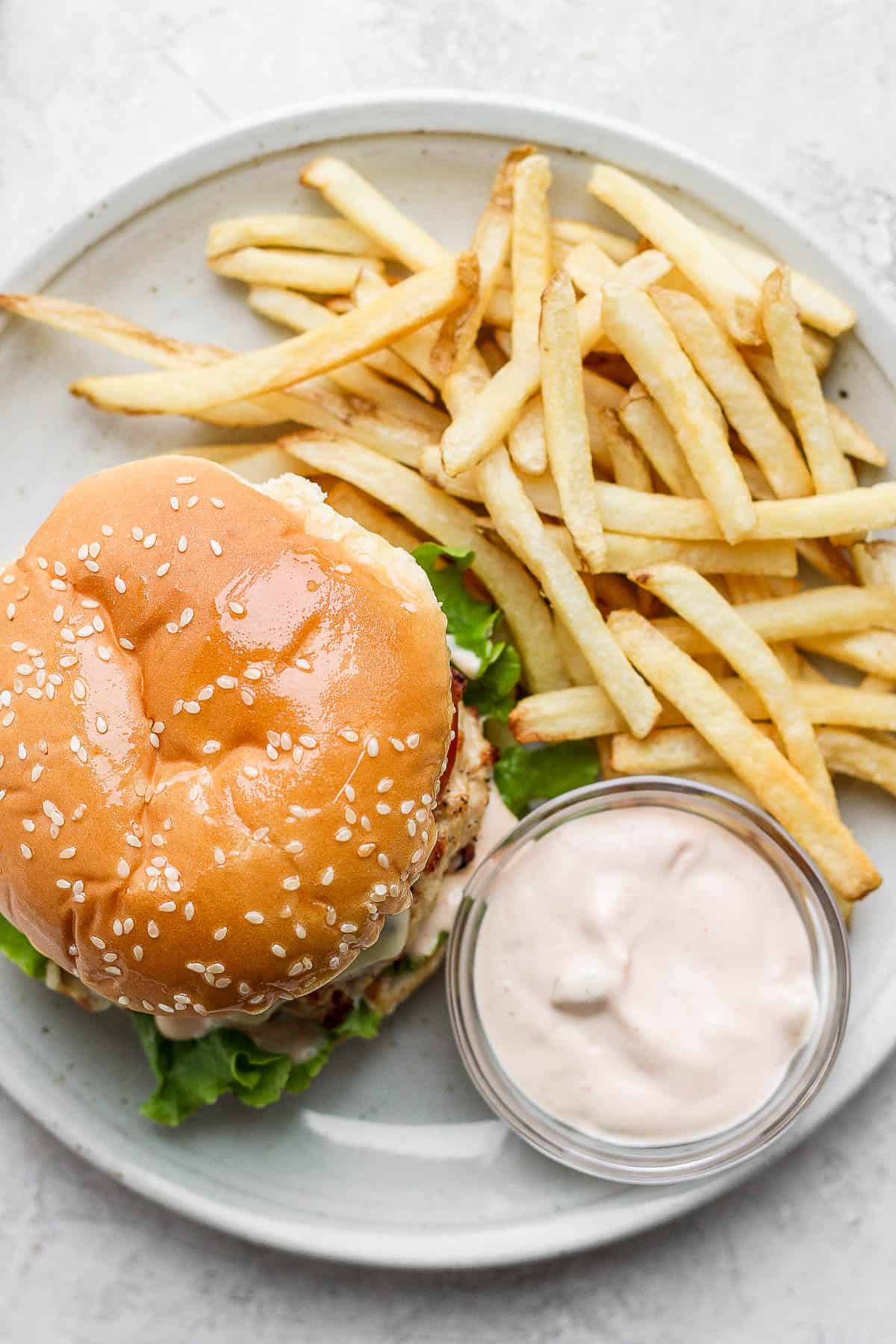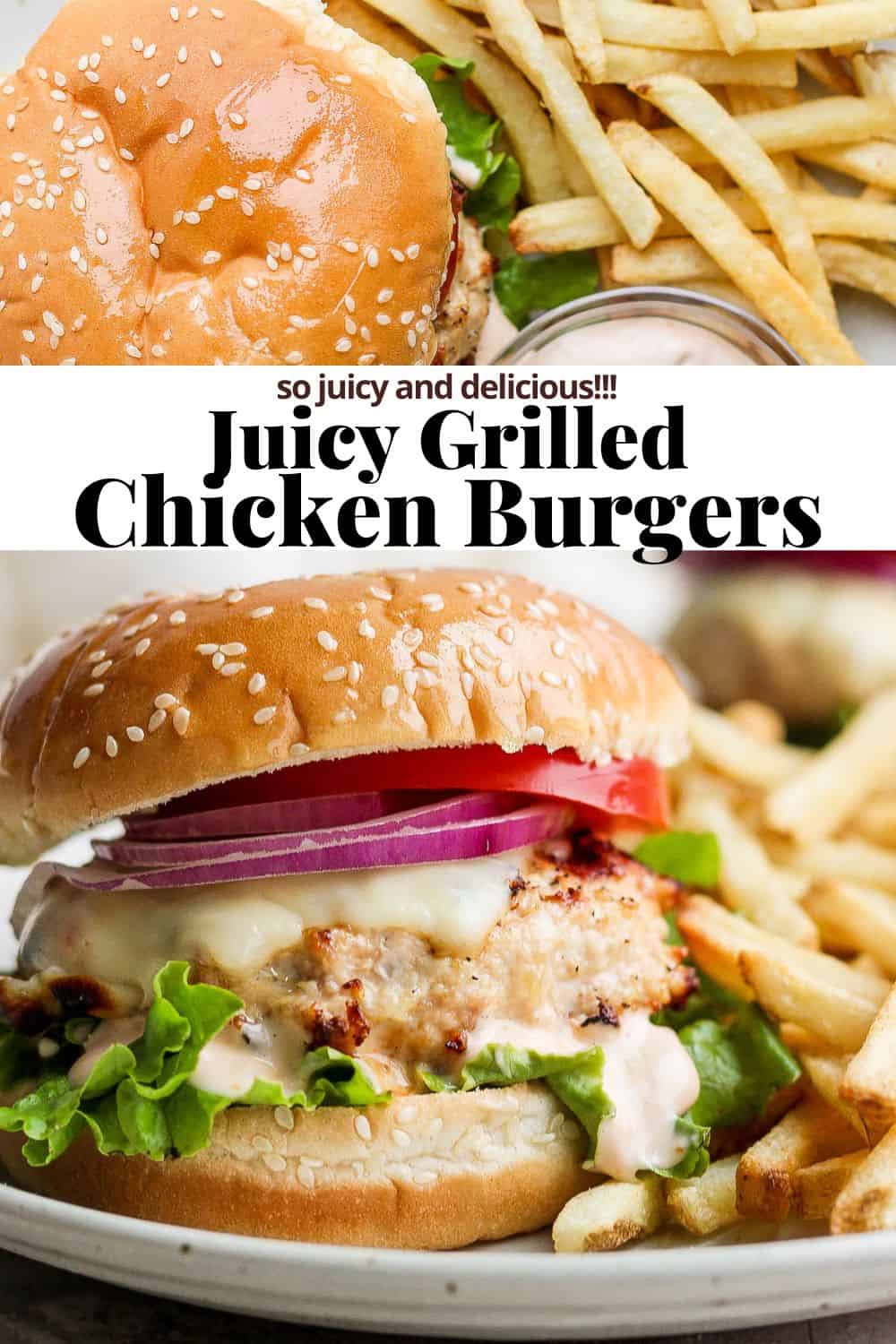 Don't forget to check out my Instagram account for some behind-the-scenes action! Or give me a follow on Facebook or see what I am pinning on Pinterest!
Made this recipe and loved it?! We would love it if you would take a minute and leave a star rating and review – it is also helpful if you made any substitutions or changes to the recipe to share that as well. THANK YOU!
Print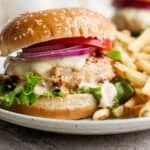 Juicy Chicken Burger
Author: Erin Jensen
Prep Time: 15 minutes
Freeze Time: 20 minutes
Cook Time: 12 minutes
Total Time: 47 minutes
Yield: 4 servings 1x
Category: Dinner/Entree
Method: Grill
Cuisine: American
---
Description
Juicy Chicken Burger – a juicy, delicious and easy grilled chicken burger recipe that is perfect for summer!
---
Burger Ingredients:
1 lb ground chicken
1/4 cup shredded white onion, excess water squeezed out
2–3 tablespoons grated frozen butter*
2 teaspoons garlic, minced
1 teaspoon worcestershire sauce
2 tablespoons mayonnaise
1 teaspoon dijon mustard
1/2 teaspoon lemon zest
1/4 teaspoon liquid smoke (optional)
2 tablespoons finely shredded parmesan cheese
kosher salt and ground black pepper
(optional) 4 slices American cheese
Toppings, etc.:
bun of your choice (regular or gluten-free)
lettuce
sliced red onion
sliced tomato
(optional) cooked bacon
---
Instructions
Ensure grill grates are clean and heat grill to medium-high heat.
Place a cheese grater on top of 2-3 pieces of paper towel. Grate the white onion on top of the paper towel. Use the paper towel to gently squeeze out as much of the excess moisture from the onion.
Use the same cheese grater to shred the frozen butter (if using).
In a large bowl combine ground chicken, grated white onion, grated butter, garlic, worcestershire, mayo, dijon, lemon zest, liquid smoke and parmesan cheese.
Fully combine.
Prepare a small parchment-lined baking sheet.
Divide mixture into 4 equal patties about 1/2-3/4 inches thick on the cookie sheet. Press down in the middle with your thumb to create an indent.
Place in the freezer for 20 minutes (this ensures it will be easy for you to lift them off the cookie sheet and they will hold their shape on the grill).
Season the top generously with kosher salt and ground black pepper.
Take a piece of paper towel and put a little olive oil on it – hold it with a pair of tongs and rub the olive oil on the hot grill carefully.
Place burgers on the grill over direct heat and close the lid.
Let cook 5-6 minutes per side or until they reach 160 degrees internal temperature.
If using cheese, place on top during the last 1-2 minutes of cooking.
Remove and let rest 5 minutes.
To build burger: place a piece of lettuce on top of the bottom bun. Follow with burger sauce, chicken burger, red onion, tomato and top bun.
Enjoy!
---
Notes
*Frozen Butter – if you are looking to really keep these chicken burgers lean, you can definitely omit the butter BUT if you are just looking for a juicy chicken burger then definitely include this step!
Make ahead: feel free to make the patties the day before. Store in an airtight container in the refrigerator.
Freeze: to make these ahead and freeze simply make patties and then place a piece of parchment between them as you stack. Place in a freezer-safe bag, label and place in freezer for up to 3 months. Let thaw overnight and then grill according to the instructions above.