Pistachio Milk – an easy, simple tutorial that teaches you how to make this pistachio milk recipe at home! So easy, delicious and versatile!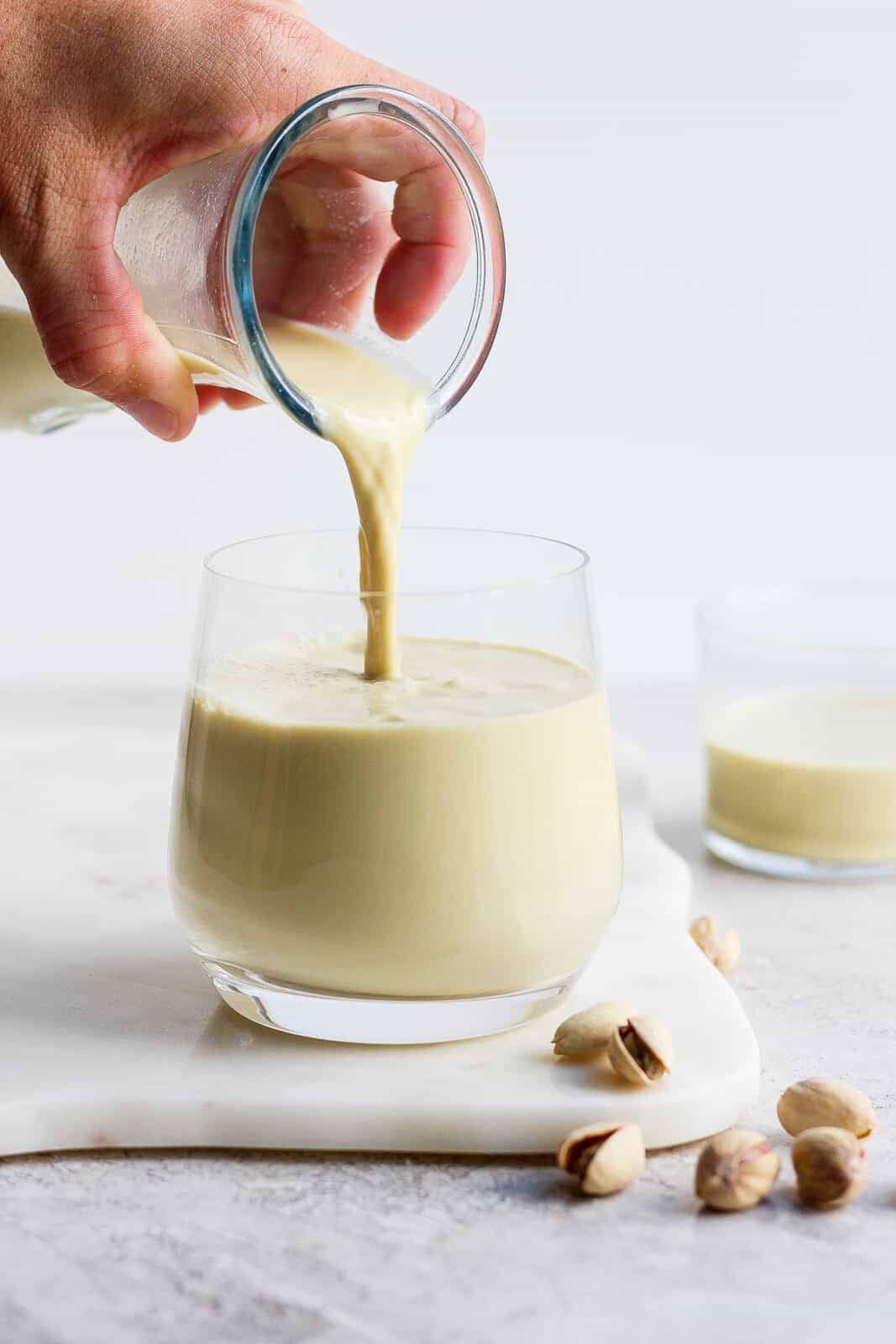 The Best Pistachio Milk Recipe
If you love making your own milk-alternatives at home you definitely have to try this one! It has all that great pistachio flavor and is so simple to make in your own kitchen. There are so many different ways to use this delicious milk-alternative (you HAVE to try this Pistachio Latte). Get creative and let us know how you like to enjoy it!
What You Will Need
raw, shelled pistachios – it's best to use pain ones that have not been salted, but if you can't find those we have rinsed the salted pistachios under water and they work in a pinch.
water – this is the only liquid you will need to turn pistachios into delicious pistachio milk!
What Pistachios Should I Use For Pistachio Milk?
We recommend using raw pistachios that have been shelled and are unsalted. If you can't find plain, raw pistachios you can use the lightly salted ones and then give them a rinse before placing them in the blender. We have done this when that is all the grocery store has and it still works.
Water-Pistachio Ratio:
We really like the ratio of 1 cup pistachios to 4 cups of cold water but this can be a personal preference. Give it a try and you can always adjust the ratio to make the oat milk that works for you!
What Can I Do With Pistachio Milk?
You can use it the same way that you would use any milk-alternative. You can drink it by itself, add it to coffee or smoothies, pour it over cereal, use it for baking/cooking, etc. We love it in a Pistachio Latte!
How Do I Store Pistachio Milk?
It can simply be stored in an airtight container in the fridge for up to a week. As it sits you might notice a little separation but that is completely normal. Just give it a shake before using.
How To Make Pistachio Milk
Step one – shell enough pistachios to equal 1 cup. If they have been lightly salted, make sure you give them a rinse.
Step two – place the shelled pistachios and water in a blender.
Step three – blend on high for 1-2 minutes.
Step four – strain the pistachio milk through a cheesecloth and sieve.
Step five – enjoy or store in the fridge.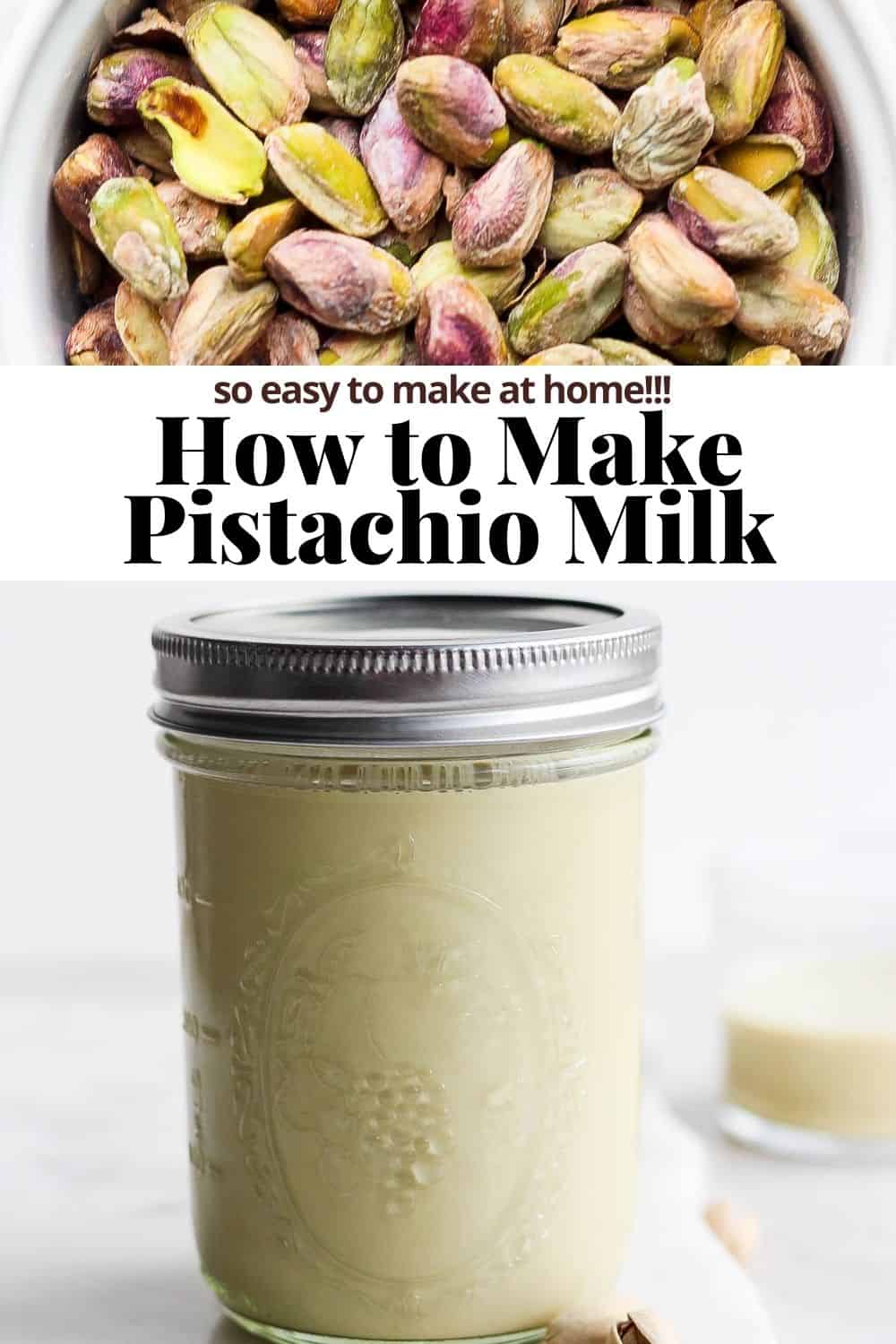 Made this recipe and loved it?! We would love it if you would take a minute and leave a star rating and review – it is also helpful if you made any substitutions or changes to the recipe to share that as well. THANK YOU!
Don't forget to check out my Instagram account for some behind-the-scenes action! Or give me a follow on Facebook or see what I am pinning on Pinterest!
Print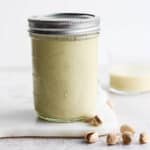 Pistachio Milk
Author: Erin Jensen
Prep Time: 15 minutes
Cook Time: 0 minutes
Total Time: 15 minutes
Yield: 4 cups 1x
Category: How-To
Method: Blender
Cuisine: American
---
Description
Pistachio Milk – an easy, simple tutorial that teaches you how to make this pistachio milk recipe at home! So easy, delicious and versatile!
---
1 cup pistachios, shelled
4 cups water
---
Instructions
Combine pistachios and water in high-powered blender.
Blend on HIGH for 1-2 minutes.
Place a piece of cheesecloth on top of a sieve and stain into the container of your choosing.
Store in the refrigerator and use within a week.
---
Notes
Pistachios: I would try and get raw pistachios (unsalted), but I have used lightly salted pistachios (when that is all my grocery store had) and I just gave them a quick rinse before using and they were fine.
Serving Suggestions: we love this Pistachio Latte!