Pork Gravy – learn how to make perfect pork gravy with this easy step-by-step tutorial and recipe! Perfect with pork roast + mashed potatoes!
Easy Pork Gravy
Gravy makes everything better! This easy and delicious homemade pork gravy is perfect for Sunday dinner pork roasts and is truly so simple to make. Add this to your menu!
Why This Recipe Works
Roux: the first step in this recipe is to make a classic roux with butter and flour. A roux is such a great, reliable thickening agent and so simple and easy to make.
Pork Drippings: then we take our pork drippings and ensure any fat that has settled on the top has been removed.
Broth: however much you are lacking in pork drippings you can simply make up with beef broth!
Salt as-needed: whether you need additional salt added to your gravy will depend upon how salty your pork drippings and broth are – so just taste and add as much as you need.
What You Will Need
pork drippings: use your pork drippings from your pork roast – just don't forget to skim off the fat that settles at the top.
beef broth: don't worry about how much pork drippings you have, you can make up for it with beef broth.
butter: this is used to make the roux.
all-purpose flour: flour is mixed with the butter to make the roux which is the thickening agent for the gravy.
How to Make Pork Gravy
Collect your pork drippings and let it sit for a few minutes to allow the fat to settle at the top. Then scoop off as much as you can with a spoon. Alternatively, you can use a fat separator.
Melt butter in a cast iron skillet.
Add flour.
Whisk together to create a paste (also known as a roux).
Slowly add the pork drippings and then the broth, about a 1/4 cup at at time and whisking constantly. Once fully combined, bring to a light simmer (still whisking) until it is thick enough to coat the back of a spoon.
Serve with mashed potatoes, green beans and pork roast!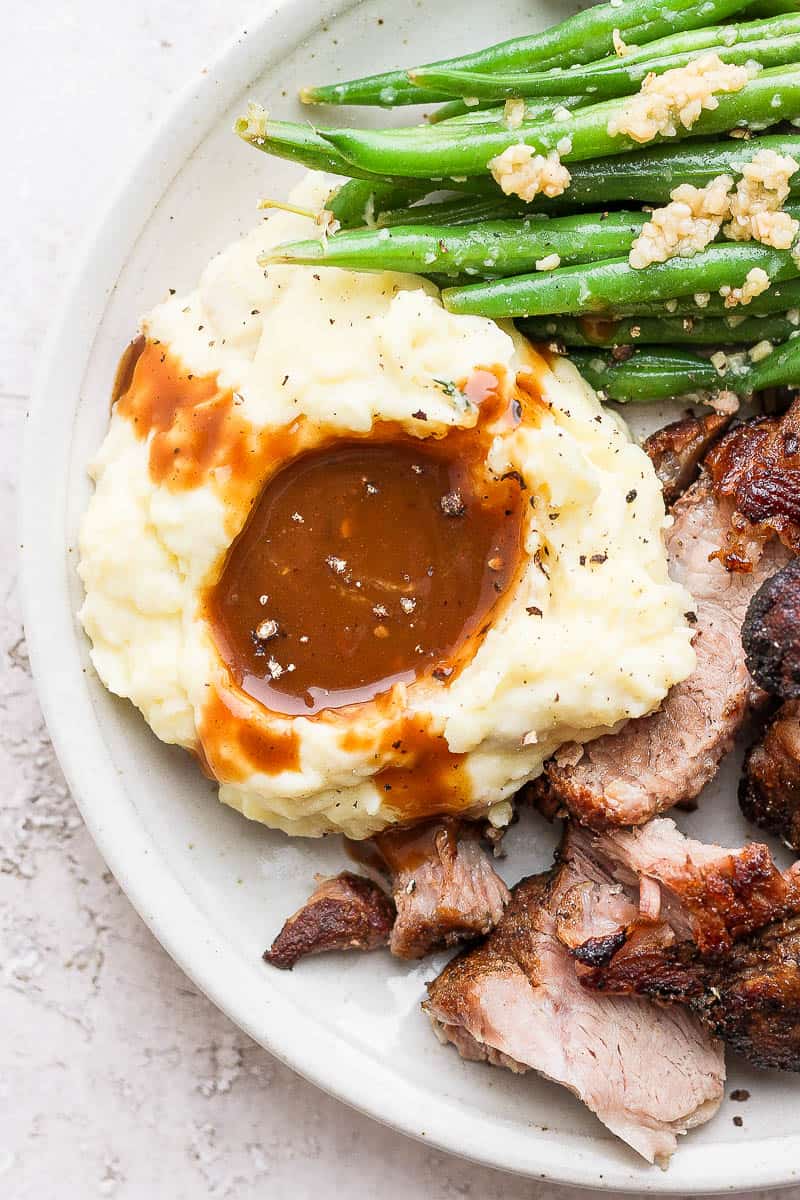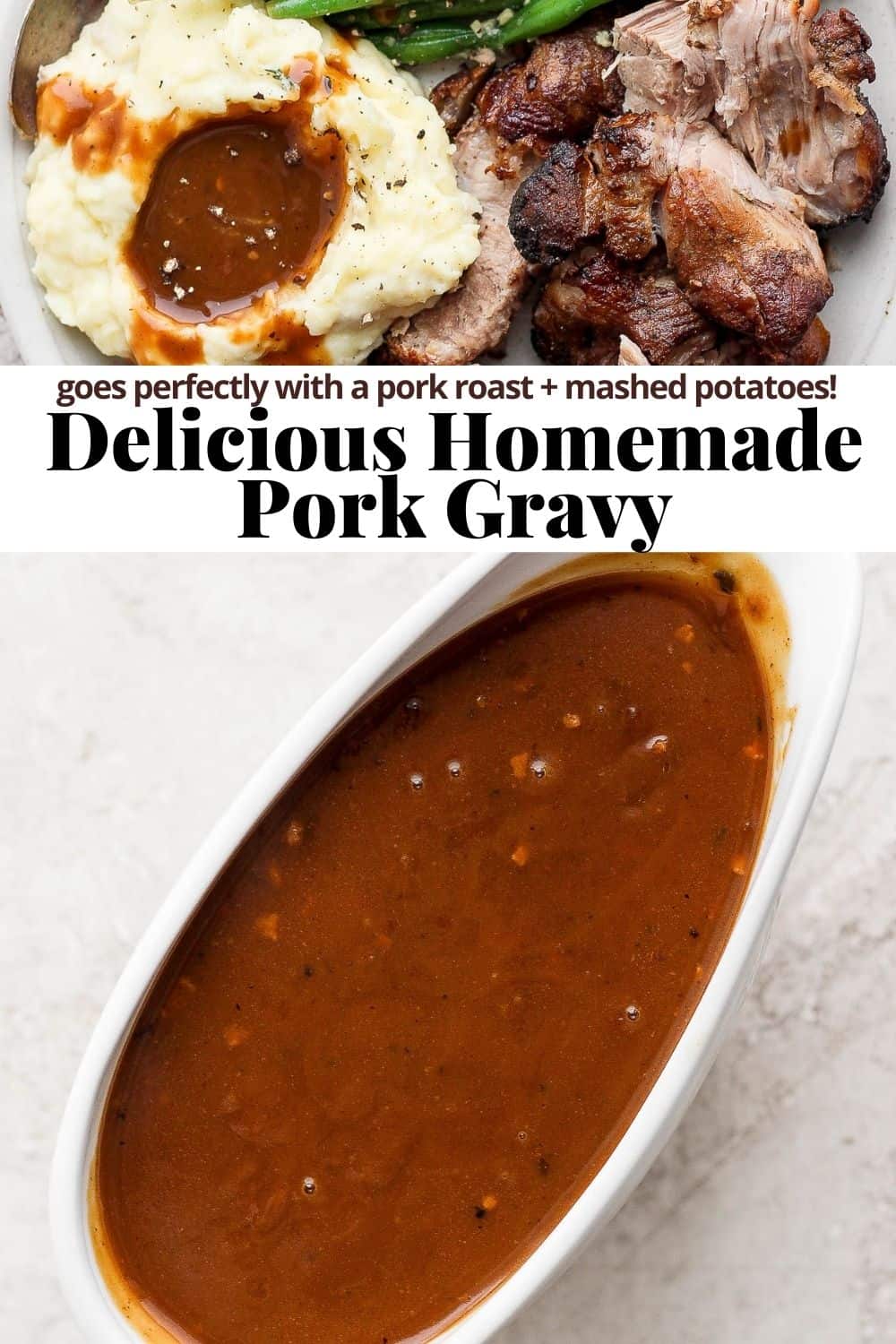 Don't forget to follow me on Facebook, check out my Instagram account or see what I am pinning on Pinterest!
Made this recipe and loved it?! We would love it if you would take a minute and leave a star rating and review – it is also helpful if you made any substitutions or changes to the recipe to share that as well. THANK YOU!
Print
Pork Gravy
Author: Erin Jensen
Prep Time: 5 minutes
Cook Time: 15 minutes
Total Time: 20 minutes
Yield: 2 cups 1x
Category: Side Dish
Method: Stove Top
Cuisine: American
---
Description
Pork Gravy – learn how to make perfect pork gravy with this easy step-by-step tutorial and recipe! Perfect with pork roast + mashed potatoes!
---
3/4 cup pork drippings*
1 cup beef broth
2 tablespoons butter
3 tablespoons all-purpose flour*
---
Instructions
Ensure you either use a fat separator or you simply spoon off the fat that settles at the top of the drippings; if this isn't removed your gravy won't turn out.
Bring large cast iron skillet to medium-high heat.
Add butter and let melt.
Add flour and use a whisk to combine the butter and flour to create a paste (also known as a Roux).
Slowly add your pork drippings stirring constantly while you do so. Once you have added the pork drippings, slowly start to add the broth about 1/4 cup at at time. After you add a little, whisk and ensure your pan stays hot so the mixture will thicken. Once you notice it start to thicken, add a bit more and continue to whisk.
Once you have added all the broth, continue whisking and bring the liquid to just almost a simmer. If it thins out a bit after adding all the broth it should thicken as it continues to stay on the heat. Note: it will also thicken more once it cools a bit. If it is too thick for you liking, add additional broth 1/4 cup at a time.
Once it is thick enough to coat the back of a spoon, remove from heat and let cool. Taste and add additional salt, as desired.
Serve immediately (we love these Ultimate Yukon Gold Mashed Potatoes and Garlic Green Beans).
---
Notes
*Drippings: if you are using the liquid from a pork roast, the resulting liquid may not all be drippings directly from the pork, but it is liquid that the pork has been cooked in and that is what we are looking for here.
Liquid: if you don't have 3/4 cup pork drippings just ensure you have a total of 1 3/4 cup of liquid between drippings and broth.
*Flour: a 1-to-1 gluten-free flour works as well.
Storage: gravy stores quite will – store in the refrigerator in an airtight container for up to 3-5 days.