Smoked Ham is a holiday classic! Such a great smoked ham recipe that makes your holiday a little extra special. Packed with flavor and the perfect centerpiece for any meal.
Best Ever Smoked Ham
If I am not making a Prime Rib or Smoked Turkey for the holidays then this is definitely what I am making! Really simple, delicious and such a holiday classic – perfect for Christmas, Easter or even Thanksgiving. Serve with some Brussel Sprouts + Pancetta, Roasted Acorn Squash and some Dairy-Free Green Bean Casserole!
We tested this on a Traeger Pellet Grill, but any smoker will do! You could even try it on a gas grill with a smoker box if you want!
Why You Will Love This Recipe
Smokiness: most store-bought hams are already smoked (and thus a pre-cooked ham), so we are essentially bringing your store-bought ham up to temp (needs to reach 140 internal temp) on a smoker which will infuse additional smokiness into the ham!
Extra Special: There is just something special about smoking your own ham for the holidays!
Moist and Juicy: The way we cook the ham here ensures it stays moist and juicy!
What You Will Need:
Ham: most hams that you will find in a grocery store are already pre-smoked so that is why we are calling this "double smoked ham." Also, we used a bone-in ham, but a boneless would work too, just adjust the cooking time.
Apple Cider: this helps keep the ham moist and keeps it from drying out.
Orange: this will add a citrus/acidic note to the apple cider.
Rosemary: this is an aromatic herb that will infuse some additional flavor into the ham.
(optional) Glaze: we have a Honey Bourbon Ham Glaze if you want to try it out – it is a mix of butter, brown sugar, dijon mustard, lemon zest, cinnamon and allspice – so good!
Recipe FAQs and Tips
How Long to Smoke/Cook a Smoked Ham: you will be smoking your ham at 225 degrees F for approximately 20-30 minutes a pound.
Is a Smoked Ham Cooked or Raw: When you purchase a smoked ham from the store and it has been cured, smoked or baked it is considered pre-cooked (it should also say so on the package). Here is a nice rundown of how to tell if your ham is pre-cooked or not.
What Does "Smoked Ham" Mean: smoked ham is typically a portion of the leg that is cured in a brine or in salt and spices and then hung in a smokehouse or placed in a smoker and cooked over low heat for a long time to add flavor. Both raw and cooked ham can be smoked.
What Does "Double Smoked Ham" Mean: Most store-bought ham is already cooked through a smoking process. Double smoking a ham is simply the act of smoking the ham again while you are reheating it.
How do I know when a Ham is done: A store-bought pre-smoked ham is done when it reaches an internal temperature of 140 degrees F.
Traeger Smoked Ham
We tested this recipe on a Traeger and it turned out AMAZING! We love the Traeger Pro 575 (the 780 is great too, it is just a little bit bigger)
Smoked Ham Side Dishes
How to Smoke a Ham
Rinse your ham, pat dry, and score criss-crossed.
Place in large cast iron skillet with apple cider vinegar, orange slices, and rosemary. Then put the ham in the smoker at 215 degrees.
After 1.5 – 2 hours raise the smoker temp to 300 and loosely cover with aluminum foil. Continue cooking until ham reaches an internal temp of 140 degrees.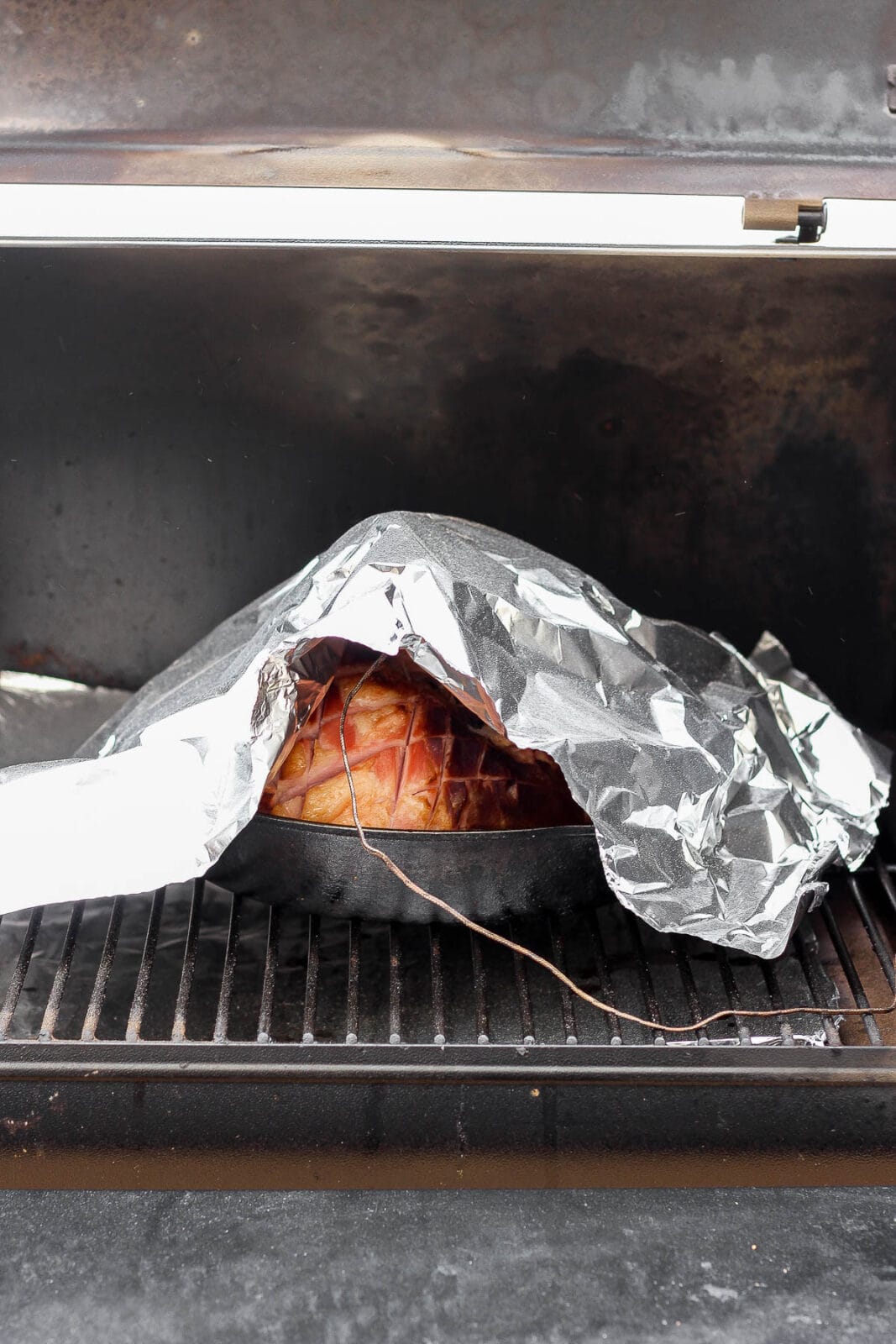 Let the ham rest for approximately 15 minutes.
Carve and enjoy!
How to Carve a Ham
Here is a great tutorial that teaches you how to carve a ham!
Leftover Ham Recipes
Made this recipe and loved it?! We would love it if you would take a minute and leave a star rating and review – it is also helpful if you made any substitutions or changes to the recipe to share that as well. THANK YOU!
Don't forget to check out my Instagram account for some behind-the-scenes action! Or give me a follow on Facebook or see what I am pinning on Pinterest!
Print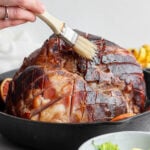 Smoked Ham Recipe
Author: Erin Jensen
Prep Time: 15 minutes
Cook Time: 4 hours
Total Time: 4 hours 15 minutes
Yield: 14–16 servings 1x
Category: Entree
Method: Smoker
Cuisine: American
---
Description
Smoked Ham Recipe – a simple, delicious way to cook your holiday ham!
---
7–8lb pre-cooked, smoked ham
1 cup apple cider
1 orange, sliced
2 sprigs fresh rosemary
---
Instructions
Allow ham to come to room temperature.
Heat smoker to 215 degrees F.
Place ham, cut side down, in a large cast iron skillet (or aluminum pan).
Score ham, criss-crossed.
Pour apple cider around ham and add orange slices and rosemary.
Place pan on smoker and close the lid.
Baste ham using the apple cider in the pan every 30-45 minutes (make it quick though! try not to leave the smoker open very long!).
After 1.5 – 2 hours raise the smoker temp up to 300 degrees F. and cover ham loosely with foil.
Continue cooking at 300 degrees F. until ham reaches an internal temperature of 140 degrees F., approximately 1.5 – 2.5 hours.
Remove ham and let rest approximately 15 minutes.
Serve and enjoy!
---
Notes
(optional) Glaze: we have a Honey Bourbon Ham Glaze if you want to try it out!
Whole30/Paleo: If you are looking for a ham brand that is Whole30 compatible and paleo this option at Pederson Farms is the best one I have found!
Apple Cider: You could sub apple juice for the apple cider if you needed to!
Allow ham to come to room temp before smoking: This will help cut back on needed cooking time!
Ham not coming up to temp: There are a lot of different factors that can impact how quickly your ham comes up to temp when smoking (wind, humidity, size of bone (if it has one) outdoor temp, etc.) so if your ham is kind of "stuck" at a certain temp towards the end of cooking time simply increase the temp from 300 degrees to 325 or even 350 towards the end and the internal temp should rise pretty quick. Just keep the ham covered in foil so it doesn't dry out (you can keep basting) and you should be good to go!
Extra Smokiness: If you want to increase that smokey flavor you can let the ham cook at the 215 degree F. temp for up to 2.5 – 3 hours. The 215 degree F. temp is really when that smokiness is going to happen! As a result, you may not need to cook the ham at the 300 degree F. temp as long – just watch your internal thermometer and let that be your guide.
Watch internal temp: The best, most accurate way to know when your ham is done (140 degree F. internal temp) is to keep an eye on your internal temp using an internal meat thermometer or a probe (if your smoker came with one). There are so many different variables that can impact how long it takes for the ham to come up to temp on a smoker!
Glaze: If you are wanting to use any sort of glaze simply increase smoker temp to 350/400 degrees F. once your ham comes up to temp. Brush on your glaze and then place back in the smoker for approx. 10 minutes or until glaze is tacky/sticky. Remove from smoker, let rest and enjoy! We love this Honey Bourbon Ham Glaze!
Ham done early: not a big deal if your ham is done before everything else! Simply wrap in foil and then wrap again with a large dishcloth and set aside!
Leftovers: try this Ham Bone Soup!
Keywords: smoked ham, how to smoke a ham