Pork Roast Recipe is the perfect slow roasted Sunday Pork Roast Recipe with yummy pork gravy! Dutch Oven and Crock Pot instructions included. Take it to the next level with an optional pork roast seasoning and marinade.
Best Ever Pork Roast Recipe
We are huge fans of Sunday Supper over here at The Wooden Skillet and this recipe is made for a cozy Sunday family dinner night. It's a recipe that takes time and love to make, has great depth of flavor and is classic comfort food! We have added in options for both a seasoning/dry rub AND marinade (feel free to do one or the other or both). We also have options for cooking your potatoes and veggies in with the roast OR we have other options for serving (garlic green beans and mashed potatoes). Finally, we have an epic pork gravy to pour over everything at the end! Cannot wait for you to try this one!
Why This Recipe Works
Seasoning + Marinade: we have options for both here! I used both while testing and the result is amazing. As always, do what works best for you!
Searing: This seals in the those juices while cooking.
Slow Roasting: pork roasts tend to do best when they are cooked low and slow.
Adding Veggies Later: if you opt to add in veggies, we don't recommend adding those in at the beginning of the cook time – add them in partway through so they don't get mushy.
Gravy: because homemade gravy make everything better.
Pork Roast Ingredients
pork roast seasoning: we have put together a delicious seasoning just for this recipe! It is so good!
pork roast marinade: there is an option to not only season your roast but you can also marinate it if you want! Not required, but sometimes it's fun to take that extra step.
olive or avocado oil: this ingredient is divided (aka used at two separate steps of the recipe) – once to sear the roast and once to saute the garlic and onions.
pork roast: feel free to use a pork butt or pork shoulder. You can use a bone-in or a boneless; either will work. I like using a bone-in because there is more flavor. A boneless will cook a bit faster so just keep an eye on that internal temperature.
garlic + yellow onion: these are two classic ingredients that build a great foundation for flavor. We saute these before adding the other cooking liquid to the pan.
beef broth: used to deglaze the pan after searing the roast and also the base of the cooking liquid.
red wine: you can use red wine or you can easily substitute pomegranate juice.
soy sauce + worcestershire sauce: these add a bit of saltiness and umami to the cooking liquid.
kosher salt + ground black pepper: because you gotta season it!
lemon juice: adds a bit of acidity.
herb bundle: love using herb bundles and they are so pretty!
carrots + celery: you can omit these if you would prefer to make an alternative side dish.
baby yukon gold potatoes: these can also be omitted if you want to make mashed potatoes instead.
What Cut of Pork is a Pork Roast
Generally, a pork roast is either a pork butt or a pork shoulder. Either work in this recipe.
Make it Three Different Ways
Roast baby yukon gold potatoes and veggies with the pork roast: this a very traditional method – everything is cooked in one pot so it is super easy!
Omit the baby potatoes and make mashed potatoes instead: if you would rather make some mashed potatoes to go with that gravy the just omit the baby potatoes in the Dutch Oven.
Omit baby potatoes and veggies: you don't have to add potatoes or veggies into the Dutch Oven – you can make other side dishes to go along with you roast (like these Garlic Green Beans)! Do whatever works best for you!
Crock Pot Pork Roast (optional)
We have included instructions on how to make this in the crock pot (aka slow cooker) and in a Dutch Oven. Just check out the Notes section of the recipe card below for crock pot instructions.
How to Cook a Pork Roast
Feel free to take your pork roast out and bring it to room temperature before cooking, although this isn't required.
Combine your pork roast seasoning and rub all over the pork roast; ensure you get into every little nook and cranny.
If you choose to do the marinade, now would be the time to mix that up and then let the roast soak in that for a minimum of 30 minutes.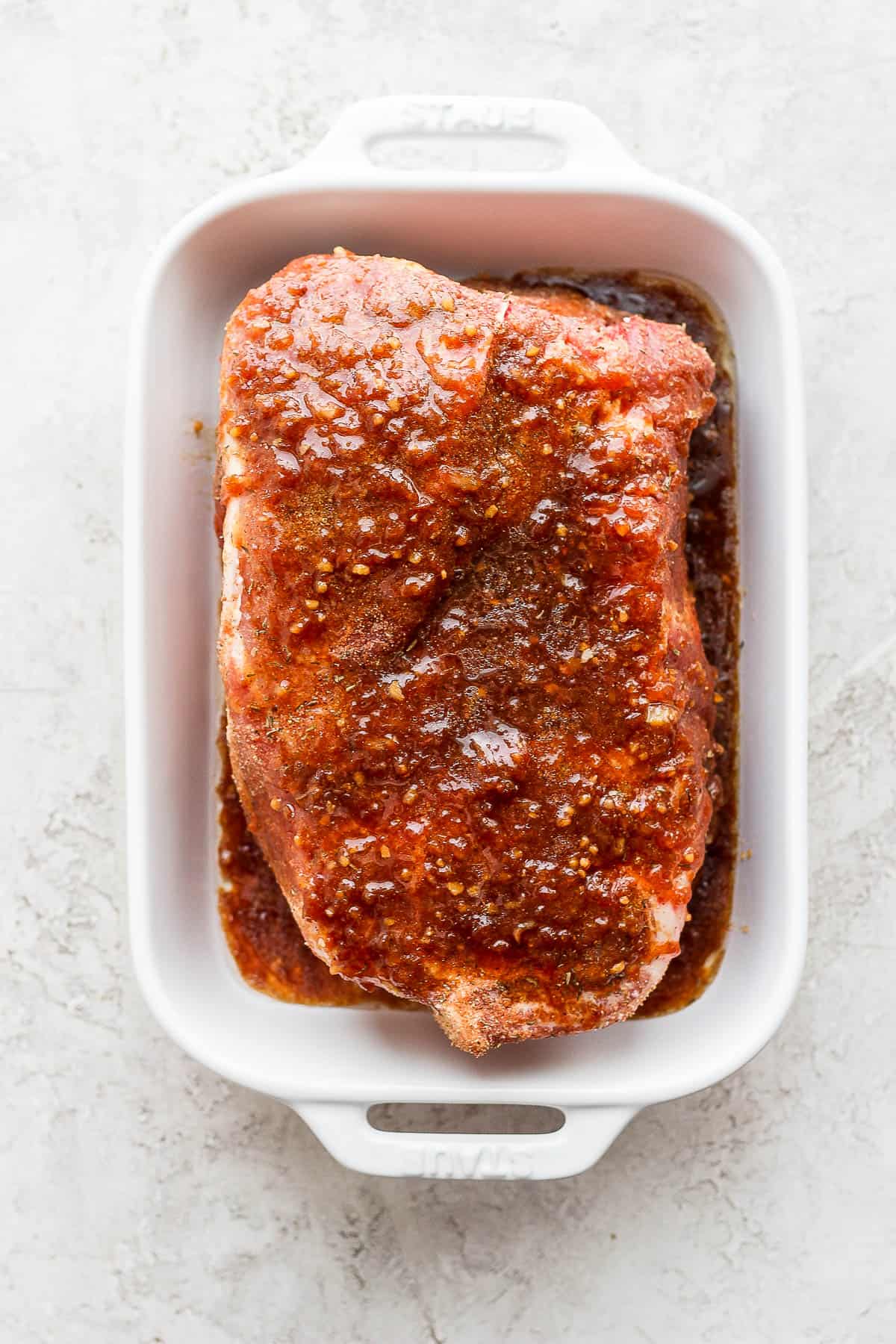 If you marinated your roast, shake off any excess marinade. Bring your Dutch Oven to medium-high heat and sear the roast on all sides.
You will remove the roast and set aside on a plate. Then, saute some garlic and onions and add in your cooking liquid. Place your roast back in along with your herb bundle.
After the roast cooks for a while you will add in veggies and potatoes.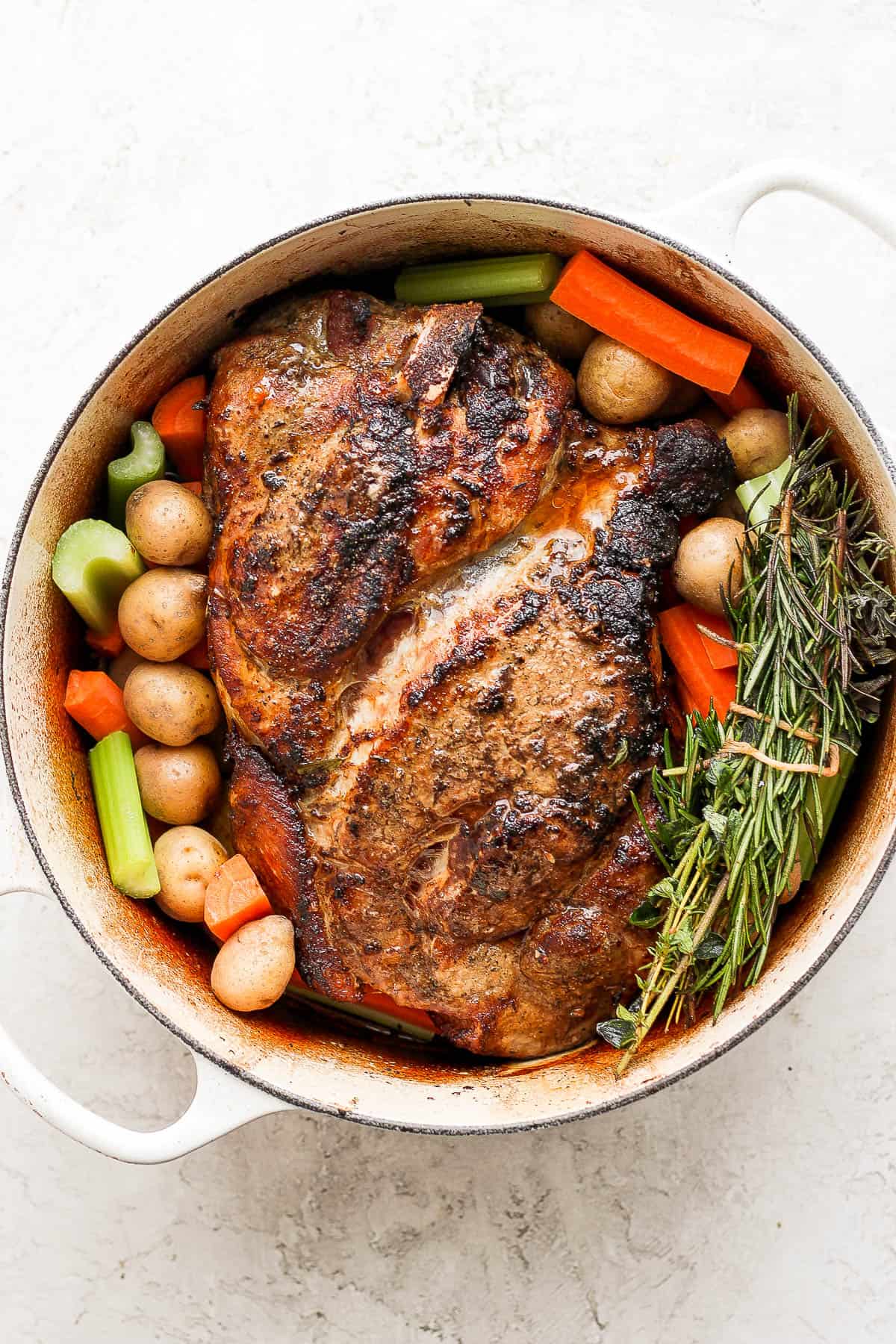 Once the roast is done, let it rest a bit. Then remove the roast and veggies/potatoes and use the liquid to make some gravy.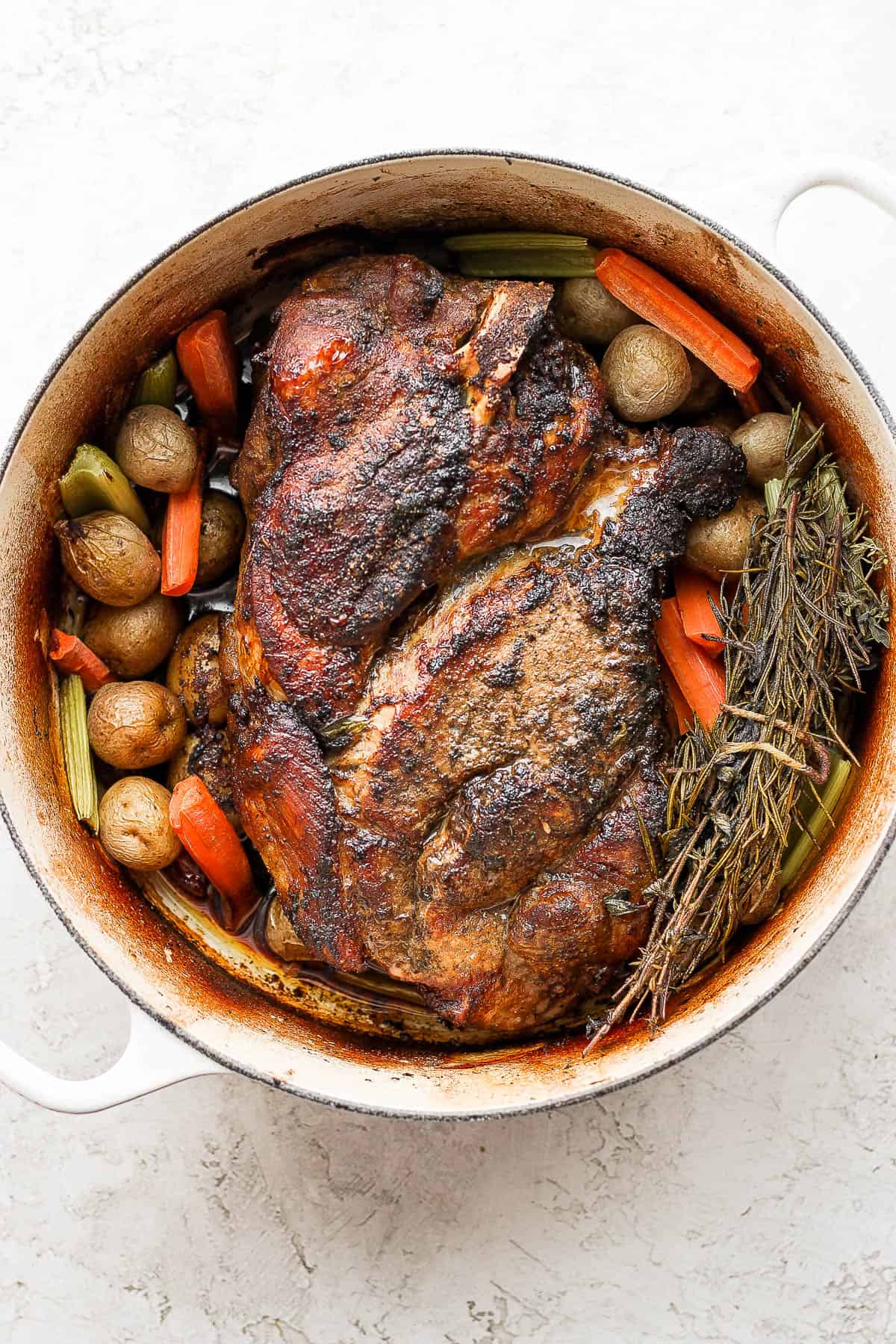 Enjoy!
Don't forget to follow me on Facebook, check out my Instagram account or see what I am pinning on Pinterest!
Made this recipe and loved it?! We would love it if you would take a minute and leave a star rating and review – it is also helpful if you made any substitutions or changes to the recipe to share that as well. THANK YOU!
Print
Ultimate Pork Roast Recipe
Author: Erin Jensen
Prep Time: 15 minutes
Cook Time: 3 hours 40 minutes
Total Time: 3 hours 55 minutes
Yield: 10 servings 1x
Category: Dinner/Entree
Method: Oven + Slow Cooker
Cuisine: American
---
Description
Ultimate Pork Roast Recipe – the perfect slow roasted Sunday Pork Roast Recipe with yummy pork gravy! (dutch oven + crock pot instructions)
---
1 batch pork roast seasoning
(optional) 1 batch pork roast marinade
2 tablespoon olive or avocado oil, divided
3–5 pound bone-in pork roast (pork butt or pork shoulder)
1 tablespoon + 1 teaspoon garlic, minced
1/2 large yellow onion, diced
1 3/4 cups beef broth
1/4 cup red wine (pomegranate juice works as a substitute)
3 tablespoons soy sauce
1 teaspoon worcestershire sauce
1 teaspoon kosher salt
1/2 teaspoon ground black pepper
1 teaspoon lemon juice
1 herb bundle (fresh rosemary, oregano and thyme)
1–2 carrots, peeled and cut into 1 inch pieces
1–2 stalks celery, cut into inch pieces
Approx. 1 pound baby yukon gold potatoes*
---
Instructions
Preheat your oven to 450 degrees F.
Combine your pork roast seasoning; set aside.
Place your pork roast on a large plate or cookie sheet.
Pat dry with clean paper towel.
Rub all over with the pork roast seasoning, making sure you get into every nook and cranny. (See *Notes if you are also marinating your pork roast).
Place a large Dutch Oven on the stove top (I used a 5.5 qt) and bring it to medium-high heat. Add 1 tablespoon olive oil and swirl to coat the pan.
Sear the pork roast on all sides (about 2-3 minutes per side). Remove pork roast and place on a plate; set aside.
Add 1 tablespoon of olive oil; swirl to coat the pan. Add garlic and onions; move around the pan as they cook down and the garlic becomes fragrant, about 1 minute.
Add broth to deglaze the pan; use a wooden spoon to ensure you scrape up all the bits from the bottom of the pan.
Add red wine, soy sauce, worcestershire sauce, salt, pepper and lemon juice. Stir to combine.
Place pork roast back into the Dutch Oven and nestle the herb bundle next to it.
Place in the oven, middle rack and uncovered. Let cook 30 minutes.
Reduce oven temperature to 350 and let cook 1 hour and 30 minutes.
Remove from oven and add carrots, celery and potatoes (if using). Sprinkle vegetables with kosher salt and ground black pepper.
Place back in the oven for another 1-1.5 hours or until the pork roast reaches an internal temperature of 160-170 degrees F (use an internal meat thermometer).
Remove from oven and let rest 10 minutes.
Remove pork roast and vegetables and place on a large plate or platter. Cover with foil.
Use remaining liquid/drippings to make homemade pork gravy.
Serve immediately and enjoy!
---
Notes
*Pork Roast Marinade: if you also want to marinate your pork roast then, after Step 4, place your pork roast in a deep baking dish or bowl and pour your marinade all over ensuring the pork roast is fully covered. Let marinate for at least 30 minutes. Shake off excess marinade before continuing on to Step 5.
*Potatoes: you can omit the potatoes and serve with mashed potatoes instead if you want! You could actually omit all the veggies and serve the roast with mashed potatoes and garlic green beans!
Slow Cooker: follow the directions above through Step 7. Then place the pork roast and remaining ingredients (except the extra tablespoon of olive oil) into your slow cooker. Cook on LOW for approx. 8 hours. If you don't want like your veggies too soft, feel free to add those in about halfway through the cook time.
Covered or Uncovered: make sure your Dutch Oven is uncovered while in the oven.
Can I use Pork Loin: I wouldn't recommend swapping out a pork loin for your pork roast. They are very different cuts of meat and cook differently.
Other Potatoes: you could also use baby red potatoes instead of the baby yukon gold potatoes. I wouldn't use russet potatoes in this specific recipe.
Gravy Recipe: here is a homemade pork gravy recipe to serve with this recipe!
Temp High to Start: we start off high in the oven to give the outside of the pork even more of a sear. Then we drop it down for the remainder of the cooking time.
Storage: Store leftovers in a airtight container in the refrigerator for up to 3 days.
Keywords: pork roast recipe, crock pot pork roast