Easy Sausage Spaghetti Squash Bowls – the easiest dinner ever for those nights when you don't feel like stressing about dinner … but want something healthy!
Easy Spaghetti Squash Bowl
My current weeknight obsession…
I don't know about you guys, but my weeks seem to just get busier and busier! Even though I work from home now, I still need to plan out my meals, meal prep and be ready for the week. And this is currently my fav weeknight go-to!
What's the carb content of spaghetti squash
Each 100 grams of spaghetti squash contains just 6 grams of carbohydrates (compare that to regular wheat pasta, which has 70 grams of carbs per 100 grams!)
How to make it meal-prep friendly
I like to prep my spaghetti squash ahead of time (learn how to perfectly roast your spaghetti squash here) and save the noodles for later in the week – that will cut most of the cook time out of this recipe! Then when it is dinnertime, just re-heat your spaghetti squash, make your sausage and heat up your sauce! Super, super simple and totally kid-friendly! If you would rather cook your spaghetti squash in the Instant Pot®, that works really well too!! Here is my tutorial!
And you have to put a little dab of ghee + salt + pepper on your spaghetti squash before you start mixing everything together – it totally elevates this super simple dish to the next level!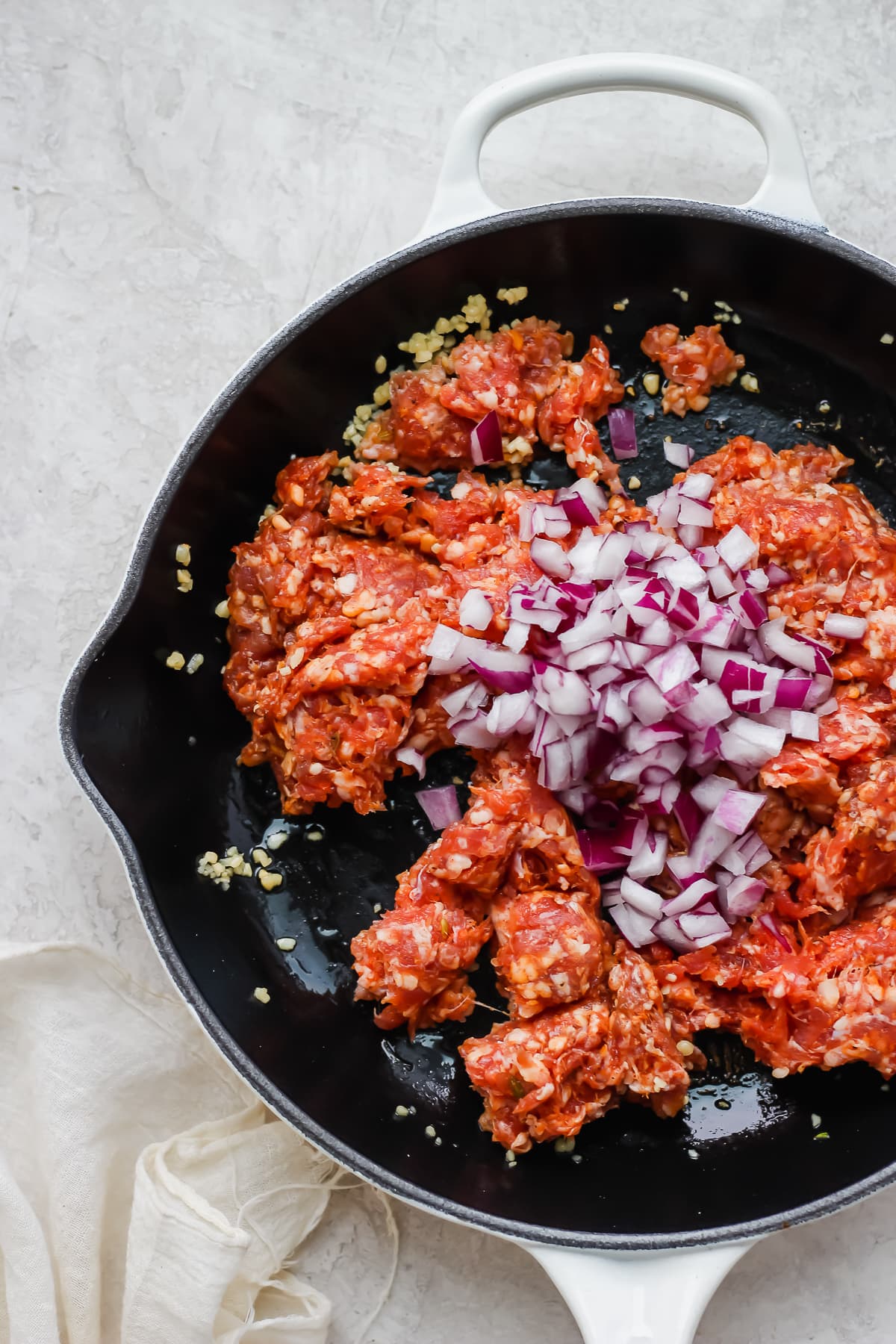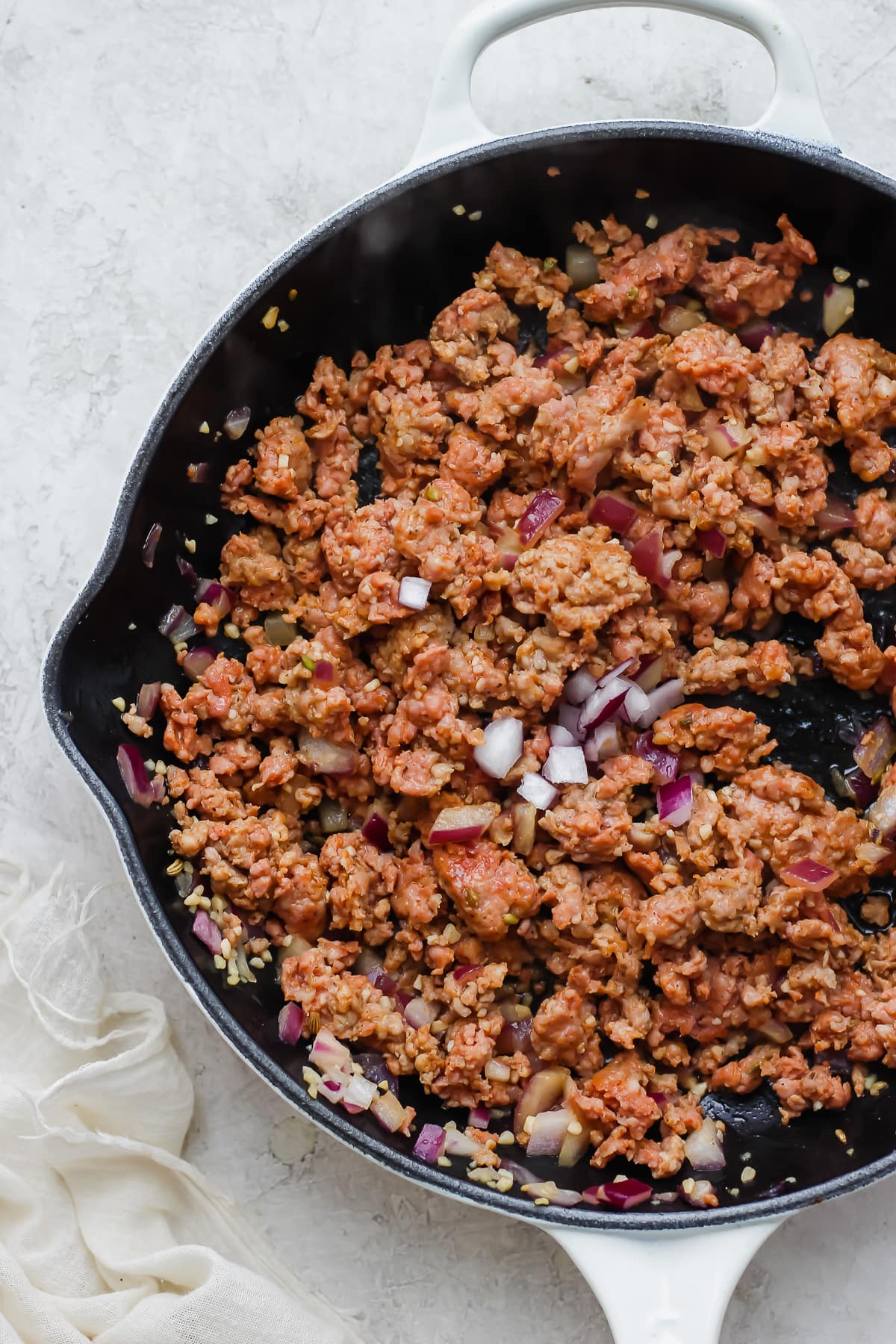 Other Recipes You Might Like
Don't forget to follow me on Facebook, check out my Instagram account or see what I am pinning on Pinterest!
Made this recipe and loved it?! We would love it if you would take a minute and leave a star rating and review – it is also helpful if you made any substitutions or changes to the recipe to share that as well. THANK YOU!
Print
Easy Sausage Spaghetti Squash Bowls
Author: Erin Jensen
Prep Time: 10 minutes
Cook Time: 1 hour
Total Time: 1 hour 10 minutes
Yield: Serves 4–5 people 1x
Category: Dinner
Method: Stove Top and Oven
Cuisine: American
---
Description
Easy Sausage Spaghetti Squash Bowls – the easiest dinner ever for those nights when you don't feel like stressing about dinner … but want something healthy!
---
1.5 lbs ground Italian sausage
1/2 red onion, diced (approx. 1 cup)
1 Tablespoon minced garlic
pinch of salt
15oz jar (approx.) of your favorite spaghetti sauce – my favorite homemade one or this one is a great option too!
---
Instructions
Ahead of time, preheat oven and roast spaghetti squash per this tutorial.
About 10 minutes prior to the spaghetti squash being done, take a large fry pan and olive oil (or ghee) and bring to medium-high heat.
Add garlic and cook for approximately 1 minute, or until fragrant, moving constantly in pan.
Add sausage and continue to move around pan until fully cooked.
Add red onion and a pinch of salt and pepper.
Continue cooking and stirring until onion has cooked down slightly.
You could add other vegetables at this point, if desired, such as mushroom or even chunks of zucchini – just add and cook for a few more minutes until cooked but firm.
Take medium saucepan and add your spaghetti sauce – warm on low, stirring occasionally.
Assemble bowl by added some spaghetti squash (top it with a chunk of ghee and a pinch of salt and pepper), a scoop or two of sausage and then as much sauce as you desire.
Serve immediately.
---
Notes
I also like to roast some broccolini to add to the bowl as well!
I love this recipe because it has so much flexibility – you can adjust it so easily depending upon how many people you are feeding, etc. Simply cook a little extra sausage if you have a bigger spaghetti squash and are feeding lots of people, etc.
Keywords: easy spaghetti squash dinner, healthy dinner, spaghetti