Cheesy Baked Red Wine and Basil Rigatoni – a classic baked pasta that is elevated to the next level with red-wine, fresh basil and zucchini; topped with fresh mozzarella cheese.
Cheesy pasta, anyone? Is cheesy pasta ever not a good idea. I mean, it's always good – right? It is a mixture of everything wonderful: pasta (I love you carbs), sauce of some kind, cheese, more cheese, and even more cheese (seriously, there are, at a minimum, no less than 3 cheeses in this thing). It is all baked together, so every bite is a warm, cheese covered noodle with tomato sauce. Sounds amazing, right? Well it is – and you need it in your life.
Wait, did I mention that I hid some zucchini in here? ….. and spinach…… For all you parental-units out there, yes, I hid more veggies in your kids' dinners. I swear you can't even taste them. Yet, there they are, baked right in (they don't even need to know – just don't even mention it).
Did anyone else's mom make something similar to this? Cause this is straight outta my childhood (although my mom made baked mostaccioli) – I just remember that I always loved this meal. It was so simple, yet always cheesy and delicious. When I sat down to think up this recipe, I knew I wanted to use a rigatoni noodle (they have a bigger opening and I secretly hoped all the noodles would be filled with cheese … some of them did so I will call that a win). I also knew that I wanted to elevate the sauce. My mom used straight up spaghetti sauce, which is a great alternative if you are in a super rush. Otherwise, I came up with a really flavorful alternative, that includes crushed tomatoes, fresh basil, red wine, oregano, olive oil and some salt. We are essentially making our own mini-batch of spaghetti sauce. Those rigatoni noodles and the "homemade spaghetti sauce" all covered in like a million different types of cheeses (okay more like 3) all melted and delicious. It turned out so good, you guys!
And the kiddos loved it. Meatless Mondays will never be the same :-).
It is great for a weeknight or feeding a crowd – regardless, you are not going to have many leftovers….
Let me know if give it a try – I love hearing from you guys!
Diggin the photography board? Check out our Etsy Store and take one home with you!
Don't forget to check out my Instagram account for some behind-the-scenes action (I am usually embarassing myself in the stories…) yay….. Or give me a follow on Facebook or see what I am pinning on Pinterest!
Until tomorrow –
Love,
E
Print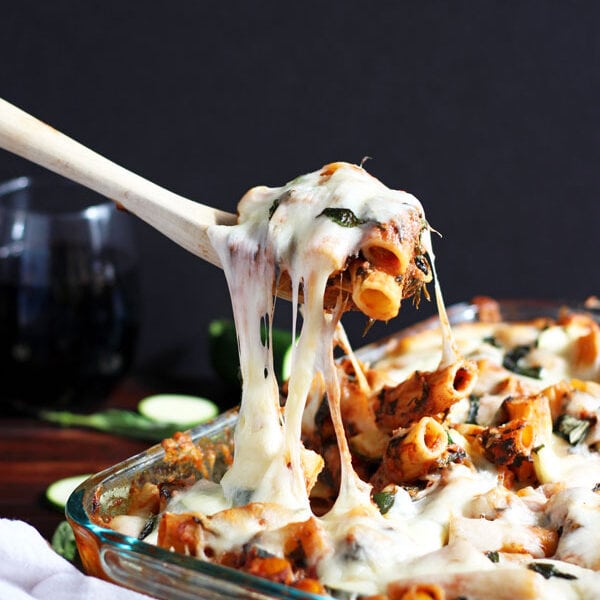 Cheesy Baked Red Wine and Basil Rigatoni
Author: Erin
Yield: Approx. 8 servings
Category: Dinner
Cuisine: Italian
---
Description
Cheesy Baked Red-Wine and Basil Rigatoni is a great family dinner (with hidden veggies) that everyone will enjoy! Perfect for meatless Monday!
---
12 oz rigatoni noodles
10oz frozen spinach
28oz can crushed tomatoes
1 Tablespoon finely chopped garlic (2 large cloves)
1/3 cup fresh basil, chopped
1/2 Teaspoon ground oregano
1/4 cup dry red wine
1 Tablespoon olive oil
1 small-medium zucchini, cut into 1/2 inch slices and then quartered
8oz ricotta cheese
1/2 cup grated parmesan cheese
2–3 cups grated mozzarella cheese
1 Teaspoon kosher salt
---
Instructions
Cook rigatoni according to package instruction, but ensure the noodles are cooked al dente or even a little less (they will continue to cook a little in the oven).
Drain and drizzle with a little olive oil; set aside.
In large sauce pan or skillet, heat up frozen spinach according to package instructions and then drain as much water as you can.
Add crushed tomatoes, garlic, basil, oregano, wine, olive oil and zucchini; mix well and bring to a slight simmer.
Reduce heat and add ricotta cheese and mix.
Then add 1/2 cup mozzarella cheese and the parmesan cheese; mix,
In large casserole dish (spray with a non-stick) add pasta and then cover with pasta sauce.
Slowly and carefully mix together.
Cover with extra 1 1/2-2 cups of mozzarella cheese and even any additional parmesan cheese you have – depending upon how cheesy you want the top to be.
Bake at 350 for 30 minutes or until it bubbling and cheese is fully melted.
---
Thank you so much for reading & supporting The Wooden Skillet! This post contains affiliate links for products I actually use in my own home and personally recommend. Should you make a purchase using one of these links, The Wooden Skillet will earn a small commission at no extra cost to you, which helps me continue to bring you great original content. Thank you!