This easy Seared Ahi Tuna recipe is a simple and delicious main dish that is ready in minutes! Perfect as-is with some dipping sauce, serve in a taco with salsa or in a delicious tuna poke bowl!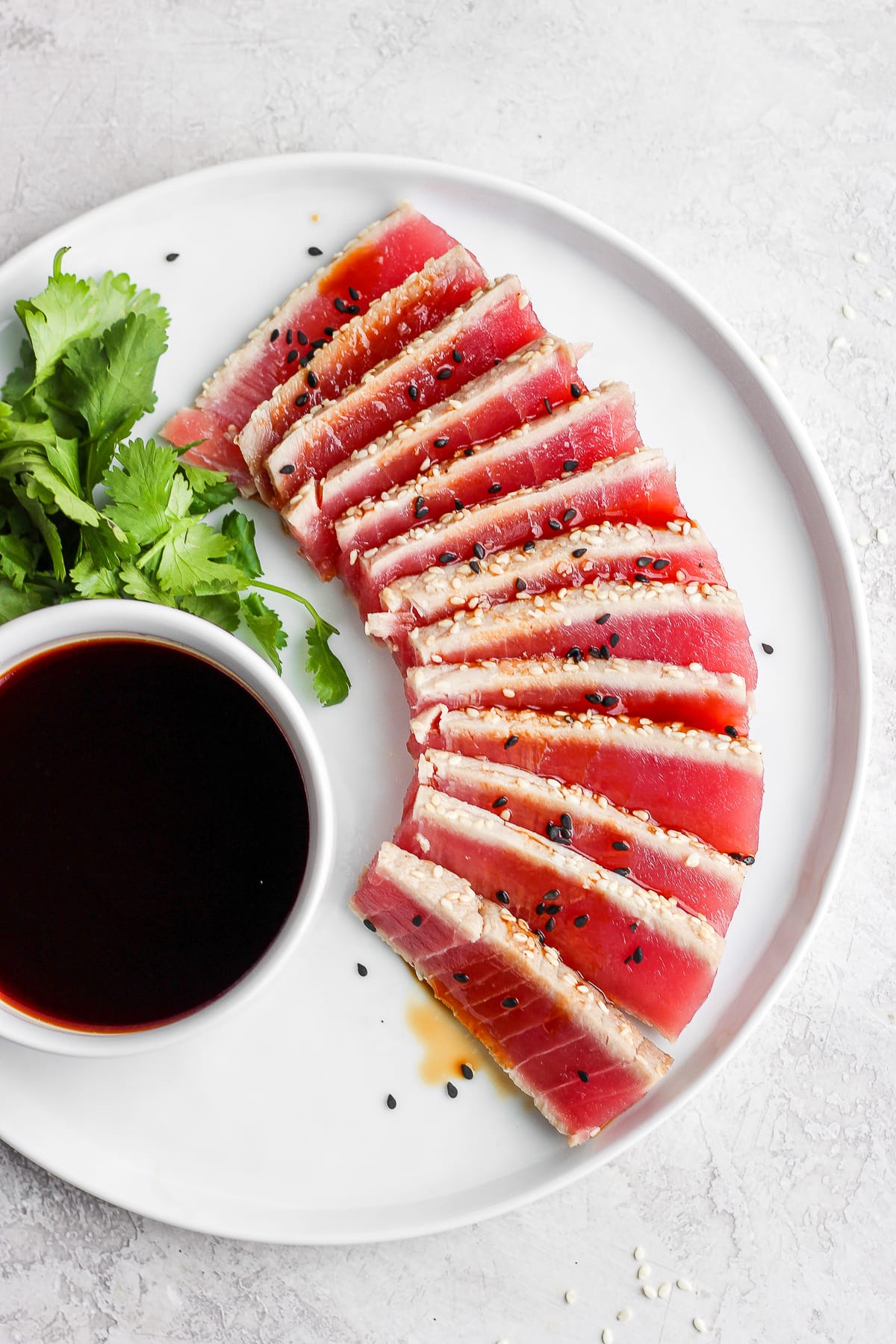 The Best Seared Ahi Tuna
This super simple seared tuna is one of our all-time favorite recipes ever! It is a light and refreshing ahi tuna steak recipe that you are going to LOVE enjoying by itself or add it to your favorite tuna recipe. Personally, we love serving it on a salad with a sesame ginger dressing! That umami flavor from the soy sauce and toasted sesame seeds just pair perfectly together in this easy recipe. Looks fancy but is such an easy dinner idea, a fun weekend lunch, or a cute date night at home!
What You Will Need
raw ahi tuna steaks: ahi tuna is known for its firm texture and beautifully mild flavor. Feel free to reach for a sushi grade or sashimi grade (read more about those labels below) of either yellowfin tuna or bigeye tuna (both types of ahi tuna).
salt and pepper: ahi tuna has such a mild flavor, so we don't want to over-season them. But they definitely need a little salt and pepper to bring them to life.
sesame seeds: you will press these into the ahi tuna right before you sear them in a hot pan.
oil: I generally reach for the olive oil, but avocado oil works just fine here too.
Does Seared Tuna Need to be Sushi Grade
In short – most likely, yes. But, there isn't an official "sushi-grade" that fish can earn by meeting certain standards. Some grocery stores will sell fresh fish with that label, meaning that it is the best, highest-quality fish the store is offering and they would feel safe eating it raw. Parasitic fish (like salmon) are required to be frozen (at a temp much lower than your own freezer can provide) to kill any parasites before being consumed raw. Additionally, tuna is actually graded by wholesalers. There is a Grade 1, which is the best grade tuna you can get and is, most likely what your local grocery store would consider "sushi-grade ahi tuna". Go to a reputable store and check out this list of questions to ask from The Kitchn to help find high-quality tuna. It's also important to use it right away after purchasing and make sure your cutting board and utensils are super clean!
How To Make Seared Ahi Tuna
The first steps to making this delicious ahi tuna recipe are to make sure your tuna steaks are fully thawed and patted dry with clean paper towels.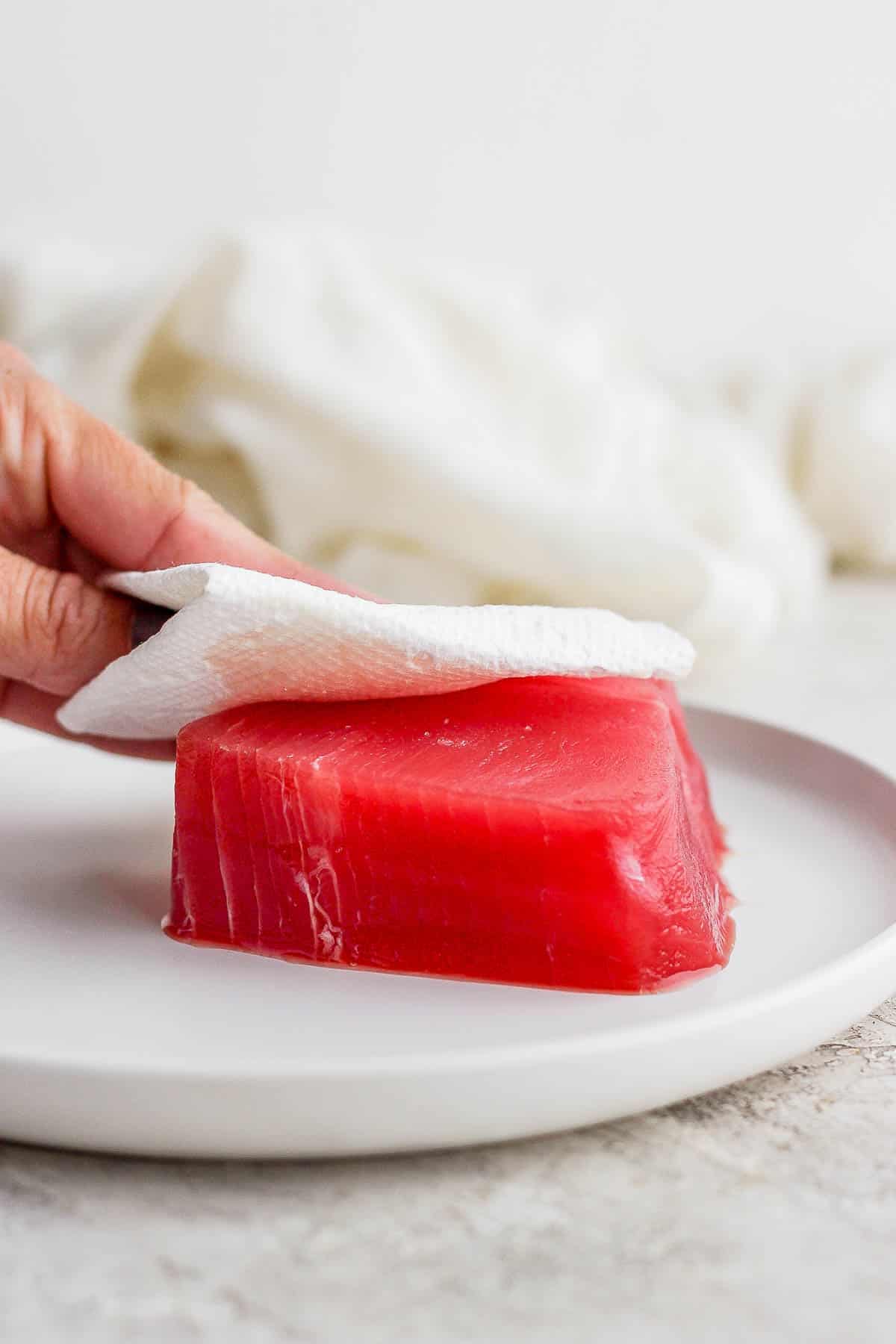 Season the outside of each tuna steak with salt and pepper (you can also rub a little sesame oil on top too if you want).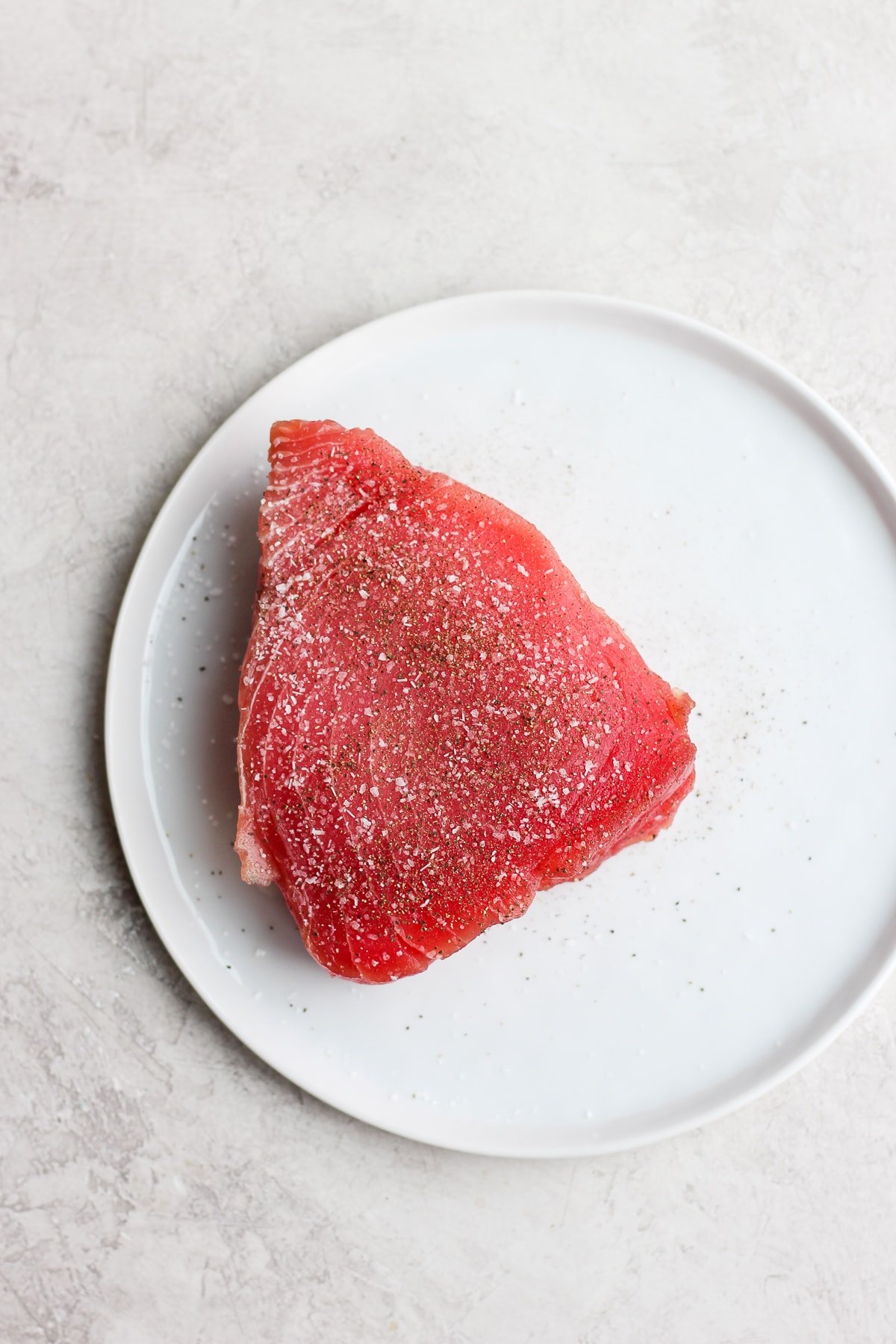 Next, press the sesame seeds on the top and bottom of each steak.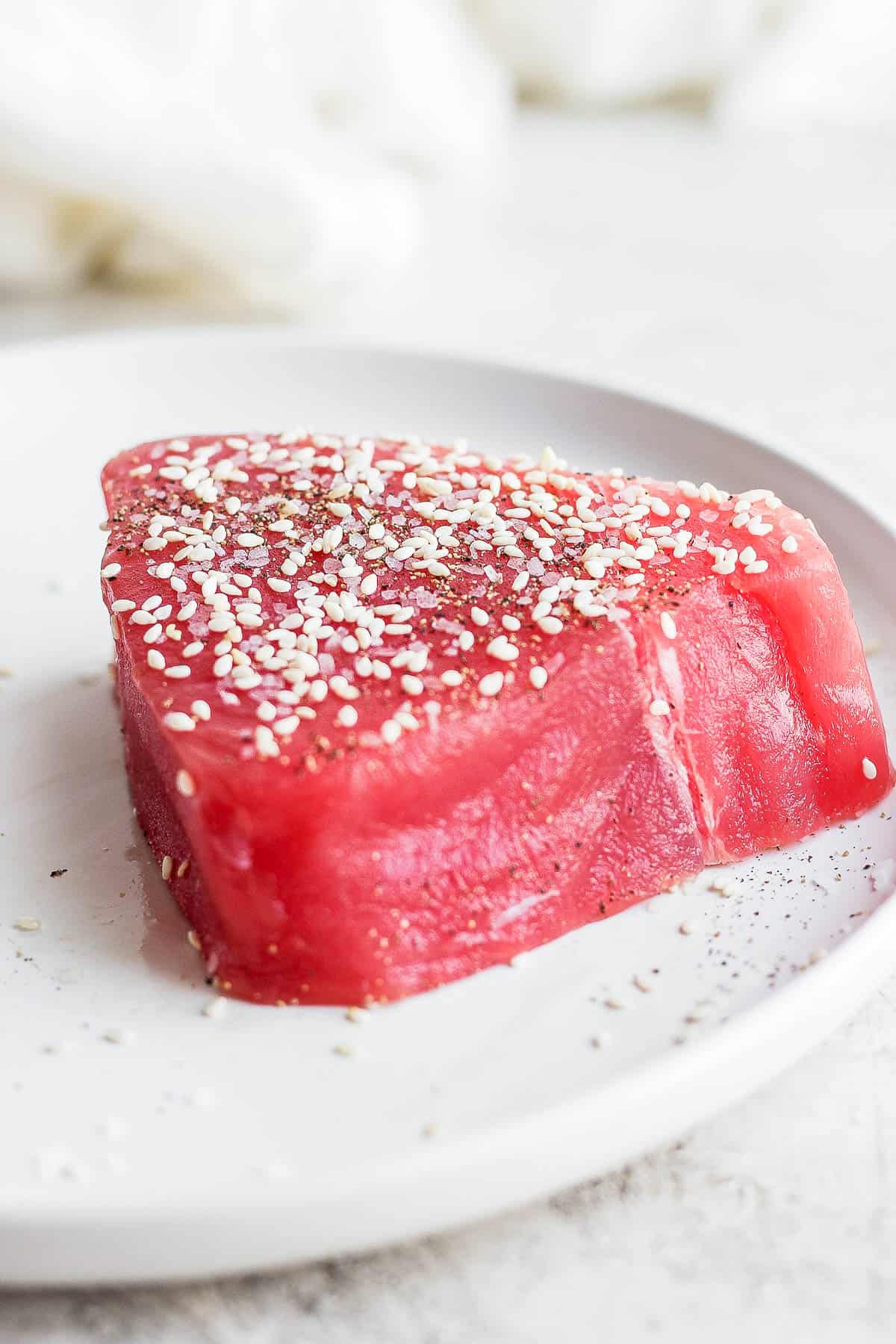 Now bring a large nonstick skillet to a medium high heat and drizzle in the olive oil. Once the pan is hot, quick sear the seasoned ahi tuna on both sides. About 30 seconds (and up to 1 minute) per side to get that perfect sear. For best results, watch closely and be ready to flip because they sear very quickly.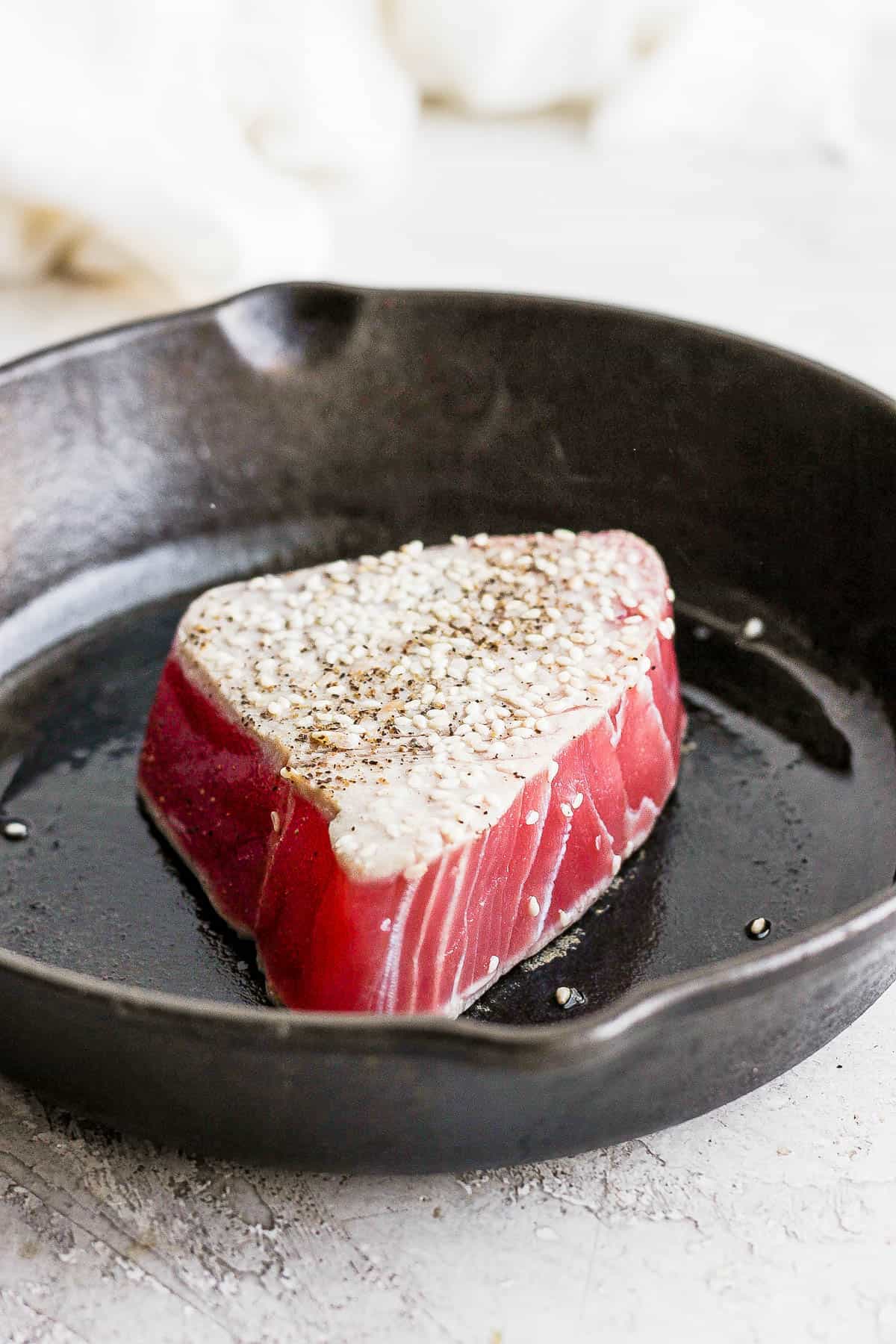 Carefully remove them from the large skillet and let rest for about 5 minutes. Slice against the grain and serve however you wish!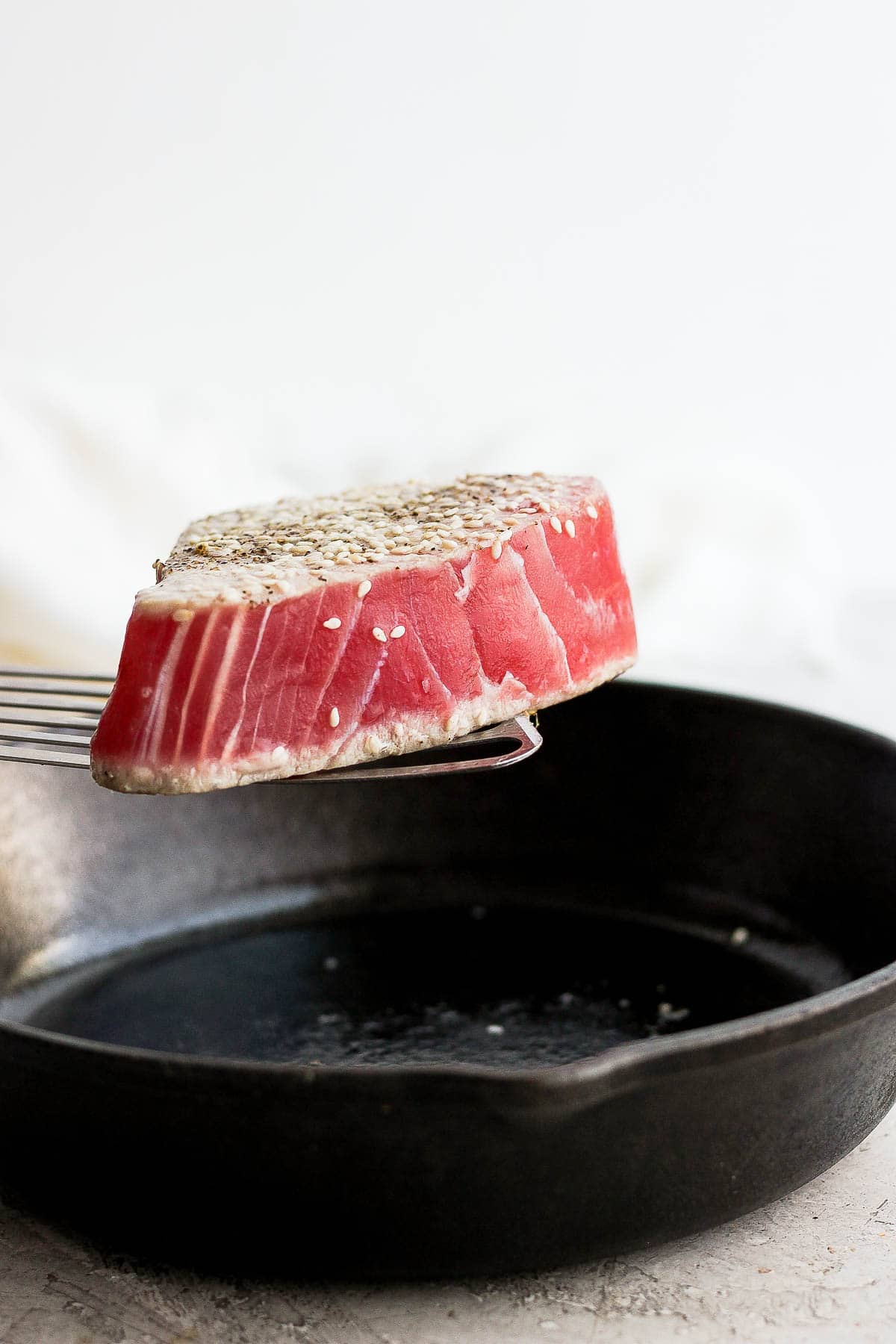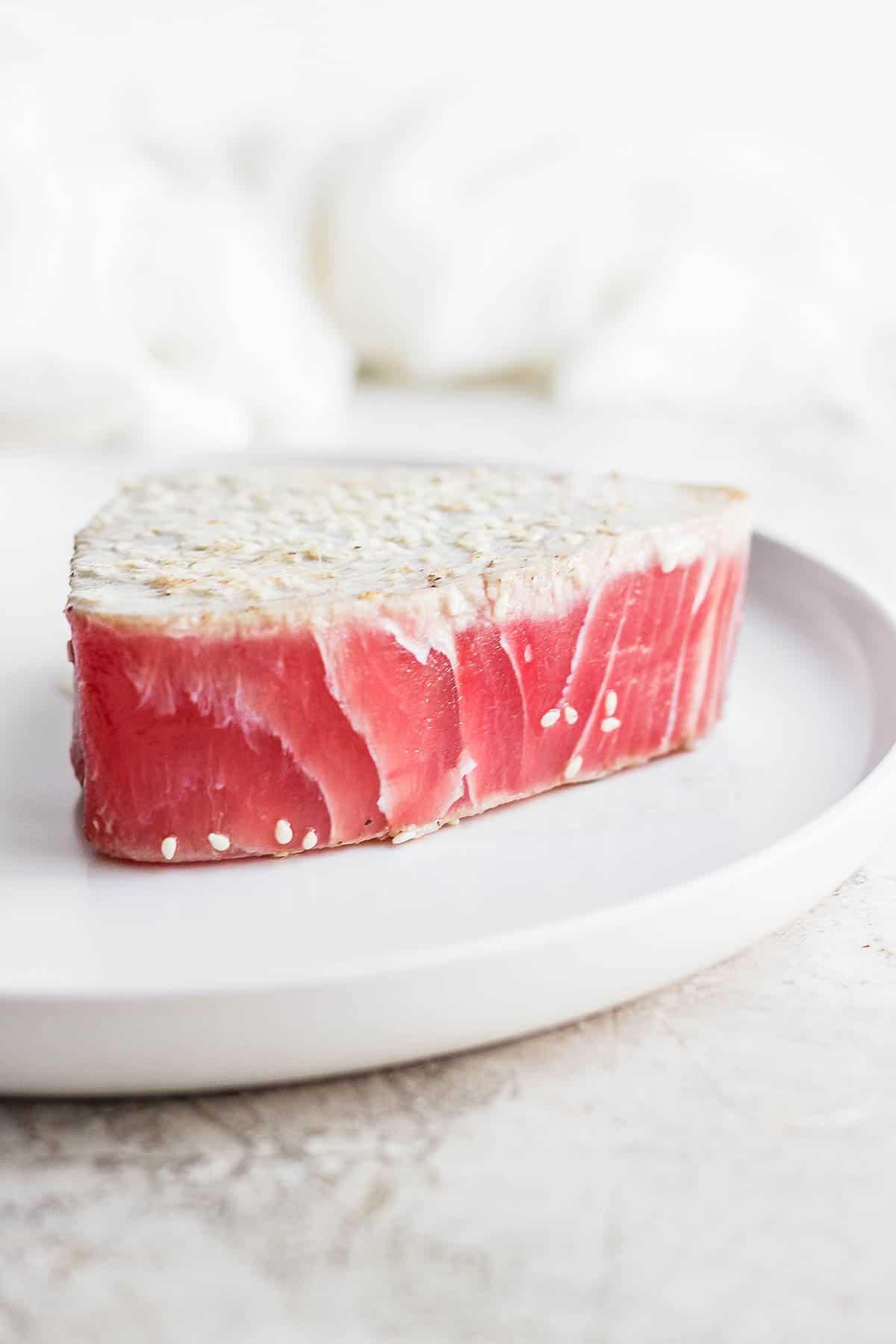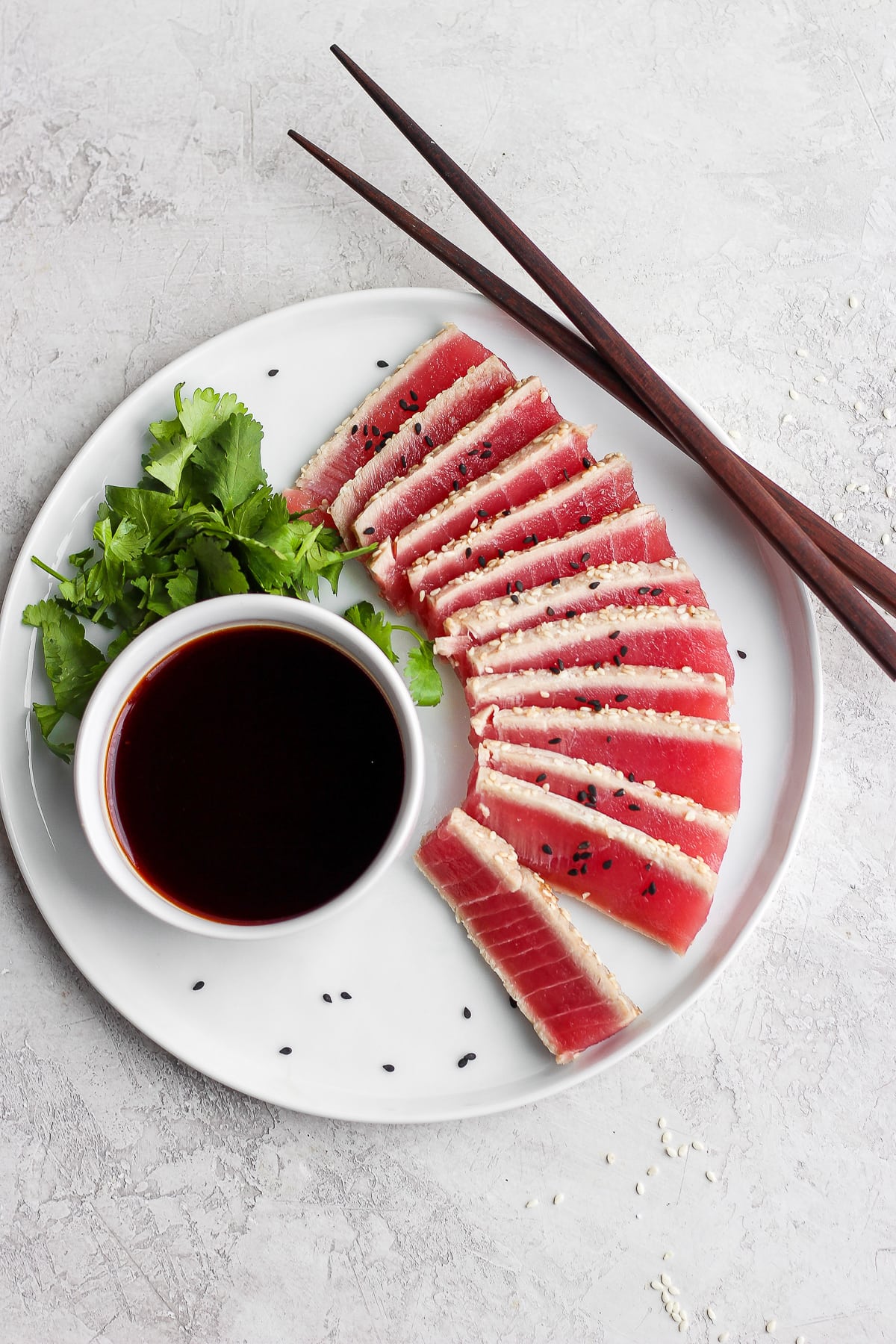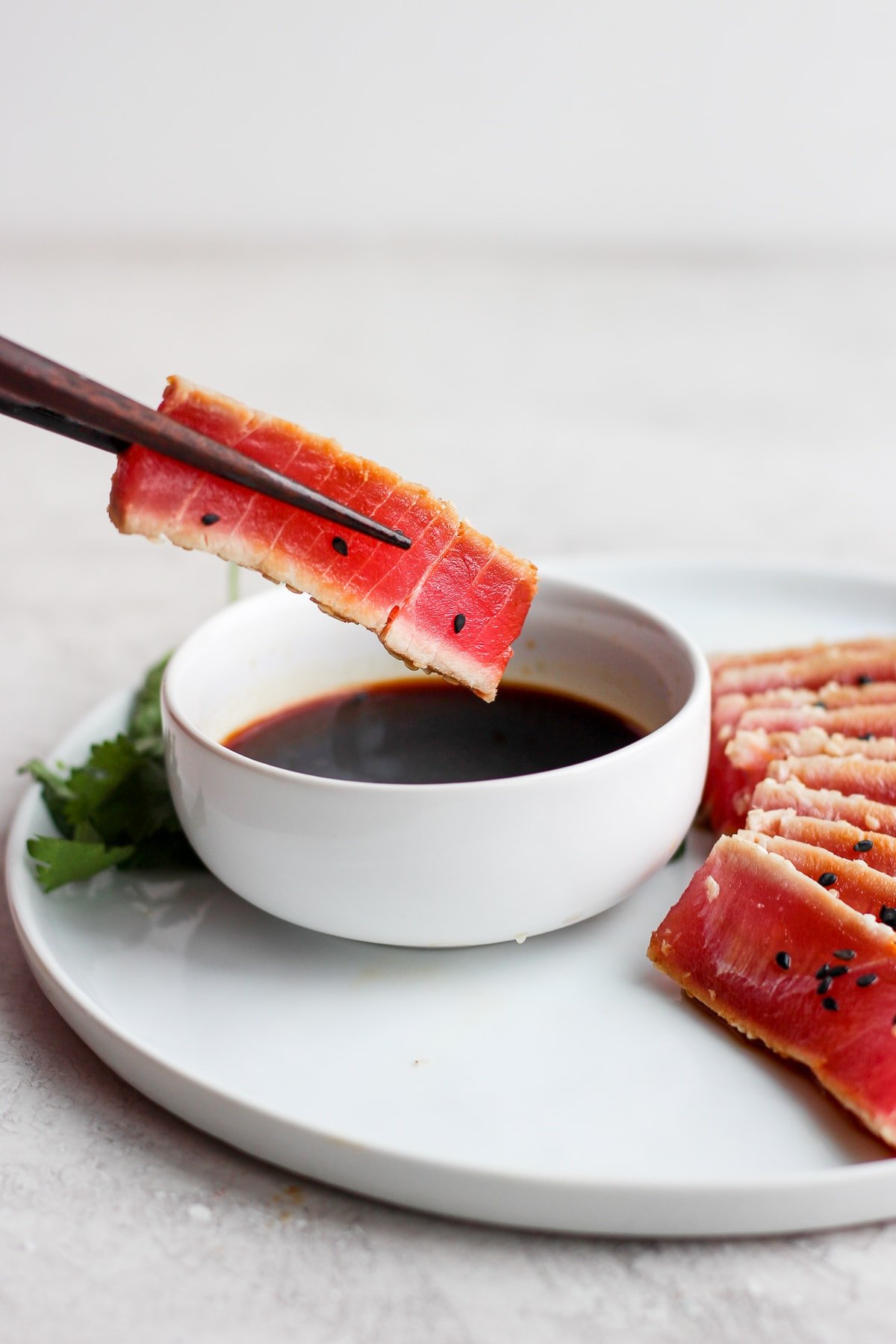 Best Way To Serve Pan Seared Tuna Steaks
Now that you have this perfectly cooked tuna steak, what's next? Here are some of our favorite ways to enjoy it:
Serve with your favorite dipping sauce – simply cut eat tuna steak into thin slices and serve with a small dish of soy sauce, coconut aminos, or tamari sauce!
Make a slaw or salad – we love this Sesame Ginger Slaw or on top of a Poke Salad.
Tacos – serve on your favorite flour tortillas or corn tortillas with some mango pineapple salsa for a light and refreshing dinner option!
Guacamole – create a delicious chip dip by serving sliced tuna over some chunky guacamole.
Poke Bowl – build a tuna poke bowl with a bed of white rice, brown rice, cauliflower rice, sushi rice, or jasmine rice and the tuna on top with all your favorite toppings!
Side dish – and if you are just looking for a simple side dish recipe, we highly suggest some roasted broccolini or braised bok choy.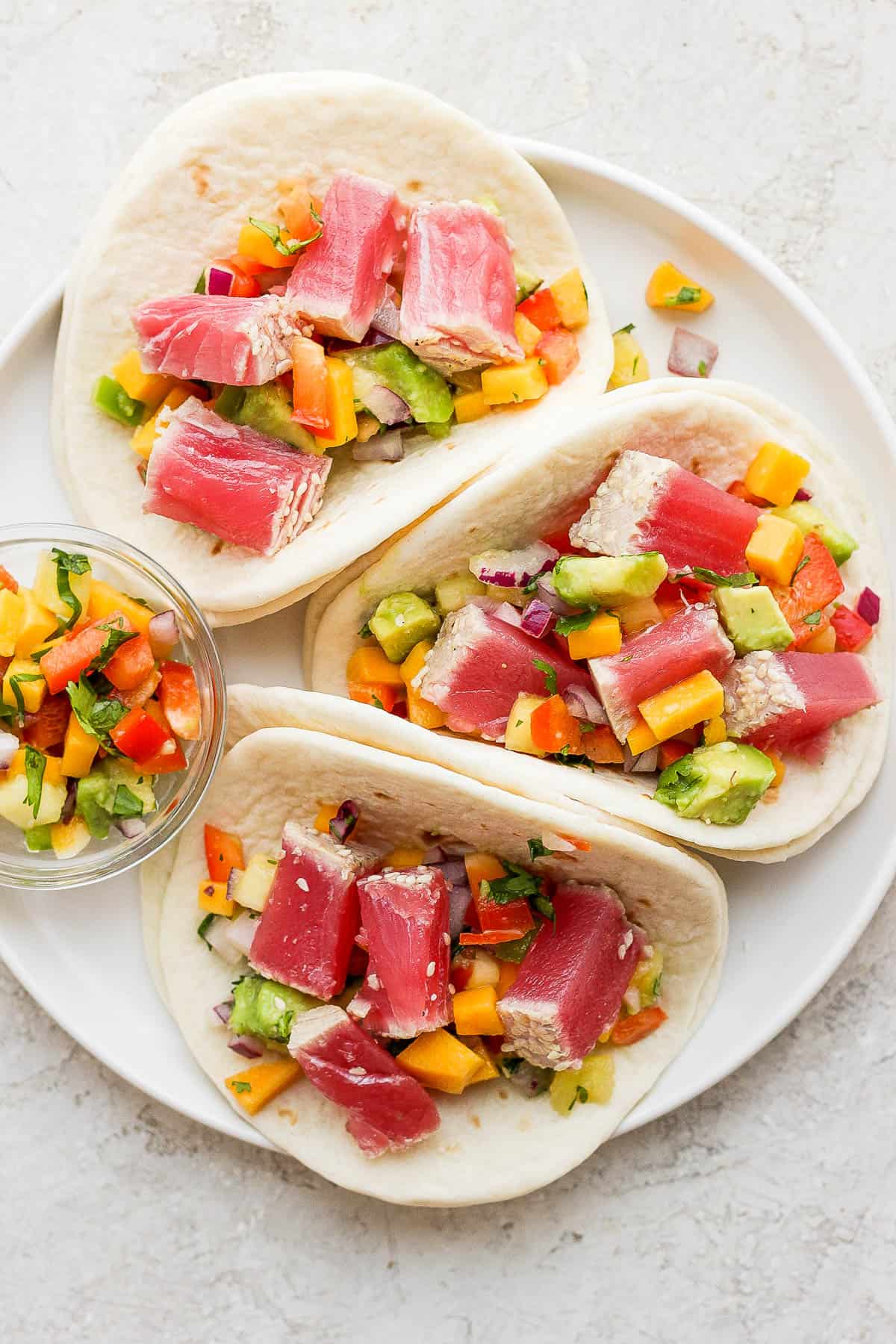 Recipe FAQ
Where to find sushi-grade tuna?
Typically, we find the highest-quality tuna at Whole Foods or another local, specialty grocery store. Do some research to find a fish market or fishmonger near you!
Is seared ahi tuna safe to eat?
It is important to note that the inside of the tuna steaks will remain raw. The inside is not supposed to be fully cooked. As long as you find the highest quality piece of tuna from a reputable store and cook it the same day as buying it, you shouldn't have a problem. As always, consuming raw fish is done at your own risk. Personally, we LOVE using raw tuna in this recipe and so many sushi recipes!
Made this Ahi Tuna recipe and loved it?! We would love it if you would take a minute and leave a star rating and review – it is also helpful if you made any substitutions or changes to the recipe to share that as well. THANK YOU!
Don't forget to check out my Instagram and TikTok account for some behind-the-scenes action! Or give me a follow on Facebook or see what I am pinning on Pinterest!
Print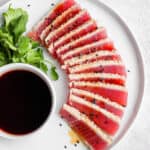 Seared Ahi Tuna Recipe
Author: Erin Jensen
Prep Time: 5 minutes
Cook Time: 2 minutes
Total Time: 7 minutes
Yield: 2–4 servings 1x
Category: Fish
Method: Stove Top
Cuisine: American
---
Description
Seared Ahi Tuna Recipe – Your go-to seared ahi tuna recipe! So simple and always delicious!
---
(2) 1 inch raw ahi tuna steaks
kosher salt
ground black pepper
2 teaspoons white sesame seeds
2 tablespoons extra virgin olive oil (or avocado oil)
---
Instructions
Pat tuna steaks dry with a clean paper towel.
Sprinkle each side with salt, pepper and 1 teaspoon of sesame seeds per side.
Pat seasoning into each side to make sure they stick.
Bring a large cast-iron skillet to a medium-high heat and add oil.
When oil just starts to smoke, place tuna steaks in skillet.
Cook for 30-45 seconds per side (or up to 1 minute if you just barely want it rare in the middle) – this will create a nice crust on the outside.
Remove and let rest on clean plate for 5 minutes.
Slice against the grain & serve immediately with sauce of choice (see notes below).
Notes
Paleo/Whole30: serve with coconut aminos. Otherwise, feel free to use soy sauce.
Gluten-Free: serve with tamari sauce!
How to Serve: we love these Seared Tuna Rice Bowls or these Ahi Tuna Tacos!
Storage: it is best to consume this dish immediately – if you have leftovers store in an airtight container in the refrigerator and consume within 24 hours.
eat undercooked or raw foods at your own risk (see full blog post above for discussion about sushi-grade tuna, etc)
Nutrition
Serving Size: 1/2 piece tuna
Calories: 83
Sugar: 0 g
Sodium: 315.7 mg
Fat: 7.8 g
Carbohydrates: 0.7 g
Protein: 3.3 g
Cholesterol: 4.7 mg
Keywords: ahi tuna, seared ahi tuna steak, seared ahi tuna recipe
Originally published April 2, 2019.