This delicious Smoked Carnitas recipe is juicy & tender on the inside with perfectly crisp edges! Smoked for flavor and then beer braised until it fall-apart tender and will melt in your mouth. Enjoy it in tacos, in a rice bowl, or any other way you want!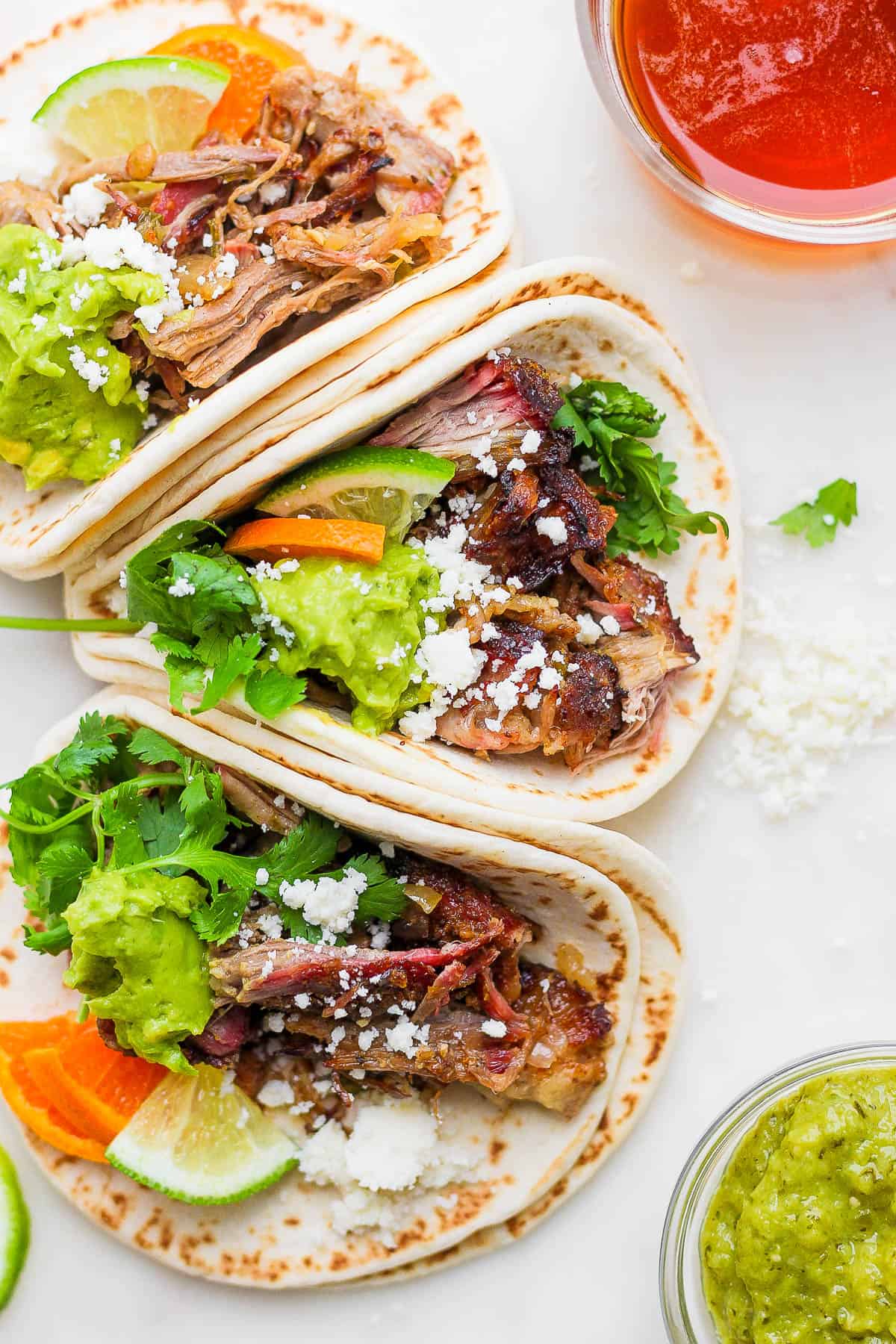 The Best Smoked Carnitas
We have been making delicious smoked pork shoulder for years! It is a tried-and-true recipe that is definitely a blog favorite. The time has come to turn this classic pulled pork recipe into smoked pork carnitas that are braised in beer and then roasted in the oven to give it the perfect crispness! Smoking the pork is not typical for traditional carnitas but we just love that subtle smoke flavor too much, not to put in on the smoker. Make this smoked Mexican pork shoulder for your next family gathering and it will be a definite crowd-pleaser!
What You Will Need
pork shoulder – you should be able to find a large pork shoulder in the meat section of your local grocery store.
worcestershire sauce & yellow mustard – used to coat the outside of the pork in amazing flavor!
ground cumin, chili powder, cayenne powder, garlic powder, onion powder, dried oregano leaves, black pepper, & kosher salt – a homemade pork spice mixture that has so much great flavor.
garlic – everything is always better with a little bit of garlic in it.
orange juice & lime juice – light & refreshing juices to help keep everything moist during the braising process.
orange zest & lime zest – a little more acidity added to really level up that citrus flavor.
can of beer – we used a Mexican beer but feel free to use your favorite light beer.
sweet yellow onion – that mild onion flavor is always a good idea when cooking pork.
fresh jalapeño – added for just a little kick of heat!
olive oil – always a must for a homemade marinade and it does the trick for this braised pork shoulder too!
bay leaf & kosher salt – simple seasonings that perfect for this easy recipe.
serving suggestions: salsa verde, lime wedges, cotija cheese, fresh cilantro, quick pickled red onion, guacamole, sour cream, tortillas of choice.
How To Make Smoked Carnitas
The first steps to making this pork carnitas recipe is to pat the entire pork shoulder dry with paper towels, then cover it with worcestershire sauce, and then yellow mustard. Make sure to get in all the crevices.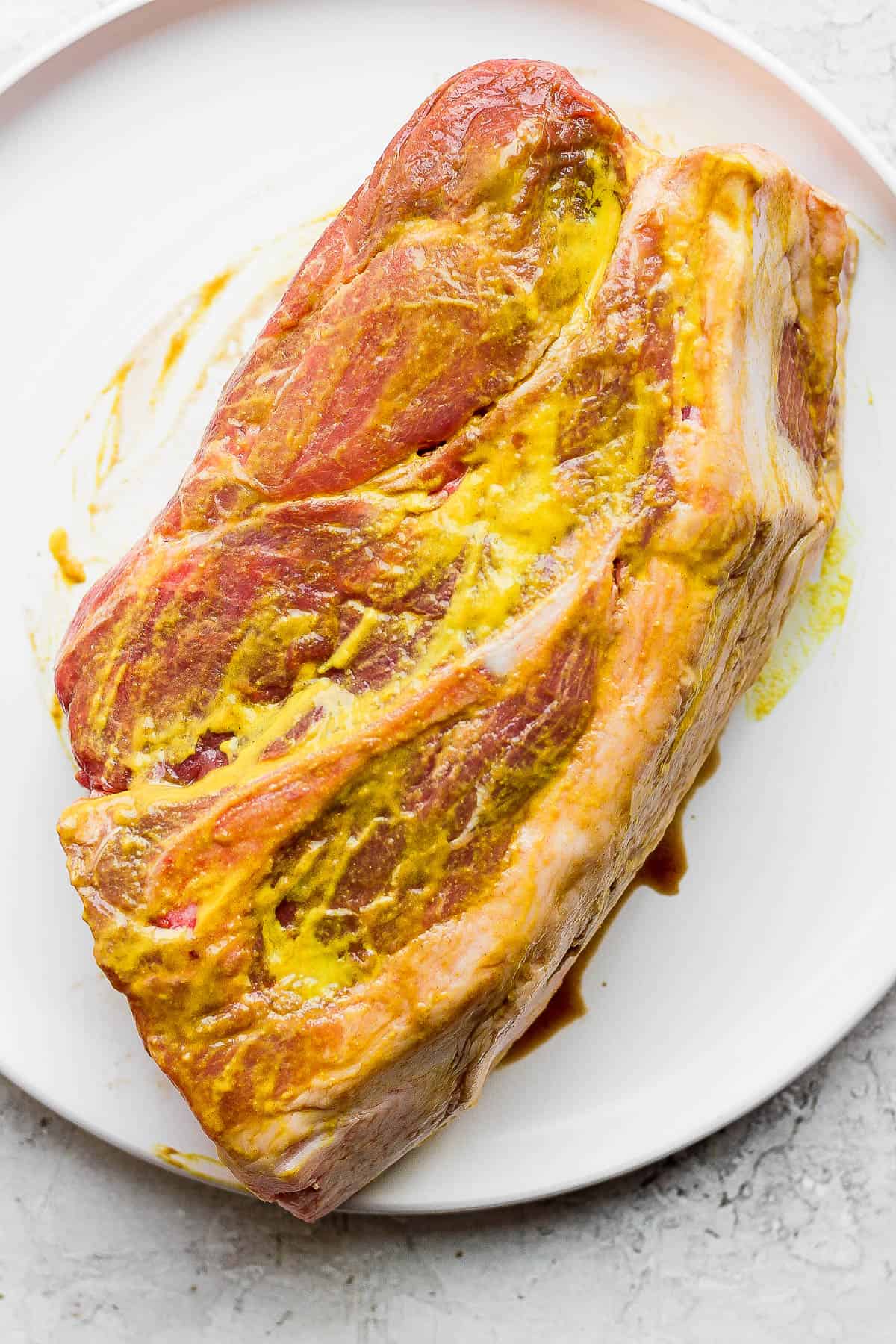 Now mix together the pork shoulder dry rub seasonings in a small bowl. Use this seasoning blend to coat the entire outside of the pork shoulder.
Place the seasoned pork shoulder directly on the grates of a preheated electric smoker (we love our Traeger pellet grill). Let the whole thing smoke for about 4-5 hours.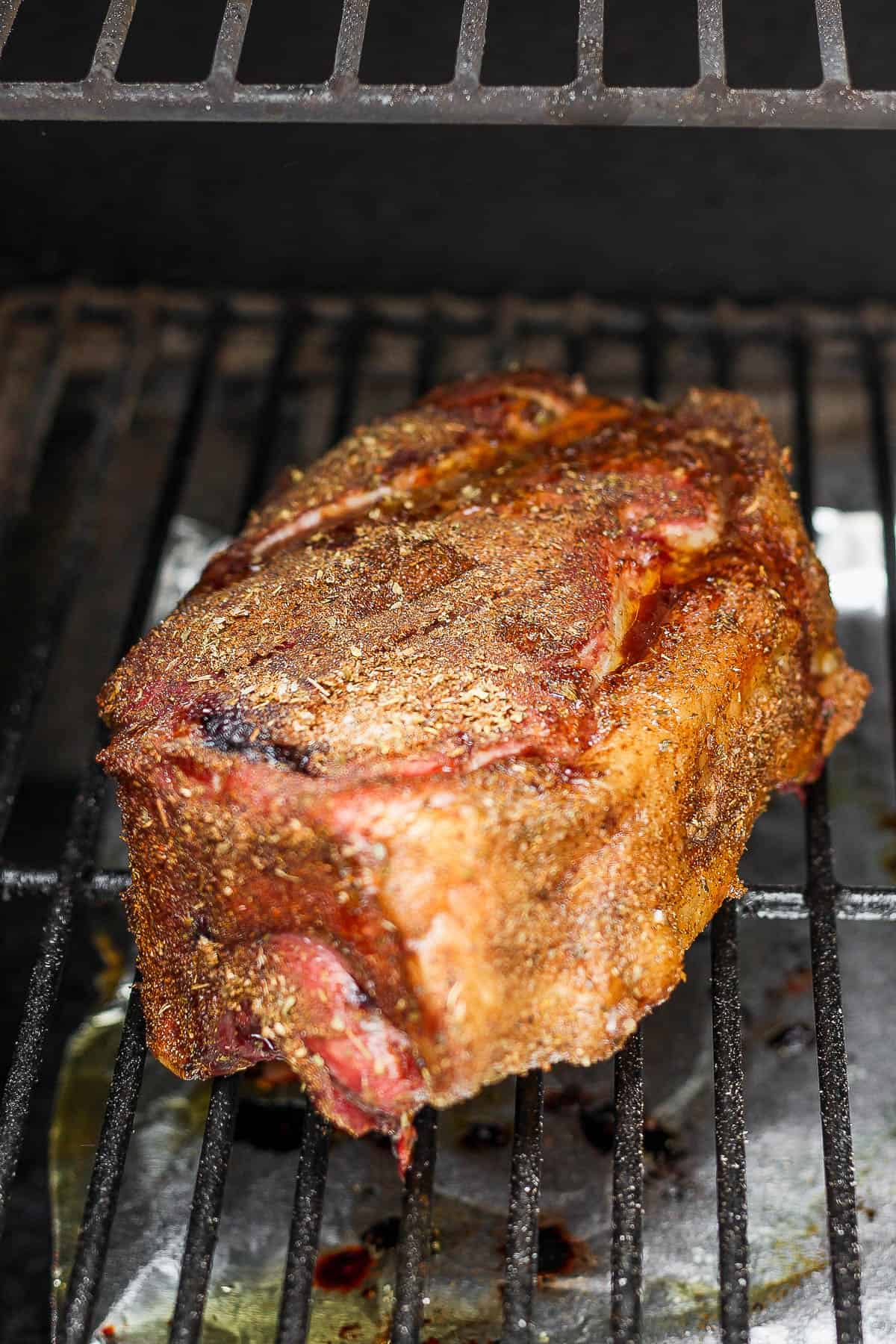 As you are nearing the end of the first smoke time, start preparing the braising liquid in an aluminum foil pan. Once you have all the braising ingredients in the pan you can carefully remove the pork shoulder from the smoker and place it in the middle of the braising pan. Cover the entire thing with aluminum foil.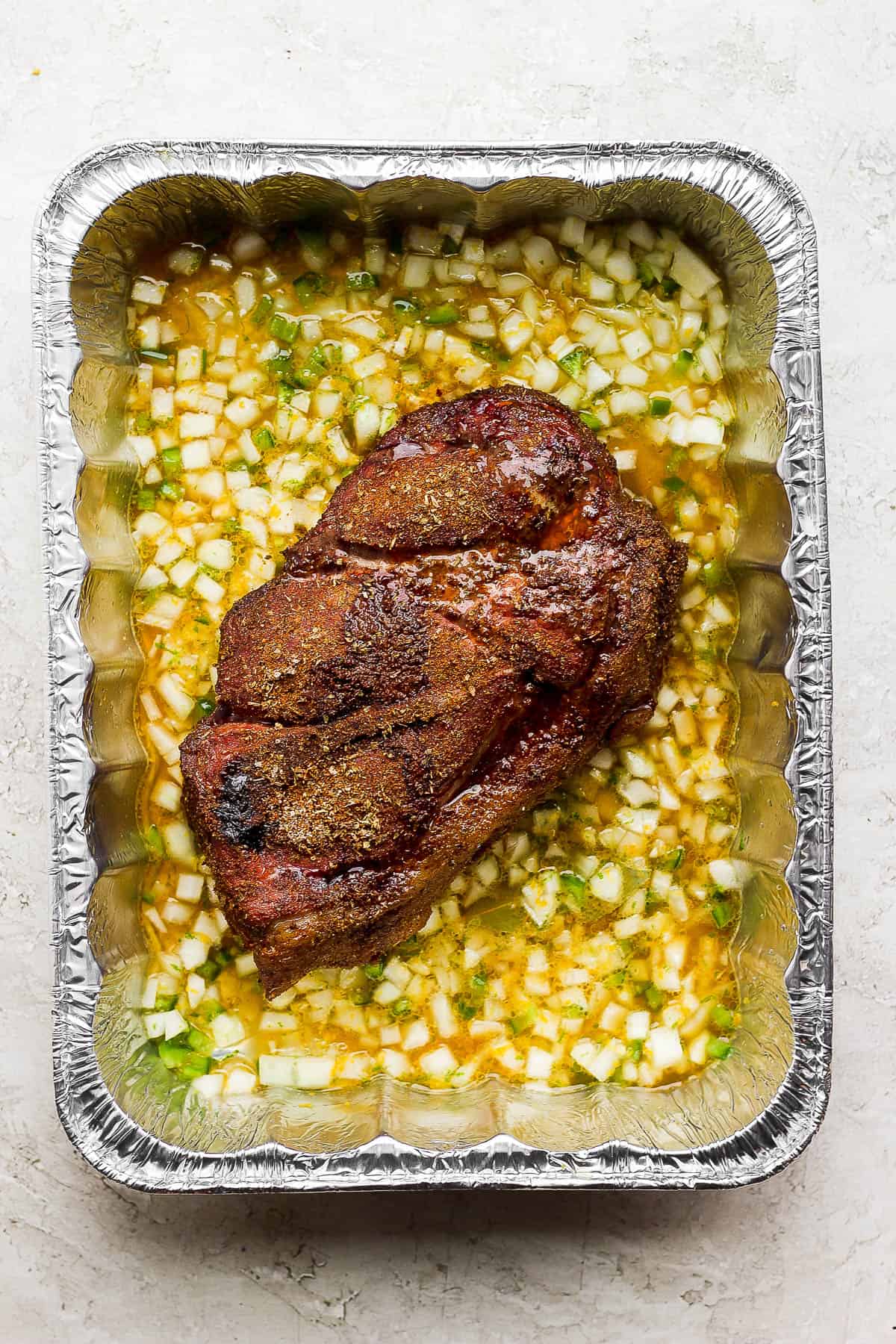 Return the entire pan to the smoker for about 3-4 hours or until the internal temperature (use a meat thermometer) reaches about 200 degrees F. Carefully remove it from the smoker and let it rest at room temperature for about 30 minutes.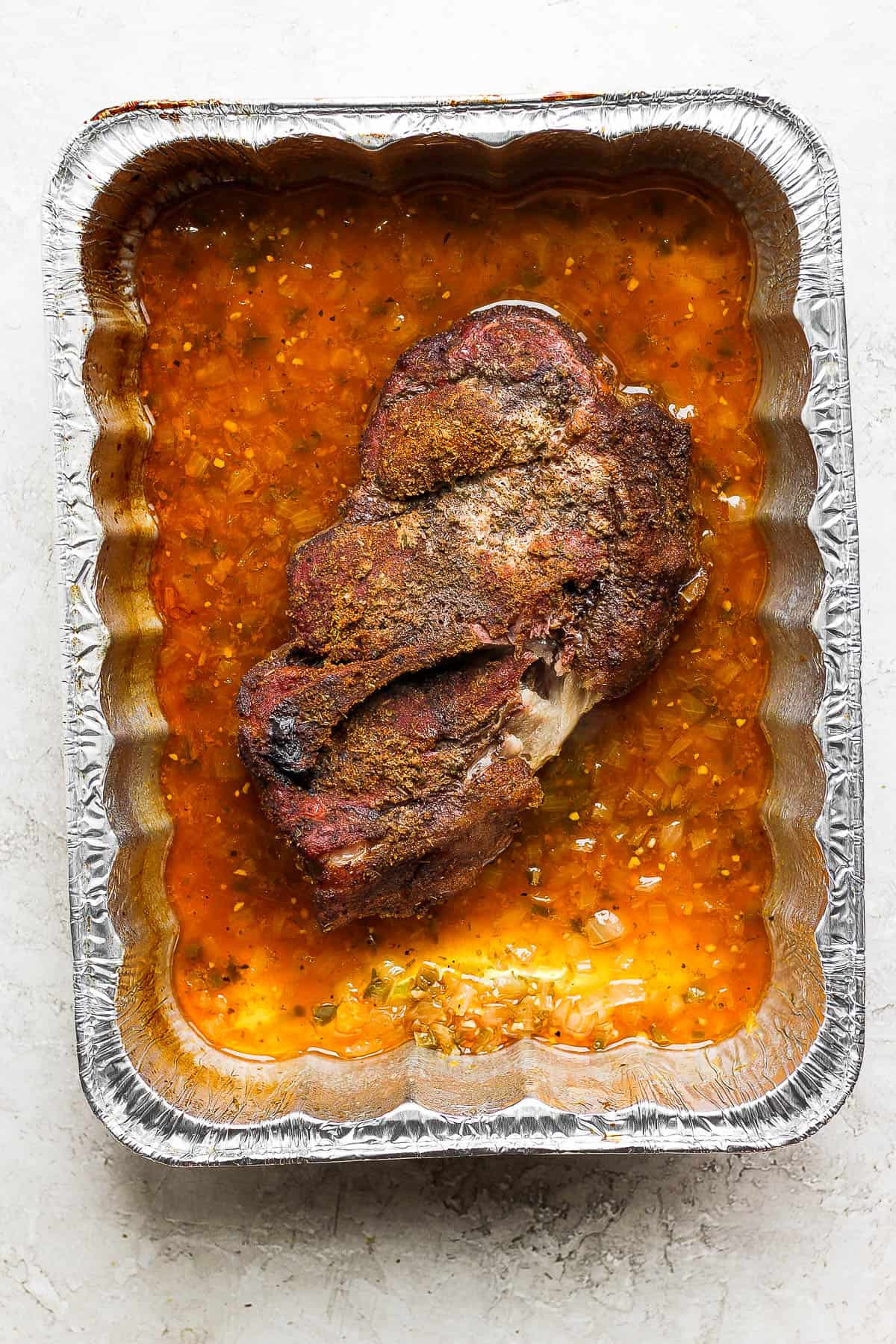 Reserve that amazing braising liquid and use two forks to shred the braised pork.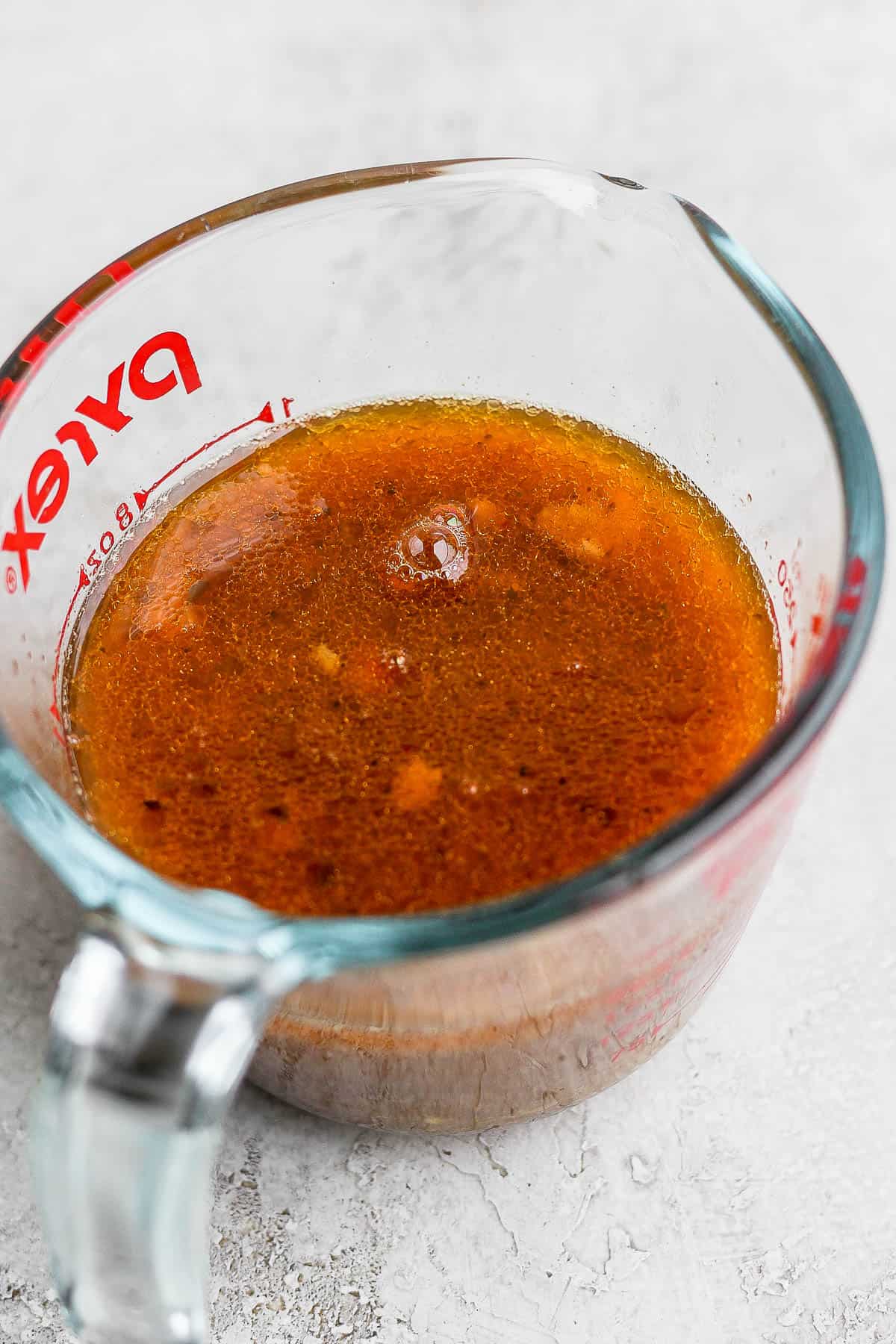 Next, place the shredded pork shoulder on a large baking sheet. Try to keep it in a single layer as much as possible. This will help maximize the crispy edges. Pour a little bit of that braising liquid over the top of the pork and then broil in the oven for 2-3 minutes.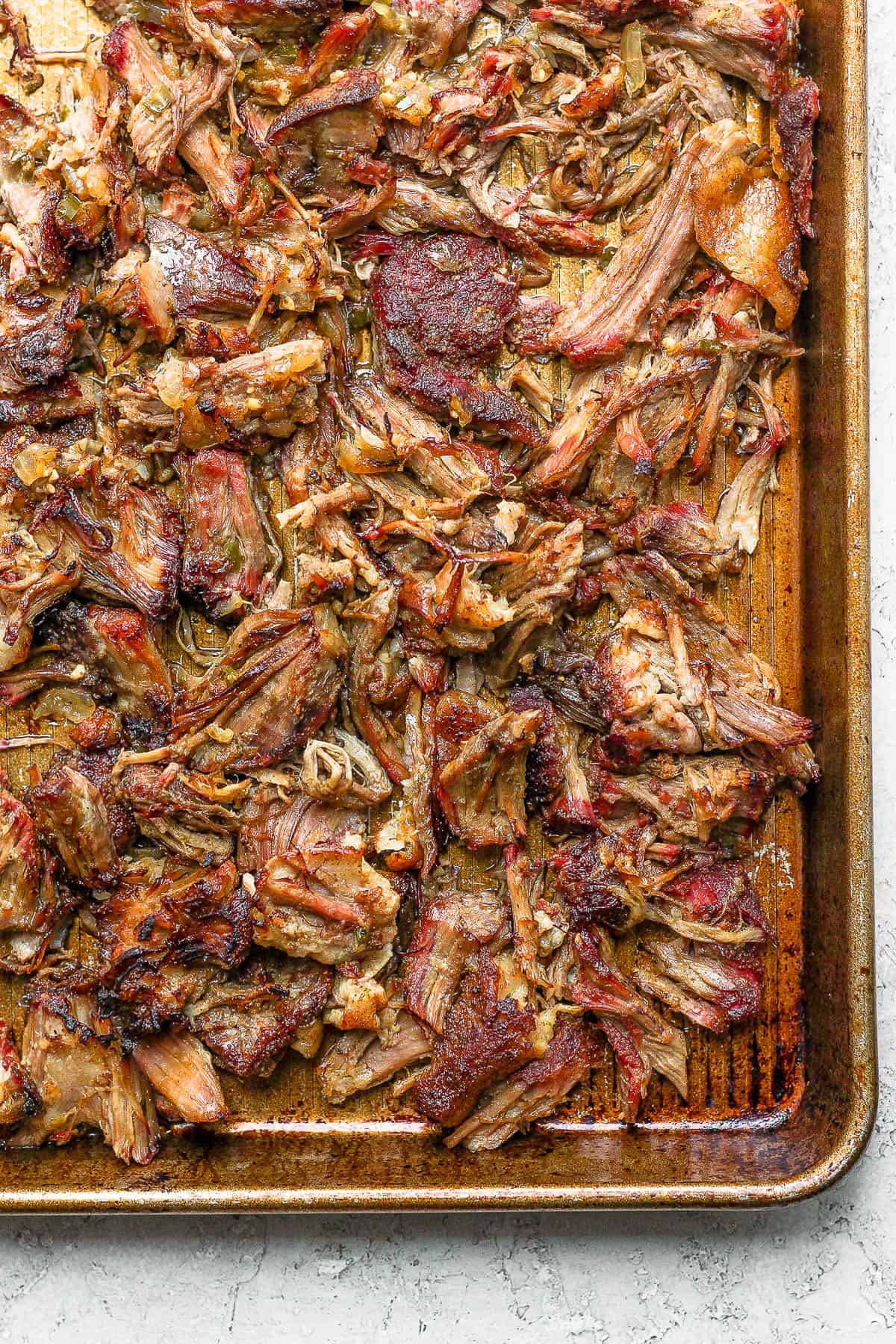 Then use the tender smoked carnitas to make some amazing smoked pork tacos!
Best Ways To Serve Smoked Carnitas
Our family loves to enjoy this perfectly smoked carnitas on a flour tortilla as carnitas tacos with all the toppings. Of course you can use any of your favorite tortillas – flour tortillas, corn tortillas, gluten-free tortillas, etc. As for toppings, we love a big dollop of homemade guacamole, fresh cilantro leaves, a squeeze of lime juice, cotija cheese, and quick pickled onions! A drizzle of salsa verde or serving of sesame ginger slaw would also be great on these.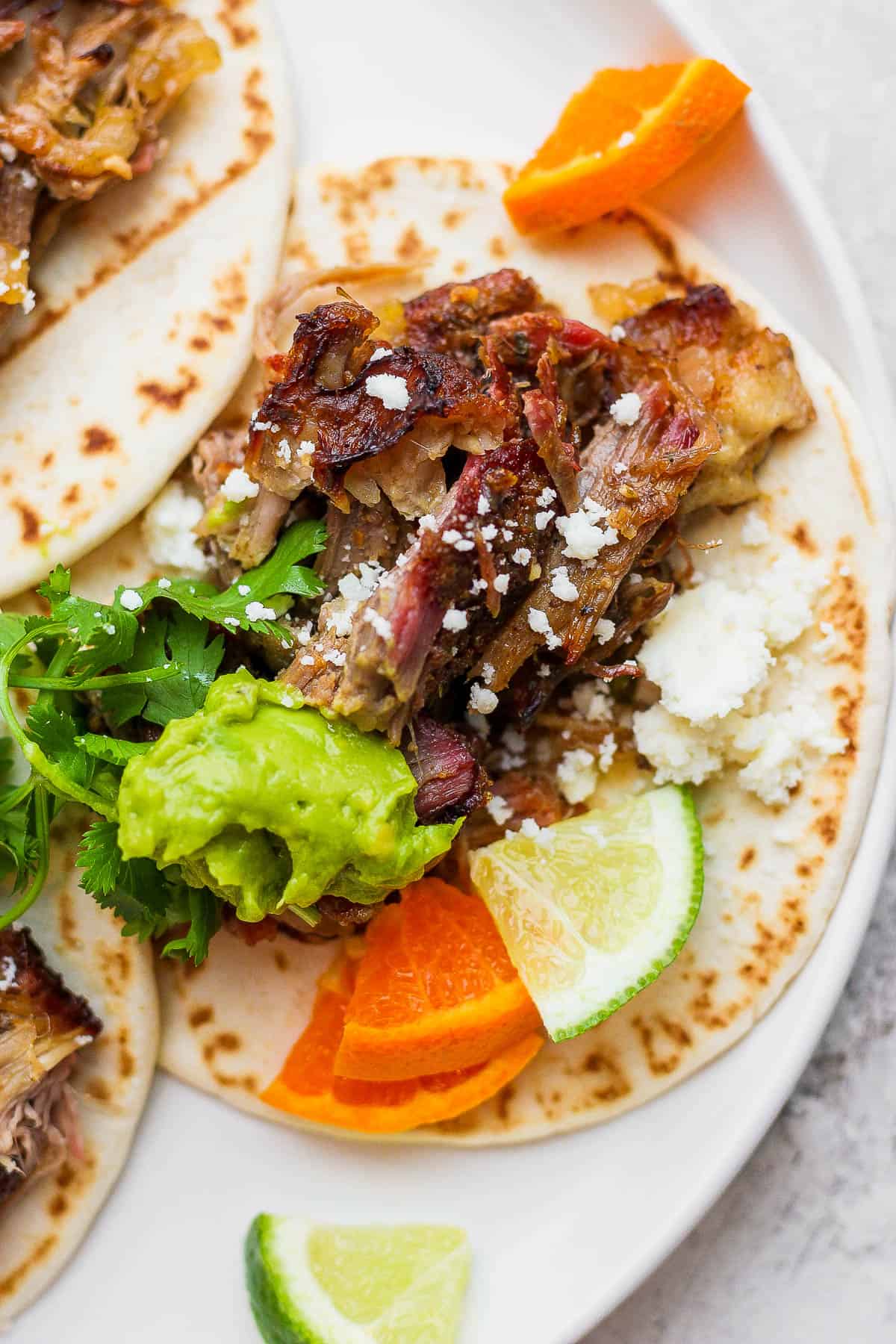 Recipe FAQ
Best meat to smoke for carnitas: we always use a pork shoulder, but a large pork butt would also work!
Storage: any leftover smoked carnitas can be kept in an airtight container in the fridge for up to 4 days.
Freeze: leftovers can also be stored in a freezer bag or airtight container in the freezer for up to 3 months!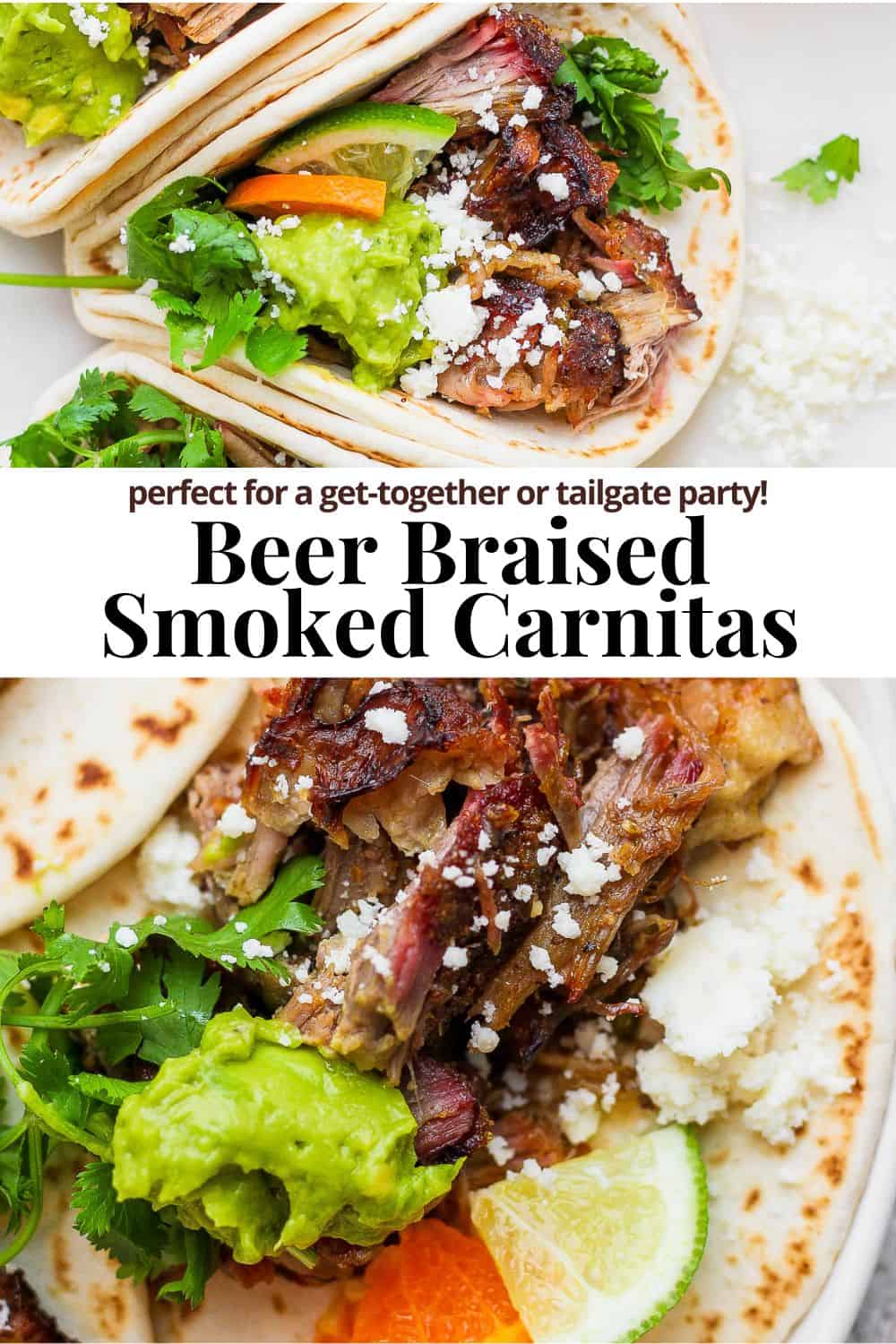 Made this recipe and loved it?! We would love it if you would take a minute and leave a star rating and review – it is also helpful if you made any substitutions or changes to the recipe to share that as well. THANK YOU!
Don't forget to follow me on Facebook, check out my Instagram account or see what I am pinning on Pinterest!
Other Smoked Recipes You Might Like
Print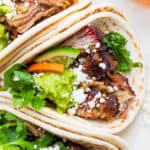 Smoked Carnitas
Author: Erin Jensen
Prep Time: 15 minutes
Cook Time: 8 hours
Total Time: 8 hours 15 minutes
Yield: 12 servings 1x
Category: Dinner/Entree
Method: Smoker
Cuisine: Mexican-Inspired
---
Description
Smoked Carnitas – delicious and easy smoked carnitas that are beer braised and packed with flavor! Perfect for a crowd!
---
Pork Shoulder + Seasoning:
3–4 pound pork shoulder
1 tablespoon worcestershire
2 tablespoons yellow mustard
1 tablespoon cumin
2 teaspoons chili powder
1/4 teaspoon cayenne
1 tablespoon garlic powder
1/2 tablespoon onion powder
1 teaspoon dried oregano leaves
1 teaspoon ground black pepper
1 1/2 tablespoon kosher salt
Braising Liquid:
4 cloves garlic, minced
3/4 cup orange juice
zest of 1 orange (+ the juice)
1/4 cup lime juice
zest of 1 lime (+ the juice)
12 oz Mexican beer
1 sweet yellow onion, diced
1/2 jalapeno, diced (remove seeds and membrane)
1 tablespoons extra virgin olive oil
1 bay leaf
1/2 teaspoon kosher salt
For serving:
fresh lime wedges
cotija cheese, crumbled
fresh cilantro, chopped
tortillas of choice
---
Instructions
Smoker: Ensure grill grates are clean and set smoker to 225 degrees F.
Prep Pork: Place pork shoulder on a large plate or platter. Pat dry with clean paper towel. Rub worcestershire all over, ensuring it gets into every nook and cranny. Repeat with the yellow mustard.
Season Pork: In a small bowl, combine cumin, chili powder, cayenne, garlic powder, onion powder, oregano leaves, pepper and salt. Mix well. Sprinkle seasoning all over pork shoulder ensuring it is fully coated.
First Smoke: Place pork shoulder directly on the grill grates and close the smoker. Let it cook 4-5 hours.
Prep Braising Liquid: Meanwhile, in a deep baking dish or aluminum pan, add garlic cloves, orange juice, orange zest, lime juice, lime zest, beer, onion, jalapeño, olive oil, bay leaf and salt. Stir to combine.
Braise Pork: After 4-5 hours, remove pork shoulder from the smoker and place in the pan with the braising liquid. Cover with aluminum foil and return to the smoker. Let braise 3-4 hours or until the internal temperature of the pork shoulder reaches 200-203 degrees F.
Crisp: Remove from smoker and let rest 30 minutes. Shred with two forks. Reserve the braising liquid and transfer the shredded pork to a baking sheet. Pour some of the braising liquid over top and then broil until meat starts to crisp a bit – just 2-3 minutes.
Serving: Serve with a tortilla of your choice along with some fresh cilantro, cotija cheese, guacamole, lime wedges, orange wedges, or whatever sounds good! Definitely keep the braising liquid and pour a little over top your tacos if you have any left or store your leftover pork in it!
---
Notes
Pork Shoulder: feel free to use a pork shoulder or pork butt.
Spice: if you are concerned about spice feel free to omit the cayenne – the jalapeno shouldn't add much spice if you remove the seeds and white membrane, but you can omit that to if you prefer.
Cook Time: how long your pork shoulder ultimately takes to come up to temp depends on a variety of factors such as width, humidity, hot spots, etc. Use an internal meat thermometer or probe to track your temp for best results.
Beer: I used a Modelo, but feel free to use the beer of your choice, although a light beer generally works best here, so I wouldn't go too heavy.
Nutrition Info: this was calculated for the carnitas & braising liquid. It will vary depending on how much braising liquid is eaten and did not include the serving ingredients because those can vary.
Nutrition
Serving Size: 6oz
Calories: 225
Sugar: 2.4 g
Sodium: 635 mg
Fat: 6.3 g
Carbohydrates: 7 g
Protein: 32.1 g
Cholesterol: 92.9 mg
Keywords: smoked carnitas