Smoked Pork Loin (how to smoke pork loin) is an easy, simple recipe that comes out tender, flavorful and juicy! We are sharing all of our tips and tricks with you! Serve with some Smoked Corn on the Cob and Smoked Green Beans for a delicious dinner!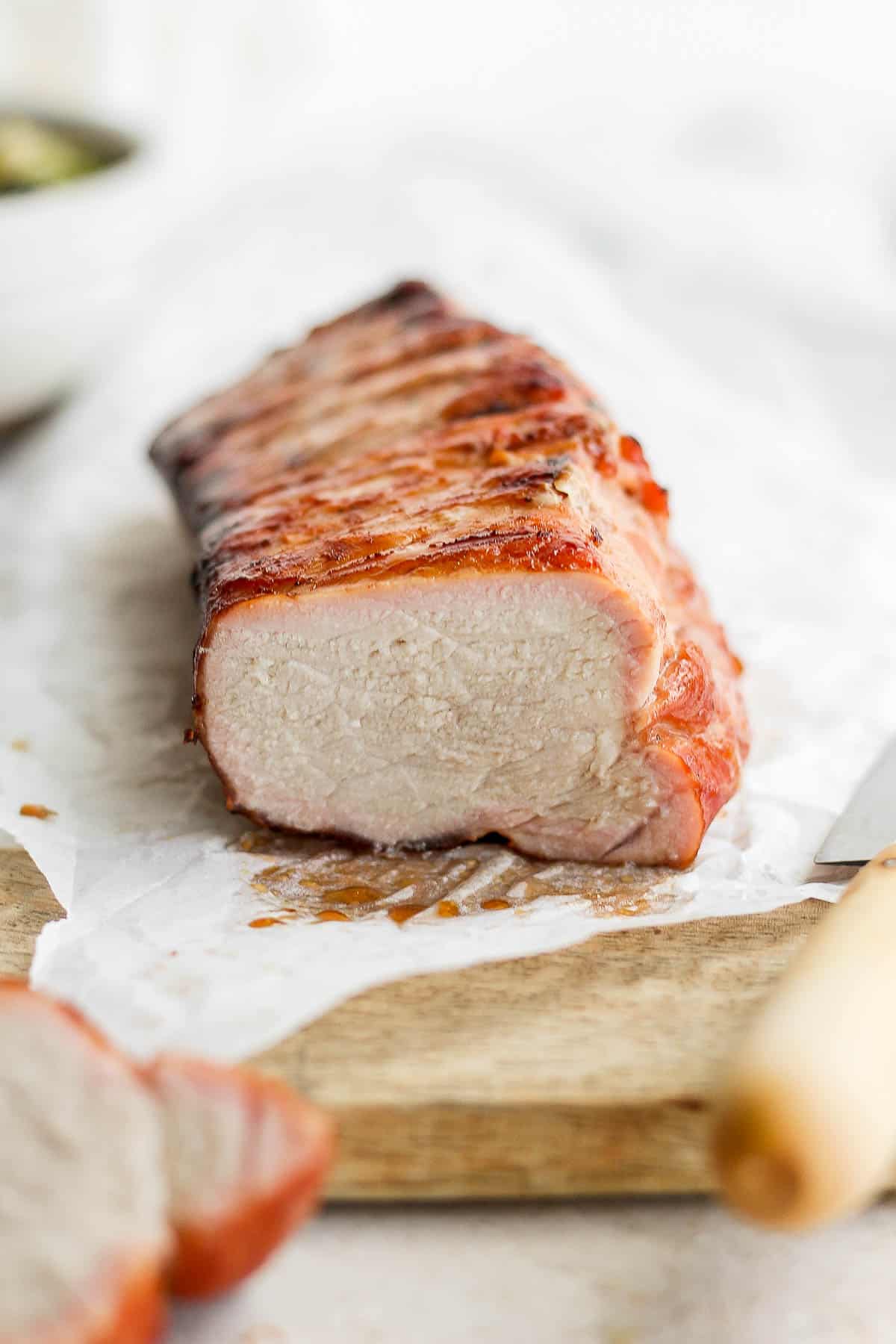 BEST Smoked Pork Loin (Traeger Pork Loin Recipe)
We LOVE our smoked pork tenderloin recipe so you know we had to get this pork LOIN recipe up on the site as well!! Summer is all about the smoking recipes and grilling recipes over here (these smoked pork chops are amazing too) at The Wooden Skillet and this Traeger pork loin recipe is on constant rotation. Easy to prepare and we have a fun dry rub recipe option for you to try out (or use a store-bought rub) and tons of fun side dishes to go with it (See: Smoked Broccoli and Smoked Mashed Potatoes). Excited for you to try this one!
Traeger Pork Loin: We tested this recipe using our favorite Traeger grill/pellet smoker and it turned out amazing every time! Of course, it translates well to other smokers as well!
Why This Recipe Works
What You Will Need
Do You Smoke Pork Loin Fat Side Up
If your pork loin has a side with fat on it I would definitely recommend smoke fat side up. As the pork loin cooked the fat will render and help keep the pork loin juicy.
How Long to Smoke a Pork Loin
It take approximately 2-3 hours to smoke a 1.5 – 2 pound pork loin at 225 degrees F. Of course, the ultimate amount of time will differ based upon a variety of variables such as humidity, wind, hot spots on your smoker, etc. The best way to keep track is to use a digital meat thermometer or probe.
How Do You Keep a Smoked Pork Loin From Drying Out
Low and Slow: We are letting the meat cook at a nice low temp to not only get it nice and smokey, but to ensure it doesn't get too dry.
Fat side up: If your pork loin comes with fat on it, cook that side up so the fat can render during cooking and baste the meat naturally.
Don't Overcook: This is SO important, especially with a pork loin which isn't naturally very fatty. In fact, a lot of pork loins come without any fat to speak of. When fat is cooked, it renders and essentially bastes the meat automatically. For pork loin, it doesn't get basted naturally because of this lack of fat. So, watching the internal temp closely and taking it off the heat when it is a few degrees below 145 (Which is the temp at which is it fully cooked) is important so that it can continue cooking as it rests. While it rests the internal temp will continue to rise as much as 5 degrees. So I usually take if off around 142 or so. Then, after it rests, it reaches fully cooked.
Let rest: this part is so important. The internal temp continues to rise during this time AND the juices redistribute after cooking.
How do I Know When Pork Loin is Done
Pork Loin is done when it reaches an internal temperature of 145 degrees F. Use an internal meat thermometer or probe to keep track of the temp!
What is the Difference Between Pork Loin and Pork Tenderloin
The pork loin is the piece of meat that runs along both sides the backbone and is bigger and looks more like a roast. Pork tenderloin is the muscle that runs underneath the backbone of a pig. Here is a great article about the difference between the two and here is a nice visual of the different cuts of pork!
Pork Loin Side Dishes
How to Smoke Pork Loin
Pat your pork loin dry with a clean paper towel.
Season with salt and pepper OR you can use the dry rub (found in the recipe card).
Alternatively, you can use this Pork Loin Marinade if you want!
Place the pork loin on the smoker and let cook until it reaches an internal temperature of 145 degrees F.
Remove from the smoker and let rest before cutting into slices with a sharp knife.
Should You Let Pork Loin Rest
Yes! Don't forget to let your pork loin rest after cooking so the juices can redistribute evenly – this will help your pork loin stay juicy.
Can Pork Be a Little Pink
Yes, as long as it reaches an internal temp of 145 degrees F. (And thus fully cooked), pork is okay to eat even if it is still a little pink.
Recipe FAQ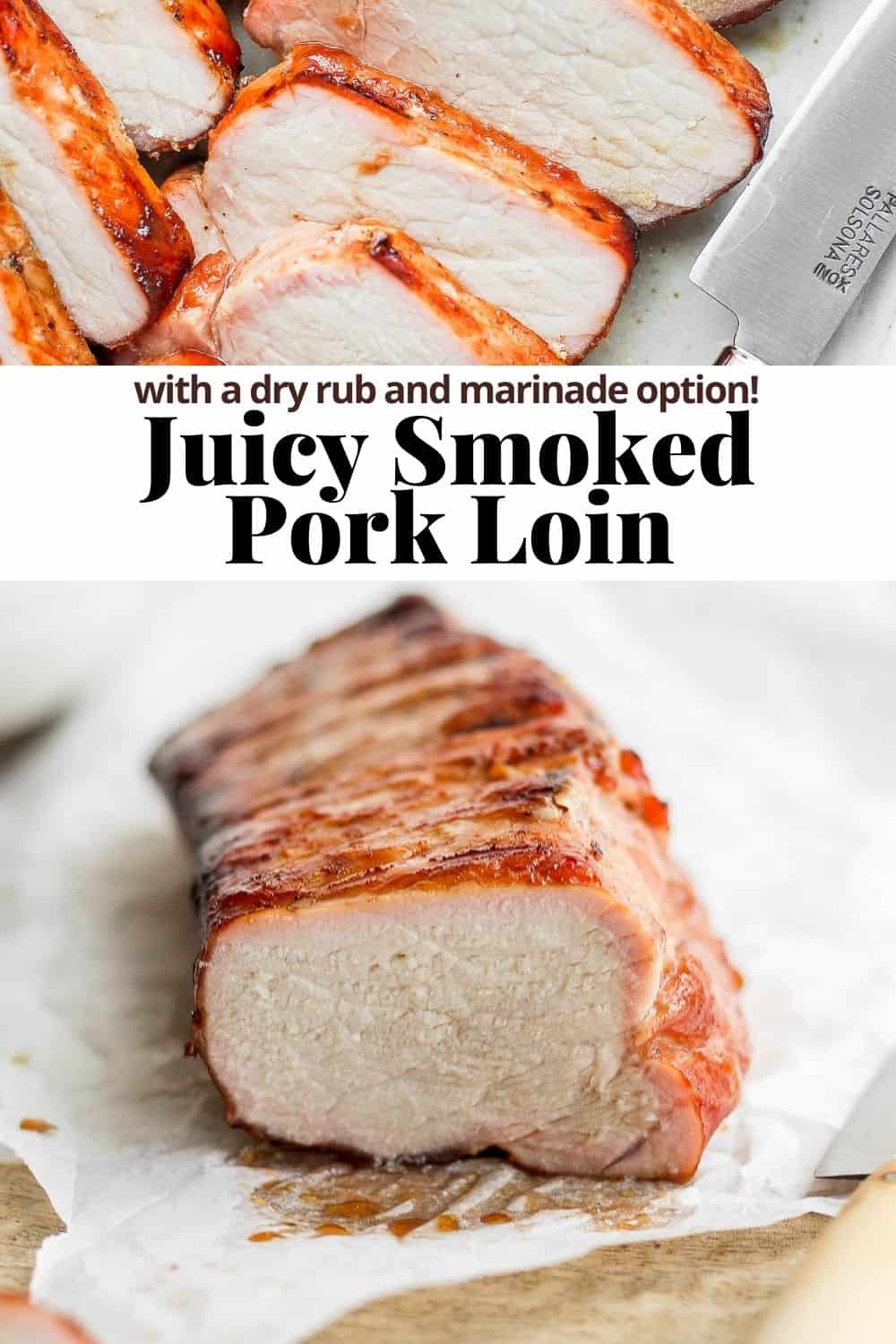 Made this recipe and loved it?! We would love it if you would take a minute and leave a star rating and review – it is also helpful if you made any substitutions or changes to the recipe to share that as well. THANK YOU!
Don't forget to check out my Instagram account for some behind-the-scenes action! Or give me a follow on Facebook or see what I am pinning on Pinterest!
Print
Smoked Pork Loin (How to Smoke Pork Loin)
Author: Erin Jensen
Prep Time: 30 minutes
Cook Time: 2 hours
Total Time: 2 hours 30 minutes
Yield: 1 pork loin 1x
Category: Dinner/Entree
Method: Smoker
Cuisine: American
---
Description
Smoked Pork Loin (How to Smoke Pork Loin) – a JUICY smoked pork loin that includes a dry rub and marinade option!
---
Pork Loin:
1.5 – 2 lb pork loin filet
Dry Rub:
1 tablespoon kosher salt
2 tablespoons paprika
2 tablespoons lemon pepper
1 tablespoon garlic powder
1 tablespoon onion powder
1 teaspoon ground black pepper
---
Instructions
Dry Rub:
Pat pork loin dry with a clean paper towel.
Combine dry rub ingredients and rub all over the pork loin ensuring you get into every nook and cranny. If you have extra dry rub simply reserve for a later use.
Let pork loin sit for at least 30 minutes or as long as overnight (wrap in plastic wrap and place in refrigerator).
Smoked Pork Loin:
Preheat smoker to 225 degrees F.
Place pork loin on the smoker (directly on the grill grates) and close the smoker.
Smoke for 1.5 – 3 hours (depending upon thickness) or until it reaches an internal temperature of 145 degrees F. Rotate the pork loin 3-4 times throughout the smoking process (use a digital meat thermometer or probe to carefully track the internal temp).
Remove from smoker and let rest 5-10 minutes.
Slice against the grain, serve and enjoy!
We love serving it with this Smoked Asparagus and Smoked Potatoes!
---
Notes
Marinade: if you want to use a fun marinade, I would recommend this one! Simply marinate for at least a half hour before smoking per recipe directions.
Smoking Time: there are so many variables that go into how long it will ultimately take to smoke any type of meat, not just pork loin. Cooking time can be dependent upon humidity, wind, temperature and whether you have any hot spots in your smoker. The best way to know when your meat is done is to use an internal meat thermometer or probe.
Searing Option: if you want a more charred outside on your pork loin feel free to take it off around 140 degrees F. and then sear on all sides quickly on a gas grill. Then let rest.
Temp Stalling: sometimes when you are smoking meat your internal temperature is gradually increasing nicely… then it stalls out for what seems like forever towards the end – if you are in a crunch-time mode and need to get dinner on the table then feel free to turn up the heat, especially if you need to get past that stall point, just be sure to not over-cook your meat and go past 145 degrees F. (internal temp).
Don't Overcook: pork loin is a very lean meat so you definitely do not want to overcook it. I actually like taking it off the smoker just a few degrees under 145 degrees F. and then let it come up the last few degrees while it rests. No one likes overcooked, dry pork!
Resting: don't skip this step – so important!
Wood Chips/Pellets: I would use a hickory here or mesquite or apple wood.
Keywords: smoked pork loin, how to smoke pork loin, pork loin smoker