Our fresh Homemade Guacamole is so easy and made with real, simple ingredients! A bowl of guacamole is the perfect appetizer or side dish recipe to enjoy all summer. Our whole family has loved this one for years and your family will too!
Fresh Homemade Guacamole Recipe
This simple guacamole recipe is honestly one of my favorite foods to make in the entire world. I love avocados (duh) and the just love building the flavors and tasting them as they come together, trying to find that perfect combination of chunky avocado, light and crisp tomatoes, a bite of garlic and onion, and then lots of lime juice and salt …. and lots of cilantro. Everyone has a personal preference for the perfect guacamole, but thats what I love about it. Taste as you go and adjust accordingly to make the best guacamole recipe!
To give your traditional guacamole a little different flavor, feel free to toss the avocados on the grill before using them!
What You Will Need
ripe avocados – we always have some perfectly ripe avocados on the counter or in the fridge, especially in the summer!
kosher salt – a little bit of this simple seasoning that is always a must.
garlic – classic ingredient when making your own fresh guacamole, add as much as you like.
purple onion – we love this mild red onion flavor, but you can also use a yellow onion or white onion.
fresh lime juice – you can either squeeze fresh limes or pick-up lime juice concentrate at the grocery store.
cilantro – a fresh herb that brings so much flavor – very refreshing!
jalapeño pepper – seeded and chopped for a spicier guac, but totally optional.
tomatoes – another optional ingredient, but we love the added color and fresh flavor.
How To Make Homemade Guacamole
The first steps to making this easy guacamole recipe is to scoop the avocado flesh in to a large bowl and use a fork or potato masher to mash them up.
Now add the rest of the fresh ingredients to the bowl and mix to fully combine.
How To Pick Ripe Avocados
I pick mine out strictly by feel – you should be able to just barely squeeze them (gently). If you can't squeeze them at all – put them back. If they feel mushy and are soft even to the slightest touch – put them back. If you very gently squeeze them and they have a little give, but still feel firm, they are perfectly ripe!
How To Ripen An Avocado
Simply place them in a brown paper bag along with an apple or banana to speed up the ripening process! Once the unripe avocados are ripe, you can store them in the fridge until you are ready to use them. This will prolong the perfect level of ripeness.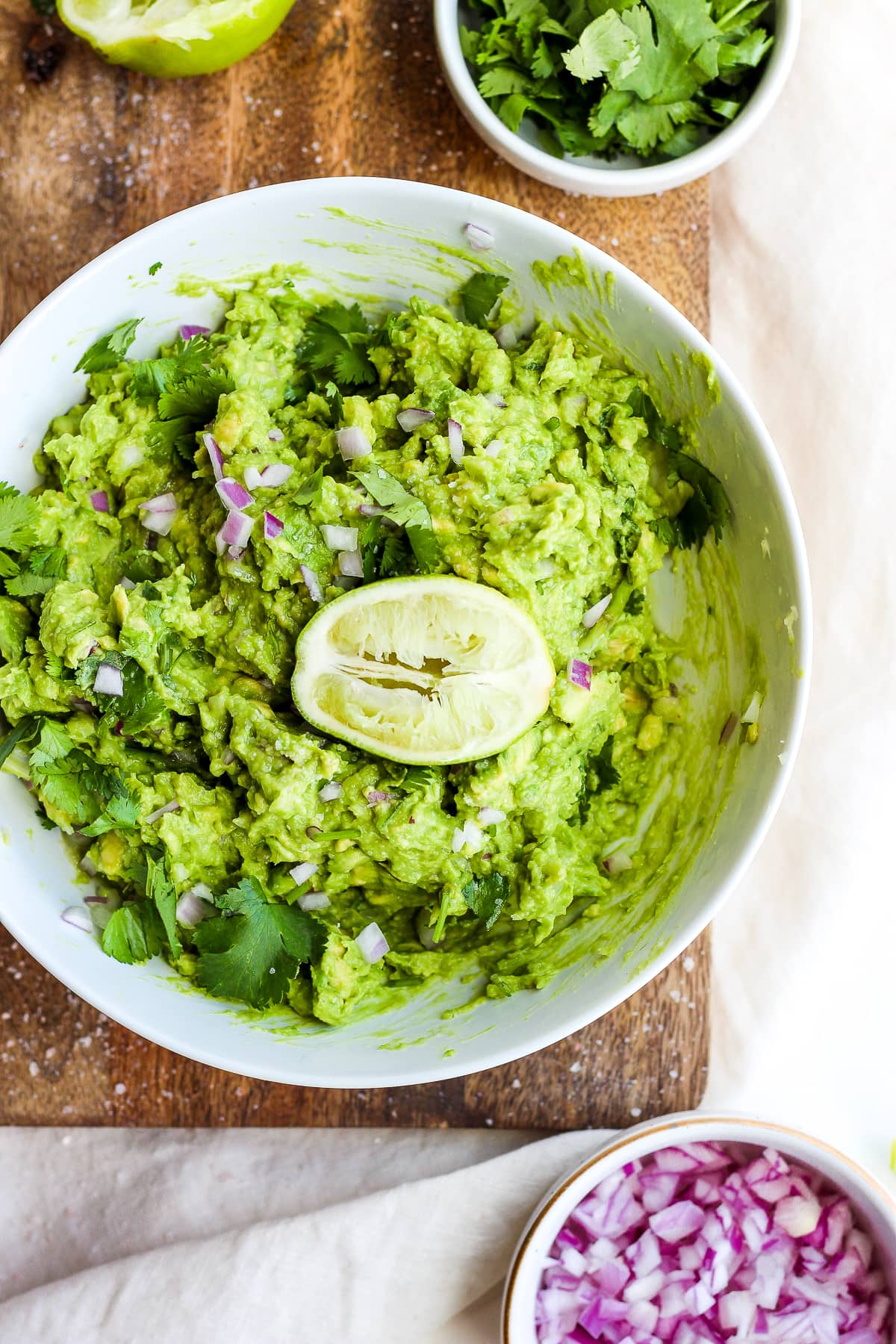 Best Ways To Serve Homemade Guacamole
This easy homemade guacamole would be great with just about anything! Keep it a simple appetizer recipe and serve this favorite dip with tortilla chips. It also makes a great topping for so many different recipes:
Made this recipe and loved it?! We would love it if you would take a minute and leave a star rating and review – it is also helpful if you made any substitutions or changes to the recipe to share that as well. THANK YOU!
Don't forget to check out my Instagram account for some behind-the-scenes action! Or give me a follow on Facebook or see what I am pinning on Pinterest!
Other Easy Recipes You Might Like
Print
Homemade Guacamole
Author: Erin Jensen
Prep Time: 10 minutes
Cook Time: 0 minutes
Total Time: 10 minutes
Yield: Approx. 4 cups
Category: Appetizer
Method: Counter Top
Cuisine: American
---
Description
Homemade Guacamole – It isn't summer without making an amazing homemade guacamole! So fresh and delicious!
---
4 large avocados, cubed
2 teaspoon kosher salt (more to taste)
2 tablespoons garlic, minced
1/2 cup purple onion, diced (yellow onion works too)
juice of 2–3 limes
3/4 – 1 cup fresh cilantro, roughly chopped and loosely packed
1/2 jalapeño, seeds removed & finely minced
2 Roma tomatoes, diced (optional)
---
Instructions
Cube all 4 avocados into a medium bowl; Mash really well with fork.
Add onion, garlic, lime juice, salt and cilantro; mix to taste.
Add tomatoes if desired and any additional salt or lime juice to taste.
Serve with your favorite tortilla chips or any way you want!
---
Notes
Taste: You definitely need to taste as you go with this as everyone is different! Feel free to add more of any ingredient as you deem appropriate!
Storage: you can keep leftover guacamole in an airtight container in the fridge for about 24 hours, but the browning process happens quickly for avocados so we recommend eating it right away!
Keywords: fresh guacamole, homemade guacamole