Smoked Pork Butt (Smoked Pulled Pork Recipe) is a delicious and easy smoked pulled pork recipe that is perfect for pulled pork sandwiches and pulled pork sliders. The taste is amazing (and so is that amazing bark) – you will never need another pulled pork recipe!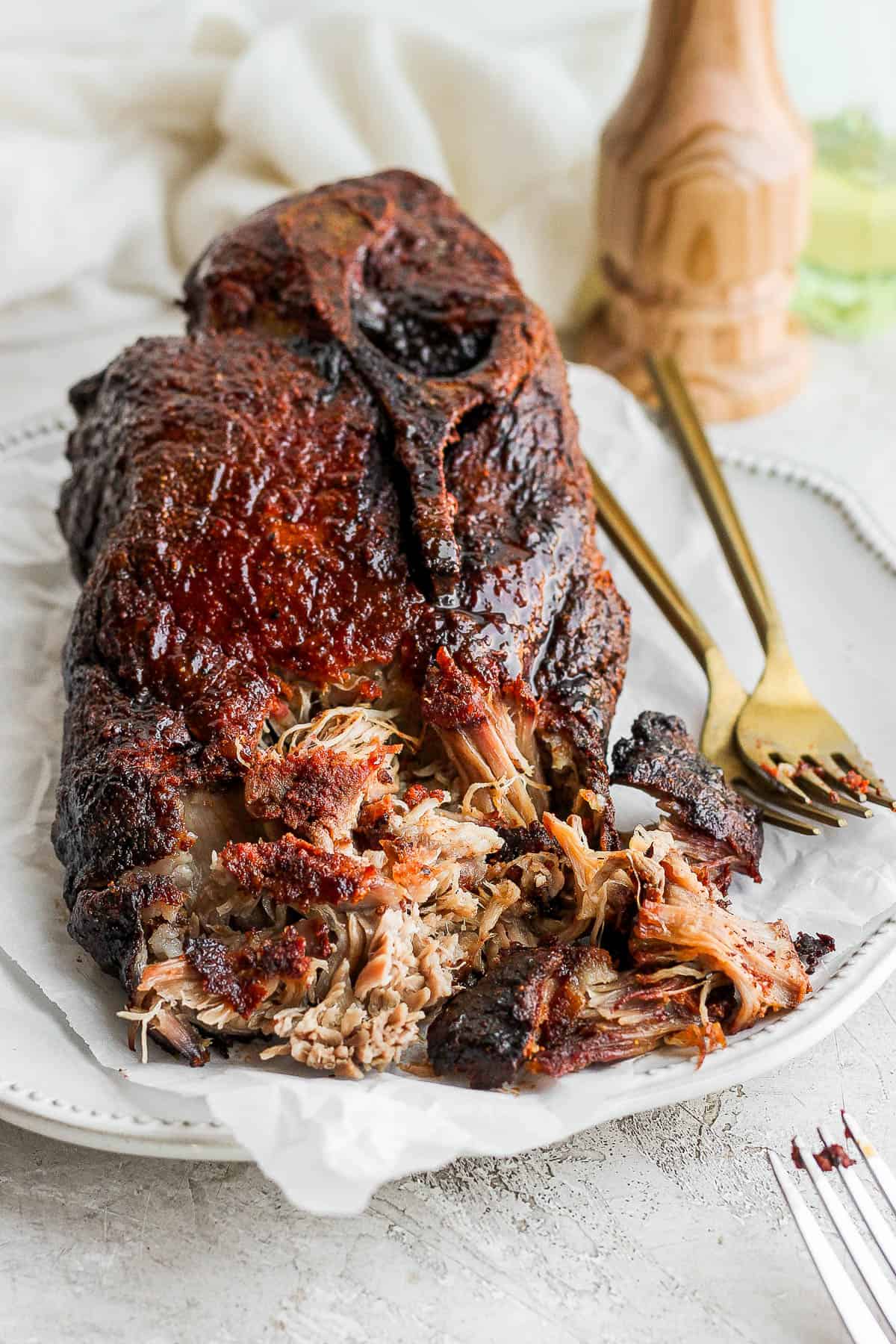 Best Smoked Pork Butt Recipe
If you are looking for a tried and true smoked pork butt recipe (with an amazingly delicious bark) then this is your recipe. Tested on a Traeger Grill, but any smoker will do. I developed this one based off of my ever-popular Smoked Pork Shoulder recipe, this pork recipe falls apart and is perfect in a Pulled Pork Sandwich or Pulled Pork Sliders (with homemade bbq sauce and purple cabbage coleslaw). We love serving this with Smoked Corn on the Cob, Smoked Baked Beans and Smoked Green Beans.
If you are fan of pork recipes you have to try out this Oven Roasted Pork and our Ultimate Pork Roast Recipe (with homemade pork gravy). We also have a delicious Sous Vide Pork Shoulder!
Why This Recipe Works
Smoked Pork Butt Ingredients
Pork Butt vs. Pork Shoulder
Pork Butt (also known as Boston Butt) is a cut of meat from the upper portion of a pig's front shoulders. It is a relatively inexpensive cut of meat that has a lot of connective tissues which are only broken down over a long period of time which is why this cut of meat is great for a low and slow cooking process (like smoking).
Pork Shoulder (also known as a picnic roast) is the primal cut of meat from the pig's shoulder above the legs (the top portion of the front legs of the hog).
While both cuts from similar primal cuts of the front of the pig, there are differences between the two that are helpful when cooking and smoking: 1) fat content – pork butt generally has more fat than pork shoulder 2) shape of cut – pork shoulder is generally in a triangular shape while pork butt is generally in rectangular shape 3) cooking methods – pork butt is actually preferred for pulled pork because of the higher fat content while pork shoulder is also great for pulled pork, it is actually best suited for a oven roast. To learn more about the differences in these two cuts of meat check out this comparison article!
Smoked Pork Butt Side Dishes
How to Smoke Pork Butt
Pat the pork butt dry with a clean paper towel.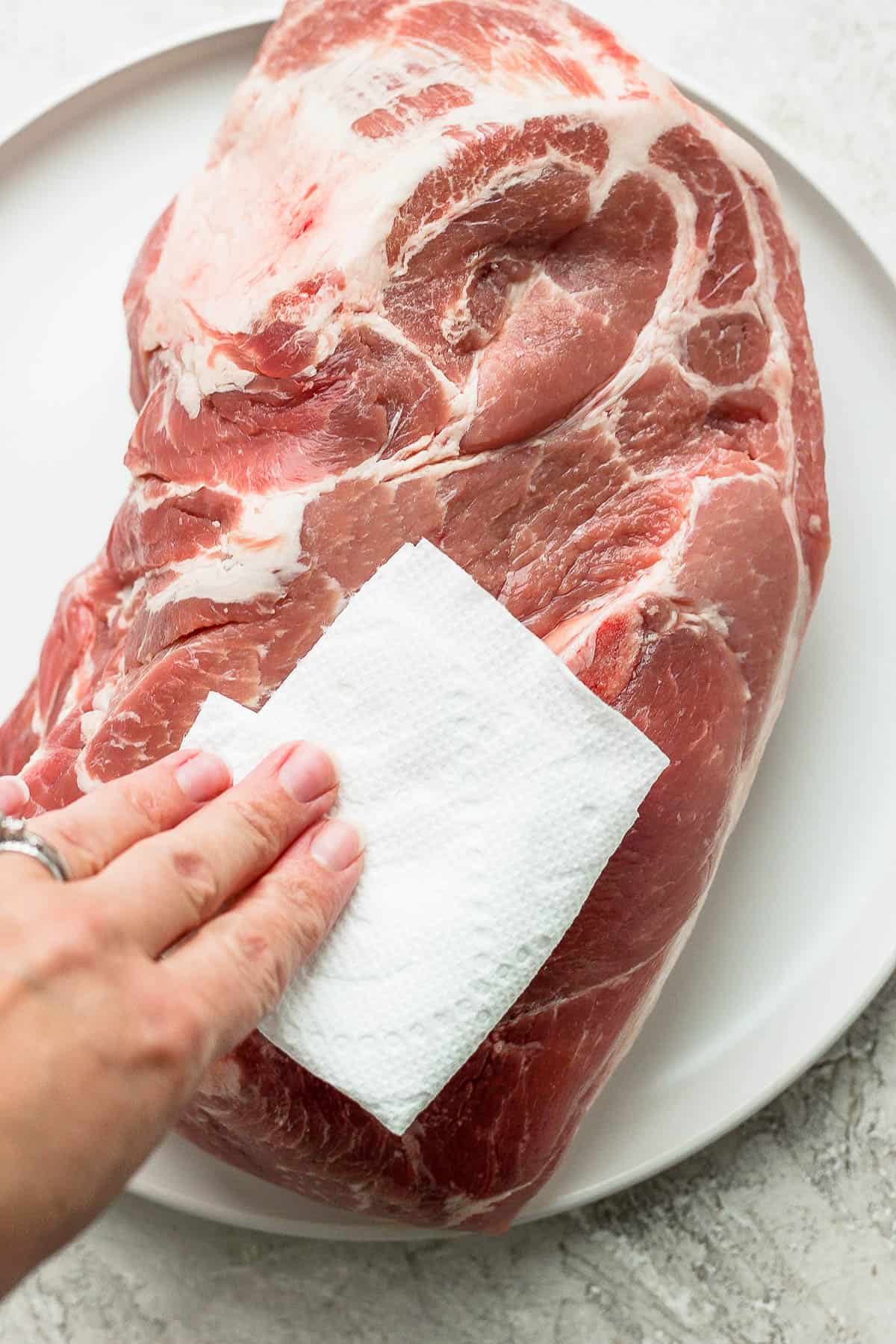 Rub all over with liquid smoke and worcestershire sauce.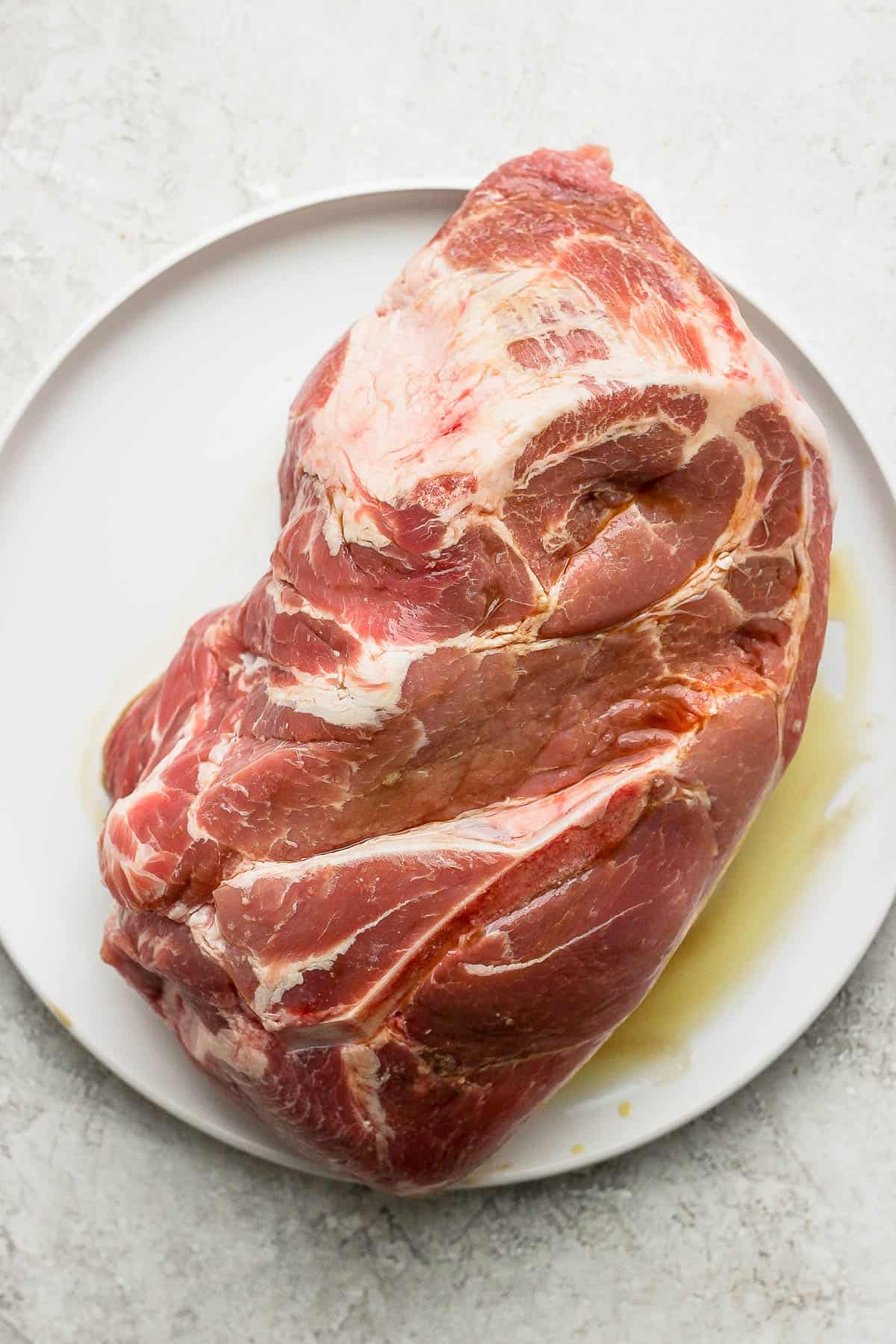 Then add the yellow mustard.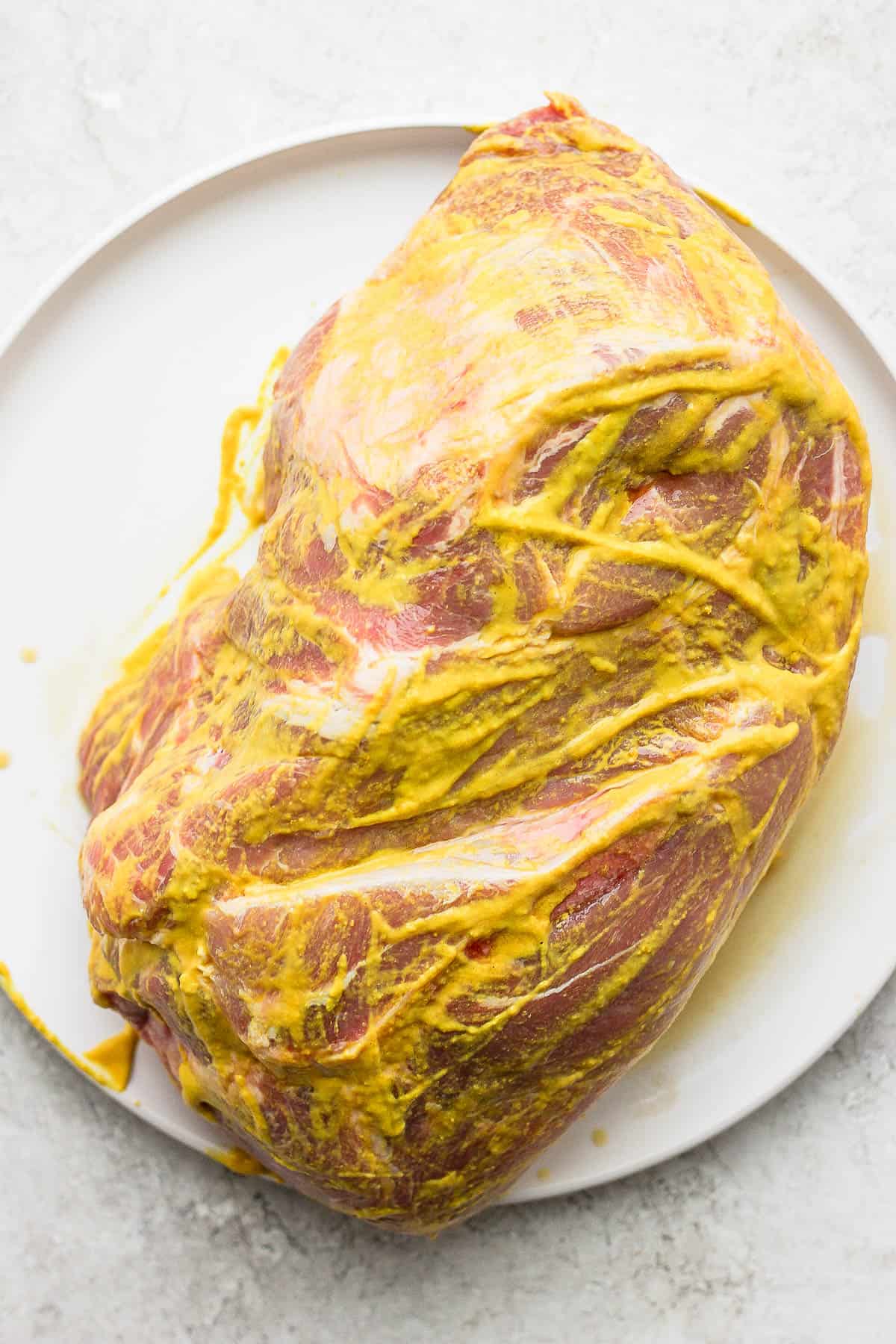 Ensure that dry rub gets into every nook and cranny.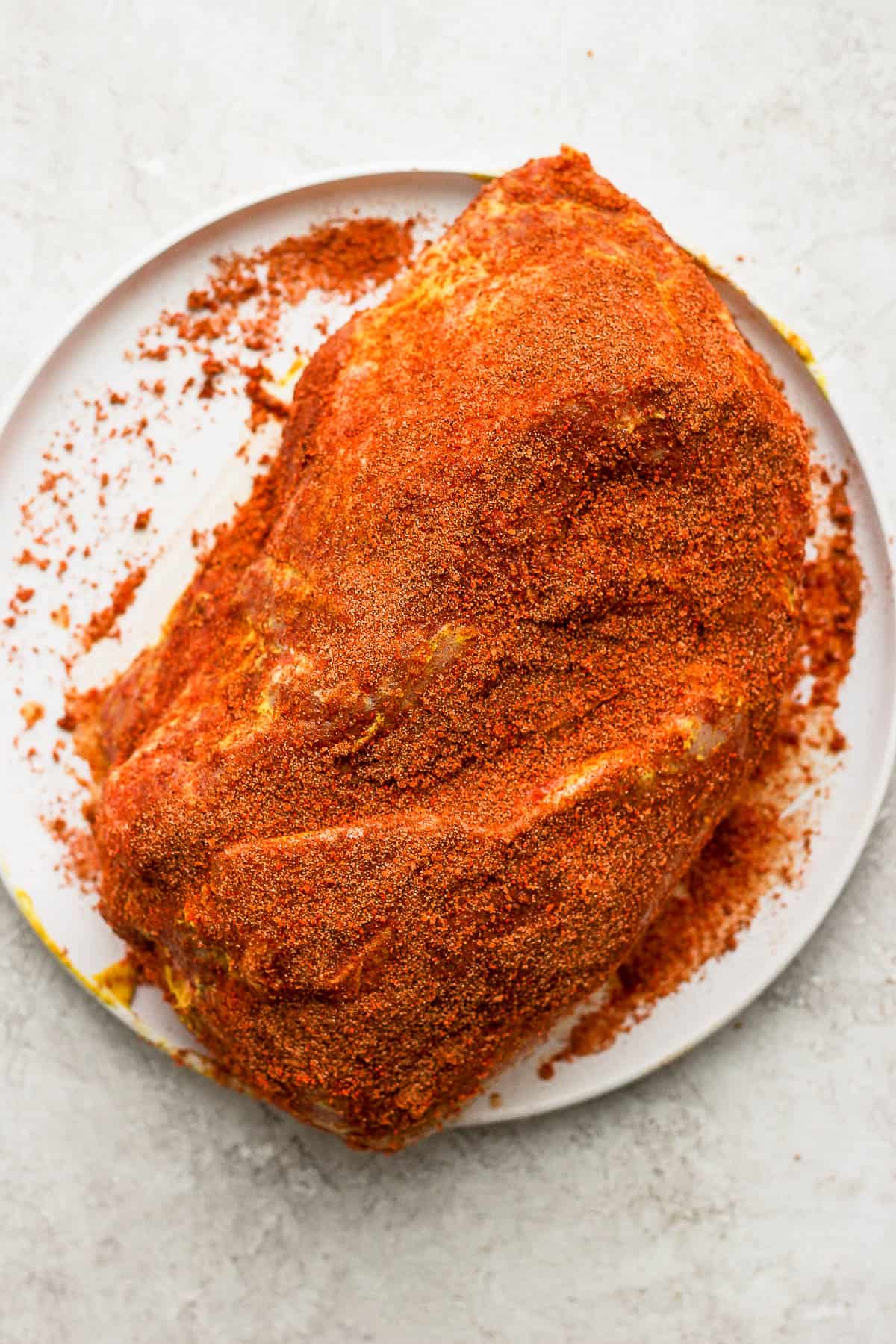 Finally wrap in plastic wrap and let sit overnight in the refrigerator.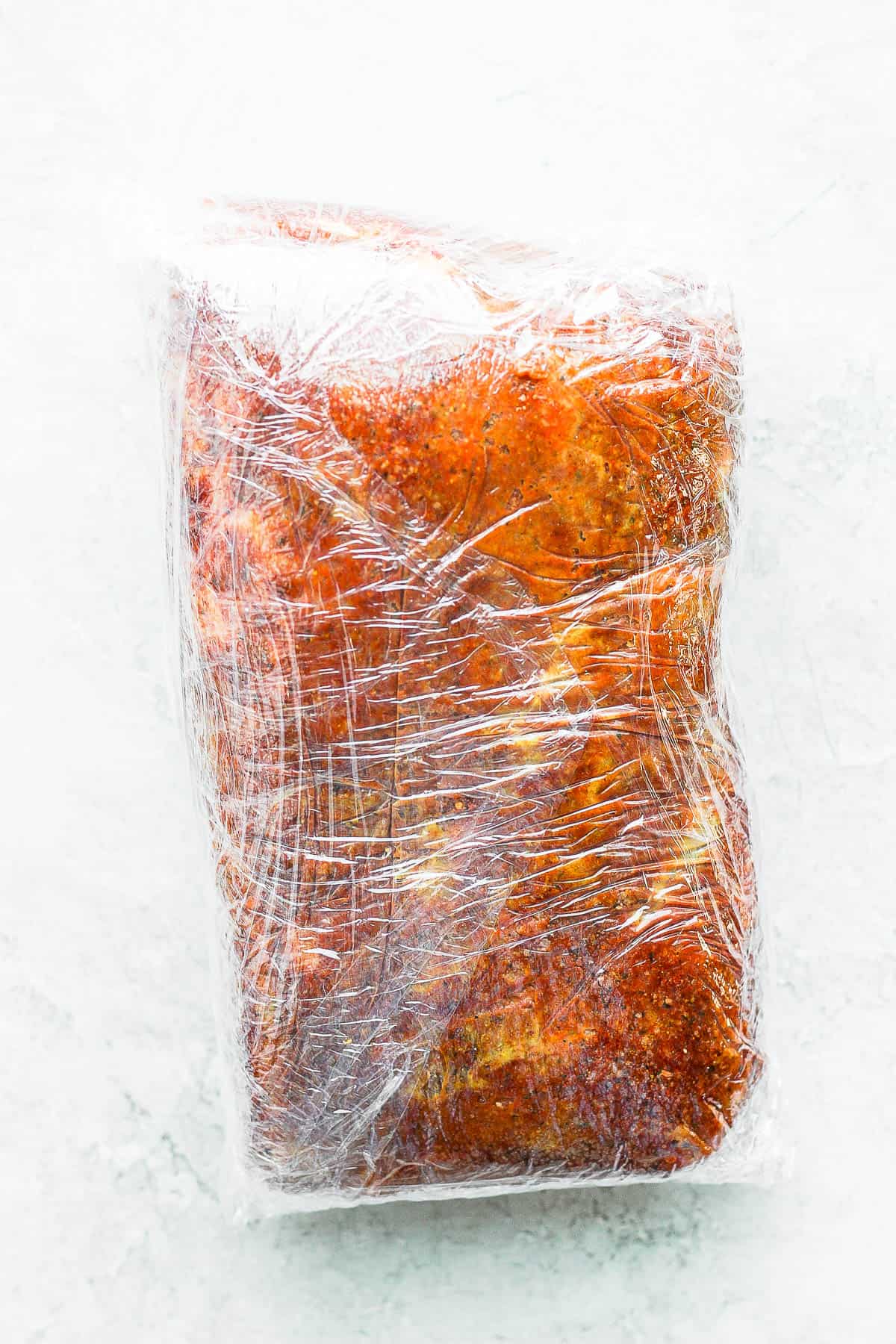 Smoke per the recipe card below and keep a close eye on the internal temperature – spritz every 30-45 minutes.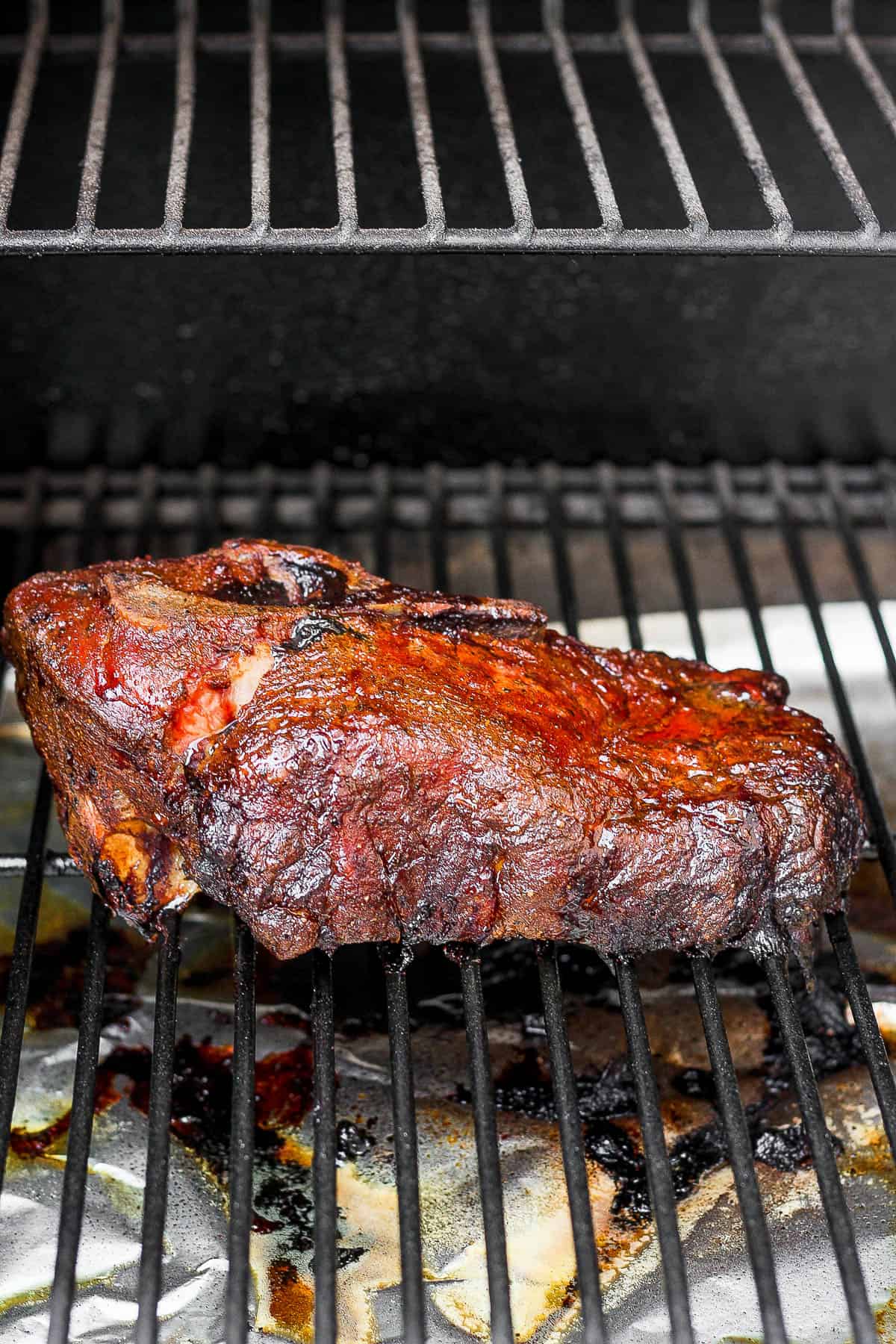 Wrap in foil and cover with kitchen towels to let rest for about an hour.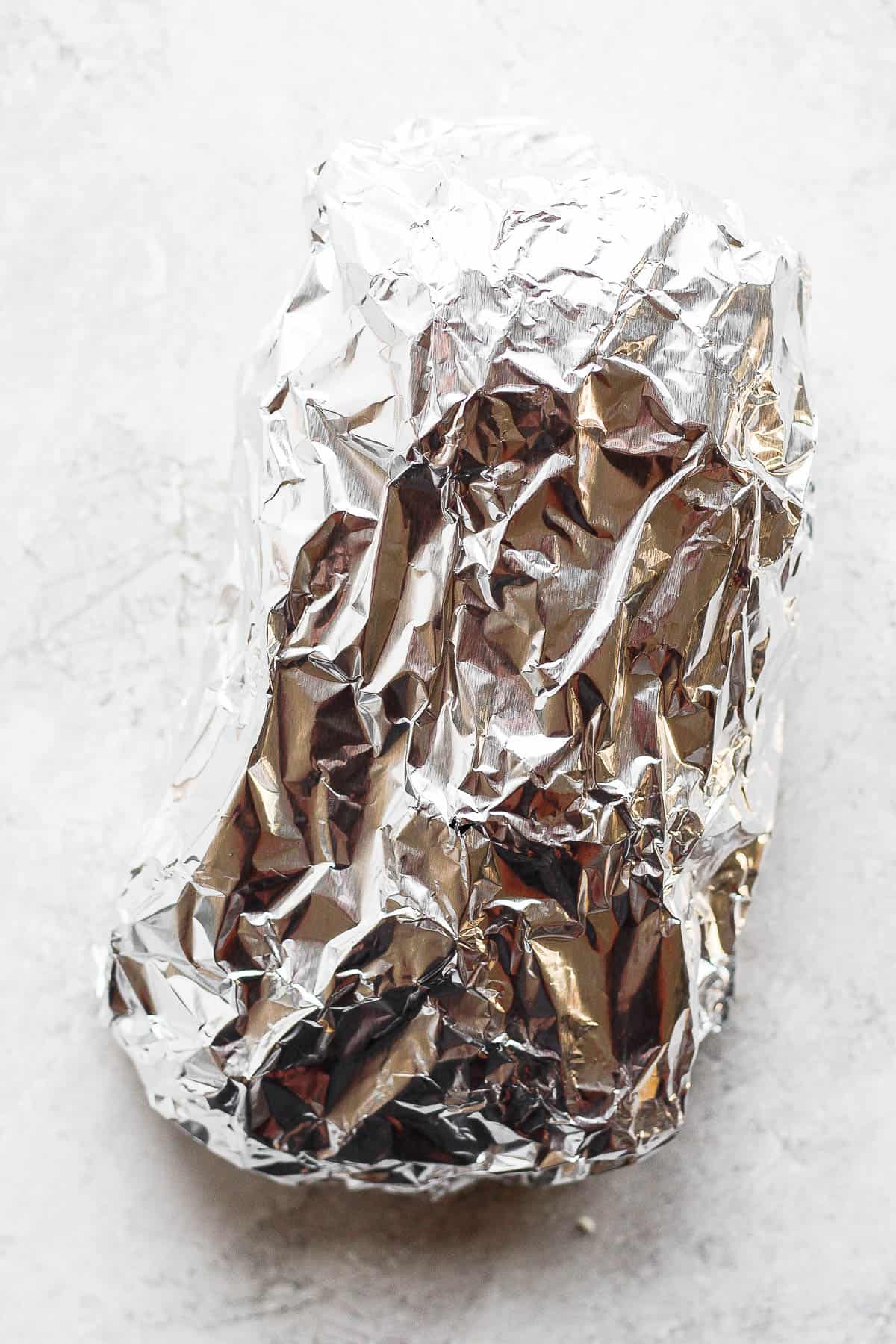 Shred and enjoy! Nothing better than smoked pulled pork!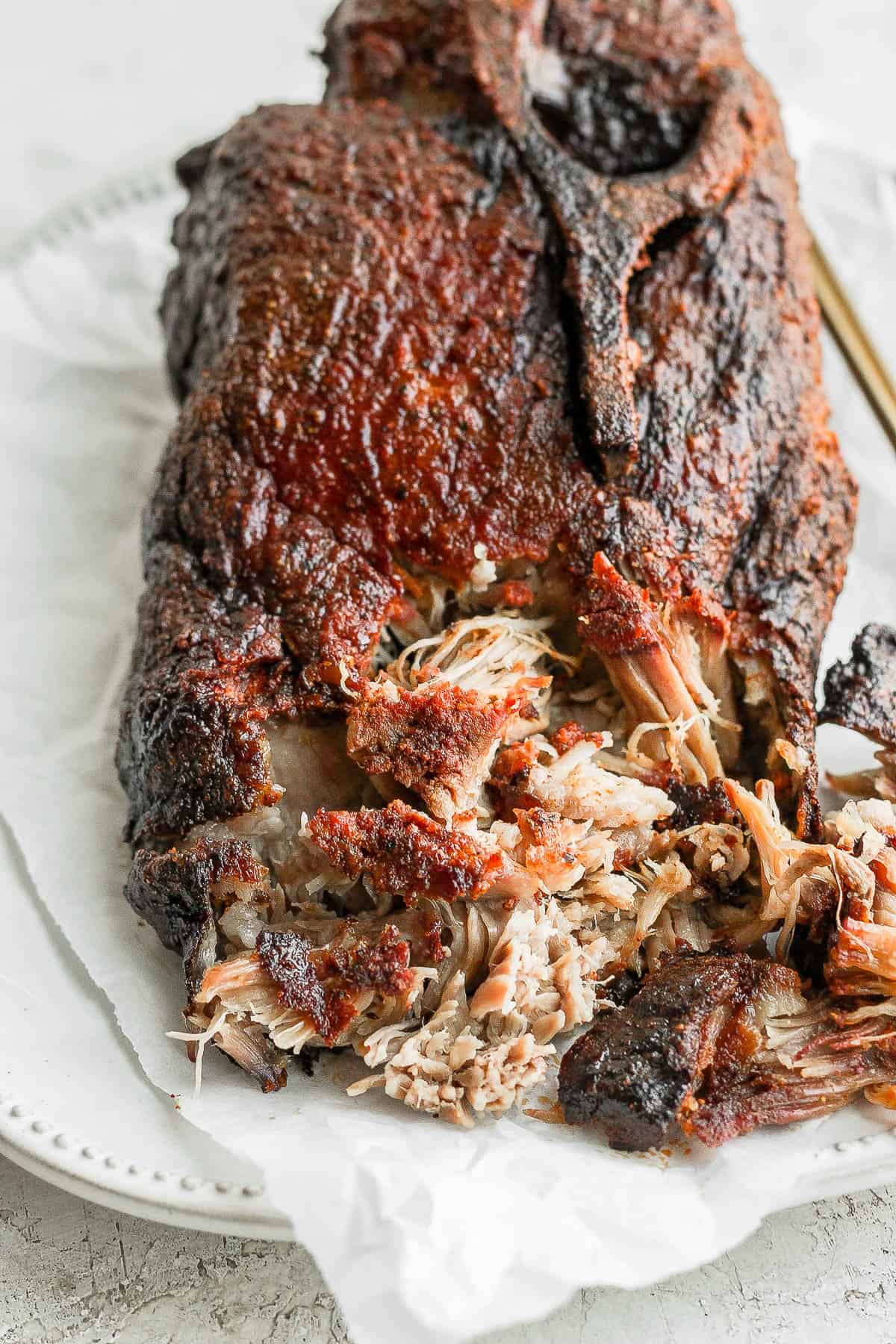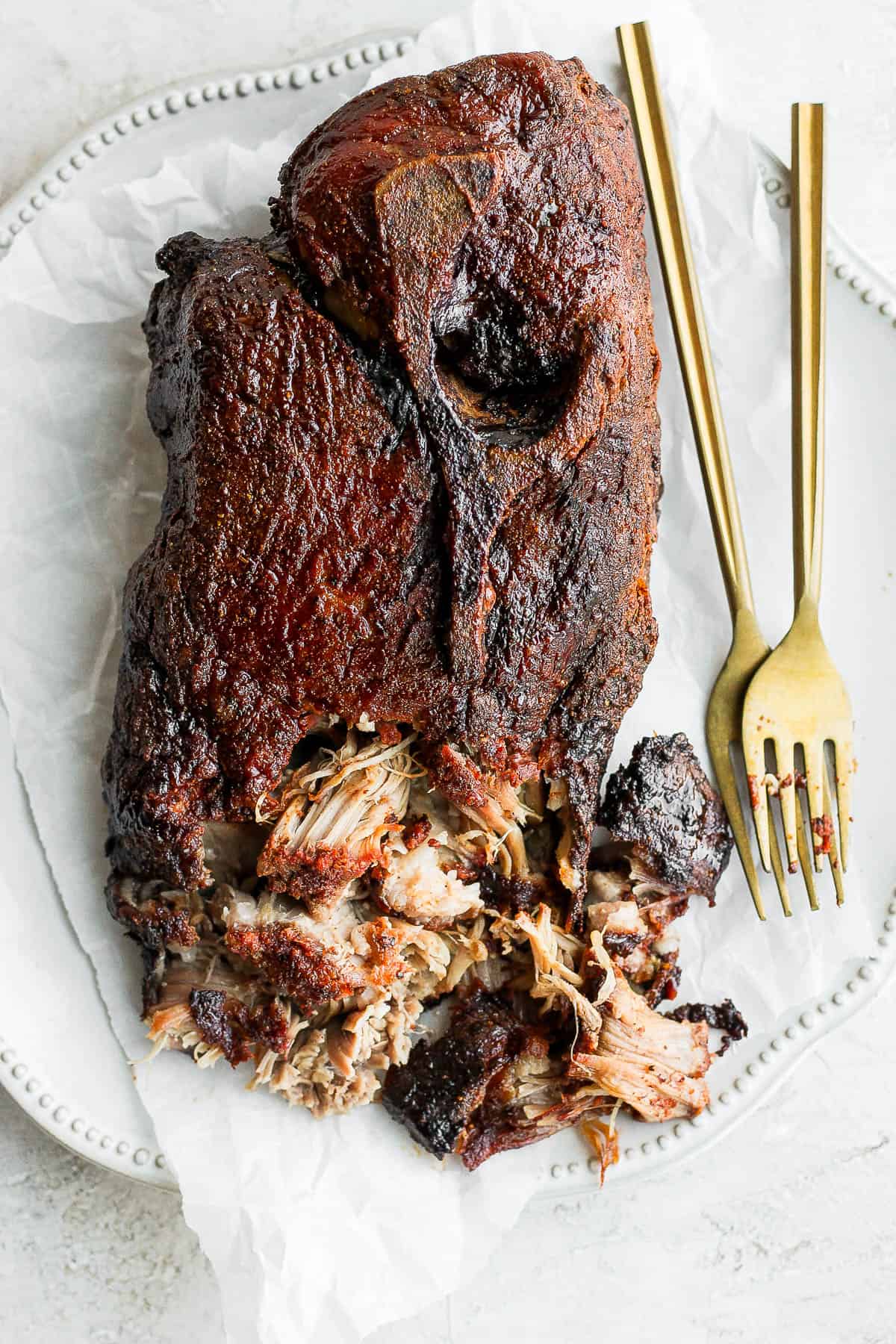 Love making pulled pork sliders and pulled pork sandwiches!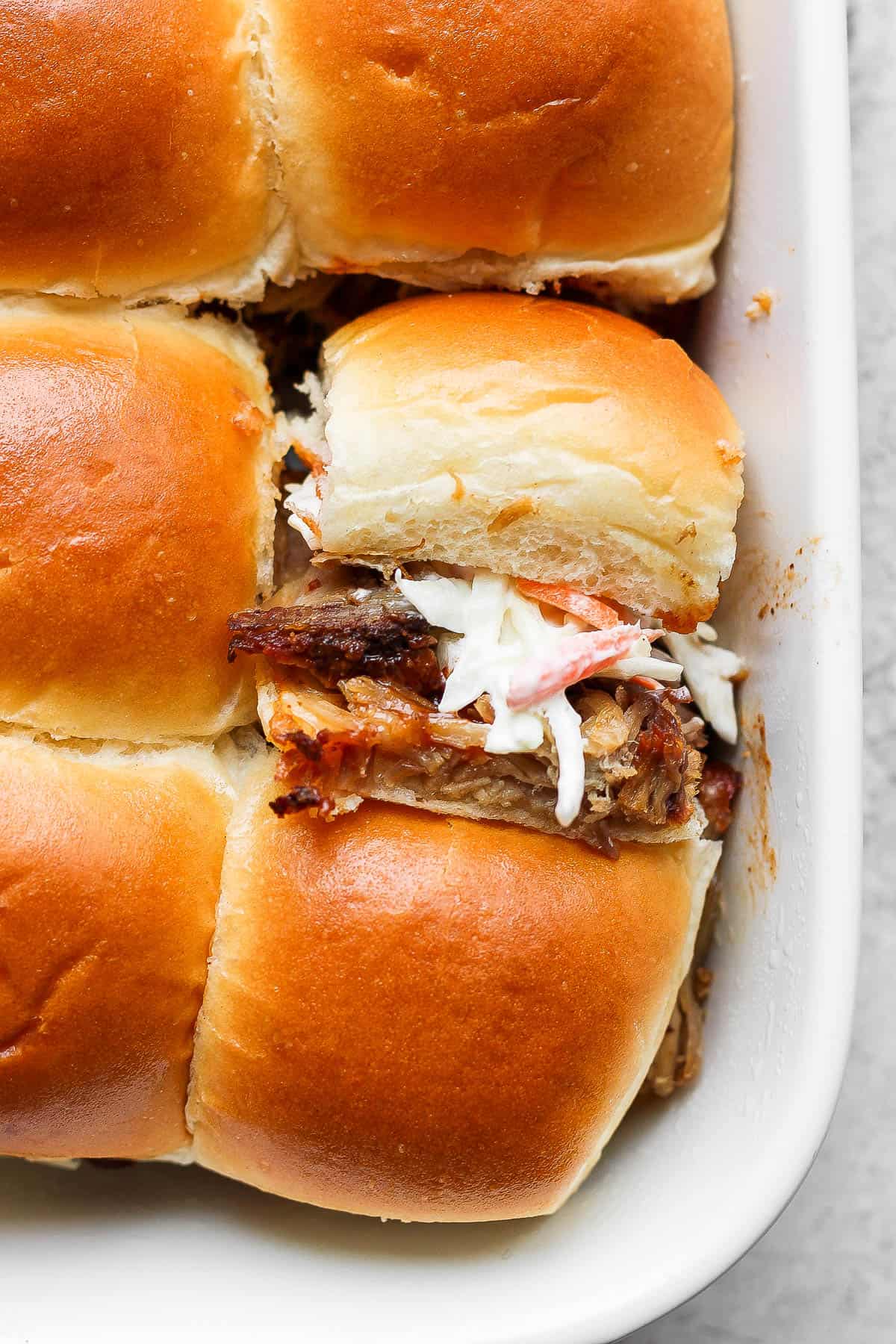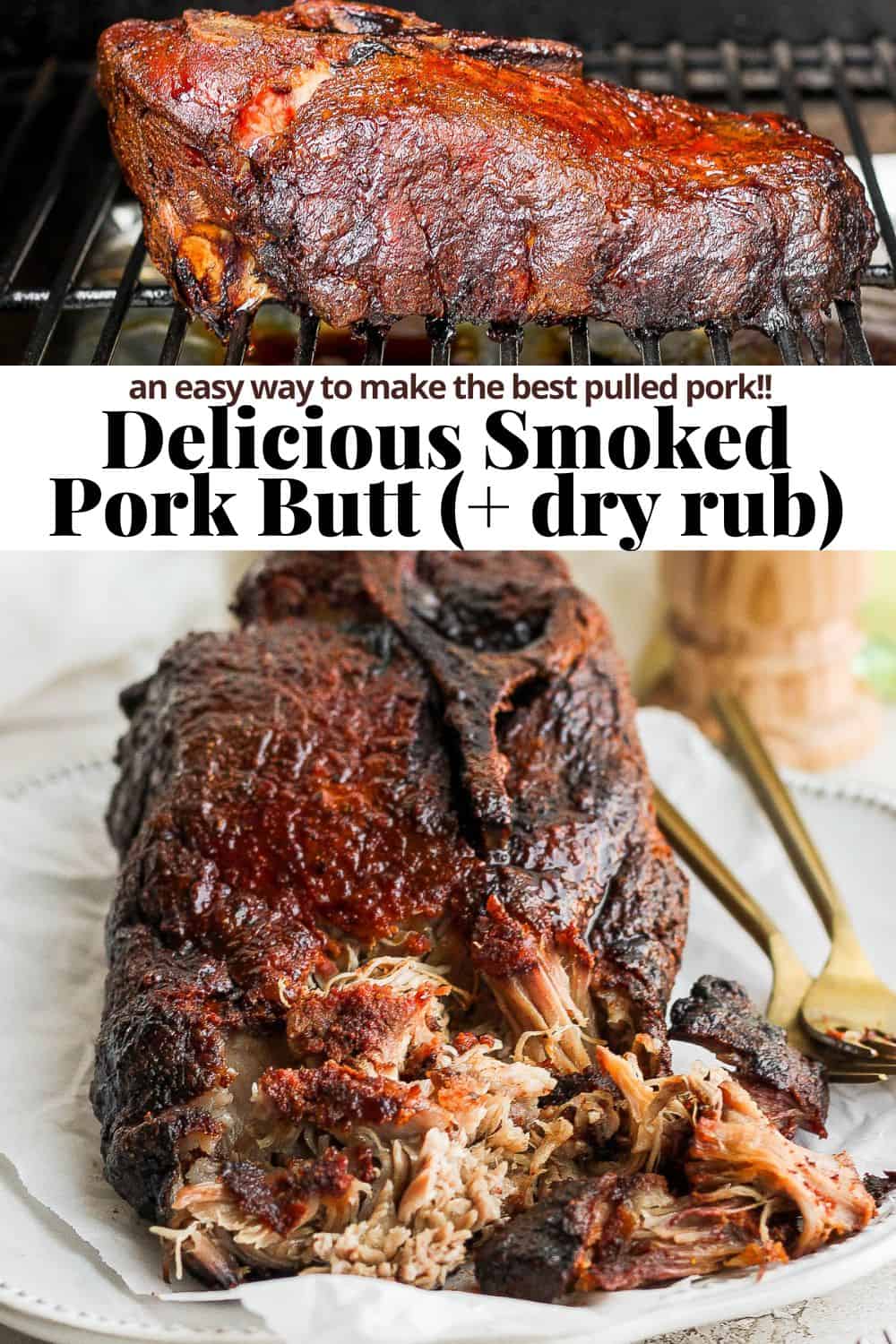 Other Smoked Recipes You Might Like
Don't forget to check out my Instagram account for some behind-the-scenes action! Or give me a follow on Facebook or see what I am pinning on Pinterest!
Made this recipe and loved it?! We would love it if you would take a minute and leave a star rating and review – it is also helpful if you made any substitutions or changes to the recipe to share that as well. THANK YOU!
Print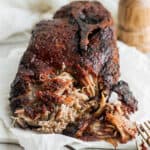 Smoked Pork Butt (Smoked Pulled Pork Recipe)
Author: Erin Jensen
Prep Time: 10 minutes
Refrigeration Time: 12 hours
Cook Time: 6 hours
Total Time: 18 hours 10 minutes
Yield: 10 servings 1x
Category: Dinner/Entree
Method: Smoker
Cuisine: American
---
Description
Smoked Pork Butt – a tried-and-true, juicy and delicious smoked pork butt recipe that makes the BEST pulled pork!
---
Pork Spice Rub
2 tablespoons kosher salt
2 1/2 tablespoons smoked paprika (regular paprika will work!)
2 1/2 tablespoons lemon pepper
1/2 teaspoon cayenne pepper (optional)
1 tablespoon smoked garlic powder (regular garlic powder will work!)
1/2 tablespoon ground black pepper
Pork Butt:
4 lb pork butt (bone-in recommended)
yellow mustard(approximately 1/2 cup)
liquid smoke(approximately 2-3 Tablespoons)
worcestershire sauce (approximately 2-3 Tablespoons)
plastic wrap
Spritz:
1/2 cup apple cider vinegar
1/2 cup apple juice
1/2 cup water
---
Instructions
Ensure pork butt has come to room temperature. Rinse pork butt under water and pat dry with paper towel and place on a cookie sheet.
Combine salt, smoked paprika, lemon pepper, cayenne pepper, smoked garlic powder and black pepper in small bowl. Set aside.
Take worcestershire sauce and pour all over pork butt ensuring it is thoroughly covered.
Repeat with the liquid smoke and then with the yellow mustard.
Take Pork Rub mixture and start sprinkling/rubbing in generous amounts all over pork shoulder ensuring that a thick layer is created – every nook and cranny.
Completely and tightly wrap pork shoulder in plastic wrap. Then double bag it in plastic bags and put in fridge for a minimum of 12 hours.
After a minimum of 12 hours has passed, remove pork butt from fridge, unwrap and let come to room temp.
Start smoker and bring up to 225 degrees F.
Combine apple cider vinegar, apple juice and water and put in spray bottle and set by your smoker.
Once smoker reaches 225 degrees F. and pork butt is at room temp place pork butt on your smoker, fat side up.
Spray/spritz every 45-60 minutes with spray bottle
Add additional smoking chips, as needed.
Smoke until pork butt reaches a minimum of 190 degrees F. internal temp (approximately 60-90 minutes per pound) – use internal meat thermometer or probe thermometer to track the internal temperature of the pork.
Remove from smoker and place on cookie/baking sheet or large plate. Wrap in aluminum foil and then again in a couple kitchen towels (this helps lock in the moisture). Let rest for one hour.
Shred with two forks and serve (we love serving it with homemade barbecue sauce and purple cabbage coleslaw).
---
Notes
How long does it take to smoke a pork butt: generally takes 60-90 minutes per pound to smoke a pork butt, but this timeframe can be impacted by a variety of factors such as the weather, how consistent your smoker holds heat, etc.
Should I wrap my pork butt in foil on the smoker: No, do not wrap your pork shoulder in foil on the smoker. It won't achieve that "smokey" flavor you are looking for that way!
How do I know when my pork butt is done: Technically your pork butt is safely cooked when it reaches an internal temp of 165 degrees F., but if you want to be able to shred your pork butt easily you will want it to reach an internal temp of 190 degrees F.
Why is my pork butt tough or not shredding:You probably didn't let it cook long enough. It needs to reach an internal temperature of 190-200 degrees F. to become tender and easy to shred. Make sure you are using an internal thermometer or probe to track the internal temperature of your pork shoulder.
How long do I let my pork butt rest:You should let your pork butt rest for an hour. We suggest wrapping it in foil and then again in some kitchen towels as it rests to retain heat.
My pork butt is taking longer than 90 minutes per pound: Make sure you didn't run out of pellets (we have done that before!). It could also be a result of the weather (windy, cold, humidity, etc) – the most sure way to be able to track the cooking time is to use an internal meat thermometer and go off that. 60-90 minutes per pound is just an estimate – there are too many factors to take into consideration for us to give you a solid timeframe!
Best Wood Chips/Pellets: I love using the hickory and mesquite, but maple, oak or cherry work great too.
Keywords: smoked pork butt, smoked pulled pork