Smoked Chicken Wings (how to smoke chicken wings) – perfect for game day, an easy weeknight dinner or a fun weekend meal! This smoked chicken wing recipe results in a crispness on the outside while keeping it nice and juicy on the inside! Serve with some homemade Blue Cheese Dressing or Dairy-Free Ranch Dressing!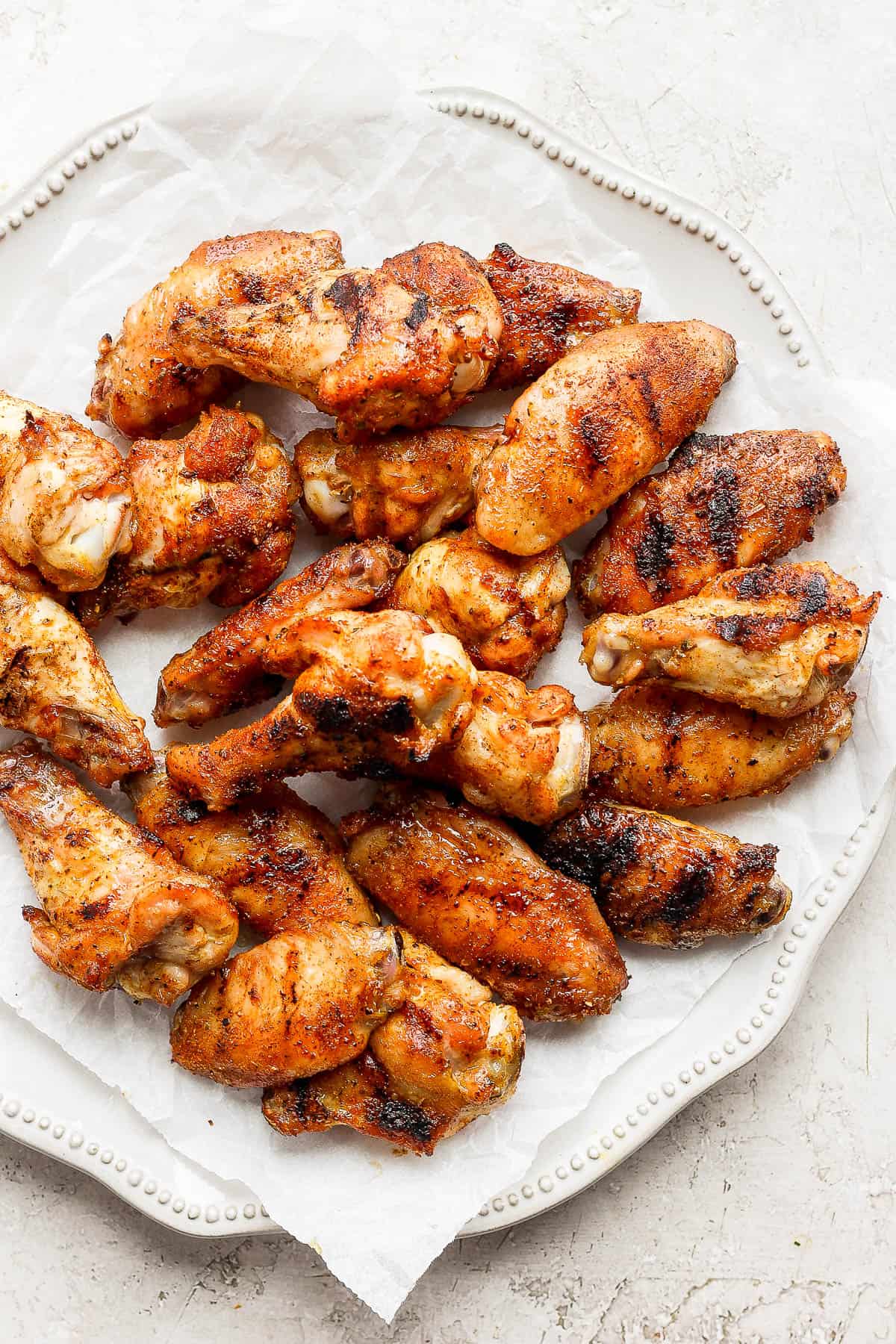 BEST Smoked Chicken Wings
You all know I looooove a good smoked meat recipe (find all of ours here) and these smoked chicken wings are no exception. Really quite easy to make, they don't take too long and the result is just chicken wing perfection! Serve with Smoked Corn on the Cob and some carrots, celery and homemade blue cheese dressing!
Pellet Grill – we tested this on a Traeger grill, but any smoker will do! You can even make them on the gas or charcoal grill if you use a smoking box or you can make our Grilled Chicken Wings!
Why You Will Love This Recipe
Easy: I know smoking meat can be intimidating, but these truly are so easy to make!
Smokey: That smokey flavor is hard to beat!
Crispy + Juicy: a slow and low smoke followed by a super hot sear is the best way to get a crispy outside and juicy inside!
Smoked Chicken Wing Ingredients
chicken wings and drummies: you can really use as many or as few as you want.
1 batch Smoked Chicken Dry rub OR kosher salt and ground black pepper : the dry rub is amazing, but feel free to just use classic kosher salt and pepper if you want.
meat thermometer or probe: you will want a thermometer or probe to track the internal temp of your chicken wings.
How Long to Smoke Chicken Wings
It take approximately 40 minutes to 1 hour to smoke regular-sized chicken wings at a smoking temp of 250 degrees F. – ultimate time depends upon how thick they are, wind, humidity, outdoor temp and if you have any hot spots on your smoker.
How do You Smoke Chicken Wings Without Rubbery Skin
To avoid rubbery skin we recommend searing your chicken after you smoke it (similar to a reverse-sear steak). This can be done directly on your smoker by turning up the heat all the way (take the wings off during this process) OR you can sear them on a regular gas grill (which is my preferred method).
How to Cut Up Chicken Wings
Just in case you can only find whole chicken wings, here is a quick breakdown of how you cut them apart to make your more classic wing.
Find the first joint closest to the wing tip and cut at the joint.
You will then have a drummy and flat wing connected (you can discard the wingtip or keep and freeze to use to make chicken broth).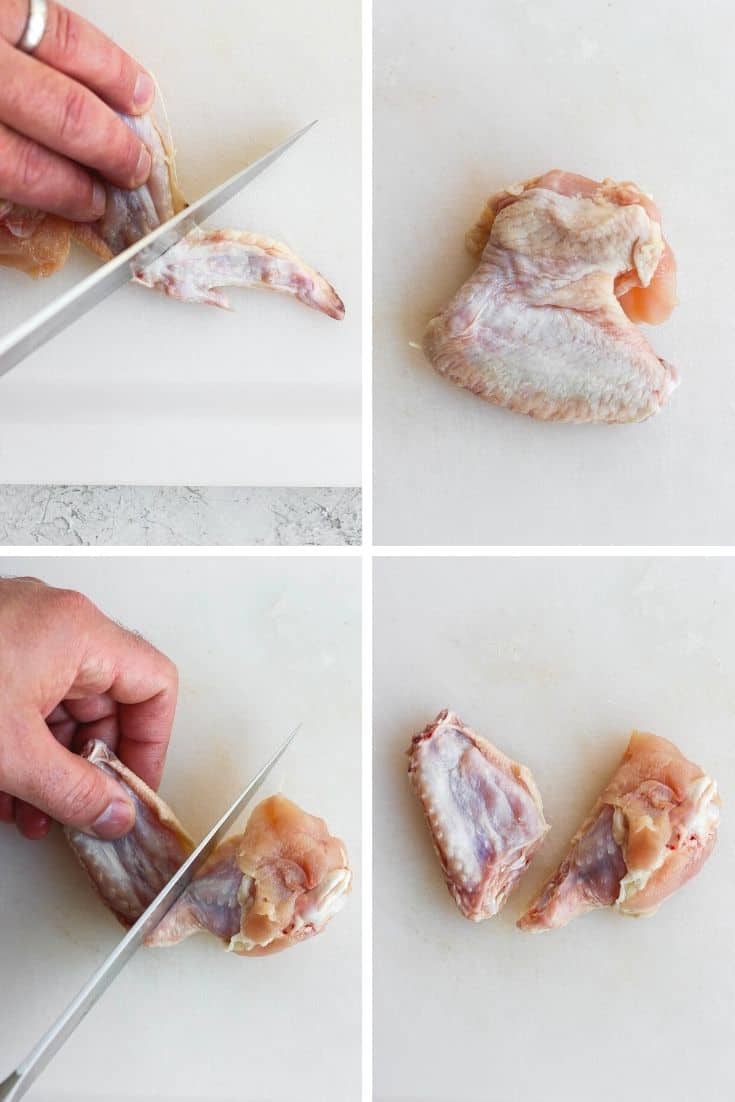 Find the joint between the drummy and the flat wing and cut. Now you have a drummy and a flat wing, ready to smoke!
How to Smoke Chicken Wings
Pat your chicken dry with a clean paper towel.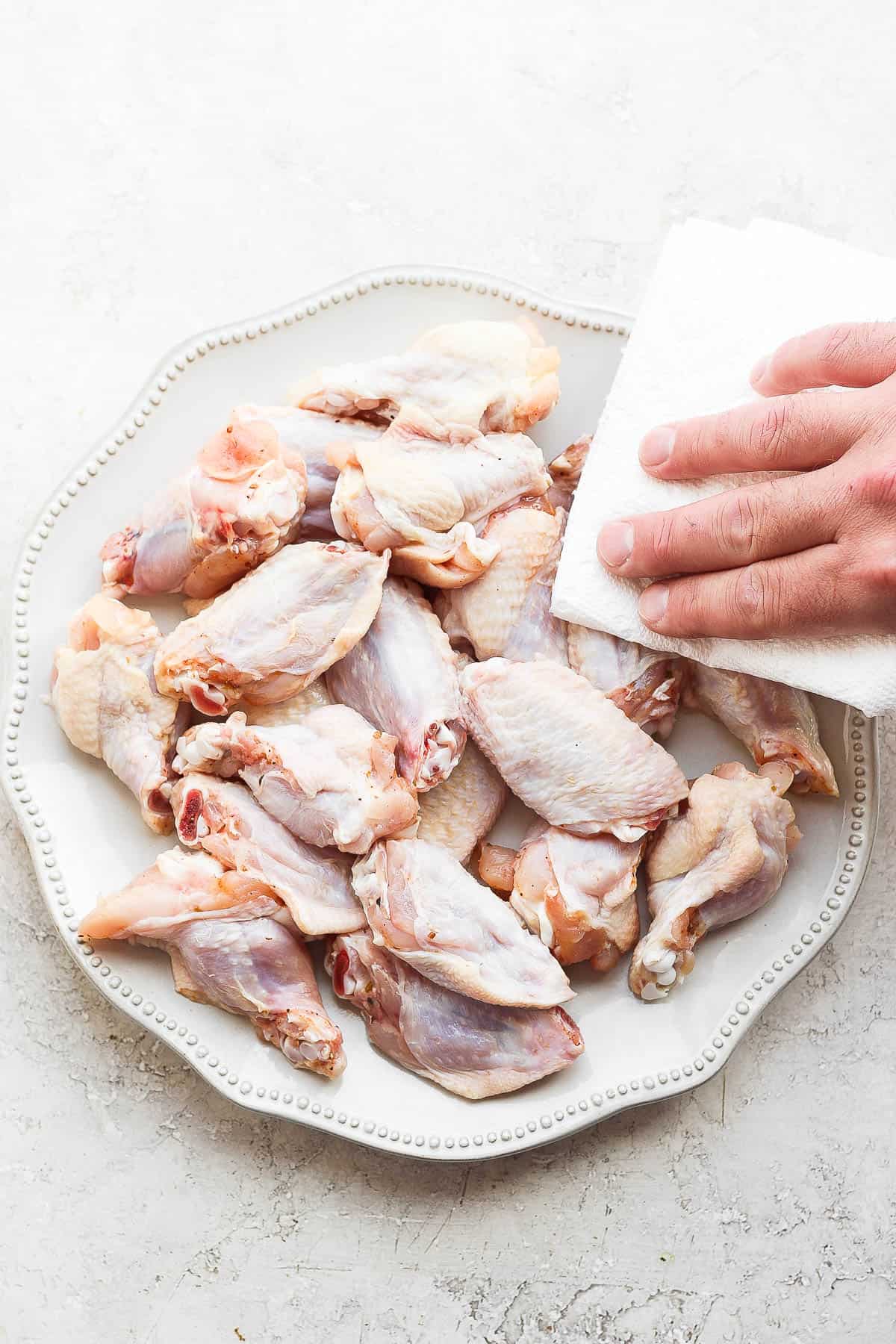 Cover in dry rub or season generously with kosher salt and ground black pepper.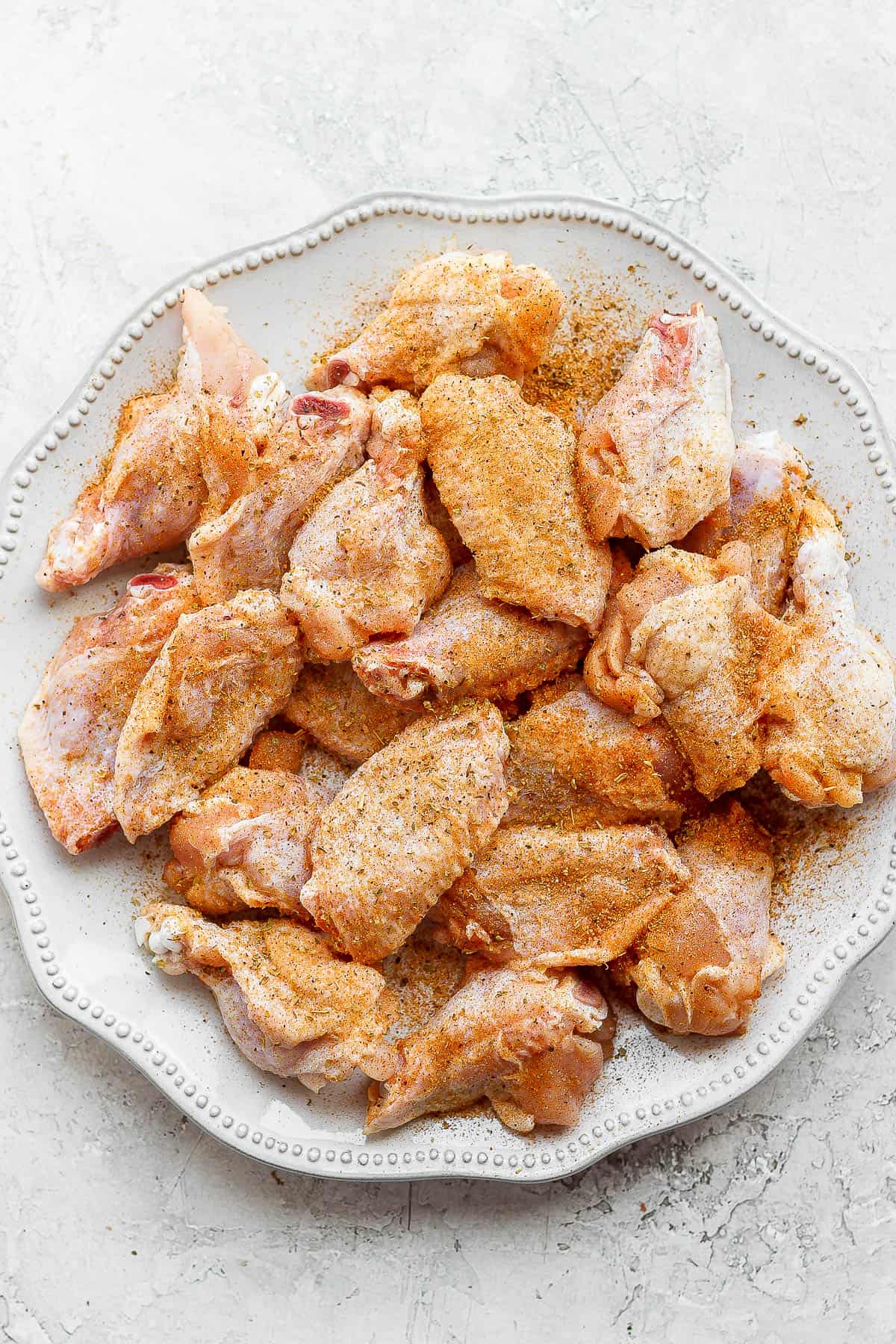 Smoke at 250 degrees F. until the internal temp ALMOST reaches fully cooked (which is 165 degrees F. internal temp). They will finish cooking during the quick sear + resting time.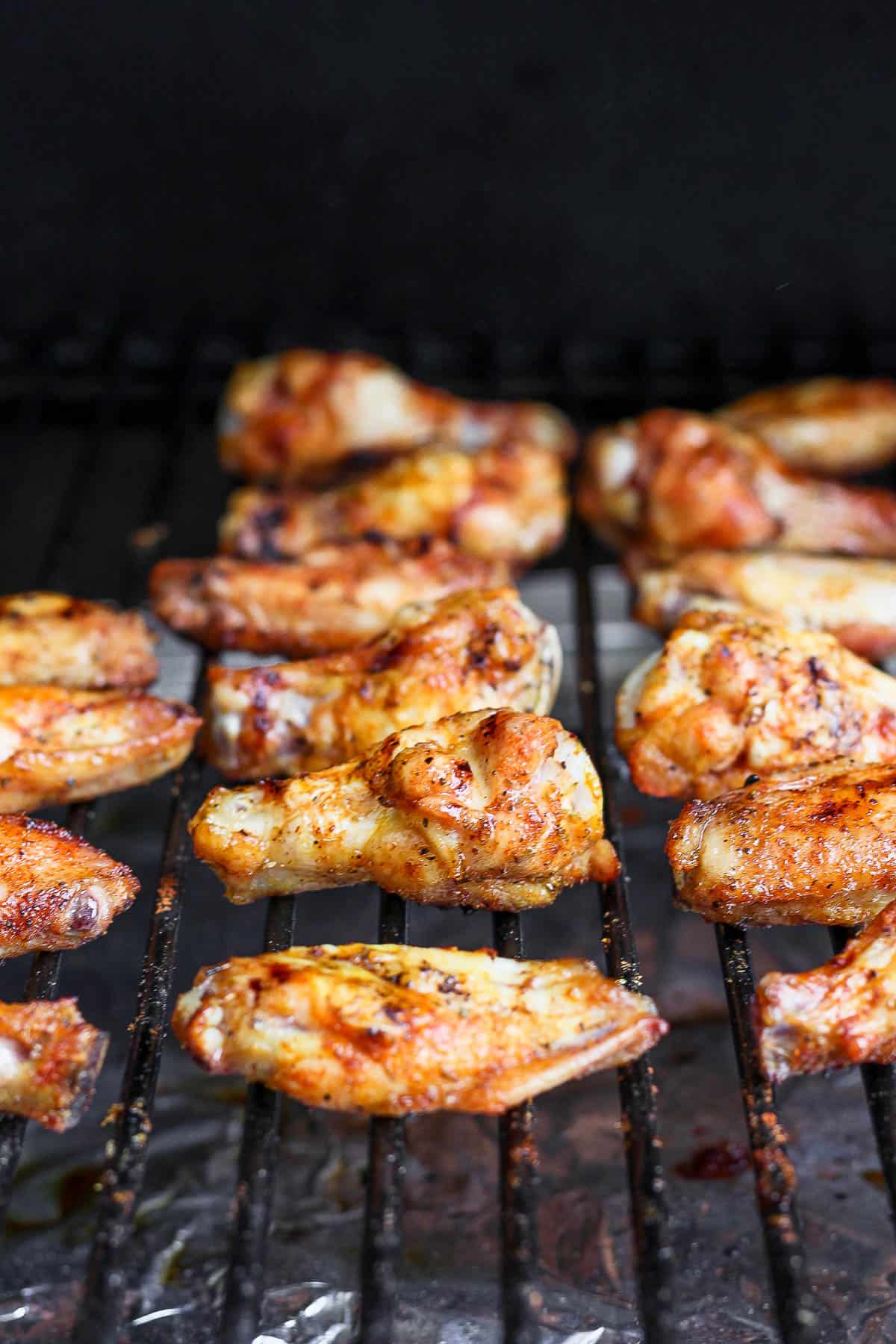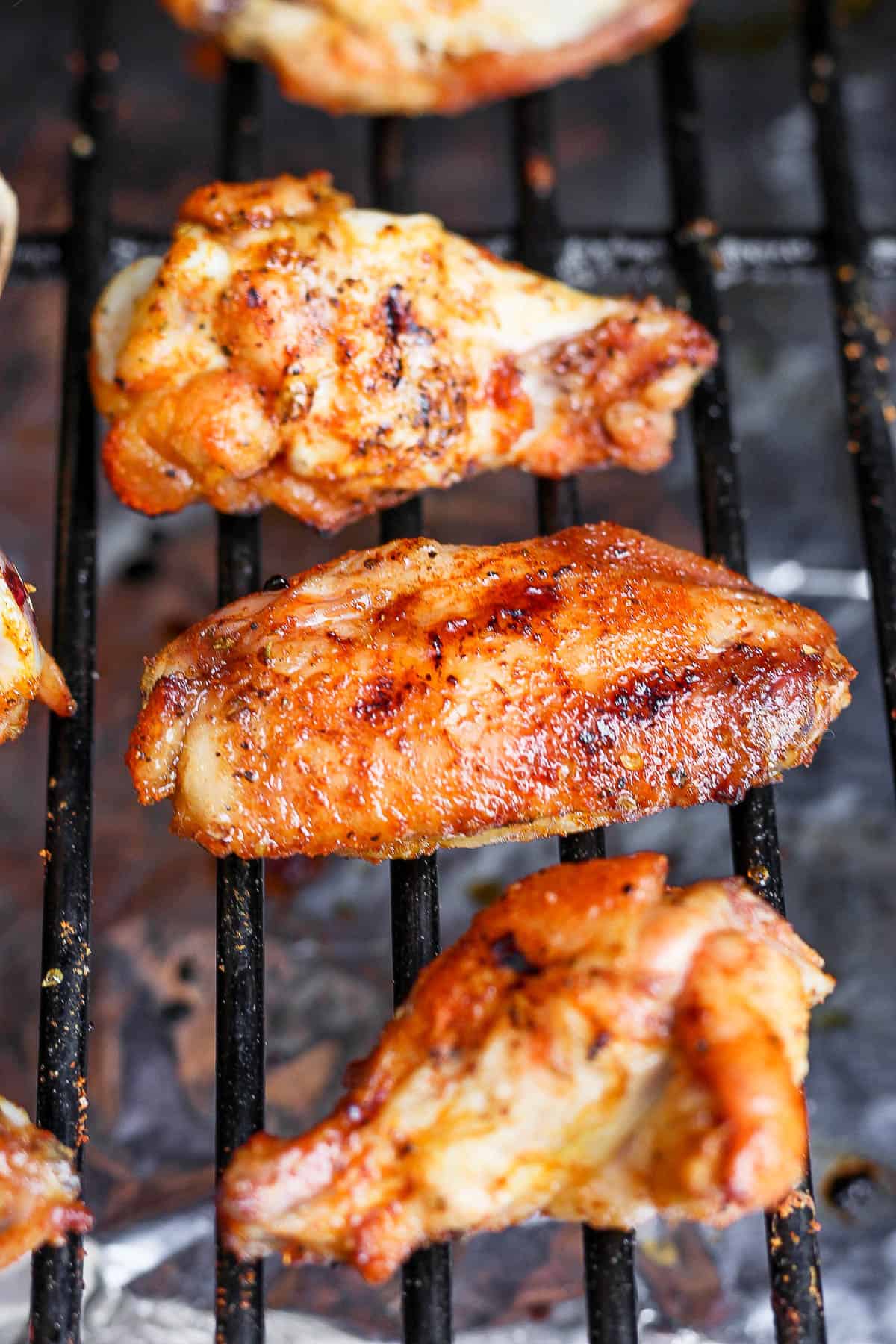 Sear on either a gas grill (preferred method) or on your smoker.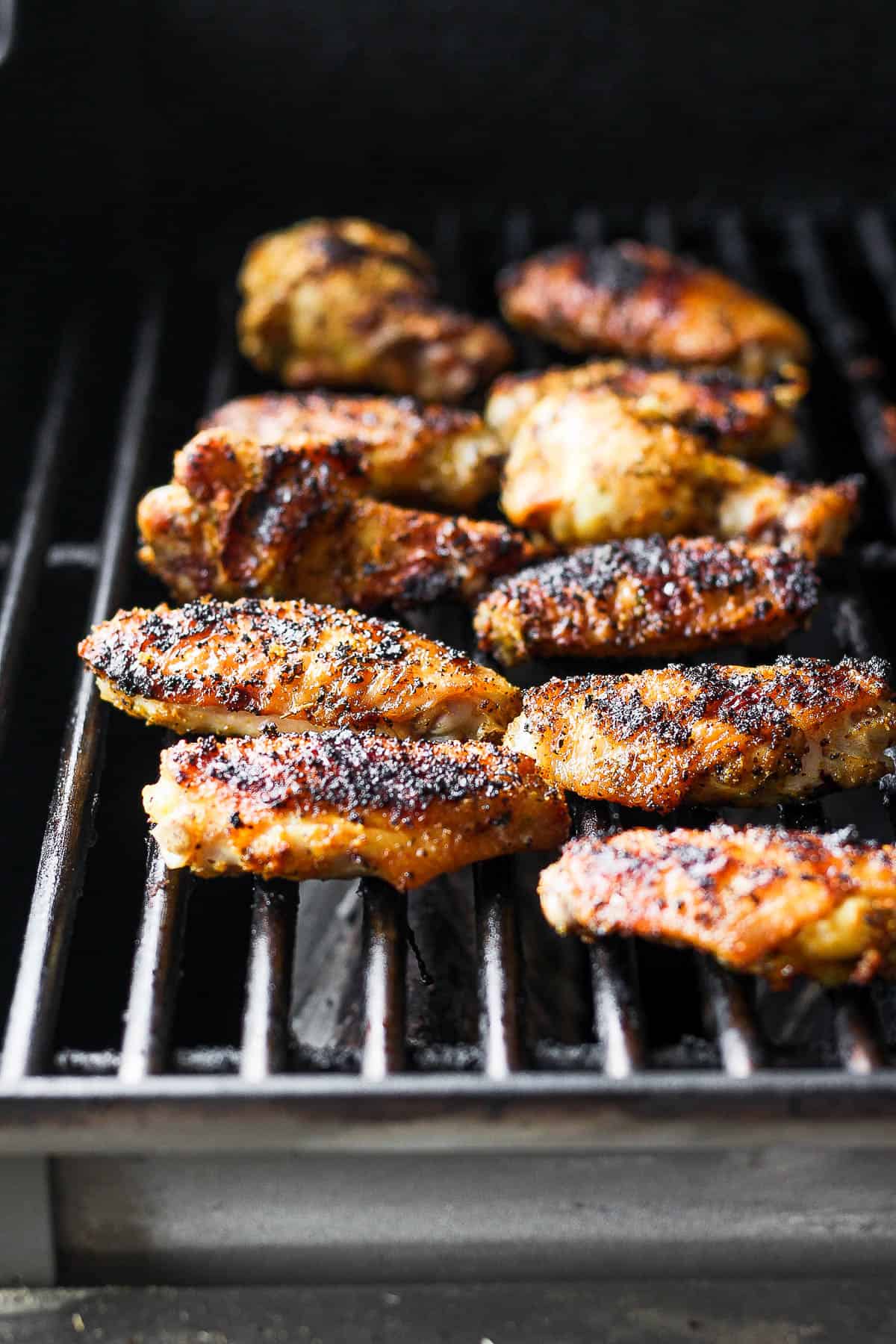 Let rest before serving.
Enjoy!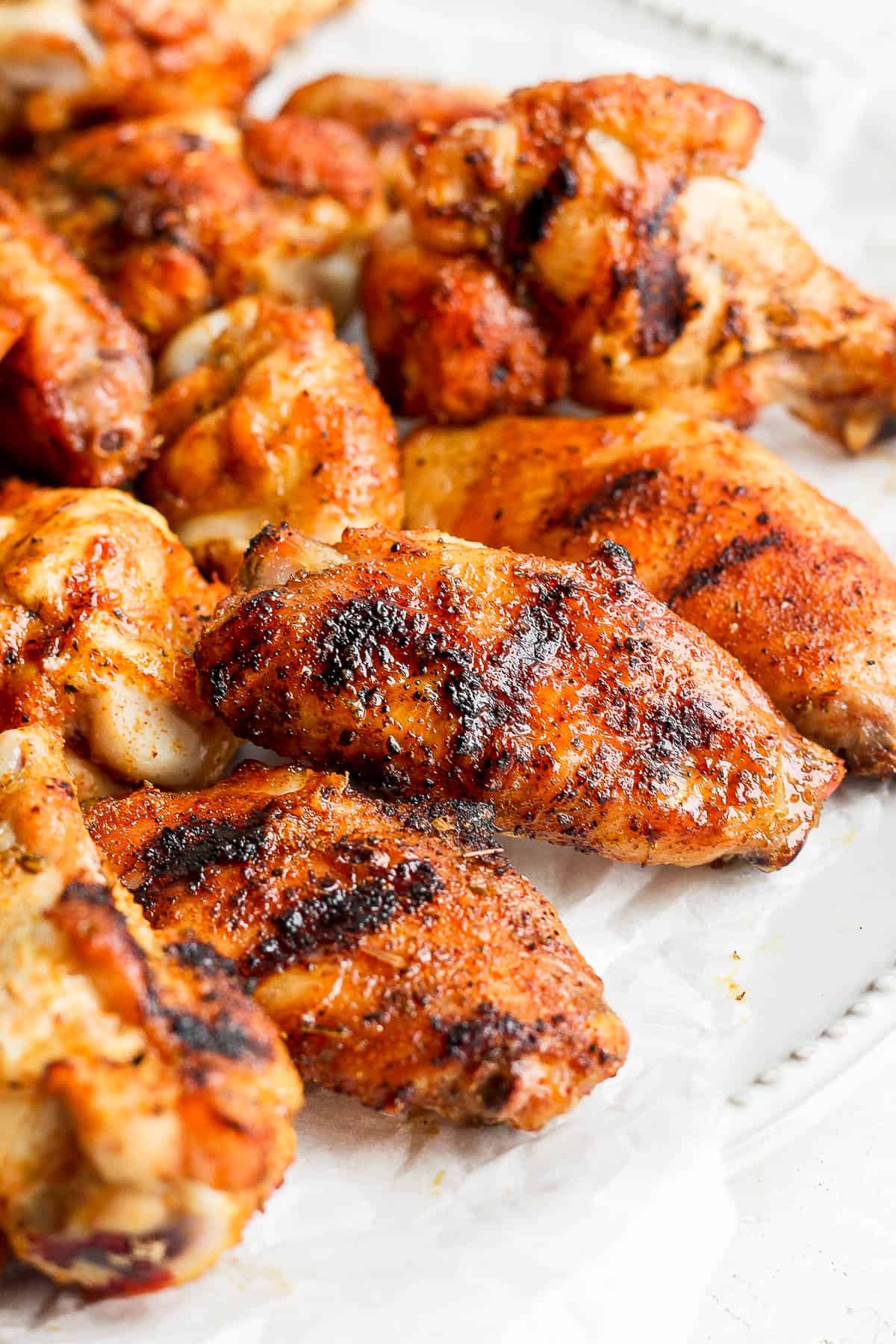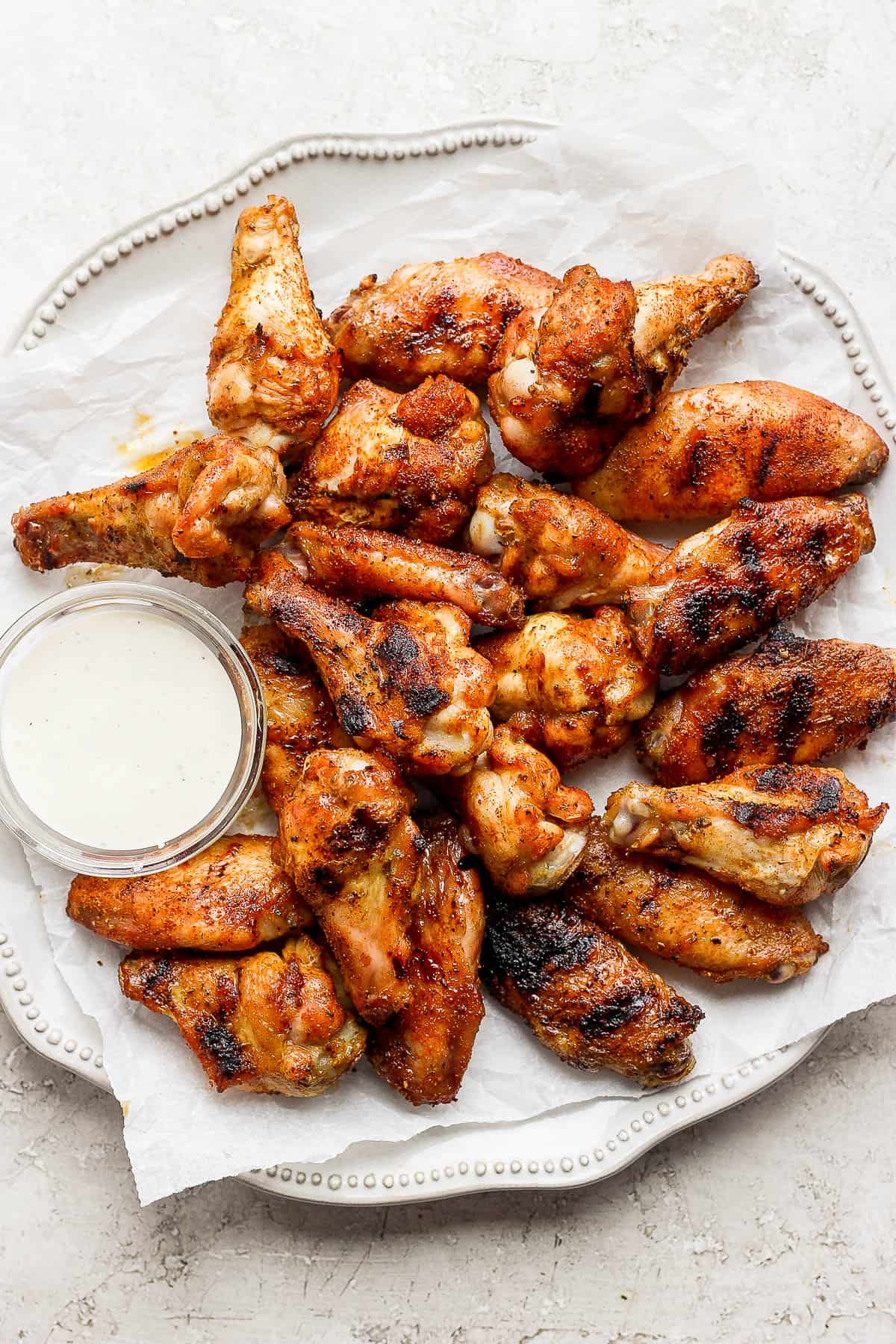 BBQ Smoked Wings or Buffalo Smoked Wings
We did toss some of the wings in BBQ sauce .. just to see what we thought. They are amazing, but the sauce definitely over-powers a lot of the smokiness – fyi! You could also toss them in buffalo sauce!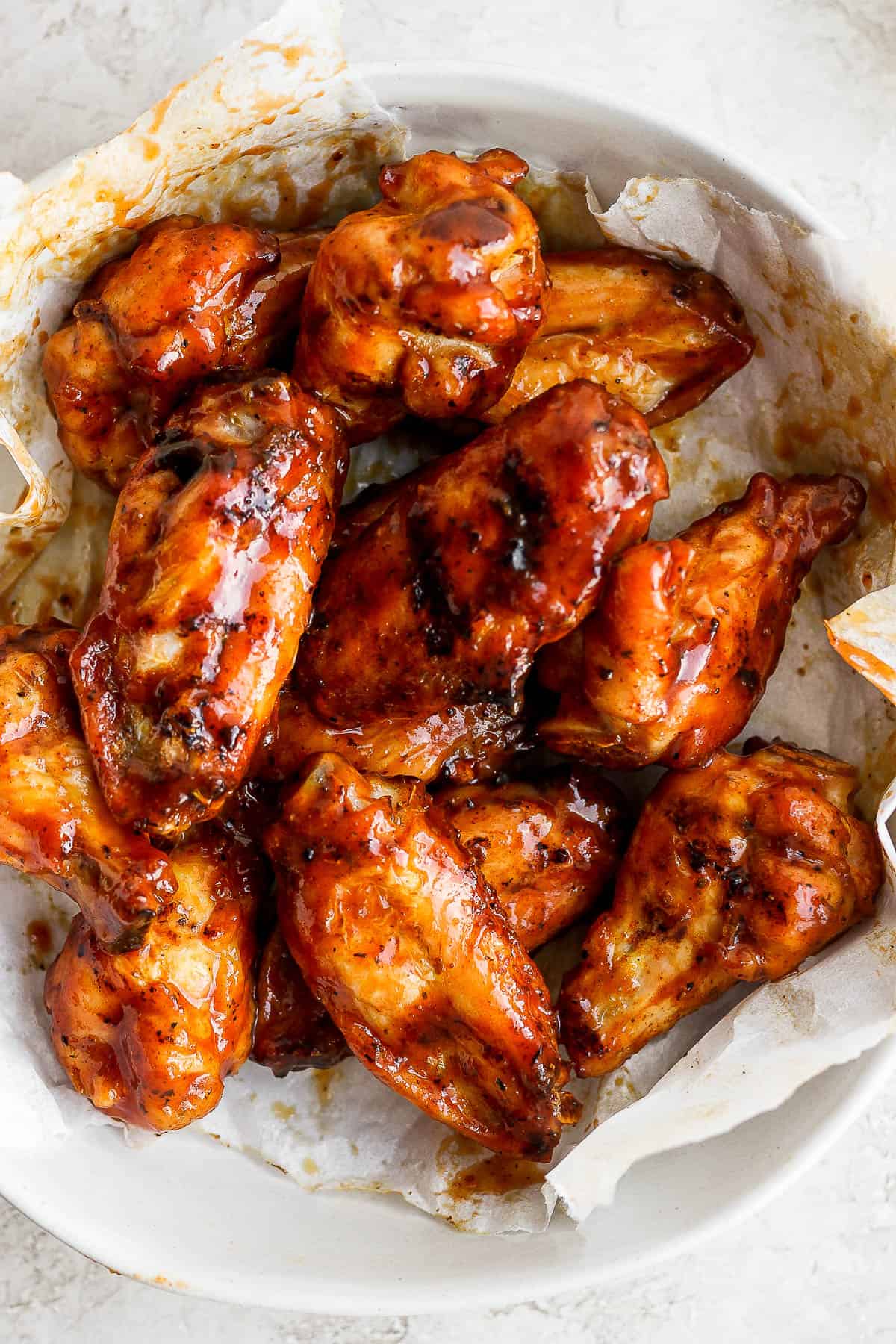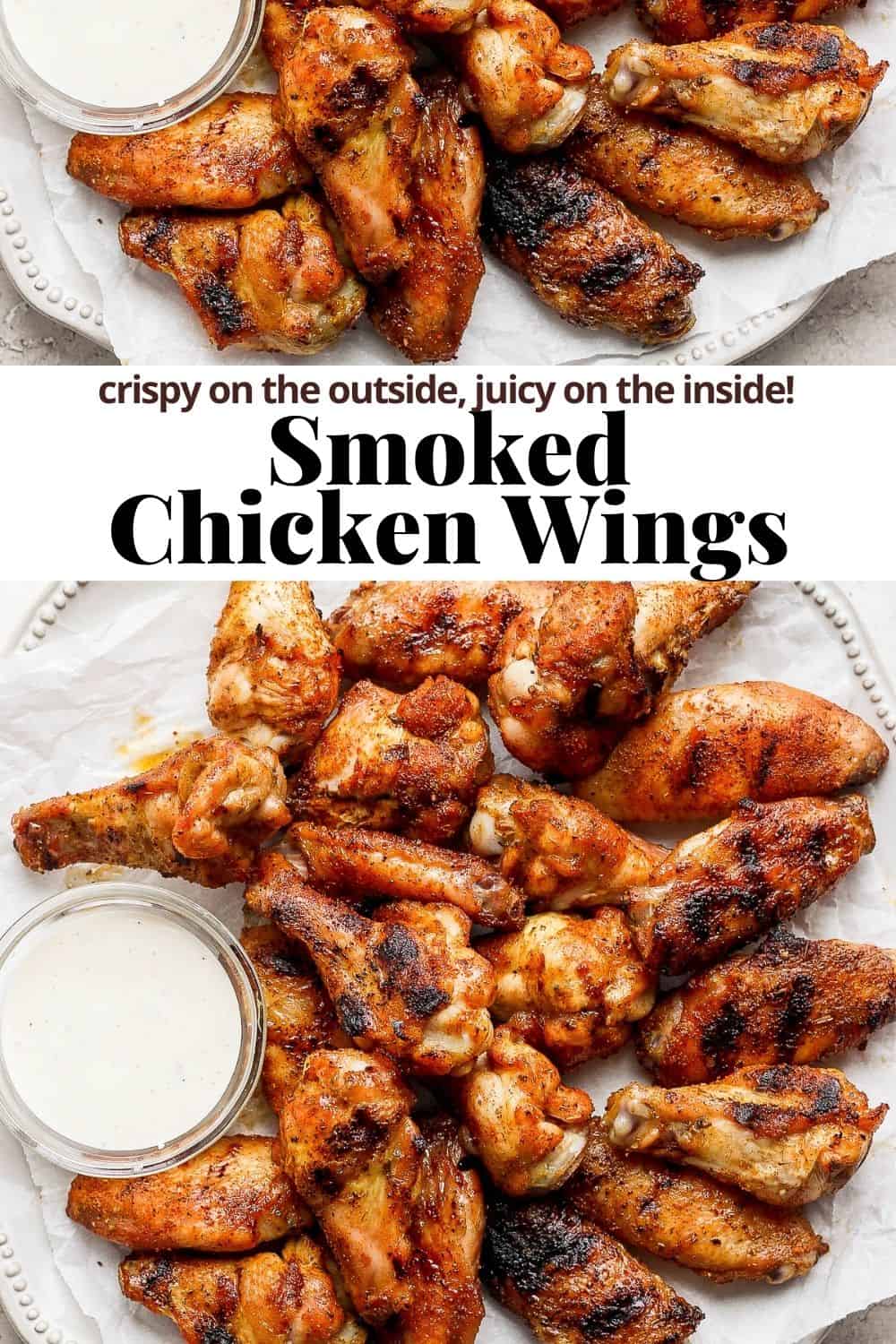 Made this recipe and loved it?! We would love it if you would take a minute and leave a star rating and review – it is also helpful if you made any substitutions or changes to the recipe to share that as well. THANK YOU!
Don't forget to check out my Instagram account for some behind-the-scenes action! Or give me a follow on Facebook or see what I am pinning on Pinterest!
Print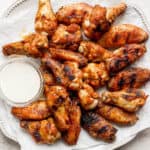 Smoked Chicken Wings Recipe(how to smoke chicken wings)
Author: Erin Jensen
Prep Time: 10 minutes
Cook Time: 70 minutes
Total Time: 1 hour 20 minutes
Yield: 15–20 wings 1x
Category: Dinner/Appetizer
Method: Smoker
Cuisine: American
---
Description
Smoked Chicken Wings (+ dry rub) – crispy on the outside and delicious on the inside! This smoked chicken wing recipe is SO GOOD!
---
Smoked Chicken Wing Dry Rub:
1 tablespoon coarse kosher salt*
2 teaspoons onion powder
2 teaspoons garlic powder
2 teaspoons paprika
1 tablespoon dried oregano leaves
1/2 teaspoon turmeric
1/2 teaspoon ground black pepper
1/4 teaspoon ground ginger
1/2 teaspoon ground cumin
1/2 teaspoon coriander
Chicken Wings:
15–20 chicken wings and drummies
---
Instructions
Set smoker temp to 250 degrees F.
Combine Dry Rub ingredients and set aside.
Pat chicken wings dry with clean paper towel. Season all over with the Dry Rub.
Place chicken wings on smoker (directly on the grat), close the lid and let cook for 50-70 minutes or until the internal temperature reads approx. 160-162 degrees F.
Remove from smoker and turn smoker temp up as high as it will go OR turn your grill on to high heat. When smoker or grill is hot, sear chicken wings on both sides for about a minute each.
Remove from grill and let rest 5 minutes.
Serve with some carrot sticks, celery and blue cheese dressing (or ranch).
---
Notes
Kosher Salt: make sure you are using kosher salt and not table salt. Also, if you like things less seasoned, feel free to halve the salt.
Dry Rub: totally up to you whether you want to do a dry rub on your wings or if you want to stick with a classic kosher salt + ground black pepper seasoning! They are good both ways!
Crispy Outside: the way we get those nice grill marks and char on our smoked chicken wings is to sear them after cooking. We smoke them until they are just about done (160 degree F internal temp, while fully cooked is 165 degrees F.). Then we sear them withe on the smoker OR on a grill (I prefer the grill here so I can heat it up and take the wings directly to the grill after smoking).
Do I Have to Sear Them: NO! You can keep them on the smoker until they hit 165 degree F. internal temp. Then remove and let rest 5 minutes.
Total Cook Time: as with any smoking recipe, the ultimate amount of time it will take for the meat to reach temp depends upon a lot of variables (wind, humidity, hot spots on smoker, etc.) – so while I provide general cook times and cook times that I have gotten as a result of multiple recipe tests, the best way to track when your meat will be done is to use an internal meat thermometer or probe. Every smoker and smoking conditions are a little different!
What to serve them with: we love this homemade ranch dressing or blue cheese dressing.
Wood Chips/Wood Pellets: really any will work fine, but I like using hickory or cherry.
Keywords: smoked chicken wings, smoked chicken wing dry rub
Originally published September 8, 2021.