Smoked Turkey Breast Recipe (boneless or bone-in) – the most flavorful and moist recipe for smoked turkey breast! So easy to make – just follow along with the step-by-step instructions and photos! The perfect main dish for a smaller Thanksgiving dinner.
If you have a bigger crowd check out our Whole Smoked Turkey Recipe and our other Thanksgiving recipes!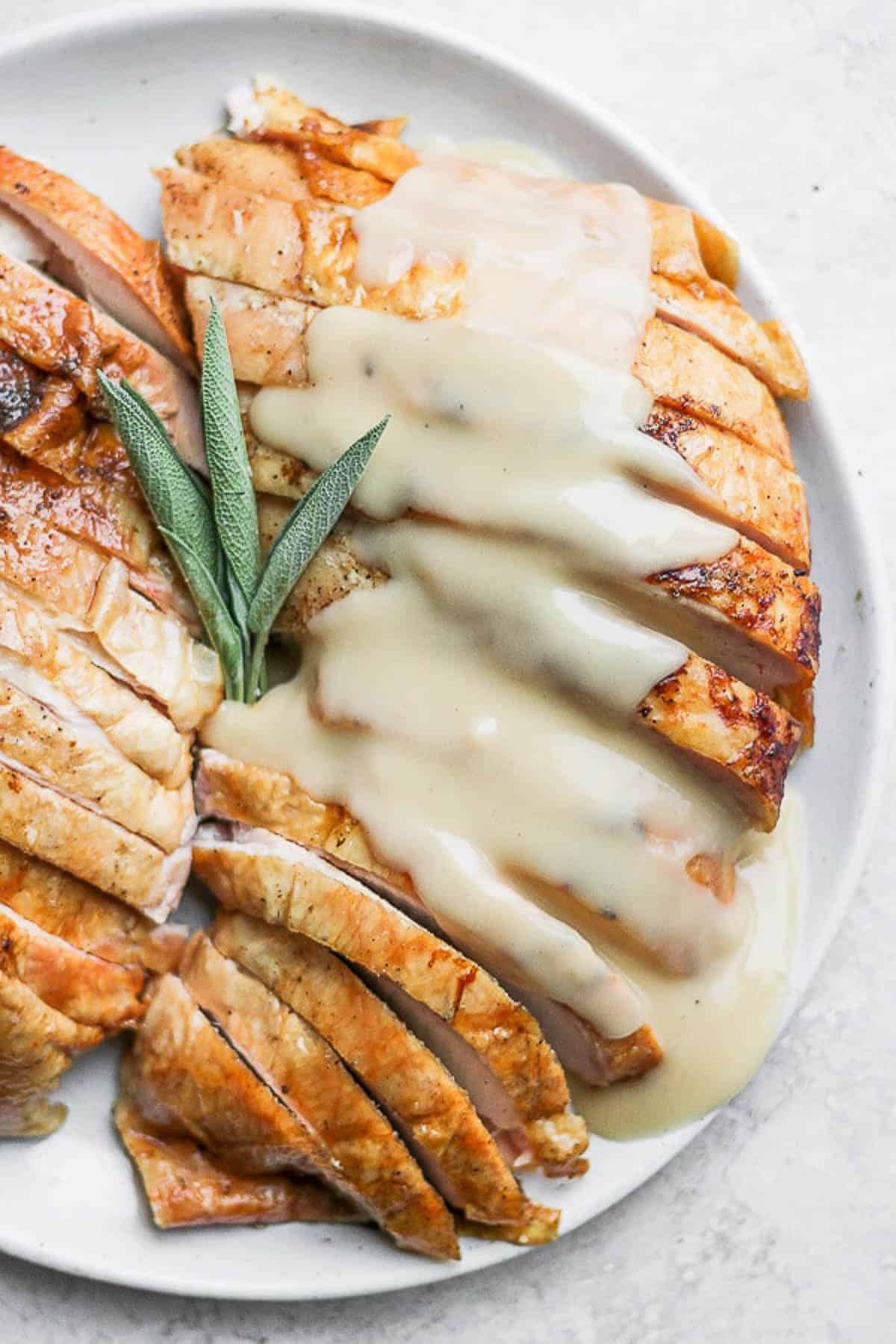 BEST Smoked Turkey Breast Recipe
Looking to try something a little new with for Thanksgiving this year? Then you HAVE to try this smoked turkey breast recipe (bone-in or boneless) – it is an easy recipe made with simple ingredients! It not only frees up your oven, but the flavor is just next level. We tested this on a Traeger pellet grill but any smoker will work. This juicy turkey breast is the perfect addition to your Thanksgiving dinner menu – serve with mashed potatoes, homemade turkey gravy, stuffing and all the fixings (including some amazing dairy-free pumpkin pie).
Turkey Leftovers? If you find yourself with some leftovers try out our Leftover Turkey Salad, Turkey Noodle Soup or Turkey Cranberry Wrap!
Wondering how much turkey breast to make – check out our post on How Much Turkey Breast Per Person!
Why You Will Love This Recipe
Smoked Turkey Ingredients (what you will need)
How to Thaw a Turkey
We have a whole tutorial on how to thaw a frozen turkey, but the basics of it is that is can take several days to completely thaw a turkey so do it early! The best way to thaw your turkey is placing it in the fridge probably about 3 days before you cook it. If you are in a tight spot and need to hurry up the process then place your turkey in cold water – to read the full story and direction check out our post!
How to Prep Turkey Breast for Smoker
Ensure it is fully thawed and the cavity is empty.
You can brine it if you want (not required) – here is our Smoked Turkey Brine – but the recipe is included in the recipe card.
Ensure the turkey comes to room temperature.
Pat dry with clean paper towels.
Rub with softened butter.
Season with salt and pepper (or you can use this Smoked Turkey Dry Rub or Classic Turkey Seasoning).
Turkey Marinade: we also have a great turkey marinade if you are interested!
How Long to Smoke Turkey Breast Per Pound
You will need to smoke a 8-9 pound turkey breast for approximately 4 hours with the first 2 hours at 215 degrees and the last hour at 350 degrees (or approximately 35 minutes per pound). Of course, ultimately let the internal temp at the thickest part of the thigh (not touching the bone) be your guide. Internal temp should be 165 degrees F. and juices should run clear. To determine the internal temperature of the turkey use a digital meat thermometer or probe.
Other Thanksgiving Turkey Recipes You Might Like
How to Smoke Turkey Breast
Ensure it is fully thawed and the cavity is empty. If you are brining your turkey you can put it into the brine still frozen and it will thaw in the brine (while refrigerated).
Brining your turkey breast can add tons of moisture and flavor!
Smoked Turkey Breast Brine Recipe
Using a brine on your turkey before smoking is a great way to take it to the next level. Brining your turkey ups the moisture and tenderness of the meat. Here is our Smoked Turkey Brine if you want to learn more but we have included a basic brine recipe in the recipe card – feel free to use it if you want.
Pat dry with clean paper towels.
Rub with softened butter – you could use softened ghee here or even a vegan butter if you are dairy-free.
Season with kosher salt and ground black pepper OR our Smoked Turkey Rub (which is included in the recipe card below).
This looks ready to go on the smoker!!
Place on the smoker rack.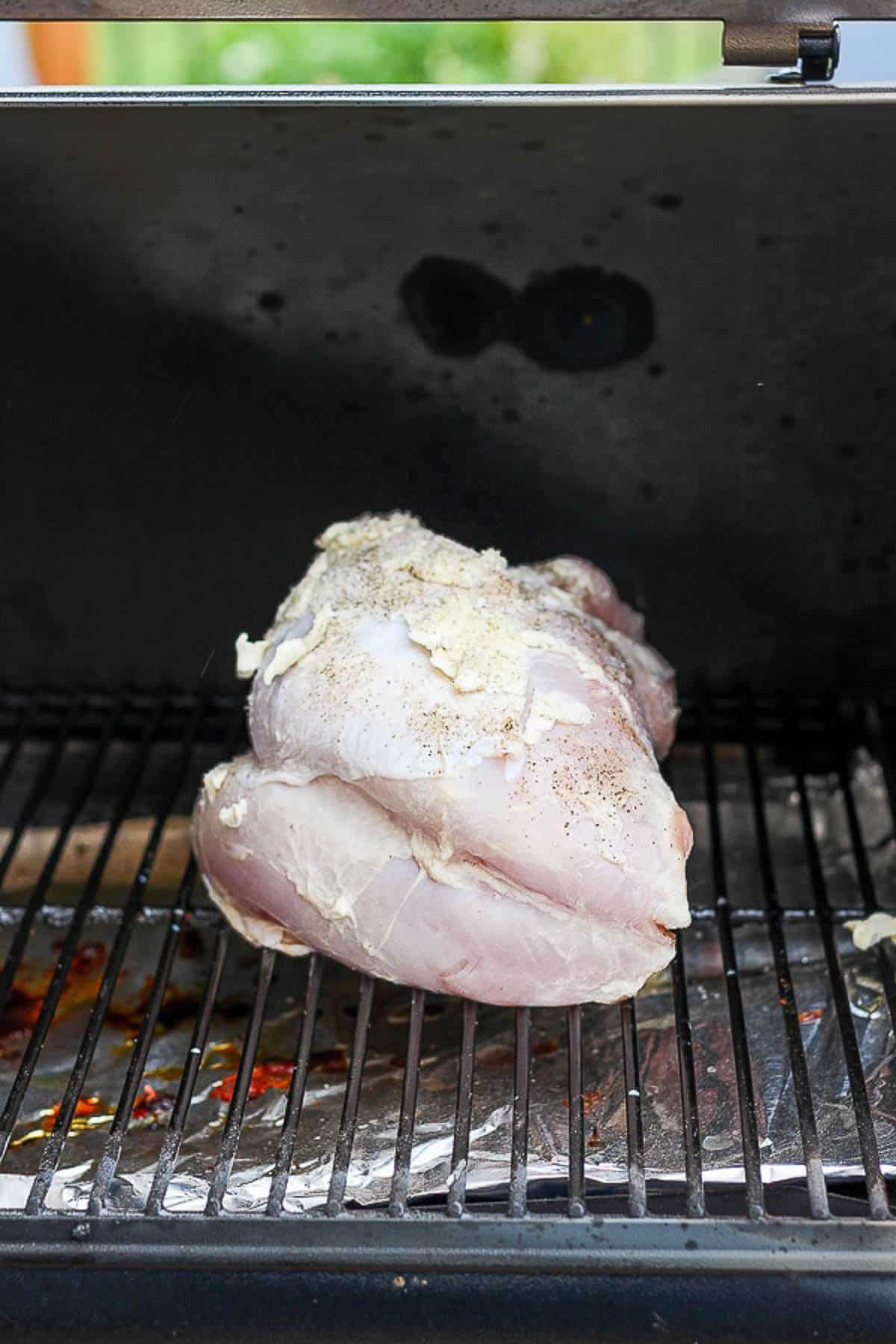 Follow the cooking instructions in the recipe card. Turkey is fully cooked when the internal temperature reaches 165 degrees F. at its thickest point. Use an internal meat thermometer to track the temp.
I like to baste it again once it is taken off the smoker. Let rest 20-30 minutes before carving and slicing.
Pro tip: check out our tutorial on How to Carve a Turkey Breast!
Recipe FAQs and Tips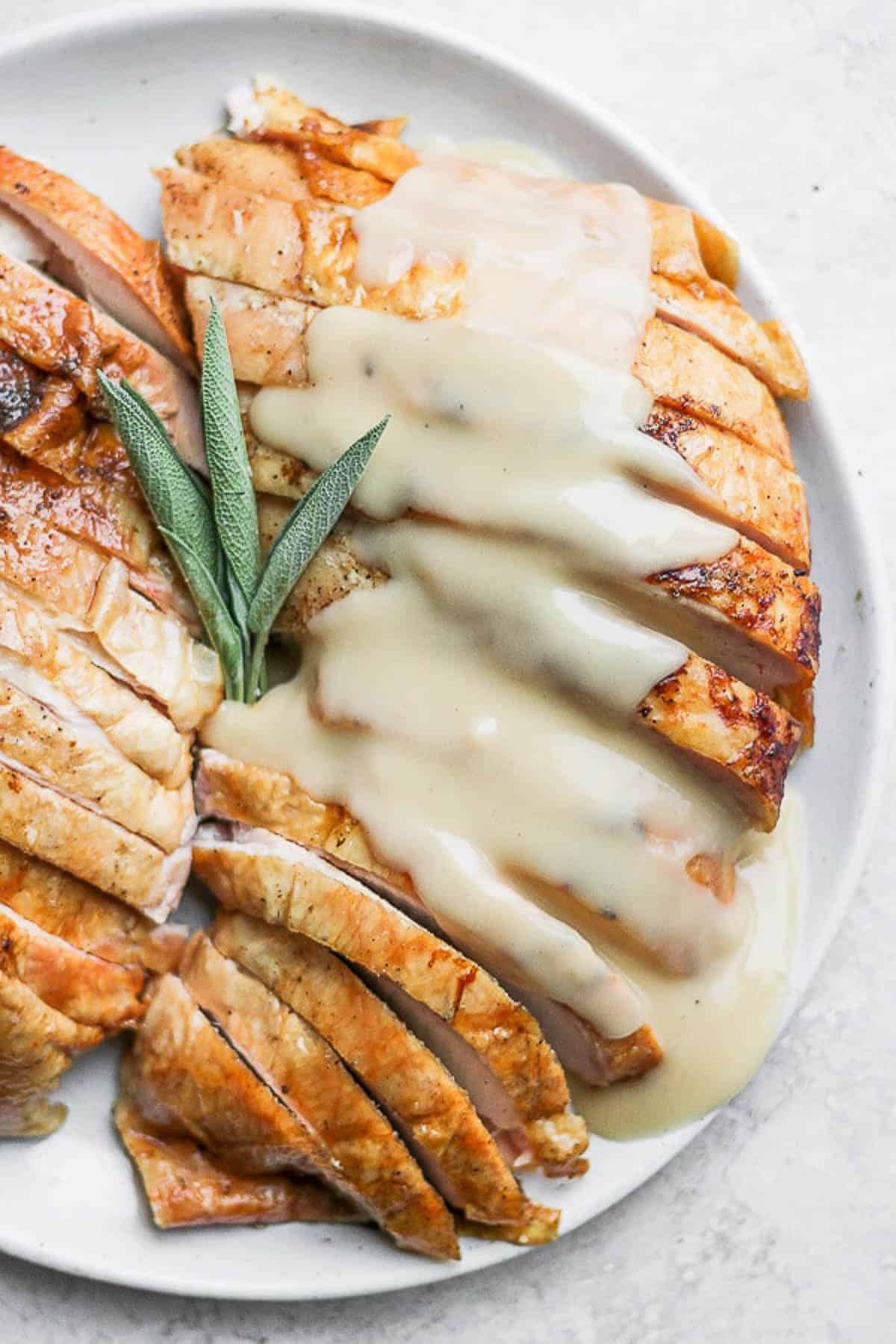 Leftover Smoked Turkey Breast Ideas
Here are a few easy and delicious leftover smoked turkey recipes that might come in handy for the days following your Thanksgiving celebration:
Storage
Store extra turkey in the refrigerator in an airtight container for up to 4 days.
Can I Freeze Leftover Smoked Turkey Breast
Yes, you can definitely freeze your leftover turkey. Store in a freezer-safe container (try and ensure it is airtight so the turkey doesn't dry out) and use within 3 months.
Smoked Turkey Breast Side Dishes
Don't forget to check out my Instagram account – Or give me a follow on Facebook or see what I am pinning on Pinterest!
Made this recipe and loved it?! We would love it if you would take a minute and leave a star rating and review – it is also helpful if you made any substitutions or changes to the recipe to share that as well. THANK YOU!
Print
Smoked Turkey Breast Recipe (How to Smoke Turkey Breast)
Author: Erin Jensen
Prep Time: 10 minutes
Cook Time: 4 hours
Total Time: 4 hours 10 minutes
Yield: 14 servings 1x
Category: Dinner
Method: Smoker
Cuisine: American
---
Description
Smoked Turkey Breast – the most amazing smoked turkey breast recipe! Simple, easy to make and it makes the MOST moist and flavorful turkey!!
---
Turkey:
8–9 pound turkey breast (ensure fully thawed)
4 tablespoons butter (or ghee) (additional for basting)
Basic Brine (optional):
1 gallon water
1 cup of kosher salt
1/2 cup apple cider
1 oranges, cut in half and squeeze juice out into brine + add in orange rinds
1 tablespoons minced garlic
1 tablespoons Worcestershire sauce
2 bay leaves
1/4 cup brown sugar (optional)
1 apple sliced
3–5 sprigs fresh thyme
5–6 whole peppercorns
Turkey Dry Rub:
1 tablespoon kosher salt
1/2 teaspoon ground black pepper
2 teaspoons dried thyme leaves
1 teaspoon ground mustard
1 teaspoon smoked garlic powder
1 tablespoon dried parsley leaves
1 teaspoon dried oregano leaves
1 teaspoon dried basil leaves
2 teaspoons dried sage leaves
1 teaspoons onion powder
---
Instructions
Brine (Optional):
Boil: Bring 4 cups of water to a boil in a medium saucepan
Add: Add in salt and brown sugar (if using).
Simmer: Let simmer until salt and sugar completely dissolve.
Cool: Remove from heat and add ice cubes to cool.
Bucket: Once the mixture is completely cooled add to your brining vessel (large pot/bucket) along with the rest of the water and other remaining ingredients.
Turkey: Add turkey and ensure it is completely submerged (you may need to put a small sauce pot on top of it to keep it submerged.
48 hours: Let brine for 12- 48 hours while refrigerated.
Remove: Remove from brine, pat dry and proceed to the Smoked Turkey Breast Recipe, below. Discard brine.
Smoked Turkey Breast
Preheat: Preheat smoker to 215 degrees F.
Turkey Dry Rub: combine Turkey Dry Rub ingredients and set aside.
Remove (if not brining): Remove turkey breast from packaging; remove any giblets or gravy pack.
Dry: Place turkey breast on large plate and pat dry with a clean paper towel.
Butter: Rub butter all over the turkey breast, both sides, in every nook and cranny.
Season: Season generously with the Turkey Dry Rub.
Smoker: Place on smoker grates and close the lid.
Temp: Cook at 215 degrees F. for (really anywhere between 200-220 degrees F.) for the first 2-2.5 hours. Then increase the heat to 350 degrees F. until the internal temp at the thickest part of the turkey (without touching the bone) is 165 degrees F. and juices run clear.
Baste: Feel free to baste the turkey once or twice with melted butter, but do so quickly as you will lose a lot of heat very quickly. Opening the smoker for too long will increase your cooking time.
Rest: Remove from smoker and place on large plate. Baste with melted butter and then let rest for 20-30 minutes (feel free to cover with foil).
Carve: Carve and serve immediately.
Notes
Smoked Boneless Turkey Breast: feel free to use this same recipe for a boneless turkey breast – the cook time will just be shorter (probably at least cut in half) – but just keep an eye on your internal temp and you will be good!
Thaw: Make sure your turkey is fully thawed before cooking – if it is still partially frozen it will effect the cooking time. Read: How to Thaw a Turkey
Brine: It is totally up to you if you want to brine your turkey breast first. I have tested it both ways and its delicious no matter what. Brining just takes it to that next level. If you brine it first you can just rinse and follow the instruction as written. Read: Brining a Turkey: 101
Butter: You can use either regular butter (or ghee) or mix in some ground sage to make Herbed Sage Butter!
Seasoning: you can also use this Smoked Turkey Dry Rub or Classic Turkey Seasoning).
Rest: Don't forget to let it rest – once you take it off the smoker let it rest for 20-30 minutes.
Carving: Here is a great tutorial on how to carve turkey breast.
Got leftovers? Store in an airtight container in the refrigerator for up to 3 days. I also love this Turkey + Wild Rice Soup!
Dairy-Free: If you are completely dairy-free, feel free to use olive oil instead of butter or even some vegan butter!
Turkey Breast Weight: You can still easily use this recipe with a turkey breast that is less than 8 pounds or more than 9 pounds. Simply let the smoker temp and internal temp be your guide (see recipe card, below).
Aluminum Pan: Yes, you can cook this in an aluminum cooking tray – if you do make sure you place a wire baking rack inside the pan and then place the turkey breast on top – that way the smoke will still encircle it AND you will catch all those drippings so you can make turkey gravy!
Wood Chips: I recommend cherry wood or apple wood for this recipe.
Cook time listed does not include brine time.
Nutrition: nutrition is estimated and does not include gravy.
Nutrition
Serving Size: Approx. 1/2 pound
Calories: 326
Sugar: 0.1 g
Sodium: 463.5 mg
Fat: 7.2 g
Carbohydrates: 0.4 g
Protein: 61.7 g
Cholesterol: 157.2 mg
Keywords: smoked turkey breast, traeger smoked turkey breast, how to smoke turkey breast
Originally published October 25, 2021 – recipe is the same except we added a brine option to the recipe card.