This quick & easy Strawberry Chicken Salad is the perfect summer salad! Full of fresh berries, oranges, avocado, and red onion on a bed of crisp romaine lettuce. Drizzle on the homemade poppyseed dressing, serve with a side of grilled bread, and you have a delicious weeknight dinner!
The Best Strawberry Chicken Salad
Every summer this salad is a dinner tradition! Our family makes it several times on those hot days when you only want to cook on the grill plus craving all the fresh foods. We love that the kids can build theirs any way they want and the whole meal can come together in under 30 minutes with minimal cooking. If I think of it ahead of time we marinate our chicken breasts before grilling but you definitely don't have to, it is great either way. Just make sure you whip up this homemade poppyseed dressing! It is SO GOOD!
Another great summer salad is our grilled chicken caesar salad or if you prefer a different protein option, you can make it with salmon or shrimp.
What You Will Need
boneless, skinless chicken breasts – we love using chicken breasts for topping a salad but you could also use chicken thighs.
kosher salt & pepper – the perfect simple seasoning for cooking any meat.
romaine lettuce – the base for this delicious salad.
mandarin oranges, fresh strawberries, & blueberries – a combination of fresh fruit that's perfect for summer!
avocado – everything is better with a little avocado on top!
red onion – adds a nice mild onion flavor, plus a pop of color.
poppyseed dressing – our homemade poppyseed dressing is so good or you can pickup your favorite from your local grocery store.
optional: marinade for the chicken breasts – this adds some more great flavor if you have the time, but you don't have to marinate the chicken.
Can I Prep This Salad Ahead Of Time
Absolutely! You can easily do a lot of the prep ahead of time. The chicken can be cooked, chopped and stored in the fridge. The fresh fruit and veggies can also be rinsed, pat dried, and cut-up (if needed) ahead of time and then stored in the fridge until needed. Plus, the poppyseed dressing can be mixed up and stored in the fridge. You will have all of the pieces ready to go so when it is time to eat all you have to do is warm the chicken and toss it all together!
What Is A Good Side For Strawberry Chicken Salad
We absolutely love serving this mouthwatering salad with a side of grilled bread! Especially since we already have the grill going to make the chicken, it is so easy to just toss on a few slices of bread on too and who doesn't love grilled bread!?
How To Store This Salad
If you have any leftovers when making this salad you can easily store them in the fridge to enjoy another day. Just make sure you keep some things in separate containers. You will want a container for the chicken, another one for the fresh fruit, one for lettuce, and one more for the dressing. This will help keep things fresh and then when you are ready for another yummy salad you can just toss all the pieces together again.
How To Make A Strawberry Chicken Salad
You can begin by mixing together the homemade poppyseed dressing.
Grill up your chicken breasts (option to marinate for a bit before grilling).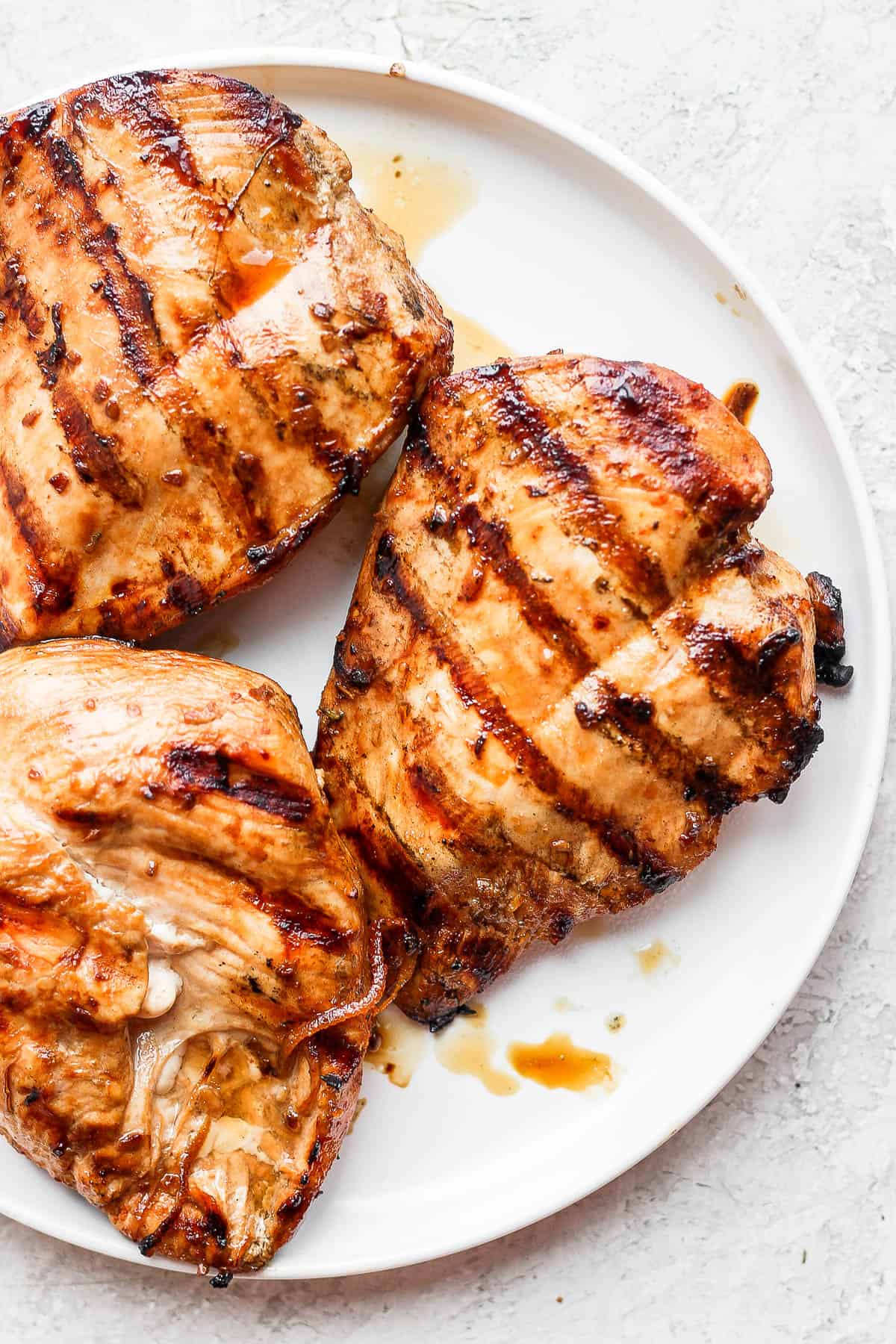 Prepare all of your fresh ingredients.
Toss some slices of bread on the grill for the perfect side!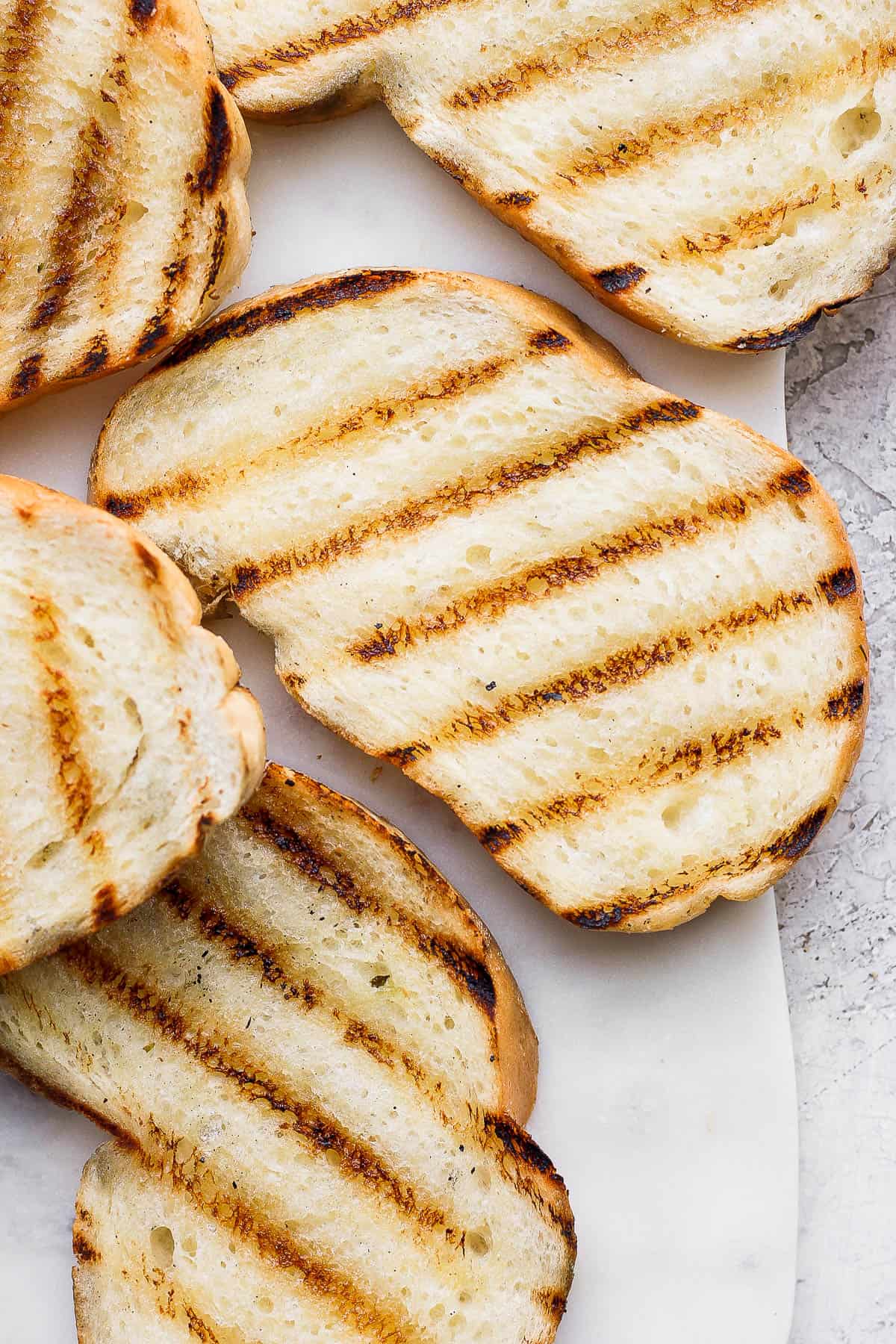 Assemble your salad with ALL of the toppings plus a drizzle of homemade poppyseed dressing.
Enjoy!
Made this recipe and loved it?! We would love it if you would take a minute and leave a star rating and review – it is also helpful if you made any substitutions or changes to the recipe to share that as well. THANK YOU!
Don't forget to check out my Instagram account for some behind-the-scenes action! Or give me a follow on Facebook or see what I am pinning on Pinterest!
Print
Strawberry Chicken Salad
Author: Erin Jensen
Prep Time: 10 minutes
Cook Time: 20 minutes
Total Time: 30 minutes
Yield: 2 salads 1x
Category: Salad
Method: Counter Top
Cuisine: American
---
Description
Strawberry Chicken Salad – a light and refreshing strawberry chicken salad recipe + homemade poppyseed dressing! Serve with grilled bread!
---
Poppyseed Dressing:
1/2 tablespoon apple cider vinegar
1/2 tablespoon lemon juice
1/4 cup light olive oil
2 teaspoons honey
1/4 teaspoon onion powder
1 teaspoon dijon mustard
1 teaspoon poppyseeds
1/8 teaspoon kosher salt
2 teaspoons orange juice concentrate
3 tablespoons plain greek yogurt OR plain/unsweetened dairy-free yogurt
Chicken:
2 medium-sized boneless, skinless chicken breasts
kosher salt and ground black pepper
Optional: feel free to marinate the chicken before grilling – this chicken marinade is our favorite!
Salad:
4 cups romaine lettuce
1 cup mandarin oranges, drained
1 avocado, cubed
1 cup fresh strawberries, quartered
3/4 cup fresh blueberries
1/4 cup red onion, sliced
---
Instructions
Poppyseed Dressing:
Add ingredients to a mason jar.
Place cover on tightly and shake – alternatively you can whisk ingredients together.
Taste and adjust any flavors, as-needed.
Chicken:
Heat grill to medium heat (approximately 400 degrees F) and ensure grill grates are clean.
Place chicken on direct heat (direct flame) and cook at medium heat for 4-5 minutes per side.
Move chicken away from the direct heat (direct flame) so that it is cooking on indirect heat (maintaining the same grill temp) and cook for an additional 5-10 minutes (you don't need to flip during this point because the chicken will cook as if it is in an oven) or until the internal temperature of the thickest part of the chicken reads 160 on your meat thermometer.
Remove from grill and let rest at least 5 minutes (the chicken will continue to cook during this time and the internal temp will continue to rise up to 10 additional degrees). Dice the chicken into 1 inch cubes.
Salad:
Divide ingredients between two large salad bowls.
Drizzle with poppyseed dressing.
Serve with grilled bread to complete the meal!
---
Notes
Dairy-Free: to make this dairy-free simply use the dairy-free version of the poppyseed dressing.
Gluten-Free: to make this gluten-free simply serve with a gluten-free grilled bread.
Meatless: feel free to omit the chicken for a meatless meal!
Keywords: strawberry chicken salad