20 Minute Asian Chopped Rotisserie Chicken Salad – for those night when you have nothing planned, but want something healthy! (Whole30, Gluten-Free, Dairy-Free)
This post is sponsored by Georgia Grinders®, but the opinions are my own.
For those nights when you are running by the grocery store after work with absolutely no plan for dinner… this 20 Minute Asian Chopped Rotisserie Chicken Salad is for you!
I may work from home now, but believe me I still find myself looking at the clock around 4:30 wondering what in the heck are we going to make for dinner tonight?? (See also: meal plans) There will just always be those nights when you don't have your stuff together – I got you 🙂
Here is all you need to do – swing by the grocery store and grab a rotisserie chicken and some of those pre-shredded bags of cabbage and carrots along with a few other random toppings and you will be on your way! When you get home, throw it all in a bowl together (but take the extra 3 minutes to peel some mango ribbons – you will thank me later) and then grab your jar of Georgia Grinders cashew butter and whip on a dreamy cashew dressing. Love how easily this comes together!
What are the benefits of using cashew butter over peanut butter?
Cashews are lower in fat (and lower in total calories) than peanuts, and are also higher in important nutrients like magnesium, zinc, and phosphorus. They're also higher in many phytonutrients, including many antioxidants.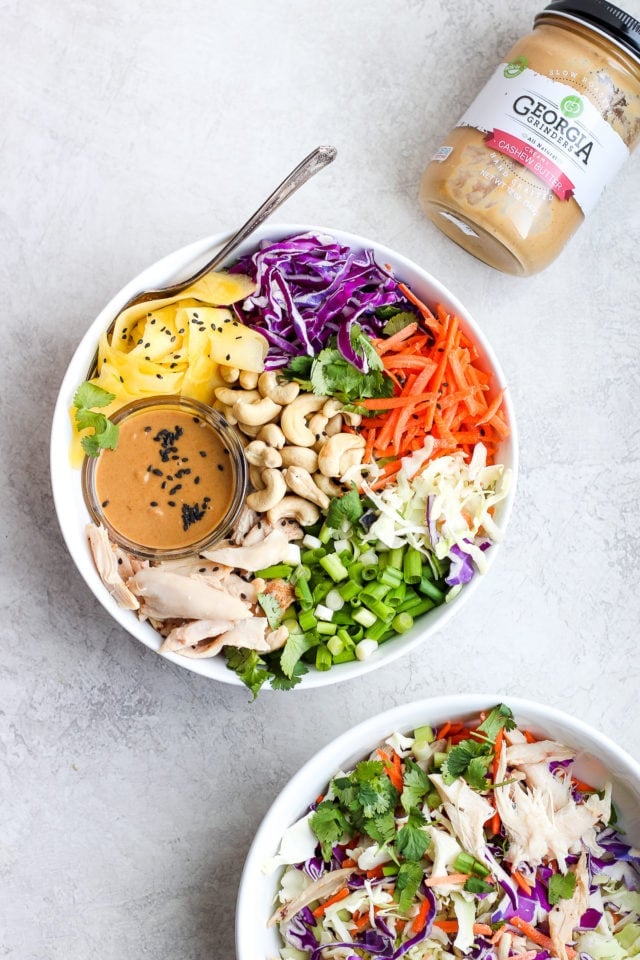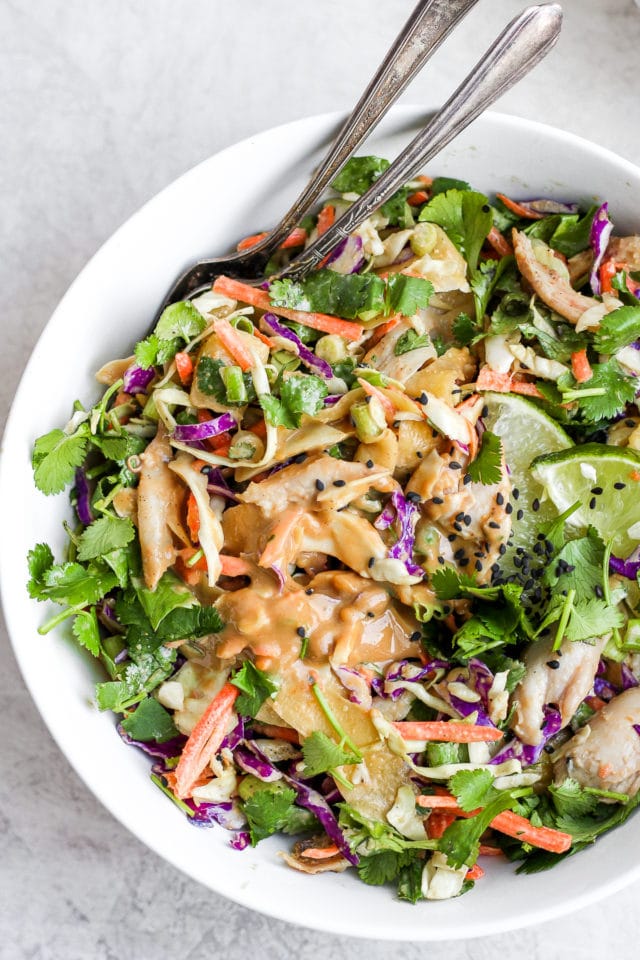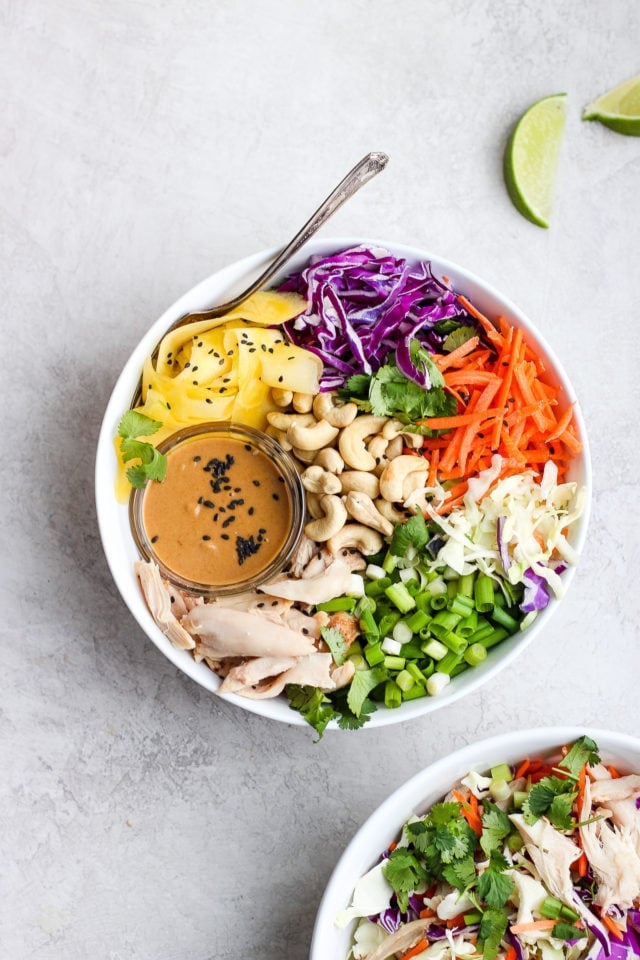 Don't forget to follow me on Facebook, check out my Instagram account or see what I am pinning on Pinterest!
Love,
E
How to Make Asian Chopped Salad:
Print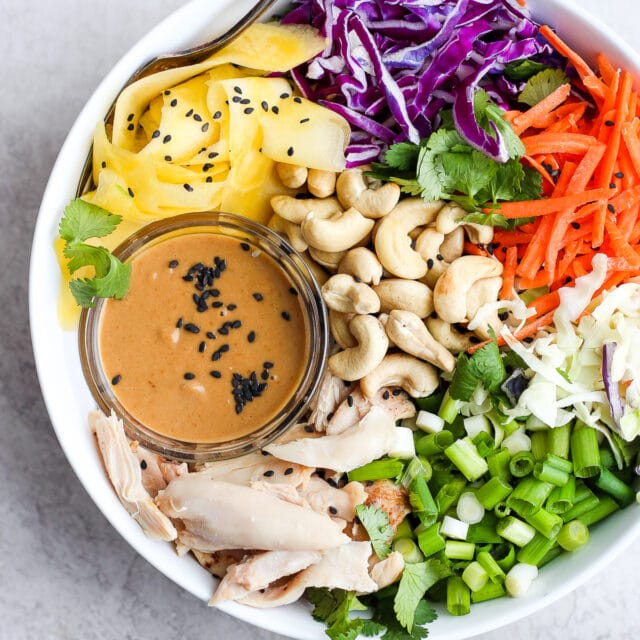 20 Minute Asian Chopped Rotisserie Chicken Salad
Author: Erin -The Wooden Skillet
Prep Time: 20 minutes
Cook Time: 0 minutes
Total Time: 20 minutes
Yield: 4 salads 1x
Category: Salad
Cuisine: Asian
---
Description
Your new go-to salad for those weeknights when you have nothing planned!
---
Asian Cashew Dressing
1 Tablespoon + 1 Teaspoon minced garlic
1 Tablespoon + 1 Teaspoon fish sauce
1/2 cup coconut aminos
1/2 cup water
1 Teaspoon fresh lime juice
Chopped Salad
1 rotisserie chicken, shredded (4–6 cups, approx.)
1 mango, use vegetable peeler to peel into ribbons
4 cups shredded green cabbage
2 cups shredded purple cabbage
1 cup green onion, chopped
2 cups fresh cilantro, roughly chopped
2 cups raw cashews
2 cups shredded carrots
1 lime, sliced
---
Instructions
Dressing:
Combine ingredients in medium mixing bowl and whisk until fully incorporated.
Add additional water, 1 Tablespoon at a time, if you want a less thick consistency.
Salad:
Place green cabbage, carrots, mango ribbons and purple cabbage into bowls.
Add green onion, cilantro, cashews and lime.
Top with chicken.
Serve with dressing.
---
Notes
This could easily be meal-prepped for work (similar to this Work Lunch Greek Chicken Salad). Just put your chicken on the bottom, then cashews, carrots, mango, shredded cabbage, green onion and cilantro. Store your dressing separately to add later.
You could also make this Sunday Butterflied Chicken beforehand instead of buying a rotisserie chicken.
You could also simply boil whole boneless chicken breasts in water for approx. 20 minutes (or until chicken is fully cooked) and then shred.
Keywords: chopped salad, asian, rotisserie chicken
Thank you so much for reading & supporting The Wooden Skillet! This post contains affiliate links for products I actually use in my own home and personally recommend. Should you make a purchase using one of these links, The Wooden Skillet will earn a small commission at no extra cost to you, which helps me continue to bring you great original content. Thank you!