Our delicious and Easy Pumpkin Pie recipe is a must for your next Thanksgiving dinner! It only takes 7 real, simple ingredients to create this classic holiday dessert. All of your family and friends are going to love it!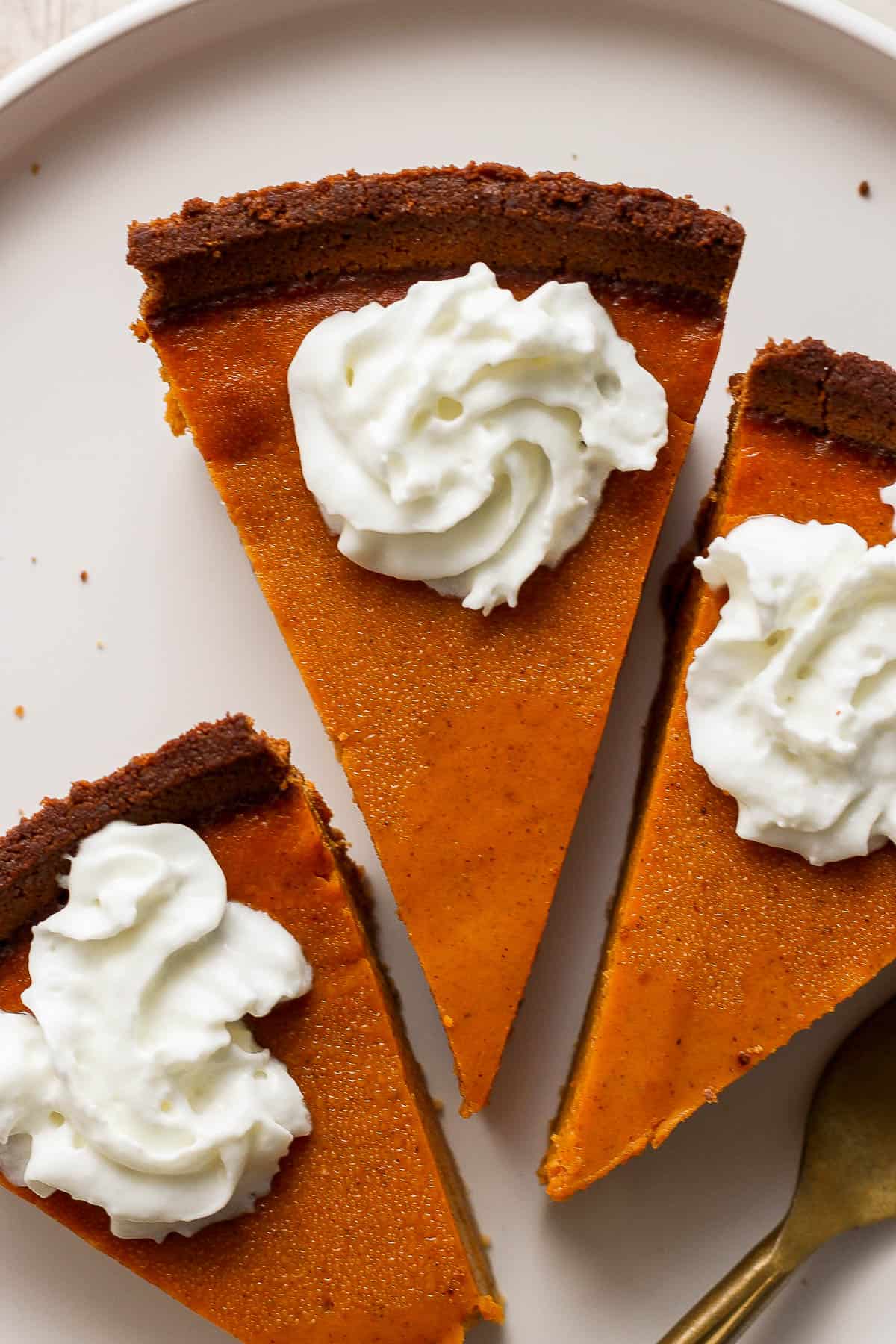 The Best Pumpkin Pie Recipe
On Thanksgiving Day when there is already so much to cook and prepare, let us help simplify your Thanksgiving dessert with this simple pumpkin pie recipe! If you are looking to make a homemade pumpkin pie from scratch, go for it.
But, if you are in need of simplifying this traditional pumpkin pie recipe we will show you the easy step by step process to make a delicious pie in a fraction of the time (also try our Pumpkin Pie in a Cup for something different)! The primary shortcuts are a store-bought pie crust and canned pumpkin puree but follow along as we show you just how easy it is!
Dietary restrictions? We've got you covered with our Dairy-Free Pumpkin Pie or Gluten-Free Pumpkin Pie.
What You Will Need
pumpkin purée – keep it simple with a can of pure pumpkin from the grocery store or you can make your own pumpkin puree, if you want.
sweetened condensed milk – just one can and if you need a dairy-free option, you should be able to find sweetened condensed coconut milk at the store too!
fresh egg – great for helping create the perfect texture and structure for your pie.
pumpkin pie spice – found in the spice aisle at the store or do what we do and make a big batch of homemade pumpkin spice at the beginning of fall and store in the pantry!
vanilla extract – just a little bit for that added flavor.
kosher salt – a pinch is always a must!
pie crust – so many great store-bought crusts or, if you do want to take the time, you can make a homemade pie crust recipe.
How To Make An Easy Pumpkin Pie
The first steps to making the easiest pumpkin pie recipe are to gather all of the ingredients. For best results, make sure the pie crust if fully thawed before starting!
Now place the condensed milk, pumpkin puree, egg, vanilla extract, salt, and pumpkin spice in a large bowl.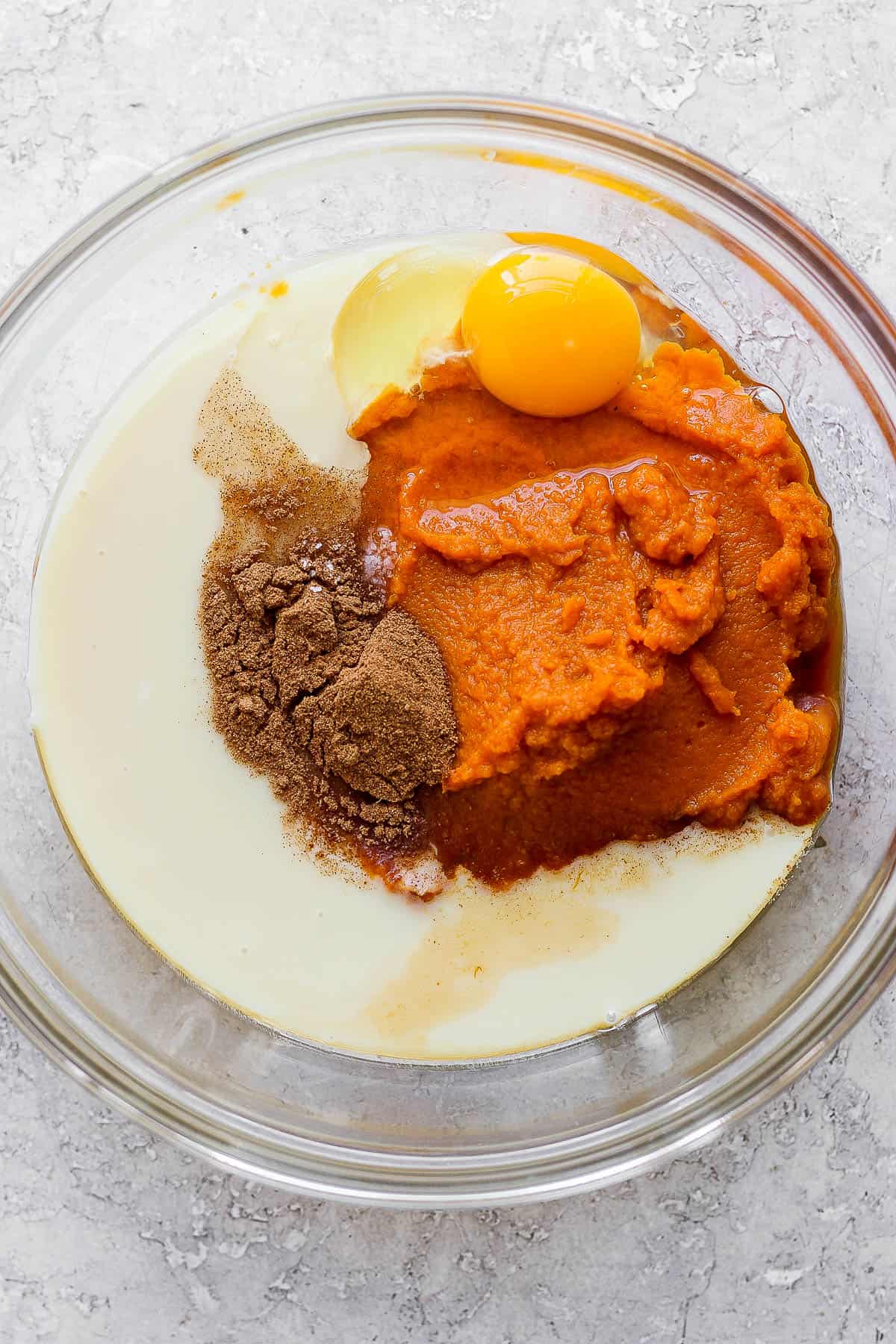 Mix with a large spoon or electric mixer to fully combine.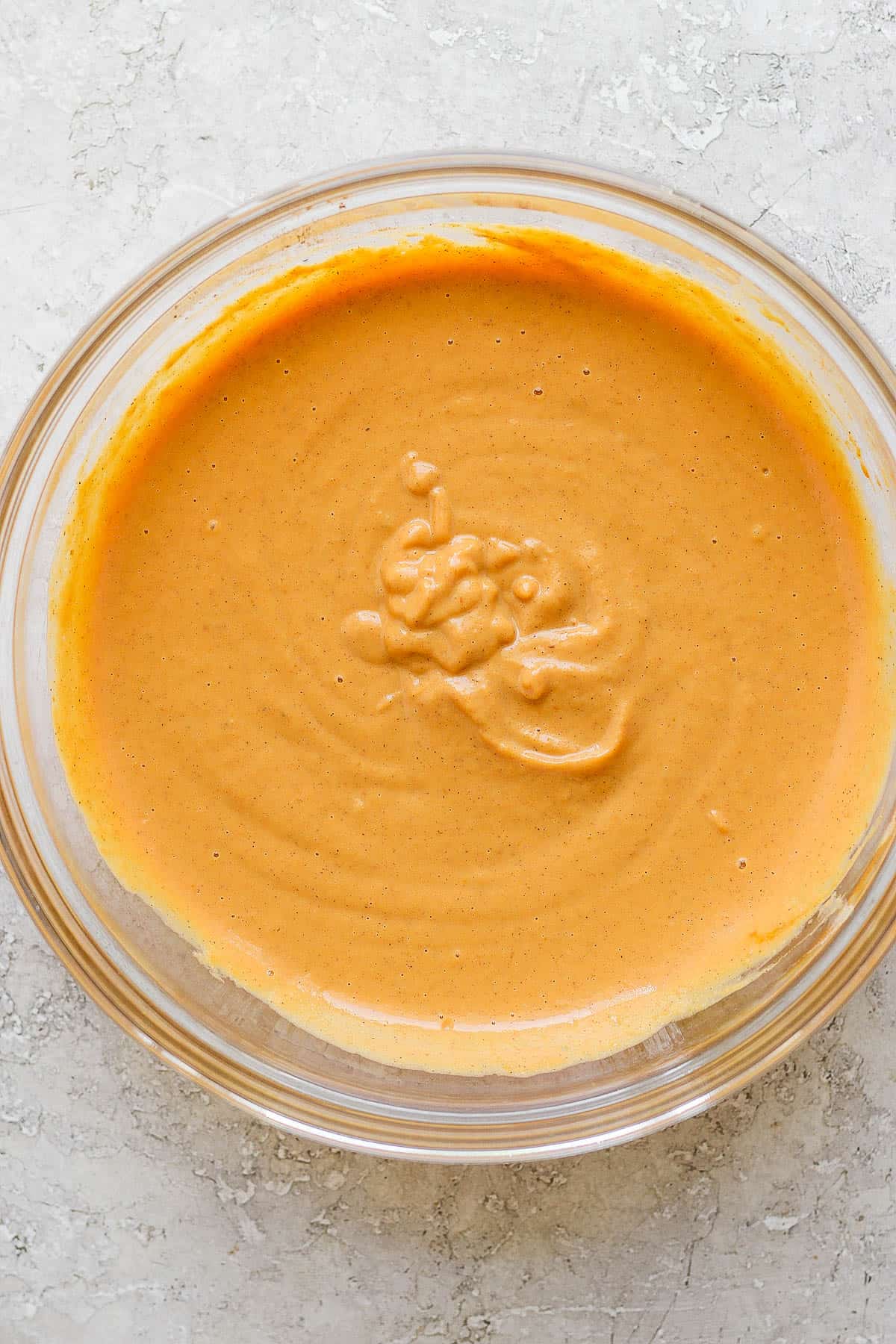 Pour the pumpkin pie filling into the pie crust.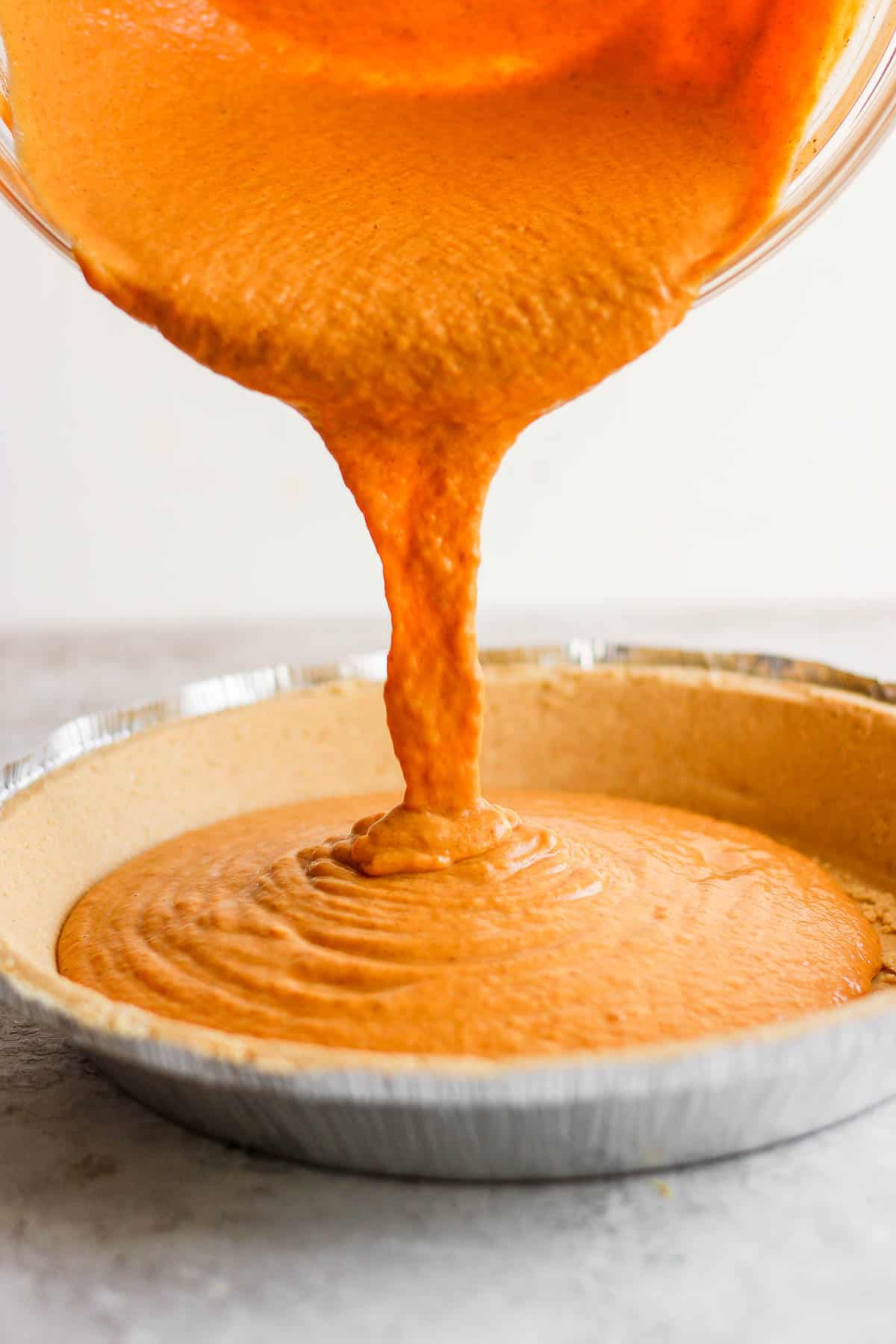 Spread the pumpkin filling evenly throughout the entire crust.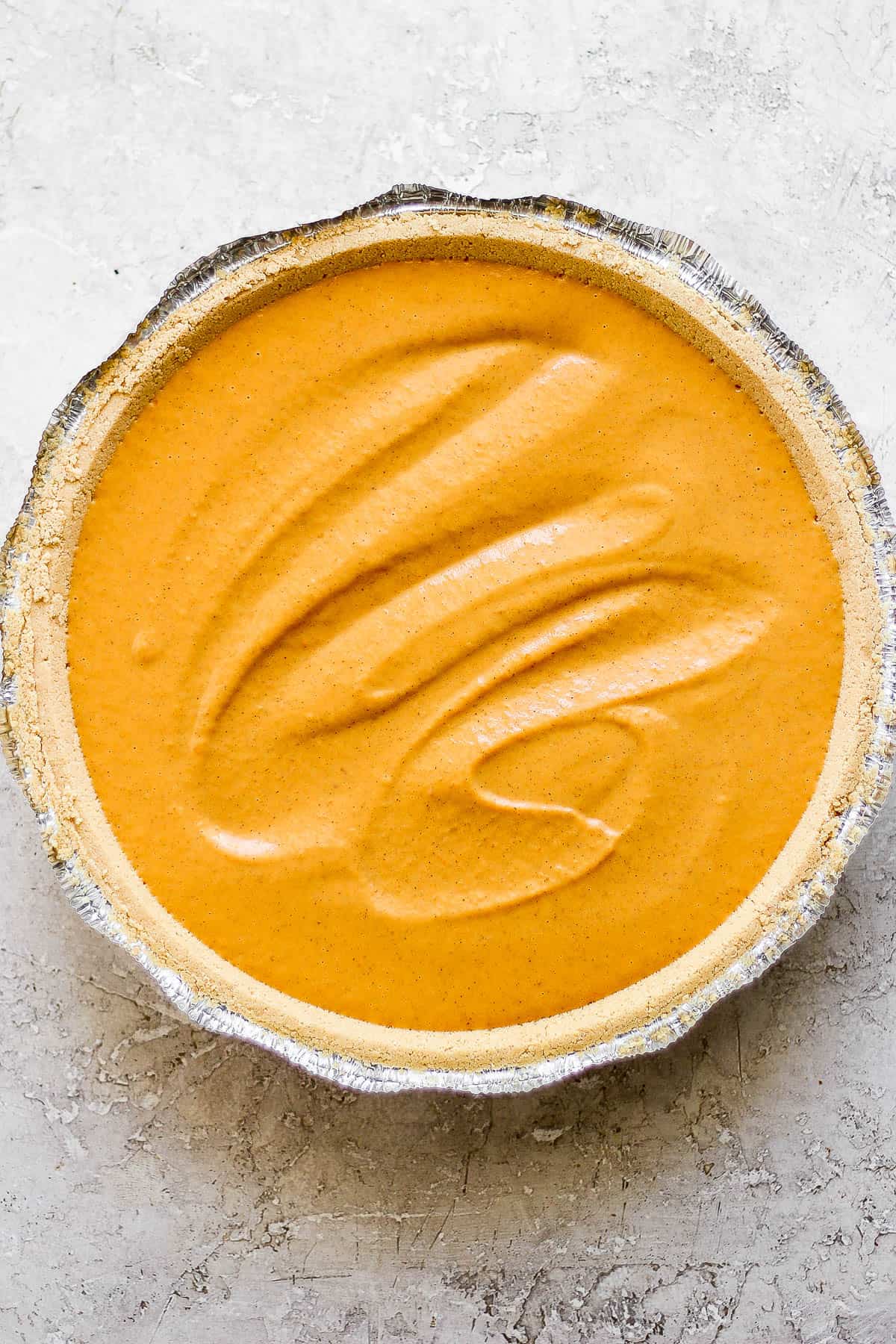 Turn the oven temperature to 375 degrees F and bake for 50-55 minutes or until golden brown.
Let the entire pie cool on a wire rack to room temperature before cutting to serve. To speed this up, you can place the pie in the fridge for an hour.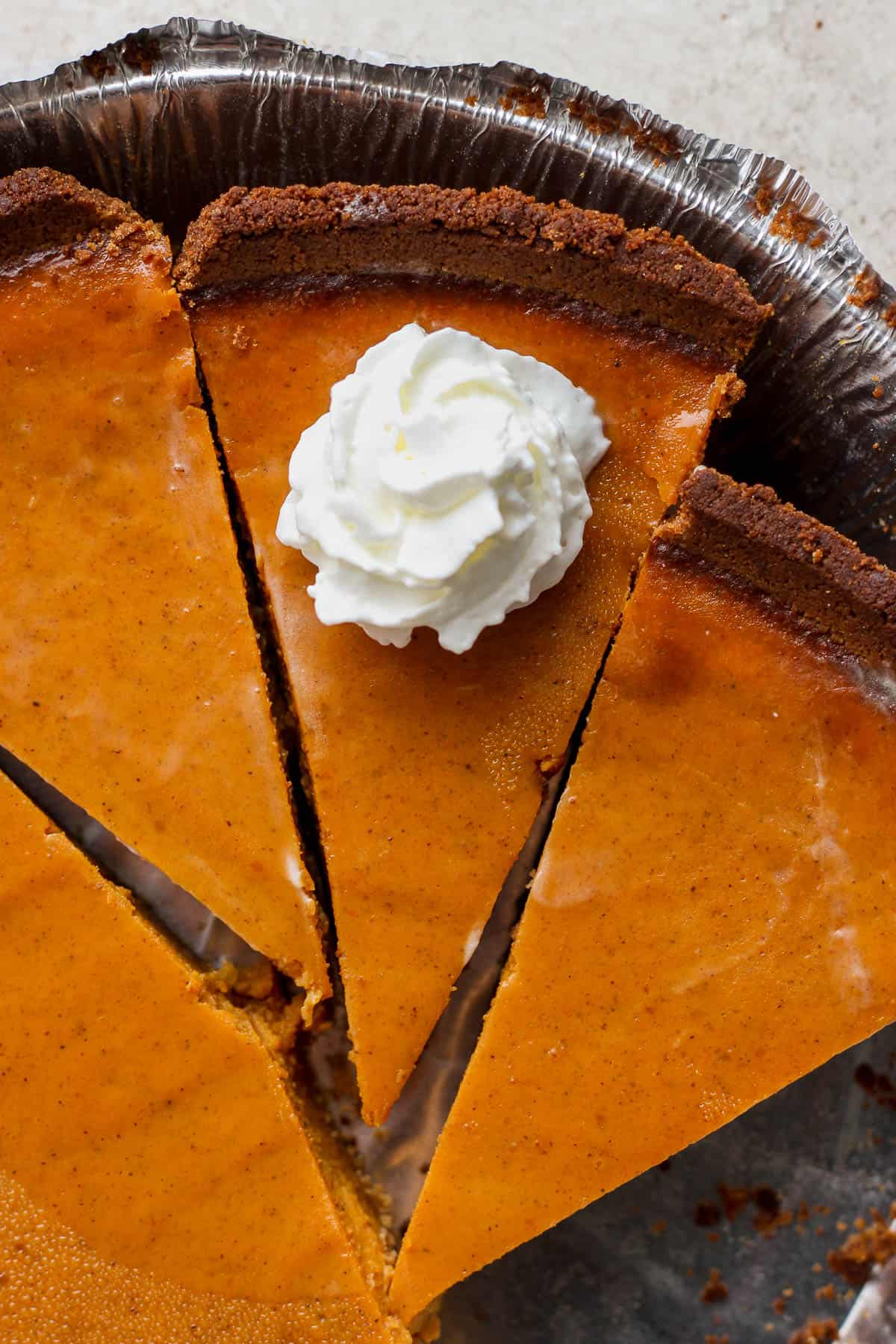 Best Way To Serve Pumpkin Pie
We highly recommend serving these pie slices with large dollops of whipped cream or Cool Whip! It is a must for a traditional holiday pie. Another delicious option would be a big scoop of vanilla ice cream. Any of these options would be loved by everyone around your holiday table!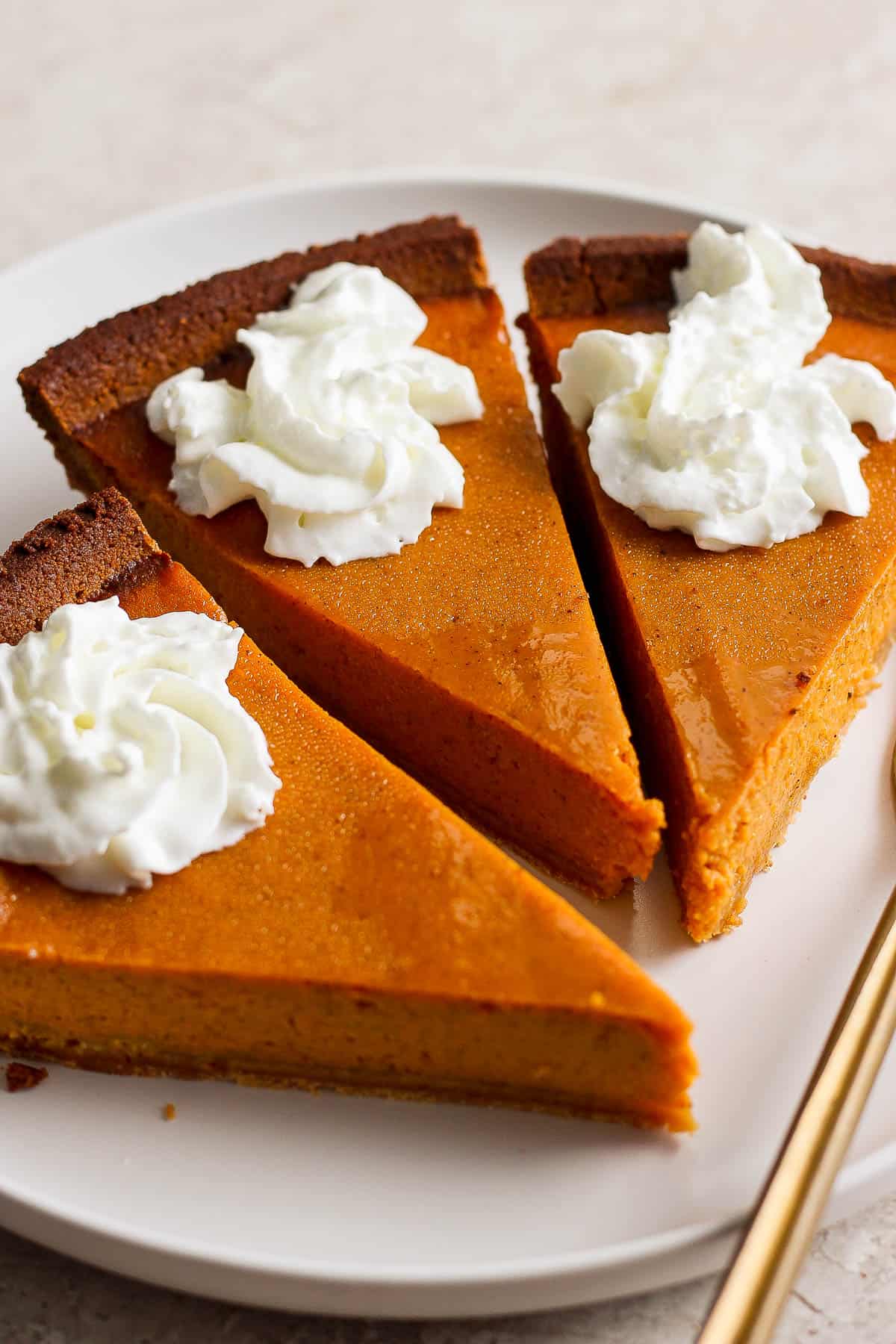 Recipe FAQ
What is an easy pumpkin pie crust?
Any pre-made pie crust is going to make this process easier than making a homemade crust. Grocery stores have a variety of shelf stable, refrigerated, and frozen pie crust options. If you go with a refrigerated or frozen option make sure you read the instructions. Definitely thaw (if frozen) before using and some may need to be cooked before adding the filling if they are an unbaked pie crust. We used a graham cracker crust and we highly recommend!
How to keep the crust edges from getting too dark?
If you have found that sometimes the edges of the crust can get a little too dark for you, just place a little bit of tin foil around the edge. This will protect them during the bake time.
Can I make a pumpkin pie ahead of time?
Absolutely! This is one of those items on the Thanksgiving menu that can save so much time by just making it ahead of time. Once it has cooled, cover with plastic wrap or foil and keep in the fridge for 4-5 days.
Can I freeze pumpkin pie?
Yes! Make sure you cook it in an aluminum pie pan and then after it has fully cooled, cover with plastic wrap or foil and store in a level spot in your freezer for up to one month!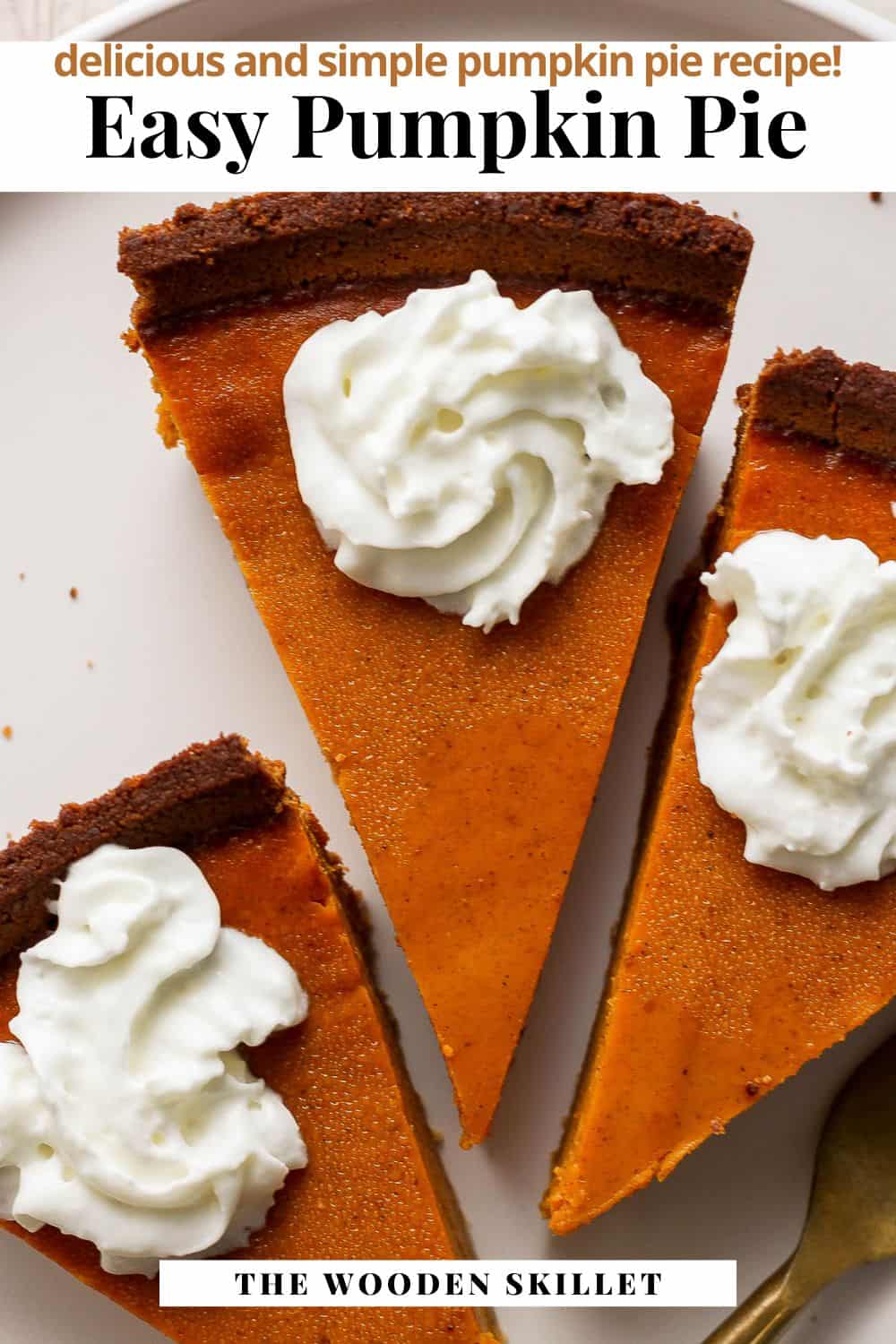 Made this easy pumpkin pie recipe and loved it?! We would love it if you would take a minute and leave a star rating and review – it is also helpful if you made any substitutions or changes to the recipe to share that as well. THANK YOU!
Don't forget to check out my Instagram and TikTok account for some behind-the-scenes action! Or give me a follow on Facebook or see what I am pinning on Pinterest!
Other Pumpkin Recipes You Might Like
Print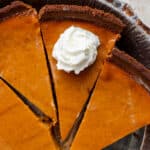 Easy Pumpkin Pie Recipe
Author: Erin Jensen
Prep Time: 10 minutes
Cook Time: 60 minutes
Total Time: 1 hour 10 minutes
Yield: 12 servings 1x
Category: Thanksgiving
Method: Oven
Cuisine: American
---
Description
Easy Pumpkin Pie – a simple, easy and delicious classic pumpkin pie recipe that is perfect for Thanksgiving! So good!
---
15oz can pumpkin puree
14oz can sweetened condensed milk
1 egg
1 1/2 teaspoon pumpkin pie spice
1 teaspoon vanilla extract
pinch of salt
1 store-bought pie crust of your choice
---
Instructions
Preheat oven to 375 degrees F.
Combine pumpkin puree, sweetened condensed milk, egg, pumpkin pie spice, vanilla extract and pinch of salt in a medium mixing bowl. Whisk to combine – the consistency should be smooth.
Pour out pumpkin pie filling into the prepared crust and ensure it is spread out evenly.
Place in oven, middle rack, and let bake 50-55 minutes or until a toothpick comes out clean.
Remove and let cool completely. Store in the refrigerator approx. 1 hour before cutting into for serving.
Serve with whipped cream or cool whip and enjoy.
---
Notes
Storage: cover with aluminum foil and store leftovers in an airtight container in the refrigerator for up to 5 days.
Pie Crust: this recipe is called Easy for a reason – store-bought pie crust here! BUT if you do want to make your own pie crust, we have a classic pie crust and a gluten-free pie crust option!
Nutrition
Serving Size: 1 slice
Calories: 246
Sugar: 25.5 g
Sodium: 336.1 mg
Fat: 9.1 g
Carbohydrates: 37 g
Protein: 5 g
Cholesterol: 30.7 mg
Keywords: easy pumpkin pie, easy pumpkin pie recipe