Epic Whole30 Poke Bowl – my favorite sushi roll deconstructed into the most amazing Whole30 poke bowl!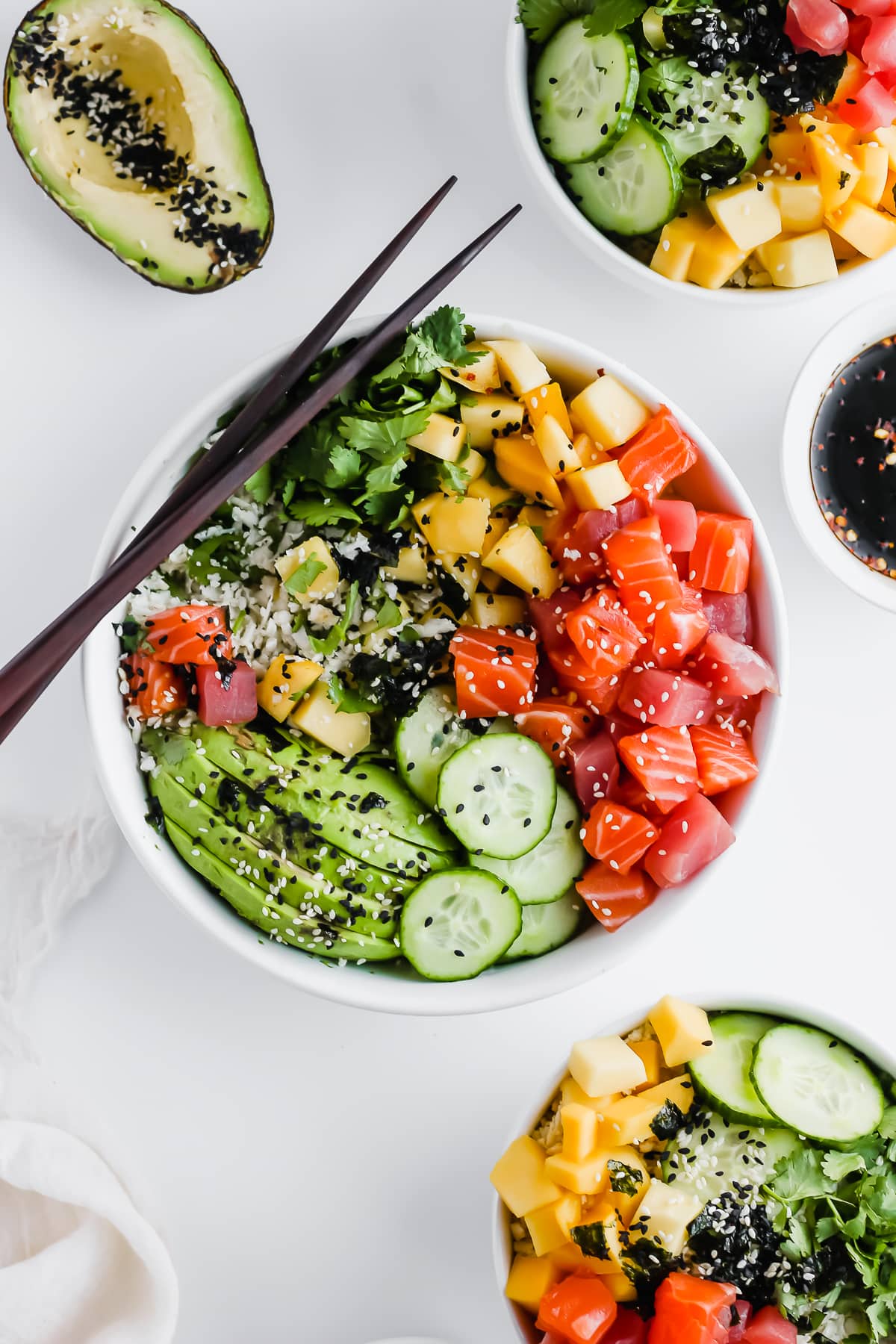 Best Ever Whole30 Poke Bowl
You guys, this is my one of my absolute favorite sushi rolls, deconstructed into the most Epic Whole30 Poke Bowl!! Perfect for a last-minute Valentine's Day dinner too!
Cold brew is an obsession of mine. I love eating Whole30. And I LOVE sushi. Three things you need to know about me.
I could possibly eat sushi every night. I don't think I would get sick of it. My go-to roll is a spicy salmon roll with avocado (hold the cucumber). But this would be my #2. Spicy salmon with cilantro, avocado and mango. For some reason I am not a huge fan of cucumber in my sushi rolls, but I do like it in a poke bowl. And I added tuna AND salmon because …. it had to be epic. These ingredients are easy to throw together (ask your higher-end grocery stores if they carry sushi-grade tuna/salmon) and I guarantee you will love them.
If my husband knows what he is doing, we will be eating sushi (in some form) on Valentine's Day, and a nice little glass of champagne. Sounds perfect to me.
And, of course, if you aren't feeling the cauliflower rice go nuts and use white or brown rice (of course it will no long be Whole30/Paleo)! I actually didn't mind the cauliflower rice and coco aminos, especially when there is so much flavor going on. But, I totally get it that there are times when you just. want. real. rice. Believe me. It gives me a bit of a stomach ache so I am always sure to drink a ton of water if I know I am going to have it and, for me, taking a digestive enzyme really helps alleviate some of that discomfort when I eat certain non-compliant items (like rice, bread and beans).
Alright you guys, I am officially toast after a long and busy weekend! I hope you guys had a great Sunday and that you have a great start to your week!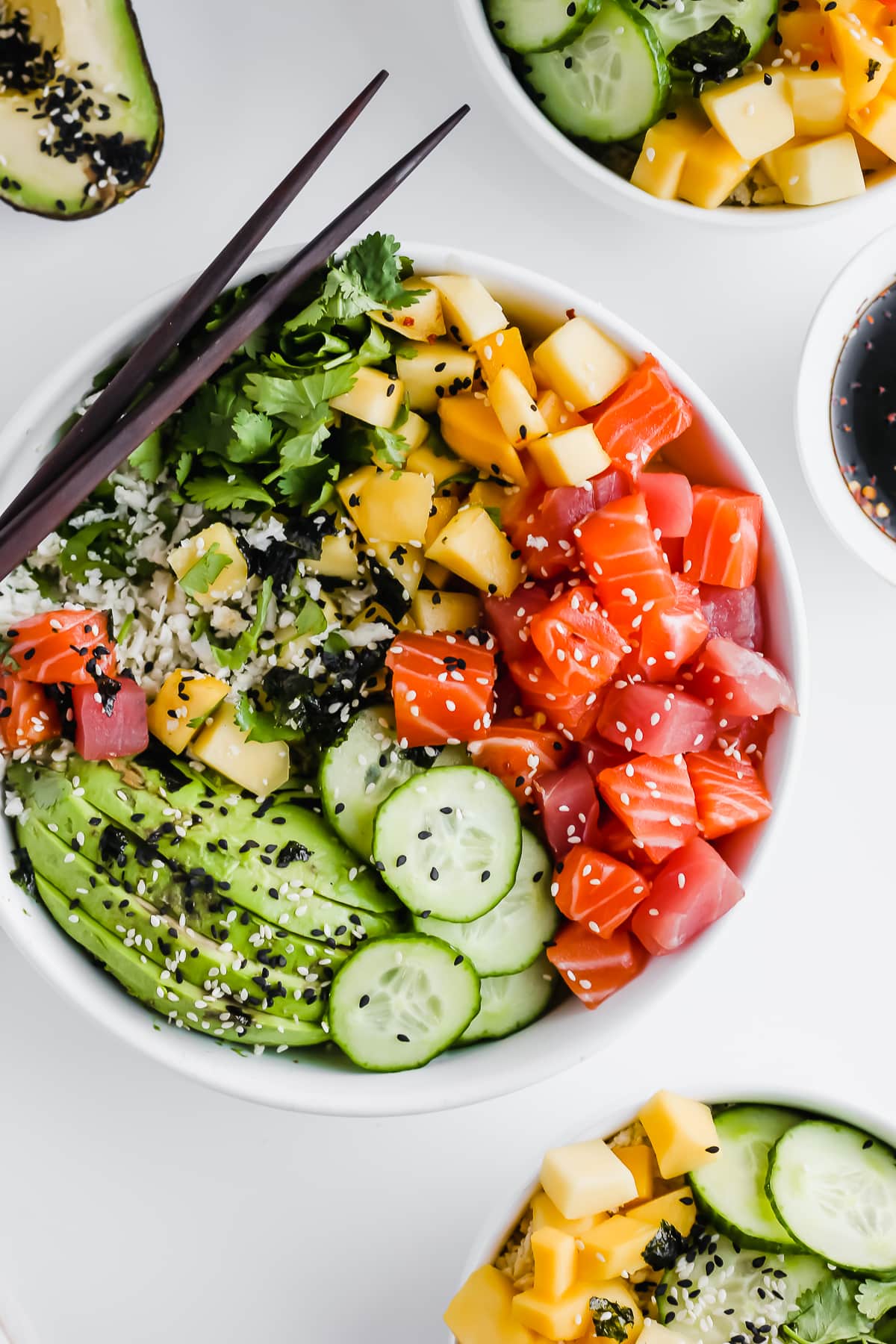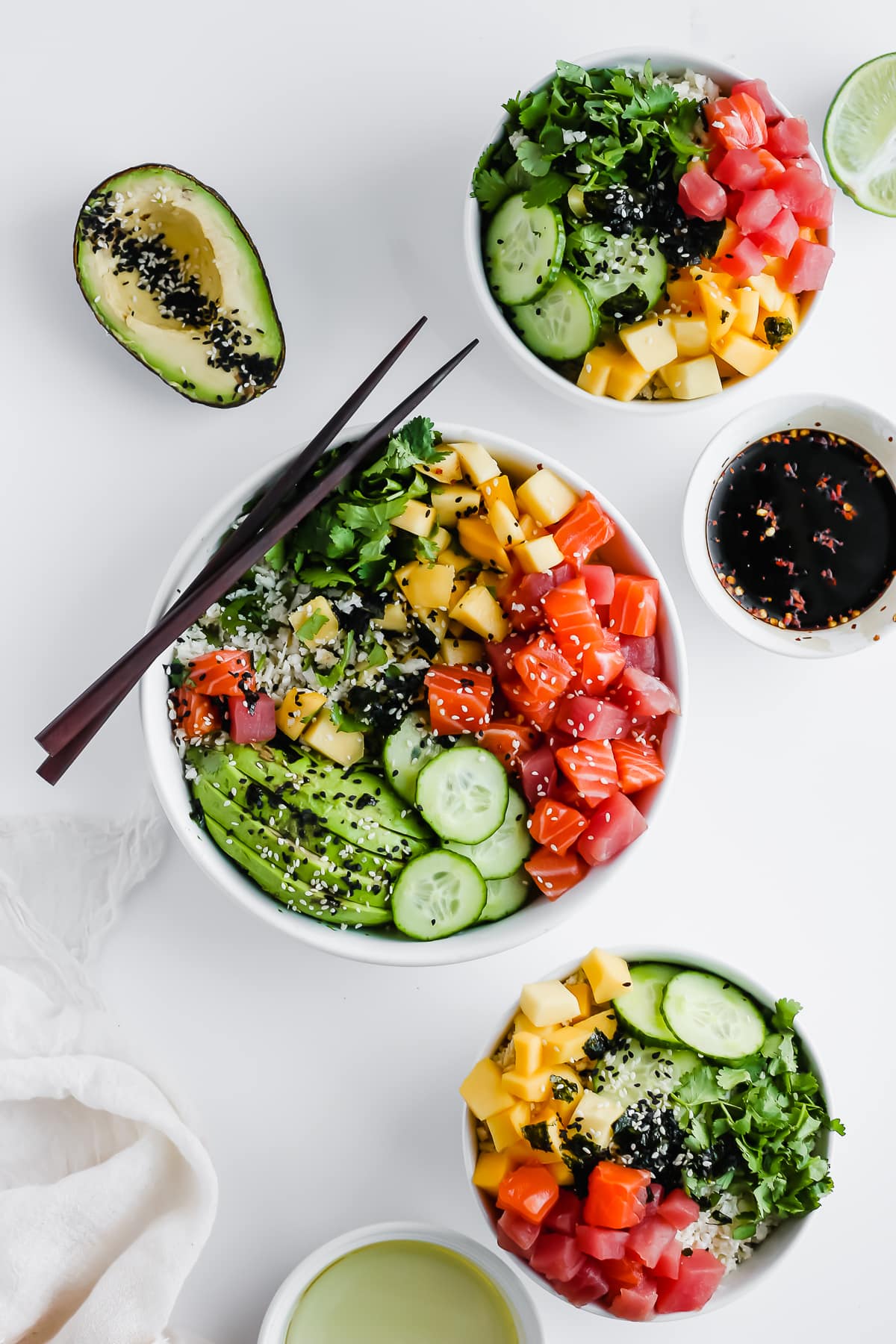 Other Recipes You Might Like
Don't forget to follow me on Facebook, check out my Instagram account or see what I am pinning on Pinterest!
Made this recipe and loved it?! We would love it if you would take a minute and leave a star rating and review – it is also helpful if you made any substitutions or changes to the recipe to share that as well. THANK YOU!
Print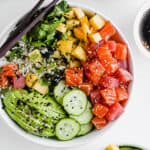 Epic Whole30 Poke Bowl
Author: Erin Jensen
Prep Time: 15 minutes
Cook Time: 0 minutes
Total Time: 15 minutes
Yield: 1 bowl 1x
Category: Dinner
Method: Counter Top
Cuisine: Asian-Inspired
---
Description
Epic Whole30 Poke Bowl – an easy and delicious lunch or dinner option that is paleo and Whole30! So simple and so good!
---
1–2 cups cauliflower rice (feel free to eat raw or saute in olive oil with a pinch of salt for 3–5 minutes and then let cool)
3 oz sushi grade salmon, cubed
3 oz sushi grade tuna, cubed
1/2 avocado, sliced
1/2 cup mango, cubed
1/4 cup fresh cilantro, roughly chopped
5 slices cucumber
white and black sesame seeds for garnish
roughy chopped seaweed sheets (nori) for garnish
Sauce:
2 Tablespoons coco aminos
1 Teaspoon olive oil
1 Teaspoon red pepper flakes
Dash of sesame oil
1/4 Teaspoon freshly grated ginger
---
Instructions
Combine Sauce ingredients together in bowl and set aside.
Combine remaining ingredients in bowl and cover with as much sauce as desired.
(Note: if you want the salmon and tuna extra spicy, combine 1 Tablespoon olive oil and 1 Tablespoon Franks Red Hot. Toss the salmon and tuna in the mixture so they are lightly coated.)
---
Keywords: whole30 poke bowl