Easy Tilapia Fish Tacos with Avocado and Mango are a delicious weeknight dinner your whole family will love!
The BEST Tilapia Fish Tacos
These are hands down my favorite fish taco recipe EVER! There is just something about that flaky fish (with the creole seasoning) with the creamy avocado and sweet mango that come together perfectly. Perfect for an easy weeknight meal on a hot summer day!
What You Will Need
Fresh Tilapia fillets: we love using tilapia in this recipe – it is flaky and has a mild flavor. Feel free to sub in Cod if you want, but the cooking times will need to be adjusted.
Creole seasoning: you can use different seasoning if you want, but this adds just a little extra something, something!
Kosher salt + black pepper: as always!
Olive oil (stove top method only): this is what we cook the tilapia in if you use the stove-top method (oven method also included).
12 small/medium tortillas: again, use whatever brand works best for you.
Cilantro: looooove cilantro on this!
Avocado: that creamy texture works so well here!
Mango: that pop of bright flavor brings this whole recipe together!
Classic coleslaw (optional): I have made this recipe with and without coleslaw … it is good both ways! Really just up to personal preference! I have this Classic Coleslaw recipe as well as a Spicy Purple Cabbage Coleslaw!
Lime: for that final little bit of flavor.
Is fresh or frozen fish better for fish tacos?
Go to your grocery store and buy some fresh fish (yes, you can use frozen fish – I will definitely admit to having done that before), but if you can go for the fresh stuff. It really tastes so much better.
What is the best kind of fish for fish tacos?
I used tilapia here, but a cod would work quite well too or even a walleye!
What to Serve with Tilapia Fish Tacos
How to make fish tacos?
Stove Top Method: Sprinkle each filet with Creole seasoning and some salt and pepper. In a large skillet on med-high heat, add some olive oil and cook filets for approximately 3-4 minutes per side, depending upon how thick they are, or until cooked thoroughly. Once they filets are cooked through, you can break them up with a spatula into larger chunks and mix them around so the seasoning and oils coat as much as the fish as possible. Then they will be ready to serve right into everyone's tortillas and every bit will be oh-so-yummy!
Oven Method (pictured below): Sprinkle each fillet with creole seasoning and bake at 375 for 20-25 minutes.
While the fish is cooking you can get everything else ready for people to build their own tacos: tortillas, avocado (sliced and diced), chopped cilantro, diced mango, coleslaw, and sliced lime.
A little refresher on how to cut mango here for you! It is actually pretty easy, but you can always buy canned if that is what works best for you!
Then just compile everything in a taco and you are good to go!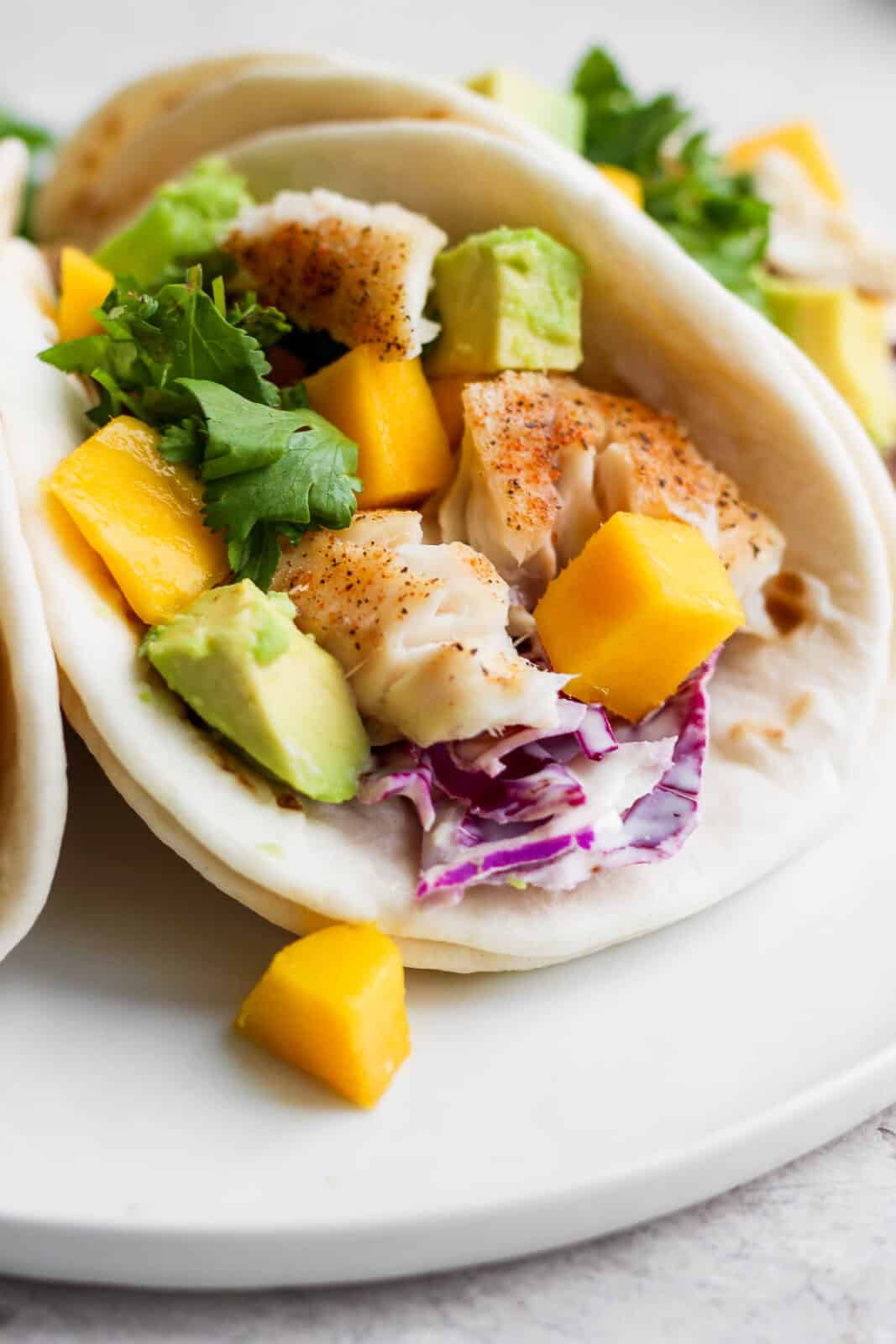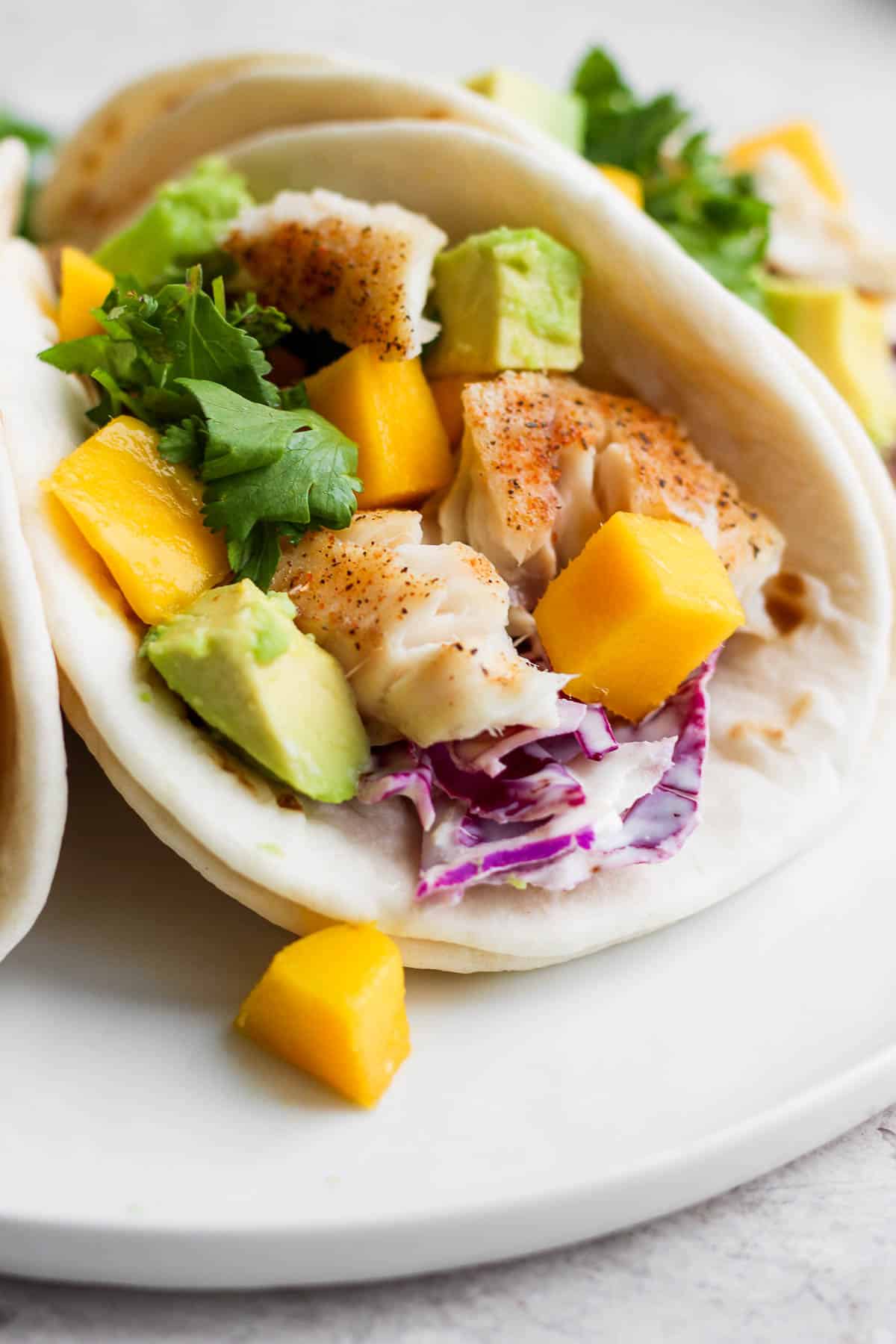 Print