The Chick Fil A grilled chicken sandwich doesn't have anything on our homemade Grilled Chicken Sandwich, complete with fresh summer ingredients, perfectly cooked chicken, and the most flavorful bites. An amazing sandwich for the summer months ahead.
The Best Grilled Chicken Sandwich
Love summer sandwiches – try our Caprese Sandwich recipe!
What You Will Need
Chicken Sandwich
chicken breasts – Select small to medium sized chicken breasts as these fit better on the sandwich bun.
olive oil – Avocado oil will work well too.
lemon juice – Helps to brighten the chicken marinade.
soy sauce – Adds a rich umami flavor to the chicken.
worcestershire sauce – Sour, mildly sweet, and a tad spicy, this ingredient adds the most unique flavor.
garlic – Adds a bit of heat and earthiness.
kosher salt & ground black pepper – Just a bit to heighten the other flavors.
lemon zest – Helps elevate the bright lemon flavor throughout.
American cheese – A mild, yet creamy cheese, perfect for melting on top of a tasty chicken breast.
focaccia buns – The perfect savory bun for this classic sandwich.
arugula – Adds distinct and fresh pepper and lemon flavors.
avocado – The creaminess pairs perfectly with the more robust flavors throughout.
quick pickled onions – Such an easy way to elevate any sandwich recipe!
Pesto Aioli
pesto – This is basically summer in a jar; basil, parmesan, and lemon add a burst of flavor. Whip up our homemade version for the freshest flavor.
mayo – A simple ingredient that adds creaminess and subtle flavors of mustard, salt, and vinegar. Try making the homemade mayo!
lemon zest & lemon juice – A quick way to brighten all the flavors.
garlic – Adding a bit of heat paired with a subtle buttery flavor.
salt – Just a pinch.
How Many Calories Is In A Grilled Chicken Sandwich
Using all of the ingredients listed, one sandwich is around 700 calories. Scroll down to the recipe card for the full nutritional information.
How To Make A Grilled Chicken Sandwich
Start by mixing together the oil, lemon juice, soy sauce, worcestershire sauce, garlic, salt, pepper, and lemon zest in a small bowl to make the chicken marinade.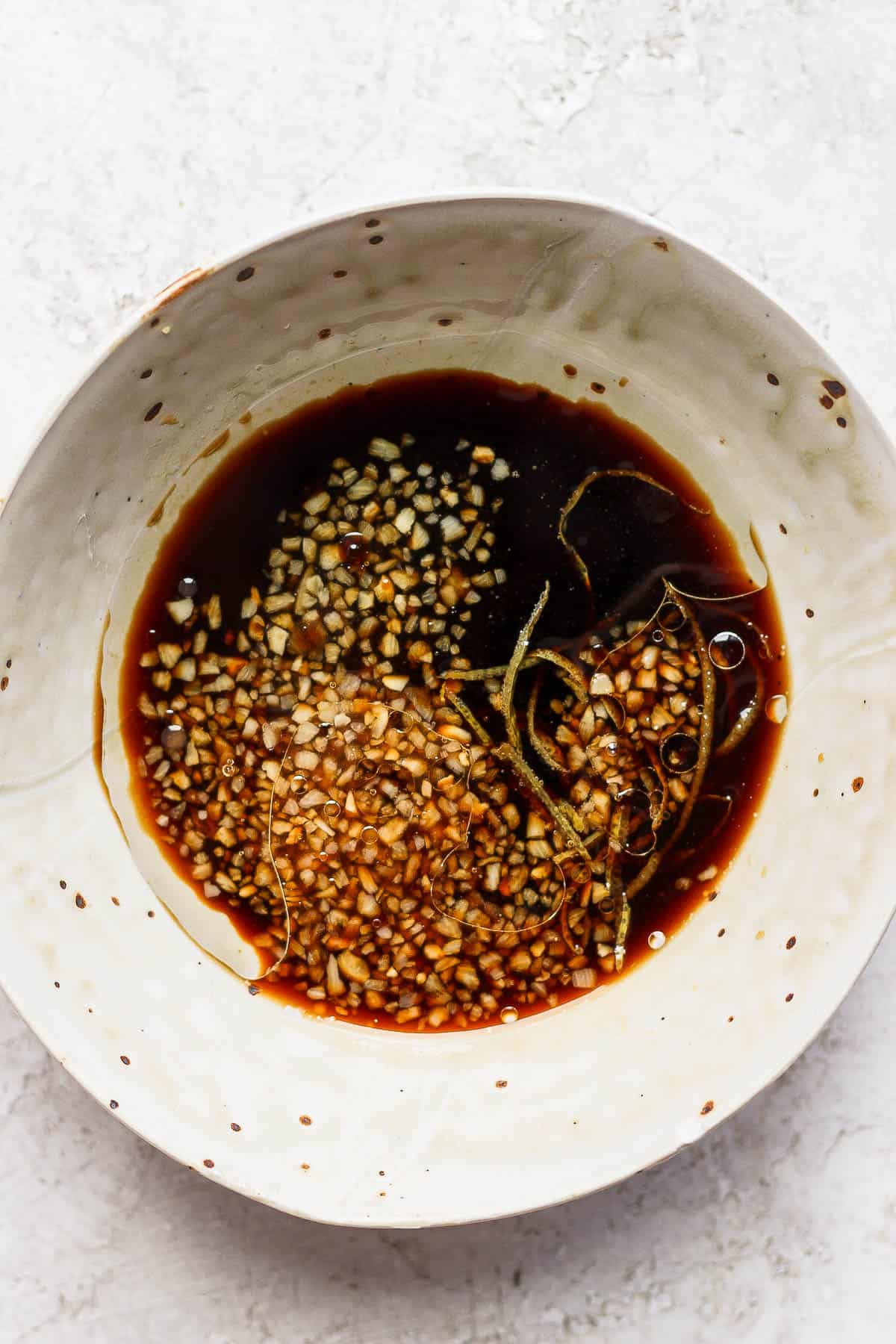 Next, place the chicken breasts in a glass container or silicone bag and cover them with the marinade. Let them marinate for at least 30 minutes or overnight in the refrigerator. Be sure to cover the glass container before placing it into the fridge.
While the chicken is marinating, place all of the pesto aioli ingredients in a small bowl and mix to combine. Once it's a consistent color and texture, cover the bowl and place it into the fridge until it's time to assemble the sandwich.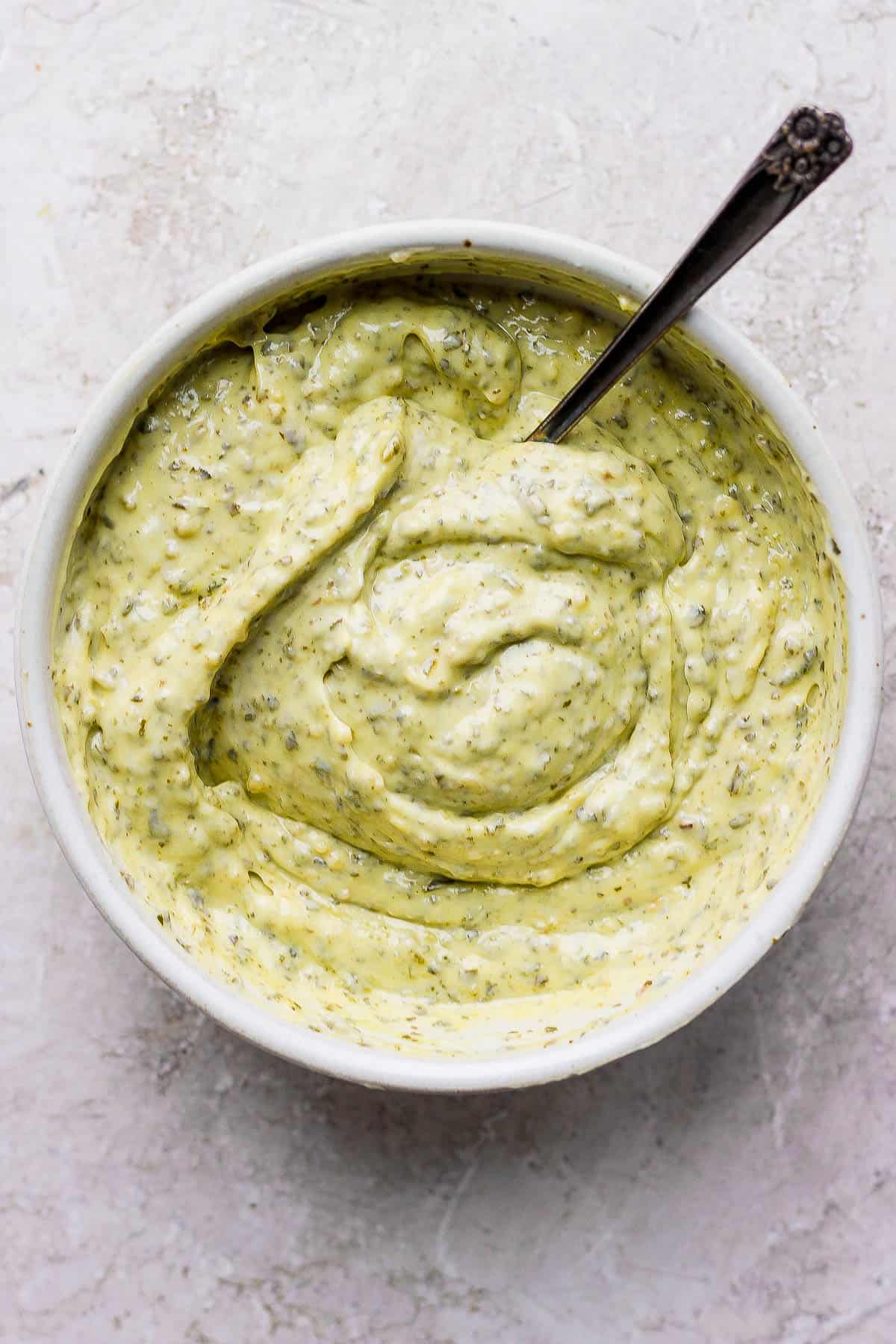 If you're thinking about skipping pickled onions, please, please don't. They add such a depth of flavor and taste amazing on sandwiches, salads, and on our tasty sloppy joe bowls. Use our simple tutorial to get these done while your chicken is marinating.
After the chicken has marinated, heat your gas or charcoal grill to medium-high heat (approximately 450°F). Then carefully place the marinated chicken breasts on direct heat (right on top of the flames) and cook them for about 3-5 minutes per side.
Next, remove the chicken from the direct heat so that they continue to cook for 3-5 minutes. Once an instant-read thermometer reads 157°F, add a slice of cheese on top of each chicken breast and close the grill to allow the cheese to melt.
Recipe Tip:
Maintain the grill temperature after the chicken has been moved off the flames. Cooking with indirect heat will cook the chicken as if it is in the oven, so there's no need to flip the breasts at this stage.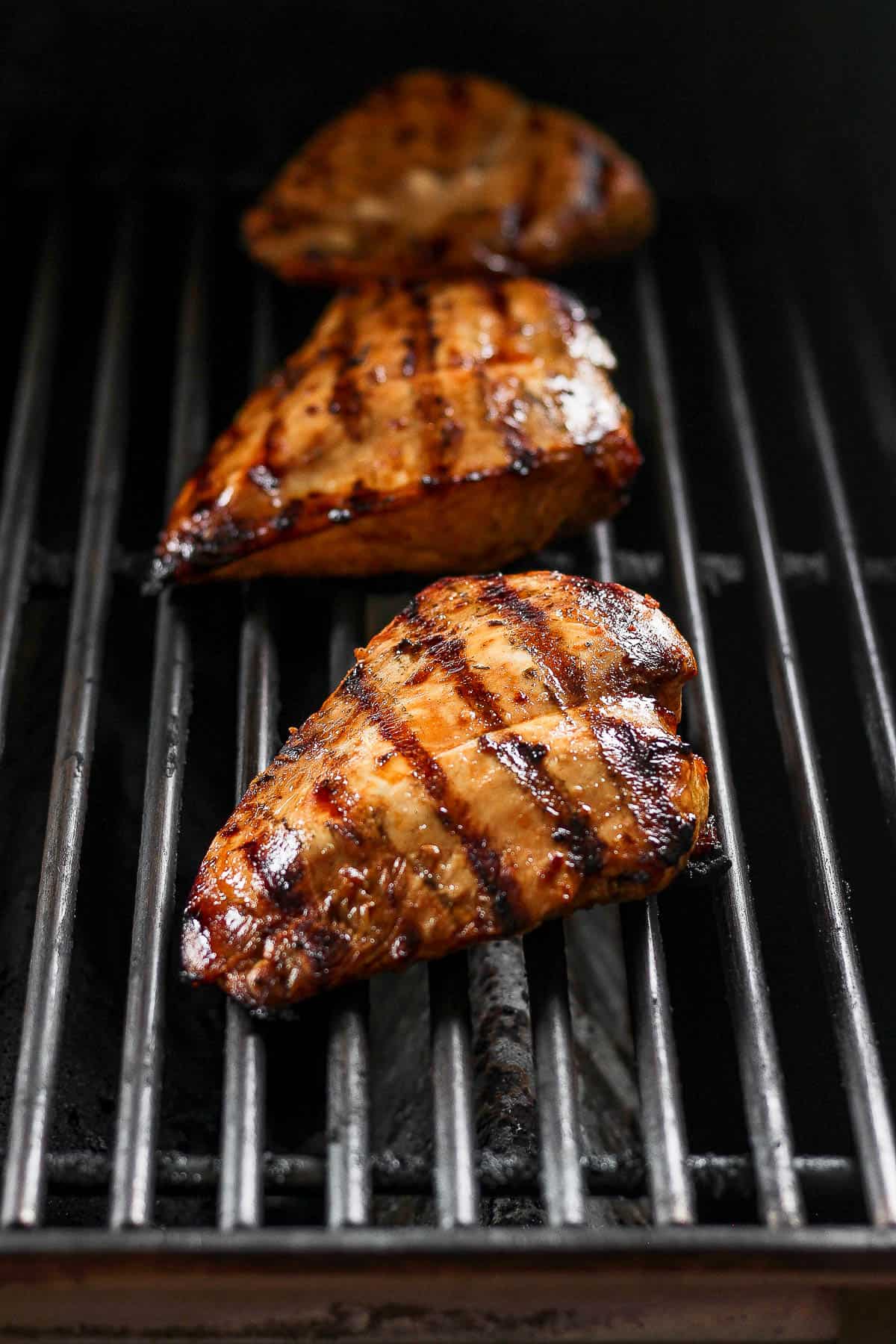 Remove the cheese topped chicken breasts from the grill when they reach 160°F and let them rest on a clean plate for about 5 minutes, which allows the juices to redistribute throughout the meat.
Now you get to assemble your sandwiches! Place the bottom bun on a clean plate followed by some arugula, a healthy amount of pesto aioli, the grilled chicken, avocado slices, and pickled onions. Lastly, slather a bit more pesto aioli on the cut side of the top bun, place it on top of your masterpiece, and enjoy!
Recipe Tip
For the ultimate sandwich experience, toast your buns by lightly buttering them and place them on the grill cut side down for a minute or two.
Grilled Chicken Sandwich Topping Ideas
Let your tastebuds be your guide as you put your own personal touch on this grilled sandwich. Here are a few other topping ideas and variations to get your creative juices flowing.
crisp bacon – An excellent choice for any sandwich.
tomato slices – Adds a fresh, summery flavor.
bun varieties – You could also use classic hamburger buns, french bread slices, or brioche buns depending on your preference.
iceberg lettuce – Adds a crisp, fresh bite.
melty provolone cheese – For those who like sharper cheeses.
cheddar cheese – A hard cheese with similar flavors to American cheese.
hot sauce – For those who like some heat.
potato chips – An unexpected but delicious topping that adds a nice crunch to each bite.
Recipe FAQs
gluten-free: Use a gluten-free bun variety.
dairy-free: Use dairy-free pesto in your pesto aioli and a dairy-free version of American cheese.
grill time: The grill time is slightly less than what it would be for a typical chicken breast as we're using smaller breasts to fit nicely on our sandwich buns.
storage: We don't suggest keeping leftover sandwiches as they'll become soggy if stored assembled. If you have leftover chicken breasts, store them in an airtight container in the fridge for up to three days.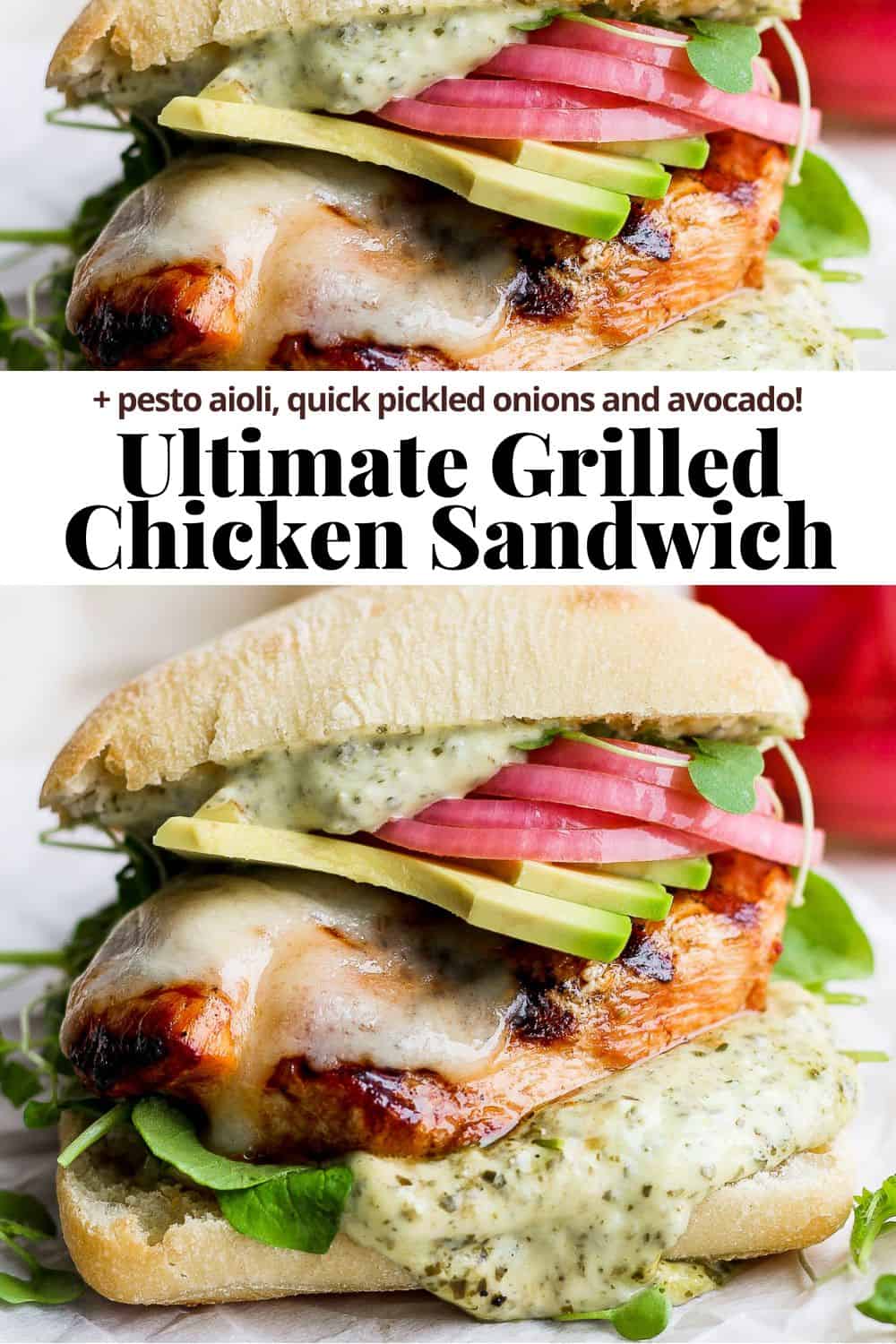 Made this grilled chicken sandwich recipe and loved it?! We would love it if you would take a minute and leave a star rating and review – it is also helpful if you made any substitutions or changes to the recipe to share that as well. THANK YOU!
Don't forget to check out my Instagram account for some behind-the-scenes action! Or give me a follow on Facebook or see what I am pinning on Pinterest!
Other Sandwich Recipes You Might Like
Print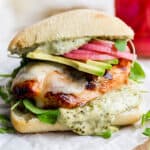 Grilled Chicken Sandwich Recipe
Author: Erin Jensen
Prep Time: 15 minutes
Marinate Time: 30 minutes
Cook Time: 12 minutes
Total Time: 57 minutes
Yield: 4 sandwiches 1x
Category: Dinner/Entree
Method: Grill
Cuisine: American
---
Description
Grilled Chicken Sandwich – the ultimate grilled chicken sandwich recipe with pesto aioli, pickled onions, cheese and avocado!
---
Chicken Sandwich
4 small/medium chicken breast (Approx. 1 pound total)
2 tablespoons olive oil (or avocado oil)
1 teaspoon lemon juice
1/4 cup soy sauce (or tamari or coconut aminos)
2 teaspoons worcestershire sauce
2 teaspoons garlic, minced
1/8 teaspoon kosher salt
1/8 teaspoon ground black pepper
1 teaspoon lemon zest, minced
4 slices American cheese
4 focaccia buns
1 cup arugula
1 avocado, sliced
Pesto Aioli
1/4 cup + 2 tablespoons pesto (store-bought or homemade)(more to taste)
1/2 cup mayo
1/4 teaspoon lemon zest
1/4 teaspoon lemon juice
1/2 teaspoon garlic, minced
pinch of salt
---
Instructions
Marinade Chicken: Place chicken breasts in reusable silicone bag or glass container. In a small bowl whisk together olive oil, lemon juice, soy sauce, worcestershire sauce, garlic, kosher salt, pepper and lemon zest. Pour marinade over the chicken and toss to coat. Cover and refrigerate 30 minutes (or overnight).
Prep Pesto Aioli + Quick-Pickled Onions: In a small bowl combine the Pesto Aioli ingredients. Cover and place in the refrigerator until use. Prep the quick pickled onions and set aside until use.
Grill Chicken: Heat grill to medium-high heat (approximately 450 degrees F). Place chicken on direct heat (direct flame) and cook for 3-5 minutes per side. Move chicken away from the direct heat (direct flame) so that it is cooking on indirect heat (maintaining the same grill temp) and cook for an additional 3-5 minutes (you don't need to flip during this point because the chicken will cook as if it is in an oven) or until the internal temperature of the thickest part of the chicken reads 157 degrees F. on your meat thermometer.
Cheese + Rest: Add your cheese slices and close grill again to allow cheese to melt. Remove from grill when the internal temperature reaches 160 degrees F. and let rest at least 5 minutes so the juices can redistribute (the chicken will continue to cook during this time and the internal temp will continue to rise 5 additional degrees).
Assemble Sandwiches: Feel free to toast your focaccia buns (or lightly butter and then grill them cut side down for a minute or two) – then place bottom bun on a plate followed by some arugula, then a healthy amount of Pesto Aioli, grilled chicken, avocado slices, pickled onions and then add some more Pesto Aioli to the cut-side of the top bun and place on top. Cut in half and enjoy!
---
Notes
Gluten-Free: to make this gluten-free use a gluten-free bun.
Dairy-Free: to make this dairy-free use a dairy-free pesto in your Pesto Aioli and a dairy-free version of American cheese.
Grill Time: we are purposely trying to use smaller chicken breasts here so they fit on the buns a bit better and you aren't eating 90% chicken with every bite of sandwich so the cook time is a bit less here than your typical chicken breast. Just use your internal meat thermometer to keep track of the temp!
Nutrition
Serving Size: 1 sandwich
Calories: 712
Sugar: 6.6 g
Sodium: 2104.5 mg
Fat: 46.8 g
Carbohydrates: 53.5 g
Protein: 23.4 g
Cholesterol: 37.2 mg
Keywords: grilled chicken sandwich