How to Roast Butternut Squash – a very simple step-by-step process to make sure you have the best butternut squash every time!
Butternut squash is a food that could be a simple side dish on it's own or roasted and added to your favorite squash recipe!
How to Safely Cut a Butternut Squash
I know people commonly get frustrated/nervous cutting a butternut squash in half. Here are my tips for making it a little easier:
Use a larger knife that is clean and sharpened.
Make sure it is not on a slippery surface.
Trim the ends so they are flat – this will help stabilize the squash as you are cutting it.
Place the whole butternut squash in the microwave and cook on high for about 3-5 minutes. This will help soften the outside just enough to help you cut it with a little more ease.
If you prefer, you can always cut it in half at the neck, crosswise. Then you can cut these two smaller pieces in half with a little more ease.
How to Clean a Butternut Squash
Cleaning a butternut squash is very similar to any other squash or pumpkin. Once you have sliced it in half lengthwise, simply take a spoon or ice cream scoop and clean out the seeds, etc. until you can scrape the inside clean!
Do I Need to Peel the Outside of the Butternut Squash
There is no need to peel your butternut squash. You can simply scoop it out once it is tender and when you slow roast it like this the skin continues to get softer as it bakes and is actually edible! For more information on this check out – When (and When Not) to Peel Winter Squash.
How to Store Roasted Butternut Squash:
Cooked butternut squash can be stored in the refrigerator for about 4-5 days.
Can I Use Butternut Squash for Meal Prep
Absolutely! It is so easy to pop the butternut squash in the oven and in the hour it takes to roast I can get other things done around the house, come back, scoop it out, and pop it in the fridge. So easy and then I have a yummy side dish ready to-go for a weeknight meal or ready to be added to a favorite soup recipe like my Simple Roasted Butternut Squash Soup.
Here is the step-by-step:
Step 1: Cut squash in half lengthwise
Step 2: Scrape out seeds and rub with avocado oil
Step 3: Roast on parchment-lined baking sheet.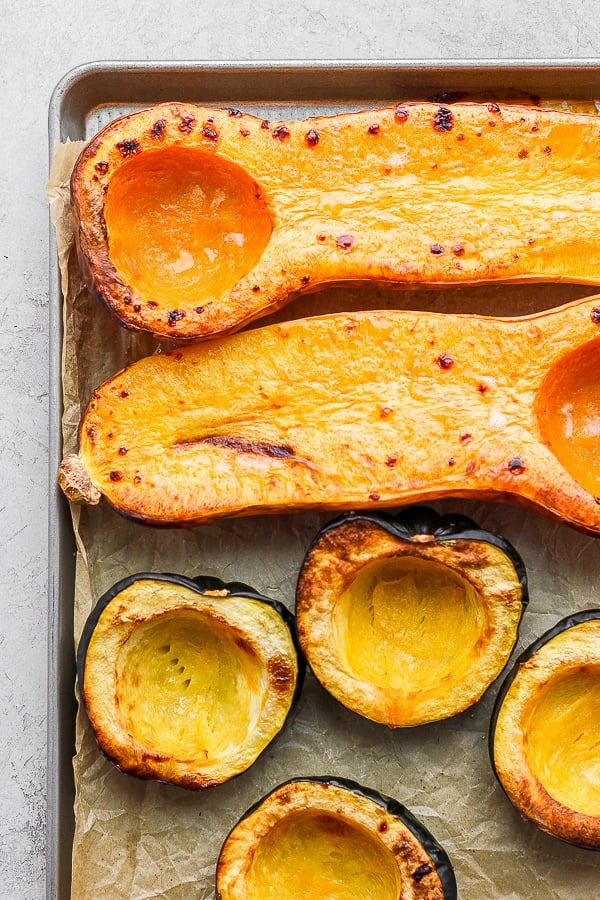 Step 4: Remove from oven and let cool slightly before scooping out to serve or store in the refrigerator.
OTHER RECIPES YOU MIGHT LIKE:
Don't forget to follow me on Facebook, check out my Instagram account or see what I am pinning on Pinterest!
Print
How to Roast Butternut Squash
Author: Erin Jensen
Prep Time: 8 minutes
Cook Time: 60 minutes
Total Time: 1 hour 8 minutes
Yield: Approx. 6-8 servings
Category: Side Dish
Method: Oven
Cuisine: American
---
Description
How to Roast Butternut Squash – a simple and easy method for roasting butternut squash!
---
1 or more butternut squash, halved lengthwise
---
Instructions
Preheat oven to 350.
Take halved butternut squash and scoop out the seeds, scraping clean and hollowing out the inside.
Rub the cut side with avocado oil.
Place cut side open on a baking sheet (feel free to put some foil or parchment underneath).
Roast for 60 minutes.
Test with fork, it should be very tender and easily pierced. If for some reason it isn't yet, continue baking at 10 minute increments until fully cooked and tender.
---
Notes
we love to serve with a little ghee (or butter), pinch of salt and a little maple syrup!
Keywords: how to roast butternut squash, roasted butternut squash