How to use a French Press – an easy and simple tutorial that teaches you how to use a French Press to make the BEST cup of coffee! Serve with some homemade oat milk and some coffee cake!
How to Make the Best French Press Coffee
Picture this: it is a lazy Sunday morning and you have some baked oatmeal just about to come out of the oven … you are in need of an amazing cup of coffee so you pull out the French Press you got for your wedding that you haven't used yet – today you are going to learn how to use it so you can make the BEST cup of coffee!!
Want to use your French Press more … try our Cold Brew French Press Coffee!
Why We Love This Recipe
Quick: this easy recipe takes barely any time at all!
Small Batch: perfect for just one or two people!
No filter needed: ditch the filter for less waste!
French Press Coffee Ingredients + Supplies
water: we generally used filtered water here, but use whatever you like.
coffee beans: whole beans are recommended so you can freshly make your coarse ground coffee. You will need approx. 2 ounces of coarsely ground coffee for 2 servings of French Press coffee.
grinder: we love the burr grinder!
thermometer (optional): this isn't needed, but can help ensure the water is the correct temp (195-205 degrees F. is the target temp).
french press coffee maker: we love the Bodum Chambord – it a favorite!
carafe: if there is liquid left in the French Press maker after serving store it in in carafe or other container in the fridge. Leaving the liquid in there will lead to over-extraction and bitter coffee.
Coffee to Water Ratio
The golden rule is generally a 1:15 ratio of coffee to water. But we are trying to make this simple here so we have found that 2 cups of water with 5-7 tablespoons of coarse coffee grounds make a nice, medium-strength coffee. Of course, there will be a bit of experimentation to really figure out what you prefer – but this is a great starting point.
If you want to learn more about ratios, etc. and to use a French Press Coffee calculator head over to this resource!
Brew Methods: Different way to Brew Coffee
Drip Coffee Maker: this is your classic coffee maker that you probably see in most people's homes.
Cold Brew Coffee: we have a whole tutorial on how to make cold brew coffee!
Pour Over Coffee: this is the type of coffee you make in a chemex and it is just as fresh and easy as the French Press, except you DO use a paper filter.
How to use a French Press Coffee Maker: Easy Steps
Grab your fresh coffee beans.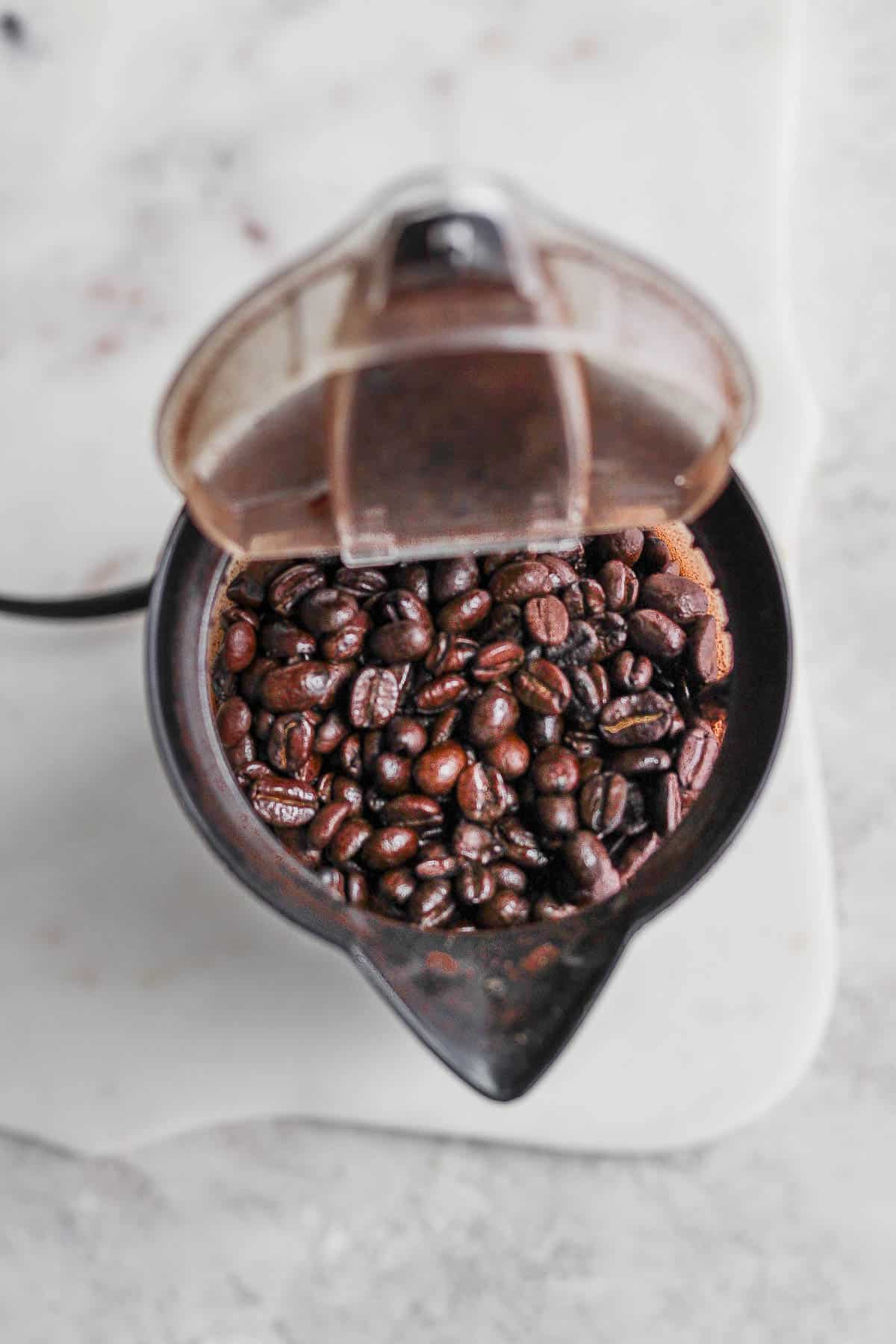 Coarsely grind.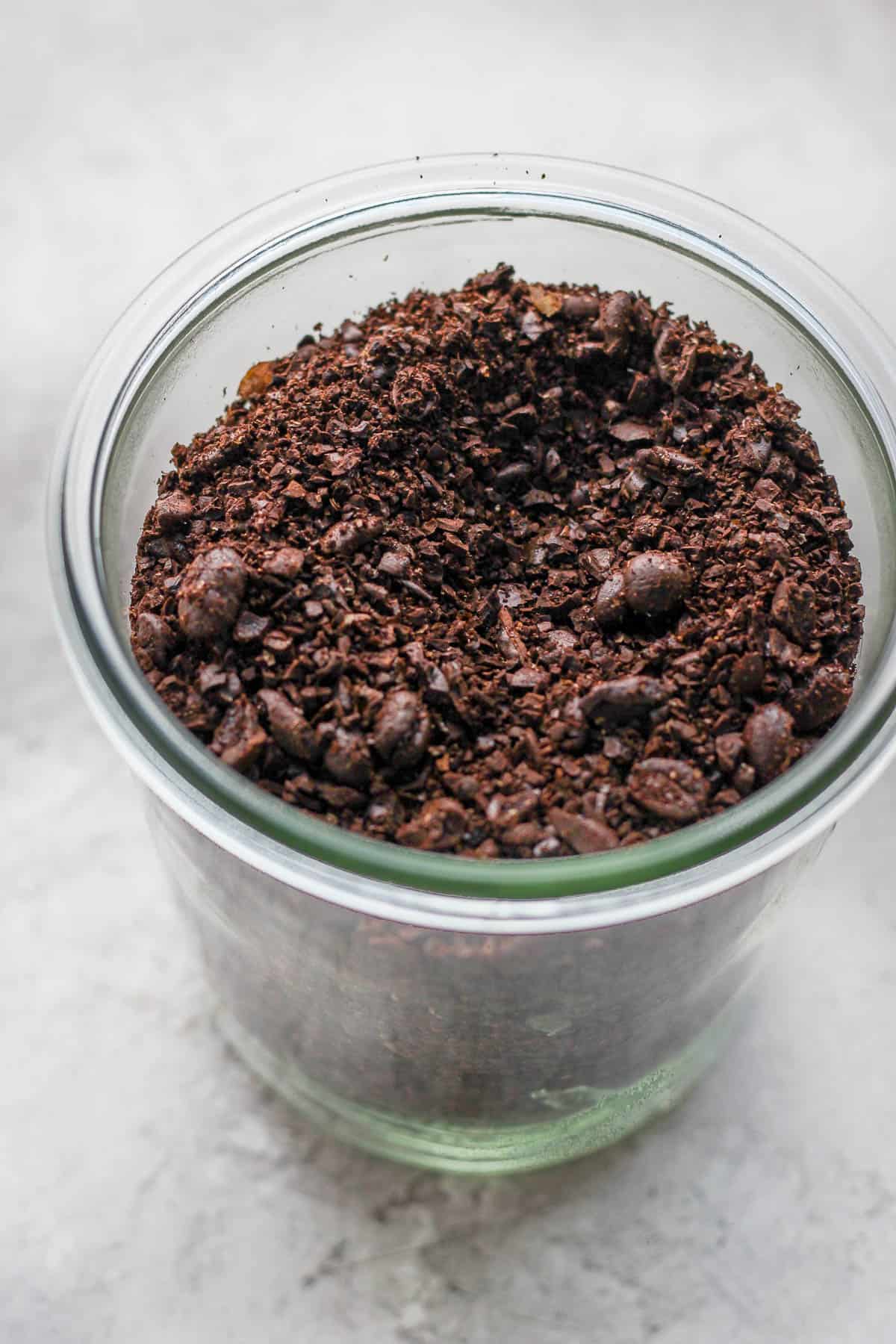 Add coffee to French Press.
Add hot water.
Place top back on and set timer for 4-6 minutes.
Press plunger all the way down to strain.
Pour into cup and serve with any milk or creamer of your choice.
Other Tea + Coffee Recipes You Might Like
Don't forget to check out my Instagram account for some behind-the-scenes action! Or give me a follow on Facebook or see what I am pinning on Pinterest!
Made this recipe and loved it?! We would love it if you would take a minute and leave a star rating and review – it is also helpful if you made any substitutions or changes to the recipe to share that as well. THANK YOU!
Print
How to use a French Press
Author: Erin Jensen
Prep Time: 10 minutes
Cook Time: 5 minutes
Total Time: 15 minutes
Yield: 2 cups coffee 1x
Category: Coffee
Method: Stove Top
Cuisine: American
---
Description
How to use a French Press (so easy!) – learn how to brew coffee using a French press maker!
---
2 cups water
5–7 tablespoons freshly ground coffee (coarse grind)
---
Instructions
Add water to small pot and bring to a boil.
Meanwhile, add whole coffee beans to coffee grinder and set to medium grind. If you are using a manual coffee grinder, pulse until the grounds are in the middle of a coarse grind and super-fine. If the grounds are too fine the particles will clog the french press mesh filter, if they are too course the flavor won't be as good.
Remove boiling water from heat and let sit approx. 60 seconds (this allows the water to cool slightly so it doesn't burn the coffee).
Remove the plunger from the french press and add in the coffee grounds and then pour the hot water in. Give the water a stir to ensure all the grounds are mixed in.
Place the lid on and let brew 3-5 minutes (3 minutes for slightly weaker coffee, 5 minutes for stronger coffee, 4 minutes for in the middle).
Slowly push the plunger down to the bottom.
Pour coffee into mugs and drink black or with your favorite coffee add-ins (we love homemade almond milk or homemade oat milk).
---
Notes
Weighing Coffee: while some french press coffee recipes call for weighing your coffee grounds, we like to make our recipes as accessible as possible and weighing coffee grounds isn't always an option for everyone. For that reason, we are sticking with measuring cups in this recipe. If you want more info on measuring check out this tutorial.
4 Servings: 3/4 cup beans + 4 cups water should result in 4 cups coffee (medium strength).
Strength: everyone has their own personal preference when it comes to the taste and strength of their coffee so it may take a few experiments to get your own ratio and timing perfected. If you feel the coffee is too strong use more water and the same amount of beans, the same amount of water and less beans or use the same coffee/water ratio but don't let it sit as long. Likewise, if you feel the coffee isn't strong enough use the same amount of beans and less water, the same amount of water and more beans or use the same water/coffee ratio and let it sit longer.
Coffee Beans: I highly recommend using whole coffee beans and freshly grinding them the morning of making your coffee.
Grind Size: we are looking for a coarse ground coffee here.
Water Temperature: you are looking for 195-205 degrees F.
Brew Time: I recommend 4-6 minutes of brew time (4 minutes for slightly weaker, lighter coffee, 6 minutes for stronger coffee, 5 minutes for in the middle). If you brew longer than 6 minutes or so the bitterness might get too intense.
Serving: serve with homemade almond milk or homemade pistachio milk!
Storage: don't let unused French Press coffee continue to sit .. it will only continue to brew and become bitter. Pour any leftovers out into a carafe or beaker and store, covered, in the refrigerator.
Keywords: how to use a french press