Cold Brew Coffee in a French Press – one of the easiest ways to make cold brew at home – just like a coffee shop!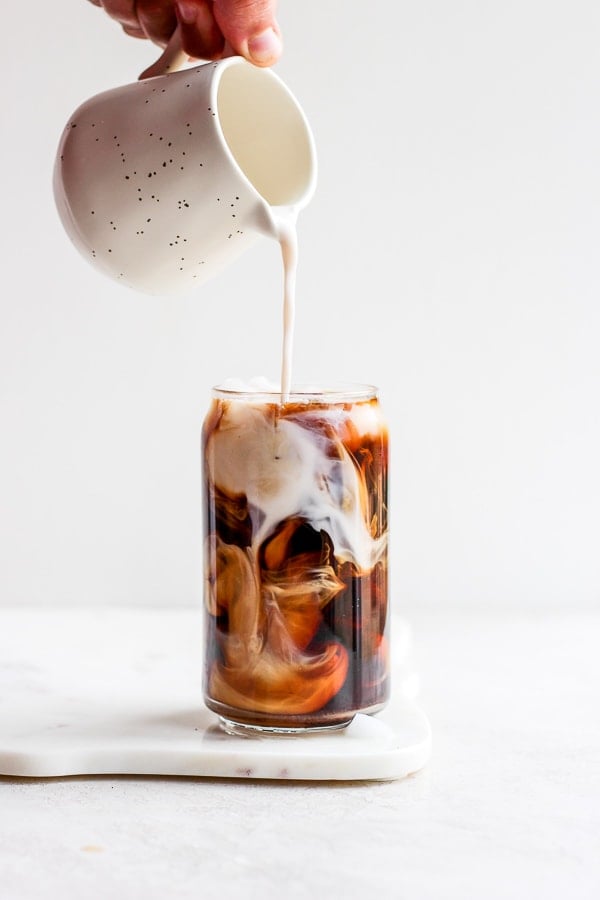 Easy French Press Cold Brew Recipe
Calling all coffee lovers!
As many of you know, I am an AVID cold brew coffee drinker. I switched over to cold brew in 2016 because I was suffering from acid reflux and other stomach issues (there is less acid in cold brew than regular coffee). I had to swear off coffee altogether for a while, but slowly incorporated cold brew back into my diet once I learned that it doesn't upset my stomach. One way you can make cold brew is in the French press and it is SO easy – top with come homemade cold foam for a delicious treat!
What is Cold Brew Coffee
Cold brew coffee is coffee that is brewed with cold water (or room temperature) instead of scalding hot water. As a result, cold brew is MUCH less acidic and less bitter than regularly brewed coffee. Regular coffee, or hot coffee, is brewed with scalding hot water which strips the coffee bean and breaks it down, which results in more acidic and bitter coffee.
Iced coffee is simply hot brewed coffee that has been cooled and served over ice.
Its because of these benefits that so many people gravitate towards cold brew: flavor (not so acidic – it's easier to drink black) and because it is so much easier on their stomachs. To this day I cannot drink regular coffee without heartburn or a stomach ache, but I can drink my homemade cold brew without a problem.
French Press Cold Brew Ingredients + Supplies
Coffee Water Ratio for Cold Brew
The recommended ratio of cold brew coffee to water is 4 cups water to 1/2 cup roughly ground coffee beans. I have also included an option for a cold brew concentrate in the recipe card that a lot of people like to use. Of course you can always adjust to meet your personal preference.
Cold Brew Concentrate
Making cold brew concentrate is also super simple. Instead of using the 8:1 ratio of 8 cups water to every cup of grounds you would use a 4:1 ratio with 4 cups of water to every 1 cup of coffee grounds. Everything is the exact same – you can let it steep longer, just don't let is steep too long or it may extract some of the bitterness we are trying to avoid with a cold brew coffee. Then you can cut the concentrate with almond milk, oat milk or whatever you prefer.
Other Cold Drinks You Might Like
Cold Brew Coffee French Press Step-by-Step
Roughly ground up your coffee beans – we are looking for a coarse grind.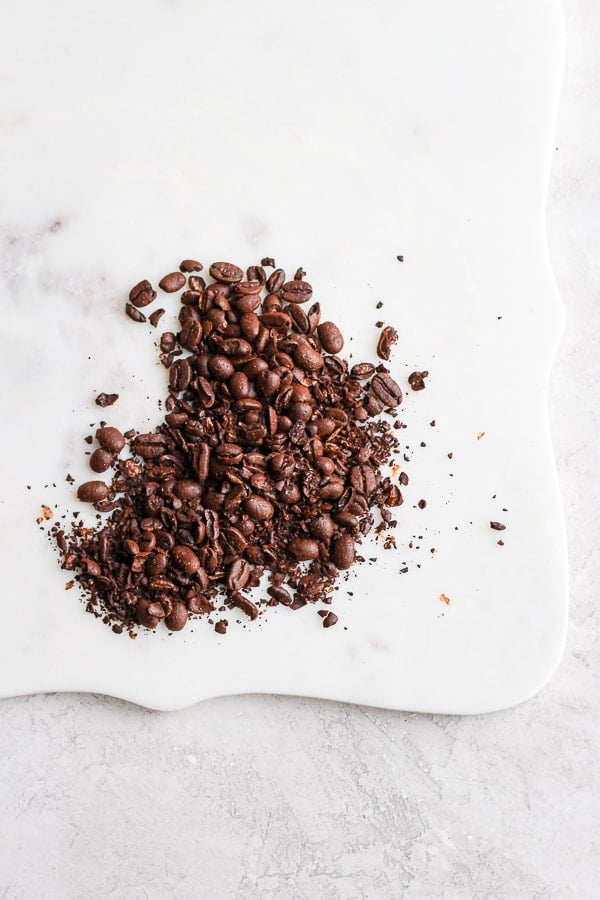 Add them to the bottom of your French Press.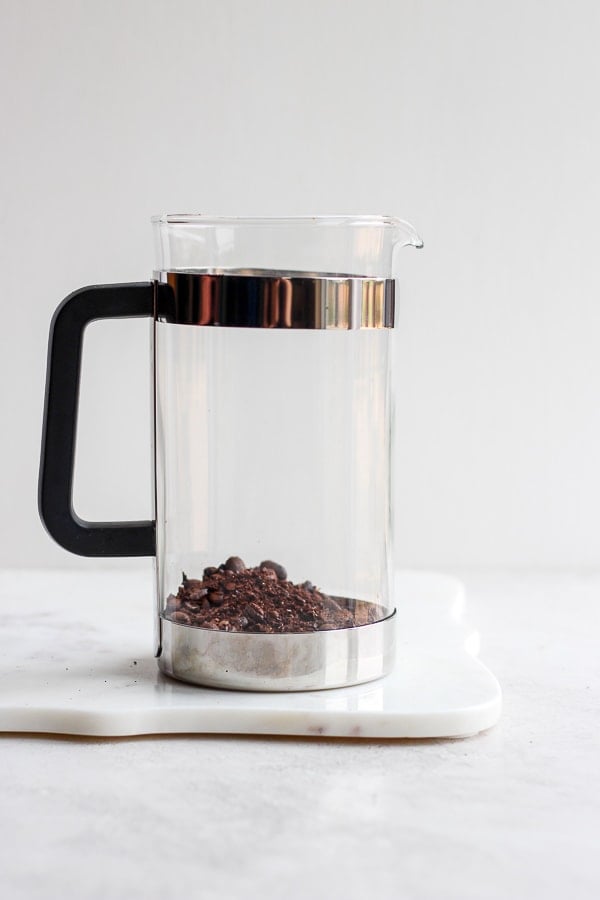 Pour in the cold water.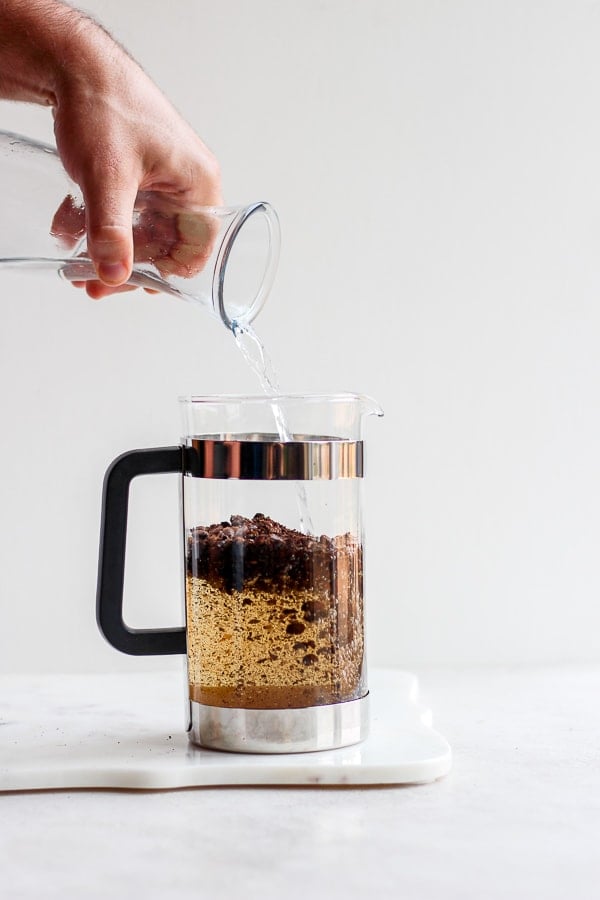 Let brew for as long as you desire (24 hour is recommended – see recipe card). You can simply cover with some plastic wrap or aluminum foil instead of placing the plunger back on top – the plunger needs to be upright (not pushed down) making it hard to fit in most refrigerators.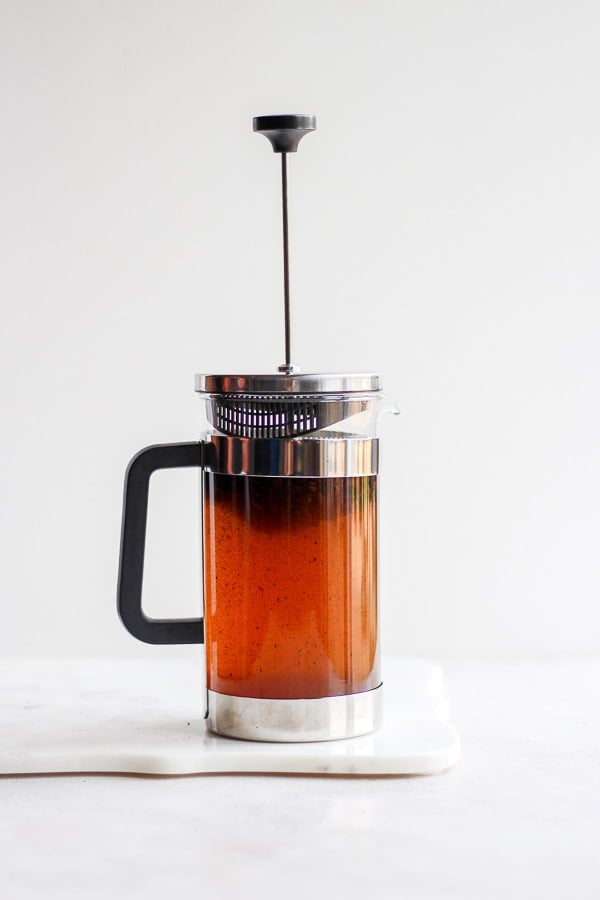 Once brewed, add the top/filter back on the French Press and plunge.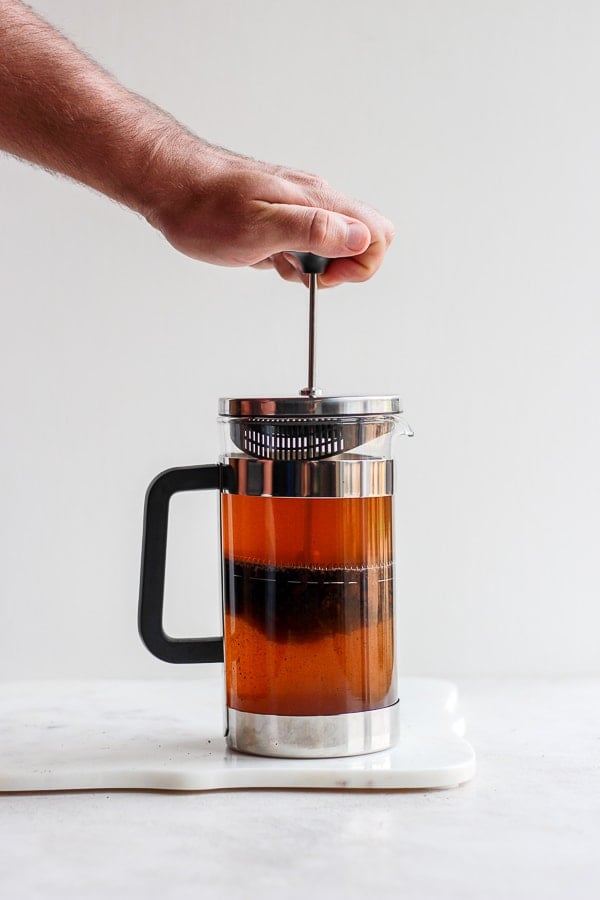 That's it!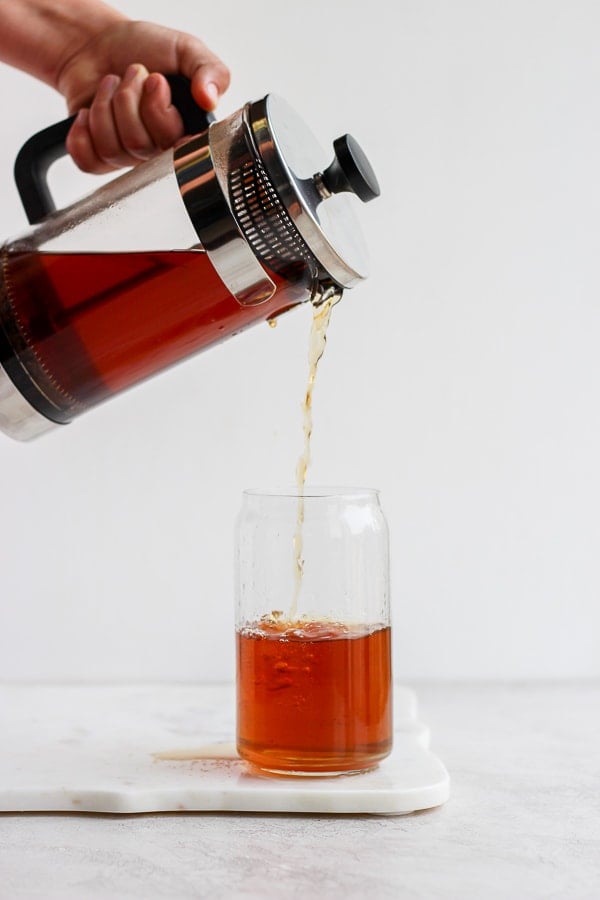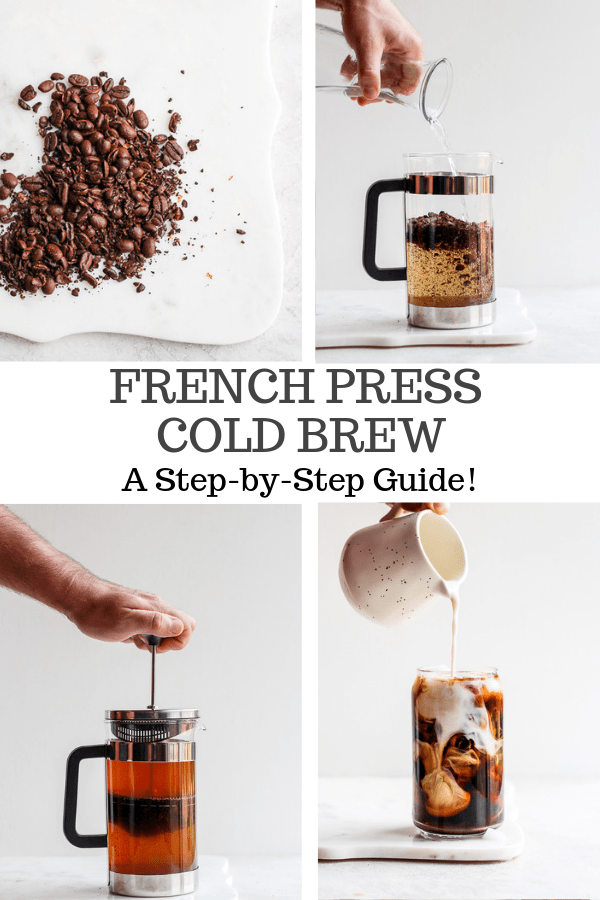 FAQs
What I used:
Other Cold Brew Coffee Recipes you might like:
Made this recipe and loved it?! We would love it if you would take a minute and leave a star rating and review – it is also helpful if you made any substitutions or changes to the recipe to share that as well. THANK YOU!
Don't forget to check out my Instagram account for some behind-the-scenes action! Or give me a follow on Facebook or see what I am pinning on Pinterest!
Print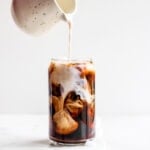 French Press Cold Brew Coffee Recipe
Author: Erin Jensen
Prep Time: 5 minutes
Cook Time: 24 hours
Total Time: 24 hours 5 minutes
Yield: 4 cups 1x
Category: Coffee
Method: French Press
Cuisine: American
---
Description
French Press Cold Brew Coffee Recipe– Learn how to make Cold Brew in your French Press!
---
Cold Brew Coffee
4 cups cold or room temperature water
1/2 cup roughly ground coffee beans
Cold Brew Coffee Concentrate
1 cup roughly ground coffee beans (medium to dark roast)
4 cups filtered water
---
Instructions
Remove filter/cover from French press.
Add roughly ground coffee beans to bottom.
Pour water on top. Stir.
Let refrigerate for 24 hours.*
Place plunger back on top and slowly press down to strain until you cannot press any farther.
Pour filtered cold brew into glass and enjoy!
---
Notes
*Period of time: You can let it sit shorter or longer than 24 hours; the shorter you let it sit, the weaker the coffee will be – the longer you let it sit, the stronger it will be. Everyone has their own personal preference so try it, taste and it and determine how long you like to let it steep.
Stronger Cold Brew: If you want stronger coffee let it sit longer, use an additional 1/4 cup of beans and use stronger beans.
Coffee Creamer Recipes: Need some clean coffee creamer recipes – here are 20+ Clean Coffee Creamer Recipes!
Storage: store extra in a mason jar or pitcher the fridge for about a week or two. I also like using extra make ice cubes and use them in my Coffee Smoothie.
Keywords: French press cold brew, how to make cold brew coffee in a French press