A step-by-step tutorial on How to Make Hollandaise Sauce, also known as a classic French mother sauce! This creamy sauce is made with simple ingredients and is perfect for pouring over Eggs Benedict, poached eggs, or some vegetables!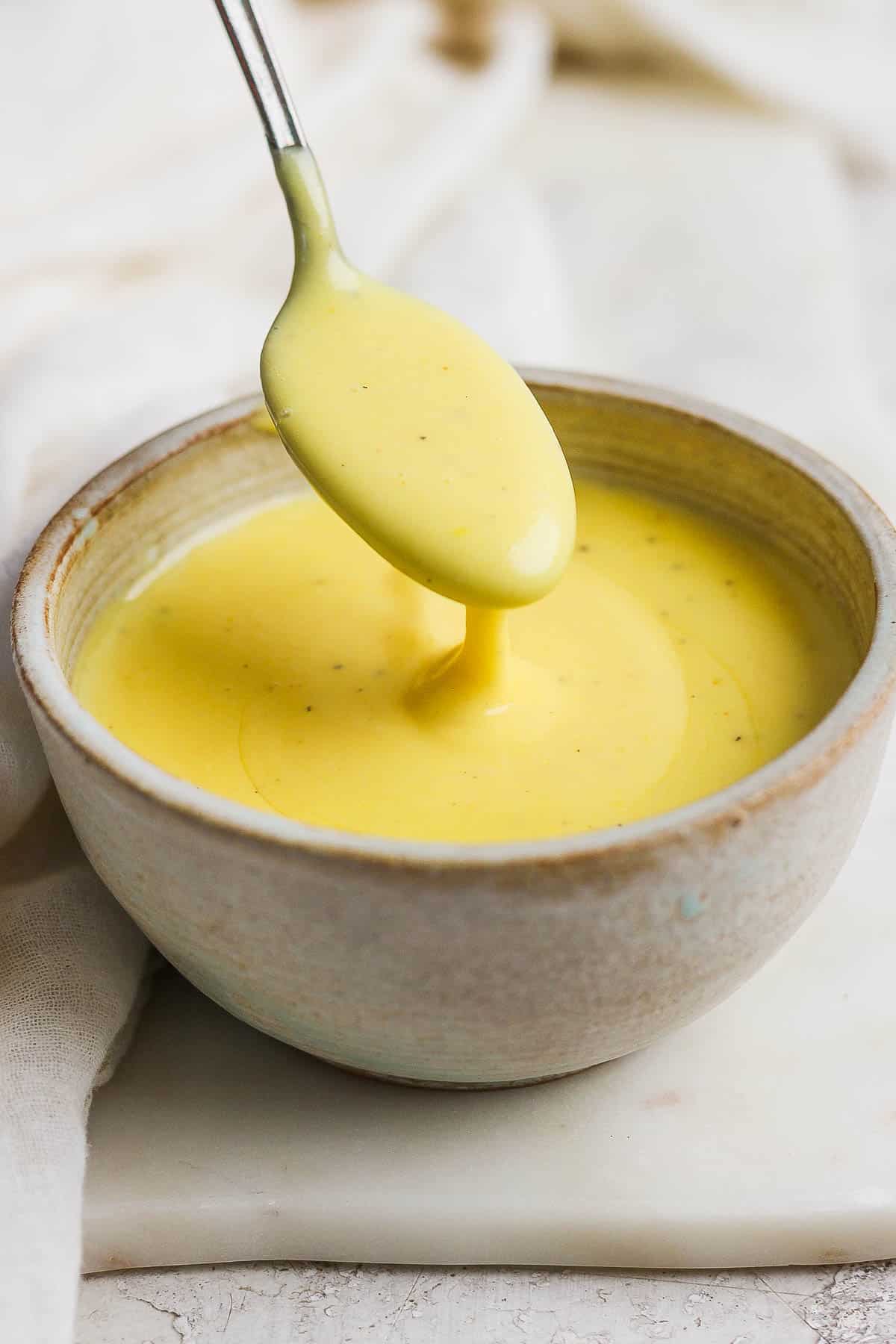 Best Hollandaise Sauce Recipe
It is buttery and has a hint of lemon and cayenne. It is thick and creamy. Everyone needs to make this easy recipe! We know there are "blender hollandaise recipes" out there and they may be good homemade versions, but this is the way this classic sauce was supposed to be made. The way Julia Child wanted us to make this simple recipe (and who are we to go against what Julia Child). So don't be scared – gather up all the butter in your house and let's do this.
What You Will Need
large eggs – simply separate the raw egg yolks from the egg whites for the traditional base that is needed for a creamy hollandaise sauce.
butter – another essential ingredient that brings flavor and creamy texture!
lemon juice – just a splash of acidity to amplify all those flavors in the recipe card.
kosher salt, ground black pepper, and cayenne pepper – simple seasonings that are perfect in this traditional sauce.
How To Make Hollandaise Sauce
The first steps to making this easy hollandaise sauce recipe, are to gather all of the ingredients.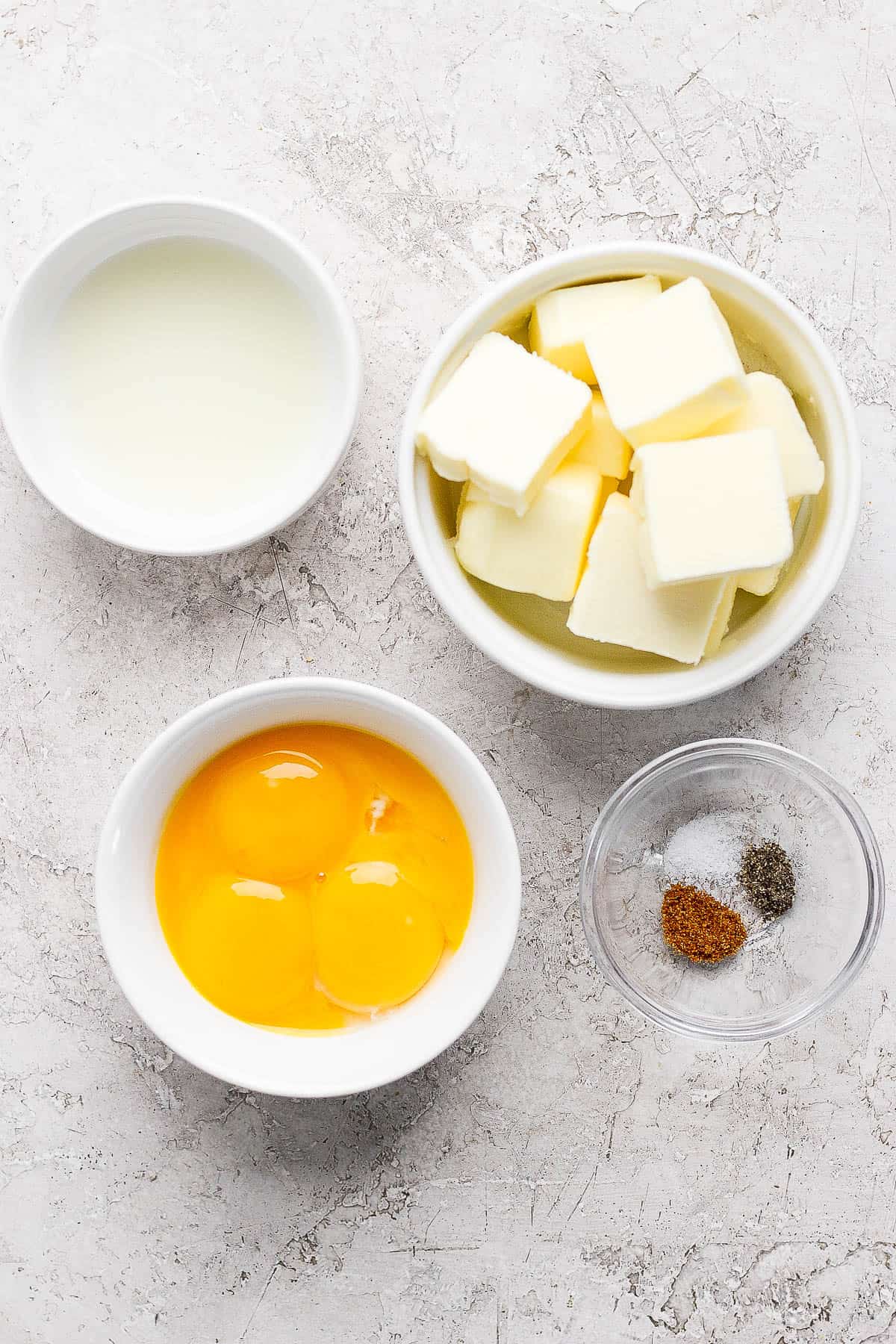 Place the egg yolks and lemon juice in a small glass bowl and whisk together.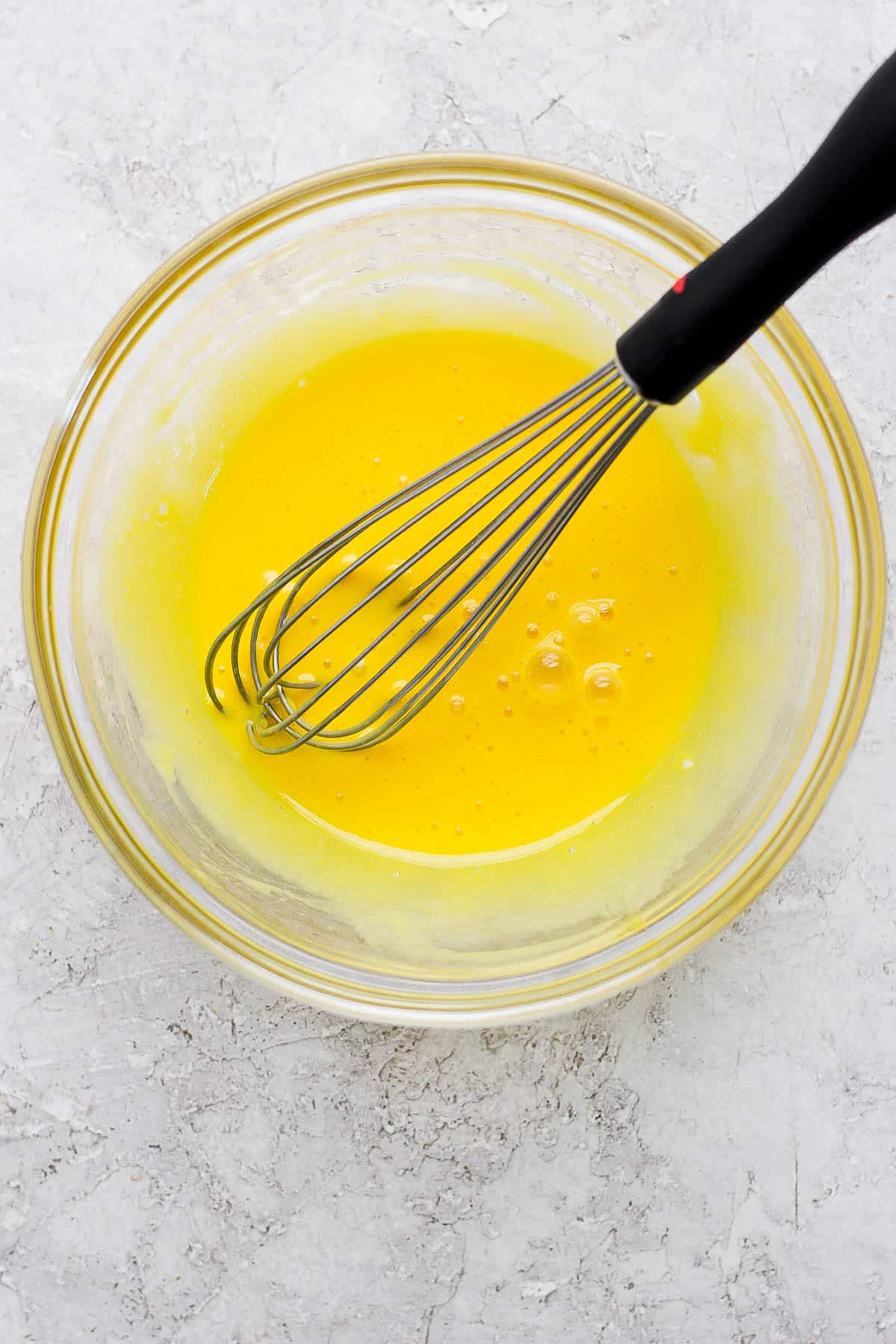 Continue to whisk egg yolks until the texture becomes nice and creamy, almost doubling in size. While you are doing this step you can have the butter melting over medium-low heat in a small saucepan.
You will now want to create a double boiler by placing a small saucepan or stainless steel bowl (or another heatproof bowl) over a larger saucepan that has water in the bottom. Bring to a medium heat on the stove top.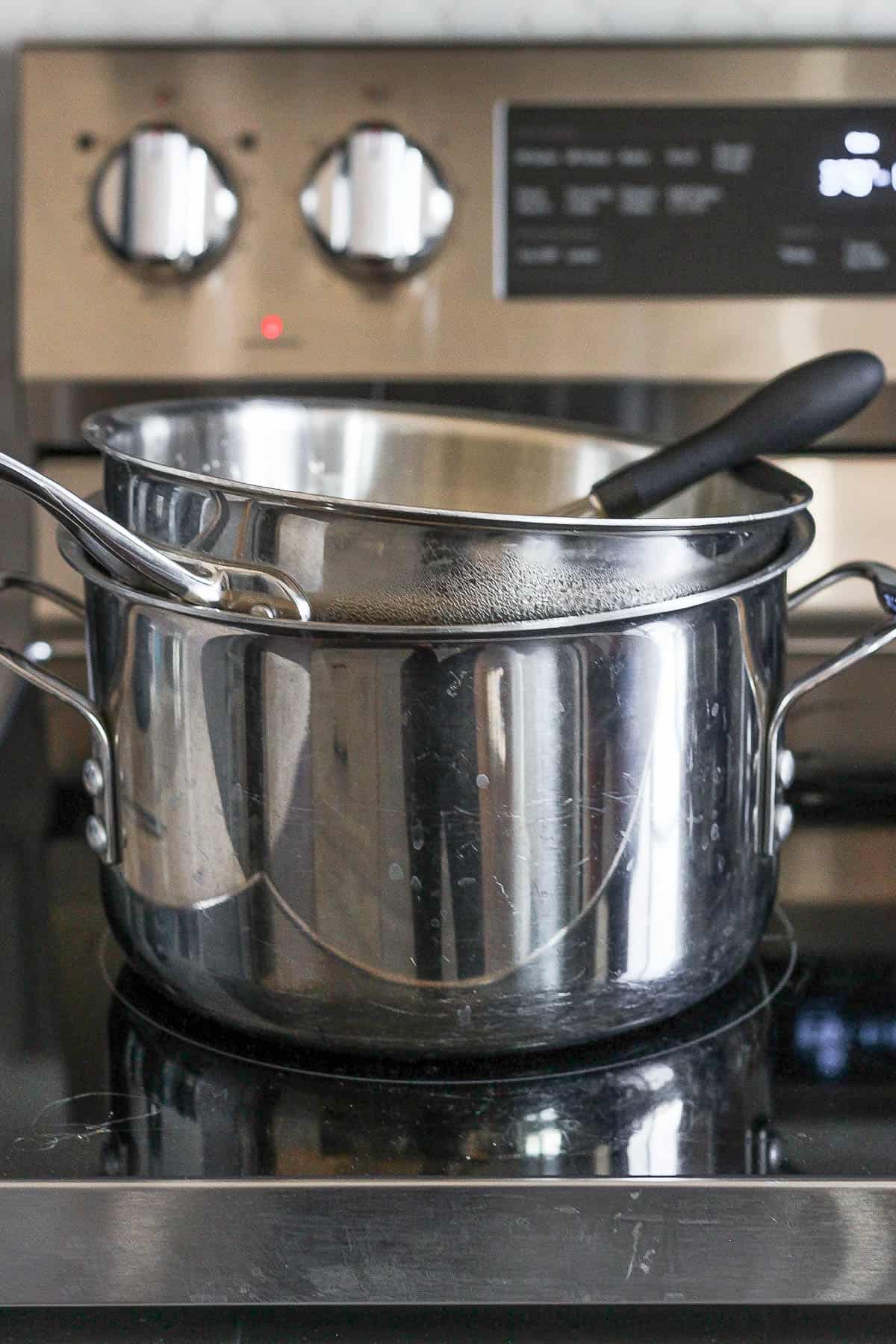 Next, pour the egg mixture into the top of the double boiler.
Now, very gradually pour the hot butter (make sure it is hot) in to the egg yolk mixture. Whisk the simple sauce continuously during this process and only add a little bit of hot melted butter at a time to reach your desired consistency.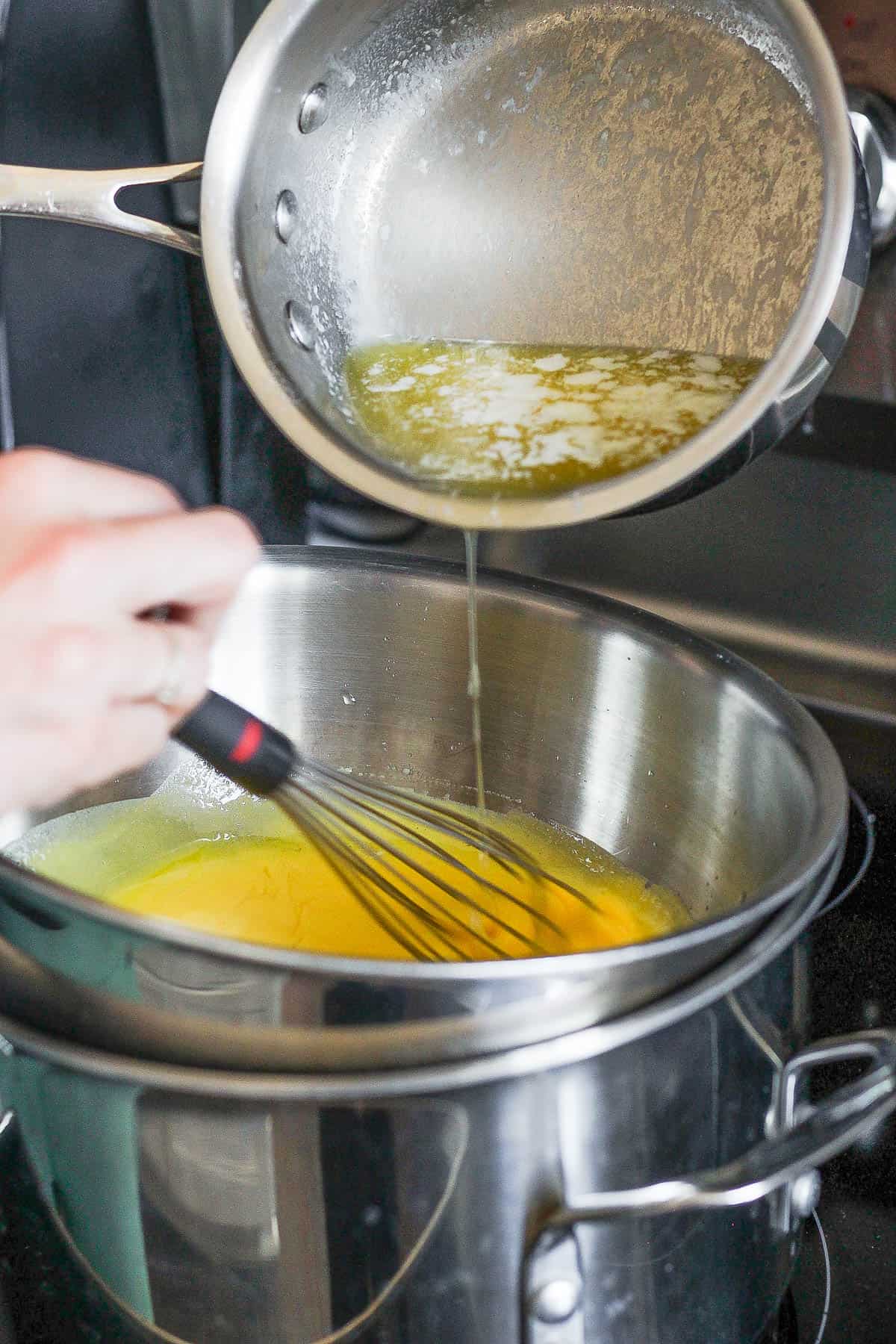 After all the butter has been whisked in, add the seasonings and whisk those in to the delicious sauce.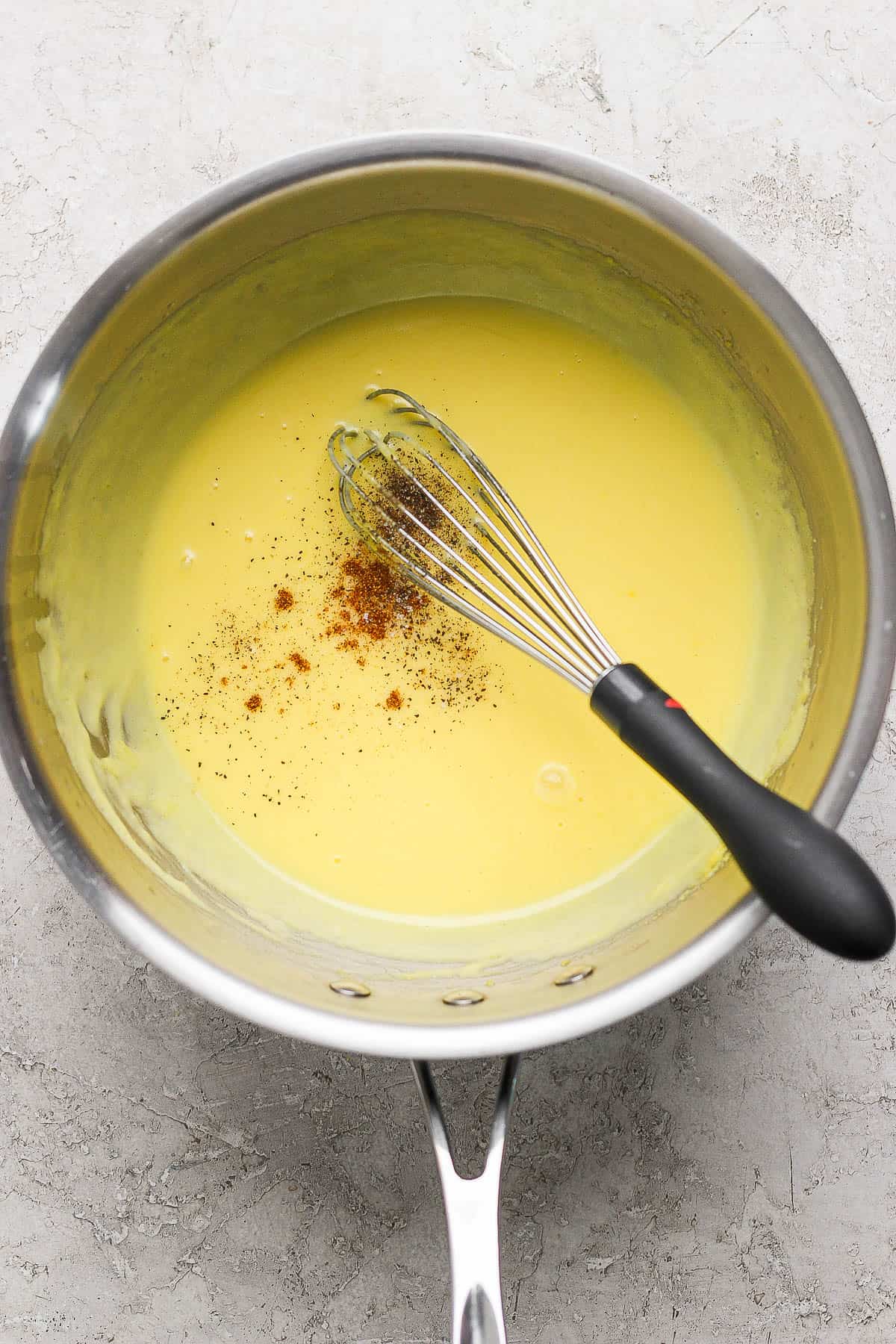 What To Do If The Hollandaise Sauce Breaks
As you are pouring in the melted butter you might find that the sauce texture goes from smooth and creamy to slightly chunky, this is the sauce breaking. If this happens don't give up, just pour in a teaspoon of water at a time and keep whisking. A little bit of hot water should help revive your hollandaise sauce and return it to a creamy texture.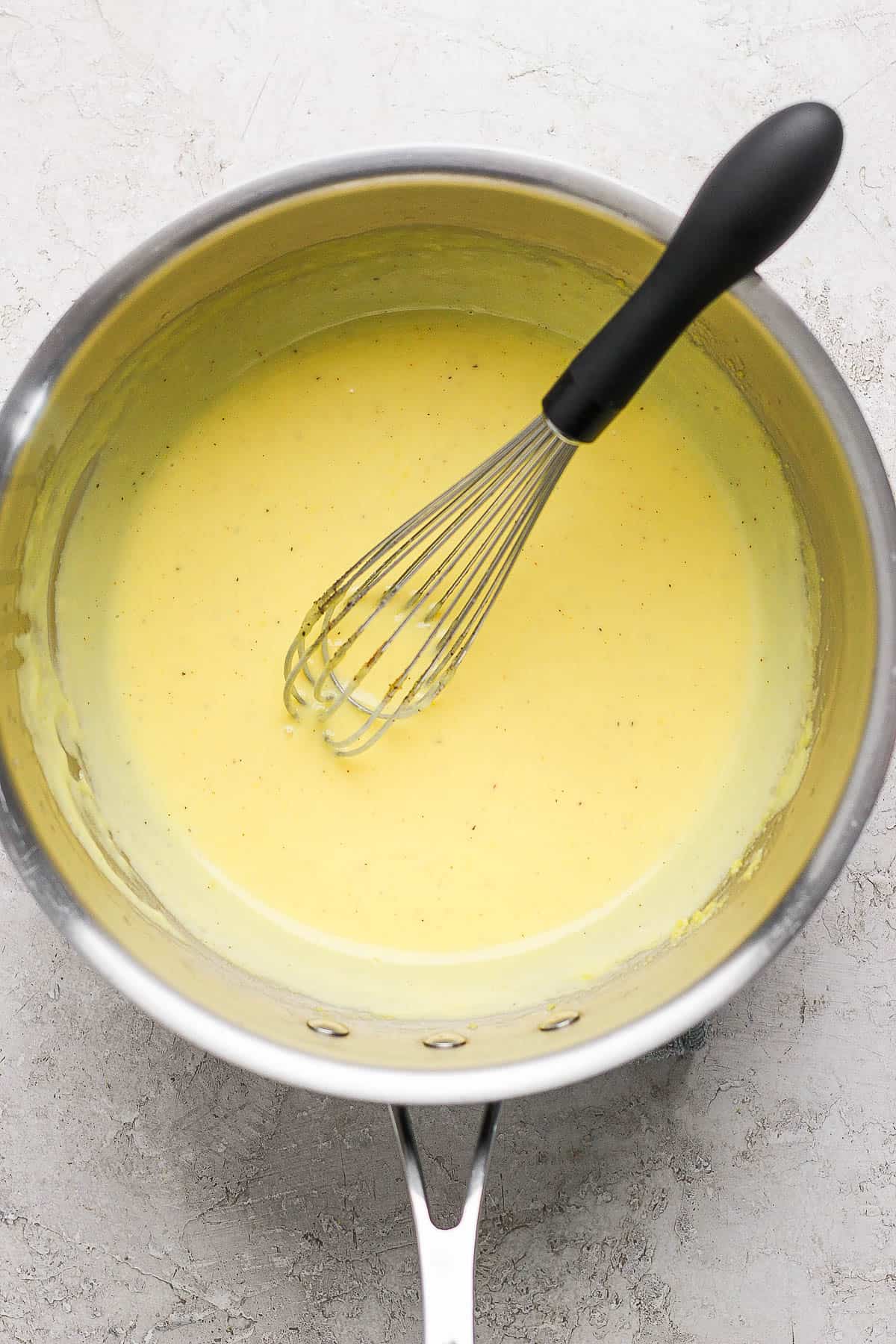 Now you can use this smooth sauce any way you want!
You can keep it in the "warming bowl" for quite a while (if you are serving a brunch this will allow you time to make the rest of the meal). When you come back to it, it will probably look goopy and not so amazing anymore. Relax. Whisking in a tablespoon of warm water is an easy way to bring it back to life.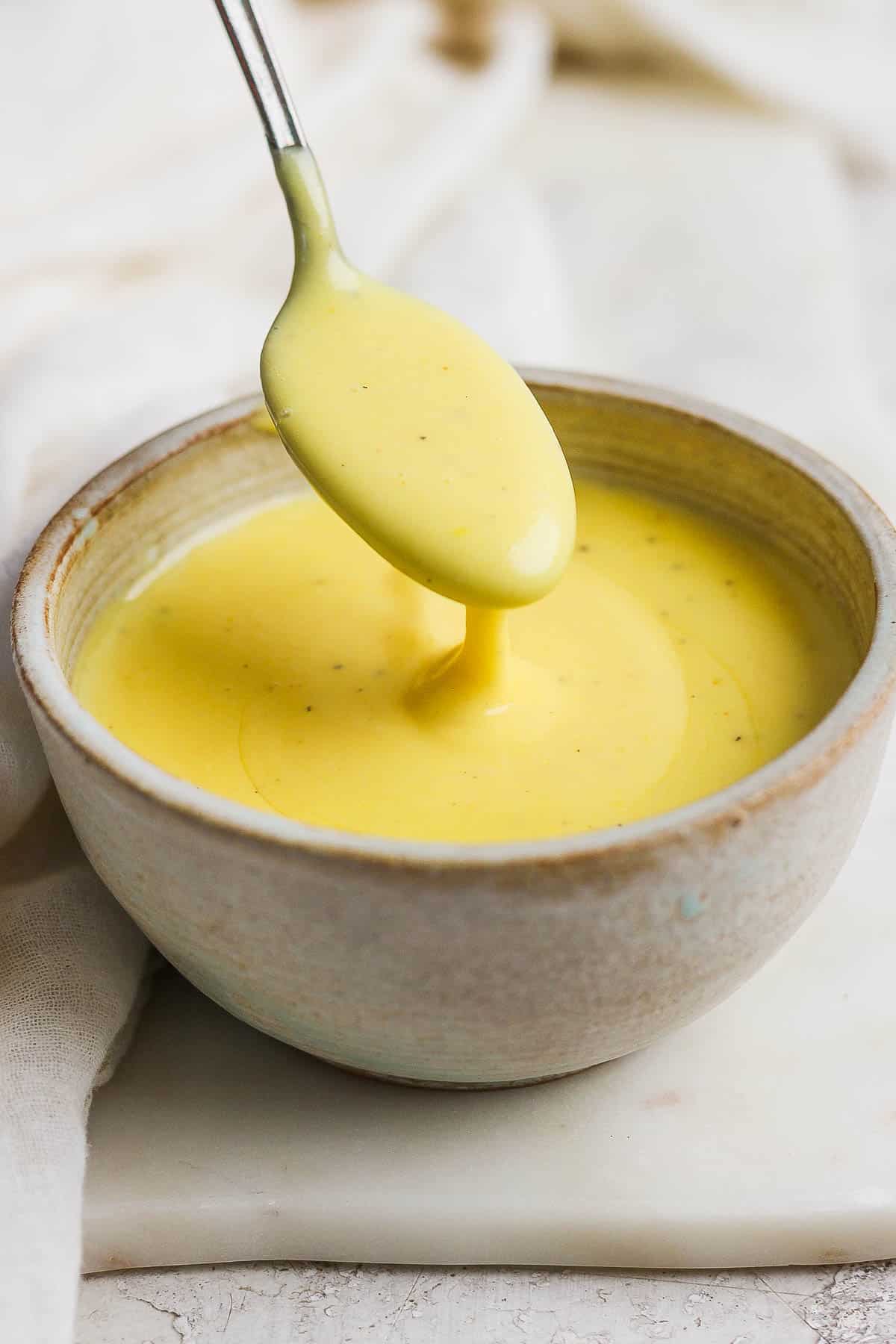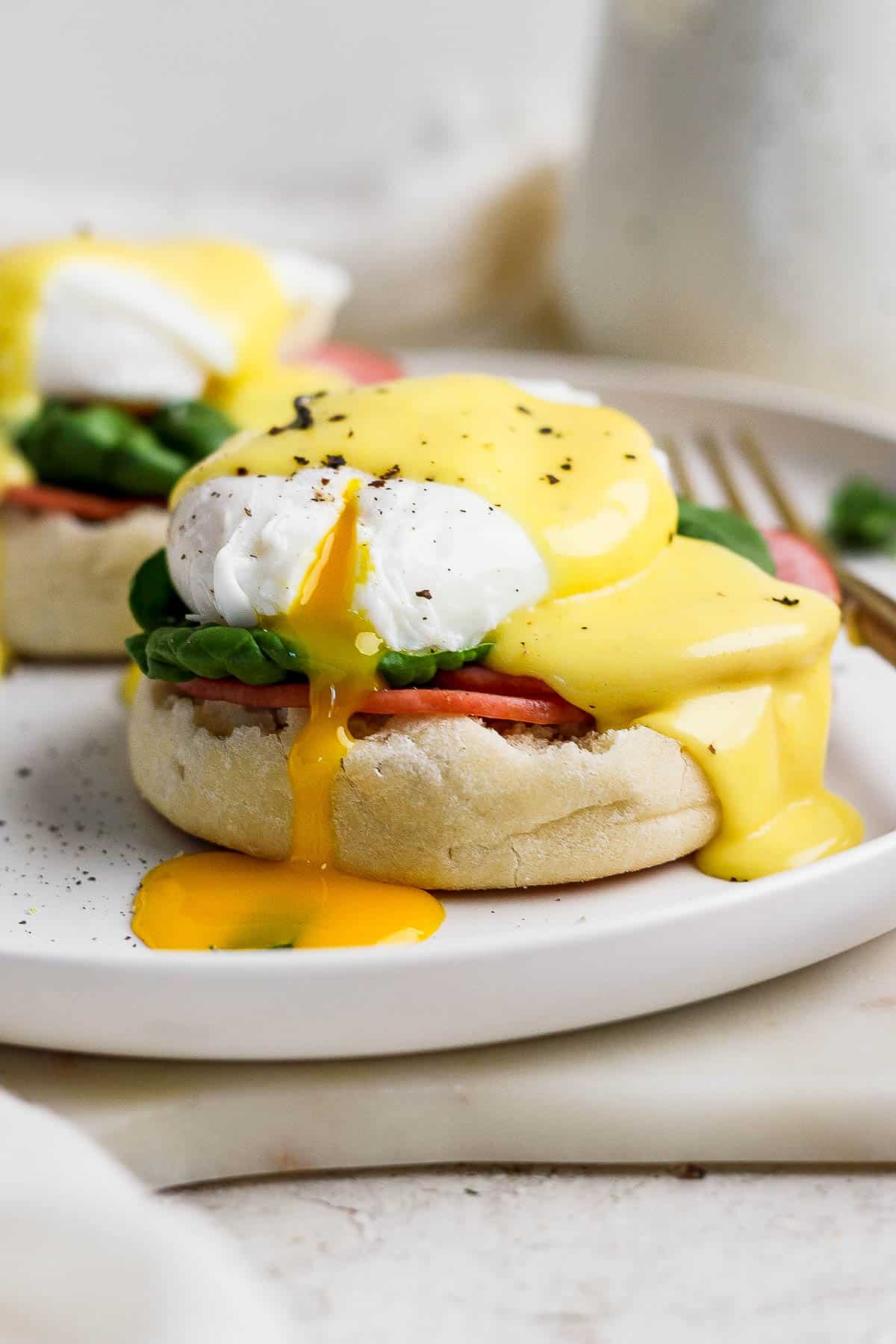 Recipe FAQ
eggs: we truly believe the the quality of eggs matter here! If the egg yolk is a deeper, darker yellow color it is a higher quality egg and it will give you a higher quality sauce.
storage: place in an airtight container and store in the fridge for up to 7 days.
Is it possible to freeze hollandaise sauce: yes, you can. You can pour it into an ice cube tray and place the tray in the freezer for about 2 hours, once the cubes are fully frozen you can remove them from the tray and place the cubes in a freezer-safe container. Simple pull them out to reheat as you need them. There might be some separating, but you can add some hot water or a bit more melted butter to help revive it.
reheat: this can be done by reheating in the microwave at 15 second increments until heated through.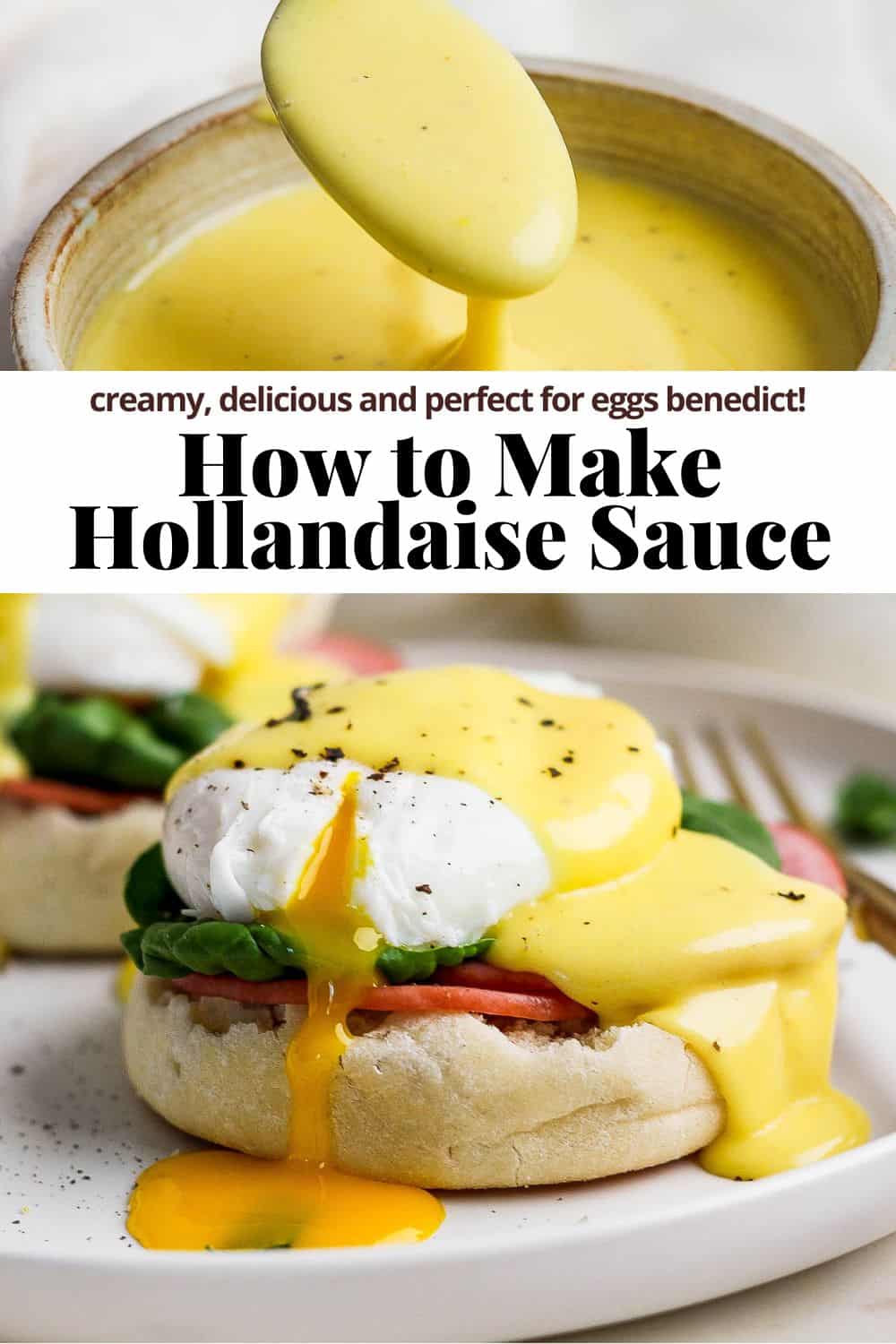 Made this recipe and loved it?! We would love it if you would take a minute and leave a star rating and review – it is also helpful if you made any substitutions or changes to the recipe to share that as well. THANK YOU!
Don't forget to check out my Instagram account for some behind-the-scenes action! Or give me a follow on Facebook or see what I am pinning on Pinterest!
Other Homemade Sauces You Might Like
Print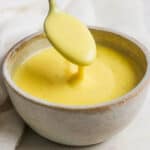 How to Make Hollandaise Sauce
Author: Erin Jensen
Prep Time: 5 minutes
Cook Time: 20 minutes
Total Time: 25 minutes
Yield: 2 cups 1x
Category: Sauce
Method: Stove Top
Cuisine: French
---
Description
How to Make Hollandaise Sauce – a step-by-step tutorial that teaches you how to make this classic French mother sauce!
---
4 large egg yolks*
1 1/2 sticks of butter
1 tablespoon fresh lemon juice
pinch of kosher salt
1/8 teaspoon ground cayenne pepper
pinch of ground black pepper
---
Instructions
Whisk together egg yolks and lemon juice until the texture is creamy and they have almost doubled in volume.
Melt butter in small saucepan; let simmer for 4-5 minutes or until it gives off a strong, nutty aroma.
Place yolk mixture in metal mixing bowl over another larger saucepan with water at the bottom and place over medium heat; ensure bottom of mixing bowl isn't touching the water.
Very slowly, add butter to yolk mixture, continually whisking.
Continue until all of the butter is added (this will take several minutes).
Add salt, cayenne pepper and black pepper and whisk again.
Serve immediately or leave in "warming bowl" for an hour or so.
Add tablespoon of warm water to sauce that has been sitting and whisk to revive.
---
Notes
*Eggs: the more high quality the egg, the darker and more flavorful the egg yolks. Which will translate into a more beautiful sauce.
Broken Sauce: if your water is boiling and the sauce gets too hot, it may break.
How to Fix a Broken Hollandaise Sauce: if your sauce breaks, don't fret! Simply add a splash of hot water and whisk. Continue adding splashes and whisking until the sauce comes back to life!
Serving: we love serving this with classic Eggs Benedict!
Inspired by Julia Child's version of Hollandaise Sauce.
Keywords: how to make hollandaise sauce, hollandaise sauce