Learn how to easily make a Velouté Sauce right at home by following our step-by-step instructions. It's wonderful French Mother Sauce that you can turn into a million different recipes including other sauces and soups. Every chef and home cook needs to know how to make this!
The Best Velouté Sauce Recipe
We love to tryout a variety of different cooking techniques and now that we have masted a homemade hollandaise sauce, it is time to conquer a classic velouté sauce! It's made with only 3 real, simple ingredients and in a matter of minutes. Depending on which broth you decide to use, you can achieve a variety of different flavors. Follow our simple tutorial below and we will show you just how easy it is to make this versatile sauce!
What You Will Need
butter – option to use regular butter or a plant-based butter, if you want it to be dairy-free.
flour – a simple thickening agent that helps create the roux for this velouté sauce recipe.
broth – just pick-up your favorite store-bought broth from the grocery store, chicken broth, veal, fish, etc.
What Is Velouté Sauce
So, what is velouté? It begins with a roux and from there you add either veal, chicken or fish stock or another light stock. It is one of the "mother sauces" in French Cuisine. Once you have created your velouté sauce, you can put your own spin on it or you can proceed to create what is called a secondary sauce. Secondary sauces are typically made from velouté sauce include Sauce Vin Blanc, Sauce Allemande and Sauce Supreme.
How To Make Velouté Sauce
The first steps to making this easy sauce recipe are to gather the ingredients. Since it only requires 3 ingredients, we highly recommend using a high quality butter. Highly recommend Kerrygold butter!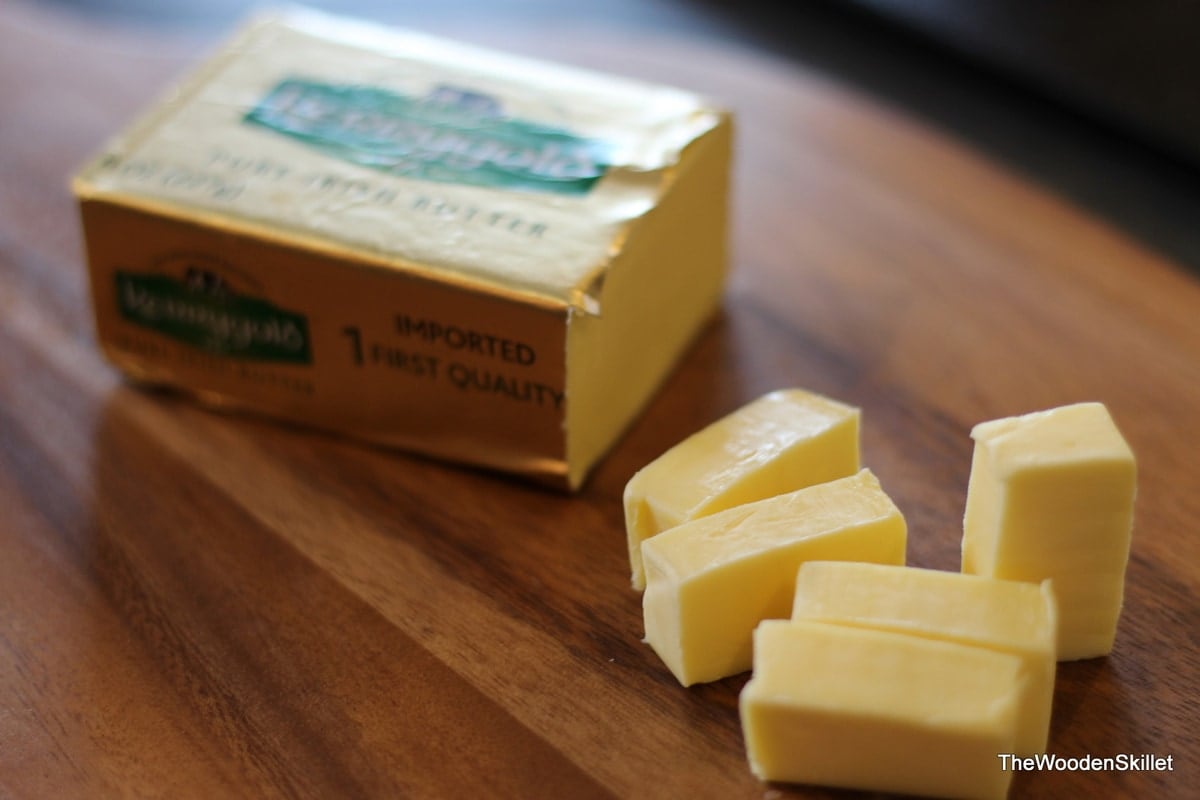 Now bring a medium saucepan to a medium-high heat and let the butter melt.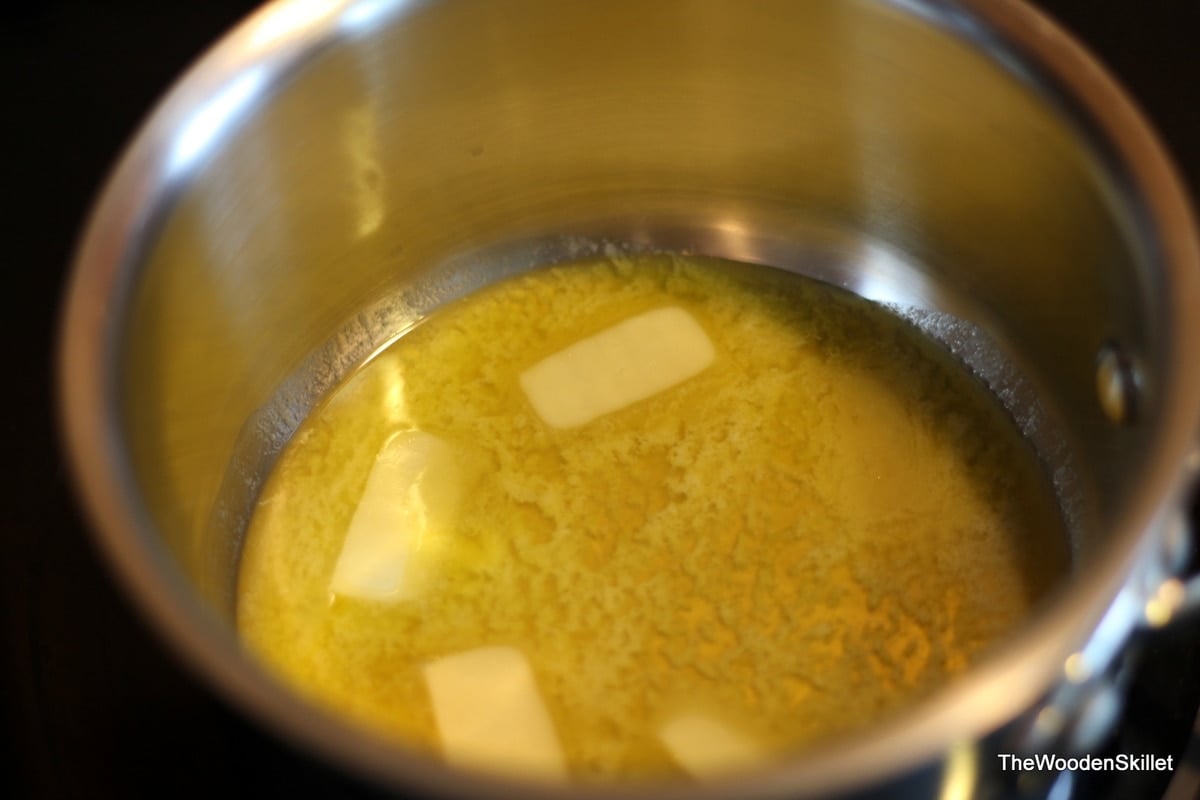 Next, add the flour to the pot all at once and whisk for about 2 minutes until it gives off a nutty smell.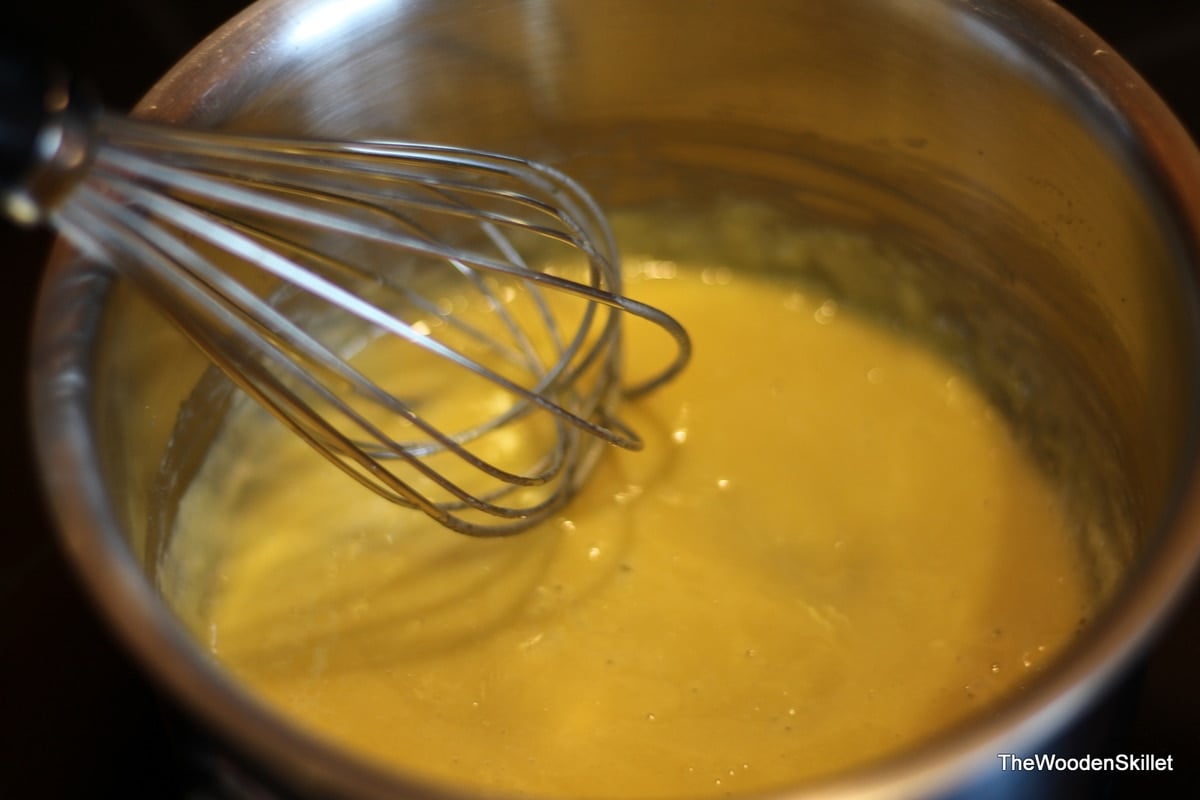 Then, as you continue to whisk, slowly add the broth/stock to the roux. Reduce to a low heat and let it simmer, uncovered, for 15-30 minutes or until your desired thickness is reached.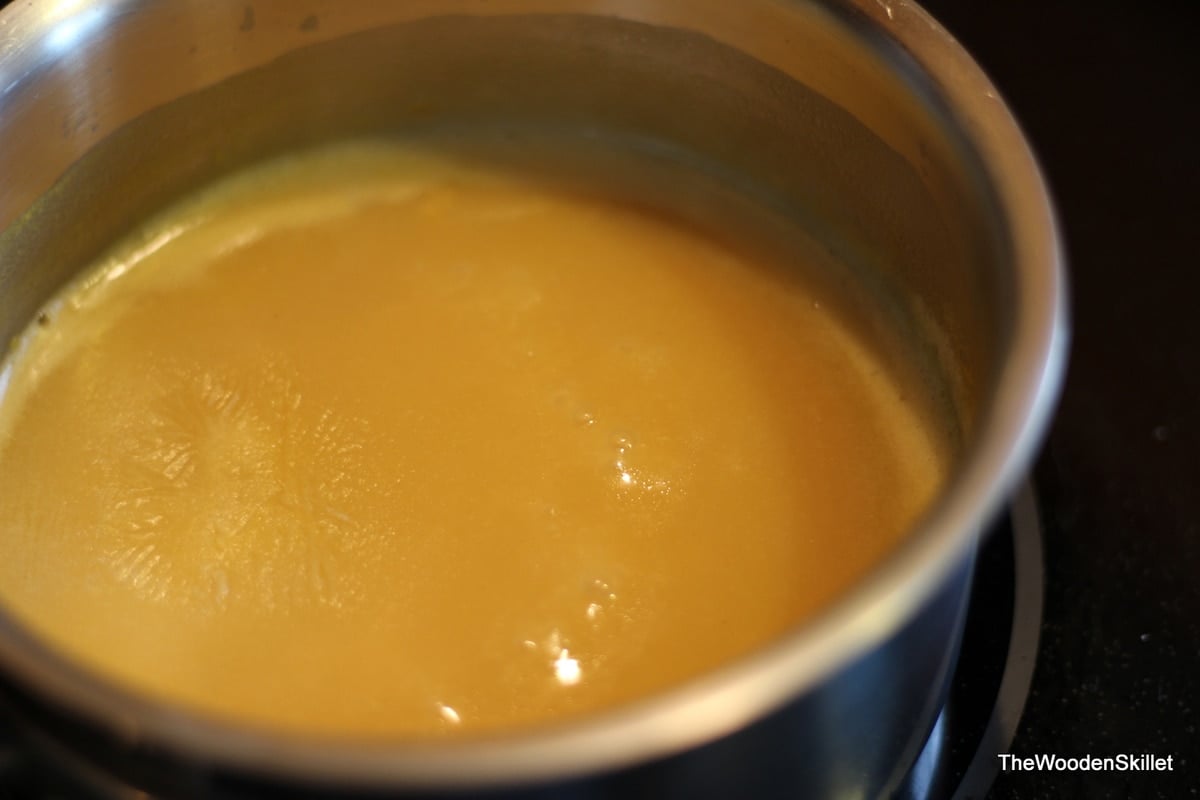 Best Ways To Serve Velouté Sauce
On its own, this sauce isn't too exciting. Typically it is used to create different kinds of sauces:
Sauce vin blanc – a white wine sauce.
Supreme sauce – velouté sauce with a heavy cream.
Sauce Parisienne – made of velouté, cream, and egg sauce.
This homemade sauce is a great option for making as a big batch, freezing for later, and enjoy as needed.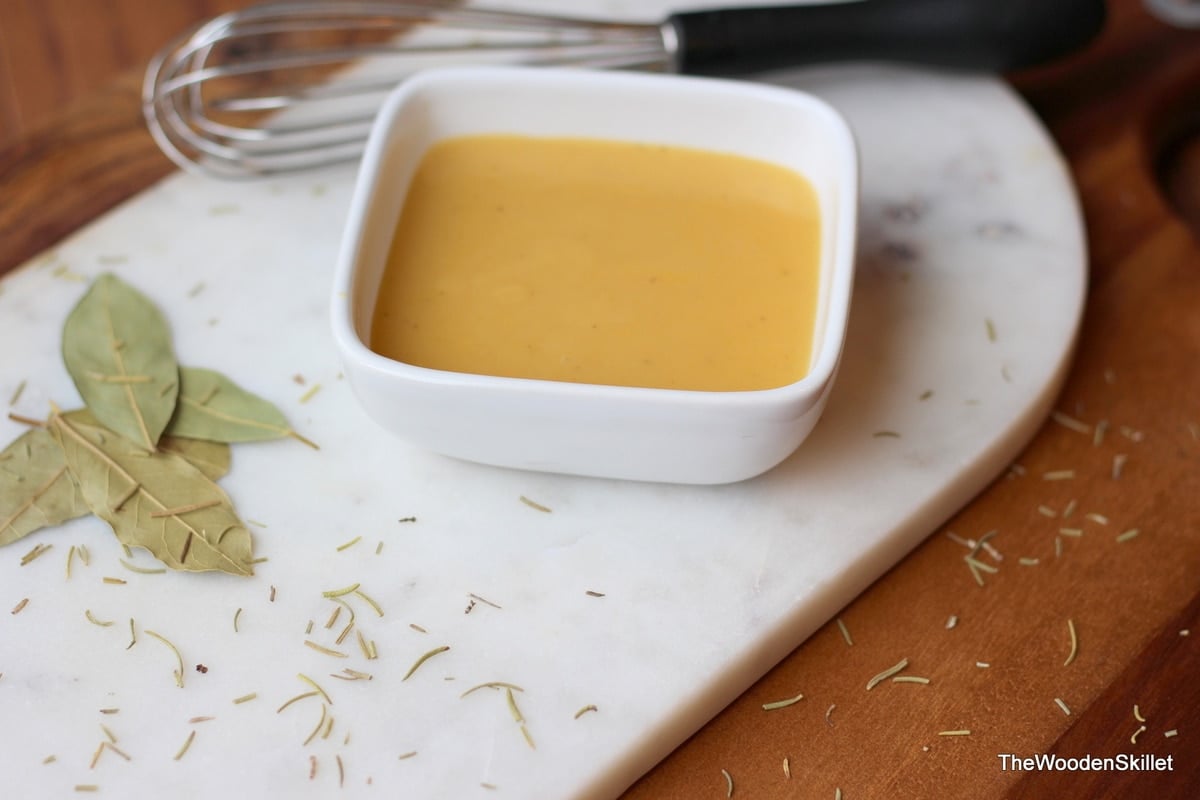 Recipe FAQ
What are the 5 French Mother Sauces?
Velouté, Bechamel, Tomato, Espagnole, and Hollandaise.
What is a "mother sauce"?
In layman's terms, a Mother Sauce is, in some respects, the foundation of your sauce. Once you have the foundation, you can build off of it and create anything you want. For example, the velouté sauce I made here is not necessarily something I would plainly serve on a dish. While it tasted lovely, it clearly needed a little something more to be elevated to greatness. A sauce veloute can be transformed into a beautiful mushroom sauce or as the base for a wonderful soup.
Can you freeze velouté sauce?
Yes! Since there is no milk or cream in this sauce, it is actually a really great option for freezing. Simply place in an airtight container (leave room for it to expand), and store in the freezer for 3 months.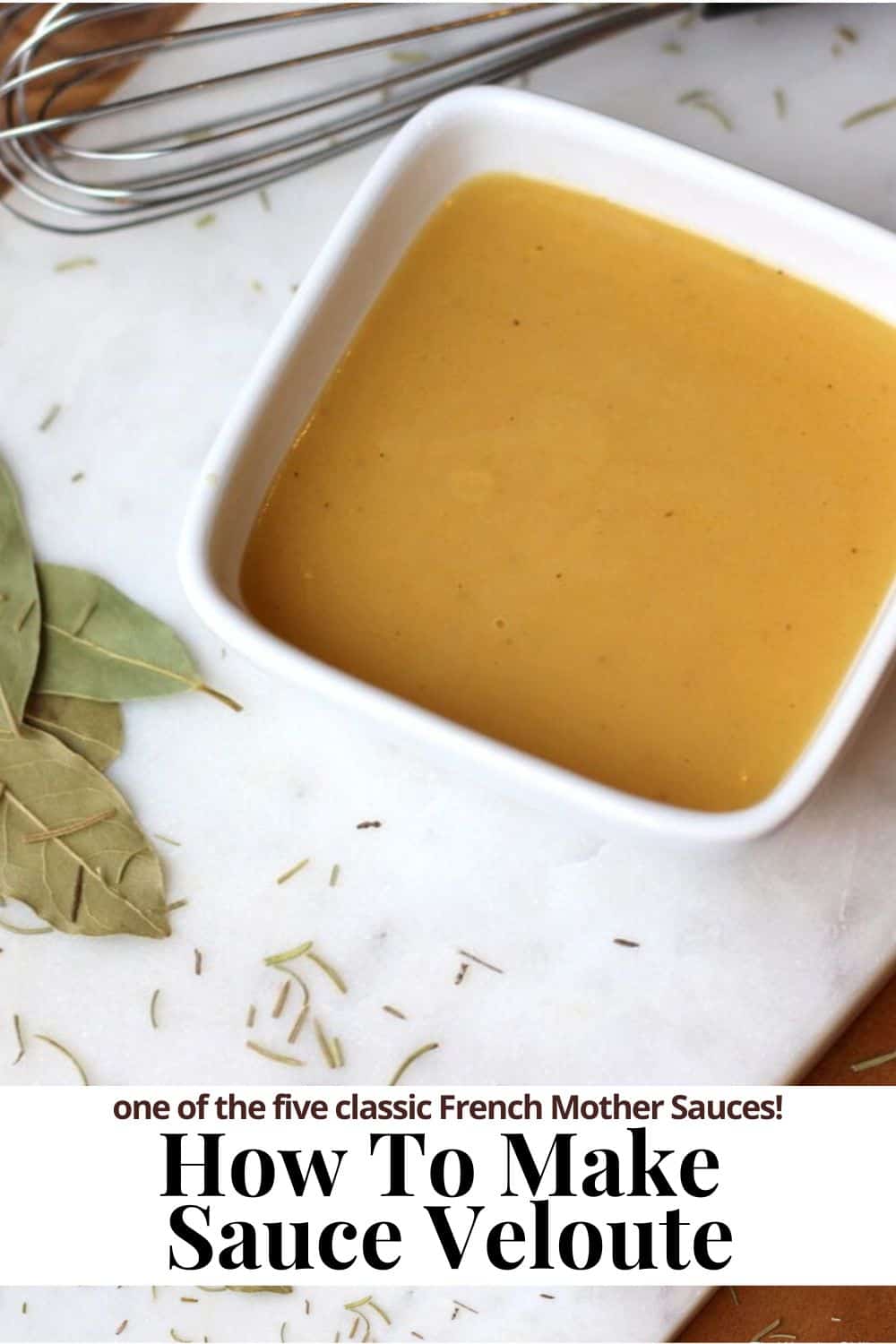 Made this delicious recipe and loved it?! We would love it if you would take a minute and leave a star rating and review – it is also helpful if you made any substitutions or changes to the recipe to share that as well. THANK YOU!
Don't forget to check out my Instagram and TikTok account for some behind-the-scenes action! Or give me a follow on Facebook or see what I am pinning on Pinterest!
Other Recipes You Might Like
Print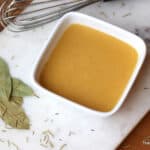 Velouté Sauce
Author: Erin Jensen
Prep Time: 5 minutes
Cook Time: 35 minutes
Total Time: 40 minutes
Yield: 2 cups 1x
Category: Sauce
Method: Stove Top
Cuisine: French-Inspired
---
Description
How to Make Velouté Sauce – learn how to make this classic French Mother Sauce with easy step-by-step instructions! So simple!
---
3 tablespoons butter
3 tablespoons all-purpose flour
2 cups veal, chicken or fish stock
---
Instructions
Bring a saucepan to a medium high heat, add butter, and let it melt.
Add flour all at once and whisk for about 2 minutes or until it gives off a nutty aroma and turns into a paste.
Continue to whisk while slowly adding stock a little at a time.
Once stock is completely integrated, bring to a boil, and then reduce heat to a simmer.
Let it simmer for 15-30 minutes, depending upon the desired thickness of the sauce.
Keep additional stock on hand in case you need to thin it out.
Use immediately or keep in fridge for later use.
---
Notes
Storage: leftovers can be kept in an airtight container in the fridge for up to 3 days.
Keywords: veloute sauce, french mother sauces