This cold-season you are going to absolutely love this creamy and delicious one-pot Chicken Orzo! Made with perfectly crisp chicken thighs, orzo, shredded brussel sprouts, garlic, and lots of parmesan cheese! The perfect weeknight meal that can all be made in your cast iron skillet.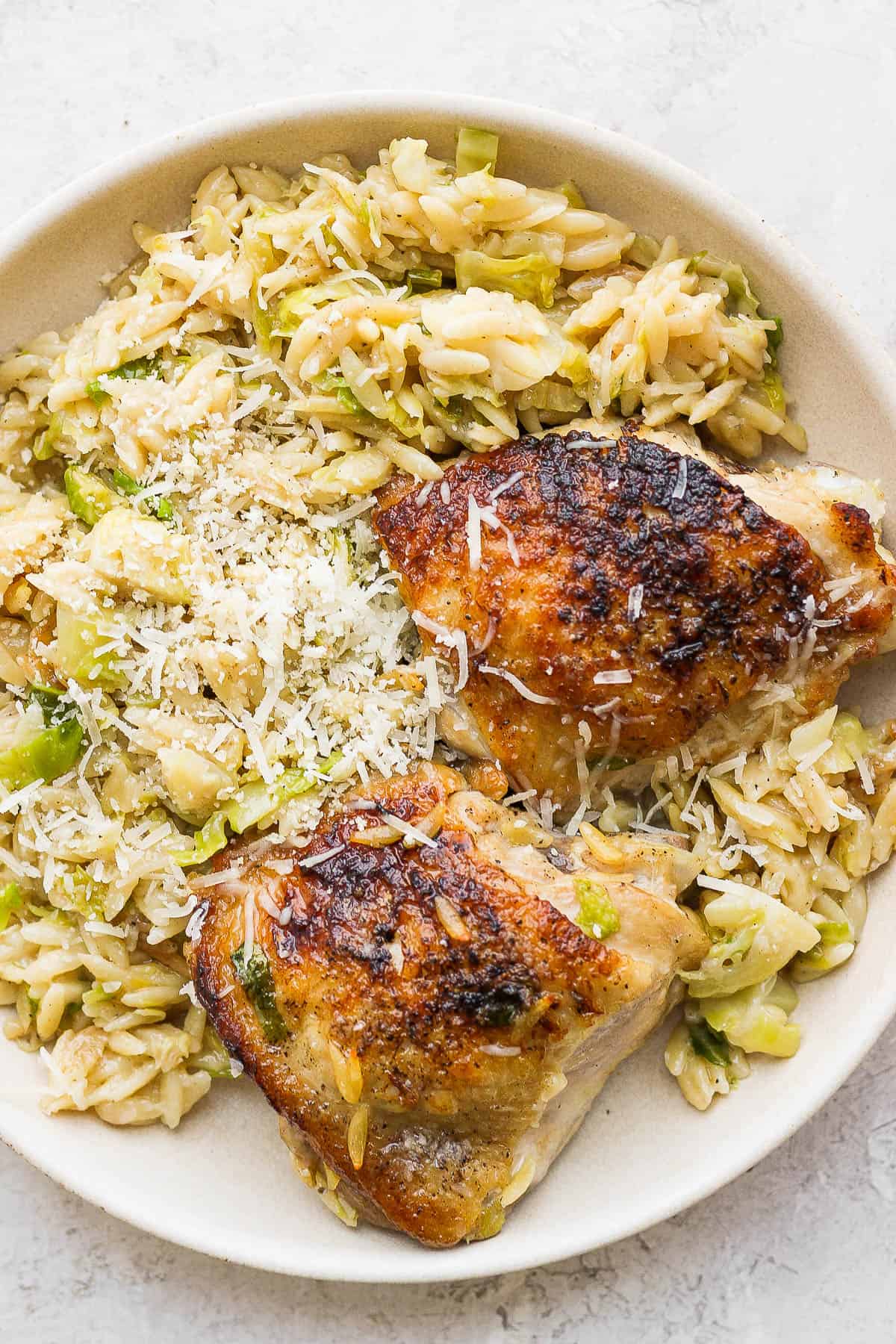 Creamy One Pot Chicken Orzo
There is simply nothing better than a quick & easy weeknight dinner that can be made in one pot or one skillet! Typically when you hear the words chicken and orzo in a recipe together it is for a chicken orzo soup, which we also love! But this is the most creamy and delicious parmesan chicken orzo that is made entirely in your cast iron skillet. We love making this on a busy weeknight because it comes together in about 40 minutes and uses real, simple ingredients.
Love creamy, one-pot chicken recipes: try this Creamy Tuscan Chicken + Gnocchi!
What You Will Need
olive oil – just enough to lightly coat the bottom of the pan for searing the chicken.
chicken thighs – we love using bone-in, skin-on chicken thighs for all of their great flavor, but feel free to use chicken breasts or boneless chicken thighs.
butter – option to use vegan butter or ghee, if you prefer!
garlic – everything is better with garlic and feel free to use as much or as little as you like.
brussel sprouts – using a mandolin to slice these is so simple, but if you don't have one you can simply use a sharp kitchen knife and cutting board.
orzo – to make this super simple we cook this right in the skillet with the chicken and brussels but if you are looking to cook orzo on its own just follow our simple tutorial!
chicken broth or water – we highly recommend using chicken broth, so much more flavor that way.
kosher salt & ground pepper – simple seasonings that bring flavor to just about anything.
lemon zest & lemon juice – a little acidity to lighten and brighten things up!
parmesan cheese – you can use dairy-free parmesan cheese, if you want, just make sure you use a generous amount!
What Is Orzo
Great question! There was a time when we weren't entirely sure what it was either. The Merriam-Webster Dictionary defines orzo as a rice-shaped pasta and that is exactly what it is. I might look like rice but it has the texture of pasta and when made in this skillet recipe, it actually becomes a bit of a risotto type dish. It might be tricky to describe but it isn't tricky to make and it tastes out of this world! The perfect comfort food!
See also: Learn How to Cook Orzo here and how to make Cheesy Orzo here!
Recipe Variations
We absolutely love this recipe made just as it is, but sometimes you might be missing an ingredient or you want to change it up a bit. Here are a few options:
chicken thighs – if you don't have any bone-in, skin-on chicken thighs, or if you prefer something else, you could also use boneless chicken thighs or chicken breasts. If you do use chicken breasts, they can be entirely cooked on the stovetop until their internal temp is about 150 degrees F (they will finish cooking in the orzo) and don't need to be moved to the oven.
other vegetables – the shaved brussel sprouts in this dish is so good, but you could also use broccoli, frozen peas, asparagus, or fresh spinach. You might have to adjust some cooking times or timing on when they should be added.
seasonings – option to add some red pepper flakes if you want to spice things up! Or adjust any of the other seasonings depending on your own taste.
How To Make Parmesan Chicken Orzo
You will want to begin by drizzling enough olive oil in the cast iron skillet to lightly coat the bottom of the pan. Then place it on medium-high heat on the stovetop until you are able to flick water in the pan and hear a sizzle. Now you know it is ready for the chicken thighs! Place them skin-side down to sear for 3-4 minutes, flip them over, and move the skillet to the oven to continue cooking for about 15 minutes.
Next, remove the chicken thighs and add your butter to the pan. Let the butter melt and toss in the garlic to sauté for about 30 seconds before adding your shaved brussel sprouts. Move them around in the skillet for about 2-3 minutes.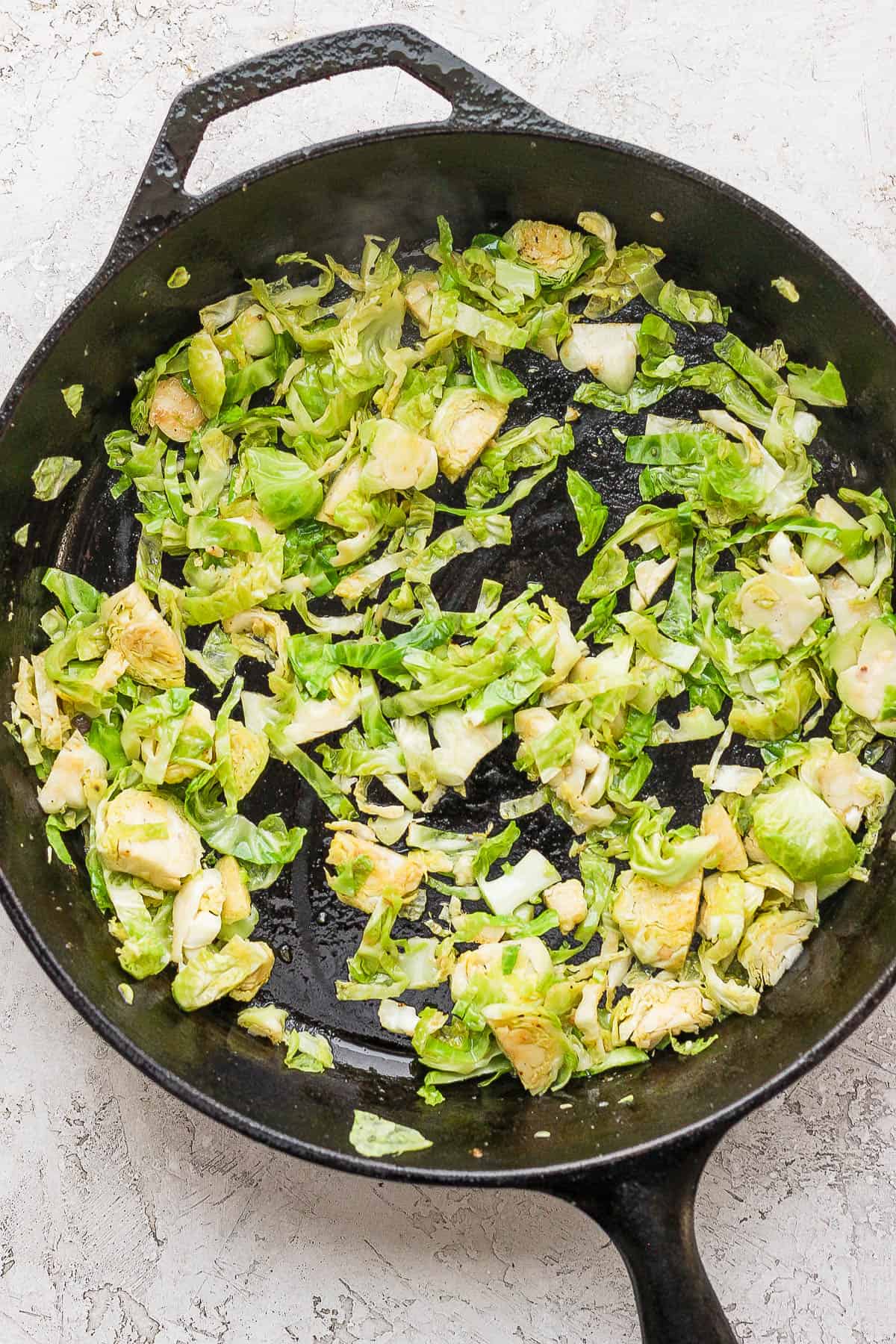 Then add the broth, orzo, salt, pepper, and stir with a large spoon to fully combine. Finally nestle the cooked chicken thighs right on top of the other ingredients in the pan and let it all cook for about 8-10 minutes on medium heat.
As the orzo cooks you will see it expand nicely and fill in the pan, like this, and the wonderful juices from the chicken will get soaked up by the orzo!
Next, remove the chicken from the pan one more time and mix in your lemon zest, lemon juice, and parmesan cheese.
Mix to fully combine to the most amazing, creamy goodness!
Serve and enjoy! Serving some Grilled Bread or Garlic Bread alongside this meal would also be amazing!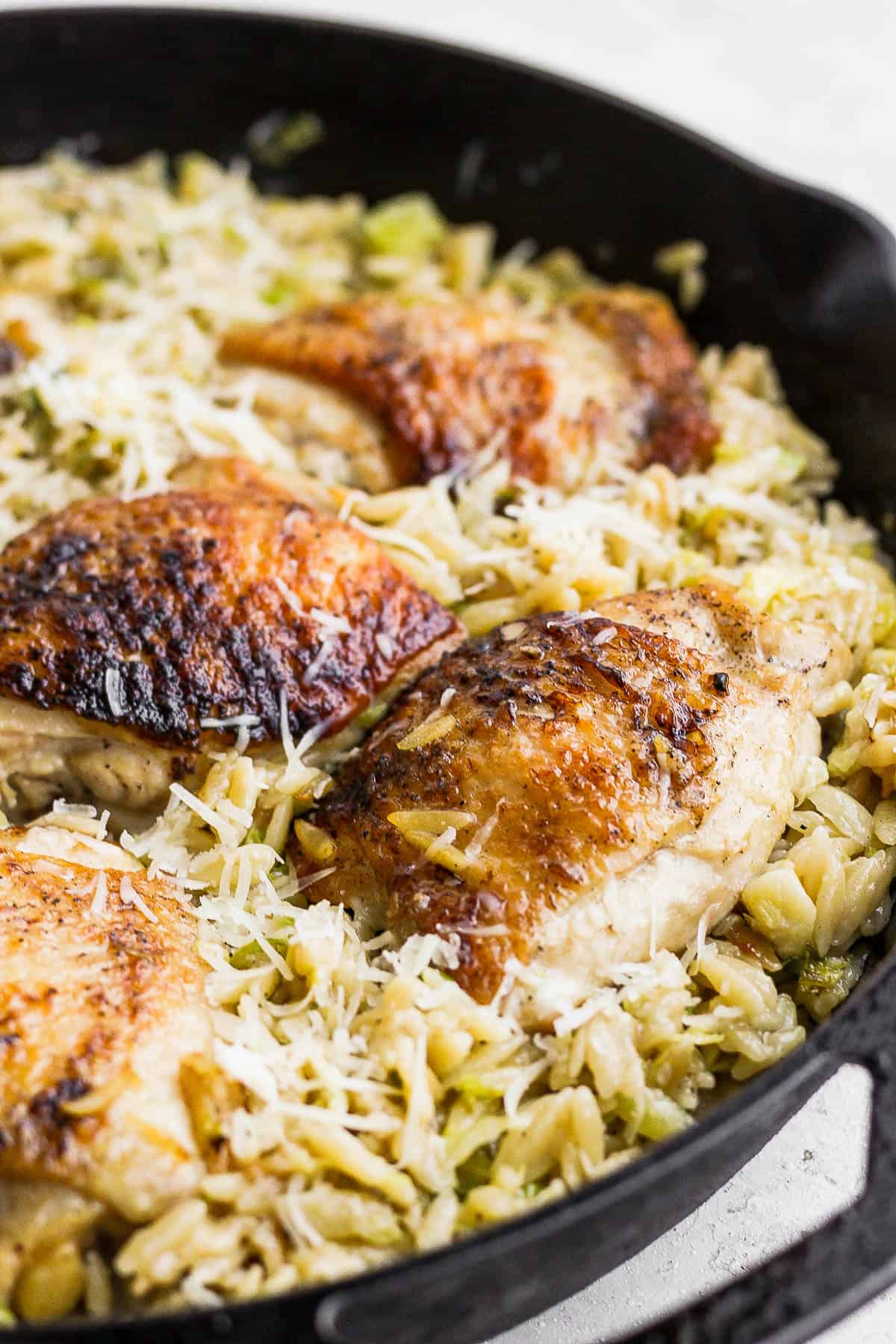 Using Previously Cooked Chicken
You have the option to make this meal even more simple if you have some leftover chicken that has already been cooked, poached chicken that you made in your weekly meal prep, or use a rotisserie chicken from your local grocery store! If that's the case you can simply skip the chicken steps above and just cook the orzo and other ingredients in the skillet. Your cooked chicken can be added at the very end after you have fully mixed the lemon zest, lemon juice, and parmesan cheese together.
Other One Pot Recipes
Recipes that can be made entirely in one pot, pan or skillet are simply the best! Here are a few more for you to checkout: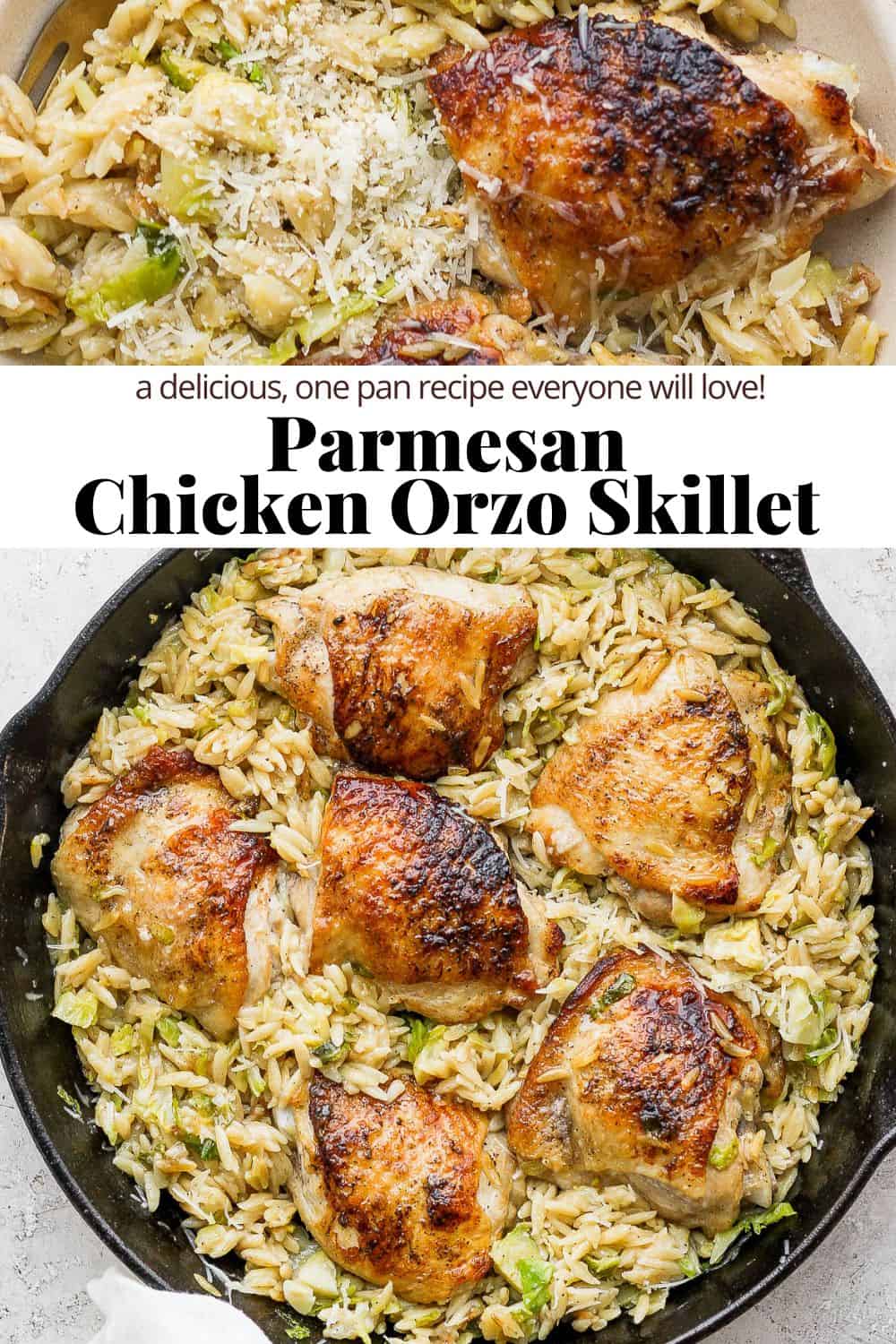 Made this recipe and loved it?! We would love it if you would take a minute and leave a star rating and review – it is also helpful if you made any substitutions or changes to the recipe to share that as well. THANK YOU!
Don't forget to check out my Instagram account for some behind-the-scenes action! Or give me a follow on Facebook or see what I am pinning on Pinterest!
Print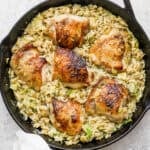 Parmesan Chicken Orzo
Author: Erin Jensen
Prep Time: 10 minutes
Cook Time: 30 minutes
Total Time: 40 minutes
Yield: 6 servings 1x
Category: Dinner/Entree
Method: Stove Top + Oven
Cuisine: American
---
Description
Parmesan Chicken Orzo – a delicious one-pan dinner that is packed with flavor! Made with simple, real ingredients the whole family will love!
---
1 teaspoon olive oil
6 bone-in, skin-on chicken thighs
1 tablespoon butter
1 teaspoon garlic, minced
3/4 pound brussels sprouts (approx. 2 cups sliced brussels sprouts)
1 1/2 cup orzo
2 cups chicken broth (or water), more as-needed
1 teaspoon kosher salt
1/8 teaspoon ground black pepper
1/2 teaspoon finely grated fresh lemon zest (more to taste)
1/2 teaspoon lemon juice (more to taste)
1 cup grated parmesan cheese
---
Instructions
Place chicken thighs on a plate. Pat dry with clean paper towel. Sprinkle with a little kosher salt and ground black pepper.
Preheat oven to 400 degrees F.
Place a large cast iron skillet on the stove-top and bring to medium-high heat. Add oil to the pan, just enough to lightly coat the bottom.
Once the pan is hot (it should sizzle if you flick some water on it) place the chicken thighs skin-side down into the pan and let sear 3-5 minutes or until the skin is nice and brown.
Flip the chicken thighs over and then move the skillet to the oven (middle rack and uncovered). Let cook 15 minutes or until chicken thighs reach an internal temp of approx. 160 degrees F. Meanwhile, prep your brussel sprouts and remaining ingredients.
Remove from oven and place chicken thighs on a plate; set aside.
Place the skillet on the stove top and bring to medium-high heat (the pan will still be nice and hot from the oven, but we want to keep it hot).
Add butter and let melt. Add garlic and move around the pan until fragrant, approx. 30 seconds. Add brussels sprouts and move around the pan until they start to soften, approximately 2-3 minutes.
Add orzo, broth, kosher salt and ground black pepper. Stir to combine.
Nestle the chicken thighs on top and pour in any juices that have settled on the plate. The chicken thighs will finish cooking along with the orzo and their juices will help flavor everything.
Let orzo simmer gently, uncovered, 8-12 minutes or until the orzo is cooked al dente – try and stir the orzo occasionally and add additional splashes of chicken broth if you notice the pan drying up to avoid the orzo from sticking to the bottom of the pan or burning.
Remove chicken thighs from pan and remove pan from heat. Add lemon zest, lemon juice and parmesan cheese to the orzo. Stir to combine.
Taste and add any additional parmesan cheese, salt or lemon zest, as desired.
Serve immediately and enjoy!
---
Notes
Chicken Thighs: I prefer chicken thighs to chicken breasts and in order for them to be fully cooked they have to do a lot of their cooking in the oven before we add them in with the orzo. You can just cook them on the stove-top if you prefer – ensure they get to about 158/160 degrees F. before nestling into the orzo as they won't cook a ton during that time frame.
Orzo: some people have had issues with the orzo sticking to the bottom of the pan while simmering, to avoid this have a little extra chicken broth on hand and add splashes of it to the orzo, as needed, to help avoid the pan from drying out – also try and stir the orzo as best you can around the chicken thighs while it is cooking!
Chicken Breasts: you could definitely use chicken breasts here if you prefer. If you are using chicken breasts you could probably just cook them on the stove top until they reach approx. 155 degrees F. and then they will finish cooking when they are nestled in the orzo.
Internal temp of chicken: Chicken is fully cooked when it reaches an internal temperature of 165 degrees F.
Storage: any leftovers can be stored in an airtight container in the refrigerator for 5-6 days.
Nutrition
Serving Size: 1 cup
Calories: 228
Sugar: 2.4 g
Sodium: 769.4 mg
Fat: 7.8 g
Carbohydrates: 23.1 g
Protein: 16.9 g
Cholesterol: 37 mg