Prime Rib Seasoning (prime rib rub) is an amazing, flavorful addition to any prime rib recipe! Made with classic flavors like kosher salt and ground black pepper, but then we threw in a little chili powder and paprika as well as thyme for some spice and earthy notes. This prime rib seasoning mixture is going to take your prime rib to the next level!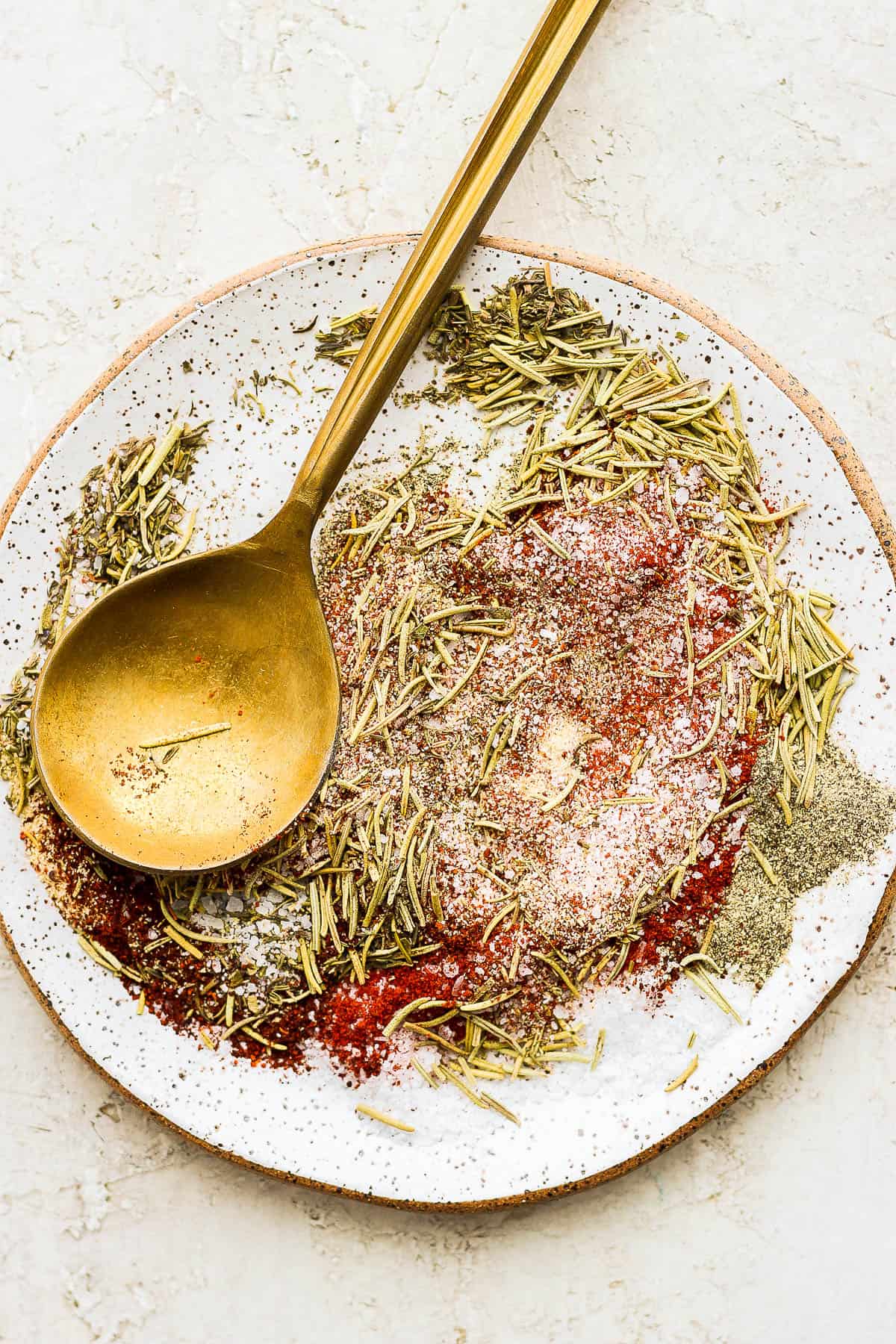 Best Ever Prime Rib Seasoning (prime rib rub)
I am all about the classic salt and pepper seasoning on a prime rib, BUT sometimes you want to take up a notch – that is where this recipe comes in! Packed with so much flavor and even a little bite for the chili powder (not too much, just a tad).
Cooking a prime rib roast (aka standing rib roast) is a go-to in our house for Christmas dinner or any special holiday meal (this smoked prime rib is also EPIC). It is such a special recipe to make and this one has been made by my family so many times. This rub just takes it to the next level!
Why This Recipe Works
Salt + Pepper + MORE: we added in the classic salt and pepper … but then we took it to the next level!
Bite: with just a little bit of chili powder we gave this seasoning some teeth – not too much that it is over-powering, but enough that it rounds out the flavor and compliments the beef nicely.
Earthy: the more earthy flavors of rosemary, onion and thyme finish off the seasoning perfectly.
What You Will Need
kosher salt + ground black pepper: you gotta start with the basics!
dried rosemary + onion powder + thyme: these are our earthy flavors that mellow out the flavor and almost bring an acidity to it. You can use fresh thyme and fresh rosemary if you wish, but just remember that dried herb have a stronger flavor than fresh so you may need to adjust the amounts.
garlic powder: because you always gotta have a little garlic!
chili pepper + paprika: these two add that little tiny bit of bite.
Best Prime Rib
If you are looking for an easy prime rib recipe this standing rib roast is our go-to – it is tender and delicious. Here is the lowdown: remove the prime rib (bone-in or boneless) from the refrigerator. Rub all over with the seasoning blend. Let come to room temperature. Place on a roasting pan with a rack and place in the oven.
We break down the cooking times in this post – but we start out hot at 500 degrees and then drop down the temp to 325. Remove from oven and let rest. Don't forget to use the drippings and juices to make some homemade au jus and horseradish sauce! Serve with potatoes and asparagus for a yummy meal! Got leftovers – make this leftover prime rib sandwich!
Or you can go for the Smoked Prime Rib recipe where you rub it all over with an herbed butter and then smoke it at 225 degrees until it reaches an internal temp of 118 degrees F. Then sear in a cast iron skillet and let rest! So easy!
Other Prime Rib Recipes
If you are making some Homemade Prime Rib Seasoning you might as well make some Horseradish Sauce for Prime Rib and some Homemade Prime Rib Au Jus!!
How to Make Prime Rib Seasoning
Grab your seasonings from your pantry and add to a bowl. Stir to combine.
Rub all over your prime rib … every little nook and cranny!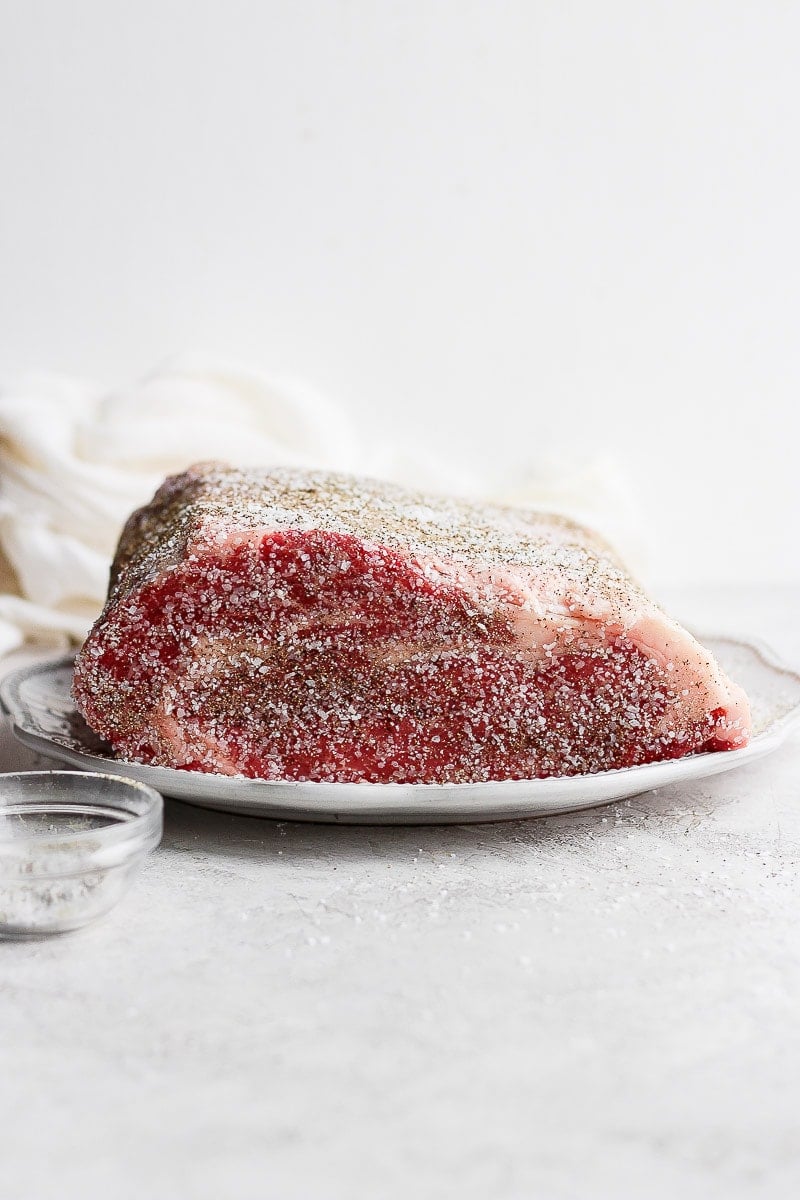 Make your prime rib however you want – we love this recipe!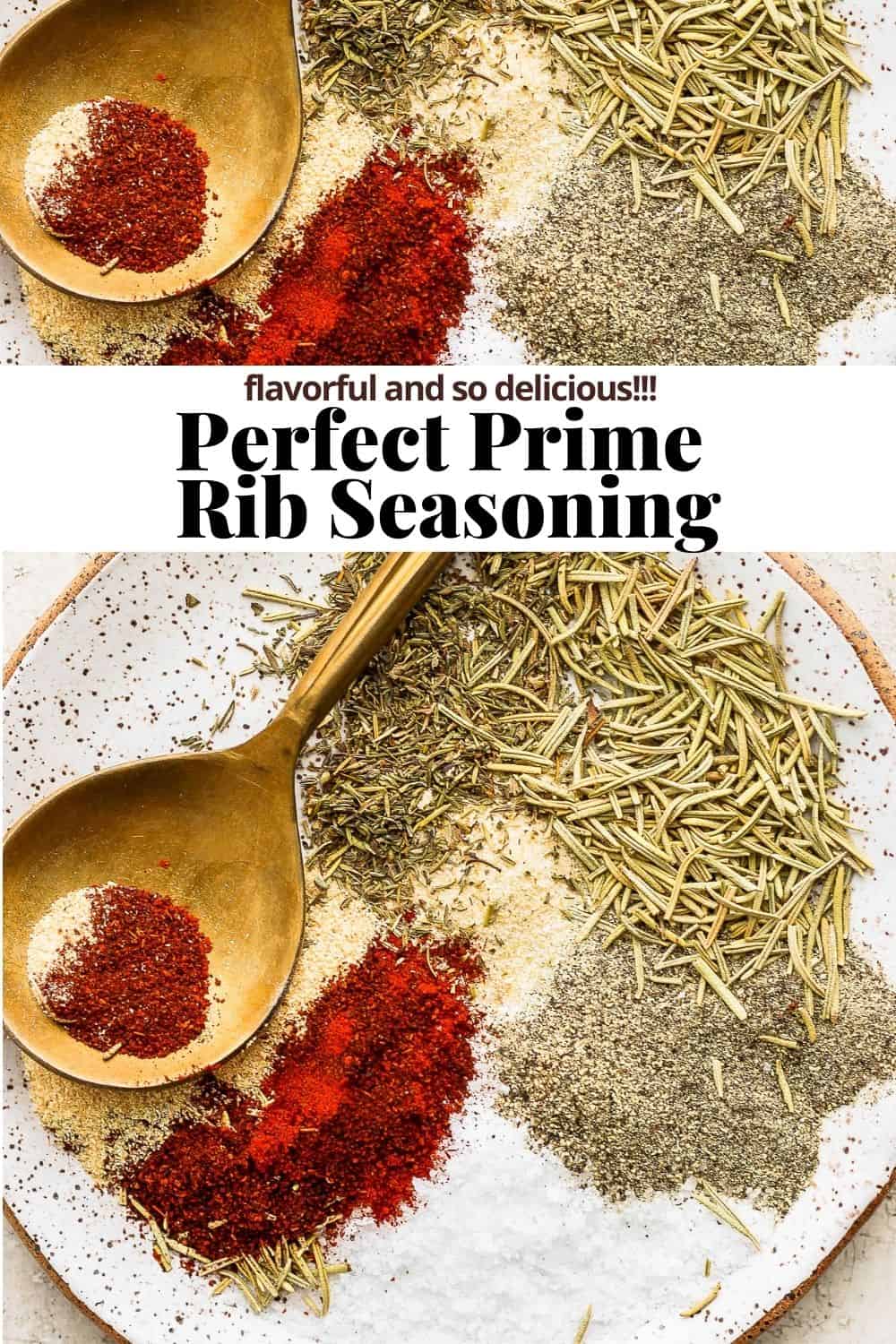 Made this recipe and loved it?! We would love it if you would take a minute and leave a star rating and review – it is also helpful if you made any substitutions or changes to the recipe to share that as well. THANK YOU!
Don't forget to check out my Instagram account for some behind-the-scenes action! Or give me a follow on Facebook or see what I am pinning on Pinterest!
Print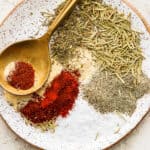 Prime Rib Seasoning (prime rib rub)
Author: Erin Jensen
Prep Time: 5 minutes
Cook Time: 0 minutes
Total Time: 5 minutes
Yield: Approx. 1/4 cup
Category: Seasoning
Method: Counter Top
Cuisine: American
---
Description
Prime Rib Seasoning (prime rib rub) – a delicious, simple prime rib seasoning recipe that is perfect for all your prime rib recipes!
---
1 tablespoon coarse kosher salt
1 teaspoon ground black pepper
1 tablespoon dried rosemary, crushed
1 teaspoon garlic powder
1/2 teaspoon paprika
1/2 teaspoon onion powder
1 teaspoon dried thyme leaves
1/2 teaspoon chili pepper
---
---
Notes
Storage: store in an airtight container in a closed pantry for up to 6 months.
Salt + Pepper: if you want something a little more classic I would recommend just sticking with kosher salt and ground black pepper – simple, but so good with prime rib!
Keywords: prime rib seasoning, prime rib rub