This juicy and tender Smoked Prime Rib recipe is definitely a stunner! We will take you through everything you need to know for making a perfectly smoked prime rib roast, every time. A great option for serving at your next special occasion!
An Ultimate Smoked Prime Rib Roast
A classic prime rib roast has been a featured food each holiday season, year-after-year. For many years we have prepared our standing rib roast in the oven, but now that we have perfected a smoked prime rib recipe on our Traeger smoker (pellet grill), we will definitely continue this cooking process from now on – it's the best way! We are here to tell you that this tender meat is definitely worth the cost. The whole family is going to absolutely love this amazing meal at your next Christmas dinner – don't forget to serve with some Horseradish Sauce!
If you happen to have any leftovers, we highly recommend making this delicious Leftover Prime Rib Sandwich!
What You Will Need
prime rib – we used a boneless prime rib, but this recipe also works for bone-in prime rib. Just make sure you keep an eye on the internal temp because it might take a little longer.
kosher salt & ground black pepper – the perfect simple seasoning combination! If you are looking to level up the flavor, you can use a prime rib dry rub in place of the salt/pepper.
ghee or butter – either works, as long as they are nice and soft for mixing with your fresh herbs.
fresh herbs – we used parsley, thyme, and rosemary, but feel free to use any of your favorites.
What is a Prime Rib Roast
A prime rib roast is the cut of meat that comes from the primal rib of the cow. Ribeye steaks are actually cut from this roast (yum!). It is called "prime" rib because it comes from that primal rib, not necessarily because of the grade of meat it is.
That being said, there are different grades of a prime rib with "prime" being the best and most marbled (which translates into flavor). The next grade is "choice" which is what a lot of grocery stores carry. While "prime" is the most flavorful, when we are dealing with prime rib .. you really can't go wrong so don't get too hung up on the grade of meat.
How Much Smoked Prime Rib Per Person
We generally factor in approximately 1 pound per person (adult). Add a little more per person if you want leftovers! And we highly recommend planning for leftovers, like our leftover prime rib sandwich.
Smoked Prime Rib vs. Roasting In The Oven
Traditionally we have made our prime rib roast in the oven, which is absolutely delicious! However, making a prime rib on the pellet smoker is definitely a game changer. Not only does it result in a tender roast, but it has the added benefit of that perfect smoke flavor! SO good!
How To Smoke A Prime Rib
The first step is picking out your prime rib. Time to decide if you want to make a boneless prime rib roast or a bone-in roast then head to your local butcher and grab it! If it is a bone-in roast feel free to ask your butcher cut the roast off the rib bones and tie them back on for you.
Next, pat it dry with a paper towel and then coat the outside of your roast with kosher salt and pepper and let it sit at room temperature for about an hour (this will allow it to come to room temp which will cut down on the cook time).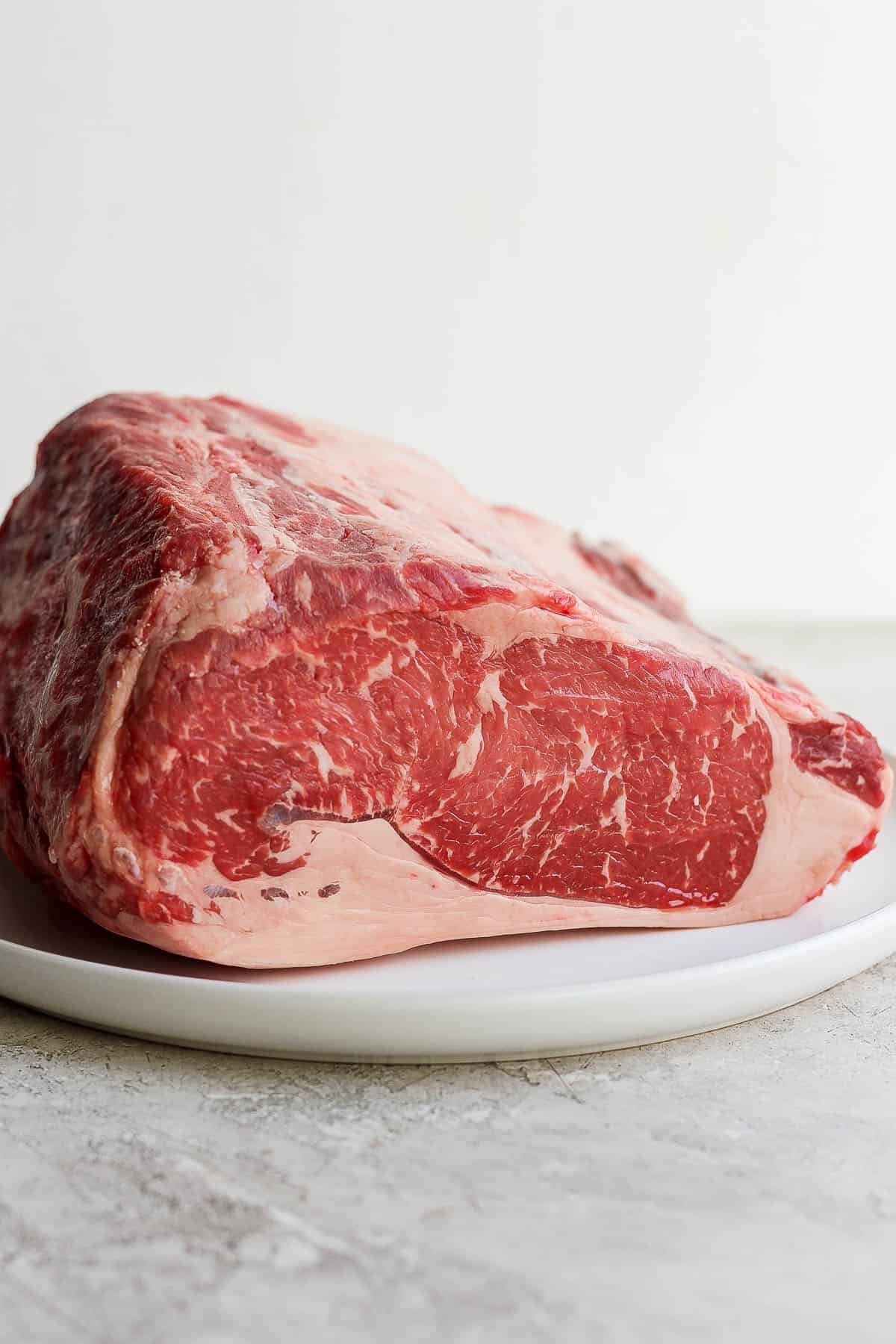 Now you can mix up your herb butter mixture! Make sure the butter or ghee is VERY soft and then mix in your fresh herbs of choice (see recipe card for specifics).
Next, generously spread that herbed butter all over the outside of the prime rib and place it, with the fat side up, on a baking sheet pan with a wire rack or roasting pan. We place the fat side up so that as that fat renders (aka cooks) it will keep the entire roast nice and juicy.
Should I Sear A Prime Rib Before Smoking
No, we do not recommend searing your prime rib BEFORE smoking – instead, we recommend reverse-searing, which means you first smoke the prime rib and then you pull it from the smoker and end with a quick sear.
Place the entire thing on your preheated smoker at 225 degrees F with the internal temperature probe inserted into the thickest part of the meat. This way you can accurately track the temp to know when it is ready to pull it off the smoker.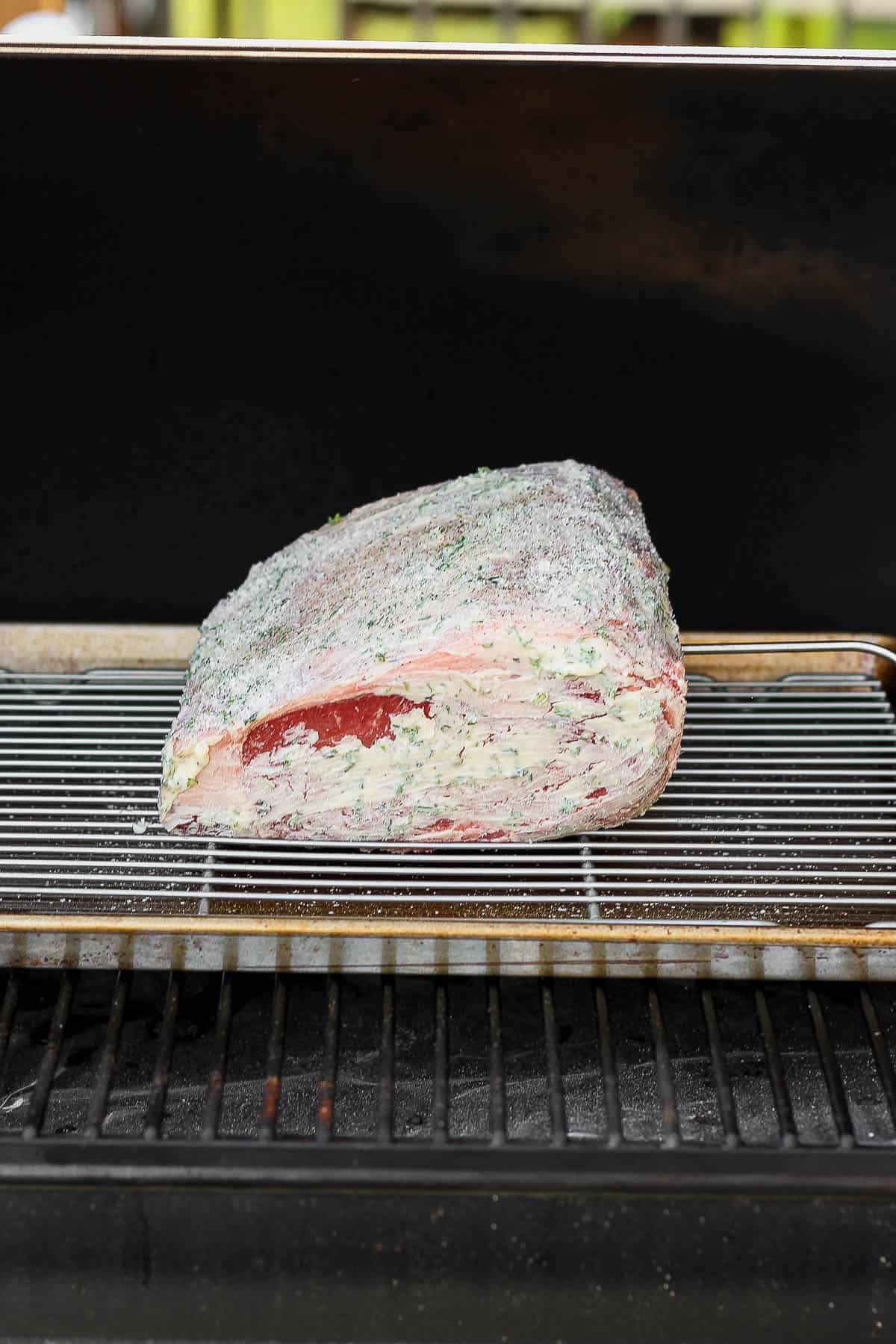 For a medium-rare finish, which is very typical for a flavorful prime rib, you will want to take it off the smoker when the internal temperature of the roast reaches 118-120 degrees F. Then we will finish with a quick sear which will take it up to the final internal temp of approx. 130-135 degrees F.
How Long To Smoke Prime Rib
The cooking time depends on a few factors – how large it is and if it has a bone or not. Our pictures show a boneless prime rib roast that was approximately 5 pounds and it smoked at 225 degrees F for a total time of about 3 hours before it reached an internal temp of 118 degrees F. In general, you can estimate cooking your roast for about 35-40 minutes per pound at 225 degrees F (optimal smoking temperature) for a medium-rare finish.
Now it is time to give your prime rib a quick sear so it has that beautiful outside crust. We recommend preheating a large cast iron skillet on medium high heat, adding a bit of butter or rendered fat, and searing the prime rib for about 1 minute on each side to give it a nice crust.
Let your finished roast rest for about 15 minutes on a cutting board, slice, and serve!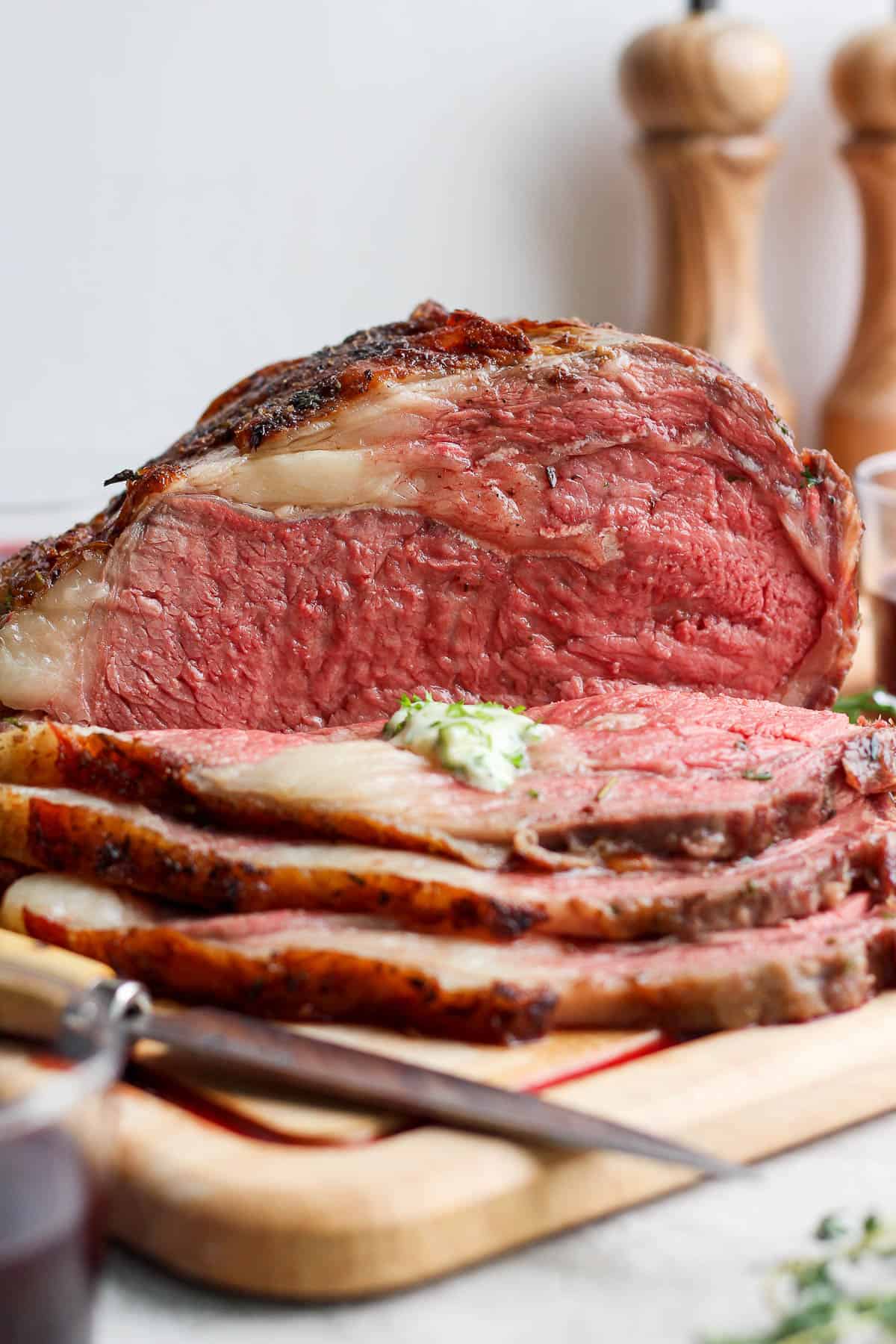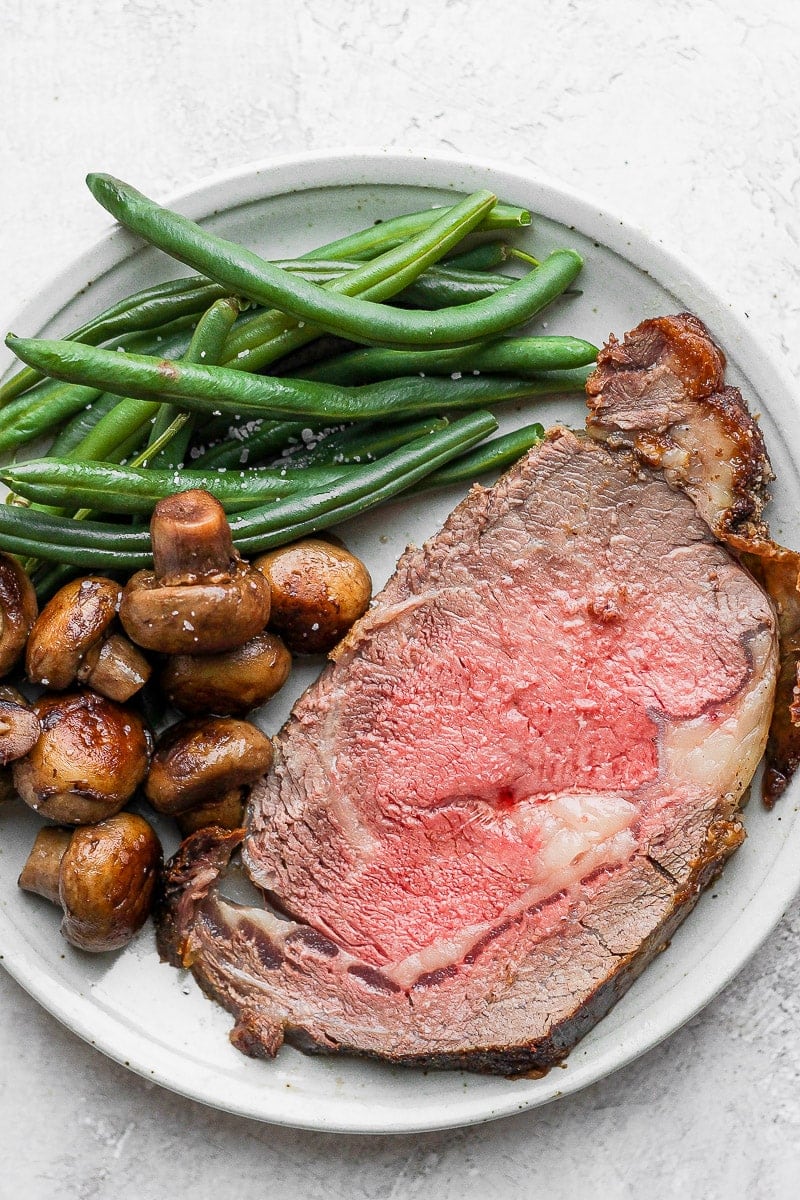 Don't forget to check out my Instagram account for some behind-the-scenes action! Or give me a follow on Facebook or see what I am pinning on Pinterest!
Made this recipe and loved it?! We would love it if you would take a minute and leave a star rating and review – it is also helpful if you made any substitutions or changes to the recipe to share that as well. THANK YOU!
Other Smoked Recipes You Might Like
Print
Smoked Prime Rib Recipe
Author: Erin Jensen
Prep Time: 1 hour 30 minutes
Cook Time: 3 hours 30 minutes
Total Time: 5 hours
Yield: 4–6 servings 1x
Category: Dinner/Entree
Method: Smoker
Cuisine: American
---
Description
Smoked Prime Rib – a delicious, decadent smoked prime rib recipe with herbed butter that is reverse seared to perfection!
---
Prime Rib
4–6 pound prime rib roast
kosher salt and ground black pepper
Herbed Butter
4–5 tablespoons butter or ghee, softened
2 tablespoons fresh herbs (mix of chopped fresh parsley, thyme and rosemary)
---
Instructions
Pat prime rib roast dry with clean paper towels. Season generously with kosher salt and ground black pepper. Set aside and let come to room temperatures, approx. 1 hour.
Meanwhile, combine butter and freshly chopped herbs in a small bowl.
Rub the herbed butter all over the prime rib. Place prime rib on a sheet pan lined with a wire rack – fat side up.
Preheat smoker to 225 degrees F.
Transfer the prime rib (still on the wire rack lined baking sheet) to the smoker. Ensure you have a probe inserted into the thickest part of the roast so that you can carefully track the internal temperature.
Let smoke until the internal temp reads approx. 118-120 degrees F. (for a medium-rare finish – a medium-rare finish is actually 130-135 degrees F. which we will get to in the next step with the sear + resting time) – this can take anywhere from 2 hours 45 minutes to 4 hours (or 35-40 minutes per pound)*.
Preheat a large cast iron skillet to high heat and add 2-3 tablespoon of the rendered fat/butter from the baking sheet. Sear the prime rib approx. 2-3 minutes per side while basting with the rendered butter – before you remove from the skillet take the internal temp again at the thickest part and ensure it is at or around 125-128 degrees F – if it isn't continue searing 1 minute per side until it does.
Remove from the skillet and let rest 15 minutes before slicing – the internal temp will continue rising during this time.
Serve with Prime Rib Horseradish Sauce or some Au Jus.
---
Notes
*Smoke Time: for a 4 1/2 pound boneless prime rib it took us 3 hours to get to 118 degrees F. at the thickest part – it may take you shorter or longer depending upon how thick your prime rib is, humidity, wind, hot spots, etc. The best way to know when your prime rib will be ready to pull is to watch the internal temperature.
Bone-in vs. boneless: this recipe works with either a bone-in prime rib or boneless prime rib – if you are using the bone-in method the cook time will take a little longer so just be aware of that and keep an eye on that internal temp (use an internal meat thermometer).
Prime Rib Seasoning: feel free to use our Prime Rib Seasoning instead of the simple salt and pepper spice rub.
Wood Chips: we love hickory, cherry or oak, but use whatever you have available.
Reverse-Searing: you do not have to sear after smoking if you do not want to, but then you will want to smoke your prime rib until it reaches an internal temperature of 130-135 degrees F. for medium-rare finish.
What to serve with: we love serving this with Garlic Green Beans and Goat Cheese Potatoes Au Gratin or these Twice Baked Potatoes!
Leftovers: store leftovers in an airtight container in the refrigerator for up to 3 days – use leftovers to make some Prime Rib Sandwiches!
Nutrition
Serving Size: 1 slice
Calories: 555
Sugar: 0 g
Sodium: 282.2 mg
Fat: 34.9 g
Carbohydrates: 0.3 g
Protein: 61 g
Cholesterol: 262.1 mg
Keywords: smoked prime rib, how to smoke a prime rib