Ultimate Standing Rib Roast (Prime Rib) – learn how to cook prime rib with this easy, simple and hands-off recipe that is perfect for Christmas dinner or any other special occasion or holiday! Wow your guests!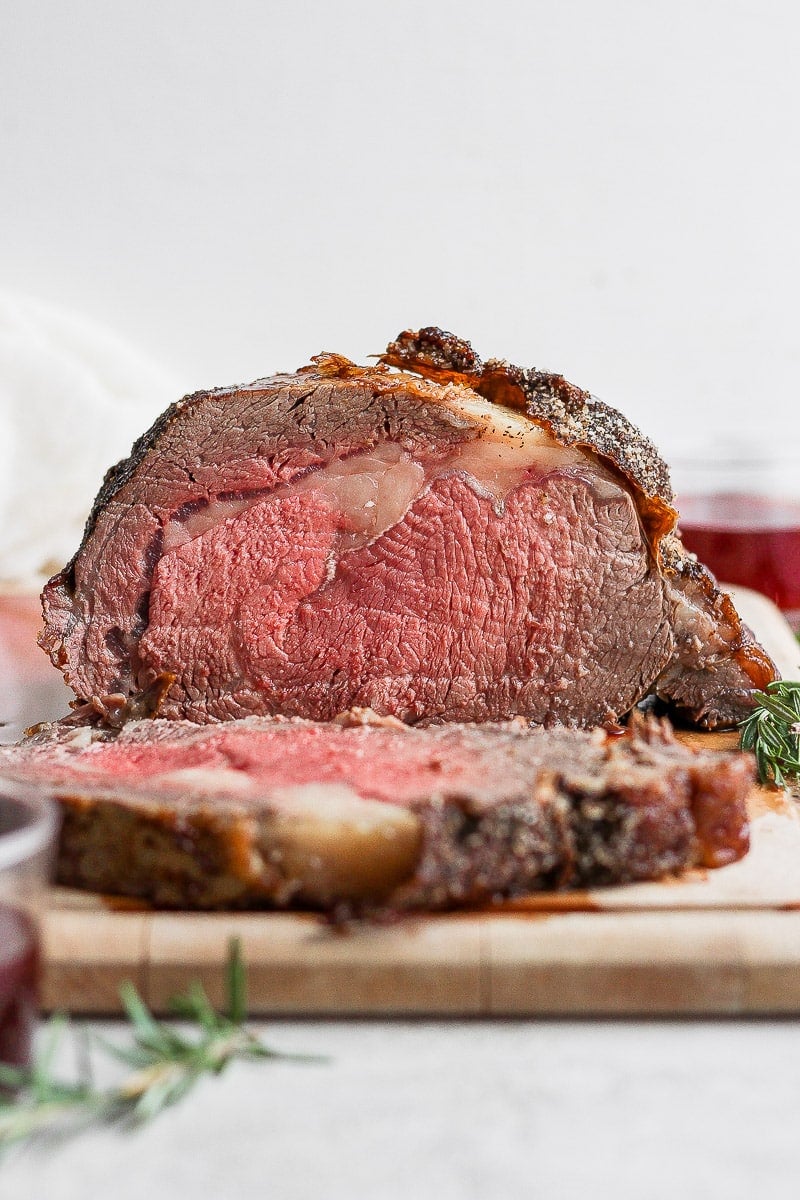 Best Ever Standing Rib Roast (Prime Rib)
So excited to share with you guys our family recipe for Standing Rib Roast! (aka Prime Rib)!! Add in some Prime Rib Seasoning, Creamy Prime Rib Horseradish Sauce and Homemade Prime Rib Au Jus and you have the Ultimate Prime Rib Recipe! Serve with Ultimate Yukon Gold Mashed Potatoes and Garlic Green Beans for the best roast beef dinner you have ever had!
I don't know about you guys, but come every Christmas dinner this is on the menu. I know it sounds slightly intimidating, but this is actually one of THE simplest recipes you will ever encounter. And it turns out perfectly EVERY. SINGLE. TIME.
Prime rib, while decadent as can be, is really a very simple cut of meat to cook and season. It has so much flavor build in to it with it's fat marbling. Add your salt and pepper rub, throw it in the oven and you are good to go. So simple, yet highly sophisticated and should be on your list of things to make when company comes over. Possibly my favorite cuts of beef and something I look forward to making every Christmas season.
What You Will Need:
standing rib roast (prime rib): I personally prefer a bone-in standing rib roast, but it's okay if you can only find boneless! You may need to talk to your butcher directly about ordering this ahead of time. You are going to want to ask for USDA Prime beef vs. USDA Choice grade meat which has less fat marbling and, therefore, less flavorful.
kosher salt + ground black pepper: this simple mixture is always good, but we have an alternative seasoning included below! Alternatively, you can use our Prime Rib Rub that is a mixture of garlic powder, rosemary, paprika, onion powder and chili powder.
roasting pan: you can also use a large dutch oven if you need to – just remember you don't cover the roast while it is cooking in the oven.
How Much Prime Rib to Make
We generally factor in approximately 1 pound per person. Add a little more per person if you want leftovers!
Standing Rib Roast Cook Time Chart (for medium-rare)
6 pounds (bone-in): 20 minutes at 500 degrees F; 70 minutes at 325 degrees F.
7 pounds (bone-in): 20 minutes at 500 degrees F; 85 minutes at 325 degrees F.
8 pounds (bone-in): 20 minutes at 500 degrees F; 100 minutes at 325 degrees F.
Prime Rib Side Dishes
What is Better: Boneless or Bone-In Prime Rib
Different people will argue different things here. Honestly, I don't think you can go wrong with either. I have made both (and I have both pictured here) – neither was stand-apart better than the other. I will say the boneless seemed to cook a tad faster than the bone-in and I have that noted and discussed in the Notes section of the recipe card.
(picture above of a bone-in standing rib roast – the rest of the photos mainly show a boneless roast)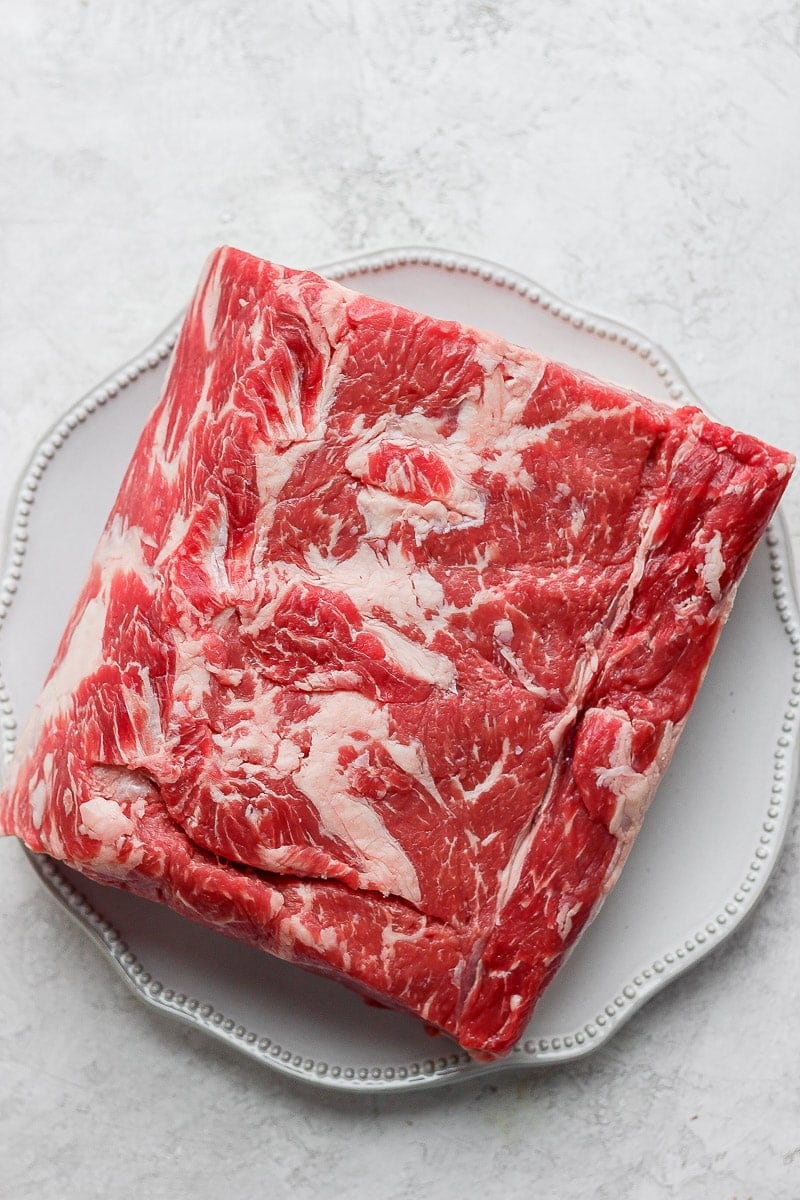 (this picture above is a boneless prime rib)
How to Cook Prime Rib
Rub salt and pepper all over and let roast come to room temp. Alternatively, you can use this Prime Rib Seasoning which has a bit more complexity to its flavors.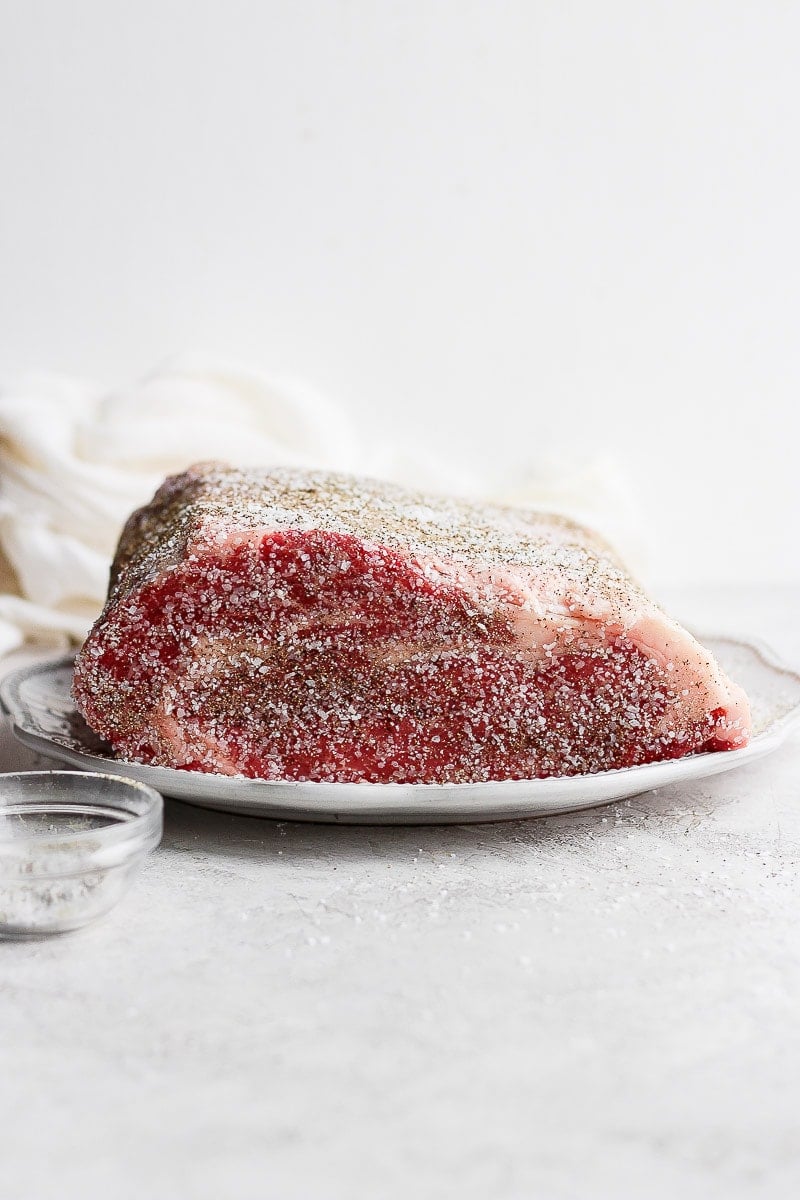 Place in roaster (you do not need to put it on a roasting rack). Cook at 500 degrees F. for about 20 minutes then reduce 325 degrees F. and continue to cook until the middle part of the thickest area of the rib roast reads 115 degrees F or 125 degrees F, depending upon whether you want to have your roast medium-rare or medium, respectively.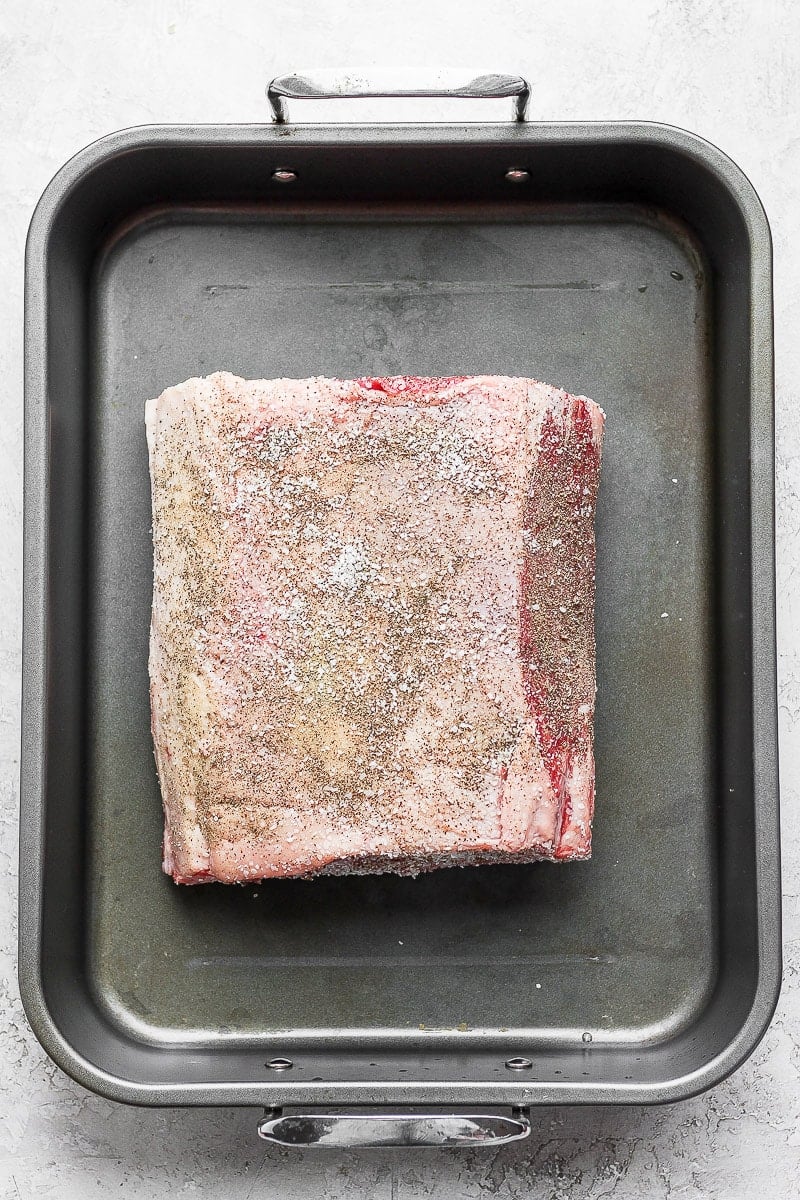 Remove from oven and let rest (don't skip this step). And save the juices to make au jus!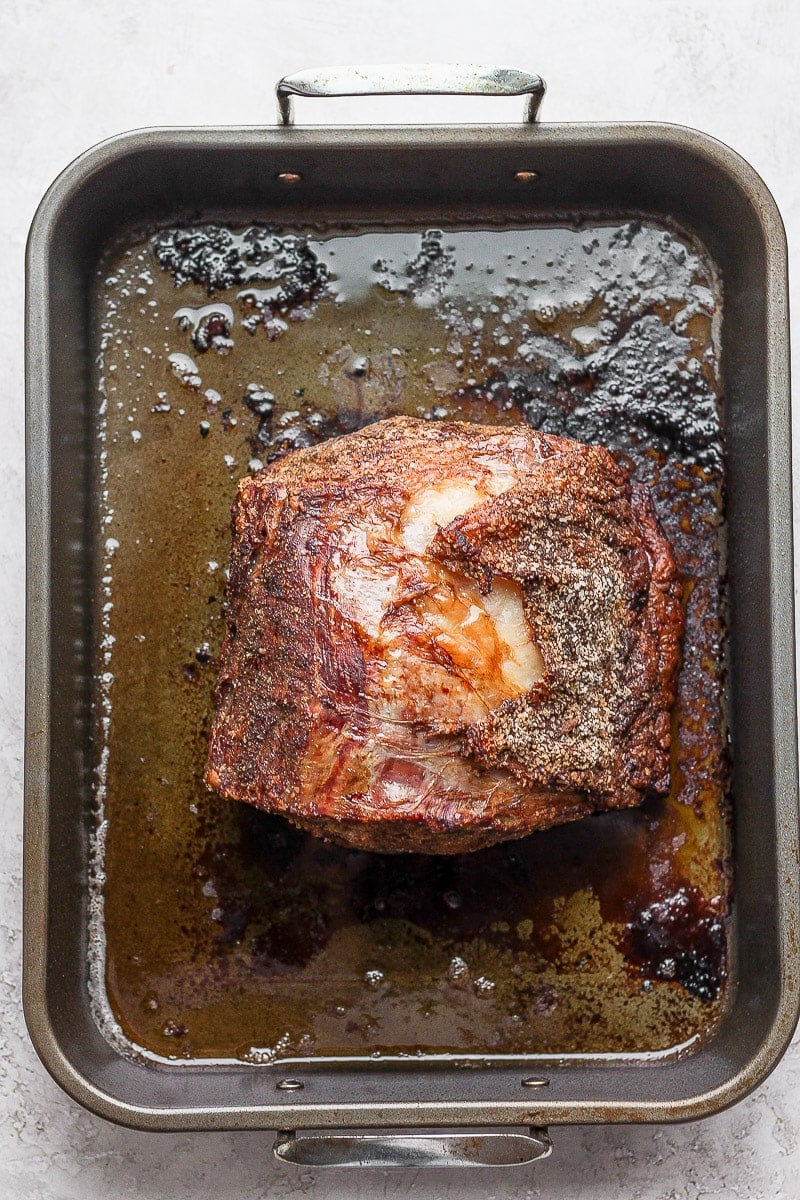 Transfer to a carving board and use a sharp knife to cut into slices. Serve immediately.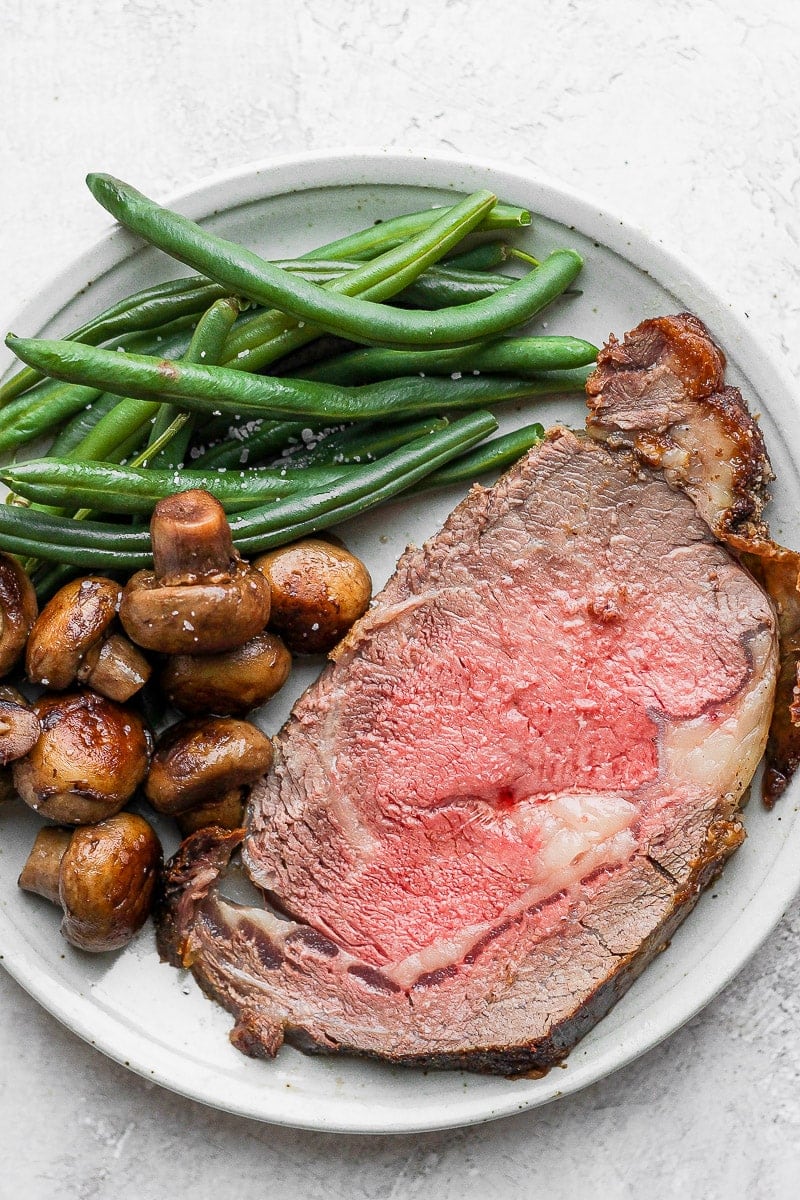 Prime Rib Leftovers
Looking for a way to use those delicious prime rib leftovers – try our Leftover Prime Rib Sandwich!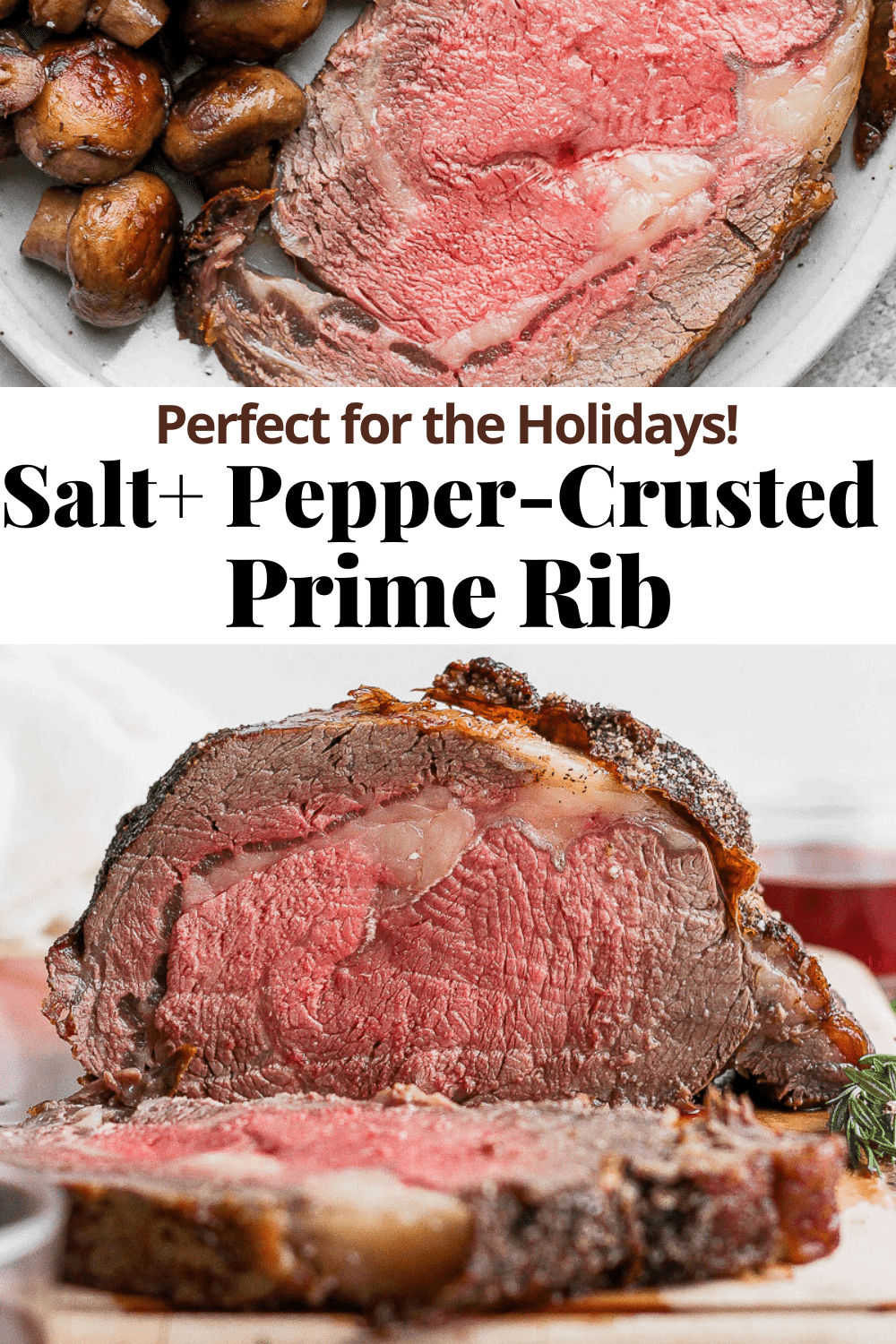 Other Recipes You Might Like:
Don't forget to check out my Instagram account for some behind-the-scenes action! Or give me a follow on Facebook or see what I am pinning on Pinterest!
Made this recipe and loved it?! We would love it if you would take a minute and leave a star rating and review – it is also helpful if you made any substitutions or changes to the recipe to share that as well. THANK YOU!
Print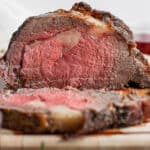 Ultimate Standing Rib Roast (Prime Rib Recipe)
Author: Erin Jensen
Prep Time: 2 hours
Cook Time: 2 hours
Total Time: 4 hours
Yield: 8–10 servings 1x
Category: Dinner
Method: Oven
Cuisine: American
---
Description
Ultimate Standing Rib Roast (Prime Rib Recipe) – Perfect for any special occasion and so easy to make!
---
1 standing rib roast (prime rib) – we used an 8lb roast
4 tablespoons kosher salt
4 tablespoons ground black pepper
---
Instructions
Combine salt and pepper in a small bowl. Pat prime rib with clean paper towels.
Rub salt and pepper mixture all over rib roast at least 2 hours prior to cooking (it is okay to not use all of the salt and pepper mixture – use your best judgment);
After rubbing with salt and pepper, leave out to allow the roast to come to room temperature.
Preheat oven to 500 degrees F;
Place rib roast on roaster (fat side up) and place in oven, uncovered. You do not need to use a roasting rack.
You will want to cook your rib roast/prime rib for a TOTAL of 15 minutes per pound (this will result in a medium rare center – if your roast is particularly robust, cook 16 or 17 minutes per pound).
The first 20 minutes will be at 500 degrees F.
Then drop the oven temp down to 325 degrees F. for the rest of your cooking time.
DO NOT OPEN THE OVEN AT ANY POINT.
Remove from oven and immediately cover with foil or the roaster cover and let rest for 20-30 minutes (do not skip this step!) – the meat will continue to cook during this time;
Cut into steaks and serve immediately.
I like to serve with my Creamy Horseradish Sauce.
Notes
Serving Size: An 8 pound roast serves approximately 8 people, assuming each person consumes a 1lb prime rib steak; adjust accordingly as desired.
Kosher Salt: Ensure you are using kosher salt and not table salt (table salt would result in a much-too-salty roast),
Bone-In vs. Boneless: If you can only find a boneless prime rib, I would recommend reducing the cooking time to 14-14.5 minutes per pound as they will cook just a little bit quicker.
Seasoning Alternative: if you want something different than just salt and pepper, you can use this Prime Rib Seasoning instead.
Serving: serve with this creamy horseradish sauce and homemade prime rib au jus.
Leftovers: if you have leftovers this Leftover Prime Rib Sandwich is the perfect answer!!
Keywords: standing rib roast, how to cook a standing rib roast, prime rib, how to cook prime rib
Originally published January 2016.