Smoked Chicken Thighs are juicy on the inside and have crispy skin on the outside! This smoked chicken thigh recipe tastes so good, is simple, easy and will become a go-to that you are going to come back to again and again.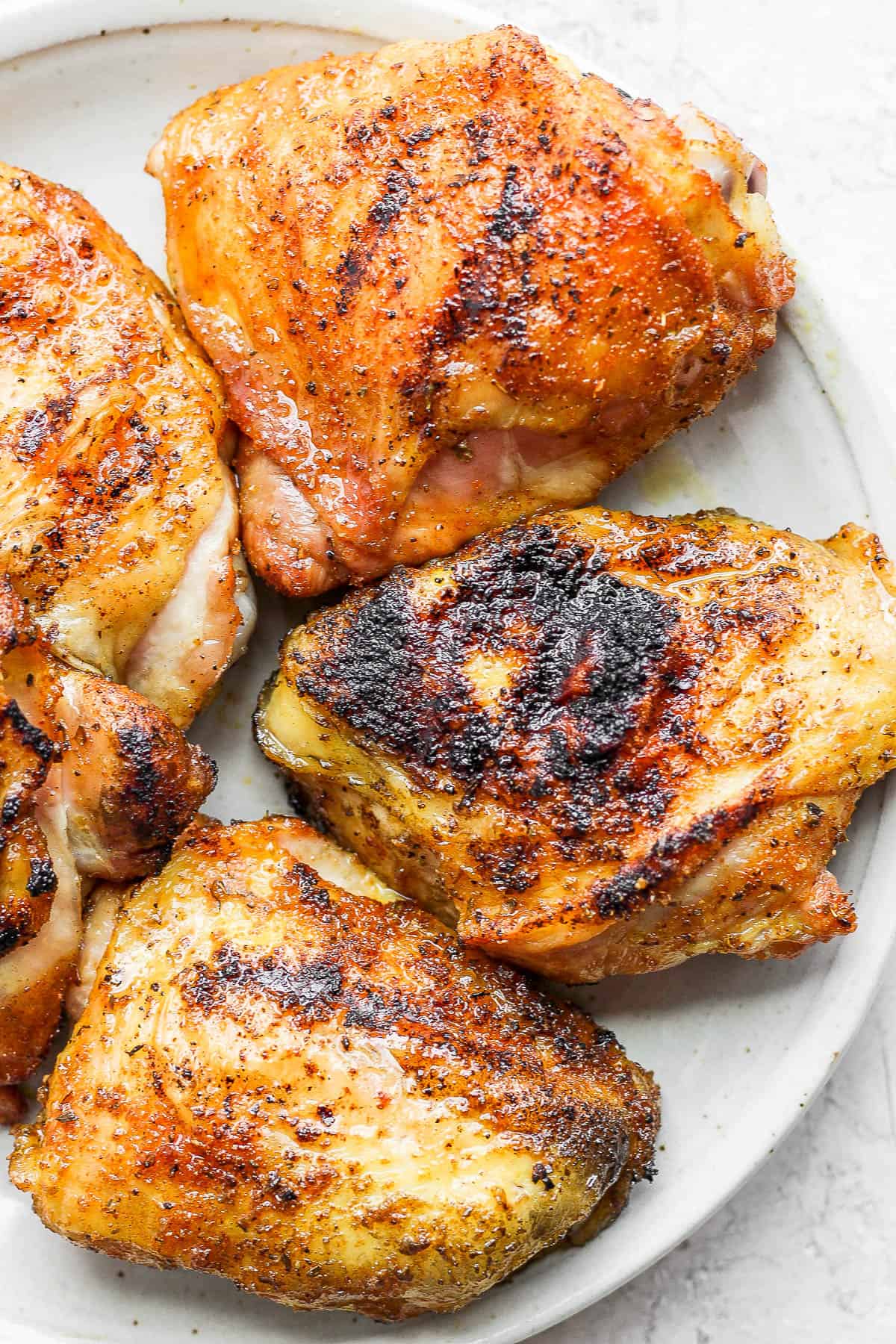 Best Smoked Chicken Thighs
Loving firing up the smoker to make some smoked chicken breasts and thighs! The smokiness is so good and packs in so much flavor (we used a Traeger pellet grill, but use whatever you have). Plus we have the perfect way to make sure that chicken skin is crispy and delicious (keep reading for details!). Serve with some Smoked Corn on the Cob and Smoked Broccoli for the perfect meal!
Don't forget to try out the smoked chicken brine if you want or the smoked chicken dry rub!
Got leftovers – try our smoked chicken salad!
Why This Recipe Works
Low Temp: we smoke the chicken on low at 225 degrees F. to make sure that smokiness really permeates the skin and meat.
Quick Sear: at the end we do a quick sear to make sure the outside is crispy perfection.
Brine + Dry Rub Options: we include a brine and spice rub option to really take these to the next level.
What You Will Need
bone-in, skin-on chicken thighs: we are looking for a medium-sized chicken thigh here.
kosher salt and ground black pepper OR smoked chicken dry rub: either option works great for a seasoning. The spice rub is a mix of paprika, garlic powder, onion powder, etc. (most should already be in your pantry) and it is so good! If you want to sweeten it up a bit you can toss in some brown sugar if you want!
How to Prep Chicken Thighs for Smoking
To prep your chicken you can use a chicken brine first (not required). Otherwise, simply pat dry with a clean paper towel and then season with either kosher salt + ground black pepper OR you can use our smoked chicken dry rub.
What Temperature Should I Smoke Chicken Thighs
We recommend smoking chicken at 225 degrees F.
How Long Do You Smoke Chicken Thighs at 225
It will take approximately 1 hour to smoked bone-in, skin-on chicken thighs at 225 degrees F, but there are a lot of variables that can impact total smoking time (wind, humidity, air temp, hot spots, etc.).
How to Get Crispy Chicken Skin
You need to sear your chicken after smoking! That is the key! We just turn our gas grill on while our chicken is smoking and then move it from the smoker to the gas grill for a quick sear at the end – perfection. We use the same method for our smoked chicken wings!
Do I Need to Flip Chicken When Smoking
No, the heat and smoke encircle the chicken (unlike grilling where the heat element is directly under the meat) so no need to flip.
How Do I Know When My Chicken Thighs are Fully Cooked
Chicken is fully cooked when it reaches an internal temperature of 165 degrees F. at its thickest part. Use a meat thermometer or probe to keep track.
Side Dishes for Smoked Chicken Thighs
Don't forget to serve these smoked chicken thighs with your favorite sides or salads – here are some of our favorites!
How to Smoked Chicken Thighs
Pat chicken dry with clean paper towel.
Season with either kosher salt + ground black pepper OR our smoked chicken dry rub.
Smoke at 225 degrees F. for approximately 1 hour or until the internal temperature reaches 165 degrees F. at their thickest part.
Once they are done smoking, a quick sear on your gas grill makes sure those skins are crispy and delicious.
Let them rest 5-10 minutes before serving.
Made this recipe and loved it?! We would love it if you would take a minute and leave a star rating and review – it is also helpful if you made any substitutions or changes to the recipe to share that as well. THANK YOU!
Don't forget to check out my Instagram account for some behind-the-scenes action! Or give me a follow on Facebook or see what I am pinning on Pinterest!
Print
Smoked Chicken Thighs
Author: Erin Jensen
Prep Time: 5 minutes
Cook Time: 1 hour
Total Time: 1 hour 5 minutes
Yield: 4–6 servings 1x
Category: Dinner/Entree
Method: Smoked
Cuisine: American
---
Description
Smoked Chicken Thighs – delicious smoked chicken thigh recipe that is juicy on the inside, crispy on the outside! Optional brine and dry rub!
---
Smoked Chicken Dry Rub (optional)
1 tablespoon kosher salt
2 teaspoons onion powder
2 teaspoons garlic powder
2 teaspoons paprika
1 tablespoon dried oregano leaves
1/2 teaspoon turmeric
1/2 teaspoon ground black pepper
1/4 teaspoon ground ginger
1/2 teaspoon ground cumin
1/2 teaspoon coriander
Chicken Thighs:
4–6 bone-in, skin-on chicken thighs
kosher salt and ground black pepper (IF not using the dry rub)
---
Instructions
Optional brine: you can brine your chicken first, see this post for details.
Turn smoker to 225 degrees F.
Pat chicken thighs dry with a clean paper towel.
Season generously with kosher salt and ground black pepper OR smoked chicken dry rub.
Place chicken on smoker and close the lid.
Let chicken cook for approximately 50-70 minutes or until chicken reaches 165 degrees F. at the thickest part. Remove chicken from smoker and let rest 5-10 minutes.
Optional Searing: turn your gas grill on high heat when your chicken almost reaches an internal temperature of 165 degrees F. Once your chicken reaches 165 degrees F. remove it from the smoker and sear it for 1-2 minutes per side on your gas grill.
Let chicken thighs rest 5-10 minutes before cutting.
---
Notes
Brine: we also have a smoked chicken brine you can use before smoking.
Searing: the searing is totally optional, but that is how you can ensure the outside of your chicken isn't rubbery and is, instead, crispy and delicious.
Cook Time: how long it ultimately takes to smoke meat has so many variables at play (like wind, air temp, humidity, hot spots, thickness of chicken, etc.). These took an hour for me, but I provided a range to account for these other variables impacting your cook time.
Best type of wood chips: really any kind will work, but I tend to rotate between maple, hickory, apple or cherry wood.
Make it spicy: feel free to add some cayenne pepper to the dry rub if you want more of a spice.
Internal temp: use a thermometer probe or meat thermometer to track the internal temp.
BBQ Sauce: if you want to add on a bbq sauce simply brush on your favorite bbq sauce towards the last 10 minutes of cooking and turn up the heat all the way so the sauce gets tacky and almost forms a glaze.
Keywords: smoked chicken thighs