Pork Belly Tacos are seriously packed with flavor, savory and delicious! You can smoke or oven-roast your pork belly (both great options) and the sesame ginger slaw is just next-level. Feel free to add a little dollop of spicy mayo, but they are just as good without too if that isn't your thing!
The BEST Pork Belly Tacos
I dreamed up my ultimate pork belly taco recipe …. and this was it. You have two options for you pork belly (smoked or oven-roasted), a light and delicious slaw and the option of a spicy mayo as well! Doesn't get much better in my opinion!
Why You Will Love This Recipe
Flavor Combo: pork belly is pretty rich due to it's high fat content, but paired with a light slaw it is just perfect!
Handheld: who doesn't love a little street taco night!
Pork Belly: one of my favorite foods of all-time!
What You Will Need
Pork Belly: if your grocery store doesn't have pork belly out then simply ask at the deli!
Kosher Salt + Ground Black Pepper: I like to keep the seasoning simple here!
Ginger Sesame Slaw: made with red + green cabbage, carrots and green onion + a delicious sauce (mayo-free).
Spicy Mayo: this is just a little extra if you want it! Feel free to skip!
What Exactly Is Pork Belly
Pork Belly is a slab of bacon before it processed. Simple as that (and probably why it is so dang good).
How Do I Cook Pork Belly
There are lots of different ways you could cook pork belly, but our favorites are roasted, smoked or braised.
How to Make Pork Belly Tacos
Step One: make your spicy mayo if you are using it.
Step Two: make your pork belly either in the smoker or in the oven.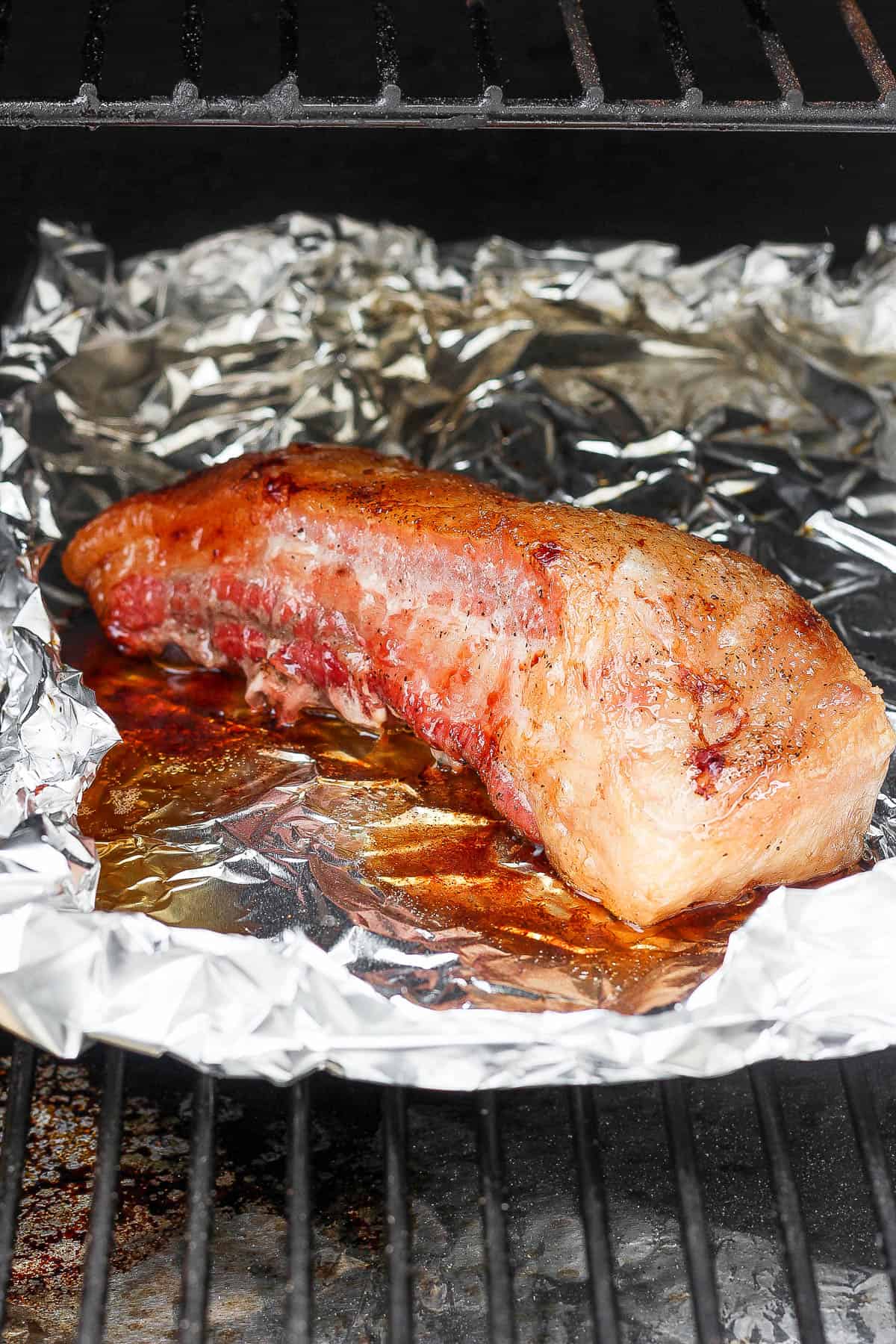 Step Three: while the pork belly is cooking you can go ahead and make your slaw.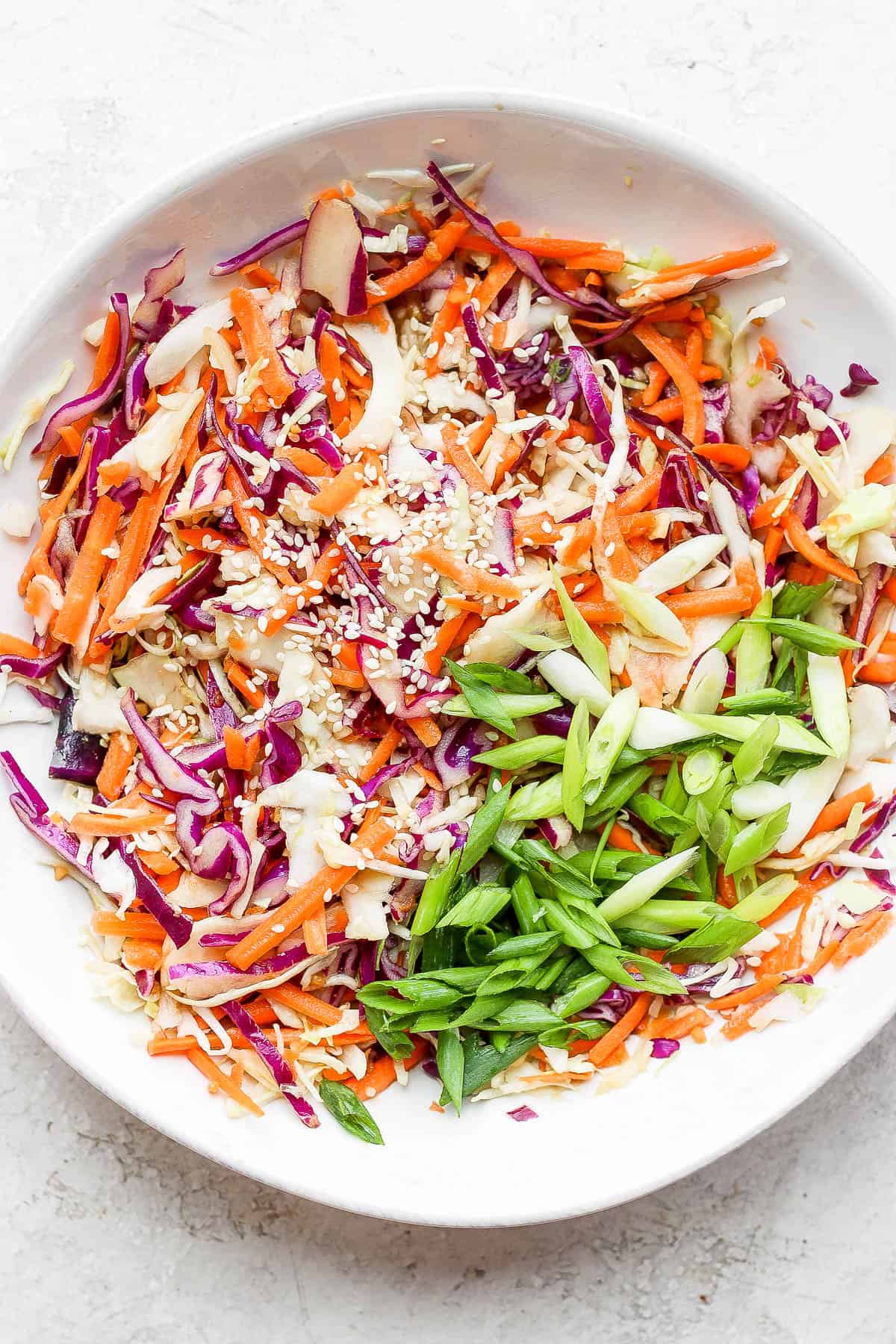 Step Four: put everything together!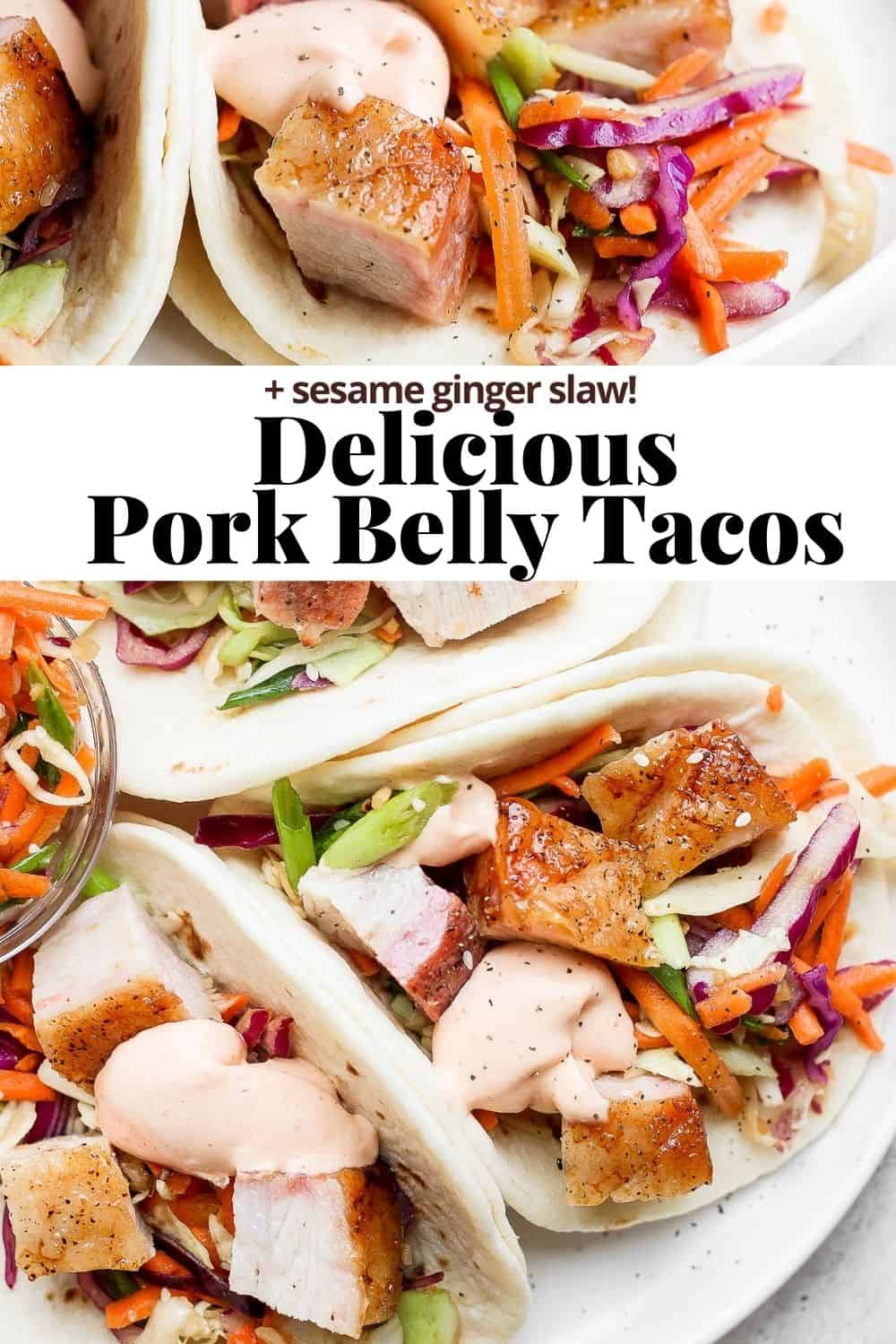 Made this recipe and loved it?! We would love it if you would take a minute and leave a star rating and review – it is also helpful if you made any substitutions or changes to the recipe to share that as well. THANK YOU!
Don't forget to check out my Instagram account for some behind-the-scenes action! Or give me a follow on Facebook or see what I am pinning on Pinterest!
Print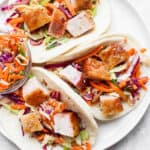 Pork Belly Tacos
Author: Erin Jensen
Prep Time: 30 minutes
Cook Time: 2 hours
Total Time: 2 hours 30 minutes
Yield: 4–8 servings 1x
Category: Tacos
Method: Oven or Smoker
Cuisine: American
---
Description
Pork Belly Tacos – an absolutely delicious pork belly taco recipe + sesame ginger slaw and spicy mayo! Smoked or roasted pork belly options!
---
Crispy Pork Belly (see Notes for Smoked version):
1/2 – 1 lb pork belly slab
1 teaspoon kosher salt
1/4 teaspoon ground black pepper
Sesame Ginger Slaw:
1 1/2 cups green cabbage, chopped
1 cup purple cabbage, chopped
1 cup carrots, julienned
1/2 cup green onion, sliced
1/4 teaspoon ginger, minced
3 tablespoons rice vinegar
2 tablespoons soy sauce (or tamari or coconut aminos)
1/4 teaspoon fish sauce
1 teaspoon olive or avocado oil
1 teaspoon coconut sugar
2 teaspoons garlic, minced
1 teaspoon lime juice
1/4 teaspoon sesame oil
Spicy Mayo:
1/2 cup mayo
1 tablespoon siracha
Serving:
Street Corn Tortillas (flour or corn – whatever you prefer)
---
Instructions
Roasted Pork Belly:
Place pork belly on a large plate and score, criss-crossed, on the fat side (being careful not to cut into the meat) and rub all over with kosher salt and pepper.
Wrap in plastic wrap and place in the refrigerator for 24 hours (optional).
Preheat oven to 450 degrees F.
Place pork belly in a large cast iron skillet, fat side up.
Cook pork belly, middle rack and uncovered, for 50 minutes; baste halfway through.
Drop temperature to 250 and cook for another 40-60 minutes. Feel free to baste one more time.
Remove from oven and let cool.
Cut into bite-sized pieces.
Slaw:
Combine Slaw ingredients in a medium bowl and mix.
Combine Sauce ingredients in a small bowl; whisk to combine. Taste and add any additional soy sauce, ginger, lime juice, garlic, etc. as desired.
Pour the Sauce over the Slaw and stir to combine.
For best results, let sit for about 15-30 minutes, then serve.
Spicy Mayo:
Combine mayo and siracha in a small bowl. Mix. Taste and add any additional siracha, as desired.
Serving:
Take a street taco (flour or corn) and pack with as much slaw, pork belly and spicy mayo (optional) as desired! Enjoy!
---
Keywords: pork belly tacos