This fresh & delicious Spicy Salmon Roll is made with fluffy sushi rice, sushi-grade salmon tossed in sriracha, and fresh avocado! Homemade sushi rolls are actually easier than you think and a lot less expensive than sushi takeout.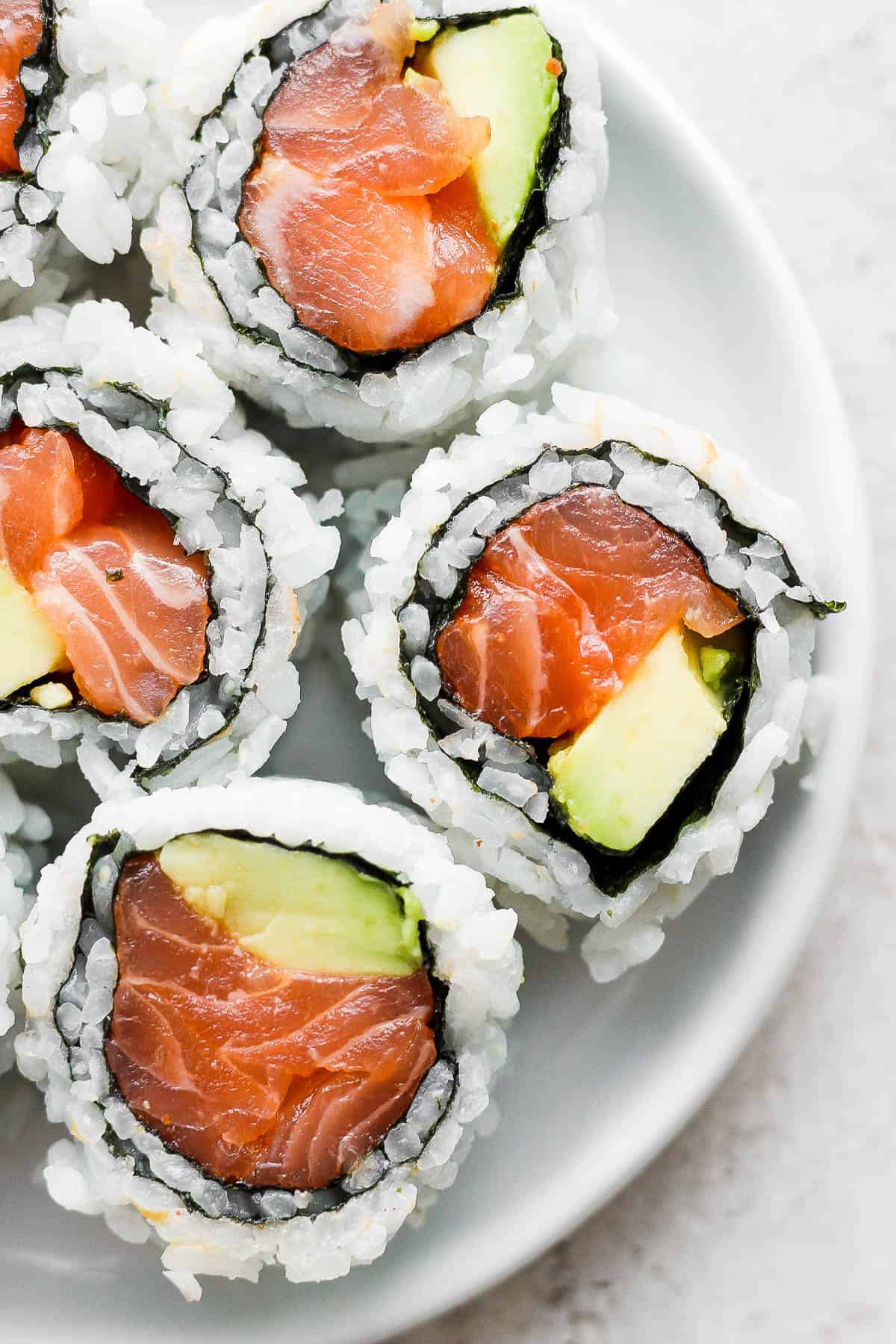 The Best Spicy Salmon Roll
The coolness of fresh salmon and avocado mixed with the heat of sriracha are a match made in heaven. Sushi chefs have spent years perfecting the art of making sushi and, let's be honest, you and me aren't at that level BUT sometimes it is so fun to make your own at home! We have been rolling our own sushi for about 10+ years so we are excited to finally put our favorite method into writing – this is clearly an Americanized version of traditional Japanese sushi-making and if you want to truly enjoy the authentic version head out and find yourself a talented sushi chef at local sushi restaurants!
Looking for another great sushi roll recipe? Try our Philly Roll – so good!
What You Will Need
sushi rice – we have a super easy sushi rice recipe that is delicious and simple to follow.
raw salmon – we can typically find some sushi-grade fish at our local grocery store or you can try a fresh seafood store.
sriracha – toss as much hot sauce as you want with the salmon for a little bit of a kick! It's the best part!
nori seaweed sheets – these are the traditional seaweed sheets that are used to roll up sushi rolls.
avocado slices – this fresh ingredient is the perfect compliment to the spicy salmon.
filling options – we love using avocado, but you could also add cucumber, green onion, and/or fresh carrots.
serving options – feel free to serve with black sesame seeds, soy sauce, wasabi, and/or some sriracha mayo!
How To Make A Spicy Salmon Roll
To start making this easy sushi roll, you will need to prep all the filling ingredients. Cut the fresh strip of fish into large chunks and toss with sriracha in a small bowl.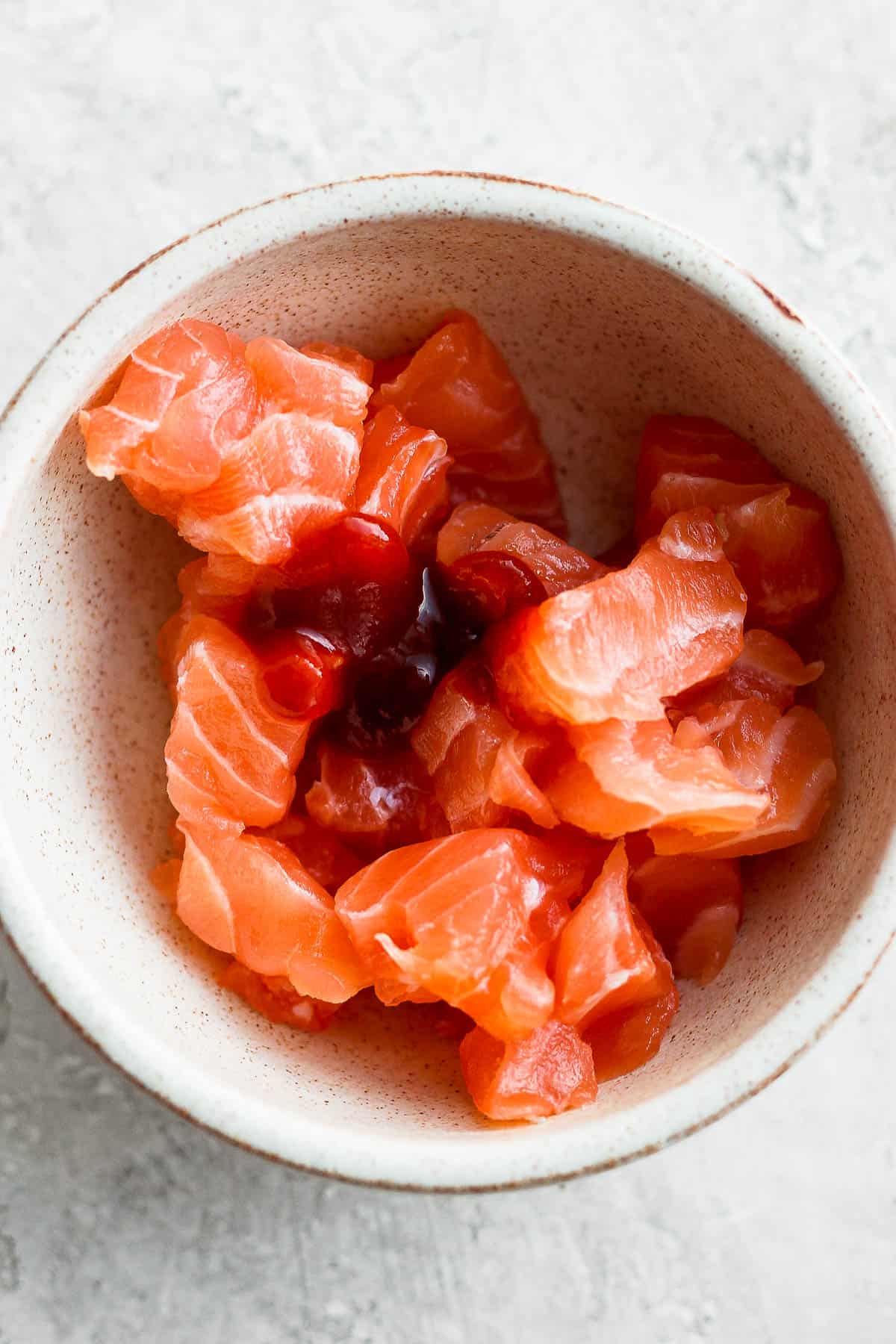 Then easily cut the avocado into strips.
Now get a bamboo sushi mat and place the nori sheet on top, shiny side down. Use a spoon to spread an even layer of sticky rice on top, leaving the top inch of the sheet empty.
Carefully flip the nori sheet over so that the inch without the rice is closest to you.
Add the filling ingredients to the end closest to you.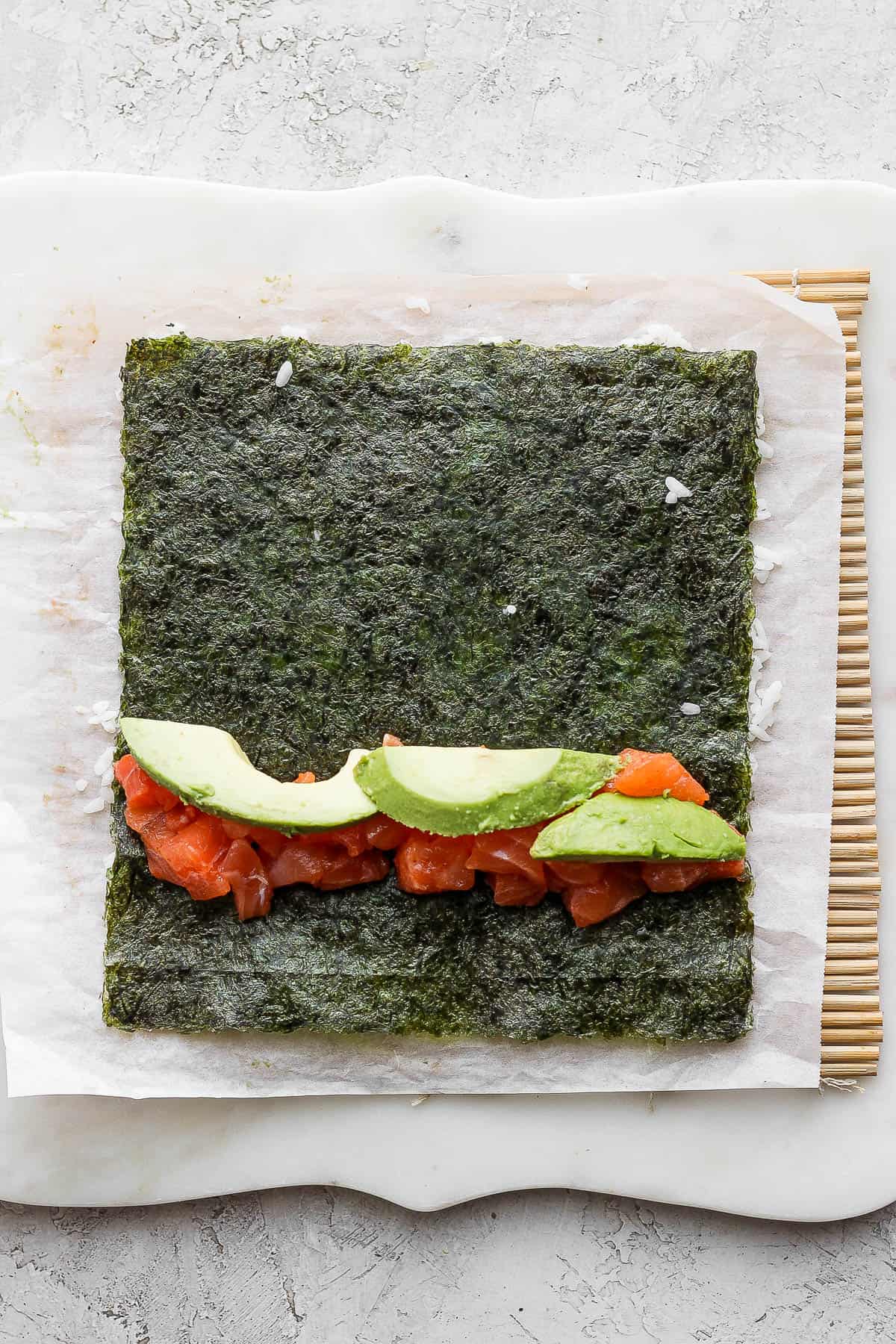 Lift the bottom of the nori sheet up over the filling ingredients.
Use the bamboo sheet to start rolling up the sushi roll – try to keep this process as tight as possible without squeezing too tight where the filling starts coming out. Make sure you pull the bamboo sheet out slightly as you go so that it doesn't get rolled up inside the sushi roll.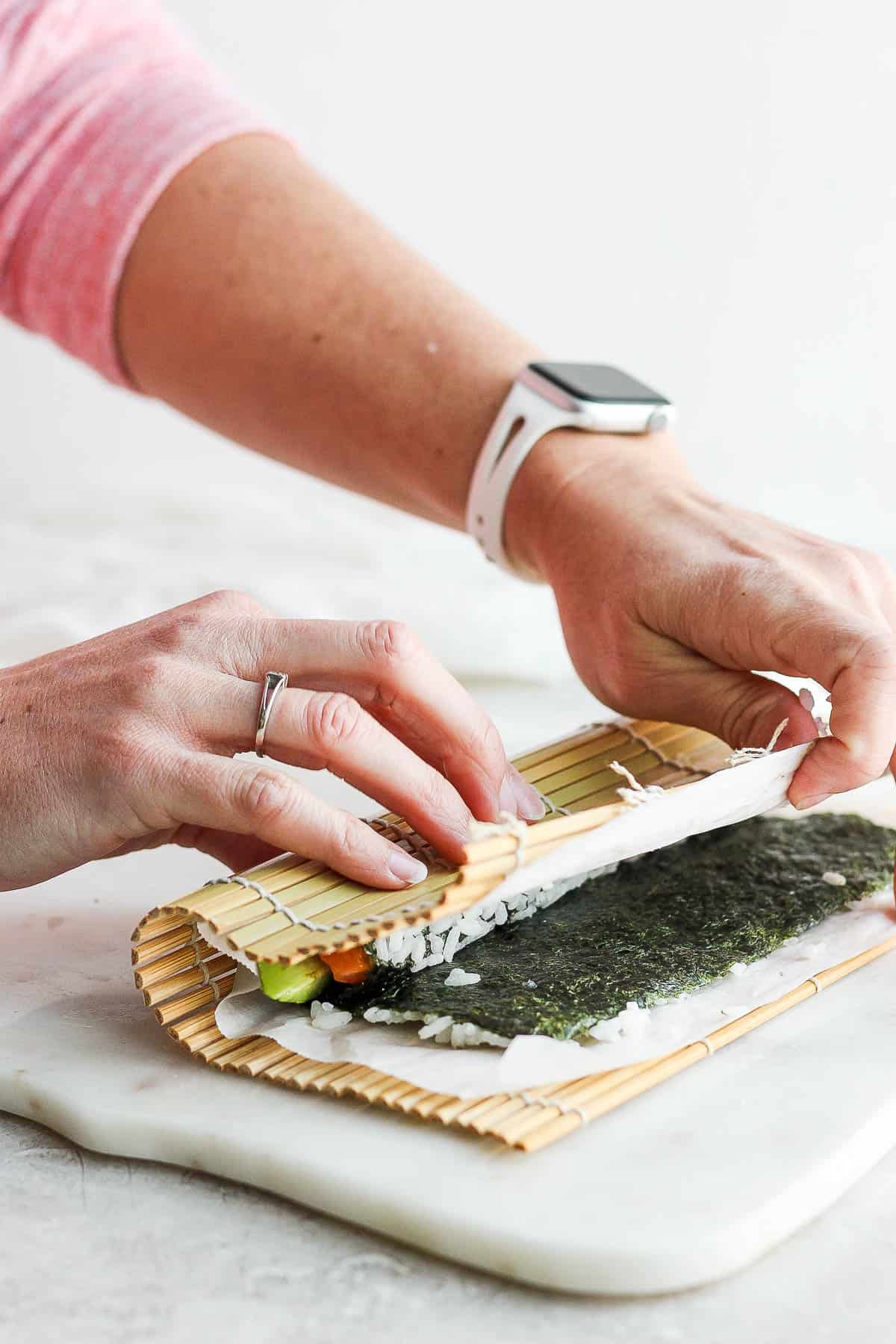 Keep this tuck & pull process going until the entire sushi roll has been rolled up, nice and tight.
Use a sharp knife to cut it into pieces on a cutting board.
Pro tip: keep a bowl of water nearby (preferably with warm water) to dip your knife into to help keep it clean – this will help making clean cuts.
Best Ways To Enjoy A Spicy Salmon Roll
These spicy salmon sushi rolls are delicious all on their own but if you are looking to add even more spice, you could serve with our simple spicy mayo! Or keep it simple with a small dish of soy sauce or a little bit of wasabi or pickled ginger on the side.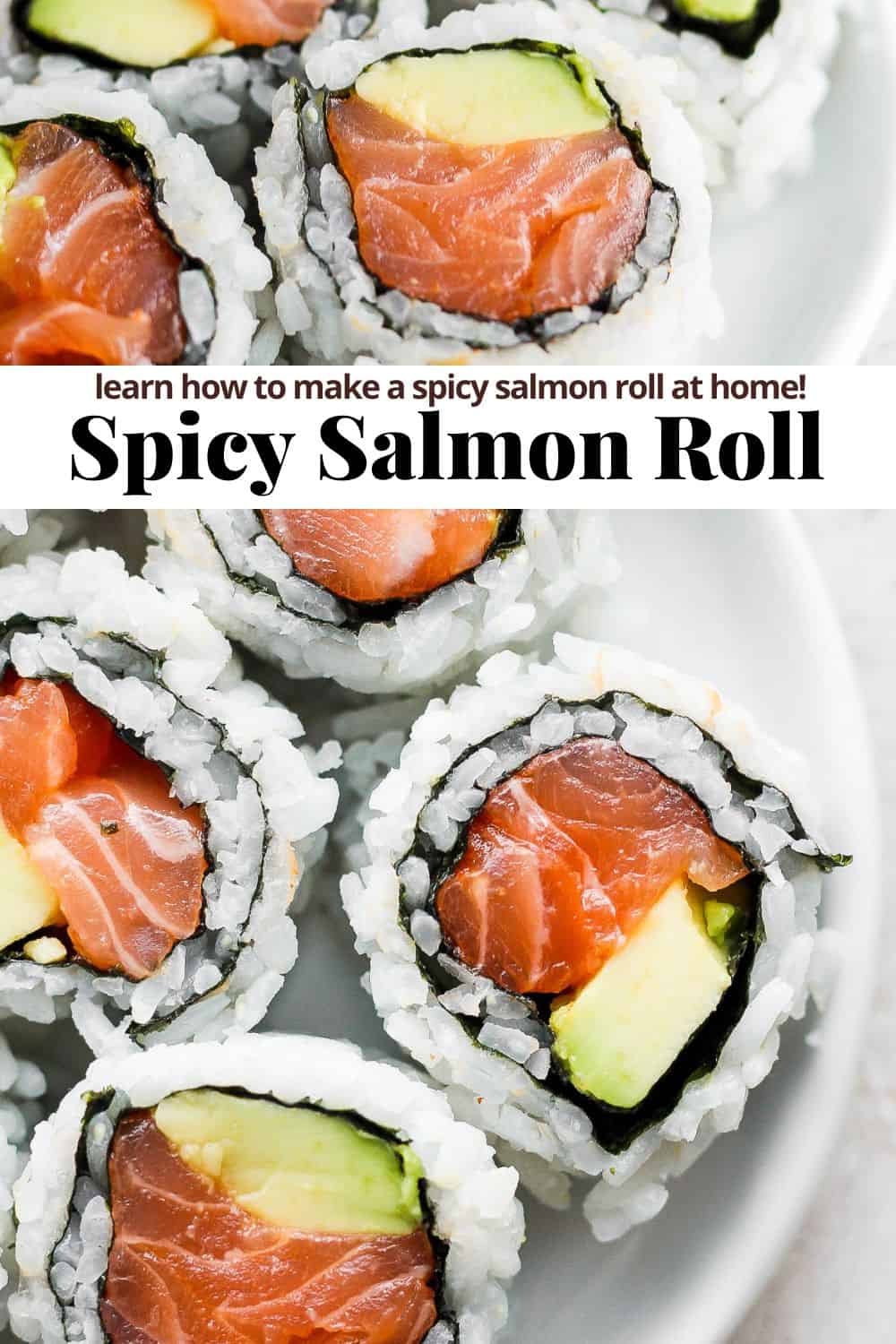 Made this recipe and loved it?! We would love it if you would take a minute and leave a star rating and review – it is also helpful if you made any substitutions or changes to the recipe to share that as well. THANK YOU!
Don't forget to follow me on Facebook, check out my Instagram account or see what I am pinning on Pinterest!
Other Recipes You Might Like
Print
Spicy Salmon Roll
Author: Erin Jensen
Prep Time: 30 minutes
Cook Time: 0 minutes
Total Time: 30 minutes
Yield: 4 servings 1x
Category: Sushi
Method: Counter Top
Cuisine: Asian-Inspired
---
Description
Spicy Salmon Roll – learn how to make regular and spicy salmon rolls with this easy, step-by-step tutorials (with photos)!
---
2 1/2 cups sushi rice
4–6 oz sushi grade salmon
1 tablespoon Sriracha (more if desired)
4 nori sheets
1 avocado, sliced
soy sauce for serving
other add-in options: cucumber or carrots
Optional: wasabi for serving
Optional: spicy mayo or wasabi mayo
---
Instructions
Sushi Rice Recipe: Prepare sushi rice and let cool to room temp – cover with damp towel – while you prepare fillings and spicy salmon.
Spicy Salmon: Take salmon and cut into smaller bite-sized pieces. Place in a small bowl along with the Sriracha. Stir to combine.
Inside Out Roll (See Notes for regular roll with nori on the outside): Place a bamboo sheet down and place a piece of parchment paper on top. Place nori sheet on top of the parchment, shiny side down.
Using the back of a spoon, spread approx. 1/2 cup + 2 tablespoons of sushi rice across the nori sheet leaving the top inch or so empty. The rice should be pretty flattened. Carefully pick up the piece of nori and flip it over so that the rice-free section is now closer to you.
Place spicy salmon mixture in the middle of the nori sheet. Don't go too crazy with the filling or it will end up popping out the ends if it is too full. Add avocado and any other filling options you desire (sliced cucumber or carrots).
Using both hands, pick up the edges of the nori sheet closest to you and fold over the filling ingredients; tucking the nori sheet around the ingredients. Pick up the bamboo sheet and fold over as well (but don't tuck all the way around).
While pressing firmly down on the sushi roll, being pulling the bamboo sheet away from your body and rolling the sushi. Then stop and wrap your hands around the roll pressing down firmly to create a solid roll. Pull away from your body again with the bamboo sheet then stop again and press down. Continue doing this until you have a fully formed sushi roll.
Using a very sharp knife, cut the roll into 1 inch thick pieces.
Create 3 more rolls using the same technique – see notes below for instructions on an Inside Out Roll (where the rice is on the outside of the roll instead of on the inside).
(optional) Top with a dollop or drizzle of spicy mayo to really up the spice level.
Serve with soy sauce and wasabi (optional).
---
Notes
Regular Rolls (nori on the outside): to make a sushi roll place a bamboo sheet down and then put your nori sheet on top (shiny side up). Cover with rice leaving the top inch empty. Place your ingredients towards the center of the nori sheet. Lift up the edge of the nori sheet closest to you and tuck around ingredients. Lift up the bamboo mat and fold over as well. Start pulling the bamboo away from your body as the nori sheet rolls around the ingredients. Then stop and apply gentle pressure to create a roll. Continue pulling/rolling with the bamboo mat and then apply pressure until you have a fully formed sushi roll. Cut into 1 inch pieces with a very sharp knife.
Where to find fish for sushi: Head to your local fish monger (someone who specializes in selling fish) to ask about what they would recommend for making sushi. I have also had good luck at Whole Foods.
Raw Food: consume raw fish at your own risk.
Video: if you want a video that shows you how to roll the sushi check out this post and jump to the recipe card.
Nutrition
Serving Size: 1 roll
Calories: 585
Sugar: 0.7 g
Sodium: 100.9 mg
Fat: 10.9 g
Carbohydrates: 104.8 g
Protein: 15.8 g
Cholesterol: 14.5 mg
Keywords: spicy salmon roll, salmon roll