Grilled Marinated Flank Steak is the perfect summer meal that is packed with flavor! Learn how to grill the perfect flank steak (flank steak marinade recipe included). Serve with a homemade chimichurri sauce to complete the meal!
Easy Flank Steak Marinade + Grilled Flank Steak
This is an amazing summer meal option! A juicy, tender and delicious grilled flank steak – cooked to perfection that is topped with a homemade chimichurri. Of course we also love it on this Flank Steak Salad which has blue cheese, corn, green onions, etc. – no matter how you serve it, this is sure to become a household favorite!
Flank Steak Marinade Ingredients
extra virgin olive oil + sesame oil: the olive oil helps serve as the base and I love the little punch of flavor from the sesame oil!
lime juice: you gotta add some acidity to your marinades! You could use lemon juice here, if needed.
soy sauce + worcestershire sauce: these two always seem to work well together!
garlic: always tastes good in a beef-focused recipe.
oregano + rosemary + garlic powder: these add so much flavor!
salt + ground black pepper: always accentuates whatever flavors are already going on.
What is Flank Steak
Flank steak comes from the cow's lower chest or abdominal muscle and is generally an inexpensive, flavorful cut of meat. Flank steak is usually a tough cut of beef that is best marinated and cooked over high heat.
How to Marinate Flank Steak
Flank steak is actually one cut of beef you really want to marinate – and always add in the acid (we use lime juice here). Marinating flank steak with an acid-based mixture helps break down those tougher muscle fibers – which is another reason you also don't want to marinate it too long or the muscle fibers will break down TOO much.
To marinate a flank steak simply combine your marinade ingredients (see recipe card below) in a bowl and whisk to combine. Place the steak in a food-safe, reusable silicone bag or similar vessel. Pour marinade over top and ensure it is fully submerged. Seal the bag and place in the refrigerator. Let marinade up to 12 hours. Remove from the marinade and follow the grilling instructions below.
How to Slice Flank Steak
Always slice flank steak against the grain into thinner strips (after it has rested).
What to Serve with Marinated Flank Steak
How to Grill Flank Steak
Let steak come to room temperature.
Combine marinade and pour over steak. Let marinade up to 12 hours.
Grill over medium-high/high heat according to the recipe card instructions below. The high heat allows for the nice caramelized crust. If you don't have a grill you could use a grill pan or large cast iron skillet instead.
Let rest 10 minutes.
Don't forget to make your chimichurri sauce!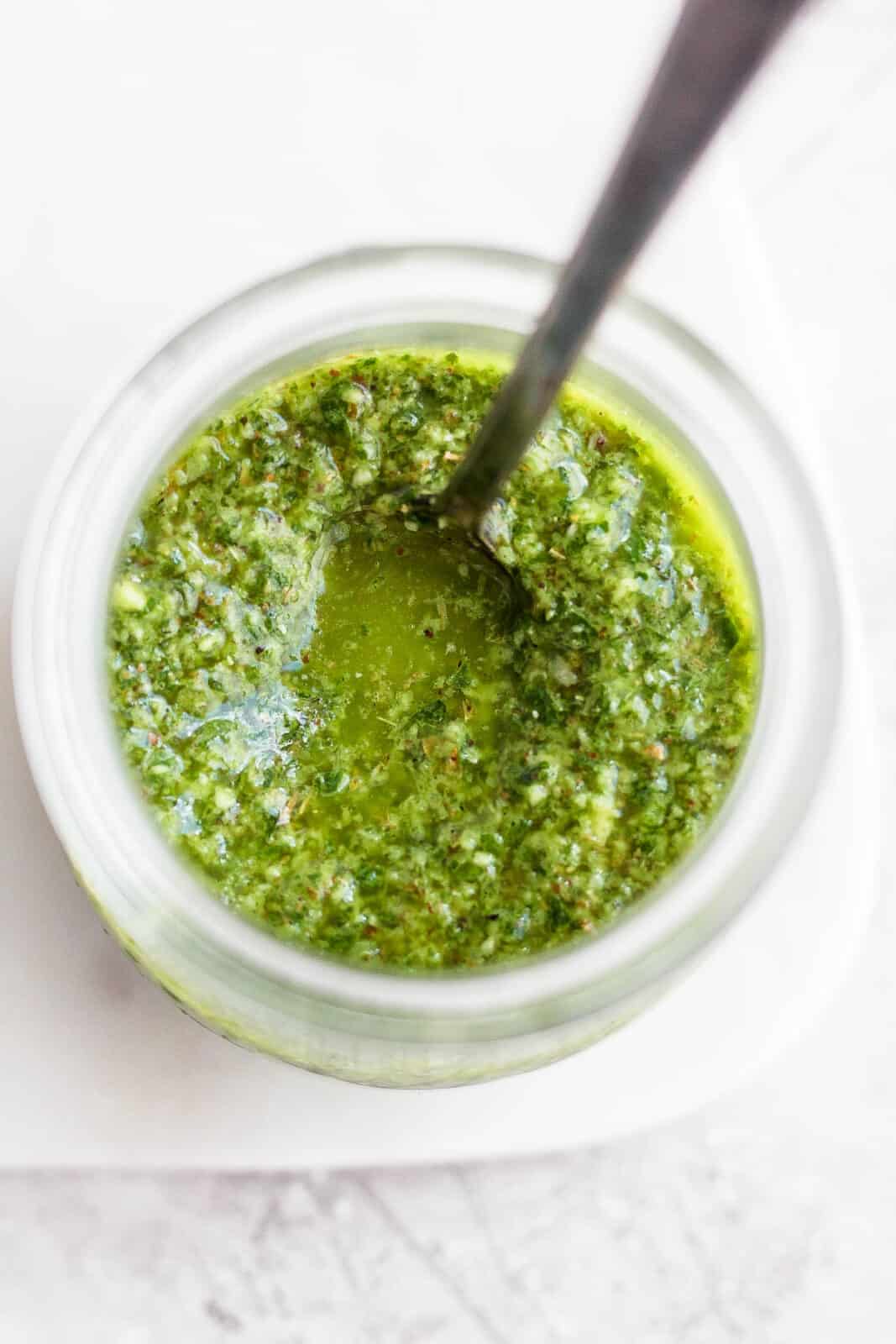 Slice against the grain.
Love Steak – Try These Recipes
Made this recipe and loved it?! We would love it if you would take a minute and leave a star rating and review – it is also helpful if you made any substitutions or changes to the recipe to share that as well. THANK YOU!
Don't forget to check out my Instagram account for some behind-the-scenes action! Or give me a follow on Facebook or see what I am pinning on Pinterest!
Print
Grilled Marinated Flank Steak
Author: Erin Jensen
Prep Time: 5 minutes
Marinate Time: 30 minutes
Cook Time: 8 minutes
Total Time: 43 minutes
Yield: 4 servings 1x
Category: Beef
Method: Grill
Cuisine: American
---
Description
Grilled Marinated Flank Steak – learn how to grill flank steak (+ easy flank steak marinade included). Serve with chimichurri sauce!
---
Flank Steak:
Flank Steak Marinade:
2 tablespoons extra virgin olive oil
1 tablespoon lime juice
2 tablespoons soy sauce
1/2 teaspoons sesame oil
2 teaspoons garlic, minced
1 teaspoon worcestershire sauce
1/4 teaspoon dried oregano
1/4 teaspoon garlic powder
1/4 teaspoon dried rosemary, crushed
pinch of salt
pinch of ground black pepper
---
Instructions
Place flank steak in a large bowl, reusable silicone bag or freezer bag and let come to room temperature.
In a small bowl combine olive oil, lime juice, soy sauce, sesame oil, garlic, worcestershire sauce, oregano, garlic powder, dried rosemary, salt and pepper. Whisk to combine.
Pour marinade over the steak and ensure it is fully covered. Let marinate a minimum of 30 minutes.
Ensure grill has clean grates and bring to medium/high heat (450-500 degrees F).
Remove steaks from marinade (let any excess marinade fall off) and place over direct heat. Close grill.
Sear on grill 3-5 minutes per side for medium rare or until the center of the thickest part of the steak reaches 130 degrees F using an internal meat thermometer – or let cook until desired level of doneness.
Remove from grill and let rest for 10 minutes.
Place on a cutting board and cut into strips (cut against the grain).
---
Notes
Gluten-free: coconut aminos or tamari a great soy sauce substitutes.
up the spice: feel free to add a little dash of red pepper flakes to the marinade!
Keywords: flank steak marinade, grilled flank steak