Thick-Cut Noodles + Bone Broth, Mushroom and Soft-Boiled Egg – a simple, healthy lunch or dinner option that is flavorful and savory.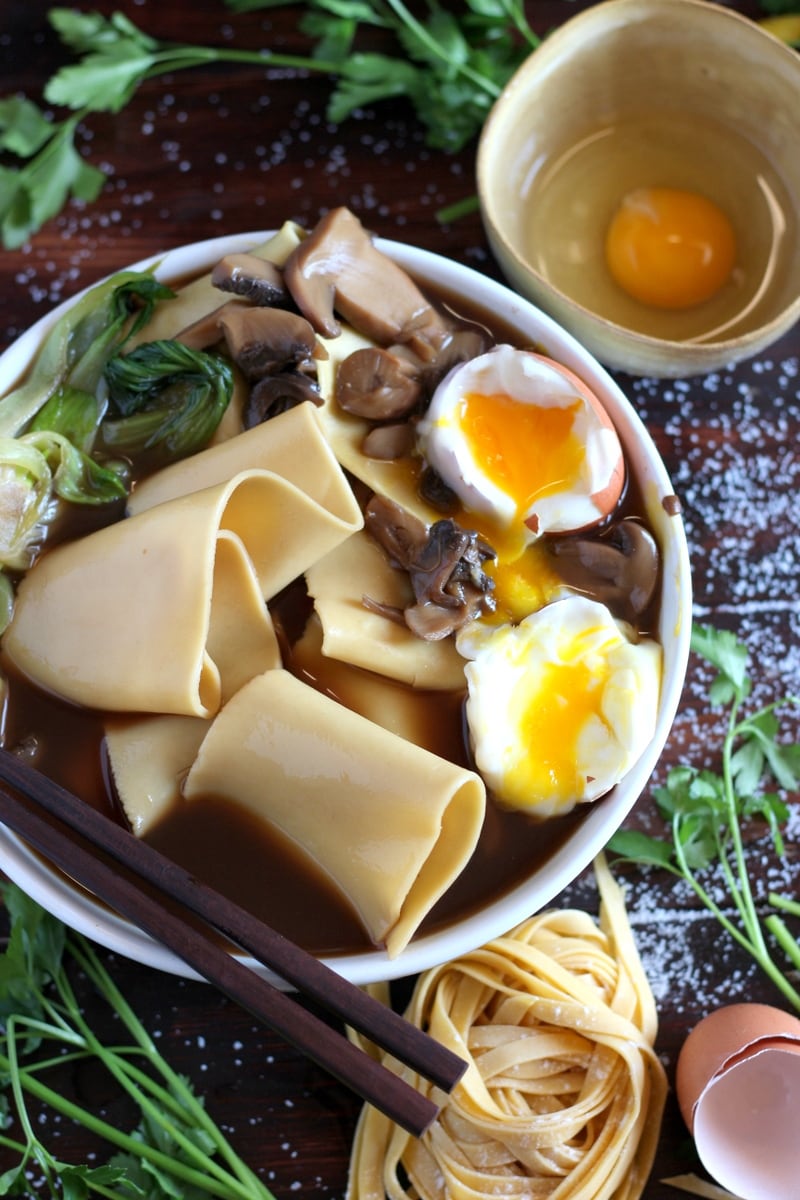 Hey guys! I am super excited to share this post with you and super excited that it is officially March! I am just ready to be done withe the darkness that is a Minnesota winter. I. Need. Sunlight…… like right now. I know we technically "lose" an hour of sleep with daylight savings in the spring, but I don't care. I would gladly give up an hour of sleep if it means it stays light an hour later in the evening. One of the things I do appreciate about winter though, is the food. Like this oh-so-savory bowl of thick-cut homemade pasta noodles, beef bone broth and braised baby bock choy and mushrooms with a soft-boiled egg. The perfect winter meal.
So if you read my last post, you saw that I have discovered homemade pasta. If you ever have the opportunity to make your own pasta – just do it. You don't necessarily need to make homemade noodles for this recipe, just buy the thickest noodles you can find, but then you can control how thick you want them.
When I was putting this recipe together in my head, I just had this picture of these super thick and wide noodles, sitting in just enough beef bone broth and mixing with a poached or soft-boiled egg. And then throw the braised bok choy and mushrooms in there. I just love how simple it is and I LOVED how it tasted. Absolutely perfect. You guys need to try this!!!
There is that beautiful homemade pasta….. So all I did was go through the process of making homemade pasta, but when you are going down from widest to thinnest setting, I stopped flattening at the halfway point (setting #5 on the KitchenAid attachment). Then I just cut the pieces of pasta in half and that was it. Boiled them for about 3 minutes. They are not uniform in size or length, but who cares.
Another shot of the flattened piece of pasta – again just cut it down the middle and you are good to go.
For the broth, just add your bone broth to a skillet, add some mushrooms and some baby bok choy. Cover and let simmer so the bok choy and mushrooms are braised. If you don't have bone broth …. just use regular beef broth.
Toss it all together and place a poached or soft-boiled egg on top. When you but into that egg and the yolk come out and mixes with the broth and noodles…. so magical.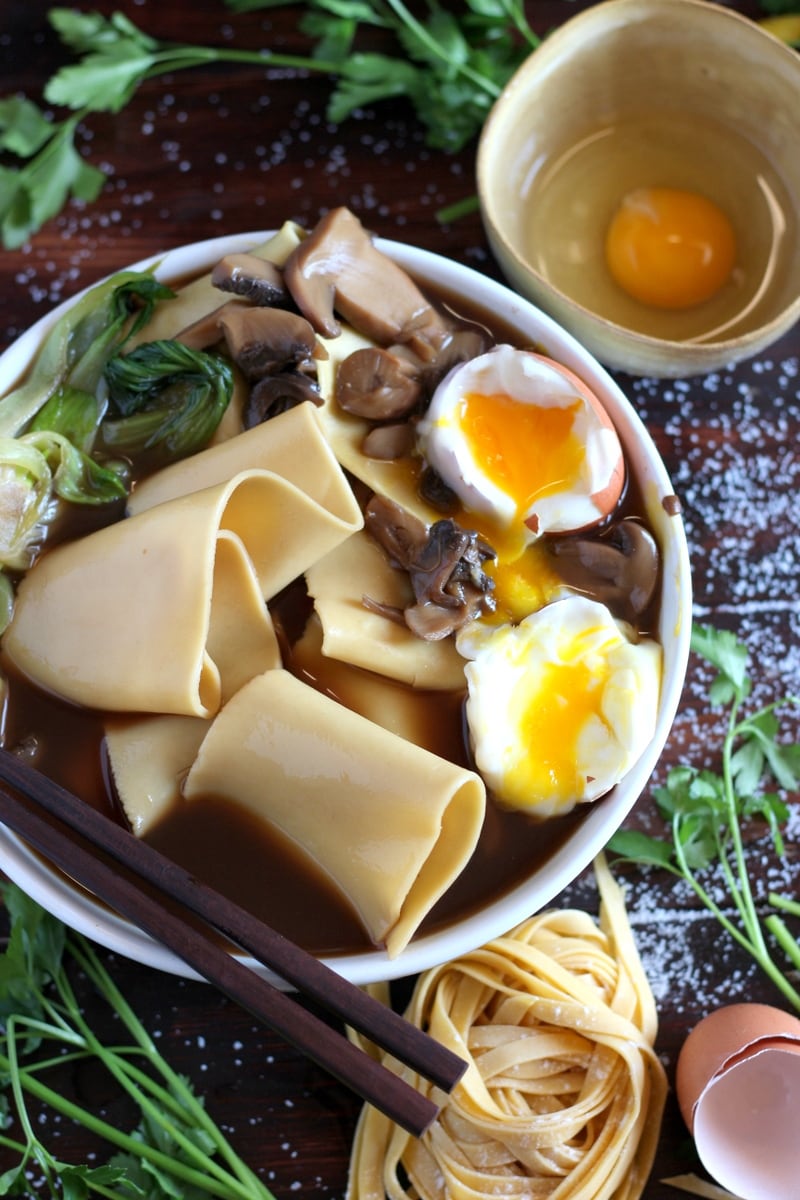 It is kind of similar to the Chicken Ramen Noodle Soup I did last year, but the huge, doughy noodles and the beef instead of chicken are the big differences. I know this is kind of like a soup, but it also isn't. The broth is really just supposed to coat the noodles, they don't need to be drowning in it (even though that is totally what I did in the picture……).
I hope you guys give it a try – definitely let me know if you do! It is so cool to hear when people try my recipes 🙂
Don't forget to check out my Instagram account for some behind-the-scenes action! Or give me a follow on Facebook or see what I am pinning on Pinterest!
Print
Thick-Cut Noodles + Bone Broth
Author: Erin Jensen
Prep Time: 10 minutes
Cook Time: 10 minutes
Total Time: 20 minutes
Yield: 1 bowl 1x
Category: Dinner/Entree
Method: Stove Top
Cuisine: American
---
Description
Thick Cut Noodles + Bone Broth and Soft-Boiled Egg – a hearty and delicious winter meal that is perfect for homemade pasta!
---
4–6oz thick-cut pasta (either make your own as explained in the post or buy the thickest dried pasta you can find)
2 cups beef bone broth (or regular beef broth)
1 baby bok choy, cut in half lengthwise
1 8oz can slices mushrooms or 1–2 cups fresh mushrooms, sliced
1 egg
salt and pepper
---
Instructions
In skillet, add broth and bring to a simmer.
Add mushrooms and baby bok choy.
Cover and let simmer 5-7 minutes.
Cook pasta al dente according to package instructions. (If you are using fresh pasta, only boil for 1-3 minutes).
Place pasta in large, shallow bowl.
Check beef broth – taste and see if it needs additional salt or extra bouillon base (if you have it).
Cover noodles in as much broth, mushrooms and bok choy as you want.
Serve with soft-boiled or poached egg.
Enjoy!
---